If you've ever wondered "what does matcha taste like", this post will cover all you need to know! This is the best guide for you to enjoy and understand all the wonders of matcha.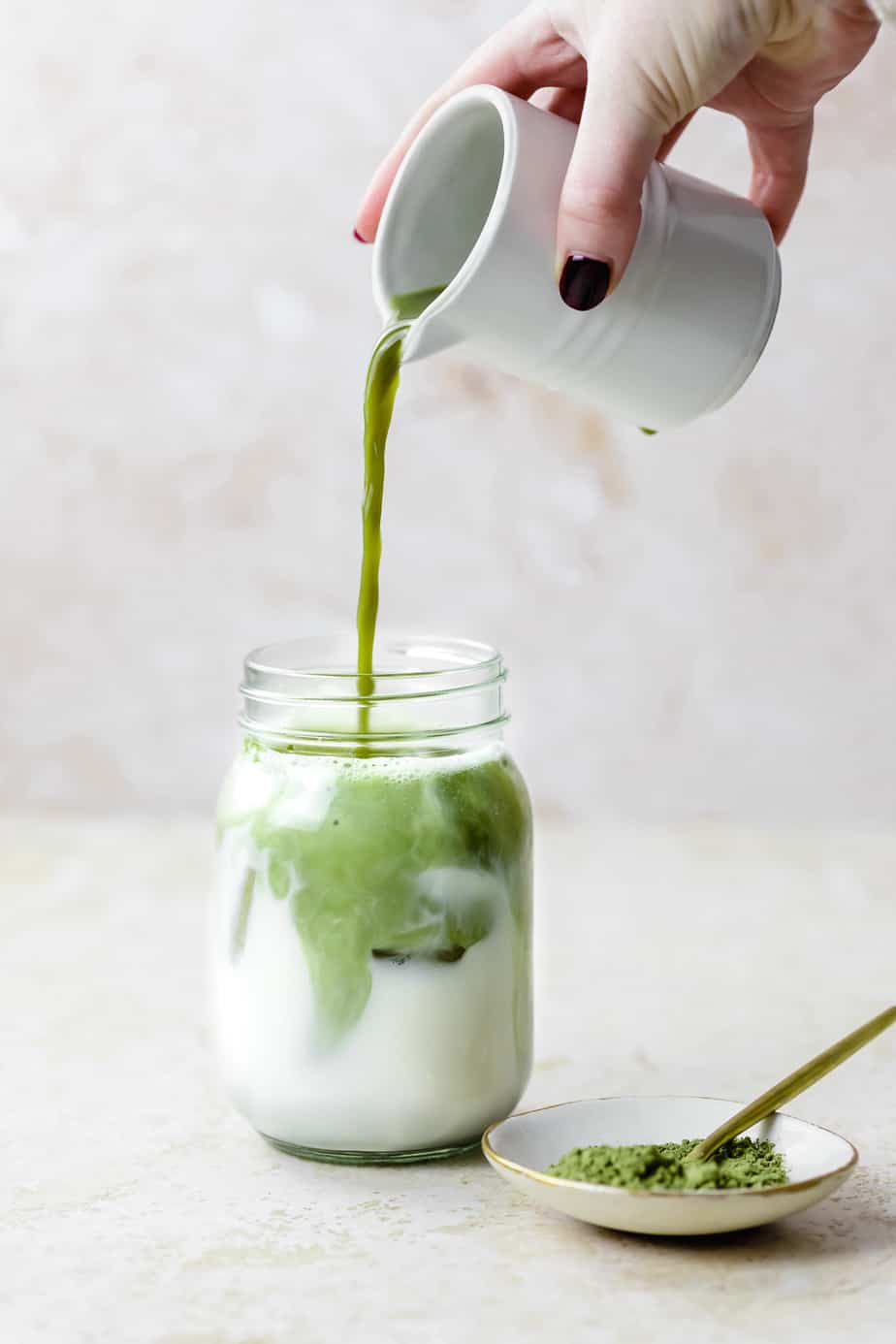 Jump to:
WHAT DOES MATCHA (抹茶) MEAN?
So although most people associate matcha with green tea, it can actually be any ground tea. Matcha is a Japanese word that can be broken up into "ma" which means rubbed or ground and "cha" which means tea. So despite the common green tea association, matcha actually just simply means "ground tea".
What is Matcha?
Matcha is the stone-ground powder of whole green tea leaves, which is unlike other green tea that you steep whole leaves and brew. Three weeks before harvest, farmers choose the highest-quality green tea leaves they have and shade them.
By doing this it promotes slower growth of the plant. This shading and slow-growing boost the chlorophyll production of the plant, giving it a more intense green color than other green teas.
The shading process also causes more theanine to grow, an amino acid that stimulates relaxation without feeling sleepy. This is just one of the many health benefits of matcha.
Matcha is typically used in tea, lattes, smoothies, and baked goods. It can also be added to other beverages, such as lemonade, to create a healthy and delicious drink.
So what does matcha actually taste like?
Matcha has a unique taste of a rich earthy tea with vegetal grassy notes, sweet nuttiness, and pleasant bitter undertones. Depending on the blend of matcha (and how you prepare it), your experience will vary widely.
The aftertaste of matcha could resemble an aromatic sweet nuttiness, an intense savory flavor, floral or bittersweet notes, or perhaps even all of the above!
This aftertaste will linger for a while and then slowly fade. The matcha aftertaste is what so many people love about it, although it may take some time for some to get used to the complex flavors.
The complex flavors of matcha
Matcha has a complex flavor profile which can sometimes feel unfamiliar at first and perhaps difficult to fully appreciate.
If you were to immediately start drinking matcha at a high-grade level that is full of savory umami notes, there is a good chance you may not find it very enjoyable at first. Be patient, and after a few times, you will start to be able to fully appreciate the complexity of its taste.
Vegetal
Matcha's taste is often compared to fresh vegetables. As matcha is made from shaded green tea leaves that are steamed, it is only natural that it has a grassy flavor that is reminiscent of spinach and leafy greens.
Sweet
Good quality matcha usually has a sweet lingering aftertaste. Matcha may come across as slightly bitter at first, followed by a smooth umami, but then it gradually transitions into a sweet aftertaste that lingers in the mouth.
This lingering sweetness helps to balance out the other stronger flavors and bitterness. This is why sometimes people describe matcha as "bittersweet".
Umami
You might have heard people using the term "umami" when describing the taste of matcha. Umami is a Japanese word that describes a flavor that is rich and savory. As previously mentioned, matcha goes through a shading process for about 3 - 4 weeks which results in an increased production of amino acids.
The umami taste in matcha is due to the increased content of L-theanine and other amino acids in the tea leaves.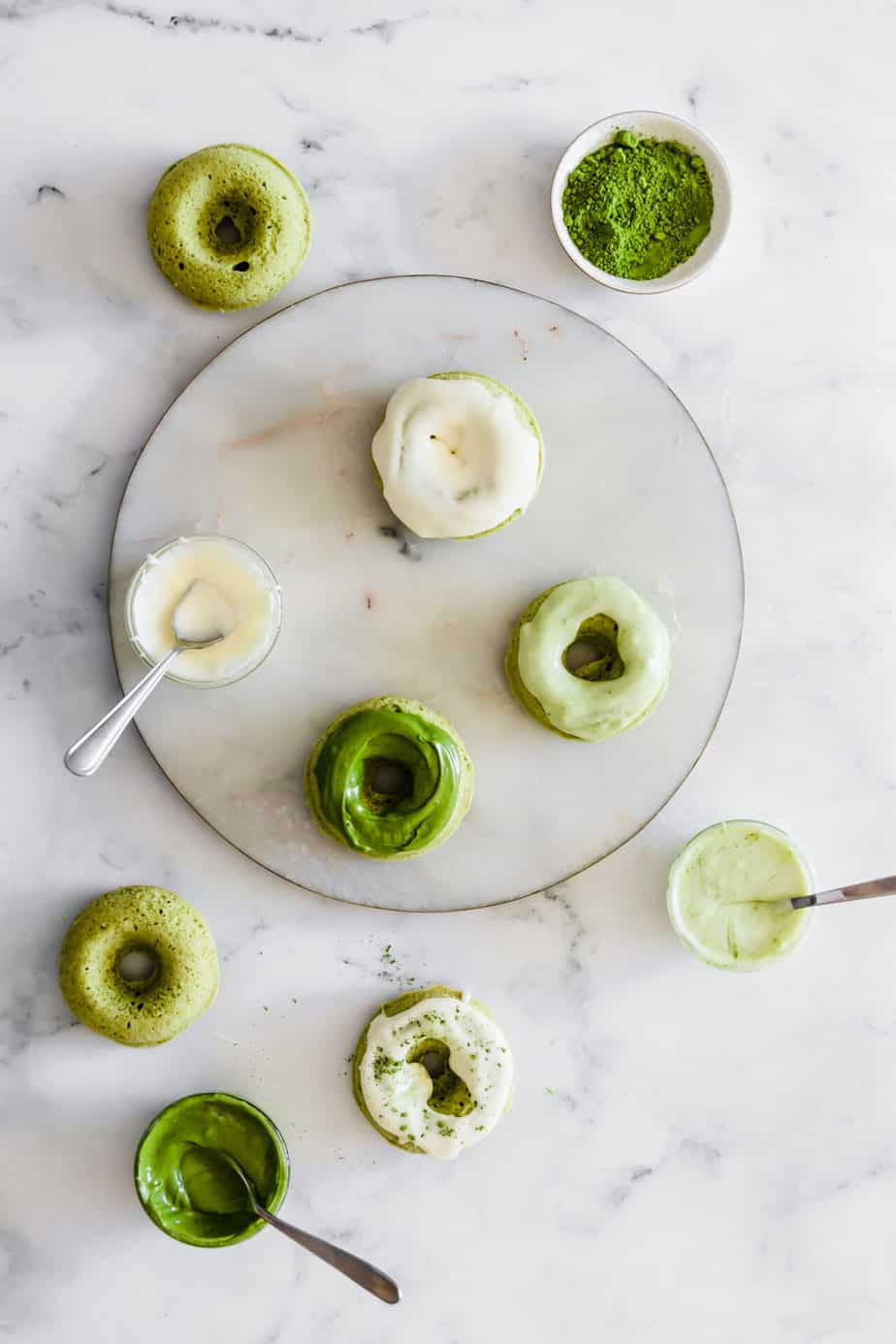 Ceremonial-grade matcha vs culinary-grade matcha
Matcha comes in different grades which reflect the quality of the matcha. As with many ingredients, not all matcha teas taste the same. Depending on the grade, different Matchas can vary in taste quite significantly.
Ceremonial-grade matcha is made from younger leaves so has a slightly sweeter taste and a more vibrant color. Whereas, culinary-grade matcha is made from leaves that are harvested at a later stage and thus it has a more bitter taste.
Matchas labelled "café grade" or "kitchen grade" are aimed for using as an ingredient in cooking, baking etc. rather than drinking like Ceremonial Matcha.
Choosing the right grade of Matcha is vital in brewing the perfect cup to suit your taste preferences. If you drink culinary grade Matcha, it won't taste as full-bodied and flavorful. It's also not as nutrient-rich as its ceremonial-grade version.
And if you prefer an even sweeter taste, try adding a spoonful of honey or milk to your Ceremonial-Grade Matcha tea!
When purchasing matcha, be sure to choose a brand that is certified organic and sourced from a reputable grower. This will help ensure that you are getting a high-quality product that is free from harmful additives and chemicals.
LATTE GRADE MATCHA
Latte grade is not a common grade of matcha but it is a recognised version of matcha that is available. Like ceremonial grade, it is also made from the first harvest leaves and is best served with milk in a latte.
It's a high-quality premium-grade matcha at a lower price, which makes it a quality product that's more affordable for everyday matcha drinkers.
HOW TO STORE MATCHA
KEEP IT AIRTIGHT
Store matcha in an airtight container, such as a glass jar with a tight-fitting lid. This will help to prevent oxidation and keep the powder from absorbing moisture or other odors from the environment.
STORE IN A COOL, DRY PLACE
Avoid storing matcha in a hot or humid environment, as this can cause the powder to deteriorate more quickly. The ideal storage temperature is between 59-77°F (15-25°C).
KEEP AWAY FROM LIGHT
Light can cause the vibrant green color of matcha to fade, so store it in a cool, dark place, such as a pantry or cupboard.
USE WITHIN 6 MONTHS
Matcha is best consumed within 6 months of purchase, although it can last up to a year if stored properly.
IS MATCHA POWDER GOOD FOR YOU?
Matcha, or green tea powder, is full of nutrients that are good for you. The health benefits of matcha powder include:
High in antioxidants (including the powerful EGCg)
Boosts metabolism
Detoxifies
Rich in fibre and vitamins
Enhances mood
Lowers cholesterol and blood sugar
Recipes for matcha lovers
MATCHA FAQS
Can you bake Matcha?
Matcha is great for baking because not only does it retain its distinctive flavor but the vibrant color comes through even after being baked.
Does matcha powder contain caffeine?
Yes, matcha powder contains caffeine and the amount of caffeine depends on the amount of matcha powder used. Since the whole ground leaf is consumed, matcha green tea has more caffeine content than other brewed green teas.
With about 60mg of caffeine per serving, the caffeine level is comparable to that of black tea, or about ⅔ of the caffeine as a cup of coffee.
Does Matcha help with gut health?
Matcha powder has been shown to have great gut-healing properties. Matcha has anti-inflammatory properties and supports good gut bacteria and acts as a great prebiotic.
What is the difference between green and blue matcha?
Though these two teas have a lot in common, there are distinct differences between green matcha and blue matcha (which is also known as butterfly pea flower powder).
The different types of matcha stem from two entirely different plants. Blue Matcha is made from blue butterfly pea flowers and Green Matcha comes from the green tea plant Camilia Sinsnus.
Green Matcha is made from the leaves of the plant and Blue Matcha is made from the flowers of the plant.
Besides the different plant types, the two ground teas are also different in taste and color, as well as they provide different health benefits.
For more information, check out my post on WHAT IS BLUE MATCHA & HOW TO USE IT.
Can you drink Matcha every day?
Consuming matcha powder every day can improve your energy levels and mental clarity. This is due to the high concentration of a compound called L-theanine that is found in matcha. This compound has been shown to boost energy and improve focus.
If you want to see more of my delicious food adventures, follow me on Instagram or Facebook.