Ever wondered 'can you freeze banana bread'? Well yes, you can, and you can learn everything you need to know about storing and freezing banana bread right here!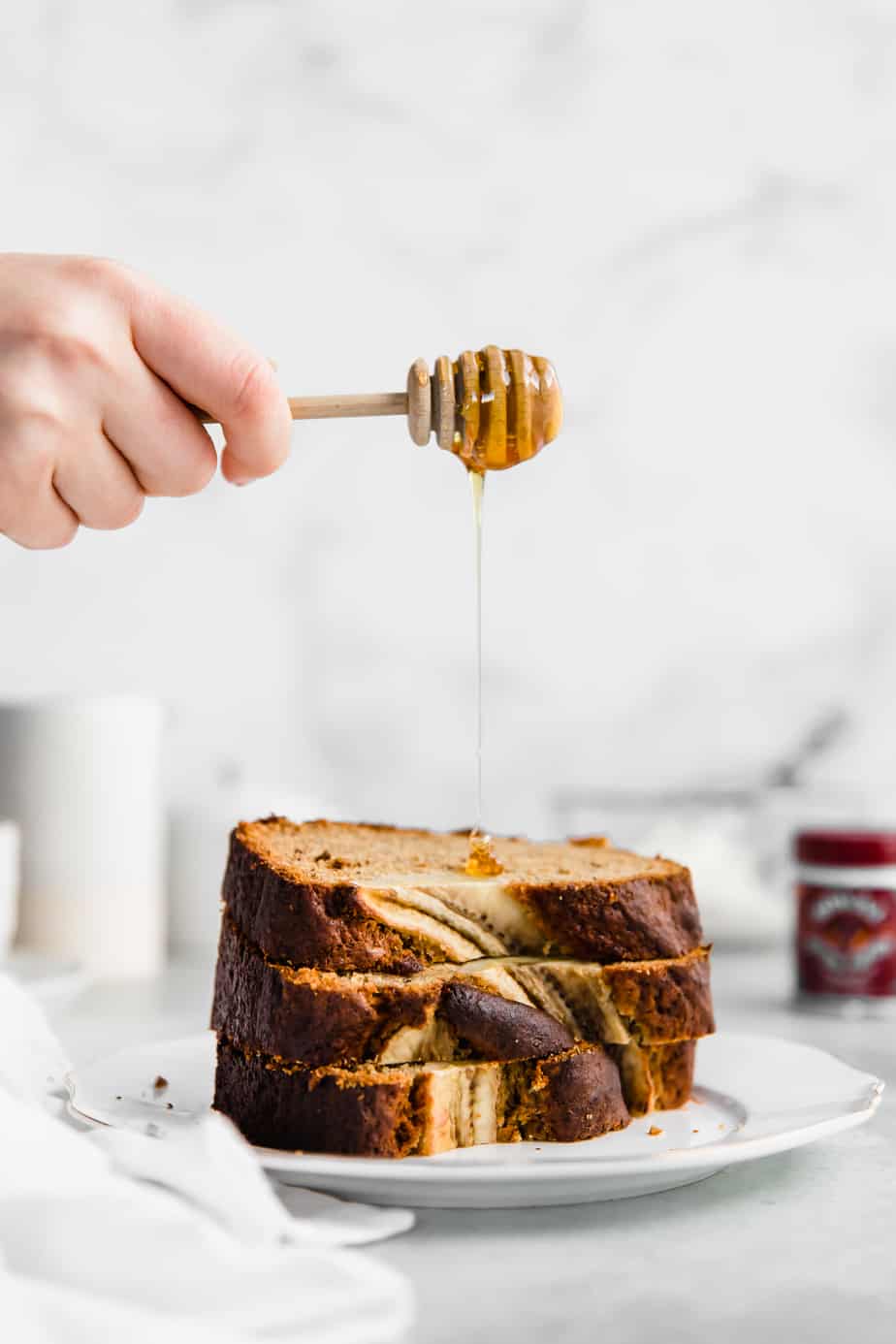 Jump to:
Making, Storing, and Freezing Banana Bread
There is nothing better than a thick slice of freshly baked banana bread! So why not make two loaves the next time you're making some so that you have one to enjoy at a later stage? All you have to do is freeze it and thaw it whenever you are ready for the second round of banana bread.
Banana bread is the best way to use up overripe bananas! It is sweet, versatile, and so easy to make. In this post, you will learn all the best ways to store and freeze your next delicious batch of banana bread.
How long does banana bread last?
The shelf life of banana bread is four days at room temperature when stored on the counter. Banana bread will last for up to four months in the freezer. It's still edible after that timeframe, but it's likely to develop freezer burn when kept much longer, and that can impact the taste and texture.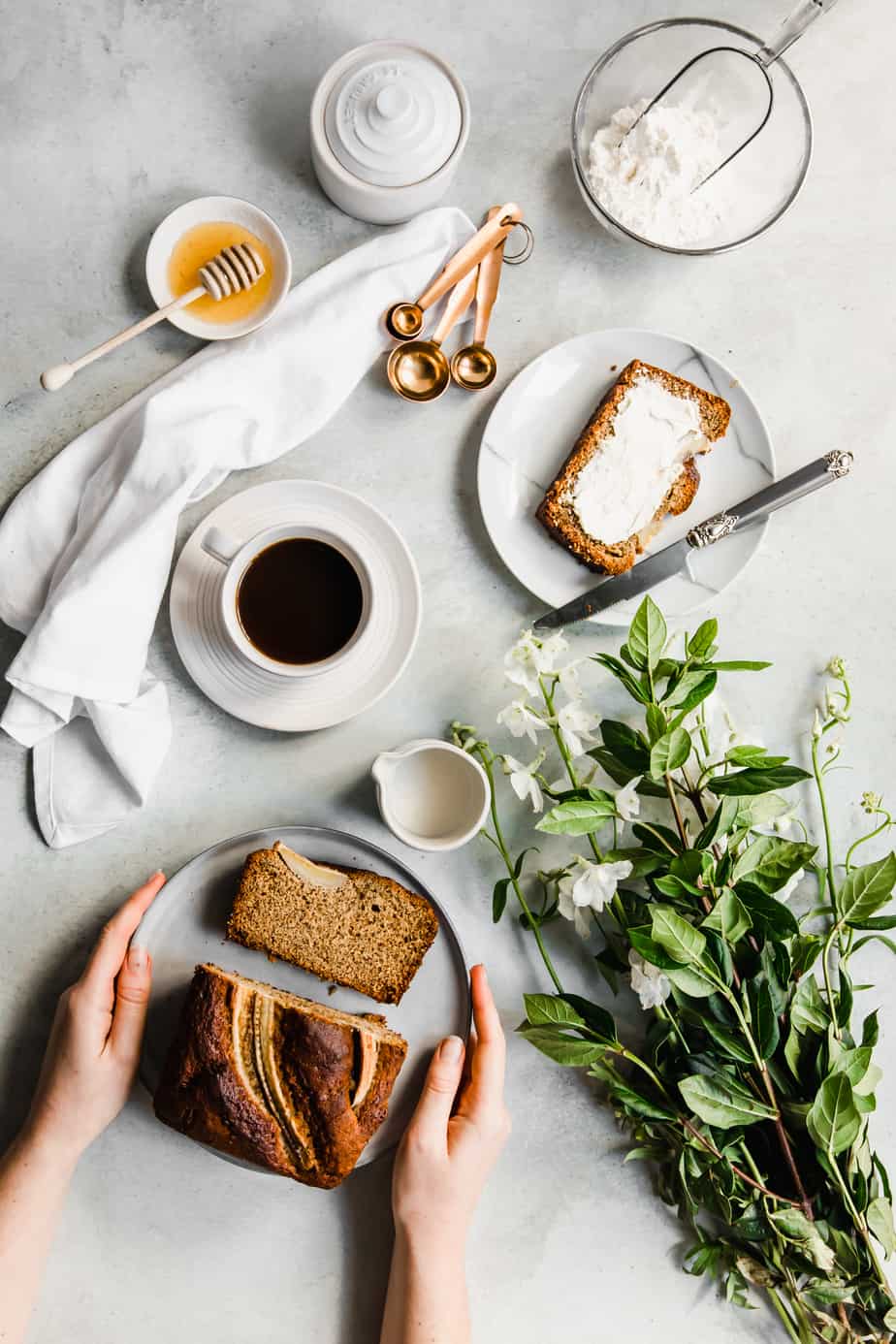 How To Freeze Banana Bread
If you don't plan on eating your banana bread in four days, it is easy and convenient to freeze it. Banana bread freezes really well and you can freeze whole loaves of bread, partial loaves, or slices.
There are different ways you can wrap and freeze the bread - such as by using plastic wrap, plastic wrap and foil, or just foil.
All versions were also placed in a freezer-safe zip-top bag. There isn't any noticeable difference between the textures or taste of the bread with any of these methods of wrapping before freezing so you can just use what you have on hand.
Step-by-step Freezing Instructions
Cool The Bread: Make sure that the banana bread is completely cooled to room temperature before freezing it. Be sure not to wrap up warm bread as it will trap the heat which will cause excess moisture and make the bread soggy.
Wrap The Bread: Wrap the banana bread in plastic wrap or foil so that it is completely covered. To prevent the texture and taste from changing too much, you're going to want to wrap the banana bread properly and tightly. You can either then place the wrapped bread in a freezer-safe container or bag. This will help prevent freezer burn. Make sure to remove any extra air in the freezer bag without squishing the bread before sealing it tightly.
Freeze The Bread: Place the prepared banana bread in the freezer for up to 4 months. A helpful tip is to write the date on it so you know when it was first frozen.
How to Freeze Slices:
You can freeze banana bread in slices which can be super convenient for thawing the right amount of banana bread when you need it. To freeze banana bread in slices, wrap each slice individually in foil or plastic wrap and then put the wrapped slices in a freezer-safe zip bag.
It can be helpful to double-wrap your slices because more of the bread's surface is exposed which could make it dry out easier than a whole loaf. Place the bag in the freezer and remove slices as needed for a ready-made breakfast or sweet treat.
How to Freeze a Partial Loaf:
You can also freeze the remainder of a banana loaf after you have enjoyed a few slices from it. Or if you simply want to freeze the loaf in halves for convenience, slice the cooled loaf in half.
Then wrap the piece of the loaf in foil or plastic wrap. Place the wrapped partial loaf in a freezer-safe zip bag, remove excess air, and then place it in the freezer.
To Freeze a Whole Loaf:
Some banana bread recipes are for two loaves, or you can double a recipe to make an extra loaf. If this is the case and you only want to enjoy one loaf you can freeze the remaining loaf whole.
Simply wrap the whole loaf in foil or plastic wrap. Place it in a freezer-safe zip bag and squeeze as much air out as you can. Pop it in the freezer and enjoy it whenever the craving hits!
How to Thaw Banana Bread After Freezing
It's easy to defrost and thaw banana bread after freezing, either on the countertop or in the oven. It all depends on the amount of time you have.
How to Thaw Slices: Remove a slice of banana bread from the freezer and leave it on the countertop for about 20 to 30 minutes. You can speed up the process by microwaving it for about 30 seconds or you can also place the slice in the toaster.
To Thaw a Partial Loaf: Remove the banana bread from the freezer bag and let it thaw on the counter for 2 hours. It will then be ready to slice and enjoy!
How to Thaw a Whole Loaf: Remove the loaf from the freezer bag. Leave the loaf on the counter for four hours and then you will have thawed banana bread ready for you to eat.
How to thaw banana bread quickly
If you can't wait for your frozen banana bread to thaw on the countertop at room temperature (which is completely understandable), you can defrost and thaw banana bread in the oven.
To do so, simply remove the half or whole loaf from the freezer. Take the banana bread out of the freezer bag but keep the foil on.
Place it directly on the rack of your oven. Turn the oven on to 350°F and set your timer to 40 minutes for a half loaf, or 90 minutes for a whole loaf. The bread will thaw as the oven warms and comes to temperature.
Remove the bread from the oven, and let it stand in the foil for 10 minutes. This allows residual heat to continue thawing the bread. When it's cool enough to handle, unwrap it, slice it, and enjoy!
How to tell if banana bread is bad?
Texture – Banana bread is normally very moist when freshly baked. If you notice that the texture has become slimy or extremely dry there is a chance it is starting to go bad.
Smell – If the banana bread starts to smell a bit off then it's probably a sign that it has gone bad.
Mold – If you see mold on the bread it's definitely time to throw it away. Moldy bread is an obvious sign that it has spoiled and should not be eaten.
MORE BANANA RECIPES TO TRY OUT:
Easy & Moist Thermomix Banana Muffins
Pumpkin Banana Oatmeal Muffins
Salted Caramel Banana Pancakes
Chocolate Chip Pumpkin Banana Oatmeal Muffins
I hope you find this post about 'Can You Freeze Banana Bread' helpful! And if you want to see more of my delicious food adventures, follow me on Instagram or Facebook.