Blue Matcha, or powdered butterfly pea flower, can be used in many different ways and provides many different benefits. This post will look at what Blue Matcha Powder is and how you can use it in various recipes.
So What Is Matcha (抹茶)?
So although most people associate matcha with green tea, it can actually be any ground tea. Matcha is a Japanese word that can be broken up into "ma" which means rubbed or ground and "cha" which means tea. So despite the common green tea association, matcha means "ground tea".
The difference between blue and green matcha
Though these two teas have a lot in common, there are some distinct differences between green matcha and blue matcha, which is also known as butterfly pea flower powder.
The different types of matcha stem from two entirely different plants - Blue Matcha is made from blue butterfly pea flowers and Green Matcha comes from the tea plant Camilia Sinsnus. Green Matcha is made from the leaves of the plant and Blue Matcha is made from the flowers of the plant.
Besides the different plant types, the two ground teas are also different in taste and color, as well as they provide different health benefits.
What does Blue Matcha taste like?
Blue Matcha has a subtle, light, and floral taste in comparison to green matcha. It has a soft, mild taste that is easy to like, whereas green tea can sometimes be an acquired taste.
Blue Matcha has a versatile flavor that can easily be incorporated into all sorts of baking and cooking recipes. Along with its delicious flavor, Blue Matcha adds a beautiful blue, purple color to recipes as well as all its incredible health benefits.
Is Blue Matcha Powder Healthy?
Blue Matcha has many incredible health benefits and is an incredible antioxidant. Unlike green matcha, Blue Matcha is completely caffeine-free and can help to relax and reduce anxiety in the body. It is also said to boost cognitive function and support memory function.
Blue Matcha is anti-inflammatory and anti-ageing and is even used for beautifying hair, skin, and nails.
How To Use Blue Matcha
Blue Matcha powder can be used in the same way you use Green Matcha powder. To enjoy as a drink, both matcha powders can be brewed hot or cold by adding ¼ - ½ teaspoon of the powdered tea to 1 cup of water.
The amount used is dependent on taste preference. It is always better to start with less and add more if desired.
Blue matcha can also be used in cooking and baking. You can simply replace the amount of green matcha powder with blue. You can also use it as an additional add-in for smoothies, chia puddings, frostings, etc.
Recipes To Try Using Blue Matcha: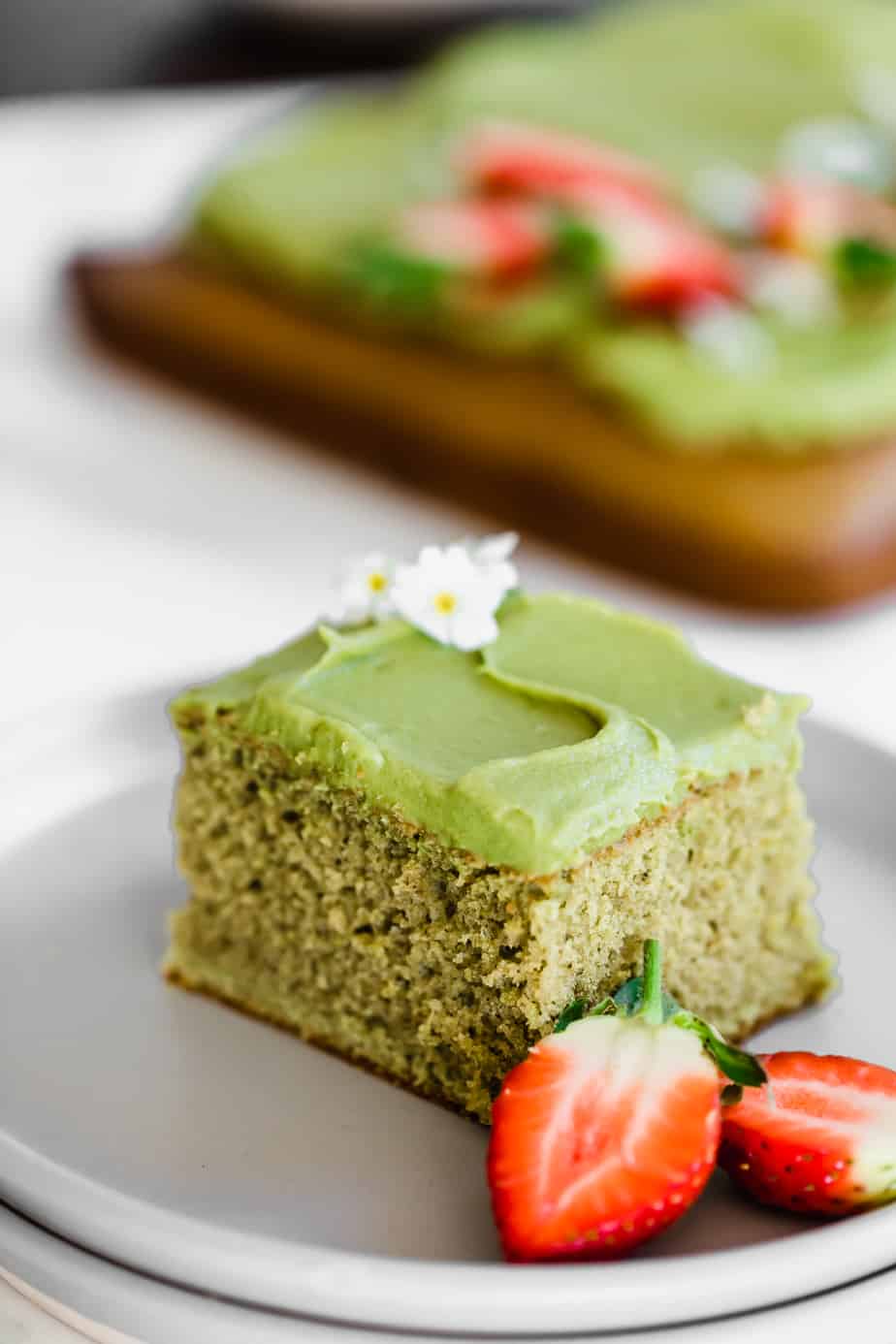 This quick & easy Matcha Sheet Cake is a real winner! The soft, moist cake is topped with fluffy cream cheese frosting which would be extra special if made with beautiful blue matcha.
This creamy vegan strawberry matcha chia seed pudding is incredibly delicious and healthy. Made with matcha powder and fresh strawberries, it is packed with flavour and nutrients. So look no further if you're on the hunt for a new keto snack or dessert to try out!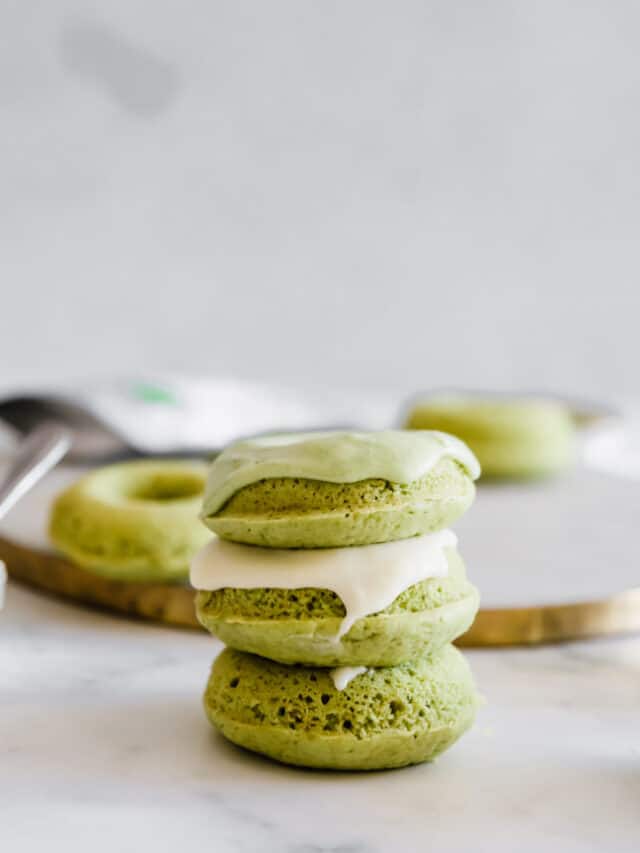 These Baked Matcha Donuts are filled with a rich matcha flavor and are light and fluffy. You can have fun creating different shades of blue donuts and glaze by adjusting the amount of blue matcha you use.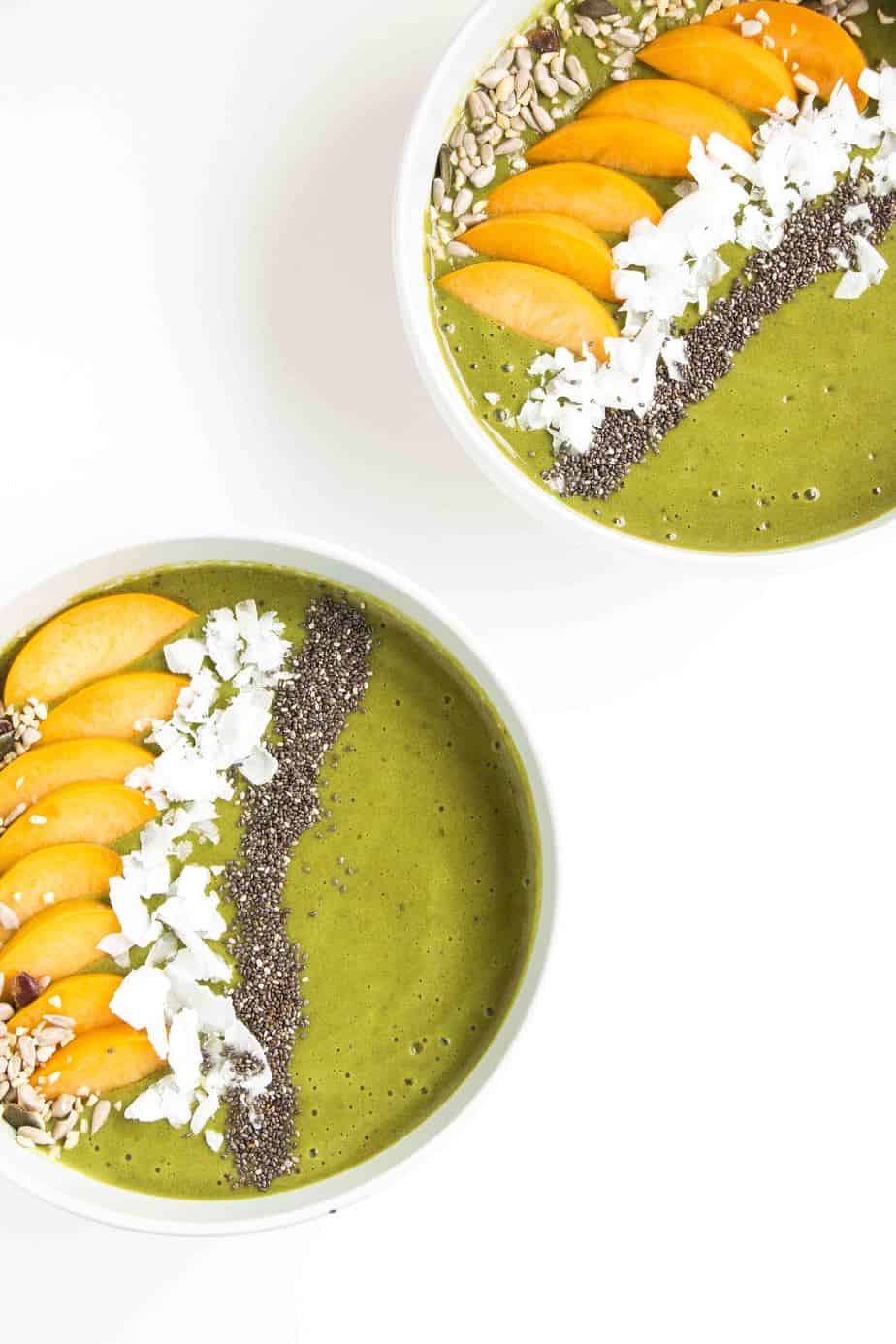 The ultimate healthy breakfast or snack that looks beautiful, tastes delicious, and is oh-so-easy to make. This Matcha & Peach Smoothie Bowl is packed with tons of antioxidants and nutrients.
Matcha FAQS
Can you bake Matcha?
Matcha is great for baking because not only does it retain its distinctive flavor but the vibrant color comes through even after being baked.
What is the difference between culinary grade and ceremonial grade matcha?
Ceremonial grade matcha is made from younger leaves so has a slightly sweeter taste and a more vibrant color. Whereas, culinary grade matcha is made from leaves that are harvested at a later stage and thus it has a more bitter taste. Both are equally filled with health benefits.
Does Matcha help with gut health?
Matcha powder has been shown to have great gut-healing properties. Matcha has anti-inflammatory properties and supports good gut bacteria and acts as a great prebiotic.
Can you drink Matcha every day?
Consuming matcha powder every day can improve your energy levels and mental clarity. This is due to the high concentration of a compound called L-theanine that is found in matcha. This compound has been shown to boost energy and improve focus.
I hope this post has inspired you to try out some recipes using blue matcha! And if you want to see more of my delicious food adventures, follow me on Instagram or Facebook.