This creamy vegan strawberry matcha chia pudding is incredibly delicious and healthy. Made with matcha powder and fresh strawberries, it is packed with flavour and nutrients. So look no further if you're on the hunt for a new yummy snack or dessert to try out!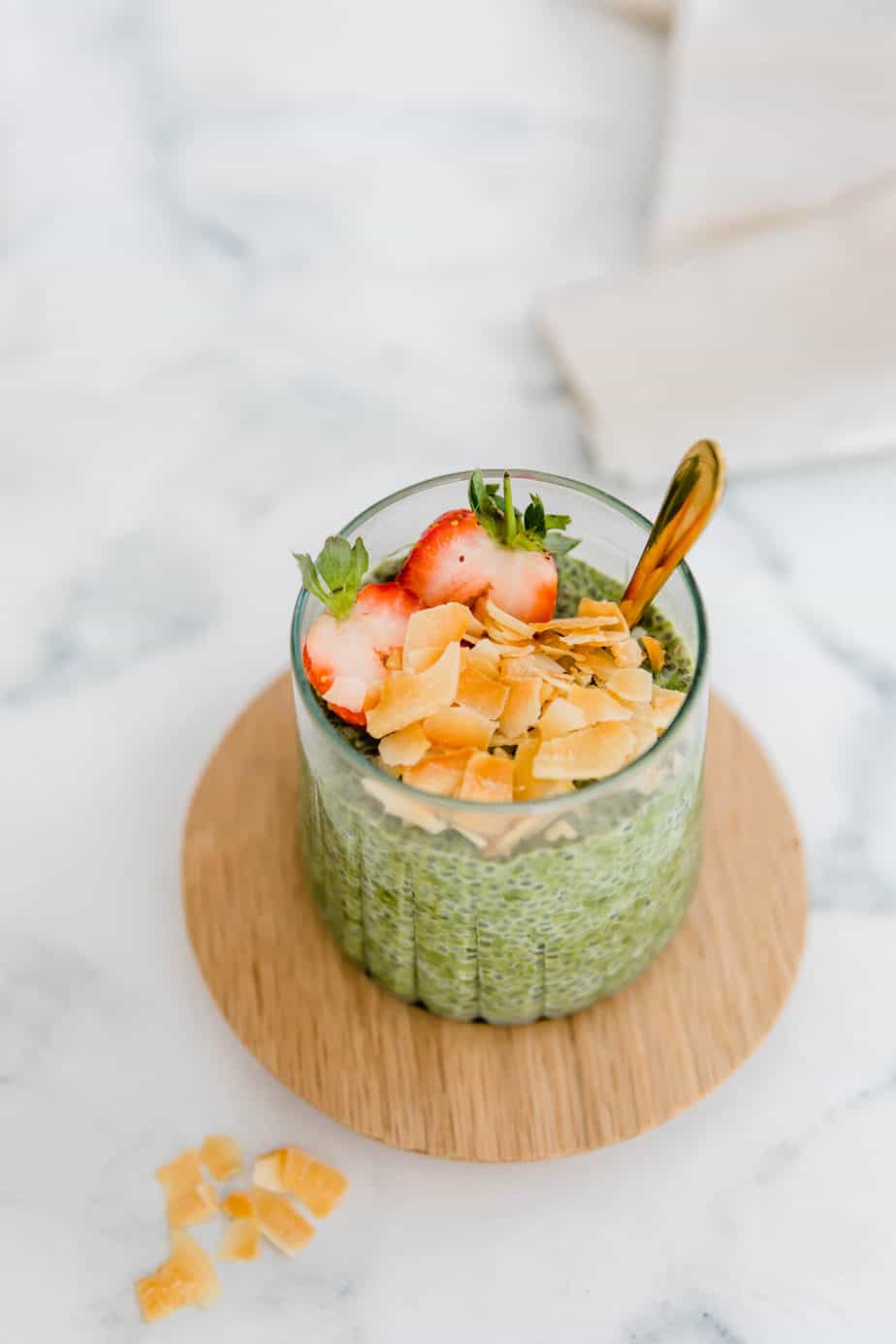 I loooove chia puddings! They are so quick and easy to make and there are so many yummy flavours you can throw into them. One of my favourites is this Creamy Coconut Chia Pudding that I made a while back. It is a classic chia pudding made with coconut milk and then topped with even more delicious coconut goodness. It is a real winner!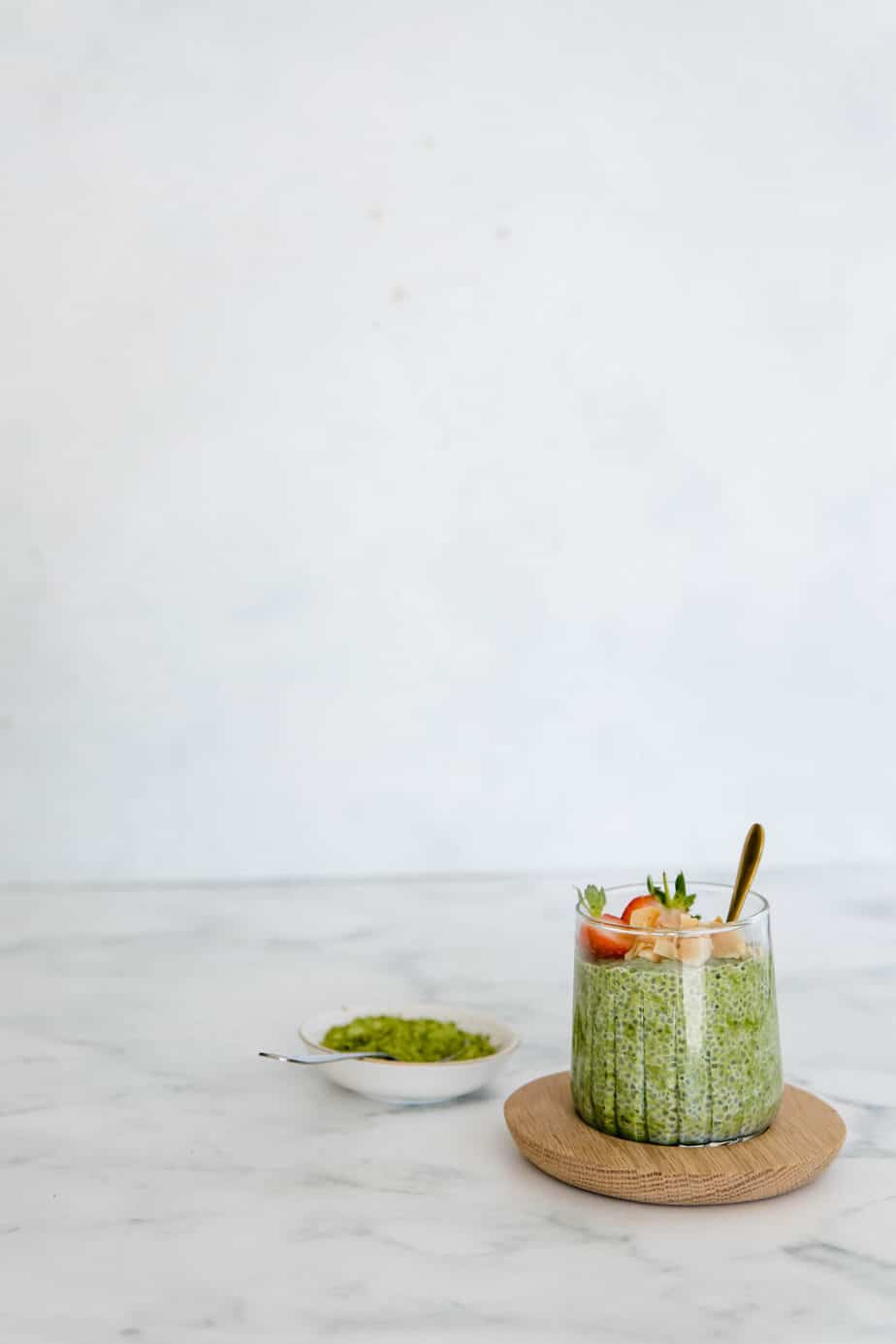 Is Chia Seed Pudding Good for You?
I don't feel bad at all about my love for chia puddings as chia seeds are very healthy and are considered a superfood. They are packed with protein which provides sustainable energy. In fact, "chia" is the ancient Mayan word for "strength."
Chia seeds are filled with all sorts of nutrients and antioxidants. And like flaxseeds, they are also high in fibre and high in omega-3 fatty acids. So, if you don't eat chia seeds already, you should definitely consider including them in your diet. They really are worthy of their superfood title!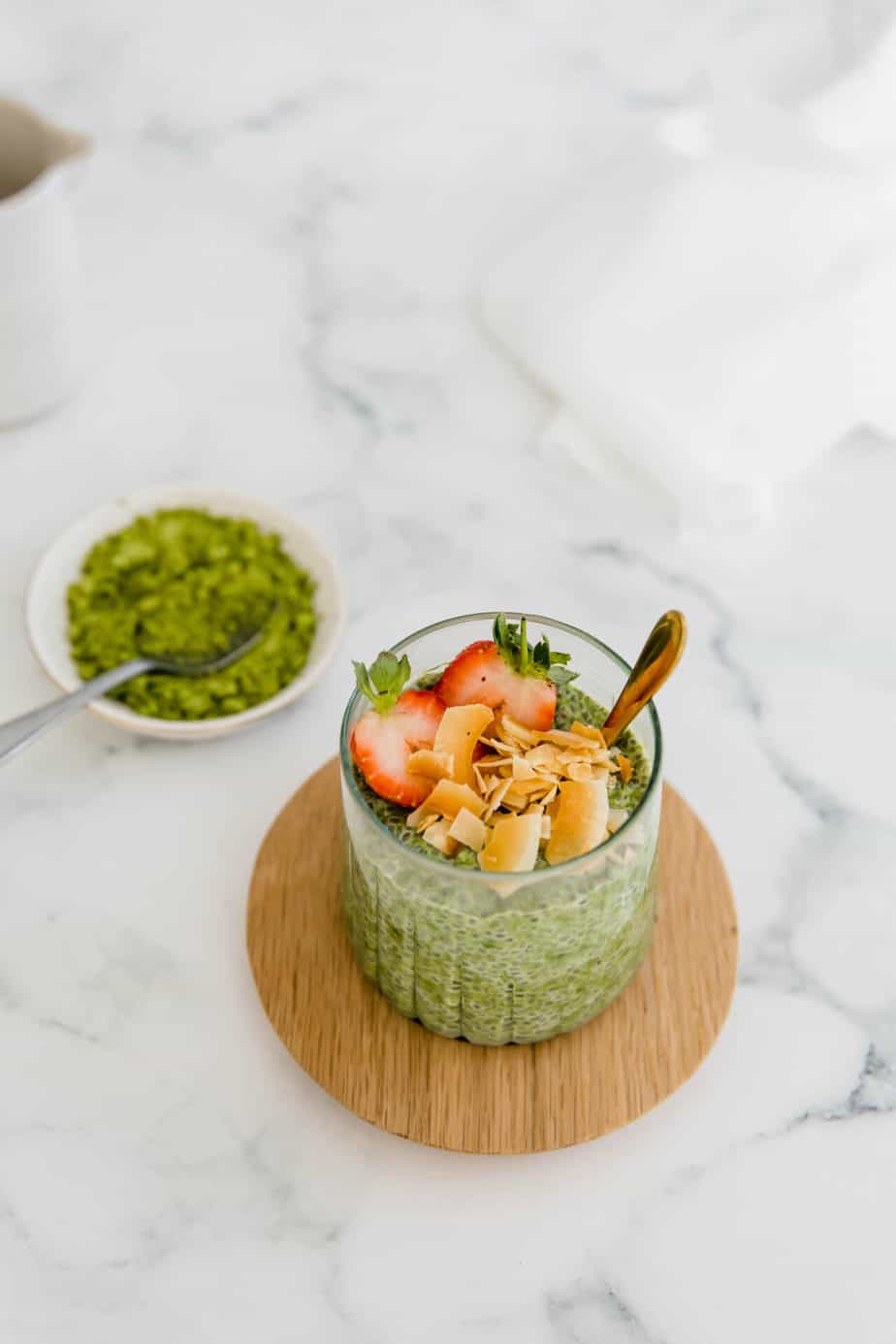 Health Benefits of Matcha Chia Pudding
So in this Vegan Strawberry Matcha Chia Pudding, the health benefits of the amazing chia seeds are combined with the incredible health benefits of matcha powder. How great is that?! The health benefits of matcha (or green tea) include:
High in antioxidants (including the powerful EGCg)
Boosts metabolism
Detoxifies
Rich in fibre, chlorophyll, and vitamins
Enhances mood and calms
Lowers cholesterol and blood sugar
How To Make Chia Pudding
It is so easy to make chia pudding! All you have to do is add the ingredients to a mixing bowl. Stir them all together well. Then set this aside in your fridge to allow the chia seeds to bloom/expand. This should take about an hour but can also be left overnight. Once the chia pudding mixture is ready, you can pour into bowls or glasses to serve. Top the chia pudding mixture with fresh strawberries and any other toppings you may like.
Adjust It To Your Liking
This chia pudding recipe is made with coconut milk - but this can be swapped out for any other milk alternative, such as almond milk or oat milk. Also, if you would prefer a sweeter chia seed pudding you can increase the amount of agave syrup. Maple syrup, stevia, and date syrup also work well as sweetness substitutes in this recipe!
What to Serve With Strawberry Matcha Green Tea Chia Pudding?
You can serve this matcha pudding with many different kinds of yummy toppings. It is great with flaked almonds, coconut flakes, cacao nibs, or granola. Have fun!
More Chia Pudding Recipes You May Like:
This Vegan Strawberry Matcha Chia Pudding is definitely one of my faves. It can be kept in the fridge for a few days and enjoyed as a delicious breakfast, dessert, or snack!
Vegan Strawberry Matcha Chia Pudding
Ingredients
4

tbsp

chia seeds

1

cup

coconut milk

or any other milk alternative

1

tsp

matcha powder

½

tsp

vanilla essence

2

tsp

agave syrup

or any other preferred sweetener
Toppings
strawberries

coconut flakes
Instructions
In a mixing bowl, add all of the ingredients.

Whisk together until well combined.

Place in a fridge for at least an hour, preferably overnight.

Pour the chia pudding into two bowls or glasses for serving.

Top with fresh strawberries and coconut flakes - and enjoy!
I hope you love this recipe, and if you give it a try let me know what you think of it over on my INSTAGRAM 🙂