This creamy vegan strawberry matcha chia seed pudding with almond milk is incredibly delicious and healthy.
Made with matcha powder and fresh strawberries, it is packed with flavour and nutrients. So look no further if you're on the hunt for a new keto snack or dessert to try out!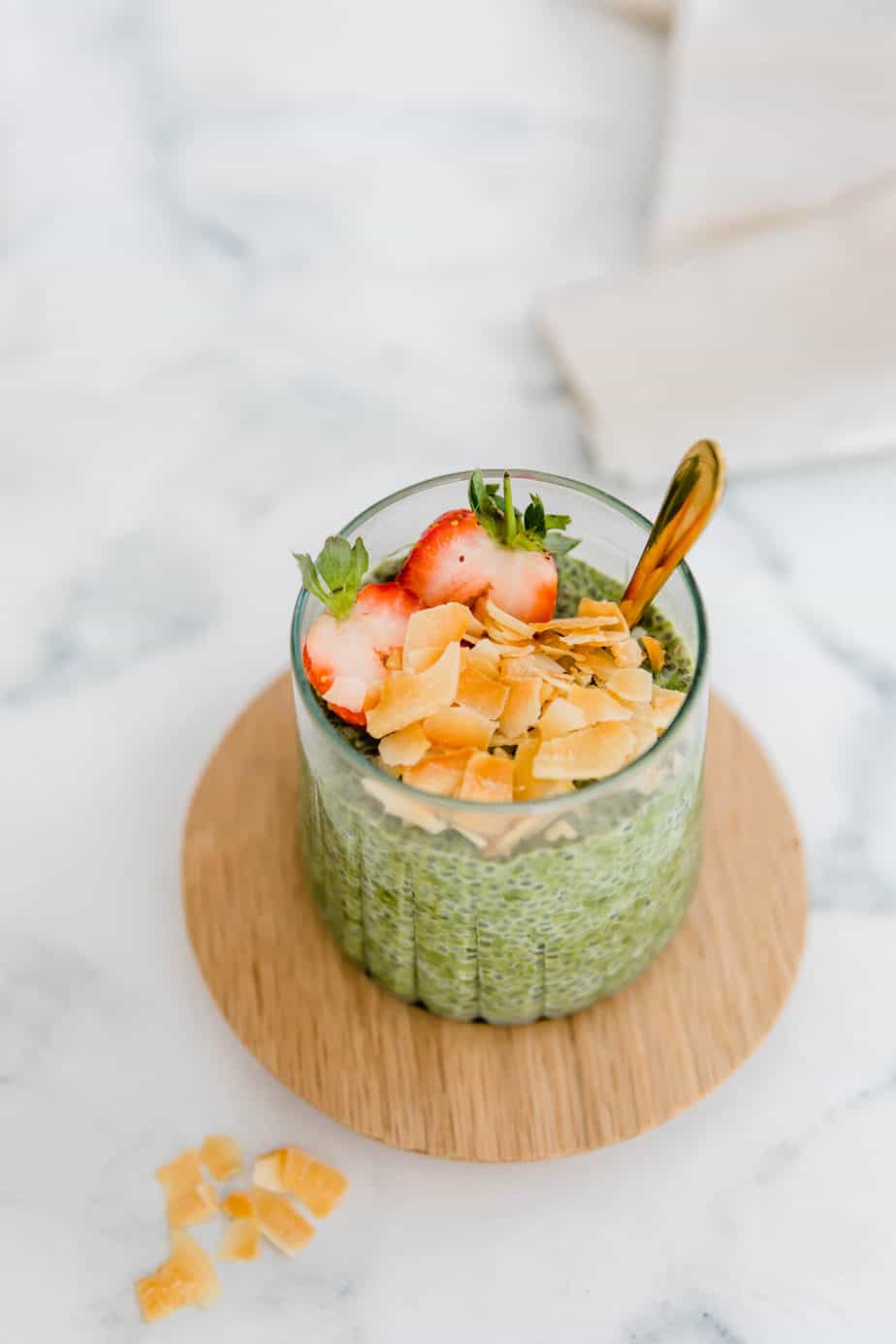 What Is Matcha?
Matcha is a traditional Japanese green tea powder. It is made from green tea leaves that are crushed into an incredibly fine powder. The reason why matcha has become so incredibly popular over the last few years is for its insane health properties.
Benefits of Matcha
High in antioxidants (including the powerful EGCg)
Boosts metabolism
Detoxifies
Rich in fibre, chlorophyll, and vitamins
Enhances mood and calms
Lowers cholesterol and blood sugar
Why You'll Love This Recipe
If you're anything like me you love a good chia pudding because it is quick and easy to make, packed with protein and the perfect breakfast or snack. My 4 Ingredient Coconut Cream Chia Pudding recipe is a classic in my household.
This Matcha Chia Seed Pudding Recipe is no different. It is still a one bowl wonder. Quick to whip up and filled with nutrients, low carb and protein. The addition of green tea powder makes it the ultimate breakfast. Plus, it contains no sugar.
Matcha is the best kind of caffeine you can consume. It is gives you the boost of energy that you need first thing in the morning without that extra buzz that leaves you feeling a little off.
Plus, strawberries and match pretty much make the most delicious combination of sweet and bitter.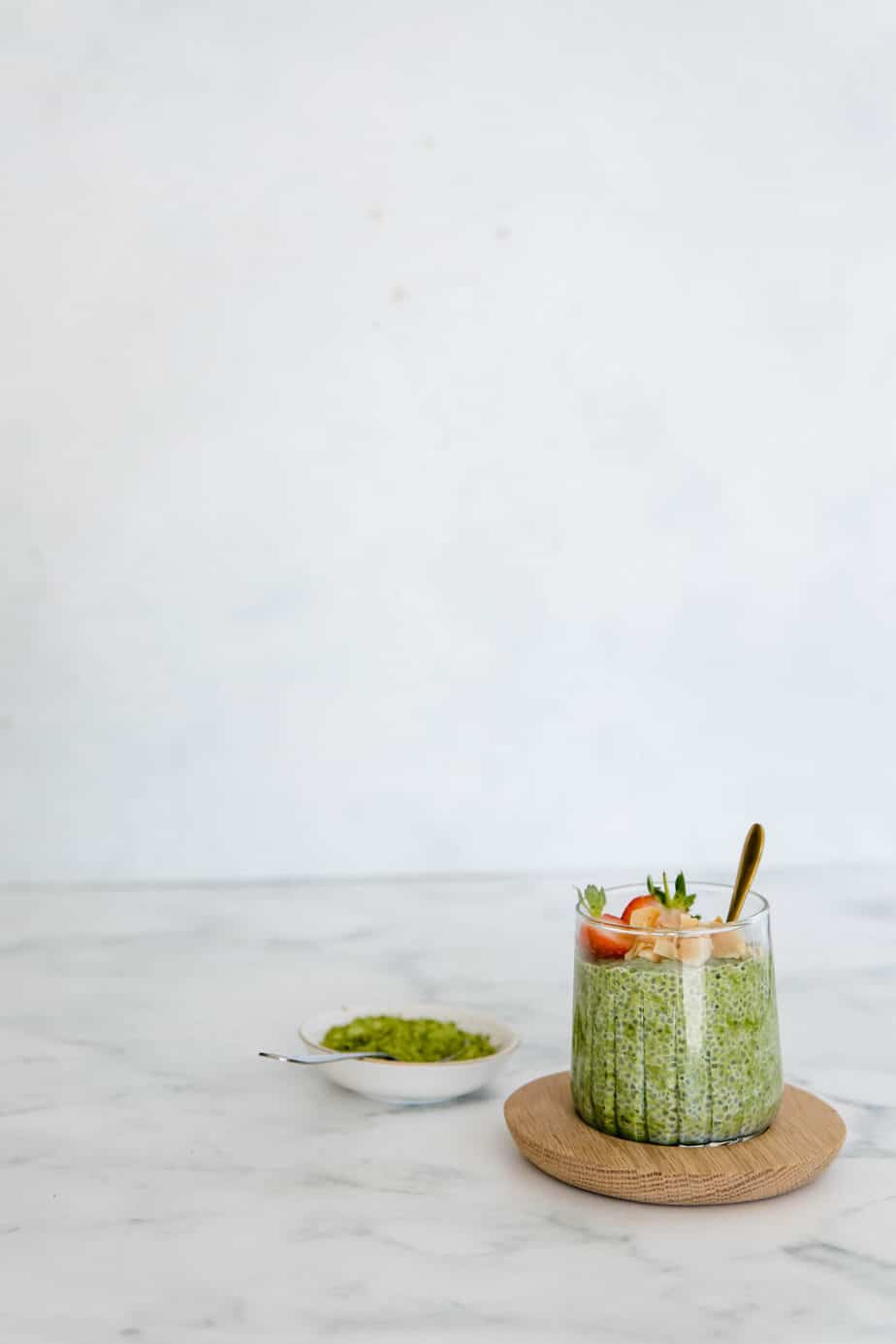 Is Chia Seed Pudding Good for You?
Chia seeds are very healthy and are considered a superfood. They are packed with protein which provides sustainable energy. In fact, "chia" is the ancient Mayan word for "strength."
Benefits of Chia Seeds:
High in Omega-3 fatty acids.
Aids in digestion.
Filled with antioxidants.
May lower risk of heart disease.
Incredibly nutrient dense.
Reduces blood sugar levels.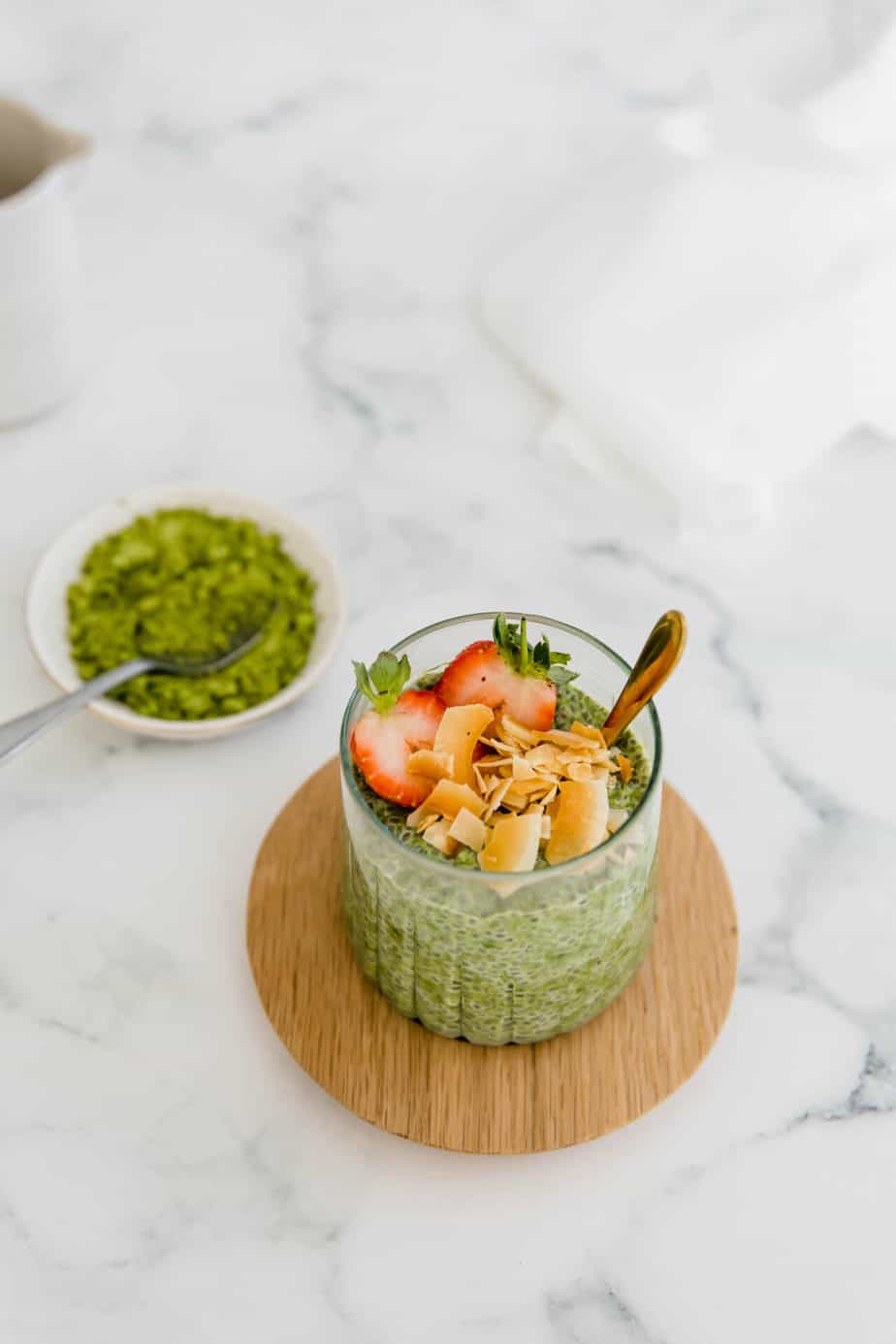 Key Ingredients & Substitutions
Matcha Powder: Not all matcha powder is made the same, so you wan't to look for the highest quality green tea powder you can find.
Chia Seeds: Chia seeds are relatively easy to find and can even be found at your local grocery store or online at Amazon.
Almond Milk: Use coconut milk or oat milk for other dairy-free substitutions.
Agave Nectar: The agave provides a little extra sweetness, maple syrup or honey can also be used.
Toppings and Add-Ins:
Strawberries: Chopped fresh strawberries make this the ultimate chia pudding recipe. The combination of green tea and strawberries is out of this world.
Toasted Coconut Flakes: For a little extra texture, toasted coconut flakes add a little crunch.
Protein Powder: For an extra protein boost, add a scoop of your favorite protein powder before whisking all the ingredients together. You might need to add a little extra splash of almond milk.
Bananas: For a little extra fruity-ness, top the matcha chia seed pudding with sliced bananas.
Cocoa Nibs: Add a sprinkle of cocoa nibs to the top for a little extra crunch.
How To Make Chia Pudding
It is so easy to make chia pudding! All you have to do is add the ingredients to a mixing bowl. Stir them all together well. Then set this aside in your fridge to allow the chia seeds to bloom/expand.
This should take about an hour but can also be left overnight. Once the chia pudding mixture is ready, you can pour into bowls or glasses to serve. Top the chia pudding mixture with fresh strawberries and any other toppings you may like.
Adjust It To Your Liking
This chia pudding recipe is made with coconut milk - but this can be swapped out for any other milk alternative, such as almond milk or oat milk.
Also, if you would prefer a sweeter chia seed pudding you can increase the amount of agave syrup. Maple syrup, stevia, and date syrup also work well as sweetness substitutes in this recipe!
More Chia Pudding Recipes You May Like:
This Vegan Strawberry Matcha Chia Pudding is definitely one of my faves. It can be kept in the fridge for a few days and enjoyed as a delicious breakfast, dessert, or snack!
Strawberry Matcha Chia Seed Pudding
An easy to make vegan breakfast or snack made with matcha powder and almond milk.
Ingredients
4 tablespoon chia seeds
1 cup almond milk
1 teaspoon matcha powder
½ teaspoon vanilla extract
2 teaspoon agave nectar
For the toppings:
Chopped strawberries
Toasted coconut flakes
Instructions
Place all the ingredients for the chia seed pudding into a small bowl.
Whisk well until all the ingredients are completely combined.
Transfer the mixture to a glass or jar and place in the refrigerator overnight.
Top with fresh strawberries and toasted coconut.