A healthy Layered Berry Smoothie Chia Pudding made with mixed berries, chia seeds and almond milk. The ultimate healthy, vegan and gluten free breakfast or snack.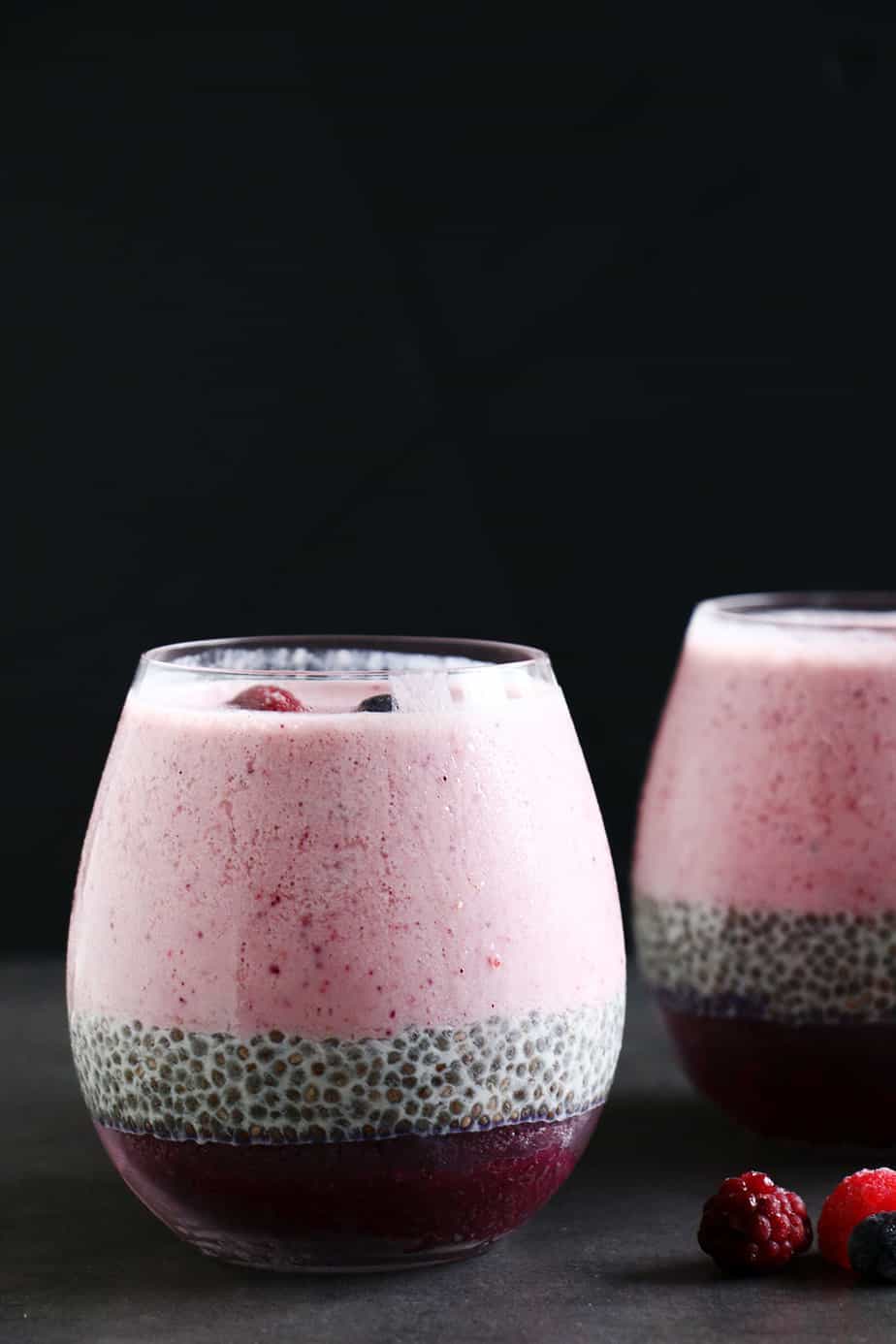 What could possibly be better than a layered berry smoothie mixed in with a little chia pudding? To me, that is pretty much the best breakfast/snack/dessert ever! It's healthy, tasty, fresh and simply heavenly!
I have had a little obsession with making layered smoothies lately (check out my layered berry smoothie). They are just soo incredibly beautiful and well...it's always fun to play with your food a little ;). SO I got a little creative one morning and decided to take my new found obsession one step further. Naturally that meant adding chia pudding. Chia pudding is truly one of the best breakfasts. It is incredibly filling, packed with protein and you can dress it up anyway you want to (my favourite is still the salted caramel chia pudding). I think you guys get what I'm saying right? That a layered berry smoothie combined with chia pudding is thee ultimate healthy breakfast!? YUM!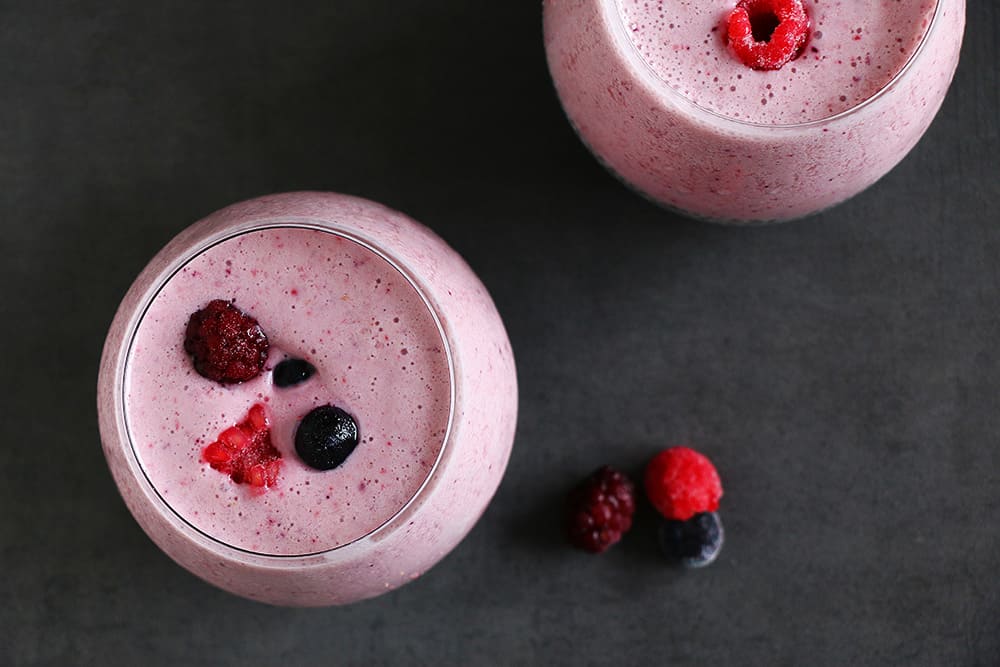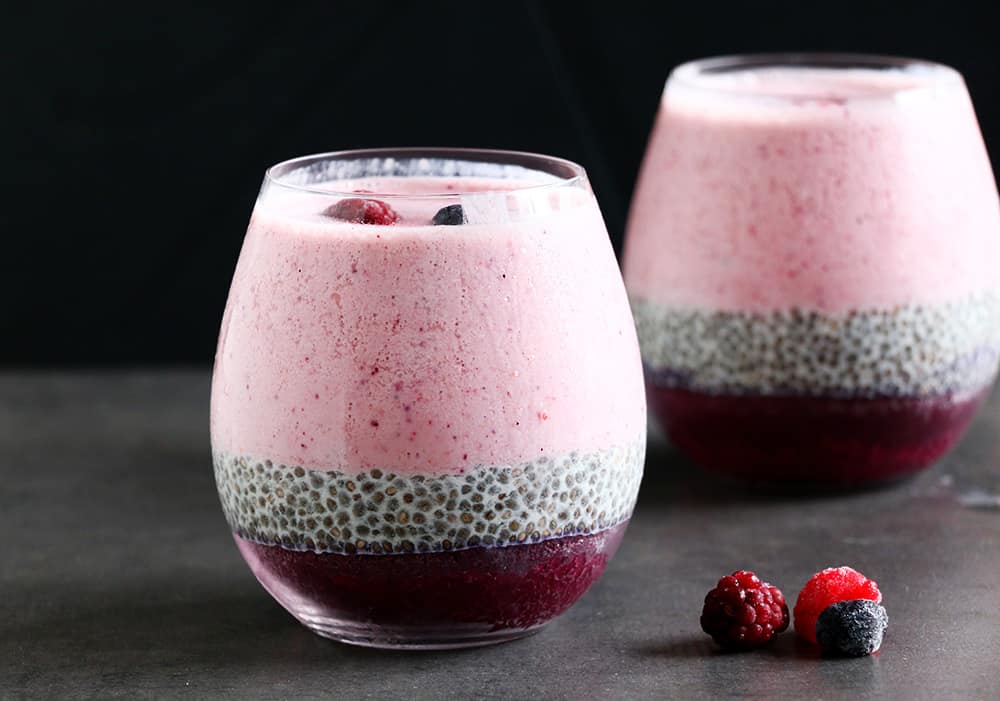 The key to getting the layered affect is freezing. For this Layered Berry Smoothie Chia Pudding you only need to freeze the bottom layer (unlike a layered smoothie). Because the chia pudding gets all nice and thick so the top smoothie layer doesn't really seep into it. So for the first layer I made the smoothie using only blueberries but you could easily use frozen mixed berries or even any fruit would really work. I simply chucked all the ingredients into my Nutribullet
 and then poured it into glasses (mason jars work well too). Then I popped the glasses into the freezer for about 15-20min. While that was freezing I whisked together the chia seeds
, almond milk
and honey/maple syrup
. I then gently poured that over the frozen berry smoothie and popped the glasses into the fridge overnight (4 hours will do the trick). The next morning I made the last smoothie layer and poured it over the chia pudding. Voila, the most delicious Layered Berry Smoothie Chia Pudding.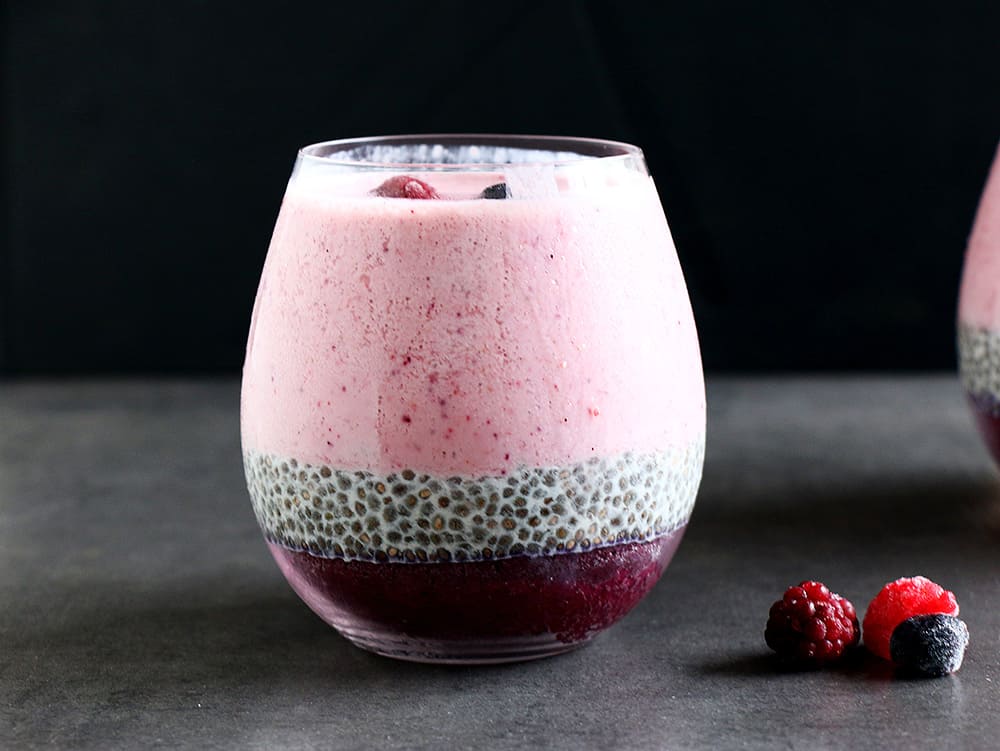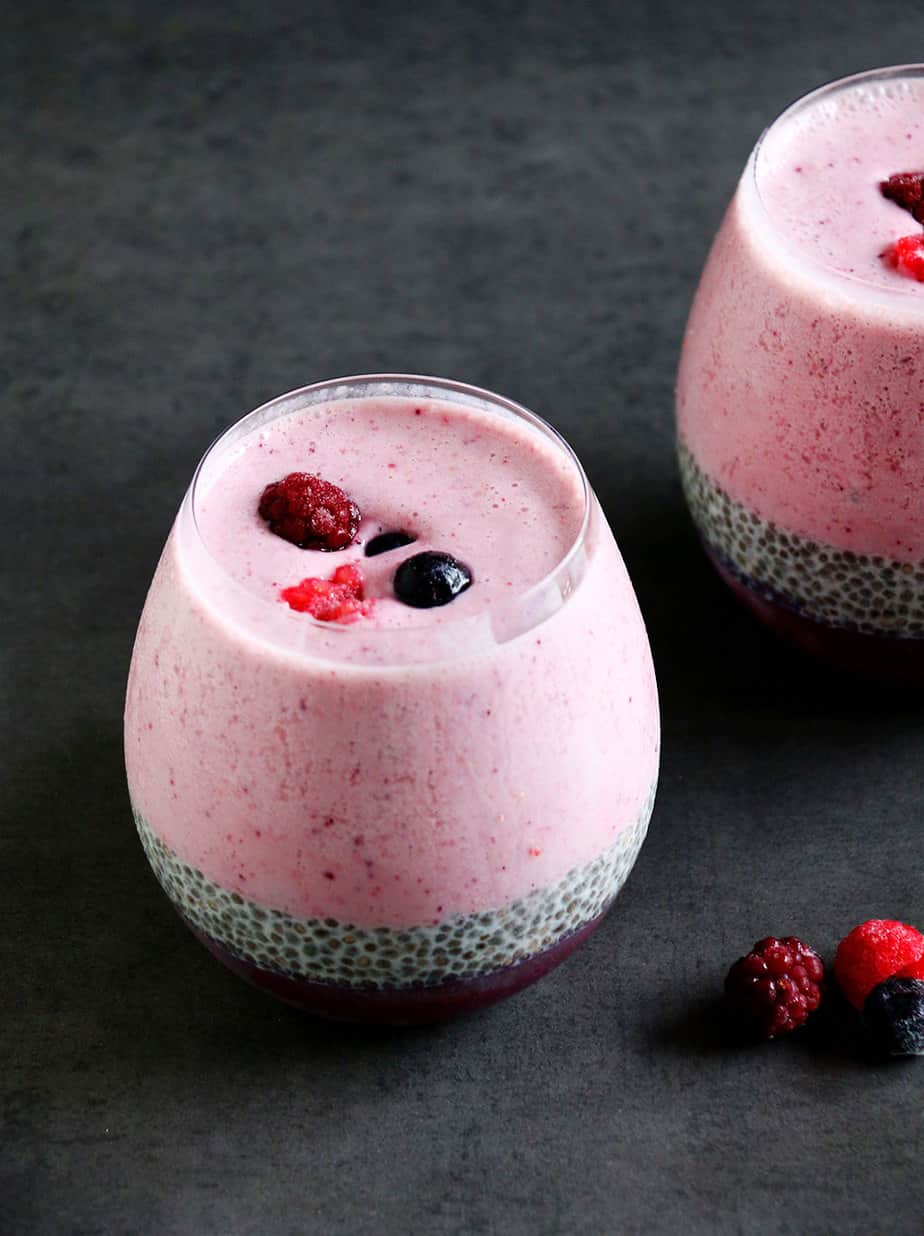 Layered Berry Smoothie Chia Pudding
Ingredients
For the Bottom Layer:
½

Cup

Frozen Blueberries

½

Cup

Almond Milk

¼

Cup

Oats

2

tsp

Honey/Maple Syrup
For the Chia Pudding Layer:
2

Tbsp

Chia Seeds

1

Cup

Almond Milk

1

tsp

Maple Syrup/Honey
For the Top Smoothie Layer:
1

Cup

Frozen mixed Berries

¾

Cup

Yoghurt/Coconut Yoghurt

or more almond milk

½

Cup

Almond Milk

2

tsp

Honey/Maple Syrup
Instructions
For the Bottom Smoothie Layer:
Place all ingredients into your blender (I use this

Nutribullet

) and blend until smooth.

Pour into 2 glasses or jars and freeze for 15-20min.
For the Chia Pudding Layer:
Whisk all the ingredients together and gently pour over frozen bottom layer.

Place glasses/jars into the fridge for at least 4 hours.
For the Top Layer:
Place all ingredients into your blender and blend until smooth.

Gently pour over the chia pudding.

Devour