Matcha Peach Smoothie Bowl - Absolute health in one delicious bowl! The ultimate healthy breakfast or snack that looks beautiful tastes delicious and is insanely easy to make. Packed with tons of antioxidants and nutrients.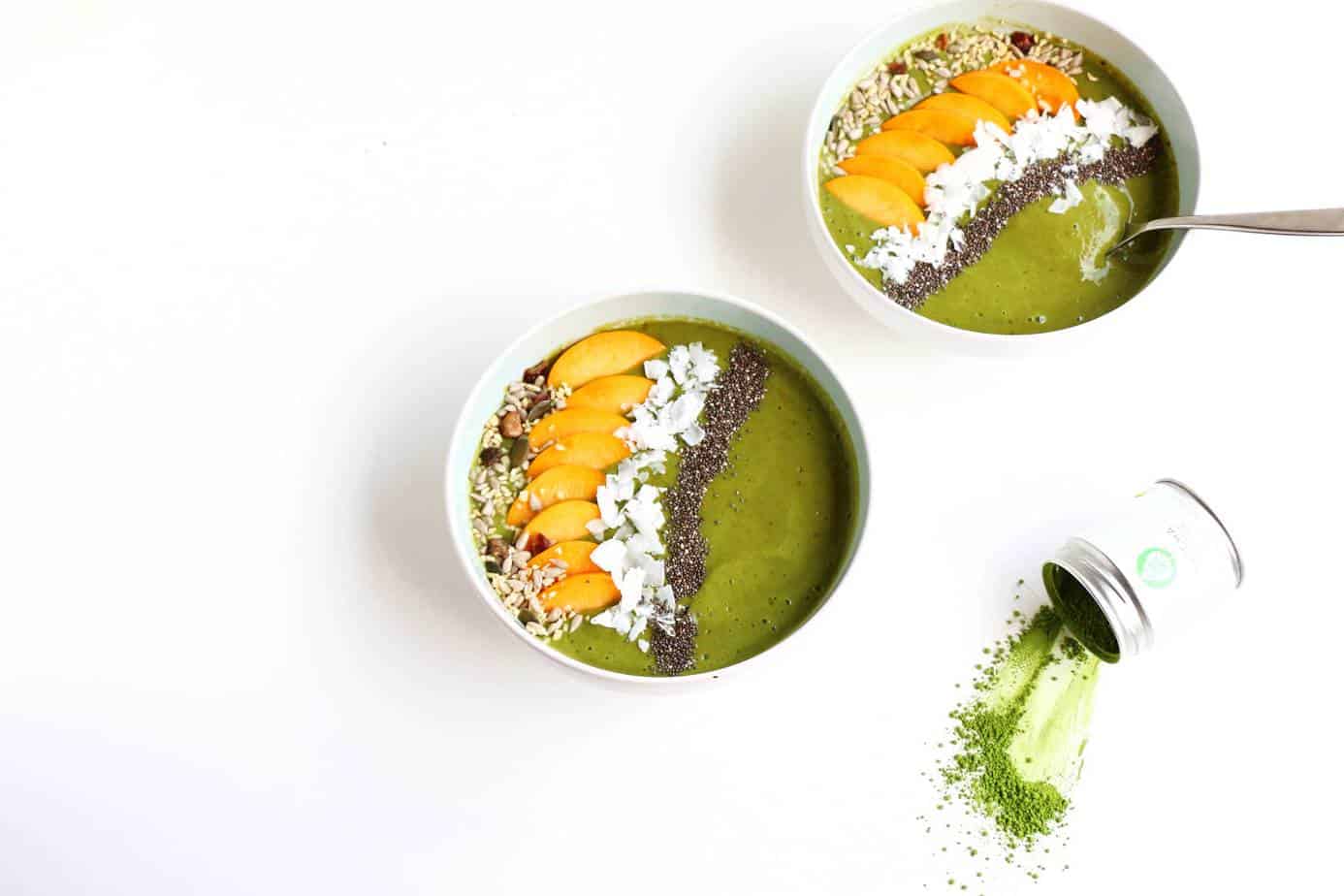 Matcha Peach Smoothie Bowl is not only delicious but is also packed with antioxidants, nutrients & all kinds of feel-good ingredients.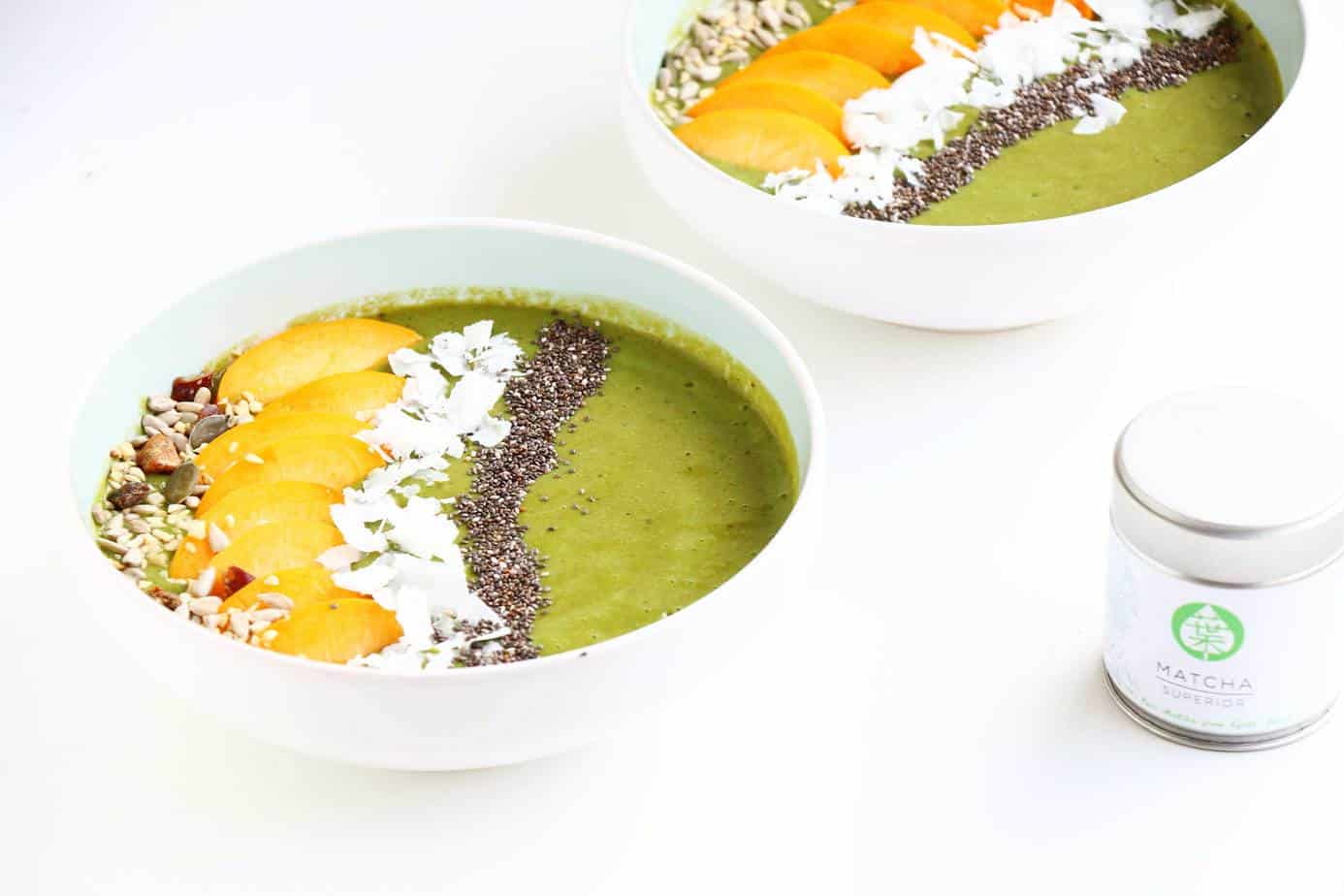 Smoothie Bowl Recipe with Matcha and Peach
Today's post is a whole lot of "new" for me, that is because not only am I a smoothie bowl newbie but I am also a total Matcha virgin. I know I'm a little late to the party, but the Matcha Madness has been going on for quite some time and I have seen absolutely amazing creations with Matcha (so watch this space).
The main reason I haven't joined in all the matcha madness is that in South Africa it has been incredibly difficult to find this amazing stuff. That was until recently when this awesome new little company started bringing in Matcha straight from Japan.
Just Matcha sent me the cutest little tin of the most delicious, purest Matcha. Naturally, my first thought is always....smoothie. And the only thing better than a smoothie is a smoothie bowl, right? YUMMY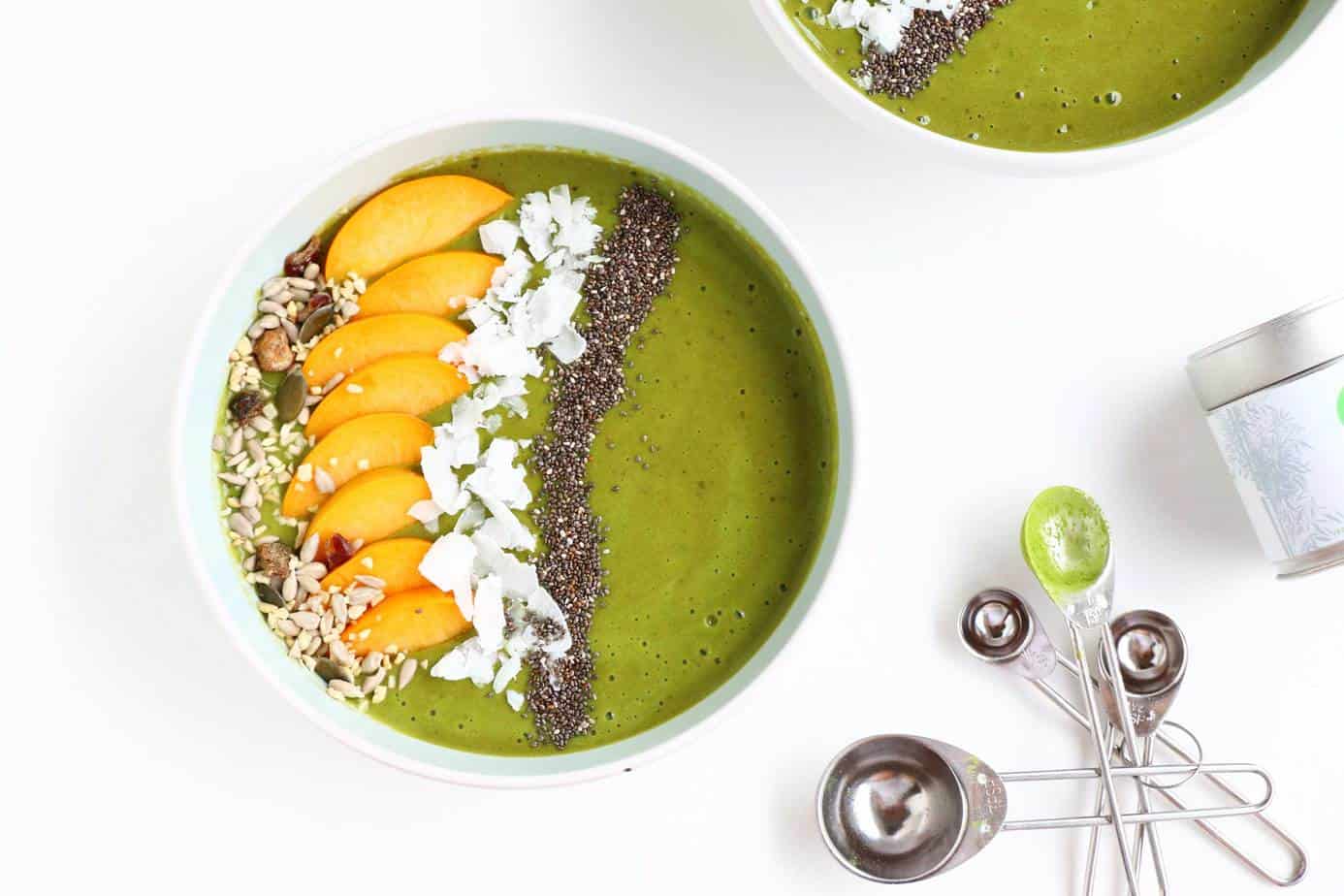 Matcha Benefits
So after reading a little more about Matcha on the Just Matcha website, I am totally sold. This stuff is incredible.
It helps fight cancer, lowers cholesterol, can improve your memory, fight off infections and the list goes on and on. You can head over here to see all the benefits. Matcha is pretty much the solution to all your problems ;).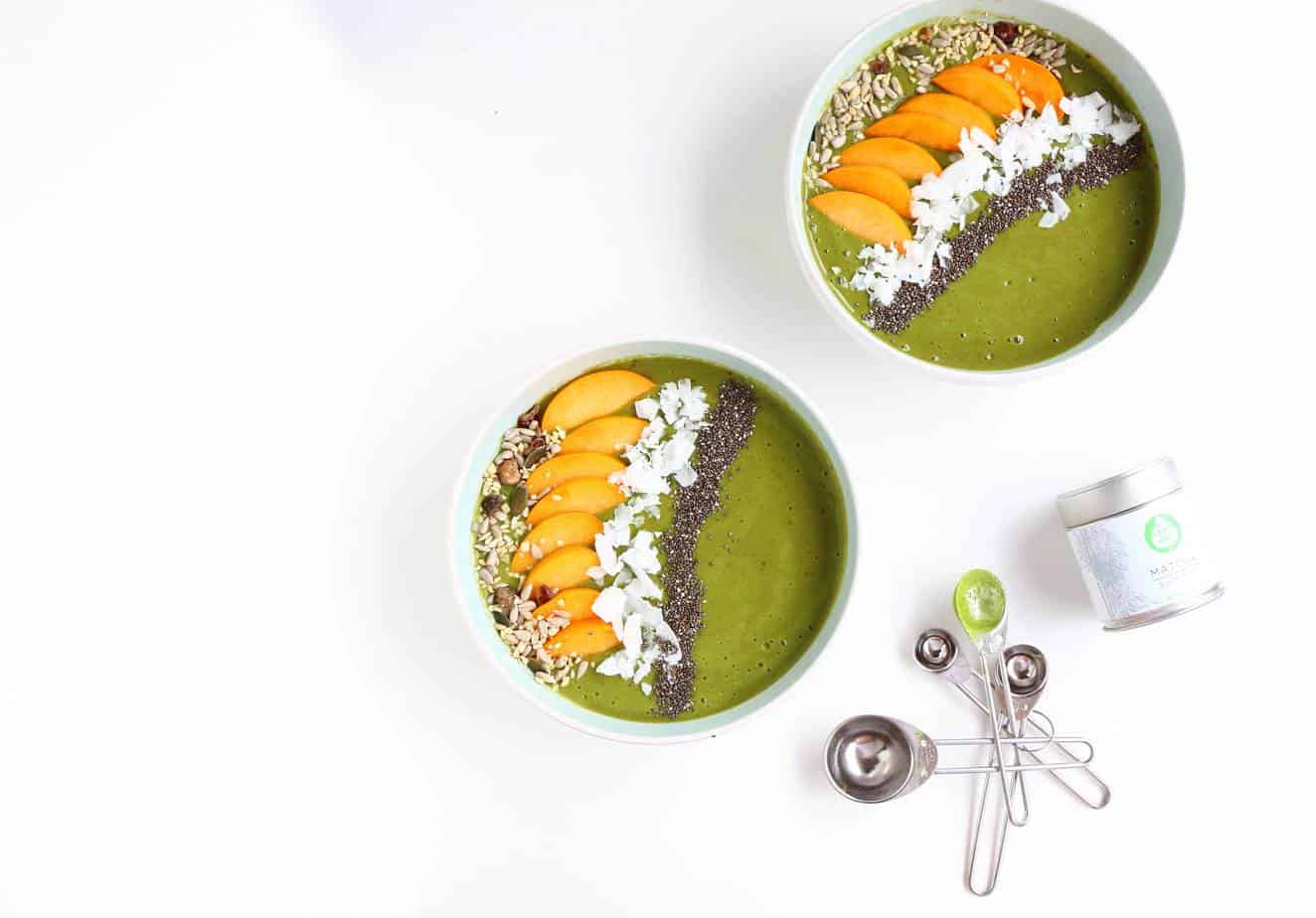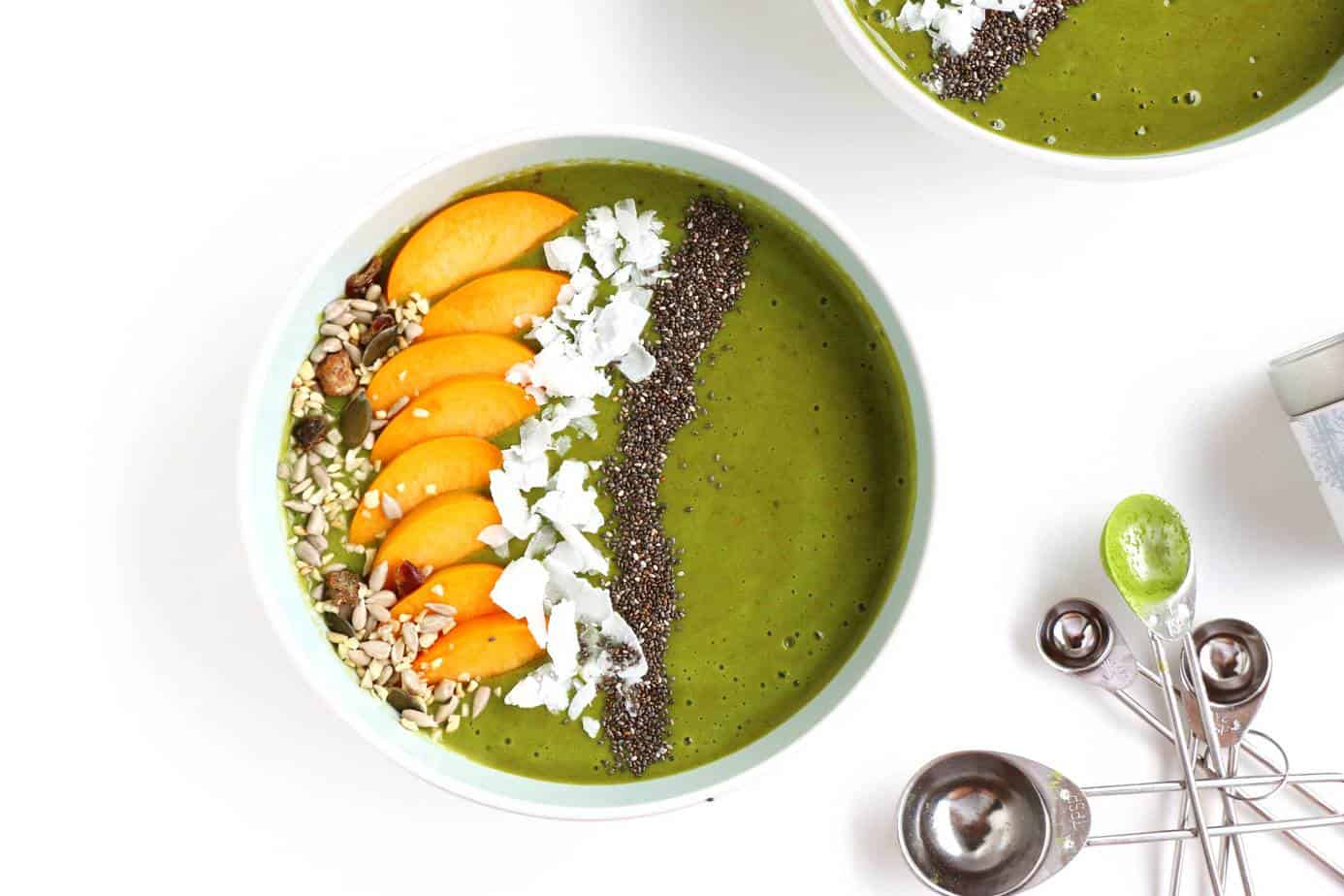 After making the Mango Smoothie Bowl for I Heart Naptime, I am totally obsessed with Smoothie Bowls. I love how you can have a smoothie, top it with awesome toppings and then eat it for breakfast or as a snack.
It really turns any smoothie into a meal. I LOOOOVE it! YUM! For the Matcha Peach Smoothie Bowl, I used frozen bananas, peaches, spinach, honey, matcha and almond milk. Thats it!
I then topped it with a few coconut shavings, some fresh peaches and chia seeds. Now seriously how healthy and delicious is this bowl of pure goodness? It has all the antioxidants you need, protein, fruits, veggies and it tastes amazing. Pure Perfection!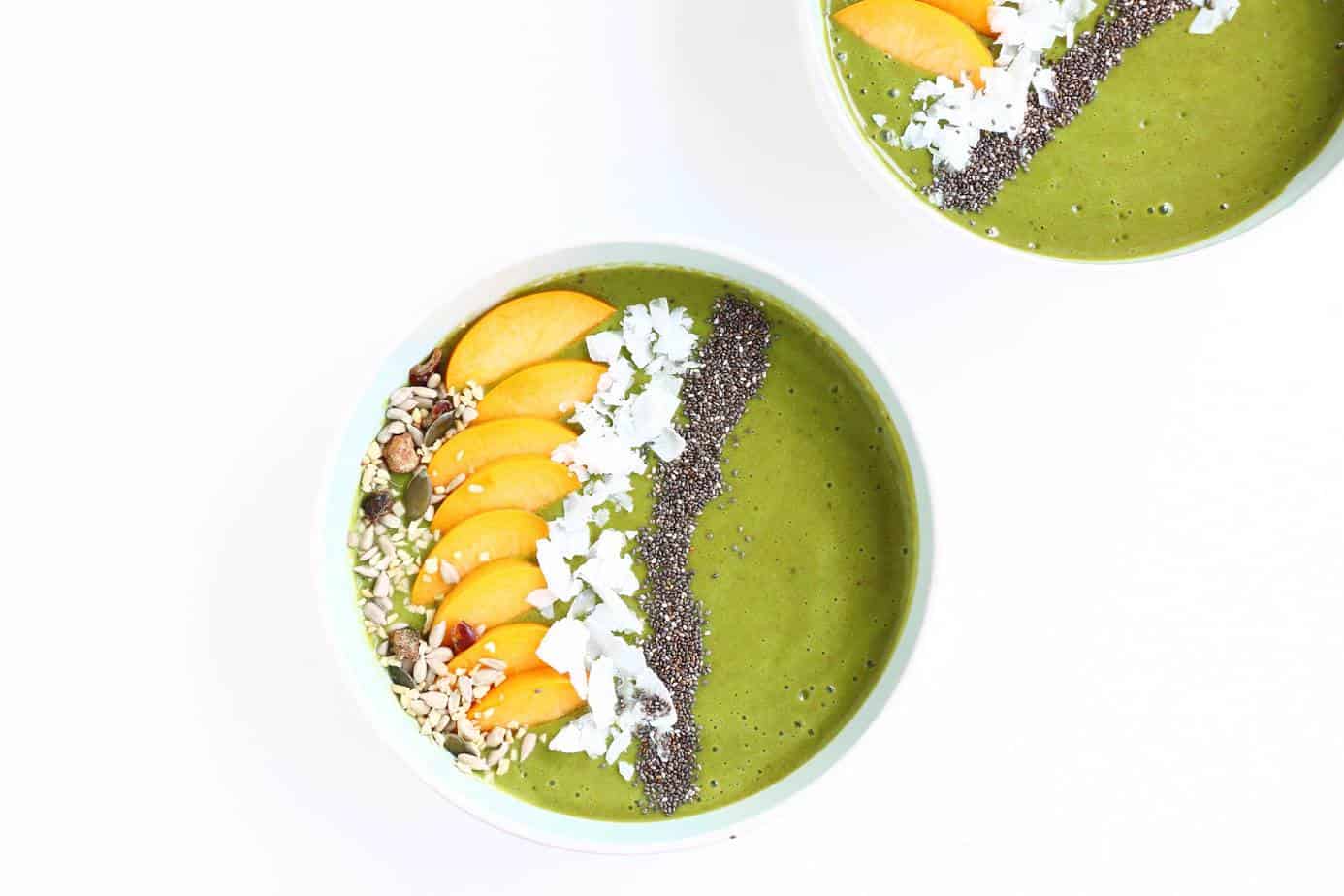 I hope you love this Matcha Peach Smoothie Bowl recipe as much as I do. And if you want to see more of my food adventures, follow me on Instagram or Facebook.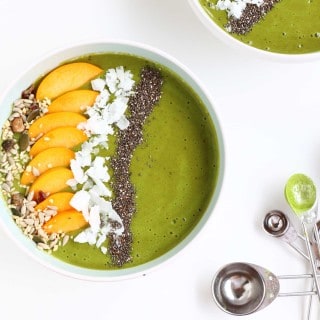 Matcha Peach Smoothie Bowl
Ingredients
3

Peaches

1 ½

Frozen Bananas

1

Cup

Almond Milk

½

Cup

Spinach

2

teaspoon

Matcha

2

teaspoon

Honey
For the Toppings: (these are optional, you can top with whatever you like)
Chia Seeds

Coconut Shavings

Fresh Peaches

Mixed Seeds
Instructions
Place all the ingredients for the smoothie in your blender.

Blend until smooth.

Divide smoothie between 2 bowls.

Top with toppings.

Devour!
Tried this recipe?
Let us know how it was in the comments below
Tag us on Instagram!
We love seeing people make our recipes. Mention @baking_ginger