This easy to make two ingredient cocktail recipe is the most refreshing drink out there. This Vodka and Sprite combo creates a summer time drink that pairs your favorite vodka with the refreshing notes of lemon-lime soda.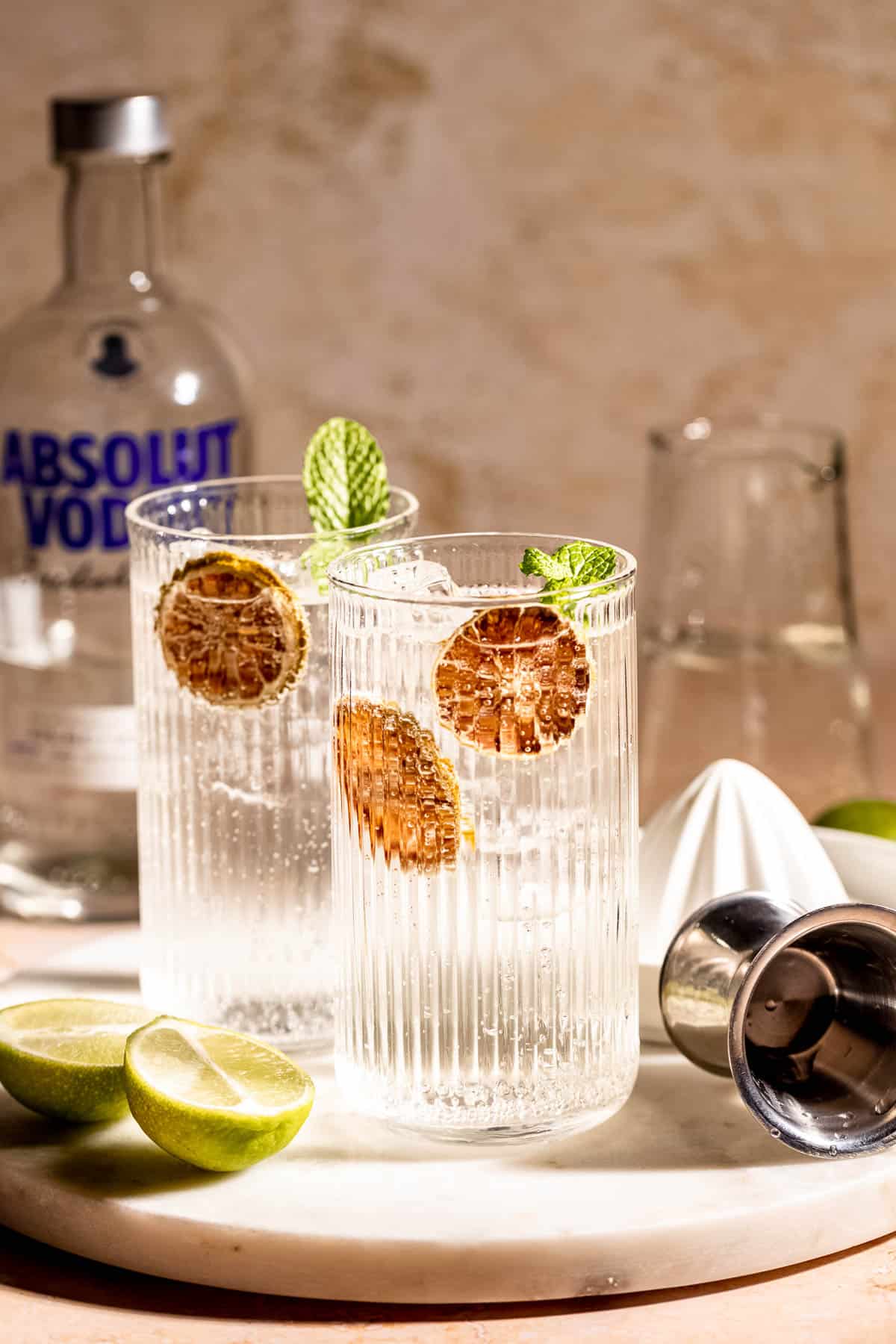 What is vodka and sprite?
When combined, vodka and Sprite create a refreshing and enjoyable combination of flavors. The neutral nature of vodka allows the lemon-lime flavors of Sprite to shine through, resulting in a versatile base for creating a wide range of cocktails. We love mixing drinks with vodka. Check out our post about The Best Mixers For Vodka.
The bubbly and citrusy characteristics of Sprite add effervescence and tang to vodka-based drinks, making them perfect for social gatherings, parties, or simply unwinding with a delicious cocktail.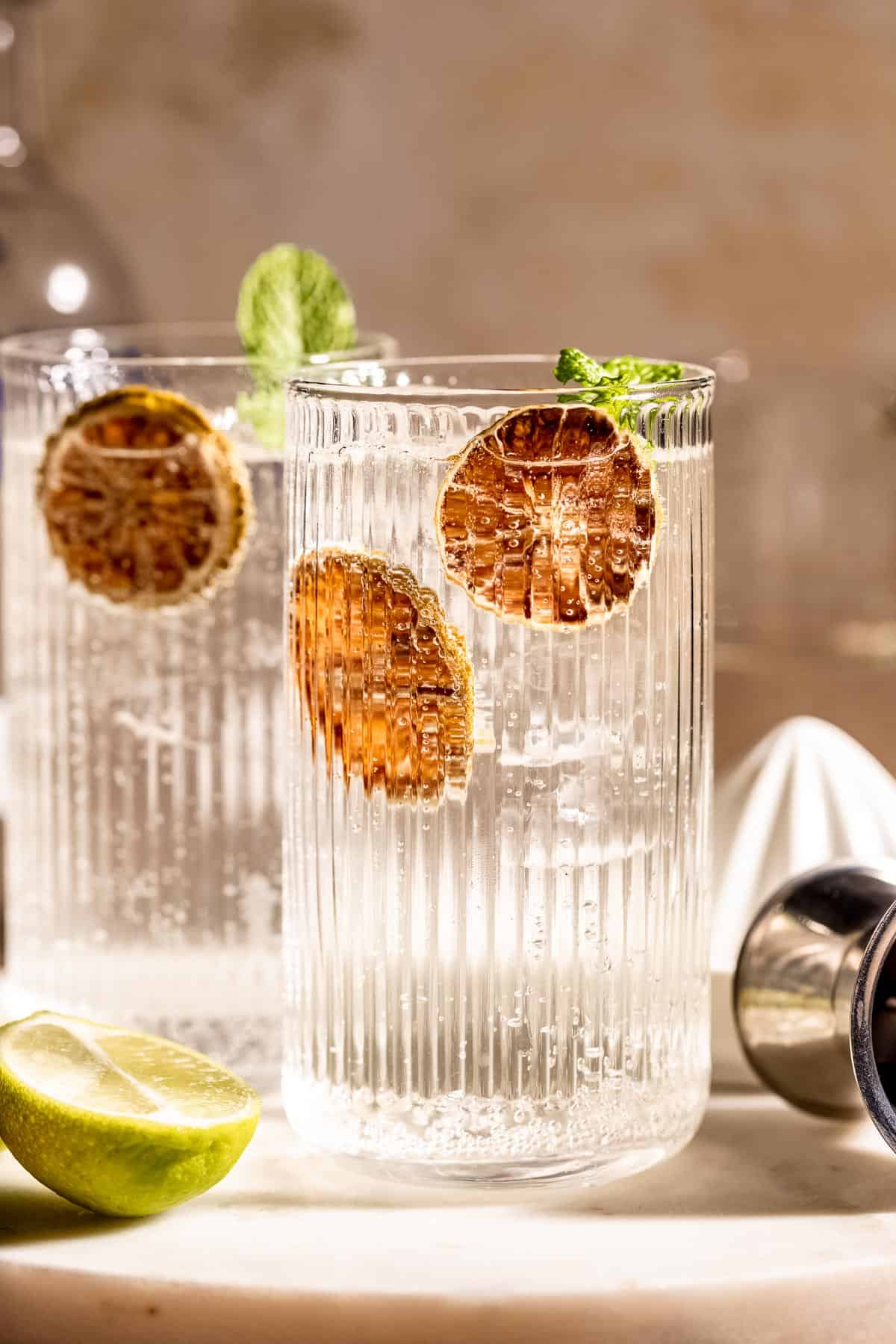 How to make this two ingredient cocktail
Step One:
Fill a highball glass or your glass of choice with ice.
Step Two:
Add the vodka and fill the glass with Sprite.
Step Three:
Use a bar spoon to stir and add your favorite garnishes.
Which vodka to use
When it comes to choosing which vodka to use when mixing with Sprite it is all about preference. You can use your favorite brand of vodka or mix it up with a flavored vodka of your choice.
Classic Vodka:

Examples: Smirnoff, Absolut, Ketel One, Stolichnaya (Stoli)
These brands offer a smooth and versatile base for mixed drinks, including vodka and Sprite cocktails. They are widely available and known for their consistent quality.

Flavored Vodka:

Examples: Absolut Citron, Smirnoff Raspberry, Stolichnaya Blueberi
If you want to add an extra flavor dimension to your vodka and Sprite drink, consider using a flavored vodka. Citrus, berry, or other fruit-infused vodkas can complement the lemon-lime profile of Sprite and create a more vibrant and aromatic cocktail.

Premium Vodka:

Examples: Grey Goose, Belvedere, Ciroc
For those seeking a higher-end vodka experience, premium brands offer exceptional quality and a smoother taste. Using a premium vodka in your vodka and Sprite drink can elevate the overall drinking experience and provide a more refined flavor profile.

Craft Vodka:

Examples: Vodka produced by local distilleries or craft vodka brands in your region
If you're interested in supporting local businesses or trying unique flavors, consider exploring craft or local vodka options. These vodkas often showcase distinct characteristics and can add a personal touch to your vodka and Sprite cocktail.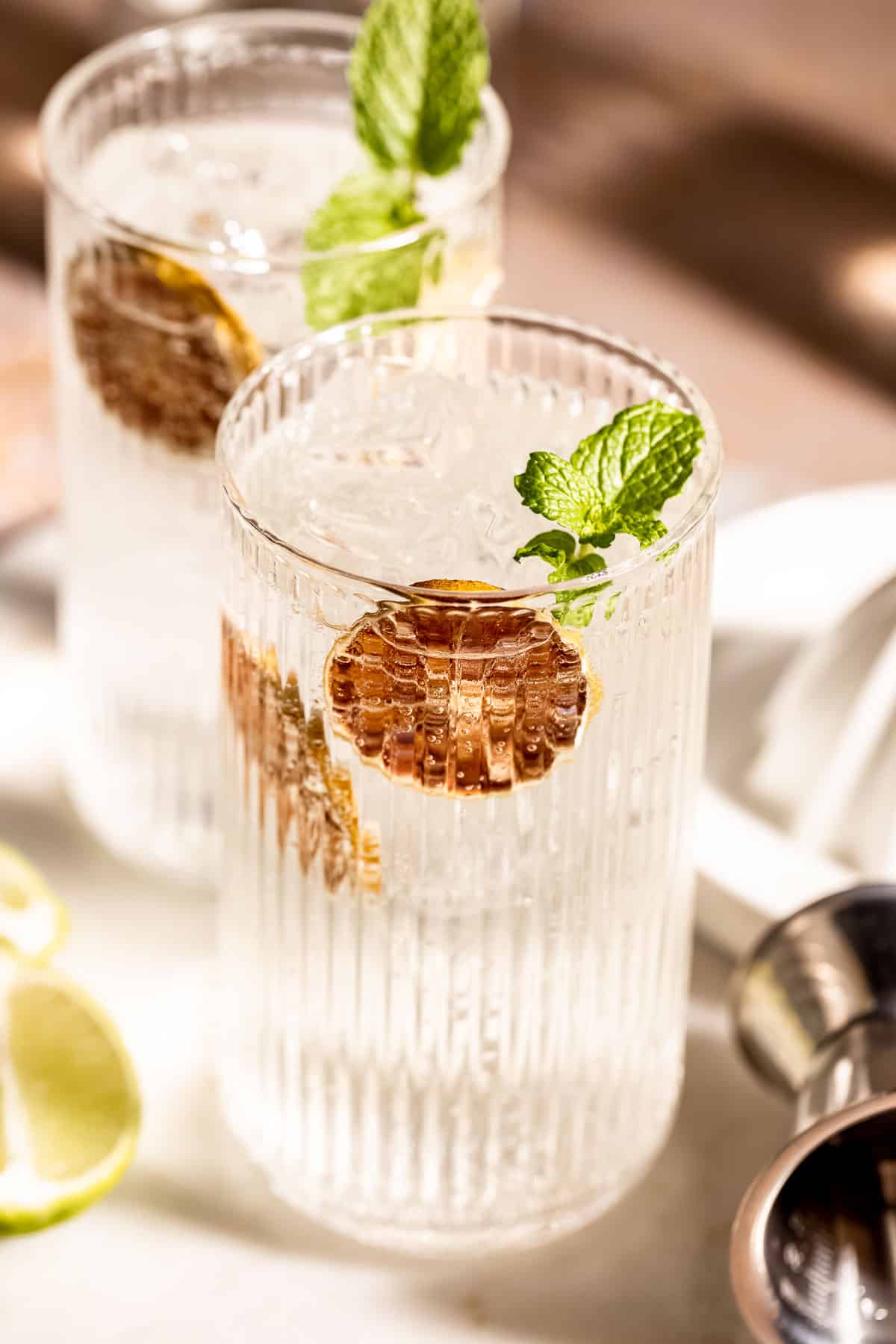 Variations and Ideas
Garnishes:
Adding different garnishes to your vodka and sprite cocktail will easily elevate your drink. We love adding dried lemon slices to add a little extra flavor and to make it beautiful.
Citrus Twist:

Take a lemon or lime peel and twist it over the drink to release the essential oils. Drop the twist into the glass as a garnish. This adds a touch of citrus aroma and complements the lemon-lime flavors of Sprite.

Fresh Fruit Skewer:

Thread a skewer with fresh fruits like berries, melon chunks, or citrus slices. Place the skewer across the rim of the glass, allowing the vibrant fruits to dangle into the drink. It adds color, freshness, and an enticing visual element.

Herb Sprig:

Add a sprig of fresh herbs like mint, basil, or rosemary to the drink. This not only adds a pop of green but also infuses a subtle herbal fragrance that can enhance the overall drinking experience.

Edible Flowers:

Place a colorful edible flower, such as an orchid or pansy, on top of the drink as a garnish. It creates a visually appealing and elegant touch, especially for special occasions or cocktails with a floral flavor profile. We love using them in our Purple Rain cocktails.

Sugar Rim:

Rim the glass with colored sugar for a fun and decorative touch. Dip the rim of the glass in citrus juice (e.g., lemon or lime) and then dip it into a plate of colored sugar to coat the rim. This adds a sweet and vibrant accent to your drink.

Cocktail Umbrella or Stirrer:

Add a small cocktail umbrella or a decorative stirrer to the drink for a playful and tropical vibe. It instantly adds a festive touch and makes your vodka and Sprite cocktail feel more like a vacation in a glass.
Add Ons
There are many things that you can add to your vodka and sprite drink to mix it up a little. Adding a little sweetness from simple syrup or grenadine or try adding some cranberry juice to add a twist to a classic vodka cranberry.
Fresh Fruit Juice:

Add a splash of fresh fruit juice, such as orange, cranberry, or pineapple, to your vodka and Sprite drink. It adds a burst of fruity flavor and can create a more complex and refreshing cocktail.

Simple Syrup:

Sweeten your drink by adding a touch of simple syrup. You can make it by dissolving equal parts sugar and water.

Bitters:

Incorporate a few dashes of bitters to enhance the depth of flavor in your vodka and Sprite drink. Angostura bitters or citrus bitters work well, adding a subtle complexity and balancing the sweetness.

Fresh Herbs or Muddled Ingredients:

Experiment with muddled fresh herbs or ingredients like cucumber, berries, or ginger. Muddle them gently in the glass before adding the vodka and Sprite to release their flavors. Strain the mixture if desired or leave the muddled ingredients in the drink for added texture.

Soda Water:

For a lighter and more effervescent drink, top off your vodka and Sprite cocktail with a splash of soda water. It adds a bubbly element and dilutes the sweetness, creating a refreshing and thirst-quenching beverage.

Liqueurs or Spirits:

Add a splash of liqueur or spirits to your vodka and Sprite drink to introduce new flavors and complexity. For example, a hint of elderflower liqueur, raspberry liqueur, or a touch of gin can elevate the overall taste profile.
What to serve with this cocktail
Due to the light and refreshing nature of this drink, there are many things that pair perfectly with it.
Try making a delicious Parmesan and Panko Crusted Chicken dish or serve it with a creamy pasta dish like our One Pot Pink Sauce Pasta.
Vodka and Sprite also pairs well with light desserts like our Baked Champagne Donuts or something a little different like this easy Mixed Berry Pavlova.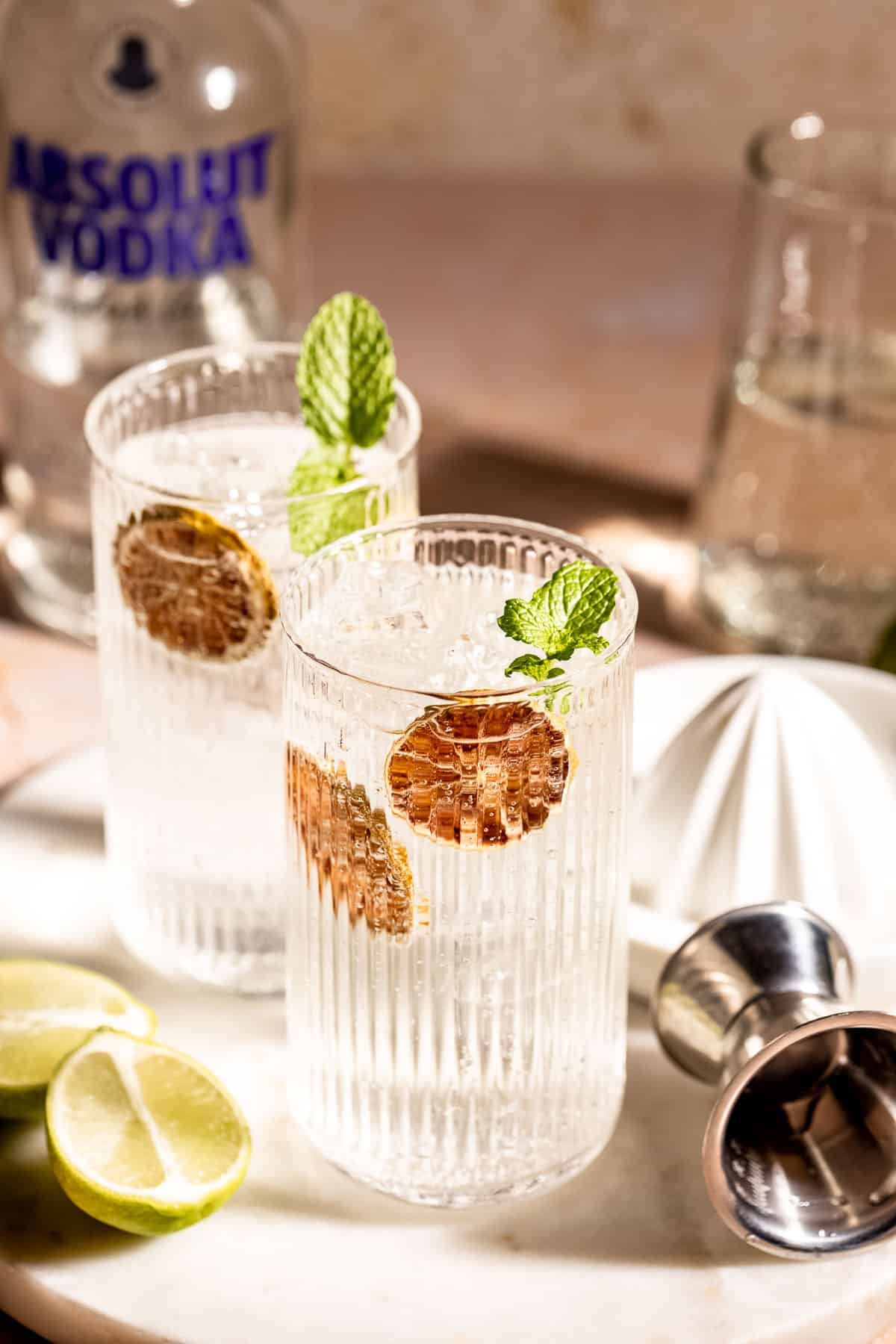 When to serve this drink
The vodka and Sprite drink is a versatile and refreshing option that can be enjoyed in various settings and occasions. Here are some suggestions for when to serve this drink:
Casual Gatherings:

This drink is perfect for casual get-togethers with friends or family. It's a crowd-pleaser and can be easily prepared in larger quantities for parties, BBQs, or game nights.

Outdoor Events:

Serve this drink at outdoor events like picnics, beach parties, or poolside gatherings. Its refreshing nature and citrusy flavors make it a great choice for warm weather and outdoor settings.

Cocktail Parties:

Offer vodka and Sprite cocktails at cocktail parties as a lighter and more accessible option. The simplicity of the drink allows guests to enjoy a refreshing beverage without the complexity of elaborate mixology.

Brunches and Daytime Events:

The bright and bubbly nature of this drink makes it well-suited for daytime events like brunches or afternoon gatherings. It pairs well with a variety of brunch foods and adds a festive touch to daytime celebrations.

Happy Hours or Social Mixers:

Include this drink in the drink menu for happy hours or social mixers. Its versatility allows guests to enjoy it as a standalone option or as a base for various mixed drinks, catering to different tastes and preferences.

Relaxing Evenings:

Serve this drink during relaxing evenings at home or when unwinding after a long day. Its refreshing qualities make it an enjoyable choice for unwinding and adding a touch of relaxation to your evening routine.
More Vodka Cocktails
Vodka and Sprite
This Vodka and Sprite combo creates a summer time drink that pairs your favorite vodka with the refreshing notes of lemon-lime soda.
Ingredients
2 oz Vodka
4-6 oz Sprite
Ice cubes
Dried lemon slices, for garnish
Instructions
Fill a highball glass with ice and add the vodka.
Top with Sprite and use a bar spoon to stir the cocktail.
Garnish with dried lemon slices and mint if desired.
Notes
Chill Your Glass: Place the glass in the refrigerator or freezer for a short time before making the drink. Serving the cocktail in a chilled glass helps keep the drink cool and refreshing.
Use Fresh Ingredients: Opt for freshly squeezed citrus juice if you're adding it to your drink. Using fresh ingredients enhances the flavor and aroma of the cocktail.
Measure Your Ingredients: To achieve a well-balanced drink, measure the vodka and Sprite using a jigger or measuring tools. Consistent measurements ensure that each drink you make has the same flavor profile.