A White Russian Screwball Drink is a smooth and creamy cocktail that is a delicious twist on a classic! The addition of peanut butter whiskey adds richness and complexity that will delight your taste buds.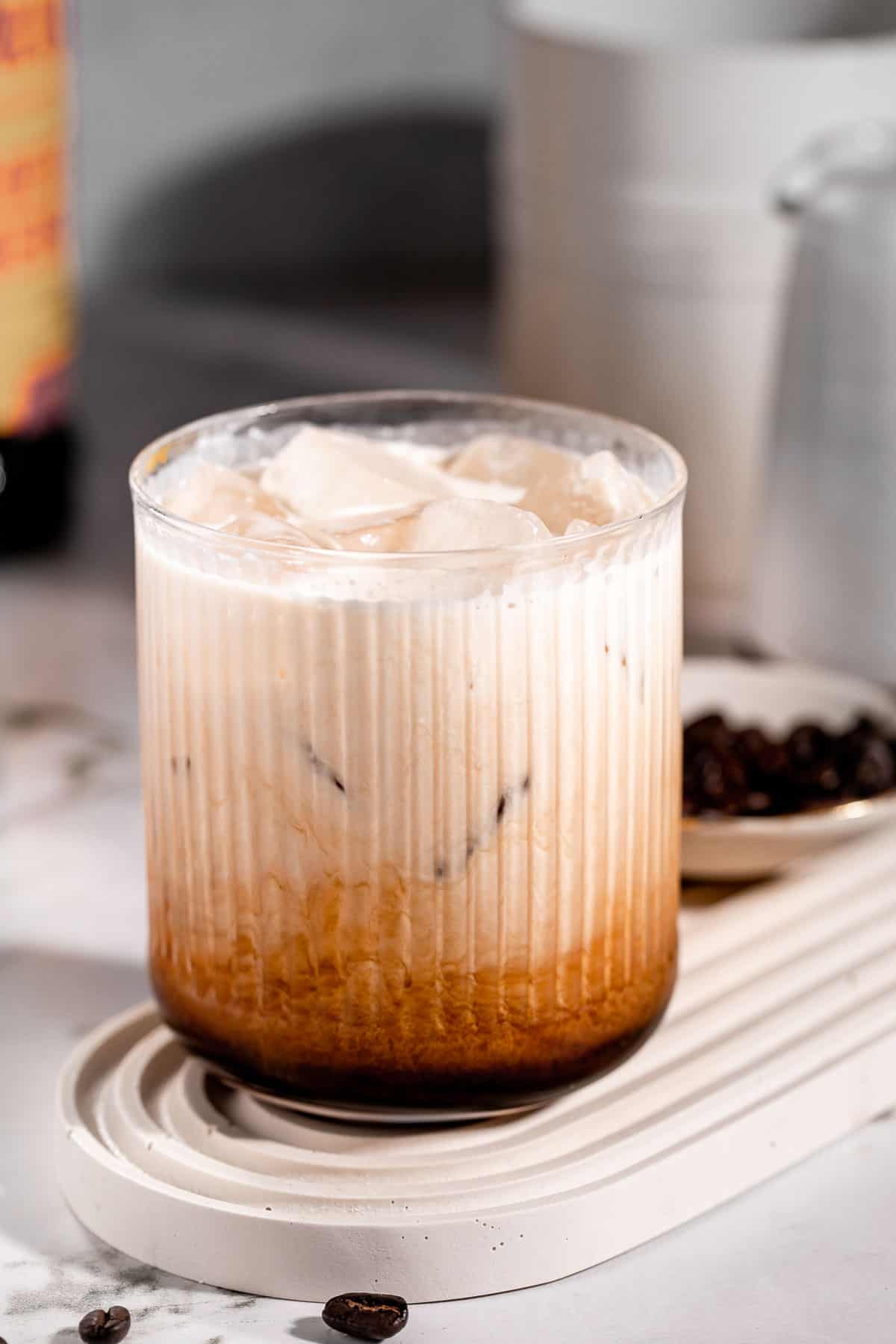 Jump to:
An Easy Screwball Drink Recipe
A Screwball White Russian is a decadent dessert-like drink that is both creamy and boozy. It is packed with flavors of coffee and peanut butter and has a rich and smooth sip that will keep you wanting more.
This Screwball White Russian is a variation of the popular Classic White Russian Cocktail. The key difference between these two drinks is the type of alcohol used.
The original recipe uses vodka as its base liquor, whereas this version uses Screwball Whiskey. Adding peanut butter whiskey to the mix gives the drink a richer nutty flavor that mixes luxuriously with the Kahlua coffee liqueur.
I love serving these creamy screwball drinks as a delicious after-dinner treat or they are also a great drink option for the holidays. Whenever you serve them up, they will be a guaranteed hit!
Love creamy coffee cocktails? Then you have to try out our TEQUILA ESPRESSO MARTINI and our creamy classic SHAFT DRINK!
What exactly is Screwball Whiskey
Screwball Whiskey is a flavored and sweetened whiskey that tastes like peanut butter and is made with real peanuts. This unique whiskey entered the scene in 2018 in California and has become a popular cocktail ingredient ever since.
Screwball whiskey has a thick, sticky texture and is very sweet. It has a strong nutty peanut finish along with notes of caramel, coffee, and vanilla. The flavors of peanuts, vanilla, and caramel mix together to create a true peanut butter flavor and aroma.
It is a light whiskey (35% ABV) that creates a unique drinking experience with an initial warm sensation of whiskey with a lingering aftertaste of peanut butter. Screwball whiskey can be enjoyed on the rocks or as part of a unique cocktail or mixed drink.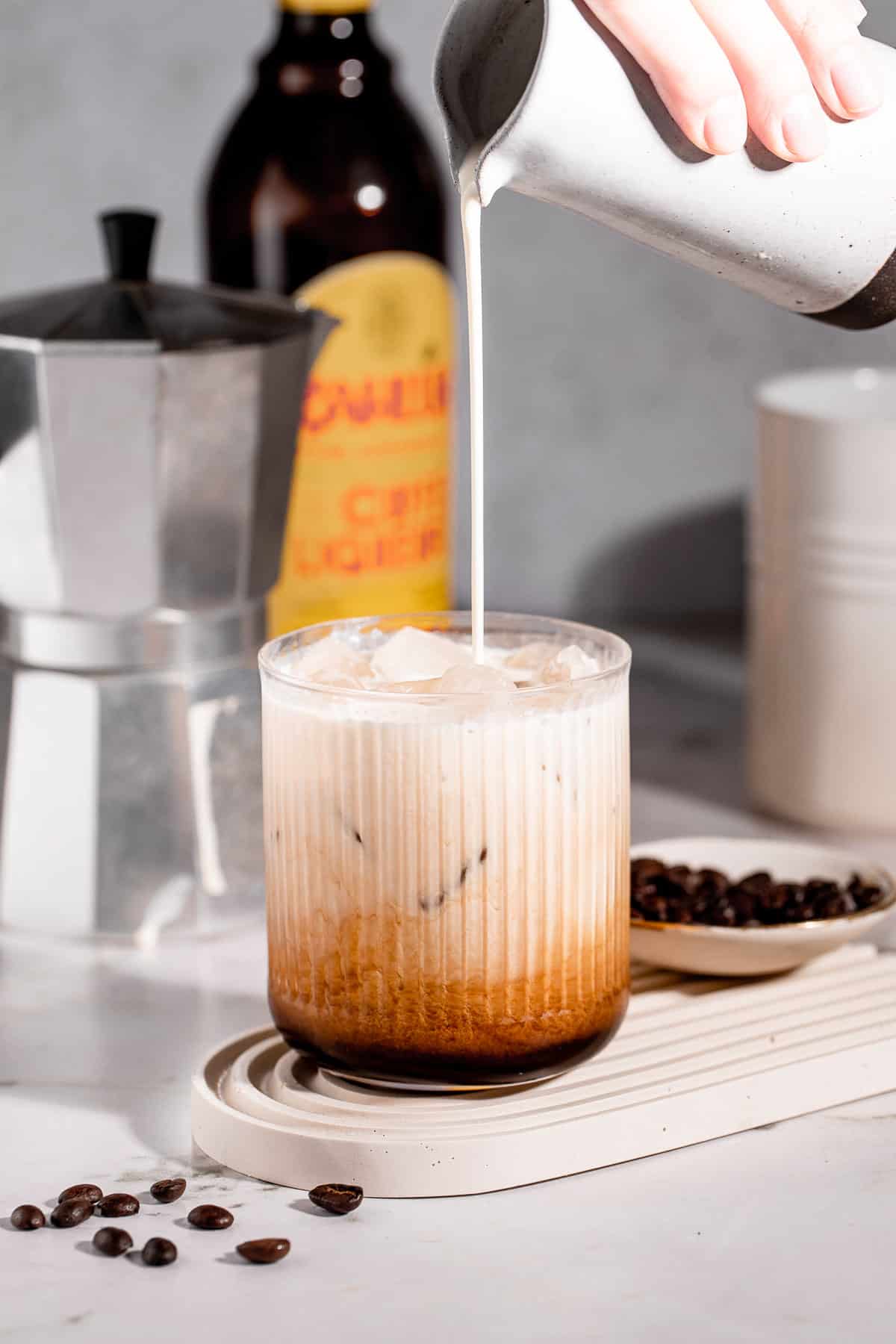 Ingredients and Notes
This White Russian-inspired screwball drink is made up of four simple ingredients. You can easily adjust the ingredients needed according to your exact preferences to make the perfect cocktail for your palate.
The ingredients you will need to make a Screwball Whiskey White Russian are listed below and you can also find a detailed recipe card at the end of this post!
Skrewball Peanut Butter Whiskey. Adds nutty flavor and sweetness to the cocktail.
Kahlua Liqueur. A coffee liqueur made from rum, sugar, and coffee. You can substitute the Kahlua for any other coffee liqueur that you prefer best.
Vodka. Any plain, unflavored vodka will work for this recipe.
Heavy cream. Brings the smooth, creamy richness to this screwball drink! You could also use half and half if preferred. And if you are looking for a non-dairy alternative, we suggest coconut cream!
Got some leftover Screwball whiskey? We suggest making a batch of our delicious PEANUT BUTTER WHISKEY COCKTAILS WITH ESPRESSO!
Optional Screwball Drink Garnishes and Additions
Pinch of salt
A sprinkle of ground cinnamon
One dash of angostura bitters
Chopped roasted peanuts
One or two coffee beans
A dusting of espresso powder
Equipment Needed
A serving glass, like a lowball rocks glass, is best as it allows room for plenty of ice cubes.
A measuring jigger, jug, or cup for accurate measurements.
A spoon to mix the cocktail.
How to Make an Easy White Russian Screwball Drink
This Screwball White Russian is easy to make and takes just a couple of minutes. The drink is assembled in the serving glass so there is no need for any fancy bar equipment.
To make this tasty screwball drink, follow the step-by-step instructions below, or you can find a full, detailed recipe card at the end of this post.
STEP ONE
Fill ¾ of your serving glass with ice cubes.
STEP TWO
Add the Skrewball Peanut Butter Whiskey, Kahlua, and vodka. Mix together.
STEP THREE
Top with heavy cream and serve immediately. You can give the drink a gentle stir before enjoying or let the cocktail mix as you drink it.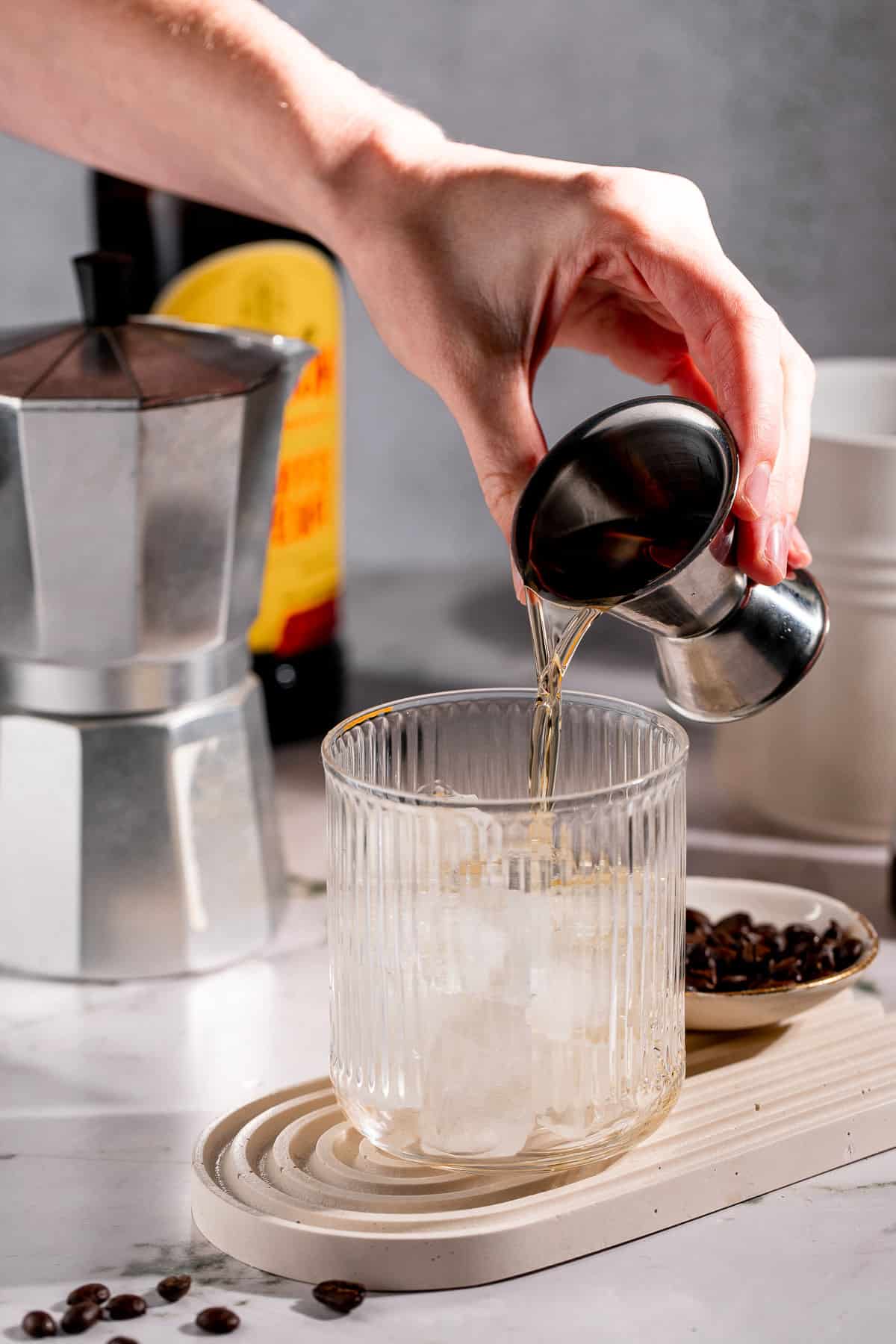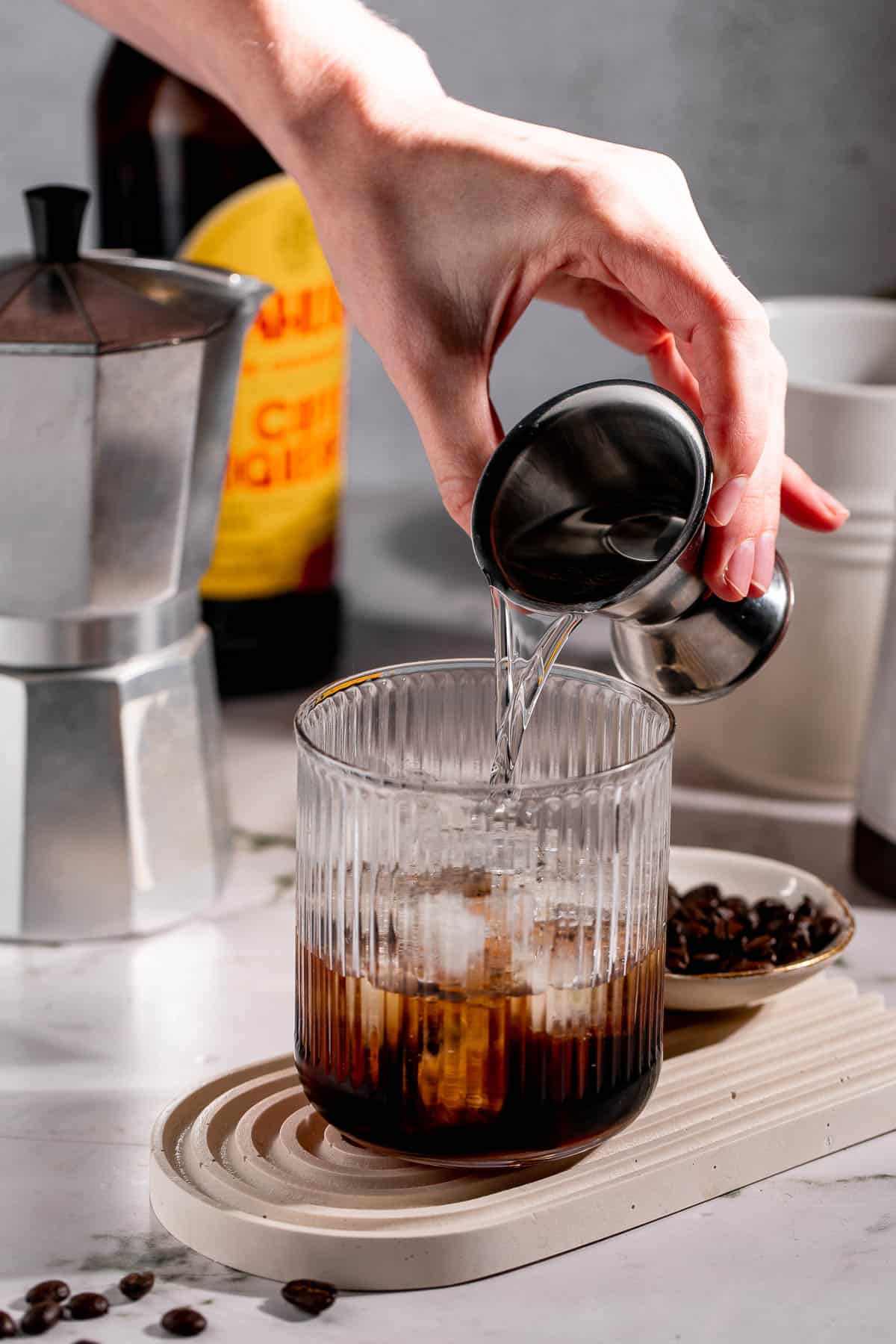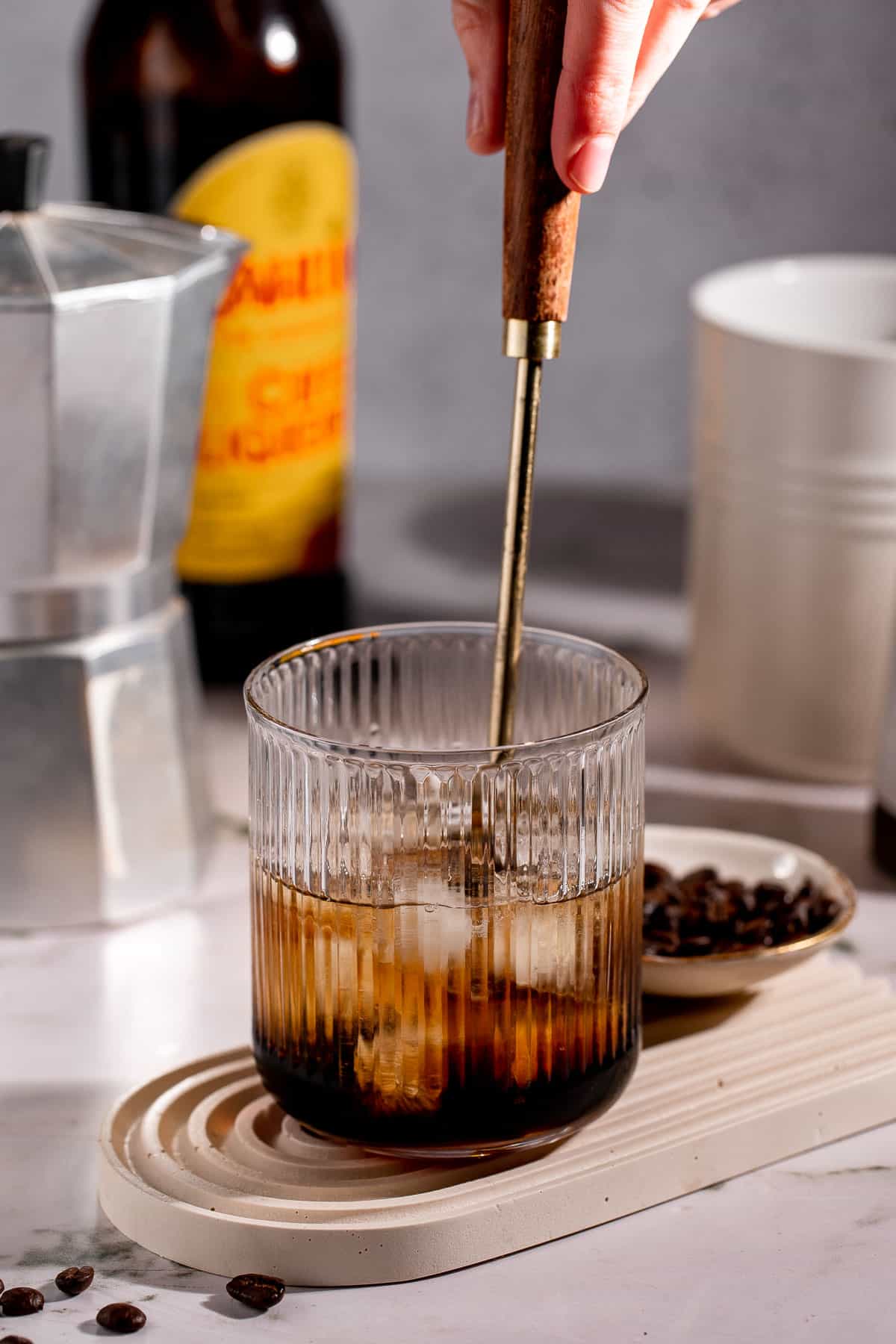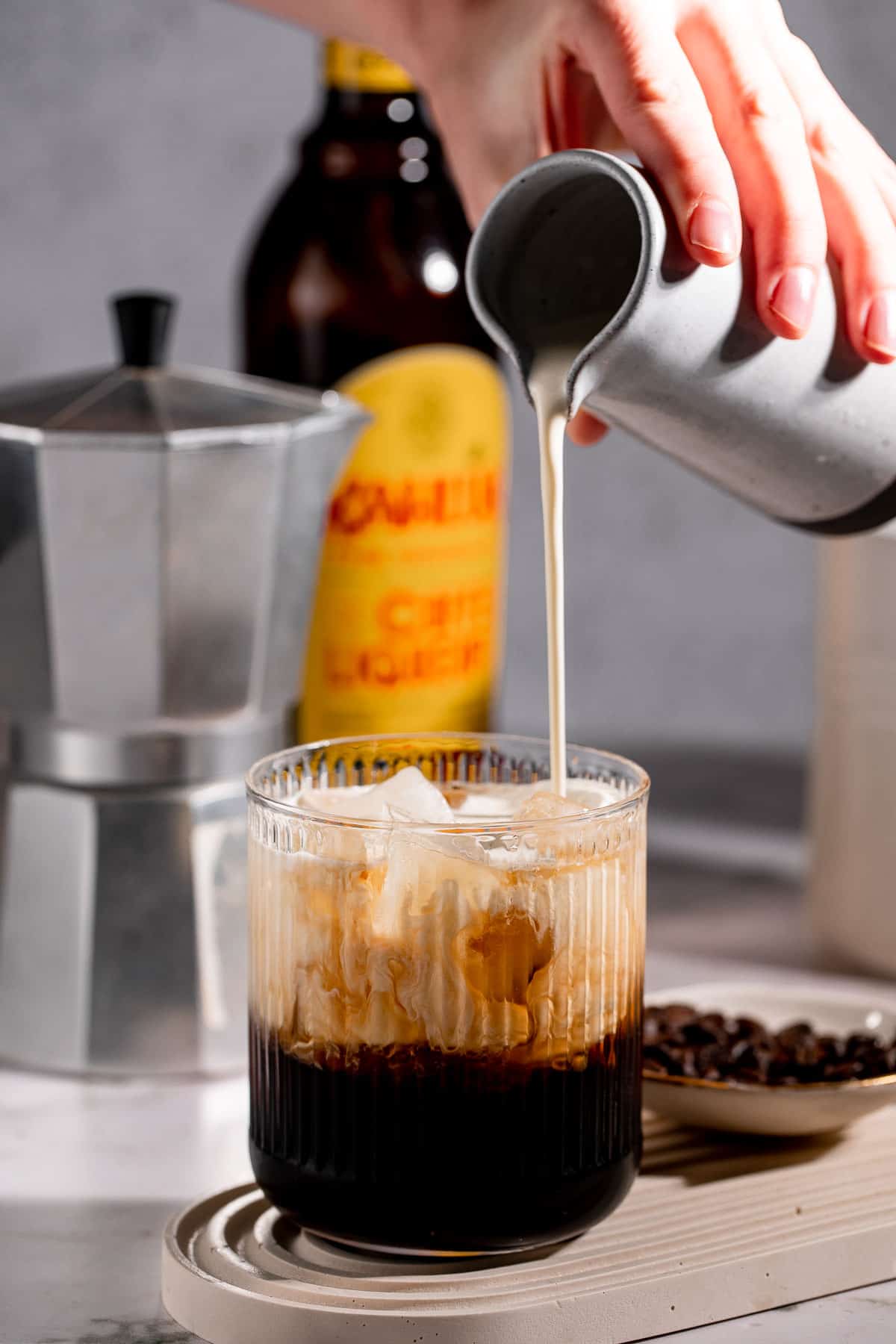 Recipe Tips and Notes
If you like a boozier drink try adding some extra vodka. Vodka has a fairly neutral flavor so this will not impact the final taste of your screwball drink but will just give it an extra kick.
You can serve this drink with crushed ice or whole ice. Just keep in mind that as the ice melts it will start to slightly dilute the drink.
Because peanut butter whiskey is sweetened, this drink doesn't need any extra syrup or sweeteners. But if you do prefer a sweeter drink you could add ½ - 1 oz of simple syrup, honey, or maple syrup.
To make a tasty variation, try using vanilla vodka or chocolate vodka instead of plain, unflavored vodka.
This is an alcohol-heavy cocktail recipe that combines three liquors so please drink responsibly.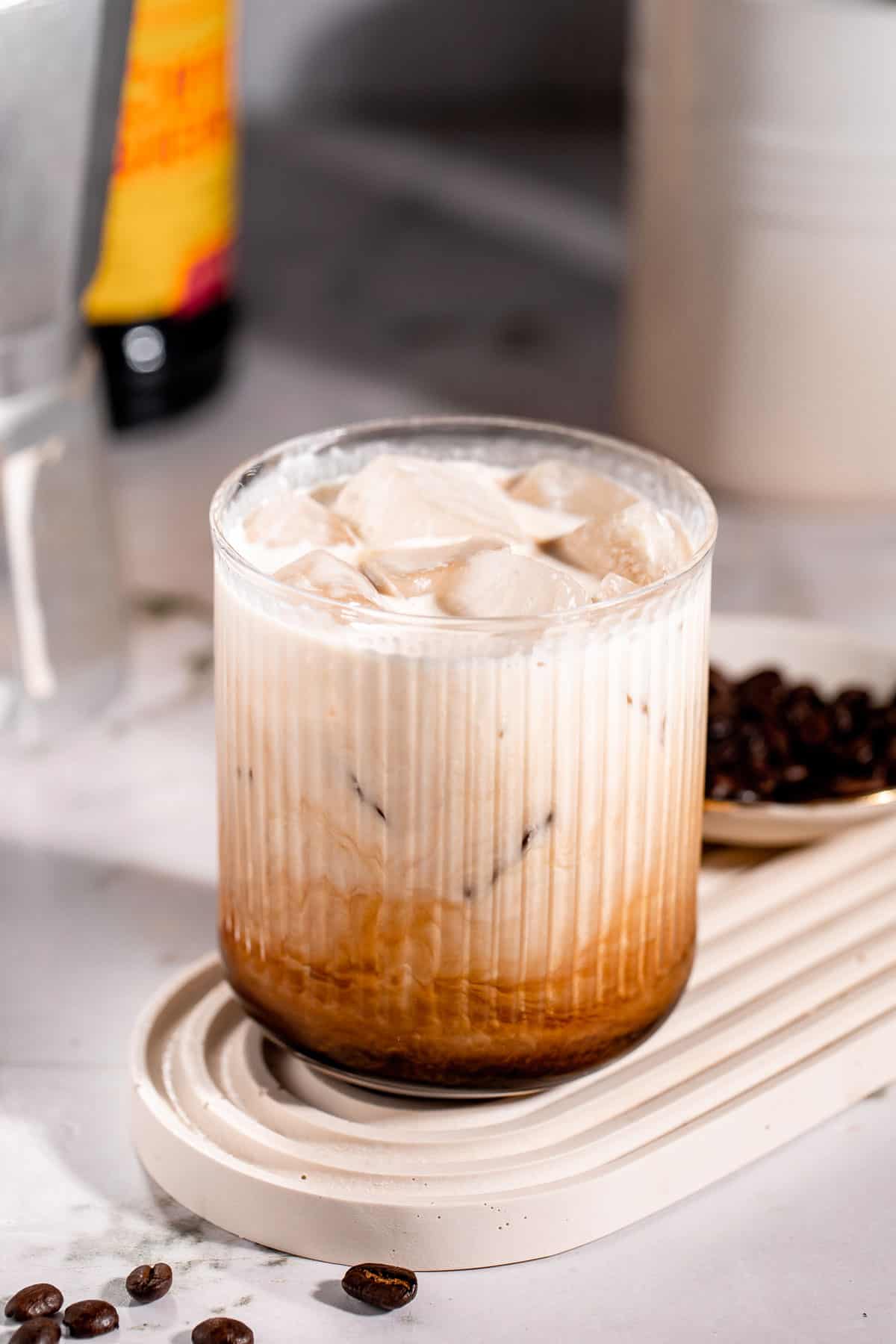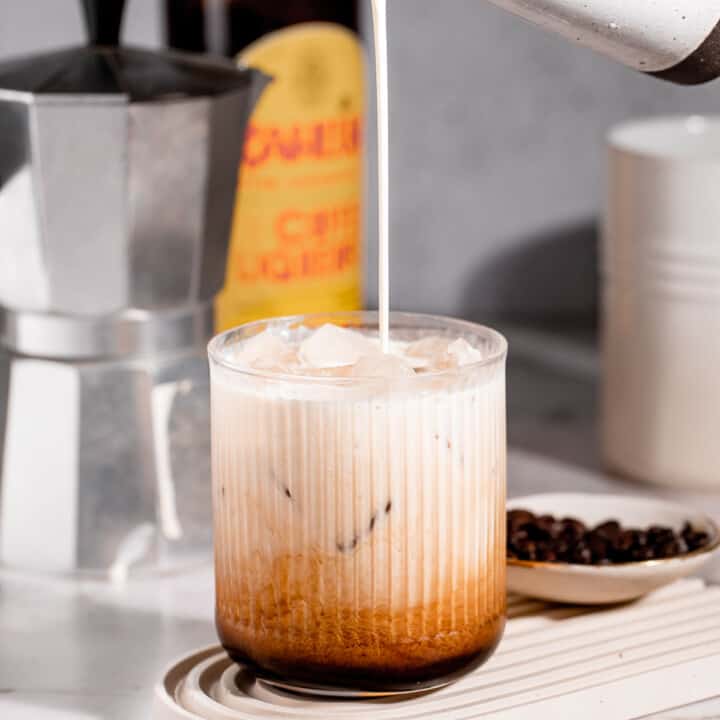 White Russian Screwball Drink
A White Russian Screwball Drink is a smooth and creamy cocktail that is a delicious twist on a classic! The addition of peanut butter whiskey adds richness and complexity that will delight your taste buds.
Ingredients
2

oz

Screwball Peanut Butter Whiskey

2

oz

Kahlua Liqueur

1

oz

Vodka

2

oz

Heavy Cream
Instructions
Add the Whiskey, Kahlua and vodka. Stir to combine.

Add the heavy cream and serve.
Nutrition
Calories:
258
kcal
Carbohydrates:
2
g
Protein:
2
g
Fat:
20
g
Saturated Fat:
13
g
Polyunsaturated Fat:
1
g
Monounsaturated Fat:
5
g
Cholesterol:
64
mg
Sodium:
16
mg
Potassium:
54
mg
Sugar:
2
g
Vitamin A:
833
IU
Vitamin C:
0.3
mg
Calcium:
37
mg
Iron:
0.1
mg
Tried this recipe?
Let us know how it was in the comments below
Tag us on Instagram!
We love seeing people make our recipes. Mention @baking_ginger
We hope you love this White Russian Screwball Drink recipe as much as we do. And for more delicious recipes, follow me on Facebook and Instagram!