Uncover the magic behind this Italian delight as we explore the harmonious blend of Campari and orange juice that is a Garibaldi Cocktail. Discover how two simple ingredients can create a surprisingly balanced and utterly satisfying concoction.
What Is A Garibaldi Cocktail
Who doesn't love a two ingredient drink? Especially when it creates a delicious flavor like the Garibaldi Cocktail.
A Garibaldi cocktail is a classic Italian libation renowned for its simplicity and invigorating flavors. Crafted from just two essential ingredients – Campari and orange juice – it exemplifies the elegance that can be achieved through minimalism.
The deep red hue of Campari, an iconic bitter aperitif, merges seamlessly with the vibrant and zesty notes of freshly squeezed orange juice.
The cocktail's origins can be traced back to Italy, where it is named after Giuseppe Garibaldi, a revered 19th-century military and political figure.
Just as Garibaldi played a pivotal role in Italy's unification, the cocktail unites the distinct characteristics of its ingredients into a seamless whole.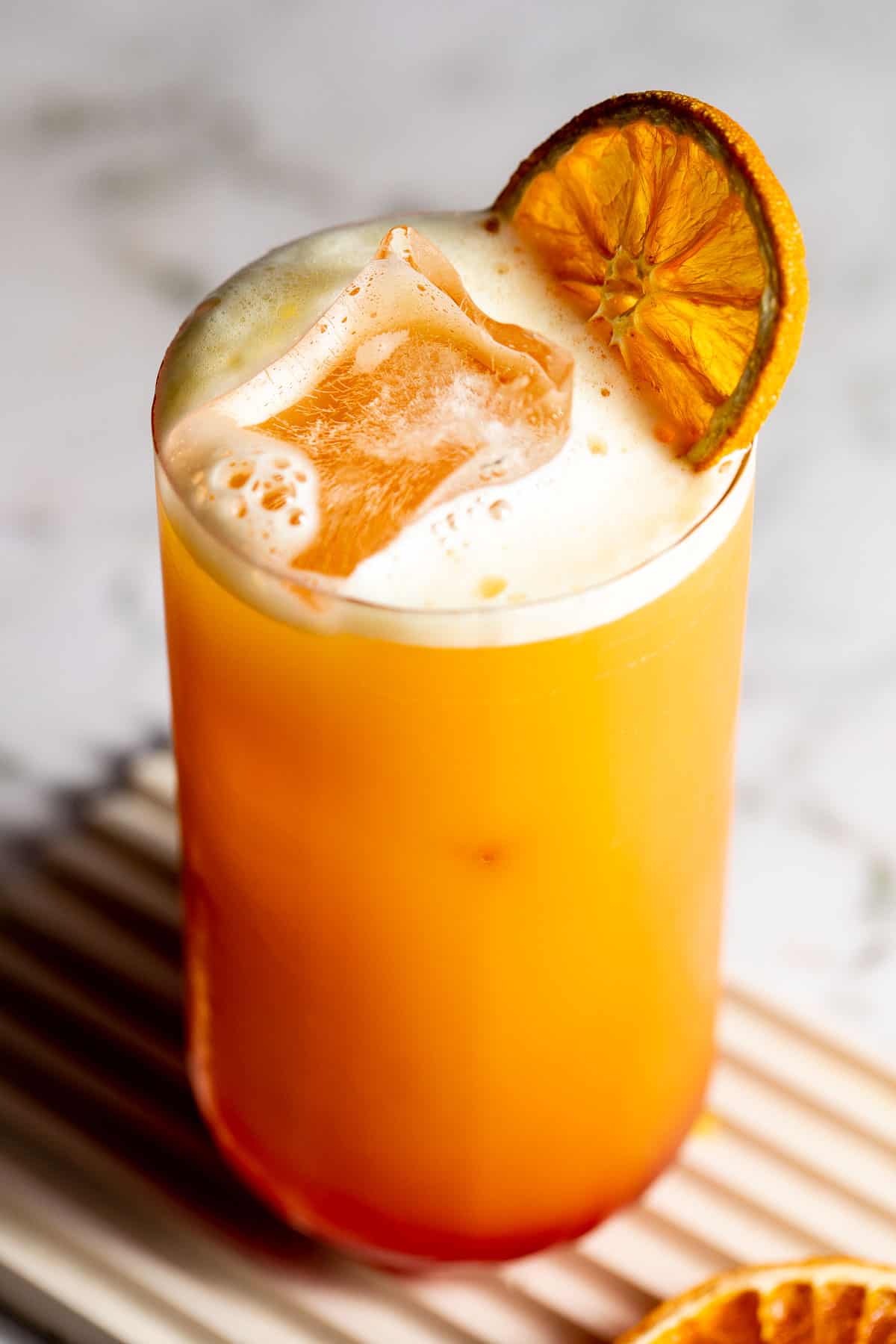 Ingredients
As mentioned, there are only two ingredients need to make this delicious cocktail. Campari and orange juice. The combination of these refreshing summer ingredients create a perfectly balanced cocktail.
Because only two ingredients are required you want to make sure you only use the best of the best when it comes to orange juice.
When selecting orange juice for your Garibaldi, consider the following options:
Freshly Squeezed Orange Juice: If possible, opt for freshly squeezed orange juice. This option provides the most authentic and vibrant orange flavor, as it's derived straight from the fruit. The natural sweetness and acidity of freshly squeezed juice can beautifully complement the bitterness of Campari, creating a harmonious balance.
High-Quality Store-Bought: When fresh oranges are not available or convenient, look for high-quality, premium store-bought orange juice. Choose options that are 100% pure orange juice with no added sugars or artificial flavors. Some brands offer not-from-concentrate juices that closely mimic the flavor of freshly squeezed oranges.
Freshly Pressed Juices: Some grocery stores or local juice bars offer freshly pressed orange juices that maintain much of the fruit's natural goodness. These juices often have a more vibrant and authentic taste compared to concentrated or reconstituted alternatives.
Organic or Non-GMO: Opt for organic or non-GMO options when possible. These juices tend to have fewer additives and are made from higher-quality oranges, resulting in a more authentic and flavorful juice.
Consider the Pulp: Depending on your preference, you can choose between pulp-free and pulp-included orange juice. The pulp can add a textural element to the cocktail and enhance the overall experience.
Ultimately, the best orange juice to use for your Garibaldi cocktail depends on your taste preferences and the availability of ingredients.
Whether you opt for freshly squeezed or high-quality store-bought orange juice, the key is to select an option that complements the bitterness of Campari while adding a burst of natural sweetness and citrusy freshness to the cocktail.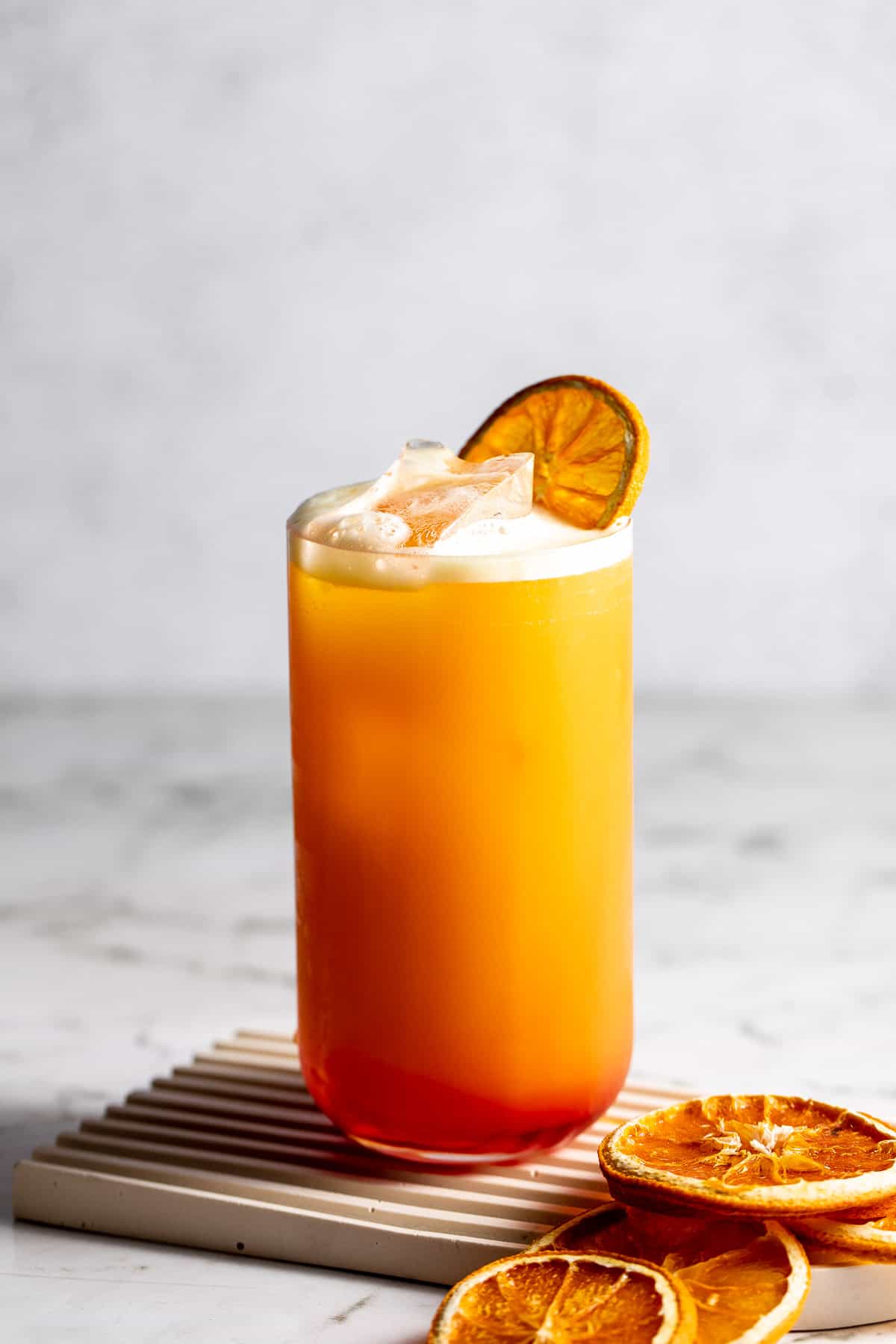 How To Make A Garibaldi
Chill Your Glassware: Place your serving glass in the freezer or fill it with ice water to chill while you prepare the cocktail.
Prepare Your Ingredients: Measure out your ingredients—1 part Campari and 3 parts fresh orange juice. You can adjust these ratios according to your taste preferences.
Combine the Ingredients: In a mixing glass or cocktail shaker, pour in the Campari and then add the fresh orange juice. This sequence helps prevent the Campari from settling at the bottom.
Add Ice: Drop a handful of ice cubes into the mixing glass or shaker. The ice will chill the mixture and dilute it slightly, balancing the flavors.
Stir or Shake: Depending on your preference, you can either stir the mixture gently with a bar spoon or shake it vigorously in a cocktail shaker. Stirring maintains a clearer appearance, while shaking creates a frothy texture.
Strain Into Glass: Remove the ice from your chilled serving glass, then strain the cocktail mixture into it. If you prefer ice in your drink, you can leave some ice in the glass.
Garnish: Slice a thin piece of orange peel or an orange wheel and use it as a garnish. The citrus aroma from the peel complements the cocktail's flavors.
Serve and Enjoy: Your Garibaldi cocktail is now ready to be savored. Take a moment to appreciate the vibrant color and enticing aroma before taking your first sip.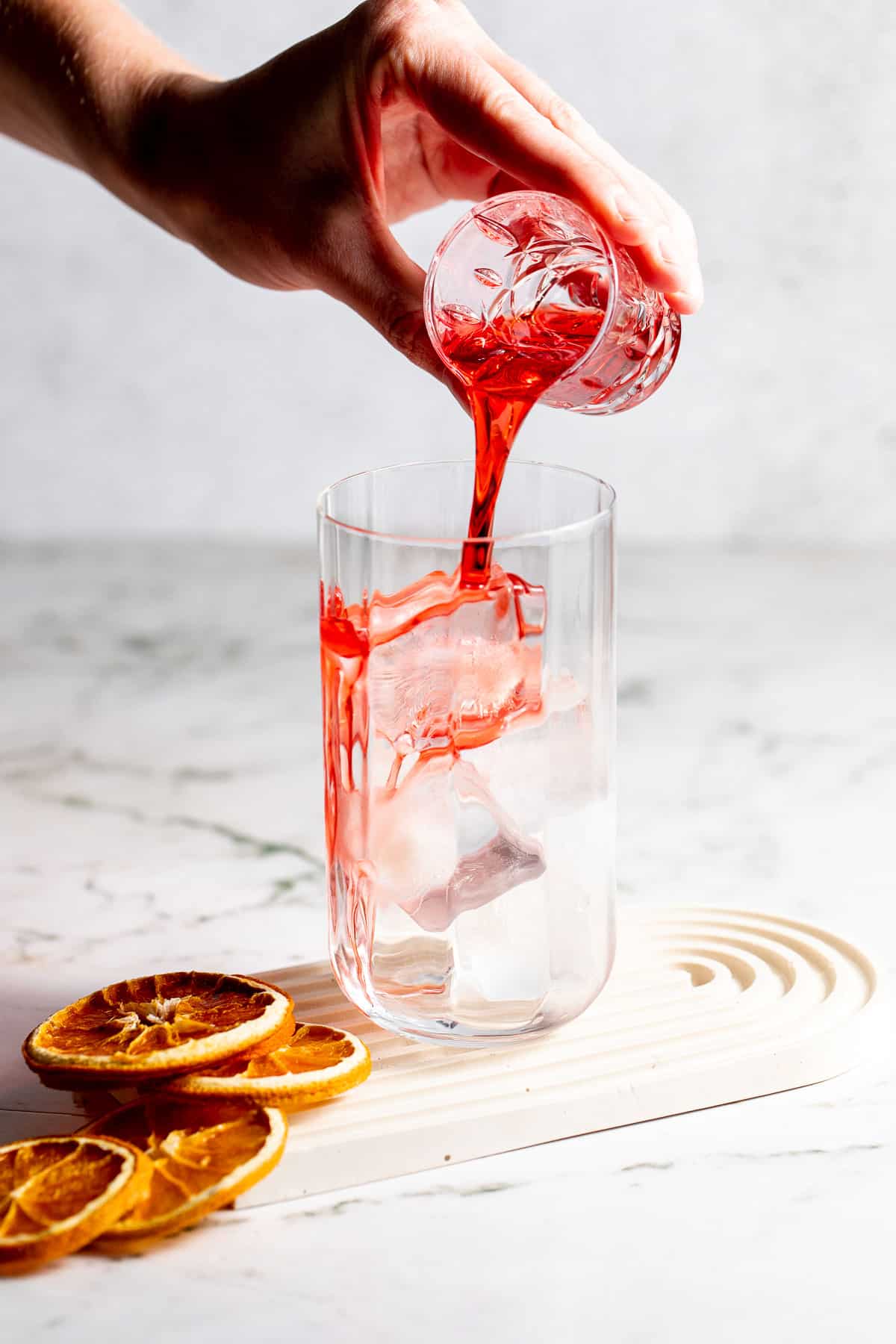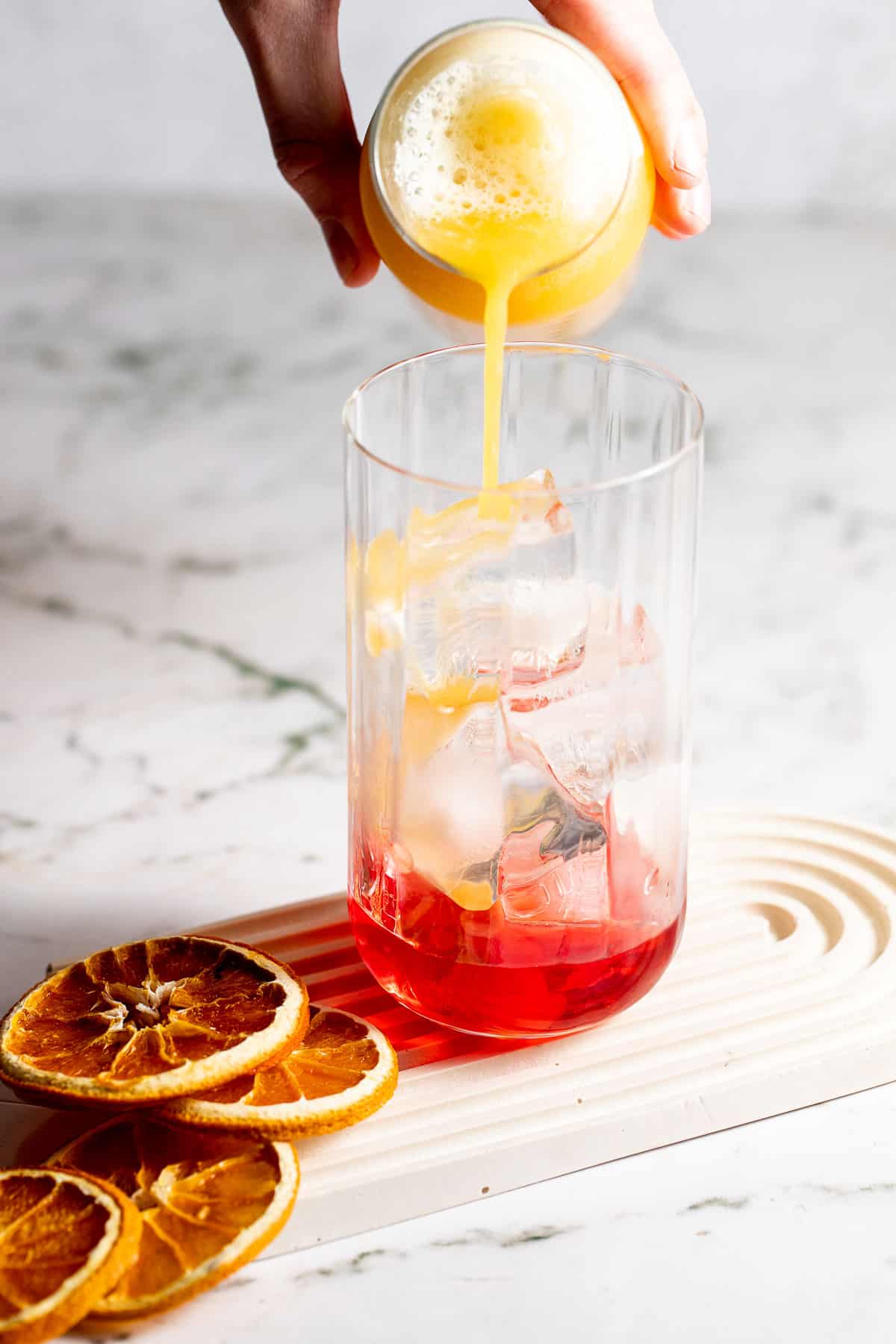 Variations and Tips
Variations:
Sparkling Garibaldi: Add a fizzy twist by topping off your Garibaldi cocktail with a splash of sparkling water or club soda. This not only lightens the drink but also adds a refreshing effervescence.
Garibaldi Spritz: For a lighter version, turn your Garibaldi into a spritz by using Prosecco or sparkling wine instead of orange juice. This elegant twist maintains the bitter-sweet balance while adding sophistication.
Blood Orange Twist: Replace regular orange juice with blood orange juice for a vibrant and seasonal variation. The unique flavor of blood oranges adds depth and complexity to the cocktail.
Spicy Kick: Infuse a touch of heat by muddling a thin slice of fresh chili pepper in the mixing glass before adding the other ingredients. Strain it out if you want to keep the heat subtle.
Herbal Infusion: Add a herbal note by incorporating a sprig of fresh rosemary, thyme, or basil. Gently muddle the herb in the mixing glass before mixing the other ingredients.
Tips:
Balancing Act: While the Garibaldi cocktail's simplicity is part of its charm, feel free to adjust the Campari-to-orange juice ratio based on your personal preference. If you're new to Campari, start with a slightly higher orange juice ratio to ease into the bitterness.
Temperature Matters: Ensure your ingredients are properly chilled before mixing. Cold ingredients lead to a refreshing final product. Chilling your glassware in advance also helps maintain the cocktail's temperature.
Fresh Orange Juice: Whenever possible, opt for freshly squeezed orange juice. The natural flavors and aromas from fresh oranges enhance the cocktail's taste profile.
Ice Control: Controlling the amount of ice can influence the drink's dilution. If you prefer a stronger flavor, use larger ice cubes that melt more slowly. Smaller cubes result in quicker dilution.
Garnish Elegance: The garnish not only adds visual appeal but also contributes to the aroma. Express the orange peel over the glass by giving it a gentle twist, releasing its essential oils.
Experiment and Adapt: Don't be afraid to experiment with additional ingredients or variations. The Garibaldi's simplicity offers ample room for creativity. Trust your palate and adjust elements to suit your taste.
Quality Ingredients: Since the cocktail is made with just a few ingredients, using high-quality Campari and fresh orange juice will greatly impact the final result.
Presentation: Consider serving your Garibaldi in a vintage glass or an ornate glassware to elevate the experience and add a touch of elegance.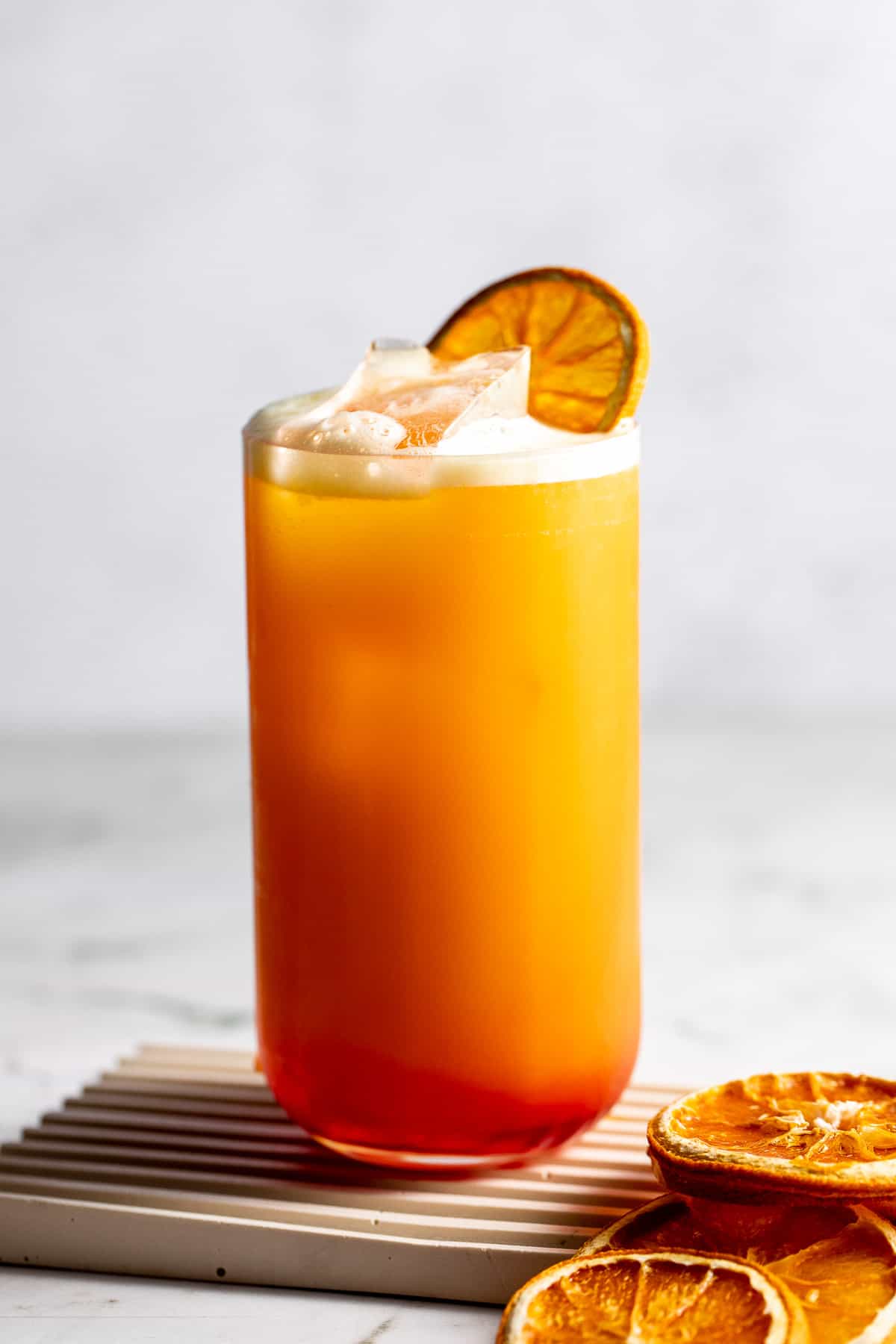 Other Campari Cocktails
When To Serve A Campari Cocktail
The Garibaldi cocktail's refreshing and balanced flavors make it a versatile choice for various occasions. Here are some ideal moments to serve a Garibaldi cocktail:
Aperitif Hour: The Garibaldi's bitter-sweet profile makes it an excellent choice for an aperitif, served before a meal. Its bitterness stimulates the appetite, preparing guests for the dining experience ahead.
Brunch: Whether you're hosting a weekend brunch or simply looking for a delightful morning beverage. The Garibaldi's citrusy notes and vibrant colors are a perfect fit for a sunny brunch affair.
Summer Soirees: The Garibaldi's refreshing nature and bright flavors make it an ideal candidate for outdoor gatherings, picnics, and barbecues during warm summer months.
Cocktail Parties: When hosting a cocktail party, the Garibaldi stands out as a refreshing option that's simple to prepare in larger batches. Its vibrant color and balanced taste make it appealing to a wide range of palates.
Italian-Themed Events: Given its Italian origins, the Garibaldi cocktail naturally fits into Italian-themed dinners or cultural events, allowing you to embrace the essence of Italian aperitivo culture.
Casual Get-Togethers: For low-key hangouts with friends or family. A Garibaldi cocktail brings a touch of sophistication without being overly complicated to make.
Poolside Relaxation: The cocktail's refreshing quality and eye-catching color make it a great choice for poolside lounging, providing a burst of flavor and refreshment while soaking up the sun.
Dinner Parties: As a delightful and visually appealing aperitif. The Garibaldi can set the tone for an elegant multi-course dinner, intriguing guests with its unique blend of flavors.
Cultural Celebrations: Incorporate the Garibaldi into celebrations of Italian heritage or historical events, as a way to pay homage to its namesake, Giuseppe Garibaldi.
After-Work Sip: After a long day. The Garibaldi's bitter notes and citrusy brightness can serve as a satisfying way to unwind and transition from work to relaxation.
Garibaldi Cocktail
A refreshing summer drink made with only two ingredients.
Ingredients
1

part

campari

3

parts

orange juice
Instructions
Fill a tall glass with ice.

Add the campari and stir it to chill.

Add the orange juice and garnish with a dehydrated slice of orange.
Nutrition
Calories:
4
kcal
Carbohydrates:
1
g
Protein:
0.02
g
Fat:
0.01
g
Sodium:
0.03
mg
Potassium:
6
mg
Fiber:
0.01
g
Sugar:
0.3
g
Vitamin A:
6
IU
Vitamin C:
2
mg
Calcium:
0.3
mg
Iron:
0.01
mg
Tried this recipe?
Let us know how it was in the comments below
Tag us on Instagram!
We love seeing people make our recipes. Mention @baking_ginger