A Refreshing Easy To Make Summer Cocktail
Looking for a refreshing and easy-to-make cocktail? Try this Campari Spritz recipe! Made with bubbly Prosecco, bitter Campari, and soda water, this classic Italian cocktail is perfect for sipping on a hot summer day. Our step-by-step instructions show you how to make this delicious cocktail in minutes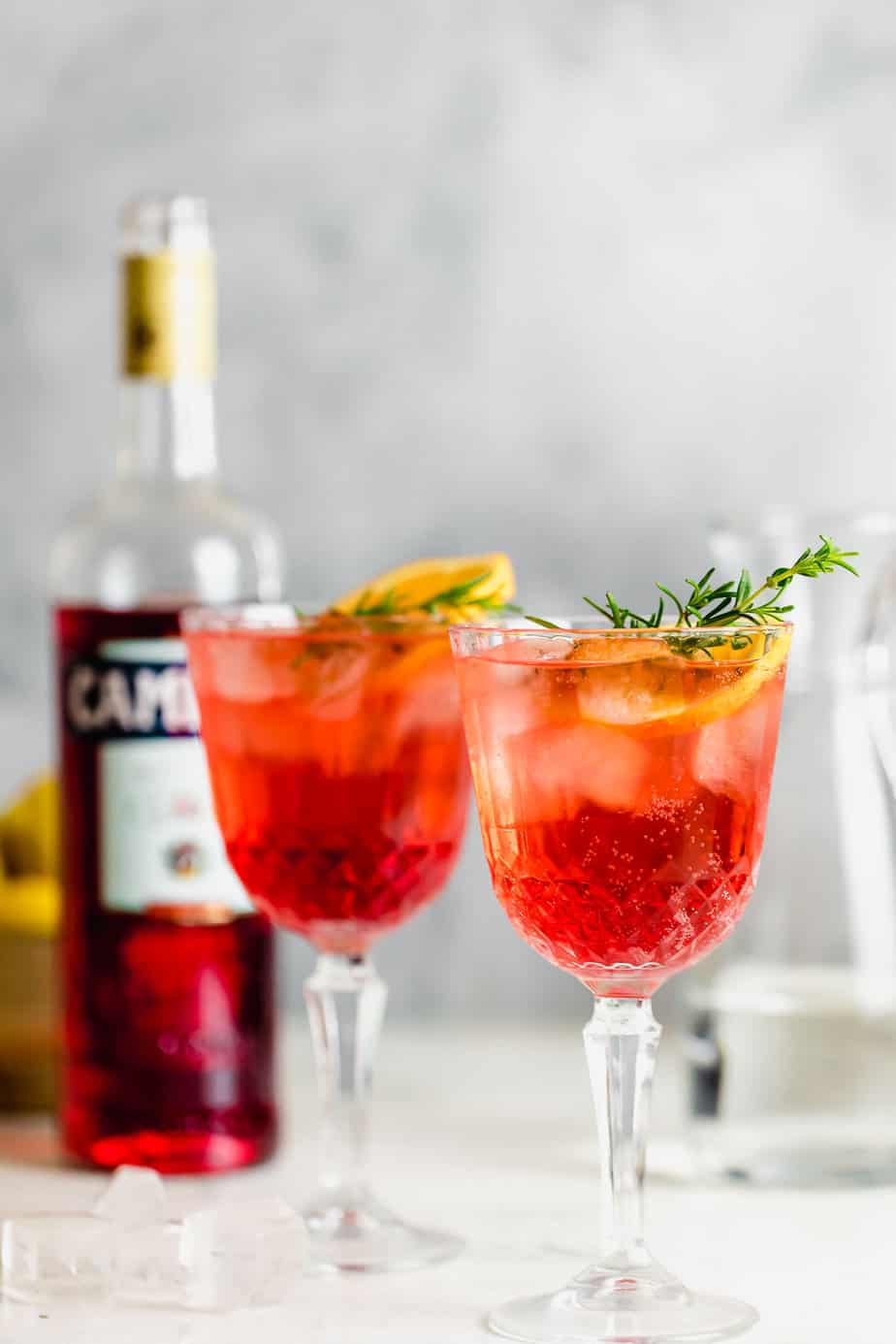 What Is Campari
Campari is a type of Italian bitter liqueur that is often used in cocktails. It was created in 1860 by Gaspare Campari, and its recipe is still a closely guarded secret.
Campari is made by infusing alcohol with a secret blend of herbs, spices, and fruits, giving it a distinctive bitter and sweet flavor. It is typically bright red in color and has an alcohol content of around 24-28%.
Campari is often used as an ingredient in cocktails such as the Negroni, Americano, and of course, the Campari Spritz. It is also sometimes served on its own as an apéritif.
Ingredients
Campari: A bitter liqueur made from a secret blend of herbs, spices, and fruits that gives the drink its distinct flavor and bright red color.
Prosecco: An Italian sparkling wine that provides effervescence and sweetness to the cocktail.
Soda Water: A carbonated water that provides a refreshing and light quality to the drink.
Orange: Often used as a garnish, an orange slice or peel adds a bright and citrusy note to the cocktail.
Ice: Ice is used to chill the drink and add dilution, which can help to balance out the flavors of the other ingredients.
Step-by-Step Guide To Making A Campari Spritz
Fill a large wine glass with ice. You can also use a tumbler or a highball glass, depending on your preference.
Add 2 oz of Campari to the glass.
Add 3 oz of Prosecco to the glass.
Top the drink off with a splash of soda water.
Stir the drink gently to combine the ingredients.
Garnish with an orange slice.
Serve and enjoy!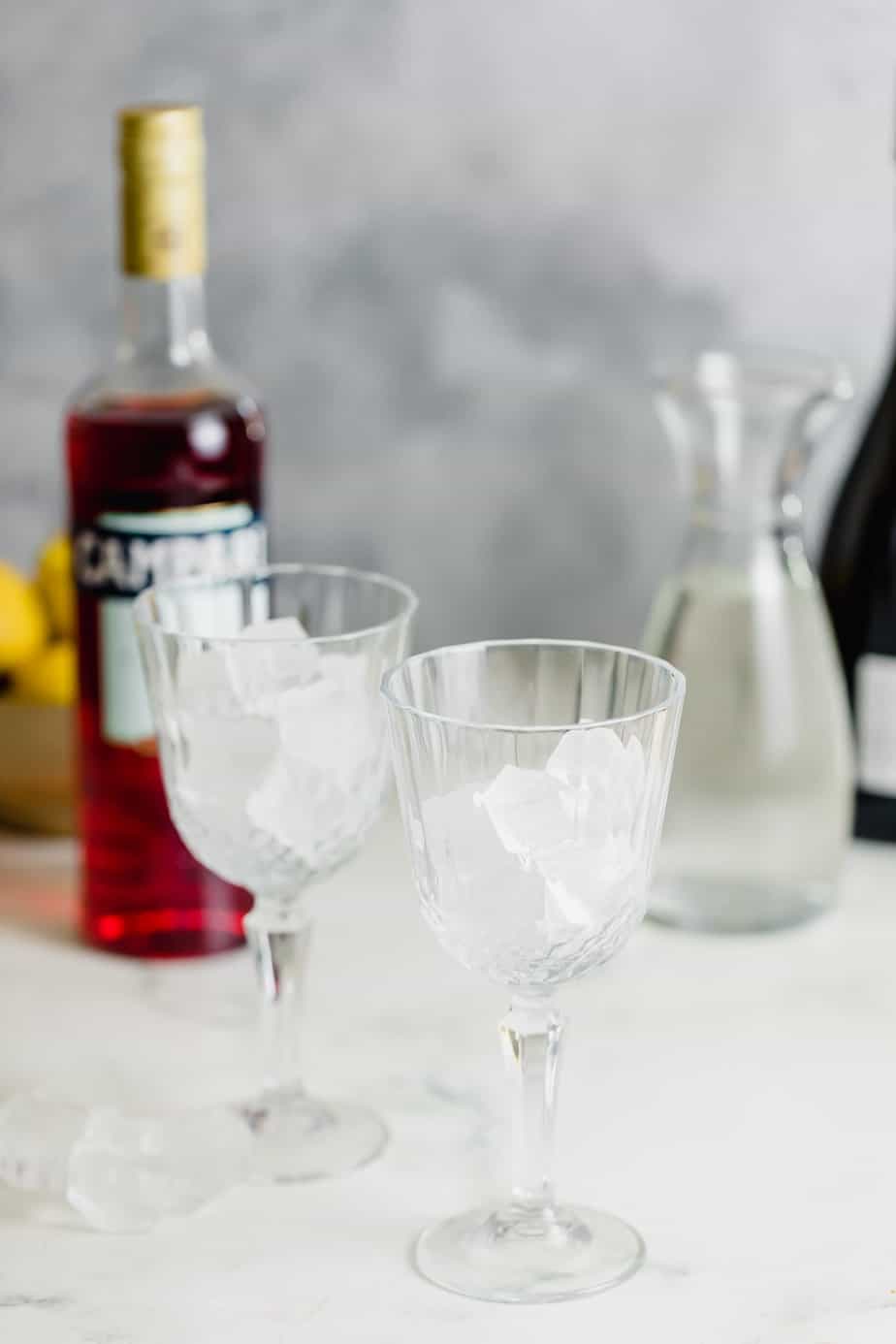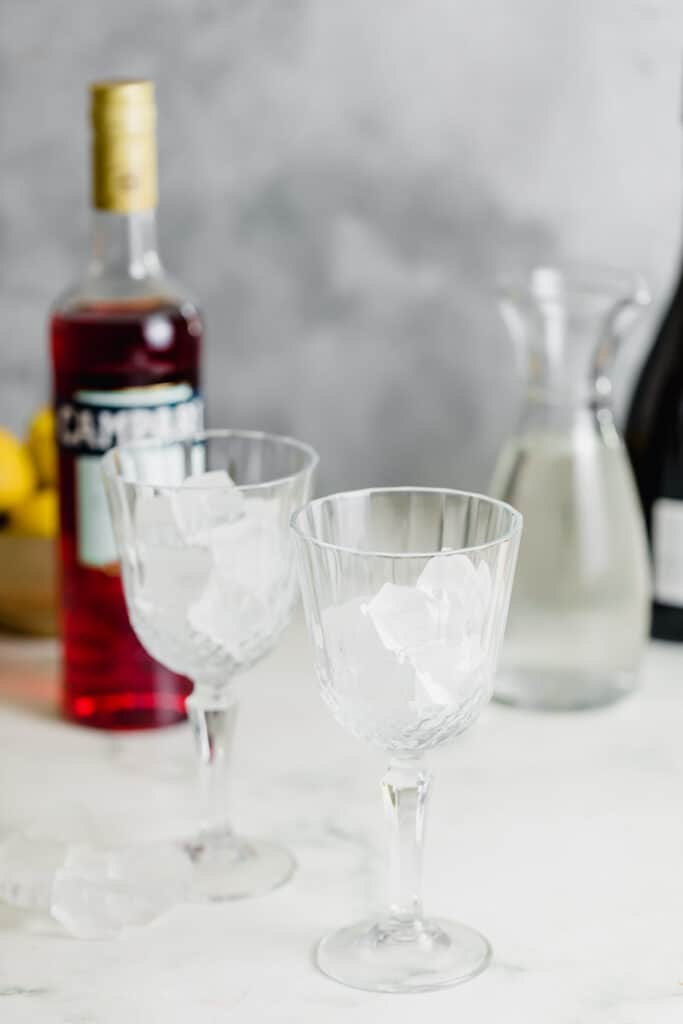 Best Garnishes For Campari Spritz
Orange slices
A classic garnish for a Campari Spritz, an orange slice adds a bright, citrusy note to the drink.
Lemon slices
For a slightly tarter note, you can use a lemon slice instead of an orange slice.
Grapefruit slices
For a more tangy and slightly bitter note, use a grapefruit slice.
Rosemary sprigs
Add an herbaceous, aromatic touch to the cocktail with a fresh rosemary sprig.
Basil leaves
Fresh basil leaves can add a sweet, slightly minty note to the drink.
Cucumber slices
For a refreshing and cooling touch, add a thin cucumber slice.
Strawberries
For a slightly sweet and fruity note, add a sliced strawberry to the drink.
Pineapple
Campari vs Aperol
Aperol and Campari are both Italian aperitifs with distinct differences in taste and ingredients. Aperol is less bitter and has a lower alcohol content (11%) compared to Campari (24%).
Aperol is flavored with bitter orange, gentian, and rhubarb, while Campari has a more complex flavor profile with added ingredients such as quinine and cherry.
Campari is also typically used in more cocktails, whereas Aperol is often enjoyed as a refreshing spritz.
When To Serve Campari Spritz
A Campari Spritz is a refreshing and bitter cocktail that is perfect to serve as an aperitif, particularly during warm weather months or outdoor gatherings. It's a popular drink in Italy and is typically served before dinner to stimulate the appetite.
The combination of Campari, sparkling wine, and soda water creates a light and effervescent cocktail with a bitter-sweet taste that pairs well with salty snacks, olives, or light appetizers.
It can also be enjoyed as a refreshing drink on its own, or paired with a light lunch or brunch.
Best Prosecco For Making Spritz Cocktails
Mionetto Prosecco Brut - This Prosecco has a bright and lively flavor with notes of green apple, peach, and citrus. It has a dry, crisp finish that pairs well with the bitter notes of Campari or Aperol.
La Marca Prosecco - This Prosecco is known for its refreshing and delicate flavor, with hints of honeysuckle, green apple, and citrus. It has a balanced sweetness and is perfect for spritz cocktails.
Ruffino Prosecco - This Prosecco is light and fresh, with flavors of green apple and citrus. It has a dry finish that makes it a great match for the bitter notes of Campari or Aperol.
Zonin Prosecco - This Prosecco is crisp and refreshing, with notes of green apple, pear, and citrus. It has a slightly sweet finish that works well in spritz cocktails.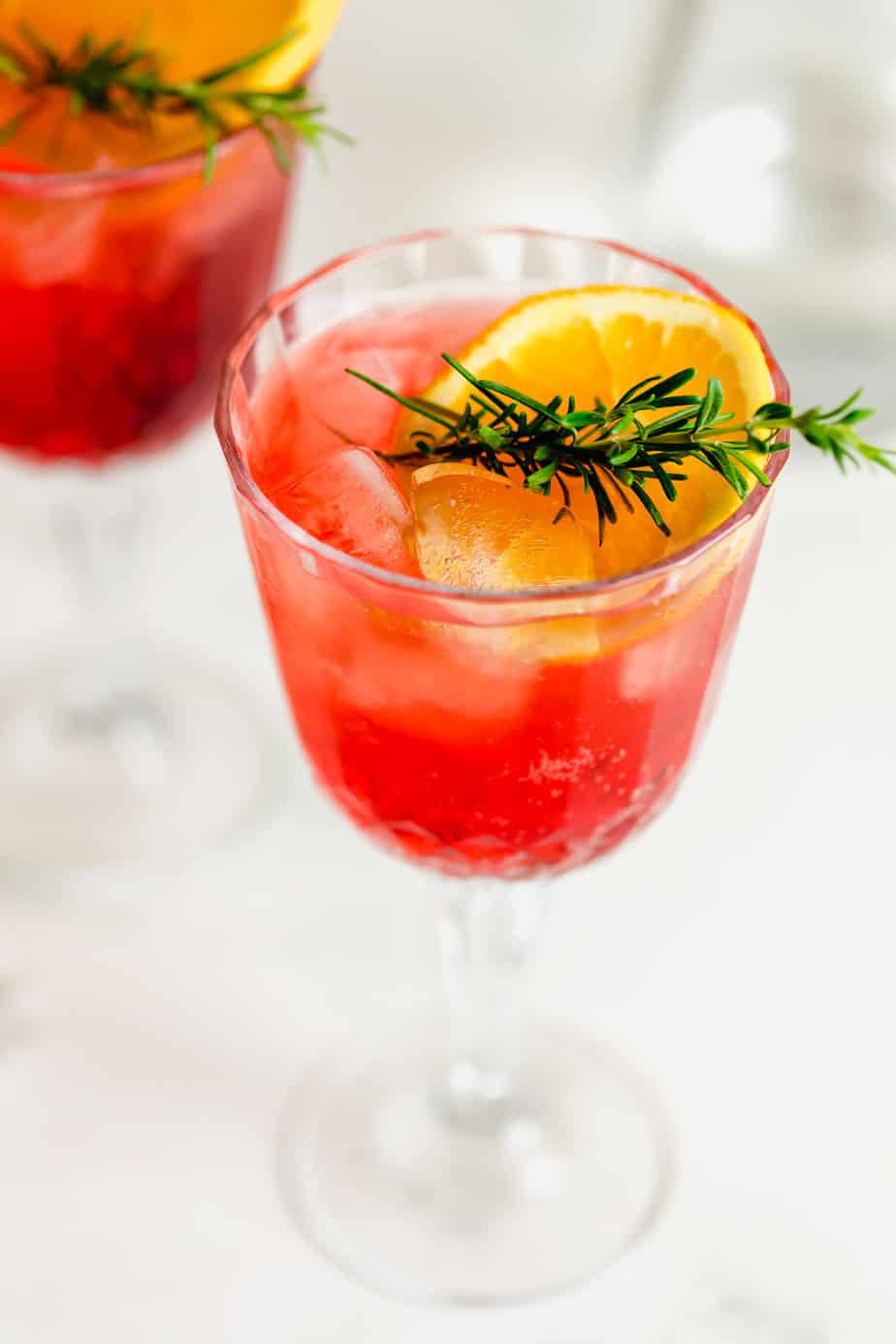 Making A Campari Spritz In Advance
While it's best to mix a Campari Spritz fresh to enjoy its fizziness and vibrant taste, you can make it in advance and still enjoy it the next day. Here's how to make a batch of Campari Spritz in advance:
Ingredients:
1 bottle of Prosecco (750 ml)
1 bottle of soda water (750 ml)
1 bottle of Campari (750 ml)
Orange slices for garnish
Instructions:
In a large pitcher, mix together the Prosecco, soda water, and Campari in a 1:1:1 ratio.
Stir the mixture well to combine all the ingredients.
Cover the pitcher with a plastic wrap and refrigerate for at least 2 hours or overnight.
To serve, fill a wine glass with ice, pour the chilled Campari Spritz mixture over the ice and garnish with a slice of orange.
Enjoy!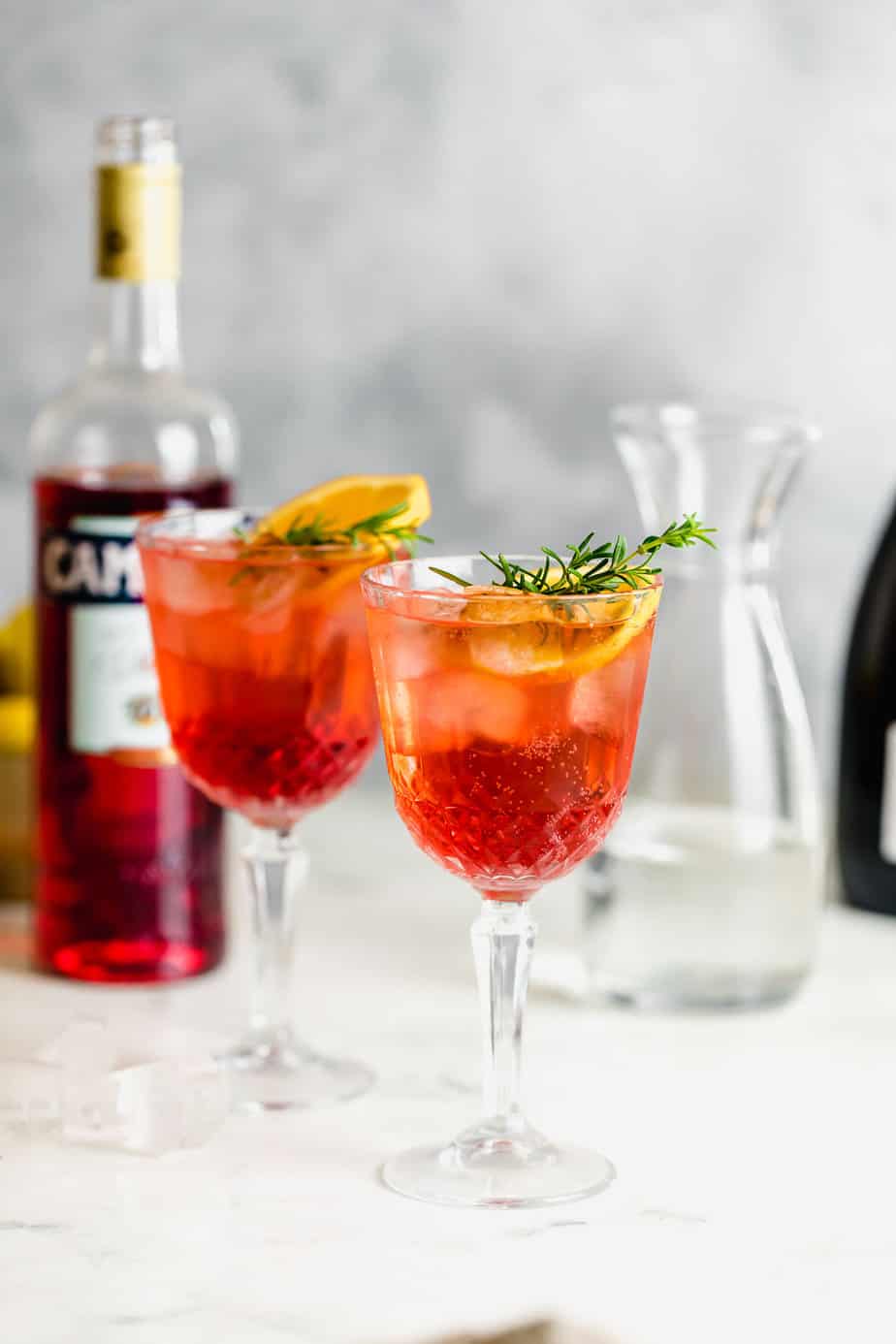 Expert Tips
What Does Campari Taste Like?
Campari has a bitter and complex taste, with flavors that are both fruity and herbal. Its bitterness comes from a combination of ingredients, including gentian root, cascarilla bark, and quinine, which give it a distinctively sharp and bitter taste.
What Is A Spritz?
A spritz is a popular type of cocktail that originated in northern Italy and is now enjoyed worldwide. It is a light, refreshing drink that typically consists of a sparkling wine or prosecco, soda water, and a bitter liqueur, such as Aperol, Campari, or Cynar. The mixture is usually served over ice, with a slice of citrus and sometimes a dash of bitters for added flavor.
How Many Calories Does Campari Have?
Campari is a bitter liqueur that contains approximately 69 calories per 1 fluid ounce (30 ml) serving. This is a relatively low calorie count compared to other alcoholic beverages.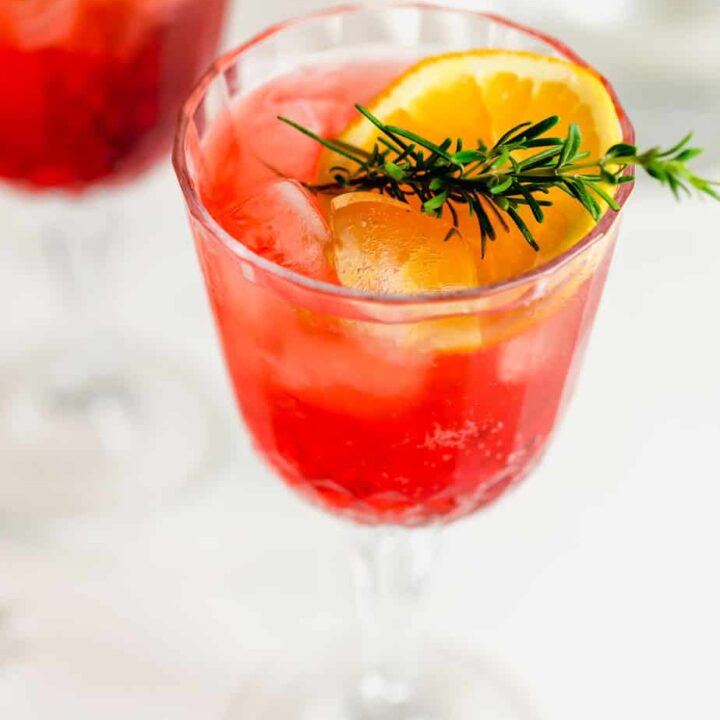 Campari Spritz
A refreshing easy to make summer cocktail with only 3 ingredients
Ingredients
2 oz Campari
3 oz Prosecco or sparkling wine
1 oz soda water
Orange slices
Rosemary sprigs
Ice
Instructions
Fill a wine glass with ice and add the Campari.
Top with Prosecco and add as much soda water as desired.
Garnish with fresh slices of orange and sprigs of rosemary,