A list of 10 easy and delicious Vodka Drinks with Pineapple that you will want to sip all day. Pineapple and vodka cocktails are refreshing, tropical, and taste like summer holidays!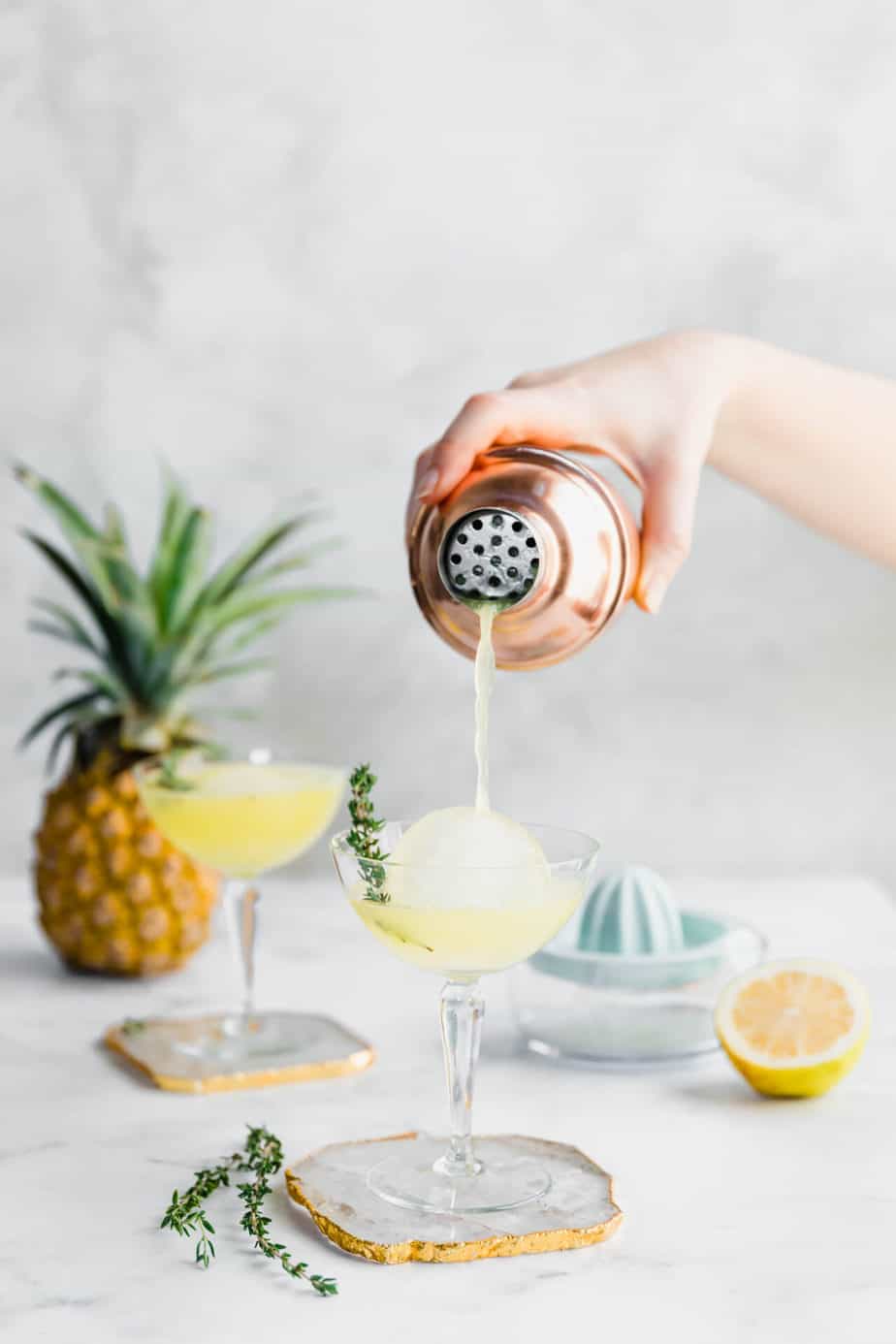 Pineapple & Vodka
Vodka and pineapple are a perfect pair for cocktails. The two flavors are strong and bright so they balance each other well in drinks.
Pineapple juice is a great mixer for most clear alcohol. Its sweet, fruity taste helps to mask some of the overly strong alcohol taste.
Vodka offers an alcoholic base that is fairly neutral in taste. This provides a platform for the tropical sweetness of pineapple to shine.
Jump to:
This list contains all sorts of delicious vodka drinks with pineapple flavor. From classic drinks with a twist to creative cocktails full of tropical flavors. I hope you enjoy these sweet and tangy drinks this summertime!
This yummy cocktail is originally made with gin, but I love making a vodka version of it too! It is a simple, 5-ingredient Pineapple & Ginger Beer Drink recipe that is the perfect combination of fresh and spicy.
The bay breeze is a simple mixed drink that adds the tropical taste of pineapple to the popular mix of vodka and cranberry juice. This classic cocktail is easy to mix up and is a highly popular drink.
Pineapple Screwdrivers are easy to mix up by the glass or in a pitcher. Made with pineapple juice, orange juice, and vodka. This refreshing drink is great for get-togethers and cocktail parties.
This Easy Spicy Frozen Pineapple Margarita is the ultimate cocktail to cool you down on hot summer days. You can whip up this pineapple margarita in under 5 minutes and you only need a handful of ingredients. Traditionally made with silver tequila, you can swap it out for vodka and it will be just as delicious!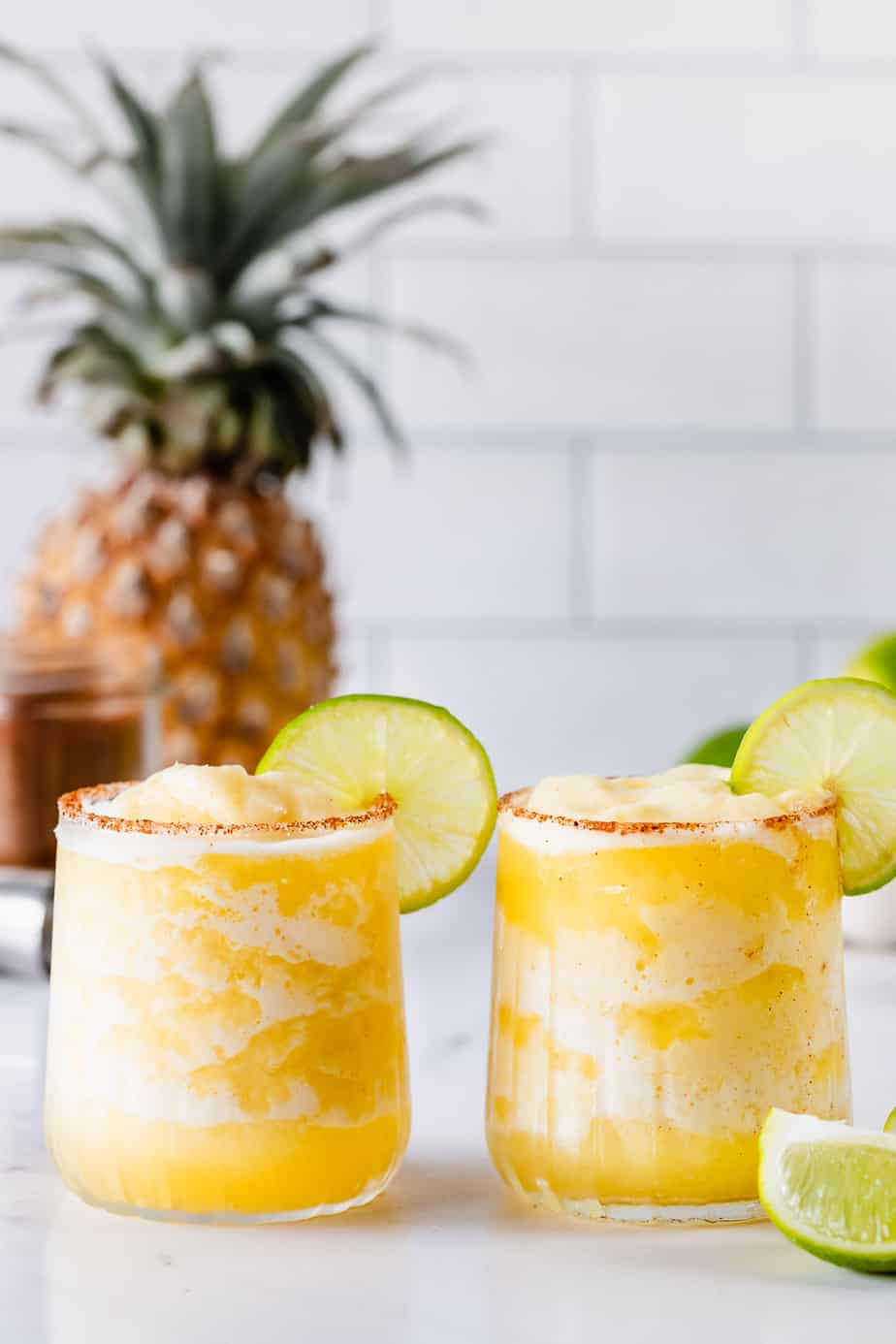 Vodka is a common substitute for rum in Pina Coladas. A Vodka Piña Colada (also known as a "Chi Chi") is an easy take on the classic Piña Colada drink that uses vodka as the base spirit instead of the traditional rum. Full of coconut cream and pineapple juice, this simple but delicious cocktail is always a winner.
Sipping on a pineapple martini will take you back to your favorite tropical island vacation. It is the perfect blend of sweet pineapple flavor, vodka, and lime juice.
The classic blend of vodka and pineapple juice is used as a base in this delicious drink while some sugar and lime juice are added to reach the perfect balance of sweet and tangy flavor.
Cool off with a Pineapple Upside Down Cake Drink. This easy cocktail recipe is made by the glass or pitcher and tastes just like the cake!
This delicious refreshing pineapple cocktail is perfect for long summer days. It is the perfect combination of crushed ice, tropical pineapple flavor, and mint leaves.
You have to make this Pineapple Vodka Limeade recipe - it's easy, refreshing, and perfect for summer.
I hope you love this list of vodka drinks with pineapple as much as I do! And if you want to see more food and drink inspiration, follow me on Instagram or Facebook.