A list of 10 easy and delicious Vodka Drinks with Pineapple that you will want to sip all day. Pineapple and vodka cocktails are refreshing and tropical, and taste like summer holidays!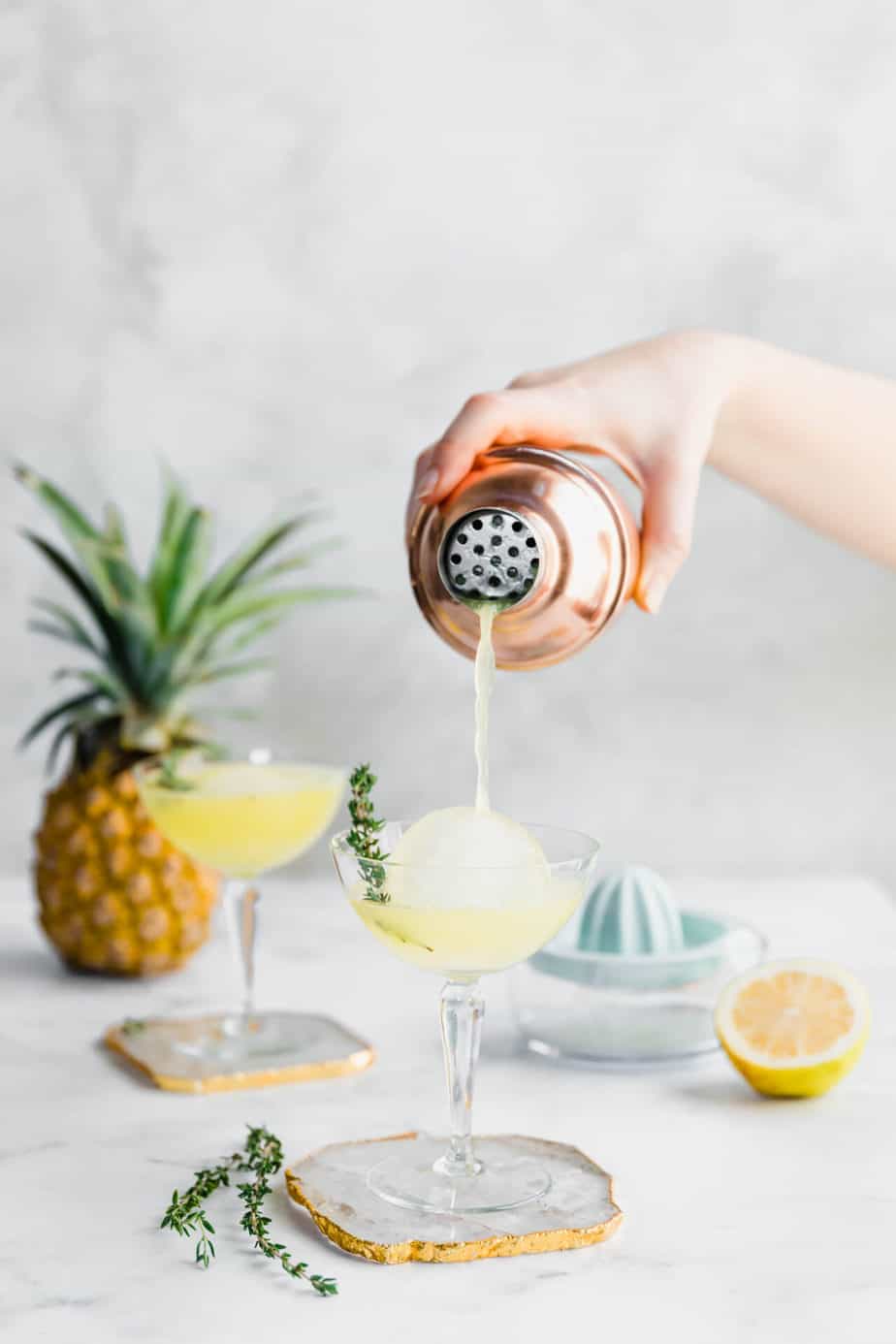 Jump to:
Pineapple & Vodka Drinks
Vodka and pineapple are a perfect pair for cocktails. Although both two flavors are strong and bright, they balance each other well in drinks.
Pineapple juice is a great mixer for most clear alcohol. Due to its sweet, fruity taste, it helps to mask some of the overly strong alcohol taste.
Vodka offers an alcoholic base that is fairly neutral in taste. This provides a platform for the tropical sweetness of pineapple to shine.
The list below contains all sorts of delicious vodka drinks with pineapple flavor. It has everything from classic drinks with a twist to creative cocktails full of tropical flavors. And so I hope you enjoy these sweet and tangy drinks this summertime!
12 Tasty Vodka Drinks with Pineapple
This yummy cocktail is originally made with gin, but I love making a vodka version of it too! It is a simple, 5-ingredient Pineapple & Ginger Beer Drink recipe that is the perfect combination of fresh and spicy. Therefore, the perfect cocktail for summer and for crowds!
The Bay Breeze is a simple mixed drink that adds the tropical taste of pineapple to the popular mix of vodka and cranberry juice. This classic cocktail is easy to mix up and is a highly popular drink.
Pineapple Screwdrivers are easy to mix up by the glass or in a pitcher. Made with pineapple juice, orange juice, and vodka. This refreshing drink is great for get-togethers and cocktail parties. Pineapple screwdrivers are bright and super simple, making them perfect for any and all occasions.
This Easy Spicy Frozen Pineapple Margarita is the ultimate cocktail to cool you down on hot summer days. You can whip up this pineapple margarita in under 5 minutes and you only need a handful of ingredients. Traditionally made with silver tequila, you can swap it out for vodka and it will be just as delicious!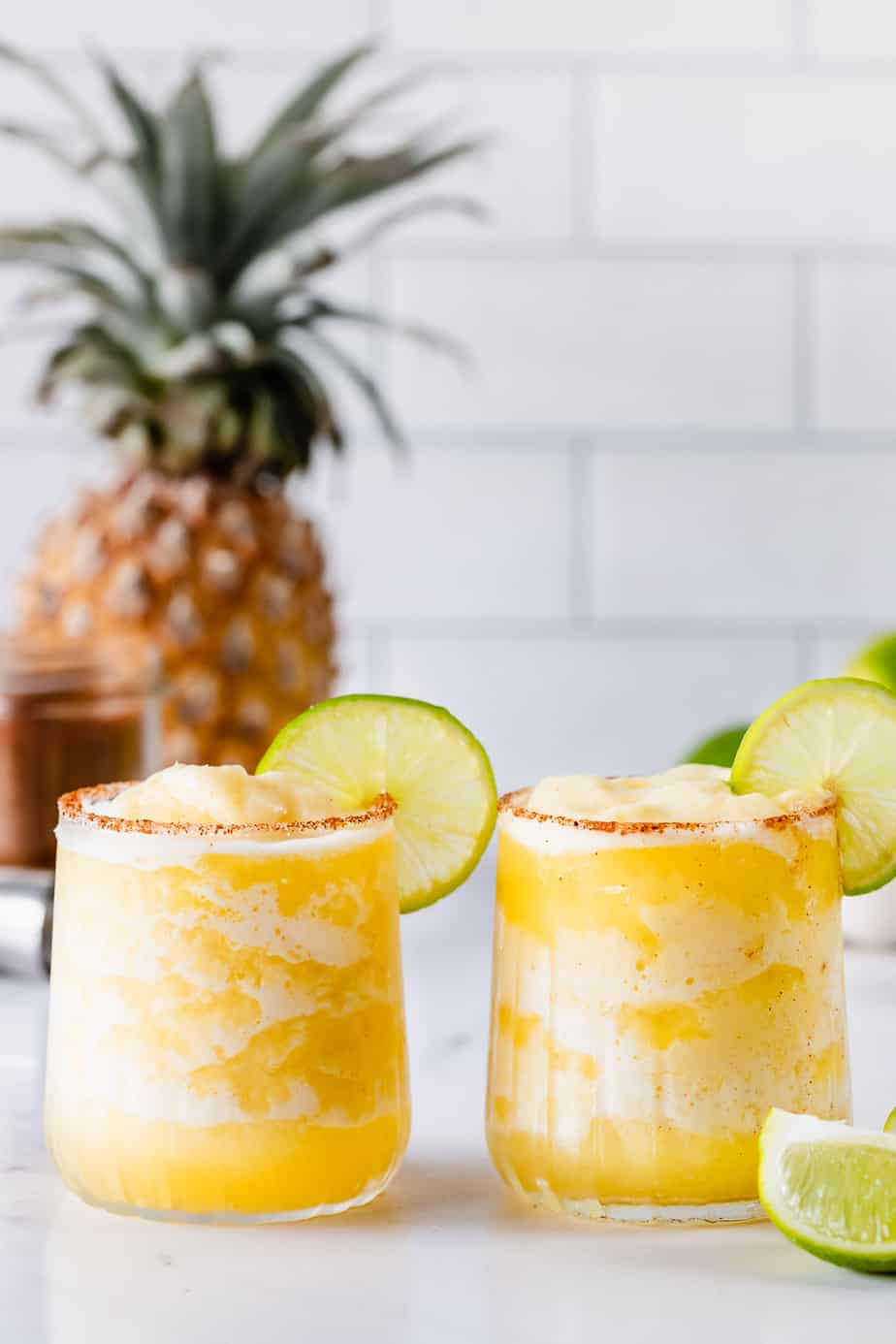 Vodka is a common substitute for rum in Pina Coladas. A Vodka Piña Colada (also known as a "Chi Chi") is an easy take on the classic Piña Colada drink that uses vodka as the base spirit instead of the traditional rum. Full of coconut cream and pineapple juice, this simple but delicious cocktail is always a winner.
Sipping on a pineapple martini will take you back to your favorite tropical island vacation. It is the perfect blend of sweet pineapple flavor, vodka, and lime juice. It's sophisticated and fun with plenty of fruity flair. This cocktail is made with natural flavors, so it tastes even better than it looks. So whether you're hosting friends or just enjoying a night in, this cocktail is sure to please!
The classic blend of vodka and pineapple juice is the base for this delicious drink. With some sugar and lime juice are added to reach the perfect balance of sweet and tangy flavor. Stay cool and refreshed this summer with this lightning-fast pineapple vodka cocktail!
Cool off with a Pineapple Upside Down Cake Drink. This easy cocktail recipe is made by the glass or pitcher and tastes just like the cake!
9. Pineapple Vodka Crush
This delicious refreshing pineapple cocktail is perfect for long summer days. It is the perfect combination of crushed ice, tropical pineapple flavor, and mint leaves.
You have to make this Pineapple Vodka Limeade recipe - it's easy, refreshing, and perfect for summer. Pineapple vodka limeade is a spiked version of your childhood favorite. Zesty lime and sweet-tart pineapple are a fabulous pair. Everybody will fall in love with this simple but tasty drink.
A refreshing, tropical vodka fizz recipe with pineapple. Perfect for summer weekends spent outdoors. All you need is four simple ingredients and a small pitcher of ice to make this delicious pineapple fizz vodka cocktail recipe. This drink is traditionally made with rum but works so well with the crisp taste of vodka.
A vodka sour with pineapple juice has all the right ingredients for a tasty vodka drink: vodka, pineapple juice, raspberry liqueur, and pineapple juice. It's sweet, and tart, and will remind you of one of your favorite childhood candies. A beautiful cocktail with incredible flavor!
GARNISH IDEAS FOR PINEAPPLE VODKA DRINKS
A garnish adds charm to a drink and makes it feel special and like a celebration. Here are some ideas to garnish your favorite pineapple and vodka cocktail:
Wedge of Pineapple
Lime Slice
Maraschino Cherries
Pineapple Leaf
Fresh Flowers
Caramalised Pineapple Chunks
PINEAPPLE JUICE
Pineapple juice is made by squeezing and pressing fresh pineapples. It is a good source of Vitamin C. Pineapple juice is a flavorful fruit juice made from pineapples that has a sweet, tropical, and slightly acidic flavor. This tropical fruit juice has become a popular ingredient in many cocktails and can also be used to make pineapple vodka.
HOW TO JUICE A PINEAPPLE
To juice a pineapple, you will need a juicer or a blender, and a strainer. Prepare the fresh pineapple for juicing by cutting off the crown (top) of the pineapple. After that, cut the pineapple in half length-wise and then cut each half into thirds.
You will then need to cut off the skin and cut the pineapple into small pieces that will fit into your juicer or blender. Juice the pineapple using a juicer or blend it in a blender and then strain it if you want smooth pineapple juice.
WHAT OTHER ALCOHOL IS GOOD WITH PINEAPPLE JUICE?
Along with vodka, pineapple juice pairs well with rum, and tequila too. And of course, many flavored vodkas are also a delicious pairing with pineapple juice such as vanilla, mango, caramel, and lemon.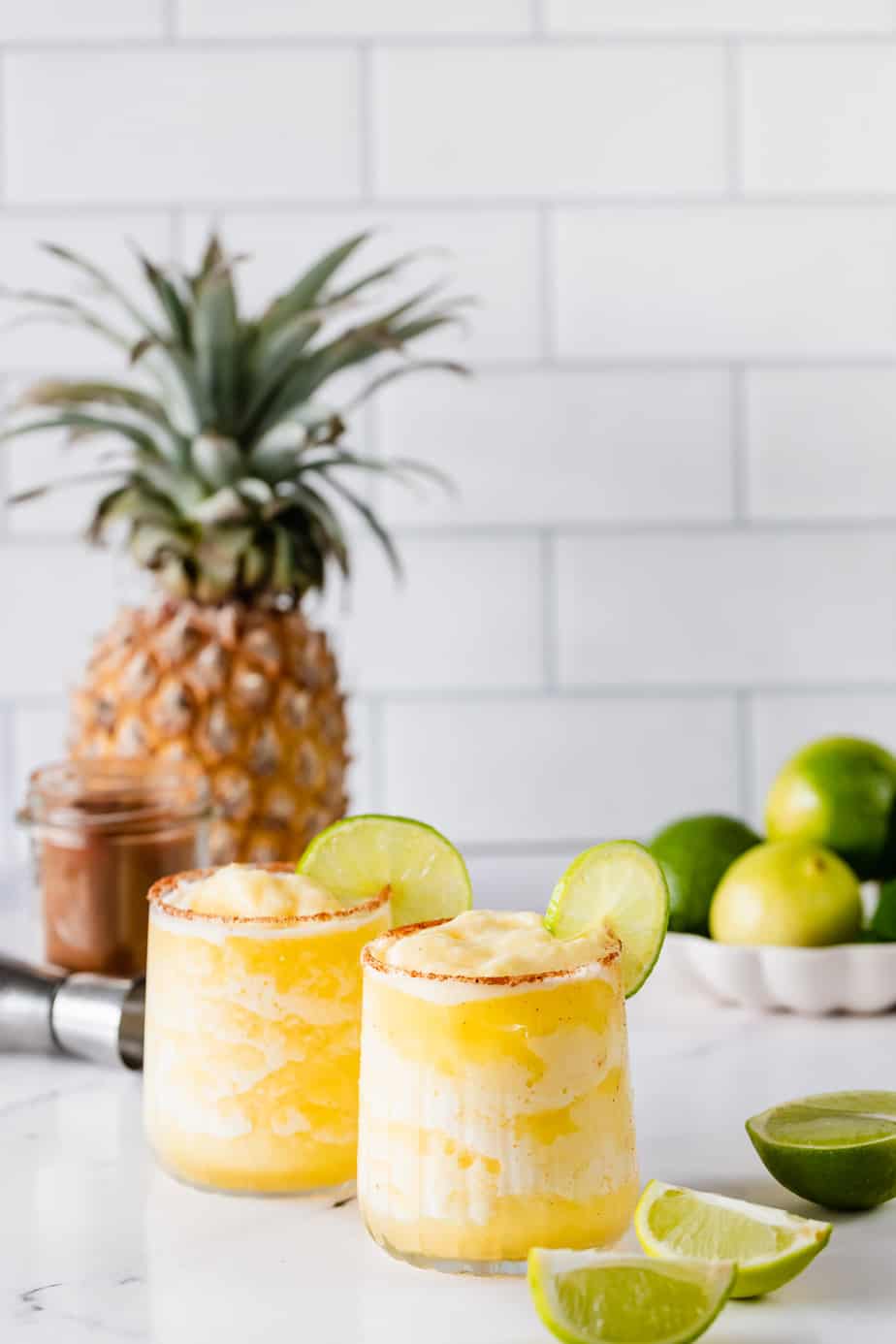 Is Vodka and Pineapple Juice Healthy?
Pineapple vodka is made with pineapple juice, which is a good source of Vitamin C. It doesn't have any added sugar to it, so it's a healthier option than many other vodkas.
However, keep in mind that pineapple vodka does contain alcohol, so it should be consumed in moderation. So although the one component, the pineapple juice, has many health benefits, the other component, the vodka, can be detrimental to a person's health.
Homemade Pineapple Vodka
Pineapple vodka is refreshing and versatile. It can be used with any and all vodka drinks with pineapple and will enhance the pineapple flavor! You can also enjoy it simply as is over ice or add in a simple mixer.
The pineapple-infused vodka can be stored for approximately two weeks in the refrigerator after it has been strained. It is easy to make at home and definitely worth a try!
How to make pineapple vodka:
Making homemade pineapple-infused vodka is so simple and only really requires a little patience. But the wait is so worth it!
All you need to do is add fresh pineapple to vodka and leave it to infuse for ten days. For a more detailed description, check out the recipe below.
Homemade Pineapple Vodka
Total Time:
10 days
10 minutes
Pineapple vodka is refreshing and versatile. It can be used with any and all vodka drinks with pineapple and will enhance the pineapple flavor! It can also be enjoyed simply as is over ice.
Ingredients
1 litre vodka
1 fresh pineapple, peeled and sliced
Instructions
Place the pineapple slices in a large glass jar.
Pour the vodka into the jar so that the pineapple is completely covered.
Seal the jar and store it in a cool, dark place for 10 days.
Remove the pineapple and strain the vodka through a mesh strainer. Pour back into a jar.
Seal the jar and refrigerate for up to two weeks.
I hope you love this list of vodka drinks with pineapple as much as I do! And if you want to see more food and drink inspiration, follow me on Instagram or Facebook.