This 5 ingredient Pineapple Gin & Ginger Beer Cocktail recipe is the perfect combination of fresh and spicy. With pineapple juice, ginger beer, and a splash of gin, this cocktail is the perfect refreshing drink.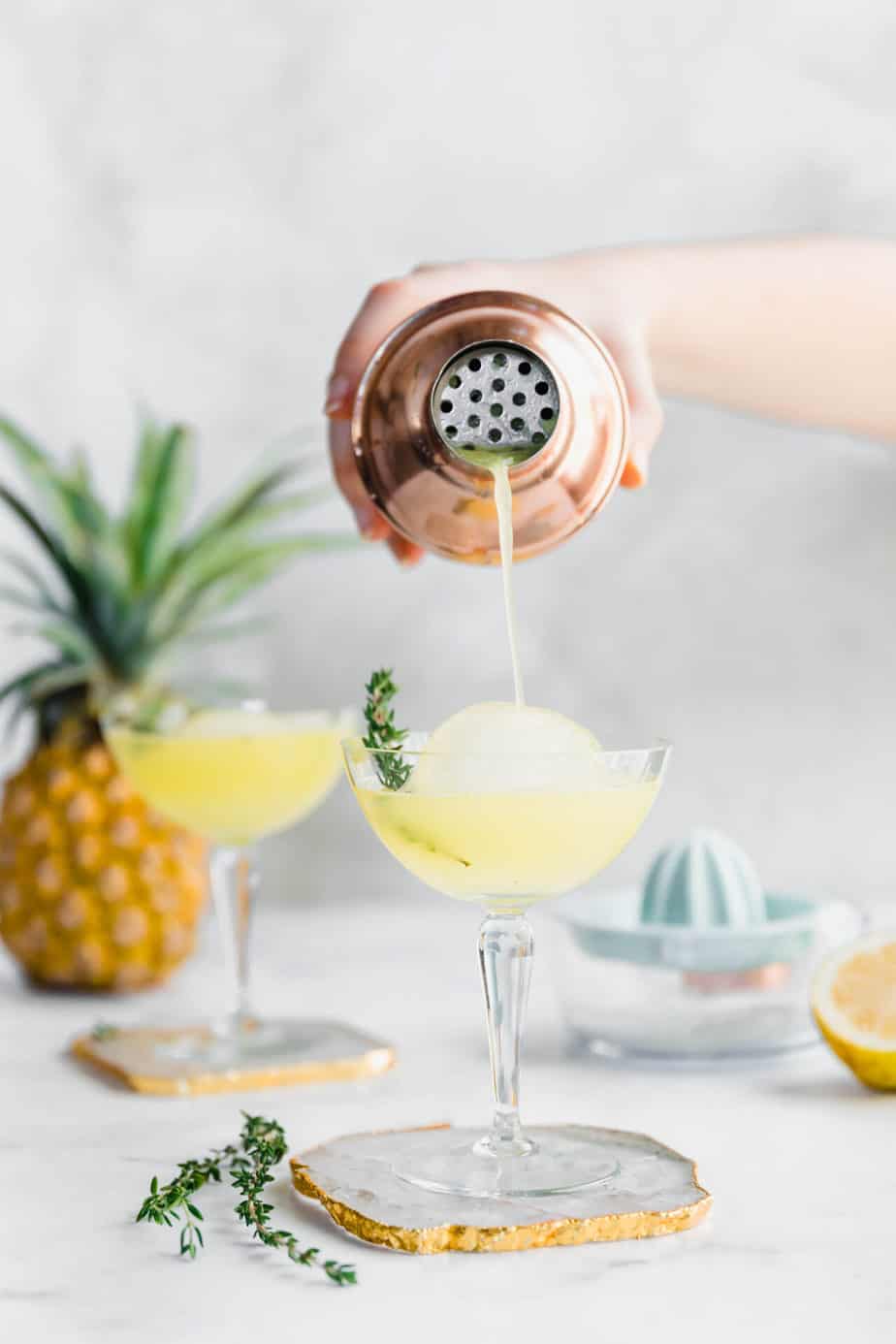 Jump to:
A refreshing Gin and Gingerbeer Cocktail with Pineapple
This cocktail recipe is bursting full of refreshing flavor. It is a well-balanced cocktail that is perfect for sipping on after a long day.
The combination of gin and gingerbeer is always a hit - and adding pineapple to the mix makes it even tastier! The three flavor components of this cocktail are all extremely complimentary and pair well with one another.
It is sweet, spicy, and tangy! A truly winning combination for a cocktail. And best of all, you can make it in minutes. It is a simple recipe that uses staple ingredients. So keep reading to learn more about it!
Making Gin Cocktails
We all love a good G&T, but gin is far more versatile than just that. You can add gin to a variety of different cocktails to add and highlight its delicious botanical flavors.
Gin is a clear, distilled alcoholic drink that derives its flavor from juniper berries and other botanical ingredients. Originally, gin was created by monks and alchemists as a medicinal liquor across Europe.
Since then it has become widely popular and there are many different types of gin to choose from these days. From classic New London Dry to new-school craft gins, to global gins from Japan, India, or Scotland that are flavored with their own native botanicals.
If you are looking for some non-alcoholic gin inspiration - check out our list of 10 EASY GIN MOCKTAILS!
GIN & PINEAPPLE COCKTAILS
Sweet, acidic, and zingy, pineapple doesn't have to just be exclusive to tropical drinks. A complex gin can stand up to and complement the pineapple's intense flavor. And it's a great gin drink option for anyone with a sweet tooth or who is new to the strong flavor of gin.
The citrus elements in gin really come to the forefront when combined with bright pineapple flavor. And together they create a stunning, well-balanced mixed drink that is perfect for summertime sipping!
If you love pineapple cocktails, we also have a list of THE BEST VODKA DRINKS WITH PINEAPPLE that is definitely worth checking out!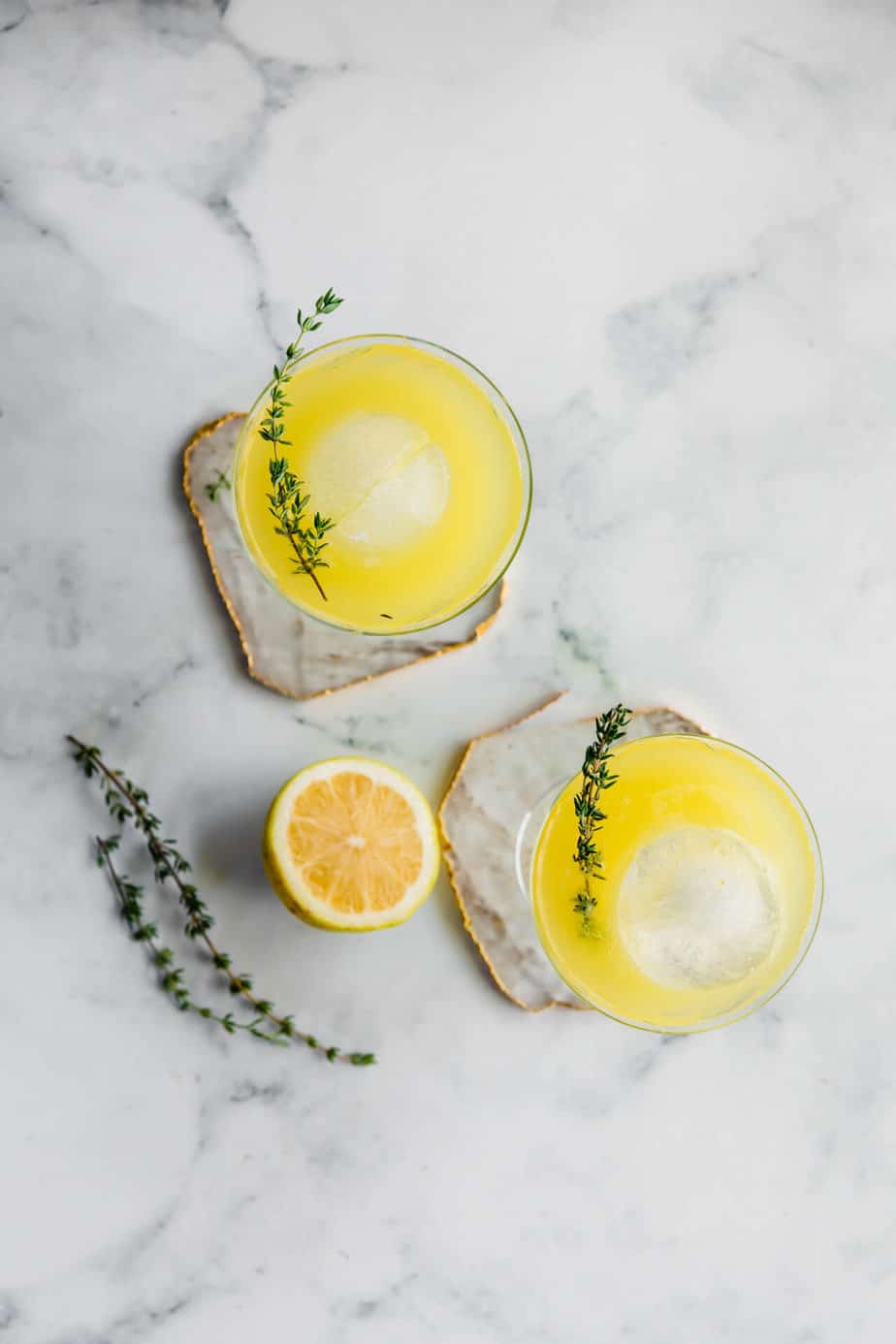 Ingredients and Notes
Pineapple Juice - Pineapple juice is made by squeezing and pressing fresh pineapples. It is a good source of Vitamin C. Pineapple juice is a flavorful fruit juice made from pineapples that has a sweet, tropical, and slightly acidic flavor. This juice has become a popular ingredient in many cocktails. If you don't have pineapple juice on hand, you can try mango or passion fruit juice.
Ginger beer - This gives this cocktail recipe its signature spicy fizz and zingy flavor.
Gin - Any gin will do, so use your favorite kind! And try this cocktail out with different types of gin to see how the flavors differ and find which you like best.
Thyme sprigs - I love to garnish this cocktail with a sprig of fresh thyme. You can also substitute this with rosemary or sage. Both look and taste beautiful and add a delicious scent to the drinking experience.
Fresh ginger - Because you can never have enough ginger! This can be left out if you don't have fresh ginger at home but it does take this drink up a level.
ALTERNATIVE GARNISH IDEAS
A garnish adds charm to a drink and makes it feel special and like a celebration. I like the simplicity and scent of a sprig of fresh thyme. But here are some more garnish ideas for your Pineapple Gin & Ginger Beer Cocktail:
Wedge of Pineapple
Lime Slice
Maraschino Cherries
Pineapple Leaf
Fresh Flowers
Caramalised Pineapple Chunks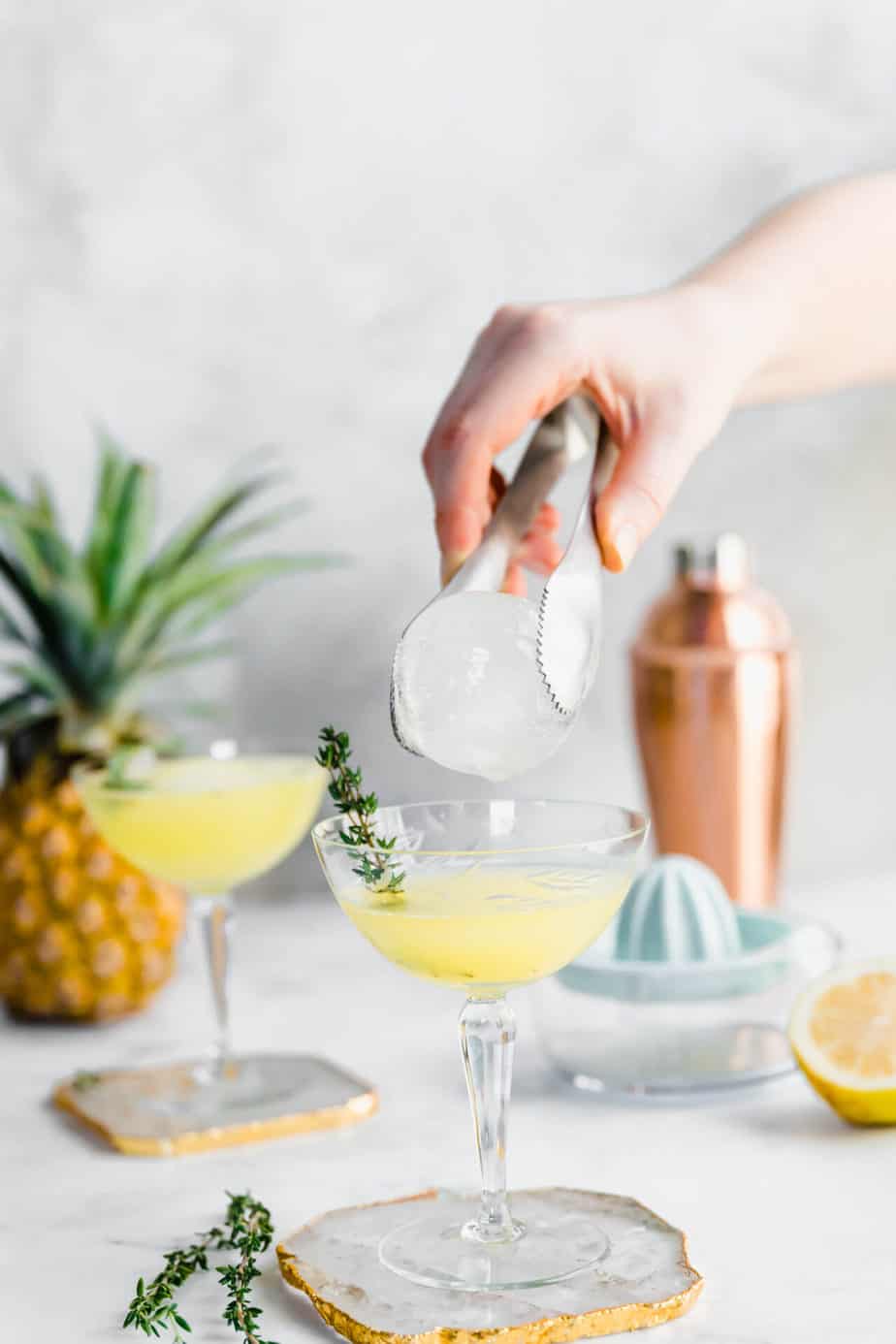 How To Make A Pineapple Gin & Ginger Beer Cocktail
STEP ONE
Combine the pineapple juice, fresh ginger, and gin in a cocktail shaker. Give it a good shake - about one minute.
STEP TWO
Fill two serving glasses with ice. Add as much as you like.
STEP THREE
Pour the pineapple mixture over the ice and top with ginger beer.
STEP FOUR
Serve the cocktail immediately with sprigs of thyme or any other preferred garnish.
Find the full recipe and detailed ingredient list in the recipe card at the end of this post.
DO I HAVE TO USE A COCKTAIL SHAKER?
No, you do not need a cocktail shaker to make this gin cocktail. Simply mix all the ingredients together in a small jug or glass beaker instead of using a cocktail shaker. Be sure to mix well.
Recipe Variations
This is an incredibly simple cocktail which also means it is super easy to transform this cocktail into just about anything.
Change up the juice - Not in the mood for pineapple? Swap out the pineapple juice for your favorite tropical fruit juice. I love using mango juice or peach juice.
Swap out the gin - Some days if I don't have gin in my home or simply feel like something else, I will use rum or tequila to make this pineapple gin fizz recipe.
Not in the mood for gingerbeer? - You can swap the ginger beer out for Sprite or tonic water if preferred.
Make it a mocktail - You can turn this gin cocktail into an alcohol-free mocktail by simply omitting the gin from the recipe. Because this drink is so flavorful, it will still be delicious without any gin included in it. Alternatively, you can use alcohol-free gin instead!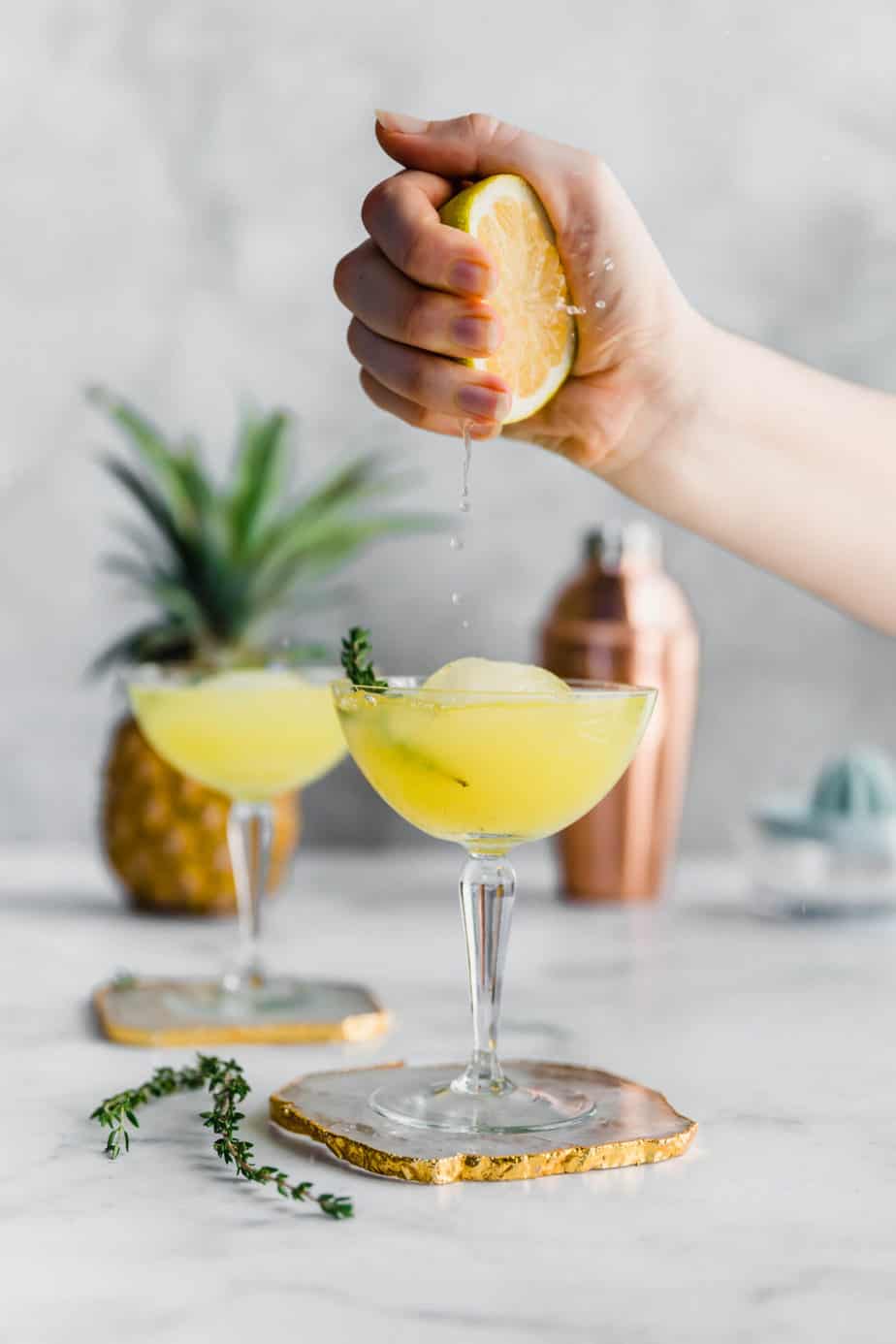 Different types of gin
London Dry Gin - With a strong juniper taste this type of gin is definitely the most popular gin at the moment.
Plymouth Gin - This gin is even dryer than London Dry Gin and has a slightly spicier flavor.
Old Tom Gin - With added licorice, this type of gin is slightly sweeter than your typical gins.
Genever Gin -  Originating in The Netherlands, this gin is sweet and aromatic and is often used in cocktails that are richer in flavor.
To learn a little more about the 9 different types of gin, head over HERE.
What Gin is good with ginger?
Any gin will work well with ginger ale or ginger beer, but typically a dry gin works best. It balances out the sweetness of the ginger.
Is pineapple good with alcohol?
Pineapple juice is the perfect mixer for most clear alcohol. With its sweet taste, it helps to mask the strong taste of alcohol.
Do I have to use a cocktail shaker?
No, you do not need a cocktail shaker to make this pineapple gin and ginger cocktail. Simply mix all the ingredients together in a small jug or glass beaker instead of using a cocktail shaker.
More Gin Cocktails To Try
I hope you love this Pineapple Gin & Ginger Beer Cocktail recipe as much as I do! And if you want to see more of my delicious food adventures, follow me on Instagram or Facebook.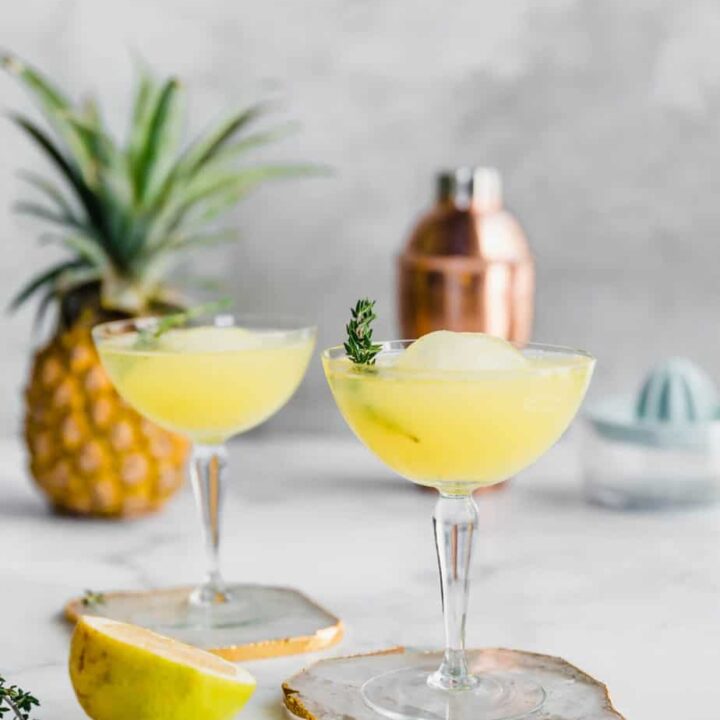 Pineapple Gin & Ginger Beer Cocktail
A refreshing summer cocktail made with pineapple juice, gin and ginger beer.
Ingredients
¾ cup pineapple juice
1 cup ginger beer
2 sprigs thyme
50 ml gin (or rum)
1 inch fresh ginger sliced
ice cubes
Instructions
Fill two glasses with ice cubes.

Mix the pineapple juice, fresh ginger, and gin together in a cocktail shaker and mix well.

Divide the pineapple mixture between the two glasses.

Top with ginger beer.

Serve with a sprig of fresh thyme.