A refreshing gin cocktail made with a fresh blueberry syrup, a kick of gin, and topped with sparkling soda water. This Blueberry Gin Cocktail is destined to be your new favorite summer drink!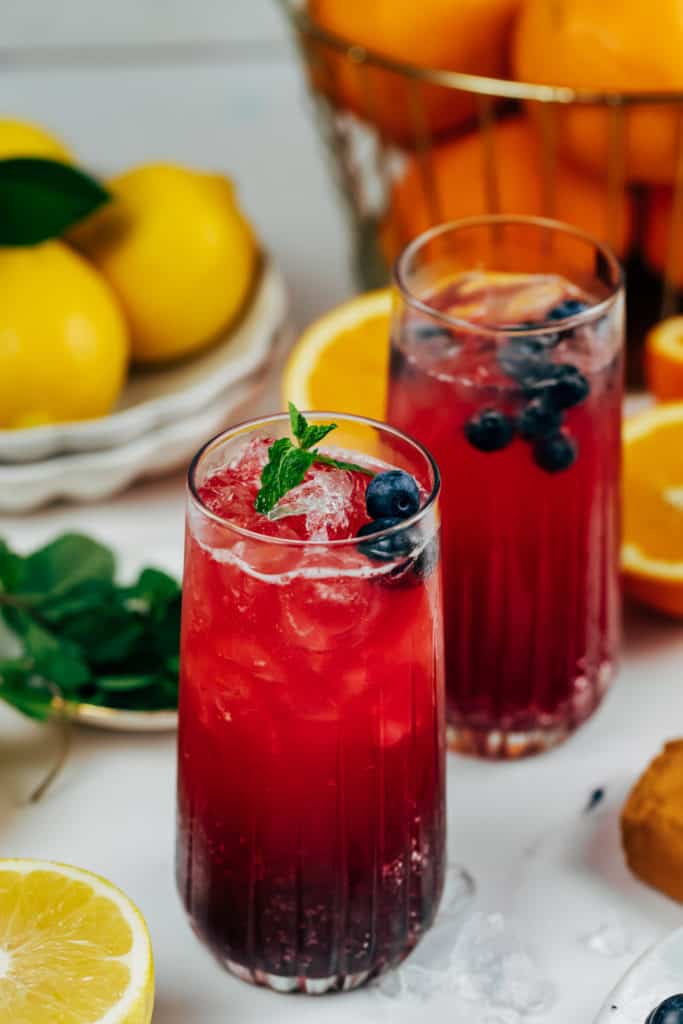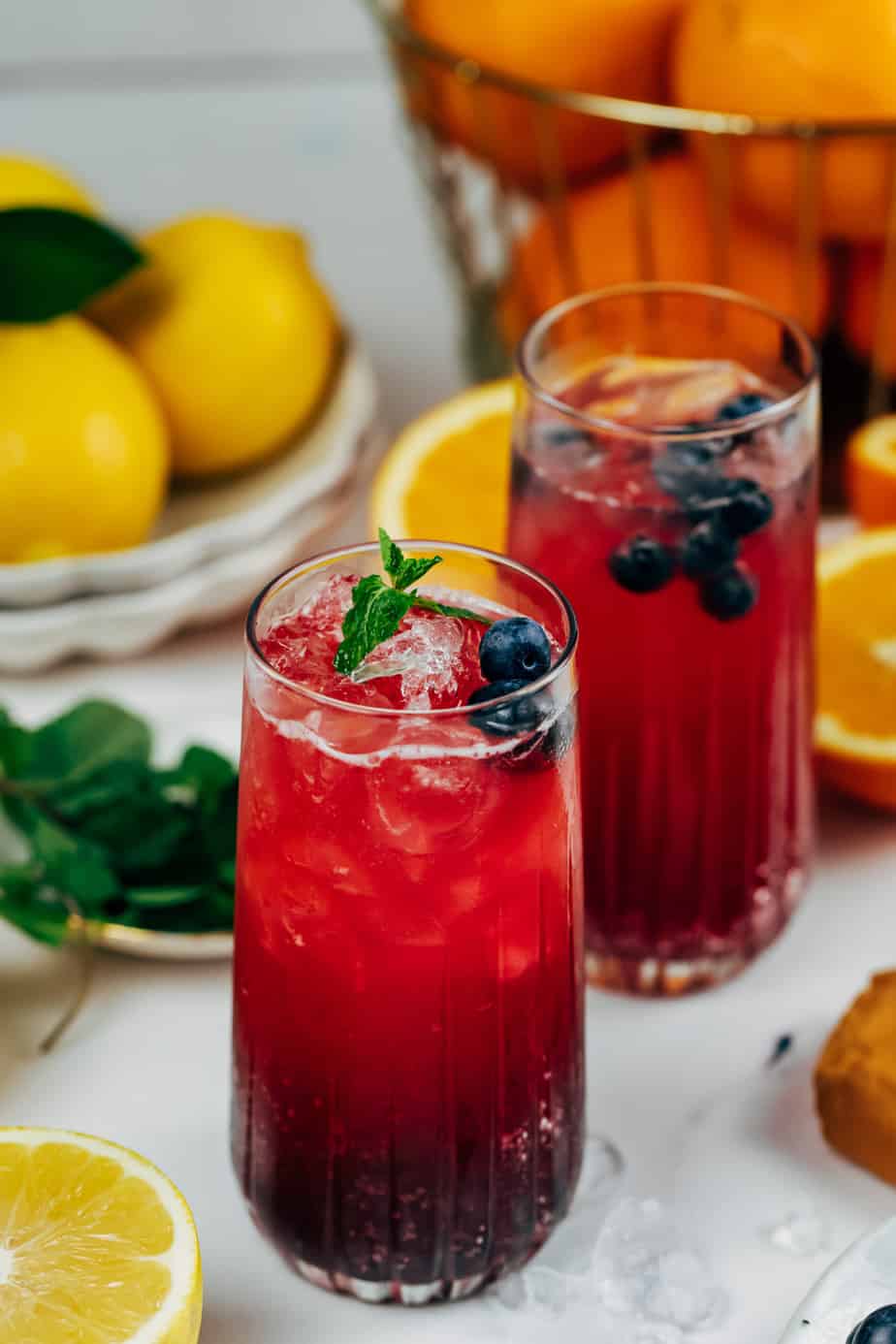 Why You Will Love This Blueberry Cocktail
This gin cocktail is super refreshing and full of yummy fruity flavors. The blueberry syrup can be made ahead of time and stored in your fridge or freezer for whenever the craving hits which is super convenient. This recipe can be doubled, tripled, or more, depending on the size of the crowd. It is easy to assemble and the color from the simple syrup and the fresh mint and berries make it oh-so-pretty too!
How To Make A Blueberry Syrup For Drinks:
To make a blueberry syrup, all you have to do is cook down blueberries with sugar and water. The amount of sugar and water you add will determine the sweetness and thickness of the blueberry simple syrup. This blueberry simple syrup can be stored in the fridge for up to a week, or it can be frozen in an airtight container for up to 6 months.
Place a small saucepan over a medium-high heat.
Add the blueberries, sugar, and water.
Bring the mixture to a boil, then turn down the heat and allow to simmer for 15 minutes.
Strain and cool before using.
How To Make This Blueberry Gin Drink For Summer
Making this delicious cocktail could not be easier! It takes no time at all and is a beautiful drink to serve to your friends and family. To make this cocktail, all you have to do is fill two glasses with ice. Then add your blueberry syrup and gin. Top this with soda water and a few fresh blueberries. Give it a gentle stir and then enjoy!
Can You Put Blueberries In Gin?
Yes! Blueberries and gin are a delicious combo and this recipe proves it! Gin works well with fresh fruity flavors which is exactly what blueberries are all about. Blueberries are often used as a garnish for Gin & Tonics as the berries complement the flavor of gin well and add a pretty touch to the drink. So definitely give this winning combination a try and see for yourself how refreshing and delicious it is!
Ingredients
Blueberry Syrup
1 cup blueberries
½ cup granulated sugar
Juice of ½ a lemon
½ cup water
Blueberry Gin Cocktail
1 cup blueberry syrup
4 shots gin (176ml)
Ice
Soda water (or tonic water)
Fresh mint and blueberries for serving
Instructions
1. To make the blueberry syrup, add all the ingredients into a small saucepan.

2. Place over a high heat and bring to a boil.

3. Once boiled, turn down the heat and allow to simmer for 10 - 15 minutes.

4. Strain the syrup and allow it to cool before using.

5. Once the syrup is cooled, add a ¼ cup to each serving glass. (You can adjust this amount depending on preference)

6. Add a shot of gin to each glass. (This can be left out to make a mocktail, or the amount can be adjusted depending on preference)

7. Fill the glasses with ice.

8. Top with soda water and garnish with fresh blueberries and mint.
More Easy Cocktail Recipes To Try:
For more yummy recipes, follow me on Facebook and Instagram!