A simple brandy cocktail recipe that is full of fresh and bright zesty flavours. With great reviews from all my friends and family, I am confident you will love this easy Zesty Brandy Cocktail.
This easy brandy cocktail is great served up at any time of the year - spring, summer, winter, or fall. It is always a hit! When I first made this batch of these brandy cocktails in summer I was expecting good, but not this good! It is a truly delicious brandy drink and has been a favourite with everyone who has given it a try. It is such an easy, at home brandy cocktail to make - I highly recommend giving it a try.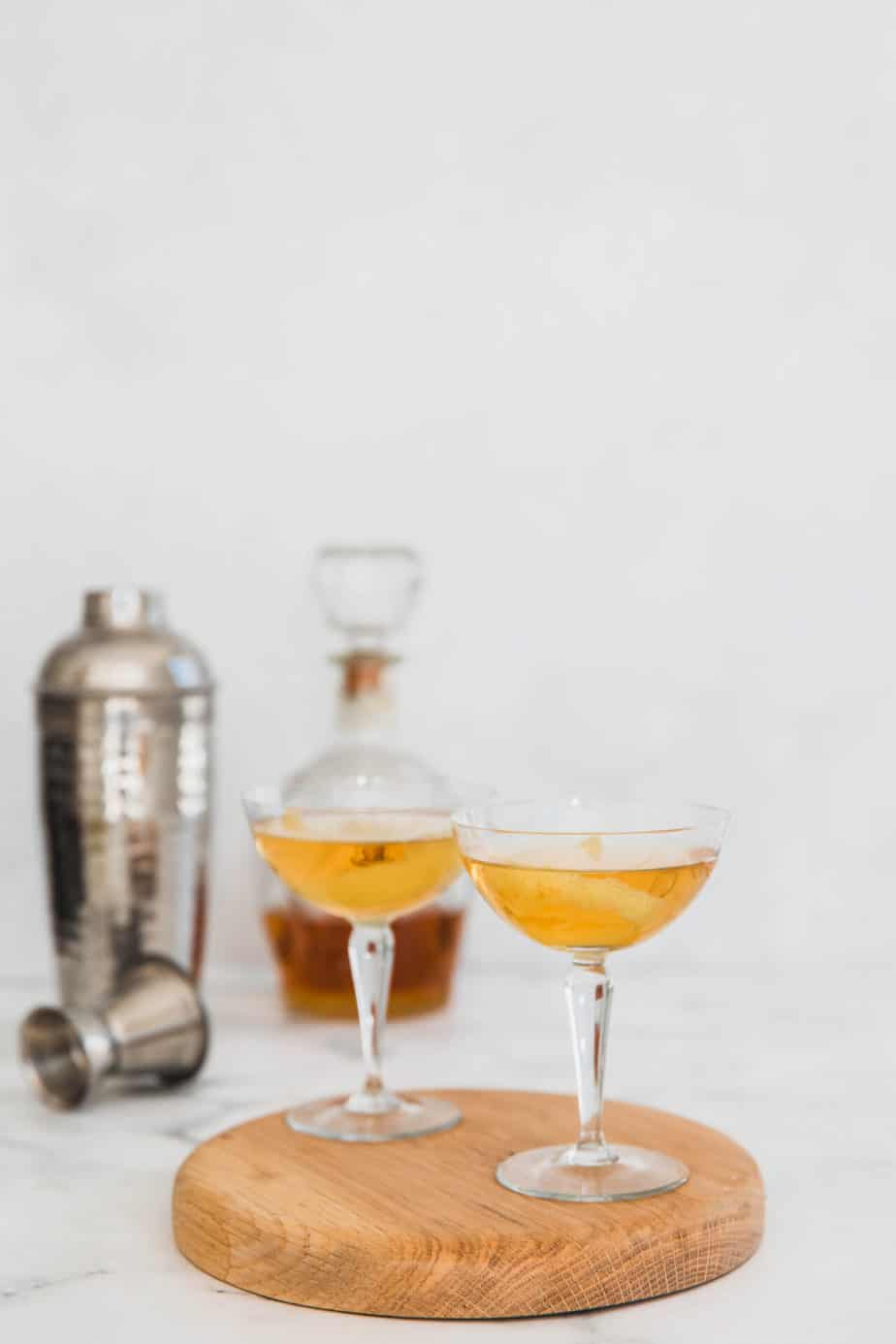 How To Make This Zesty Brandy Cocktail
Measure! The first step is to measure out all the ingredients and add them to a cocktail shaker.
Shake it up! Make sure all the ingredients are mixed well and all their flavours have combined nicely.
Garnish time! Create a lemon zest twist to garnish the Simple Zesty Brandy Cocktail and to add an extra burst of flavour.
Fill it up! Pour the brandy cocktail into a glass of your choice and add the lemon zest twist garnish.
Cheers! You are now ready to enjoy your delicious brandy cocktail. It is as easy as that!
Let's Talk About Brandy Drinks
Brandy is a very popular drink to make cocktails with. There are many classic cocktails that include brandy - such as a Brandy Alexander, Brandy Sour, Brandy Daisy, The Sidecar, and more.
What is a Good Mix With Brandy?
Brandy mixes well with many different kinds of alcohol and flavours. This simple brandy drink combines brandy with light rum, triple sec, and lemon juice. And it is a truly delicious combination! Brandy is also a popular drink to mix with sodas. These well-loved brandy soda mixes include:
Brandy and ginger ale
Brandy and coke
Brandy and lemonade
Brandy and dry lemon
Adjust This Brandy Cocktail Recipe to Your Liking
You can make this amazing Simple Zesty Brandy Cocktail even fresher and zestier by adding more lemon juice to the recipe. Or if you want a sweeter option, you can add a splash of simple sugar syrup to the mix. If you are serving it up in winter, you could opt to leave out the ice for a room-temperature alternative. If you are serving this brandy drink in summer, you could serve it with ice. Just simply fill your glass with ice before pouring in the brandy cocktail mix.
Other Cocktail Recipes You may Like:
I hope you give this recipe a try - and if you do, let me know what you think of it over on my Instagram 🙂
Zesty Brandy Recipe
Ingredients
30

ml

brandy

30

ml

light rum

30

ml

triple sec

15

ml

lemon juice

1

cup

ice

lemon zest twist

for garnish
Instructions
Pour all the ingredients into a cocktail shaker.

Strain and pour into a glass.

Garnish with a lemon zest twist and enjoy!