A refreshing Fig & Thyme Gin Cocktail is a definite must-have after a long day! Made with fresh figs, thyme and tonic water. This 6 ingredient gin cocktail is a must for fall days.
This easy gin and tonic recipe shows off the sweet, fruity flavour of figs which is complemented by the beautiful flavour of fresh thyme.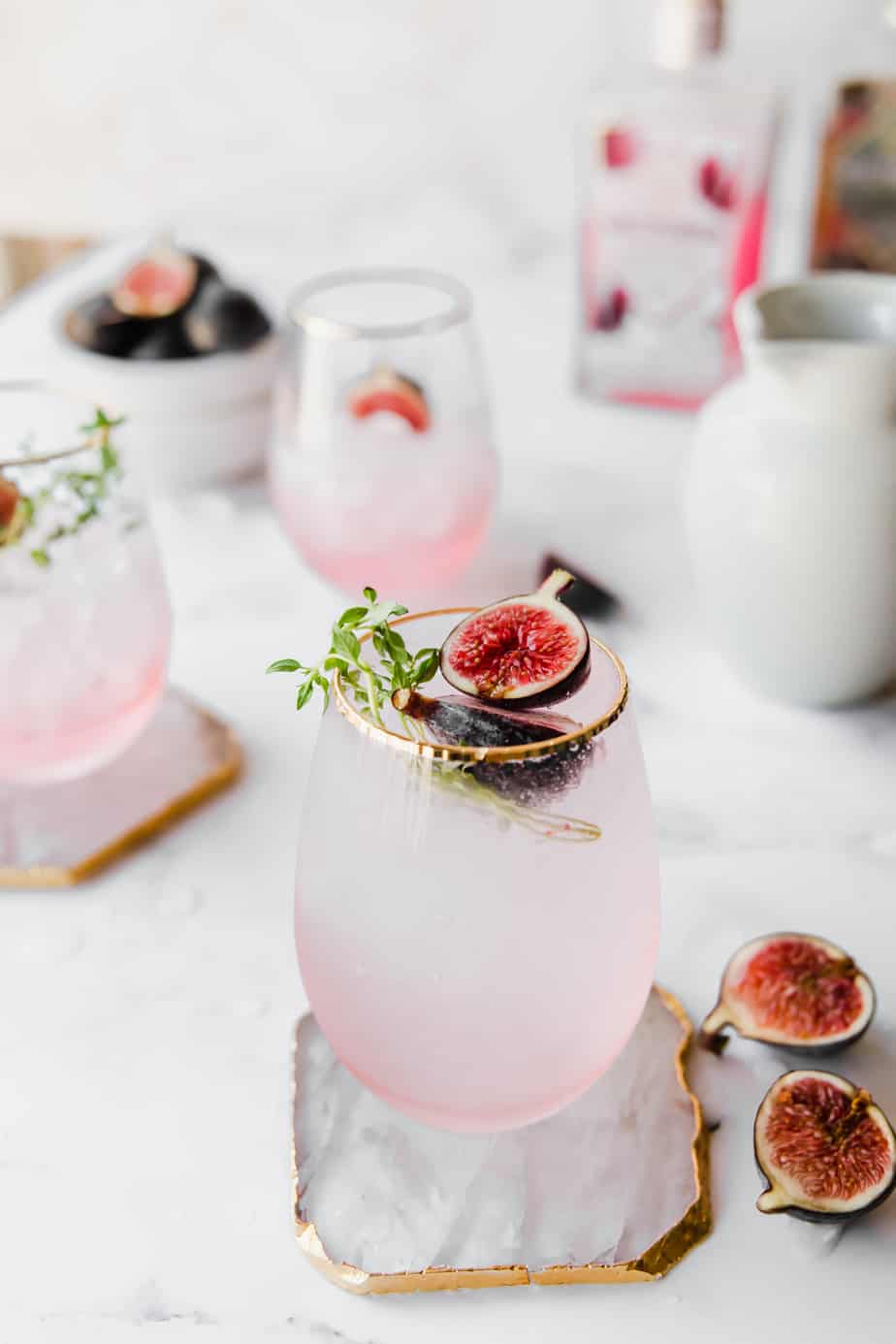 Easy fig gin cocktail
I'm a sucker for a gin and tonic and this fig cocktail is the perfect twist on a classic gin and tonic. Made with the most beautiful fresh figs, a few sprigs of thyme and a splash of tonic water. You're destined to be sipping on this pink gin and tonic all fall.
The combination of fresh figs and thyme creates the perfect fall cocktail recipe. Pair this figgy drink with a warm fall dish or enjoy with a delicious pumpkin muffin.
Ingredients you'll need
Sugar - This adds a little extra sweetness to your fig cocktail recipe by making a simple syrup.
Water - A little water goes a long way when creating a simple syrup.
Gin - This is where the fun comes in, use your favorite gin brand and add as much or as little as you want. To change up the cocktail, swop the gin out for a little rum.
Thyme - Nothing beats beautiful fresh thyme sprigs. If you want a slightly different flavor, try using rosemary sprigs instead.
Fresh figs - Make sure to use sweet ripe figs for this recipe and cut a few extra for garnish.
Tonic water - Don't like tonic water? Try a little soda water instead. I love adding pink tonic water to give it a lovely twist.
Tips for making the best gin cocktail
Choose your gin - The quality of the gin will greatly affect the taste of your cocktail. Try a few different types of gins. They all have different flavor undertones and you'll definitely like some more than others. Bombay Sapphire is one of my favorite classic gins to use for most of my gin cocktails.
Allow the thyme to steep - Once you've made the simple syrup, you'll add a few sprigs of thyme and allow that flavor to steep into the syrup. The longer you leave the thyme, the stronger the flavor will be.
Use fresh figs - Use top quality figs that are ripe. This will increase the figgy flavor of your gin cocktail and add a little extra sweetness.
Try different tonic waters - I love pink gin and tonics and I create them by using a pink tonic. It gives the gin cocktail a slightly more floral taste. Try blueberry tonics or sugar free tonics. The options are endless.
What is the most popular way to drink gin
Some people enjoy gin straight over a little ice. While that can hit the spot some days, I always enjoy a simple gin and tonic with a few sliced of lime. Other ways to enjoy gin is in a cocktail such as this fig gin cocktail or other gin cocktails.
Is gin the healthiest alcohol
Gin has been labelled as one of the healthier types of alcohol. That's why we love gin cocktails right? Gin is made from juniper berries, low in calories and due to being made with botanical properties, it adds many health boosting qualities. Sounds like a good deal if you ask me.
Should gin be refrigerated
Gin does not need to be refrigerated. If you're planning on making a refreshing cocktail then keeping your gin in the fridge is always a simple way to make sure your cocktail is cold and delicious.
More delicious gin cocktail recipes
Fig & Thyme Gin Cocktail
Ingredients
¼ cup sugar
¼ cup water
1 shot gin or whatever feels right 😉
2 sprigs thyme
4 - 8 figs
tonic water
ice
Instructions
Heat sugar and water in a pan until sugar is completely dissolved.
Remove the pan from the heat and add in thyme.
Allow thyme to steep in sugar-syrup for 10 minutes.
Once cooled, add 1 Tbsp of infused sugar-syrup to a glass that is filled with ice.
Add gin and chopped figs.
Top with tonic water and serve with a sprig of thyme.