This Fig & Thyme Pavlova with Spicy Red Wine Plum Syrup is the only dessert recipe you'll ever need. Elegant, fruity and just a touch of spice. Perfect for any season.
Le Creuset launched their absolutely heavenly new collection - Meringue! So naturally, I had to make something with meringue (not that I need to be asked to make a meringue).
There is something so incredibly satisfying about making meringue. Mmm, that texture, that gloss and then once baked, that crunch. Honestly, I think I would be totally happy spending the rest of my life making meringues every day.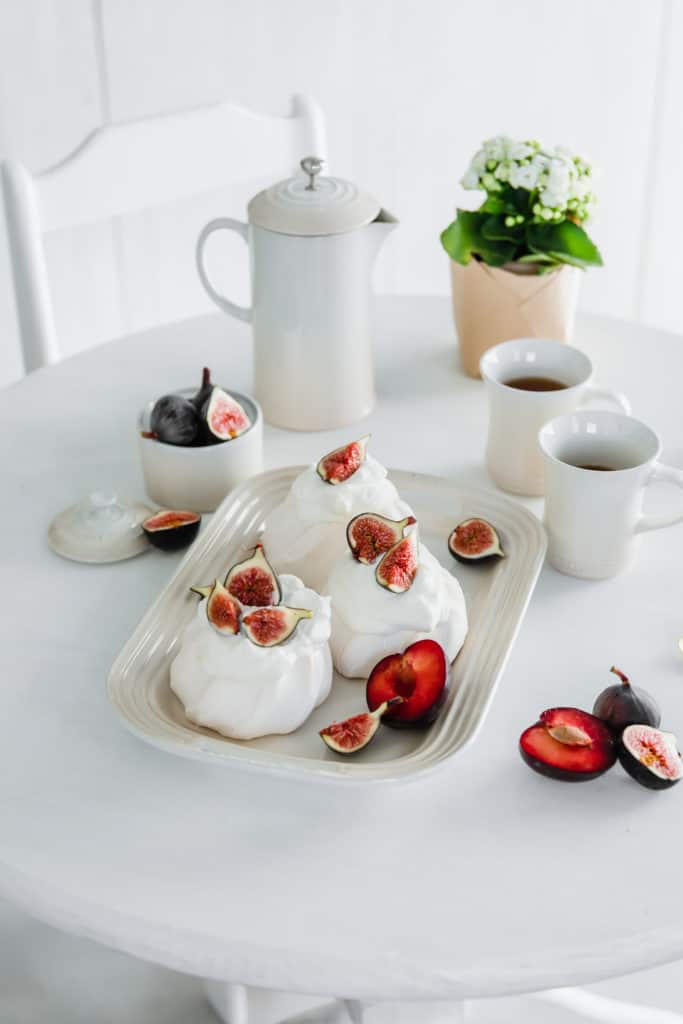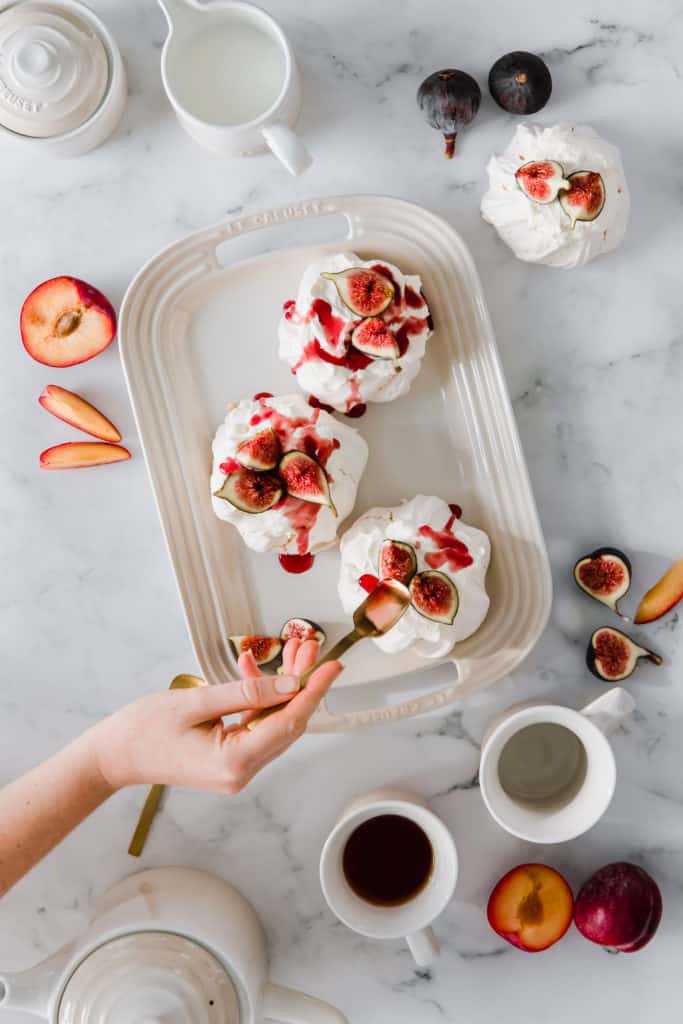 To date, this is one of my all time favourite recipes I've made. The pavlovas came out so beautifully, but the syrup. Guys! THAT SYRUP! If you do one thing this week, make the syrup. It is life changing. And no I'm not exaggerating. The combination of sweet fruit, red wine and warm cinnamony flavours. Pure perfection I tell you.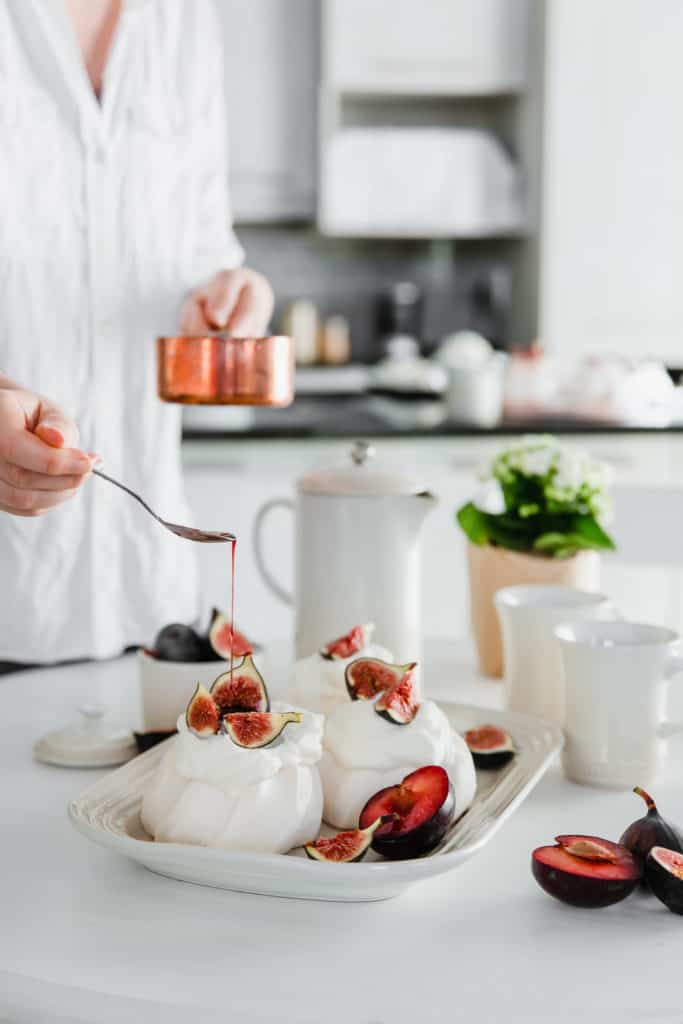 Combine these incredible flavours with the beauty that is the new Meringue Collection and my heart needs nothing more. I can't get enough of the soft muted tones of this collection.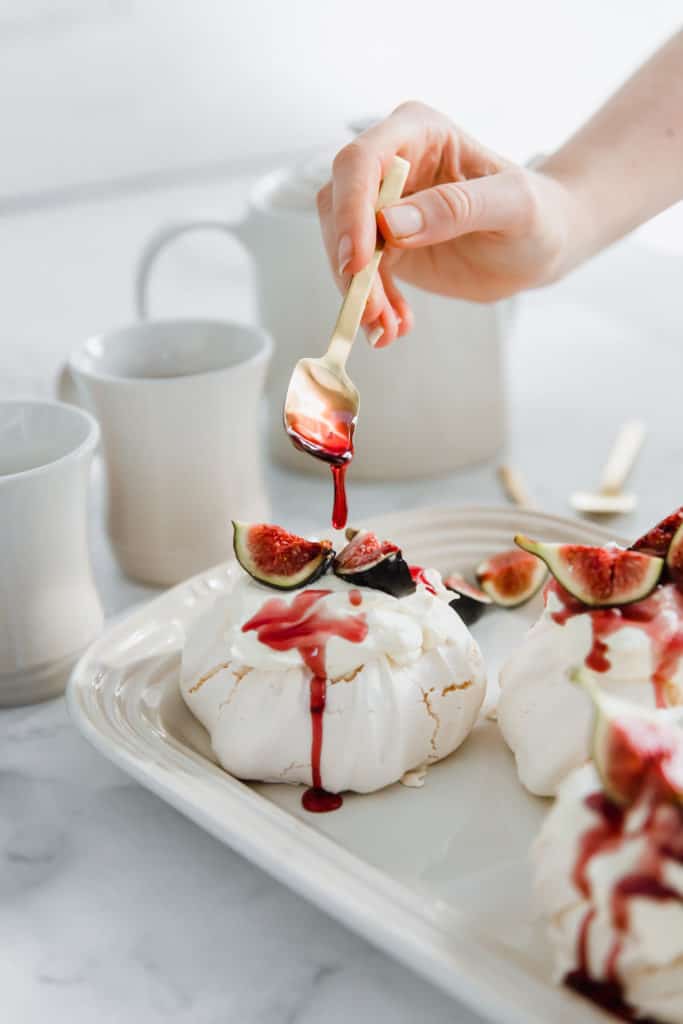 I hope you love this recipe for Fig & Thyme Pavlova with Spicy Red Wine Plum Syrup as much as I do!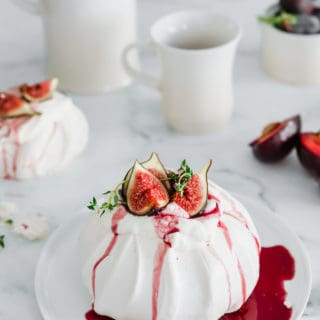 Fig & Thyme Pavlova with Spicy Red Wine Plum Syrup
Ingredients
6

egg whites

½

teaspoon

white vinegar

330

g

castor sugar

sifted

1 ½

teaspoon

cornflour

sifted

pinch of

cream of tartar

seeds from one vanilla pod
For the Spicy Red Wine Plum Syrup:
½

cup

sugar

½

cup

red wine

1

cinnamon stick

3-5

whole cloves

1

plum

roughly chopped
Toppings:
1

cup

whipped cream

5-7

figs

quartered

fresh thyme
Instructions
Pre-heat the oven to 120ºC and line a baking tray with baking paper.

Place the egg whites and cream of tartar in your stand mixer fitted with the whisk attachment and whisk on medium speed until frothy.

Start adding the sugar one teaspoon at a time until all the sugar is finished.

Increase the speed and continue you mixing until you reach stiff peaks.

Sprinkle the cornflour, vanilla seeds and vinegar over the meringue and fold it all in.

Spoon mixture onto the baking paper creating 4-6 circle like shapes.

Use a palette knife to first create a round shape. Then in-strips, pull the meringue in an upward motion until you get the desired shape. Form a small nest in the top.

Turn the oven down to 100ºC and place the baking tray on the bottom rack of the oven.

Bake the meringues for at least an hour and a half then turn the oven off (without opening the oven) and leave the meringues in the oven for another 5 hours.
For the Spicy Red Wine Plum Syrup:
Place all the ingredients in a small saucepan over medium heat.

Allow the mixture to simmer for at least 10 minutes then strain. Allow to cool before serving.

Once the meringues have cooled. Place a dollop of cream in the centre of each pavlova, then add fresh figs, a sprig of thyme and top with the syrup.
Tried this recipe?
Let us know how it was in the comments below
Tag us on Instagram!
We love seeing people make our recipes. Mention @baking_ginger