Buy in bulk or make your rotisserie chicken last up to 3 months! Freezing rotisserie chicken is super easy and an amazing way to save money and time. Rotisserie chicken is one of the best foods to freeze and will taste just as delicious once defrosted.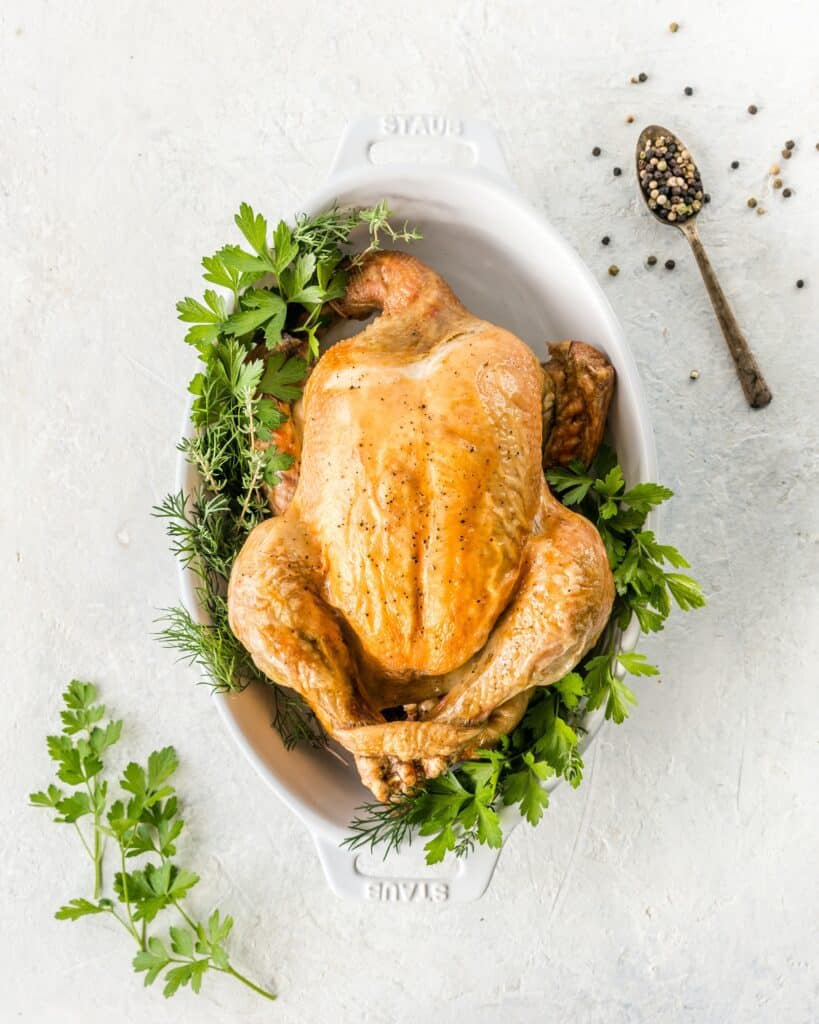 Jump to:
How To Freeze Whole Rotisserie Chicken
Whether you want to freeze your rotisserie chicken whole or shredded we've got you. Rotisserie chicken can be stored in either an airtight container or in a ziploc/plastic bag.
To freeze a whole rotisserie chicken I always suggest using a large airtight container. Whereas, for shredded chicken a ziploc bag works perfectly.
You could even divide the shredded chicken amongst two or three bags to make more than one feel from it.
To freeze cooked rotisserie chicken:
Allow chicken to cool to room temperature. You never want to freeze chicken while it's still hot.
Shred the chicken into smaller pieces and remove the bones, if shredding.
Place shredded chicken in ziploc bags or airtight containers and store in freezer.
If freezing a whole chicken, simply place the chicken in an airtight container once cooled and store in freezer.
How To Thaw & Reheat Rotisserie Chicken
Having rotisserie chicken on hand in the freezer is always great. It's the perfect way to serve a home cooked meal in a fraction of the time.
To thaw a whole chicken, remove the chicken from the freezer and place it in the refrigerator overnight. Alternatively, place the airtight container in the sink filled with cold water.
This will allow the chicken to defrost faster without risking contamination. Ensure that the water is cold and not hot. The chicken will thaw in about 3-4 hours if placed in cold water.
For shredded chicken, place the ziploc bag on a plate in the refrigerator over night submerge the bag in cold water for 2-3 hours.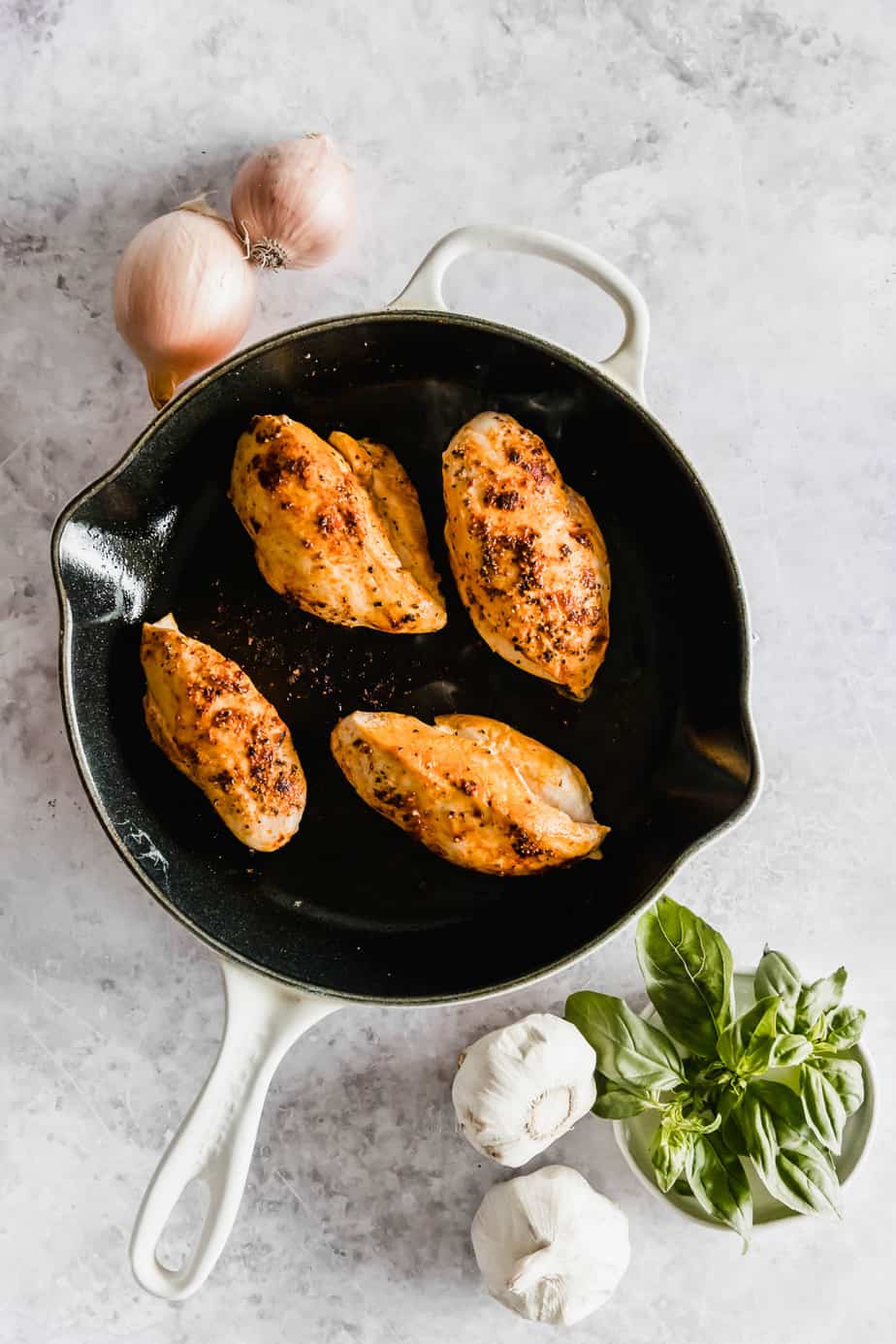 Try this delicious creamy Tuscan Chicken recipe for an easy weeknight dinner.
How Long Can Rotisserie Chicken Stay Frozen
The great thing about rotisserie chicken is the fact that you can make or buy it ahead and store it in the freezer for up to 3 months. That means that you'll always have protein on hand for whenever you need it.
Try defrosting the shredded chicken and adding it to my Avocado Pesto Pasta dish for an easy one pan dinner.
How Do You Cook Frozen Rotisserie Chicken
Because rotisserie chicken is already cooked there is barely any worked attached, making it one of the best meats to freeze. Once the chicken has defrosted entirely, simply add it to your favorite pasta dish or heat it up in the microwave.
To heat up a whole rotisserie chicken, place the chicken in an oven safe dish with a little chicken stock or brine in the bottom and pop it in the oven at 350ºF for 20-30 minutes and it'll taste as if you just made it.
You can also use the chicken breasts separately and add them to a delicious creamy dish like my Tuscan Chicken recipe. Save the rest of the chicken for the kids school sandwiches or add it to a salad.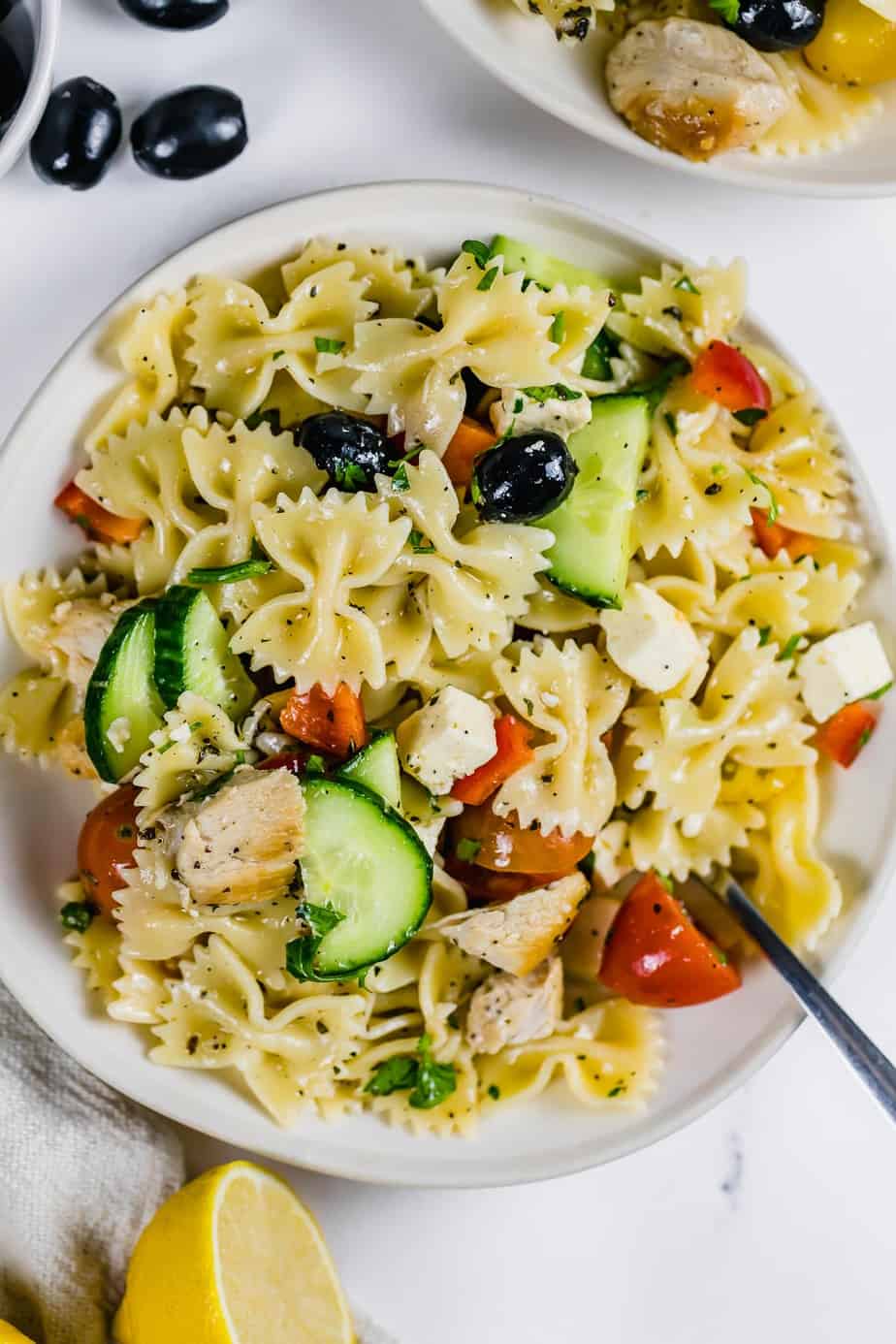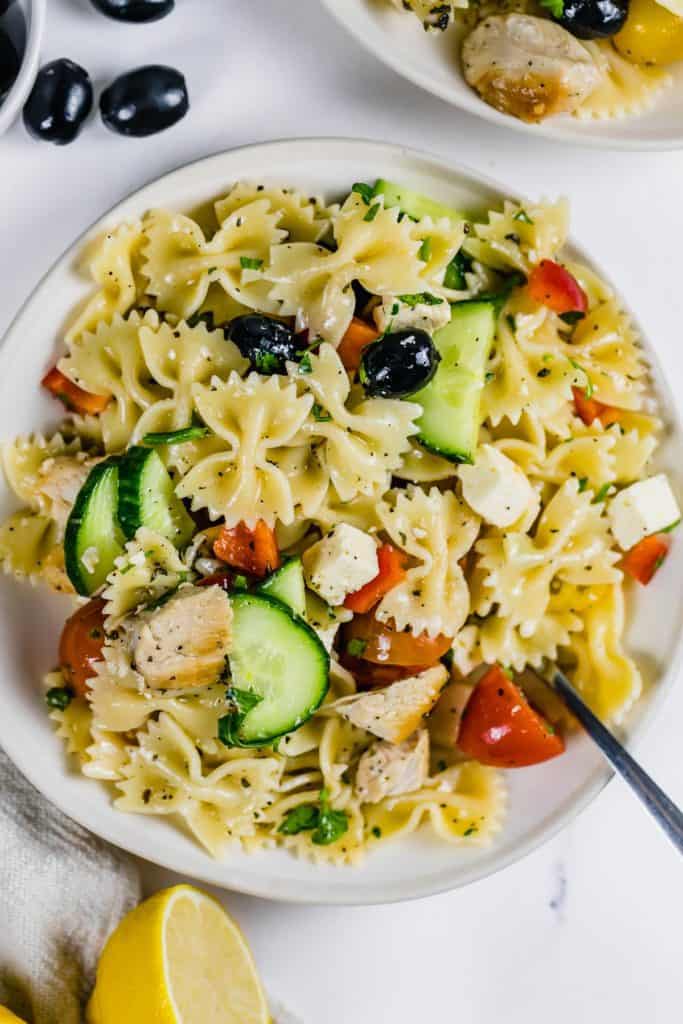 Add leftover rotisserie chicken to this easy to make Greek Pasta Salad recipe for a quick and easy lunch idea.
Can You Freeze Store Bought Rotisserie Chicken
Yes! Store bought rotisserie chicken is one of my favorite things to freeze. You could easily buy 3 in one day, eat one for dinner and freeze the remaining two whole chickens.
Make sure to freeze the chicken on the same day that you bought it and ensure it is placed in either an airtight container or in a vacuum sealed bag.
Airtight Containers vs Ziploc Bags
There is no right answer here. Each one has its own benefits. The main benefit of using airtight containers is the fact that it is reusable and doesn't contribute to pollution. But there are also many reusable ziploc bag options available.
When to use airtight containers:
If you're freezing whole rotisserie chickens or even half a rotisserie chicken using an airtight container might be your best solution.
Make sure to use a label or simply write on the container with a sharpie to add the date that the chicken was cooked.
When to use Ziploc bags:
Using ziploc bags to freeze rotisserie chicken can be incredibly convenient. Divide the chicken into smaller amounts and freeze the in small ziploc bags.
Alternatively, shred the rotisserie chicken and divide the shredded meat between smaller bags to freeze. This allows you to have small portions that are easier to defrost ready for whenever you need a little extra protein for your meal.