This Vegan Avocado Broccoli Pesto Pasta is easy to make and its creamy sauce is packed full of fresh flavor and healthy ingredients. A tasty pasta dish that can be made in just 20 minutes!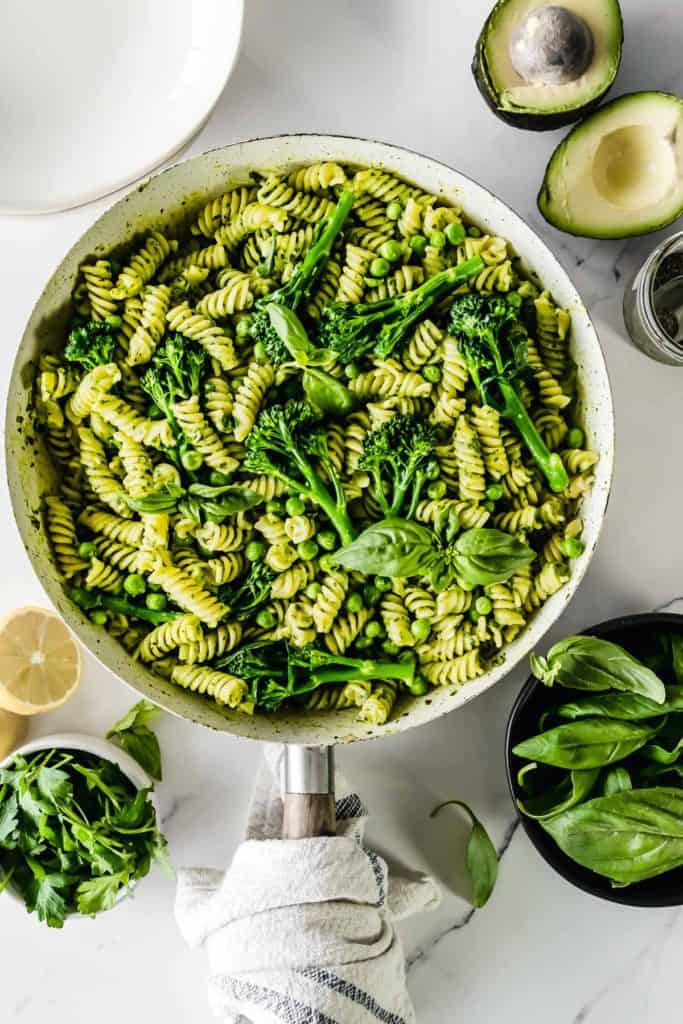 Why you will love this Vegan Avocado Pesto Sauce
This avocado pesto sauce is made from healthy ingredients like spinach, garlic, basil, and avocado, so it is packed full of nutrients. The avocado gives this pasta sauce the most delicious creaminess and richness - along with all its health benefits.
This recipe can be made gluten-free by switching out the pasta for a gluten-free version. This pasta dish is also so easy to make so it is great for a weeknight meal - I make it all the time and I am never disappointed!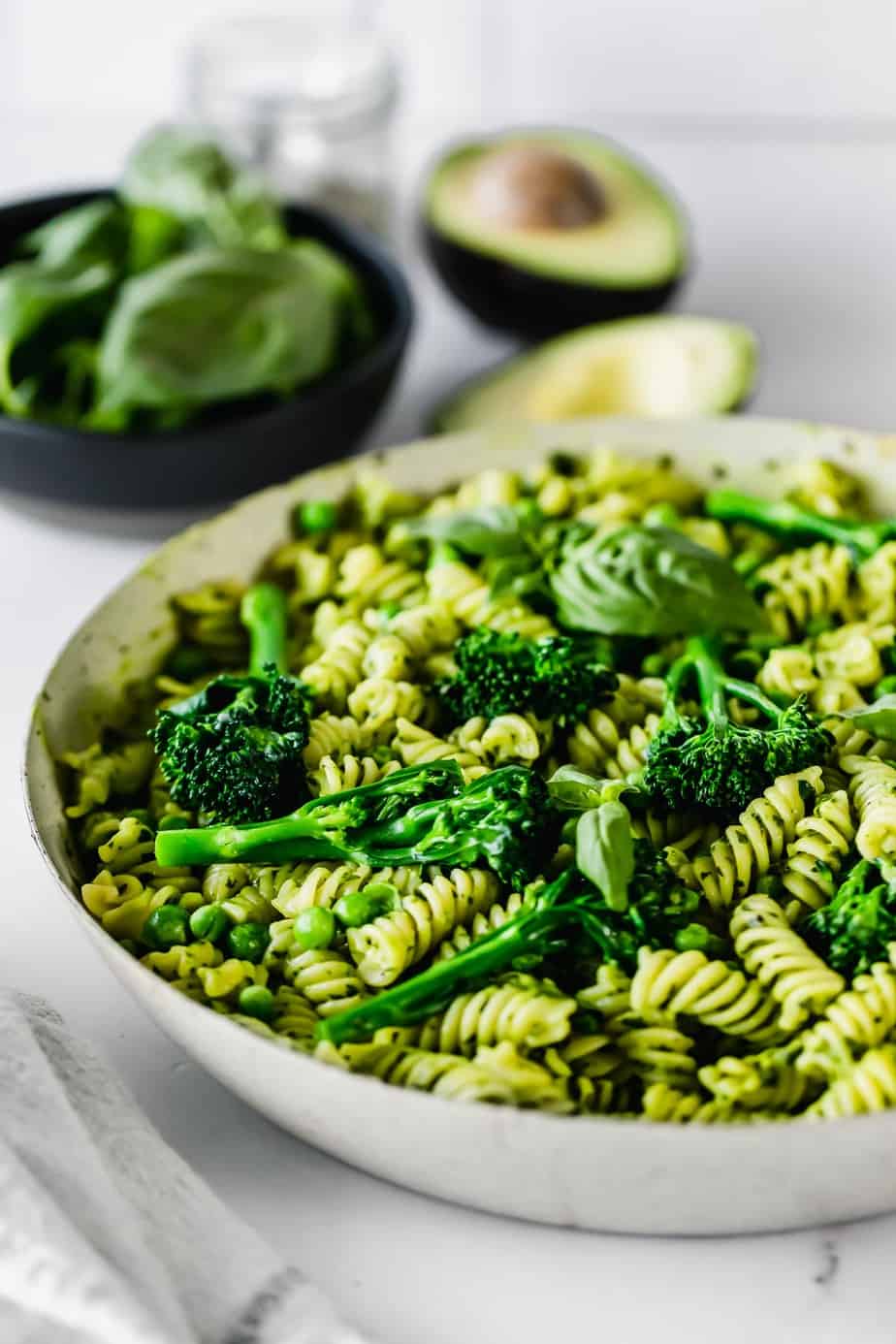 What you will need to make Pestocado (avocado pesto)
Avocado: Makes the pasta super creamy and is full of healthy fats, fiber, and vitamins.
Fresh basil: Lots of yummy fresh herby flavor!
Baby spinach: Blends in beautifully into the pesto and add tons of nutrients. It also bulks out the pesto without sacrificing any flavor.
Lemon juice: Adds some bright zesty flavor - along with a boost of vitamin C.
Garlic: Fresh is best!
Olive oil: To perfect the yummy texture and consistency.
Pasta: Any pasta will work - so choose your favorite!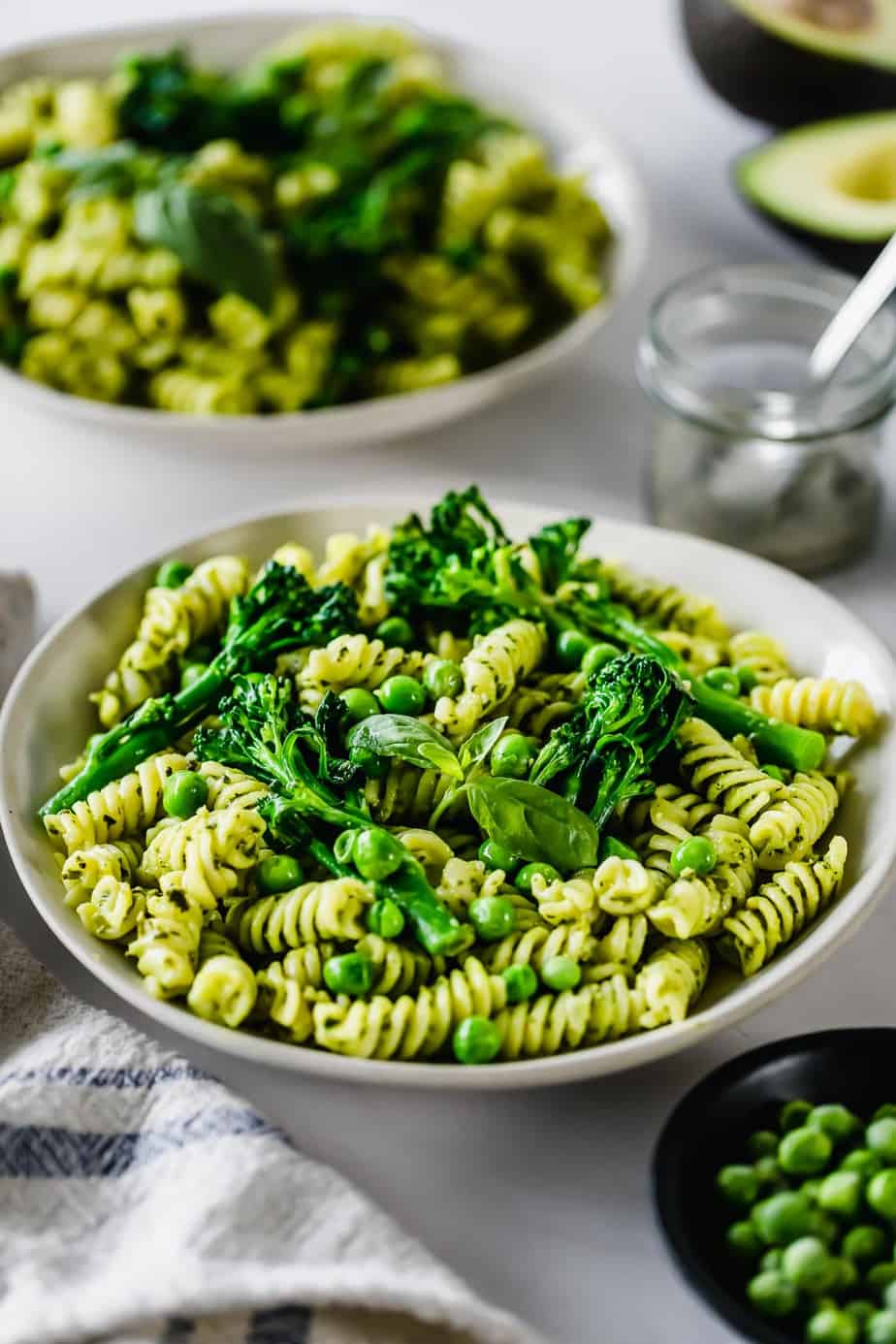 How To Make Pasta de Avocado
This one pot pasta uses just a few yummy ingredients and can be whipped up in 20 minutes. It is incredibly easy to make but is still super delicious and looks impressive.
To make this pasta, start off by cooking your pasta according to packaging instructions.
To make the avocado pesto sauce, add all the remaining ingredients into a food processor or thermomix.
Blend until smooth and creamy. Add more salt and pepper if necessary.
Drain the cooked pasta and mix in the sauce.
Garnish with fresh basil and enjoy!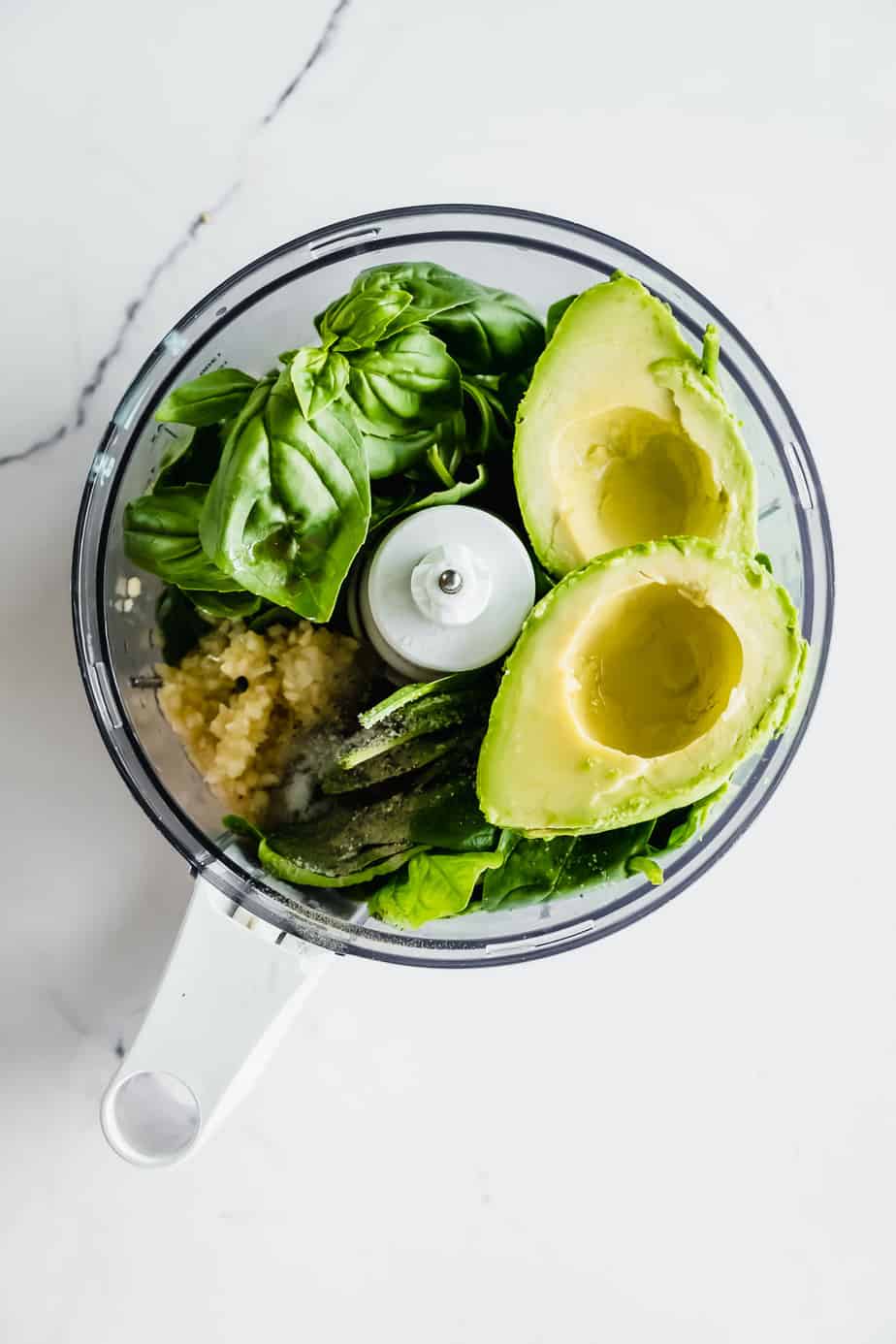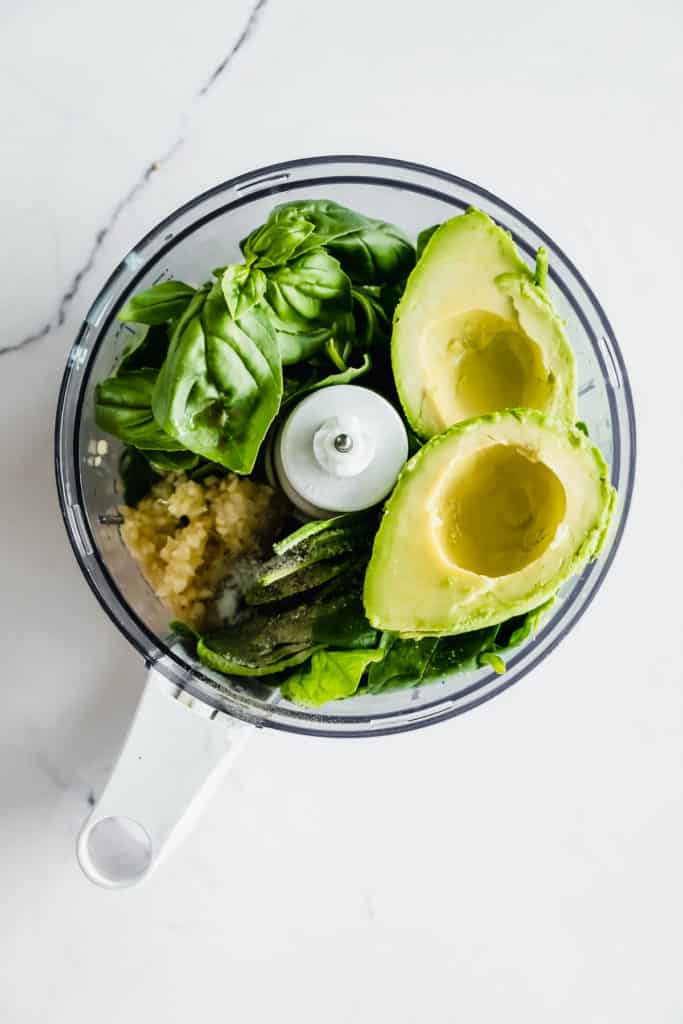 Tips for Making this Vegan One Pot Pasta Recipe
If you don't love basil, you can substitute it with other herbs. Any assortment of your favourite herbs, like parsley or cilantro, will also work for this recipe.
Remember to properly salt your pasta water. This ensures that your pasta is tasty and will make this dish even better.
The best avocados to use for this pasta are ones that are slightly soft to the touch. They shouldn't be hard but also not too mushy.
This pasta dish can be made with any type of pasta. All pasta shapes are fine to use. You could also use whole-grain pasta or gluten-free pasta if you prefer!
This avocado pesto sauce can be stored in the fridge or freezer, but is best served fresh. Be aware that the sauce will darken after a few hours as the avocado oxidises so it id best served fresh.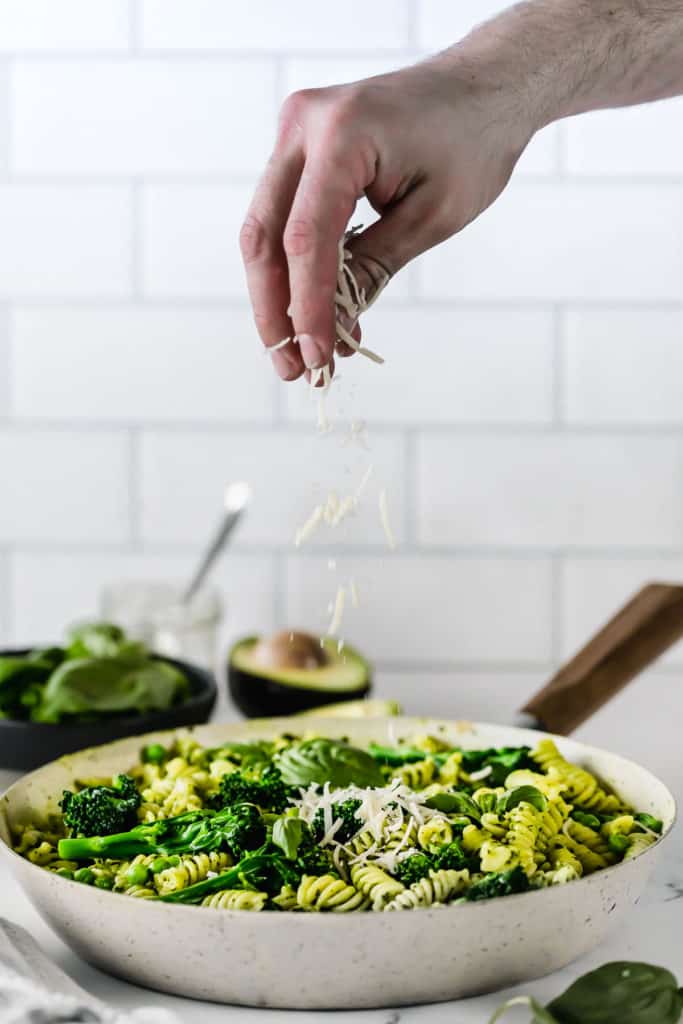 The many health benefits of avocado
Using avocado as a pasta sauce could seem a little unusual, but it adds tons of incredible health benefits (all while still being super yummy!). Avocado is creamy by nature and high in healthy fats.
This makes it perfect to use in vegan pasta dishes as it gives the pasta sauce a rich and creamy consistency - and gives you a boost of healthy fats and vitamins. Avocado is loaded with vitamin K, folate, and vitamin C, and loaded with fiber and heart-healthy fats!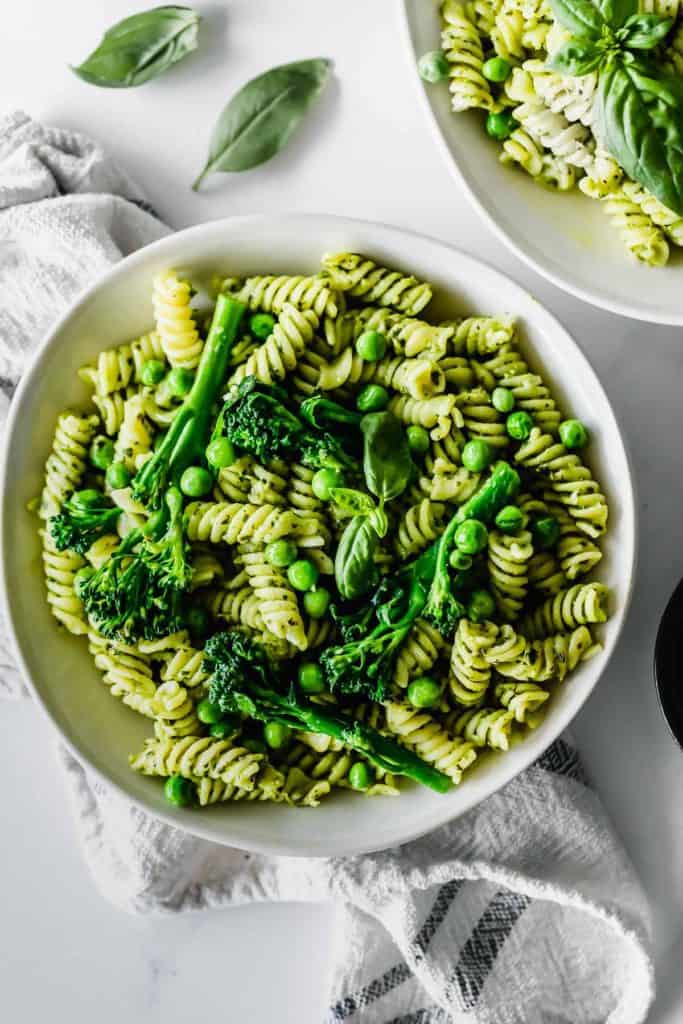 More easy recipes you may like:
Vegan Avocado Pesto Pasta
This Vegan Avocado Pesto Pasta is easy to make and its creamy sauce is packed full of fresh flavor and healthy ingredients. A tasty pasta dish that can be made in just 20 minutes!
Ingredients
17 ounces (500g) Fusilli or your favorite pasta
½ cup peas
6 ounces broccolini
1 whole avocado
1 cup fresh basil
1 cup baby spinach
¼ cup lemon juice
4 cloves of garlic, minced
Salt & pepper, too taste
2 tablespoon olive oil, divided
Fresh basil (for garnish)
Parmesan or vegan cheese (for garnish)
Instructions
Cook the pasta until al dente, reserve a ¼ cup pasta water. Strain the pasta and set aside.
Place the remaining ingredients, using only 1 tablespoon olive oil, in a food processor and blend until smooth and creamy.
Place a skillet over medium heat and add the remaining 1 tablespoon olive to the pan.
Once the pan is hot, fry the broccolini for a few minutes until cooked but still crunchy.
Add the pasta, avocado pesto, pasta water and peas.
Toss until well combined.
Serve with fresh basil.
Notes
*If the sauce is too thick, feel free to add a little extra water to the pan.
I hope you love this Broccoli Avocado Pesto Pasta recipe as much as I do! And if you want to see more of my food adventures, follow me on Instagram or Facebook.