This easy Creamy Garlic Tuscan Chicken recipe will soon become a dinner favorite. It is made in one-pot and takes just 30 minutes to make. The juicy chicken breasts are served in a creamy parmesan sauce that is loaded with fresh garlic, tomatoes, and spinach. (Keto-friendly)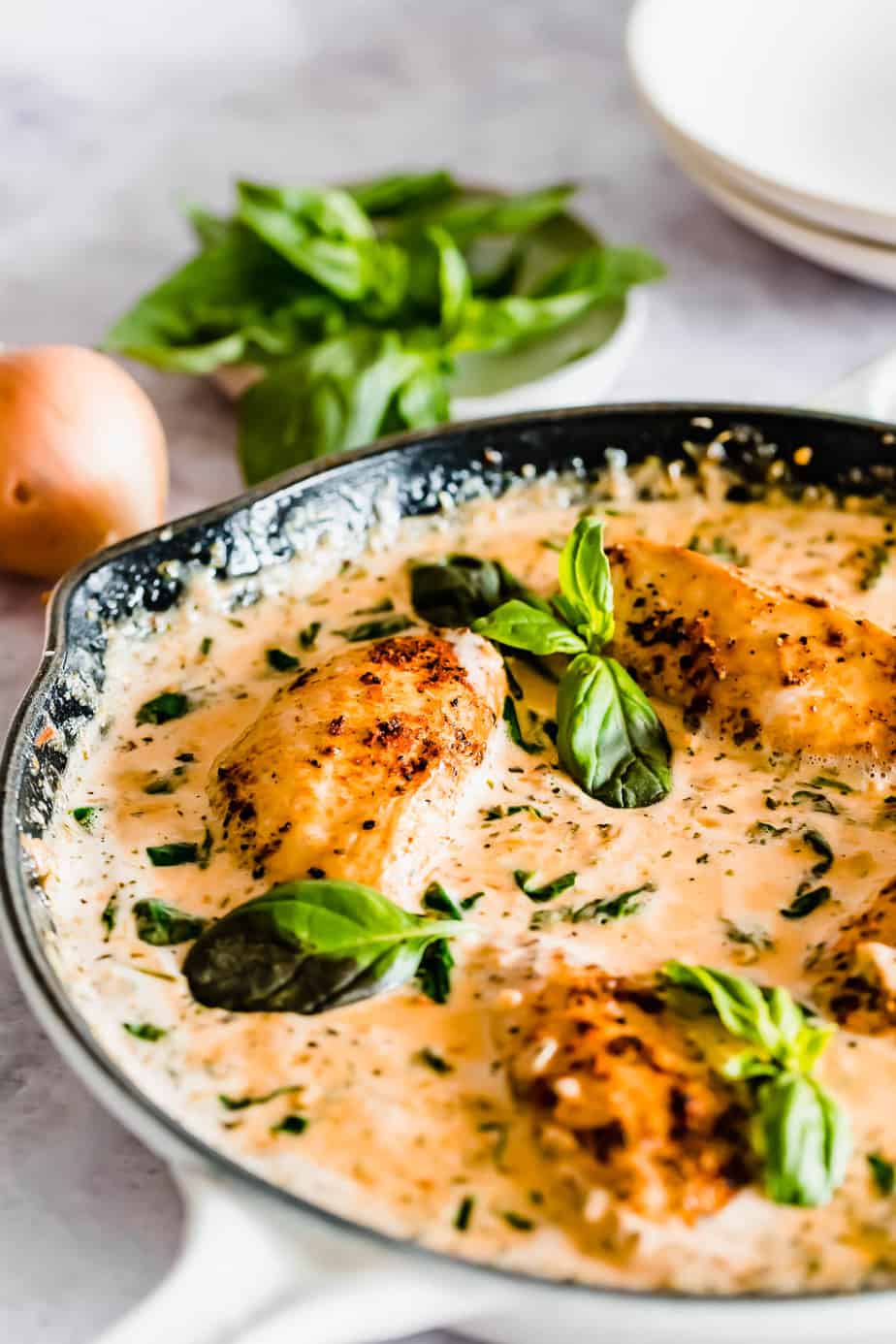 An easy Tuscan chicken dinner idea
This delicious and easy meal is perfect for a midweek dinner. It takes just 30 minutes to make and it is all made in one skillet. The rich creamy sauce whisks together perfectly and uses familiar ingredients you already love.
The creamy garlic sauce is rich and full of flavor from the creamy parmesan cheese and tangy sundried tomatoes.
The spinach, Tuscan dried herbs, parmesan cheese, and tomatoes all give this dish a delicious Italian flavor that is restaurant quality. This easy meal is also Keto-diet friendly as there is no flour or pasta, rather lots of cream, cheese, and chicken.
This chicken dish can be served as is, or you can serve it over pasta, rice, or paired with your favorite side dishes depending on your diet and preferences. 
Another quick & easy midweek meal to try is my Avocado Pesto Pasta or try these easy Air Fryer Chicken Nuggets. It is also always a dinner-time favorite! For another easy chicken recipe try my Parmesan & Panko Crusted Chicken recipe.
What you will need to make Garlic Tuscan Chicken
This simple dish uses a few familiar and easy-to-find ingredients that come together to make a tasty must-try meal. The ingredients you will need are:
Olive oil & butter: To perfectly cook your chicken and garlic. You can substitute with avocado oil, if needed.
Chicken breasts: I'm always a big supporter of buying local, so I make sure my chickens are definitely from South Africa and if possible from a local farm in my area. Not only does it help reduce your carbon footprint but it also supports the local economy and you always know where your chicken comes from. So that means you can make sure the animals are treated ethically and that the food you're eating is safe.
Spices: paprika, salt, black pepper.
Onion & garlic: Classic ingredients in Italian cooking that adds tons of flavor to this dish.
Sundried-tomatoes: Adds a delicious acidic tang to the sauce.
Baby spinach: Adds a boost of nutrition and color to the sauce.
Heavy cream: The rich and creamy base to the sauce.
Parmesan cheese: Use freshly grated if possible.
Herbs: Classsic Tuscan herbs - both dried and fresh.
How To Make This Creamy Garlic Tuscan Chicken Recipe
This creamy chicken dish is simple to prepare. It takes just 30 minutes and it is all made in one skillet.
Prepare the chicken. Season and sear the chicken breasts.
Cook the onions and garlic. Remove the chicken from the skillet and cook the onions and garlic.
Add tomatoes and spinach. Once the onions are soft, add the tomatoes and spinach and cook slightly.
Add cream and herbs. Pour in the cream and add the dried herbs. Allow to simmer.
Stir in cheese. Add the parmesan cheese to the cream suace and mix in well.
Finish the dish. Add the chicken breasts back and garnish with fresh basil.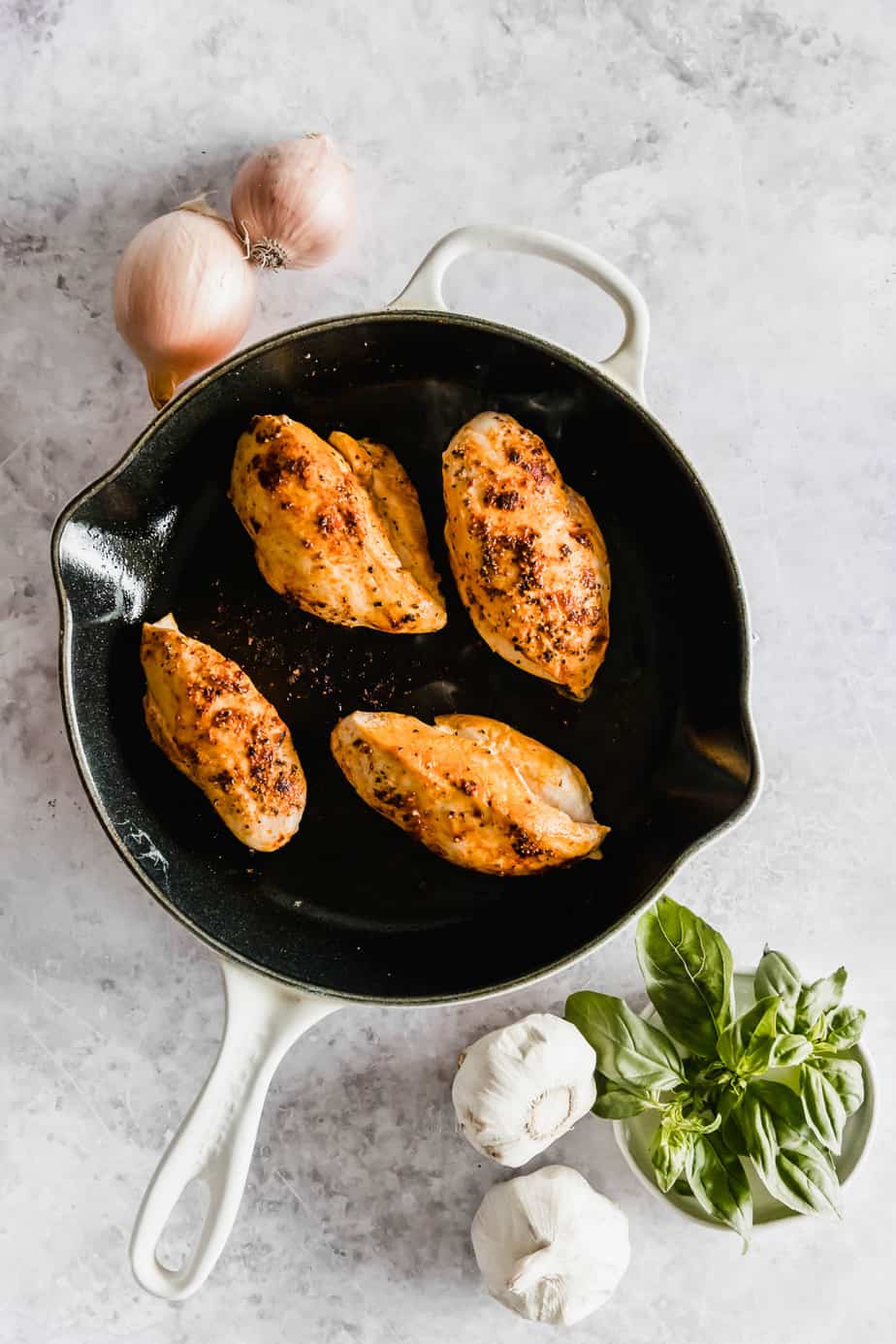 Recipe Tips & Tricks
How to make ahead:
Although this is a very quick meal to prepare, you can also prepare it ahead of time. To make this meal ahead of time you can prepare the sauce and store it in your fridge. Prepare the sauce as per the recipe, let it cool completely, and then store it in an airtight container in the fridge.
The sauce can be stored in the fridge for up to 2 days. When ready to use, reheat over medium-low heat. If you need to thin it out, add a splash of chicken broth, milk, or water.
How to store leftovers:
You can store any leftovers of this dish in an airtight container in a fridge or freezer. It can be stored in a fridge for 3 - 4 days, or 6 months in a freezer. 
Heat the leftovers up on the stove-top. To prevent the cream sauce from curdling, stir it well when reheating it. Add additional chicken broth or cream if your sauce is breaking or if you need to thin it out.
Recipe alterations:
You can swap out the chicken for salmon or shrimp. The rich garlic cream sauce will pair perfectly with these meat alternatives.
You can add a little spice to this dish by including a pinch of red chili flakes in the sauce. The spicy kick is a delicious addition.
You can use fresh kale or collards in the sauce instead of spinach if you prefer.
What to serve with Garlic Tuscan Chicken
Spaghetti squash
Your favorite pasta
Zucchini noodles
Steamed vegetables
Riced cauliflower or cauliflower mash
Crusty bread
Creamy Garlic Tuscan Chicken
This easy Creamy Garlic Tuscan Chicken recipe will soon become a dinner favorite. It is made in one-pot and takes just 30 minutes to make. The juicy chicken breasts are served in a creamy parmesan sauce that is loaded with fresh garlic, tomatoes, and spinach. (Keto-friendly)
Ingredients
4 chicken breasts, boneless and skinless
1 tbsp olive oil
Salt & pepper to taste
½ tsp ground paprika
Creamy Sauce
1 tbsp butter
2 small onions, diced
4 cloves garlic, minced
⅓ cup sun-dried tomatoes, chopped
8 oz baby spinach
1 ¾ cup heavy cream
2 tsp dried basil
1 tsp dried parsley
1 tsp dried rosemary
¾ cup parmesan cheese, finely grated
Fresh basil for garnish
Instructions
1. Season the chicken with salt, pepper, and paprika.
2. Heat the olive oil in a skillet over a medium-high heat.
3. Cook chicken for 5 - 7 minutes per side, or until golden and cooked through.
4. Remove the chicken from the skillet and add the butter.
5. Once the butter has melted, add the garlic and onion and cook for 2 - 3 minutes, or until onions have softened.
6. Add the tomatoes and spinach and cook until spinach has just wilted - about 2 minutes.
7. Add the cream and dried herbs and allow to simmer for 5 minutes.
8. Stir in the parmesan cheese and add the chicken back to the skillet.
9. Allow to heat for 2 minutes and then serve with fresh basil.
I hope you love this Creamy Garlic Tuscan Chicken recipe as much as I do! And if you want to see more of my food adventures, follow me on Instagram or Facebook.