Easy, vegan Carrot Cake Energy Balls recipe that is packed with spicy flavour and healthy ingredients. Made with only 7 ingredients, these gluten-free, nut free snacks are the best way to eat carrots ever!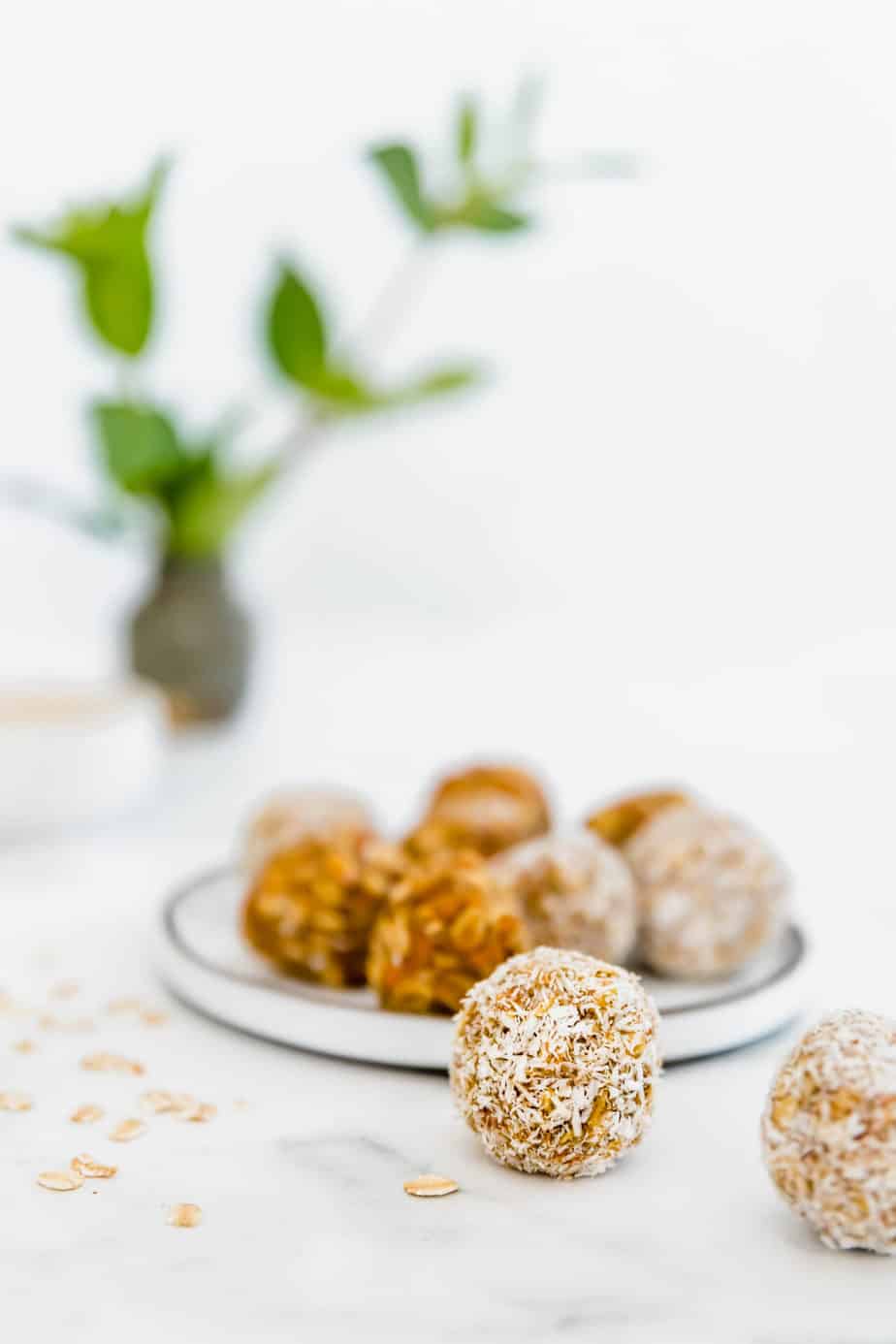 Why Make These Healthy Carrot Cake Energy Balls
If you look at my blog you will quickly see that I am obsessed with carrot cake recipes. I love all the warm spices and the natural sweetness and flavor from the carrots. These oatmeal bliss balls are no exception!
They have lots of grated carrot, made with coconut oil, are super easy to make and oh so tasty! Plus no food processor is necessary, only one bowl. That's all you need.
Gluten-free: Made with rolled oats and desiccated coconut, these date free energy balls are the perfect snack.
Vegan: Coconut oil and maple syrup make these bliss balls the ultimate vegan breakfast/snack recipe.
Sugar-free: Using agave nectar or maple syrup, these no sugar bliss balls are refined sugar free.
Make ahead: These carrot cake energy balls are the ultimate meal prep snack for anyone. Make a batch on Sunday and store them in the fridge for the whole week.
These raw Carrot Cake Energy Balls truly are the perfect snack. They hit the spot when you're craving something sweet, while still being healthy! I also love that they are no-bake which means whipping up a batch takes no time at all.
Ingredients You'll Need
Carrots: The best way to get your veggies in, making this the best kid friendly recipe.
Rolled Oats: Using oats in this recipes adds a little texture and protein.
Coconut Oil: A little goes a long way, this is a healtier way to make sure the balls aren't too dry.
Cinnamon: This is where that delicious carrot cake flavor comes in. Feel free to add a little ground ginger or all spice.
Maple syrup: This can be substituted for agave nectar or honey.
Tahini: Substitute for almond butter or other nut butters if desired.
How To Make Carrot Cake Bites
These No Bake Carrot Cake Energy Balls without dates are so easy to make! All you have to do is mix all the ingredients together in a mixing bowl. Use a large wooden spoon or spatula to make sure everything is well combined.
Time needed: 10 minutes.
Add the ingredients

Add all the ingredients, except for the coconut, into a large mixing bowl.

Mix it all together

Using a wooden spoon, combine all the ingredients together until everything comes together.

Form balls

Using your hands, roll the mixture into tablespoon sized balls and set aside.

Add the coconut

Roll each ball in desiccated coconut and place in an airtight container.
Tips & Tricks
Too Dry - If the mixture is too dry, add a little extra tahini or nut butter.
Too Sticky - Add a little extra desiccated coconut. You can always add a little desiccated into the mixture before forming the energy balls.
Sizing - To get the perfect sizing, use a cookie scoop to get even sizing.
Wet Hands - Before forming the balls, wet your hands a little. This makes the process a little less messy and helps the batter to not stick to your hands.
Refrigerate - Store them in fridge to always have a snack on hand and for them to set a little.
How Long Do Energy Balls Last
These carrot cake bliss balls will last 4-5 days in an airtight container out of the refrigerator. Because they are raw and vegan there isn't much in them that will go bad.
How Long Will Energy Balls Last In The Fridge?
Bliss balls should be stored in an air-tight container or a zip-lock bag. They can then last for 9 - 10 days stored in the fridge. But be warned, they are irresistible so they may not last that long - mine never do!
Can You Freeze Energy Balls?
Bliss balls can also be frozen! If you freeze them they will last up to 3 months in the freezer. Make sure to freeze them in a large airtight container so that they have a little space in between each ball. You don't want them all to be frozen together.
More Snack Recipes From The Blog
No-Bake Carrot Cake Energy Balls
Ingredients
1

cup

rolled oats

¼

cup

desiccated coconut

Extra for rolling

½

cup

grated carrot

1

tsp

ground cinnamon

2

tbsp

coconut oil

melted

3

tbsp

agave/maple syrup

3

tbsp

tahini
Instructions
In a mixing bowl, place all the ingredients.

Mix together until well combined.

If the mixture is too sticky, add a little more desiccated coconut. If it is too dry, add a little more tahini.

Once the mixture is the right consistency and well combined, shape and roll it into bite-sized balls.

Roll the balls in extra desiccated coconut and store in a refrigerator for up to a week.