Bliss balls are the perfect, easy make-ahead snack and there are loads of delicious healthy versions to try. So if you're looking for some vegan snacks that are refined sugar-free and/or gluten-free there are some great healthy bliss ball recipes available. In the list below I have compiled ten of my fave energy bites. Enjoy!
What are bliss balls?
Bliss ball recipes are a healthy one-bowl recipe filled with nutritious ingredients and they make up the perfect pick-me-up snack. These raw energy balls are everything you need for a protein packed snack or even dessert.
There are so many options out there, from vegan bliss balls to peanut butter and date protein balls. They are definitely a must for those mid-week slumps.
Are energy balls actually healthy?
Most bliss ball recipes are made up of a healthy combination of fiber, healthy fats and protein. This makes easy bliss ball recipes the go-to meal prep snack. The best part is that you can make a big batch of your favorite healthy bliss balls and snack on them for the entire week.
Do you eat protein balls before or after a workout?
Protein bliss balls are best eaten an hour or two before a workout. This will give you a boost of energy making sure you get the most out of your workout. I like to whip up a batch of Matcha bliss balls as a post morning workout snack too. Not only does it replenish my glycogen stores but the healthy caffeine gives me a much needed energy boost.
These 4 ingredient Cacao Chia Bliss Balls are gluten-free, and full of healthy fats and protein from the oats and chia seeds. Made with creamy Nutella this afternoon snack is definitely the ultimate chocolate bliss ball recipe.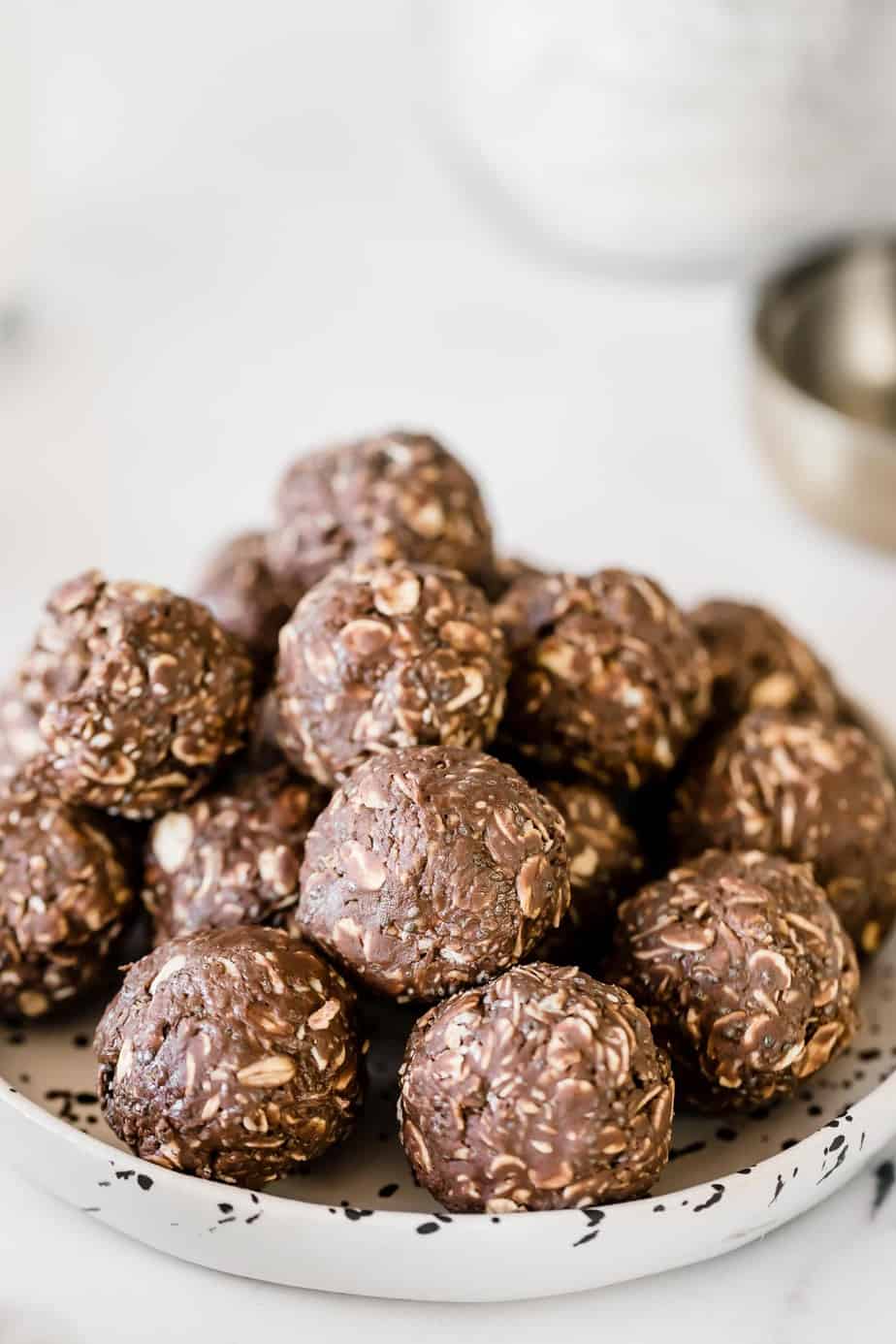 These Vegan Coconut Almond Energy Balls are the delicious, easy snacks you need to conquer busy days. Packed with nutrients and beyond easy to make. Try these delicious, bite-sized coconut bliss balls for when you need a healthy energy boost.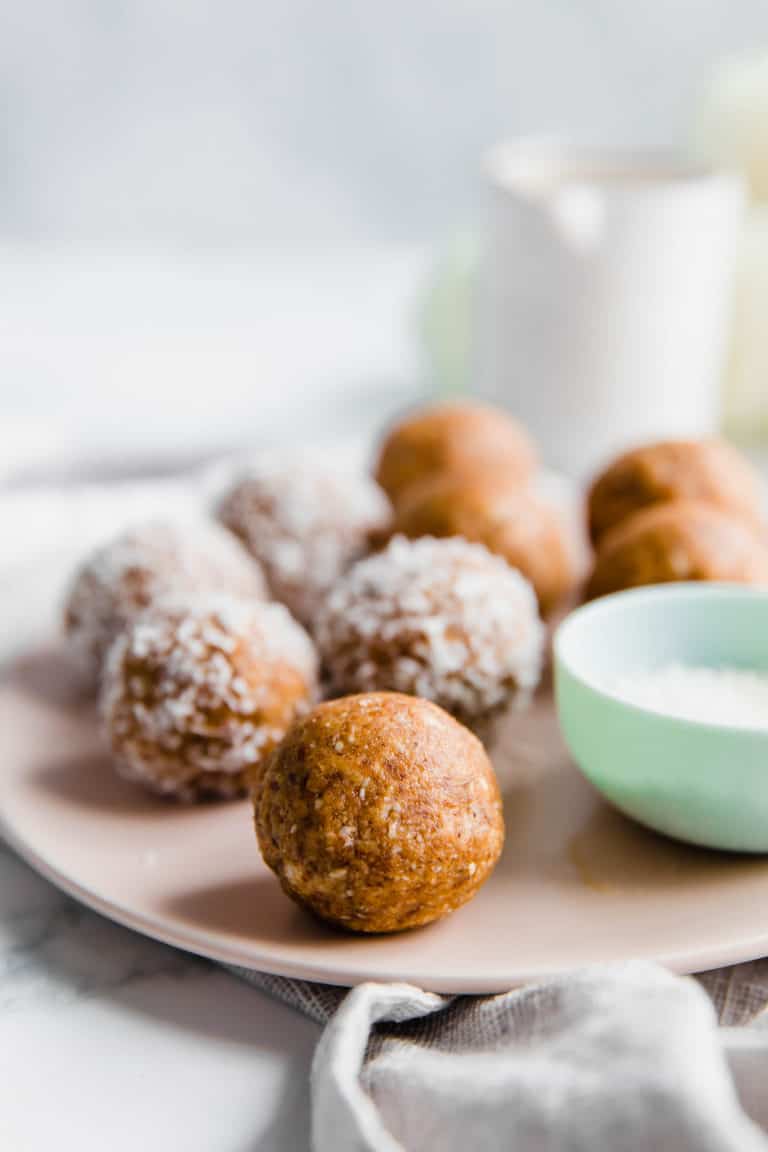 These healthy Apple Pie raw balls are sugar-free, nut-free, and gluten-free, and full of delicious apple pie flavor! They are perfect for lunch boxes and quick and easy snacking. If you're looking for a nut free bliss ball recipe, this apple pie energy ball recipe is a must.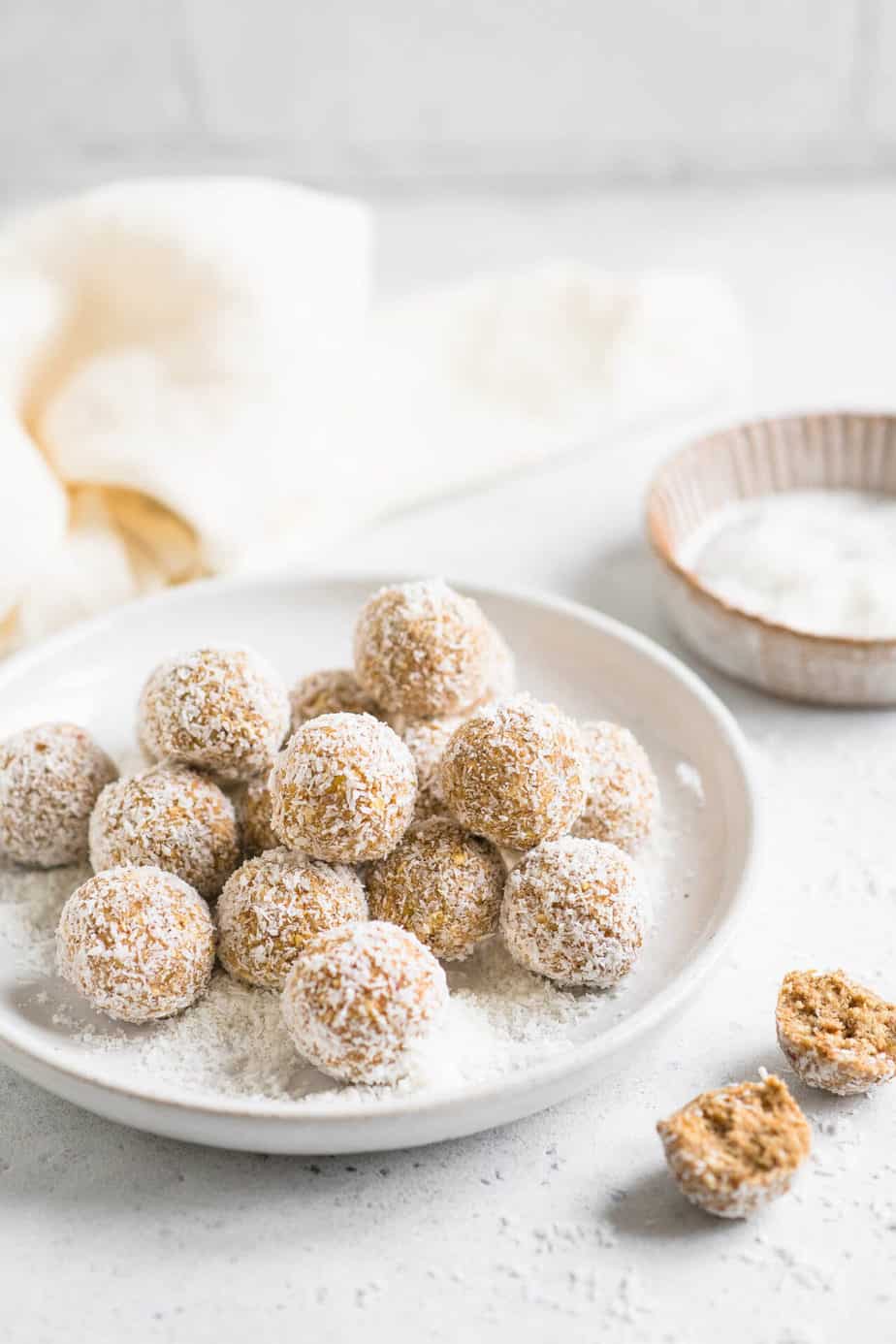 These healthy coconut bliss balls make the perfect bite-sized treats. They are vegan, refined sugar-free, low-carb, gluten-free, and best of all, they only take less than 10 minutes to make!
Enjoy the many health benefits of matcha green tea and pistachios. These Matcha Pistachio Bliss Balls are the only matcha bliss ball recipe you'll ever need! Packed full of goodness and the perfect bite-sized snack.
If you're looking for a healthy snack idea these Cranberry Nut Energy Bites are the perfect vegan, gluten-free snack. They require one bowl to make, are packed with protein, and will definitely satisfy your sweet tooth.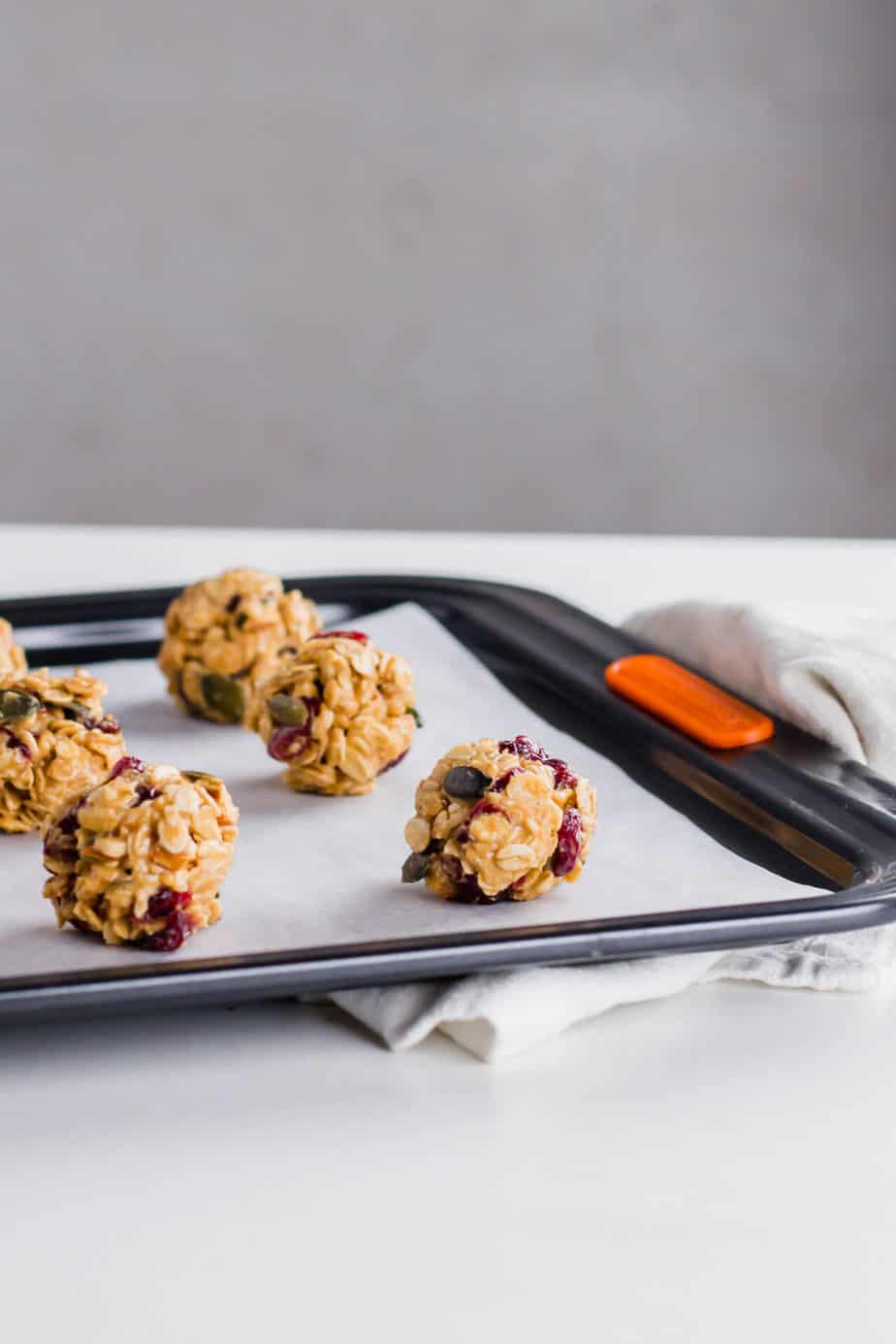 The taste of carrot cake but with all of the health benefits. Nothing beats snacking on a carrot cake energy ball after a long day at work. Made with fresh carrots and oats, these energy balls are filled with vitamin C and packed with protein.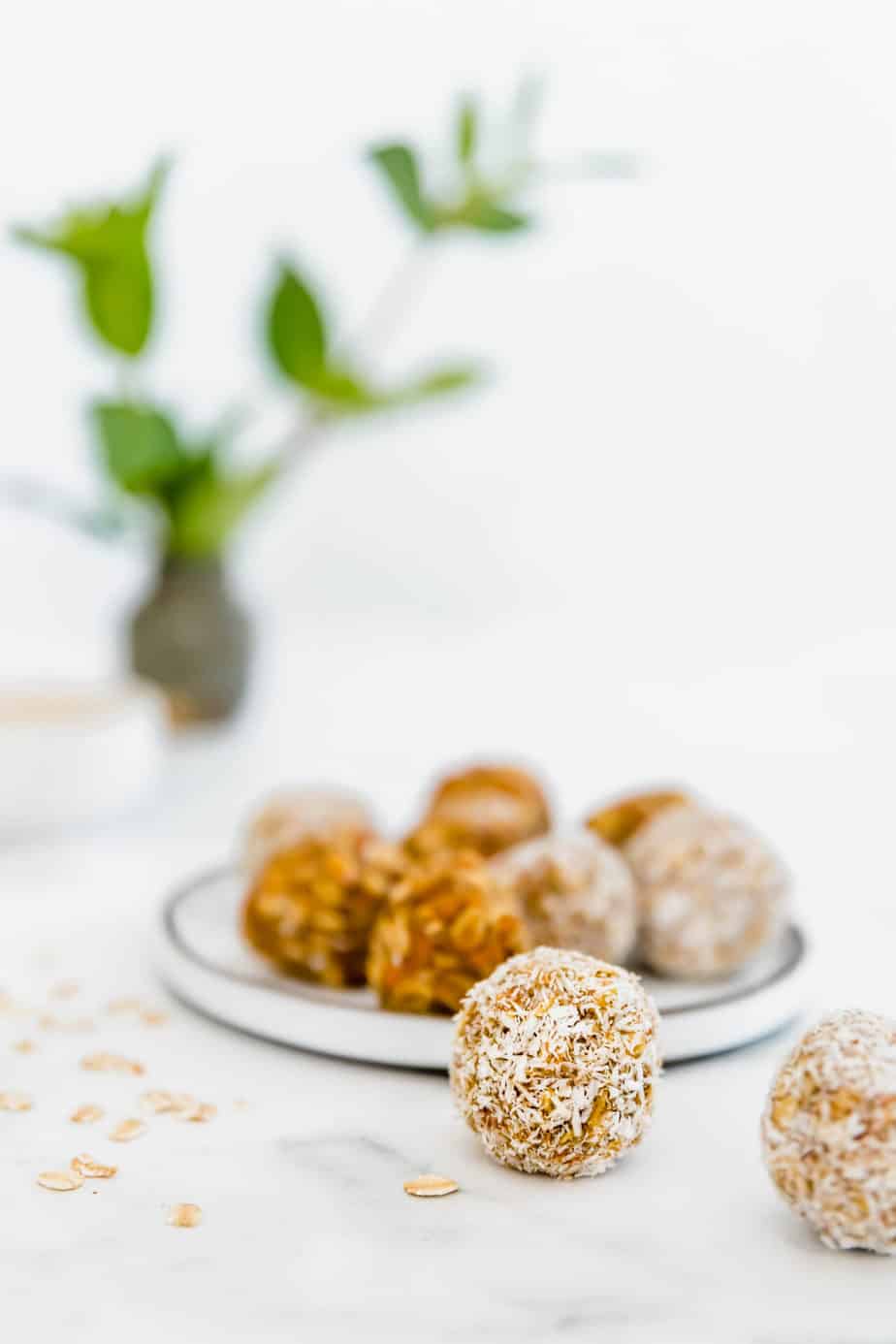 These deliciously rich and beautifully healthy Tahini Chocolate Bliss Balls make a great on-the-go snack to keep your blood sugar levels balanced or a yummy light post meal treat. Give 'em a try - you won't be disappointed!
Banana Bread Bliss Balls are a healthier, more nutritious take on banana bread and are perfect for a healthy snack or to fill a delicious lunchbox. We're always down for a super easy bliss ball recipe especially if it takes like banana bread.
This delicious raw ball recipe is dairy-free, refined sugar-free, and gluten-free. Filled with delicious gingerbread flavour and so quick and easy to whip together. They are definitely worth a try! The perfect fall snack if you ask me.