These Easy Homemade Blueberry Muffins are perfect for breakfast or a snack. They are made with oil and yogurt so they are super moist and they are packed full of fresh tasty blueberries.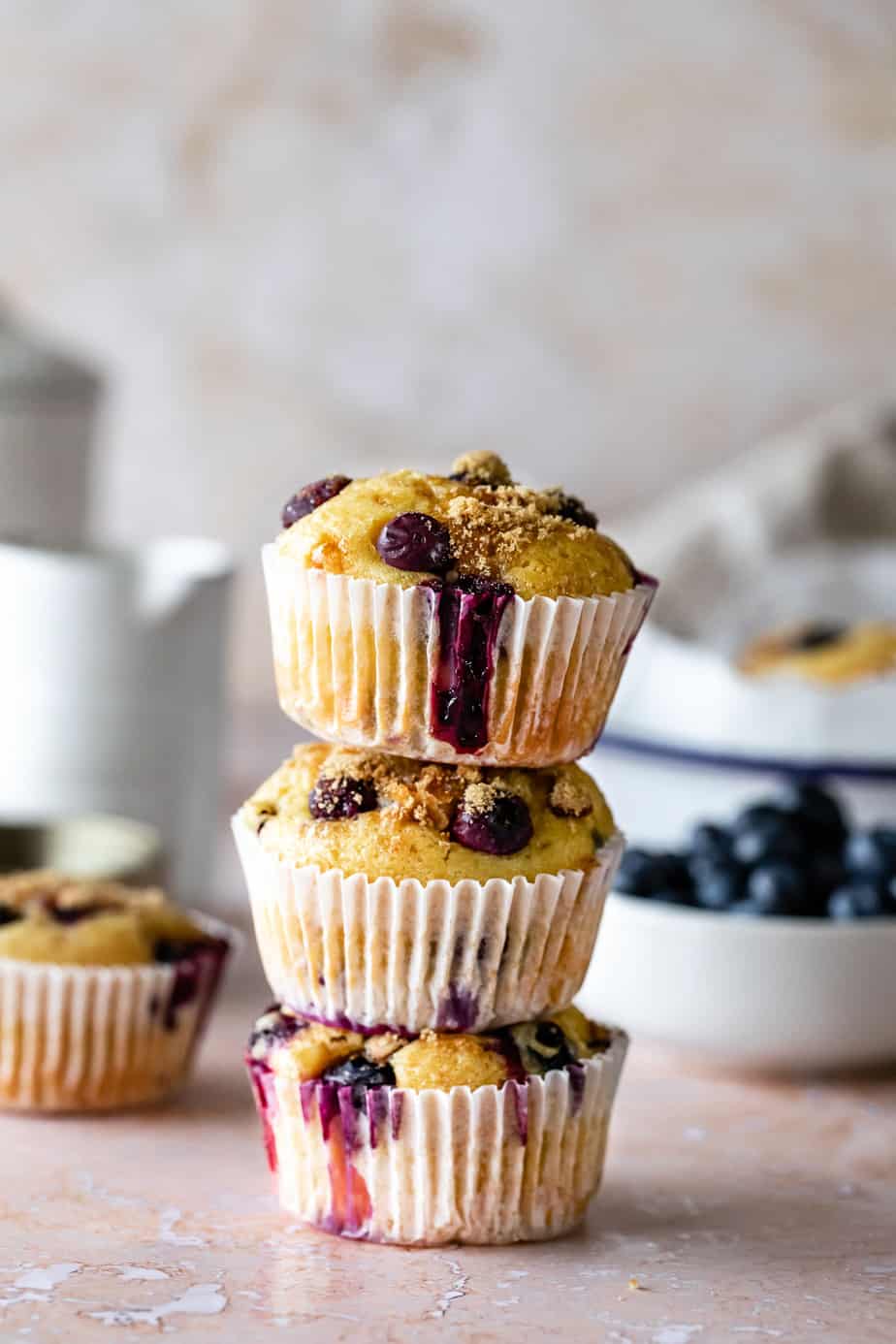 Blueberry muffins are a classic - and for a good reason, they are absolutely delicious! So I really wanted to nail the perfect recipe. I wanted to create a recipe that is simple to make and produces soft, moist muffins with blueberries in every bite. And that is exactly what these muffins are. I couldn't be happier!
Why You Will Love These Muffins
They are packed full of blueberries so you are guaranteed sweet fruity blueberry flavor in every bite!
The batter is a nice thick consistency so the blueberries are distributed throughout the muffin and don't sink to the bottom.
The yogurt and the oil in this recipe give these muffins the perfect light and moist texture.
It is a one-bowl recipe, so it is super quick and easy to make with minimal mess.
How To Make Homemade Blueberry Muffins
These yummy muffins couldn't be easier to make! It is a simple muffin recipe that can be made in minutes with amazing results.
The first step is to whisk together the wet ingredients in a mixing bowl.
Once well combined, add in all the dry ingredients and the yogurt. Whisk together.
Time for blueberries! Add the fresh blueberries into the batter and stir to combine.
Fill a muffin tin lined with muffin papers with the batter. Fill each liner ¾ of the way full.
Sprinkle with light brown sugar and bake for 20 - 25 minutes.
Recipe Tips And Tricks
Use firm blueberries for best results. Mushy blueberries will fall apart in the batter.
Don't overmix the batter when folding in the blueberries as this will create a tougher texture.
These blueberry muffins can be stored in an airtight container for up to 3 days. Alternatively, they can be kept frozen in an airtight container for up to 3 months.
Let's Talk Eggs
Eggs can make or break your recipe, especially when it comes to baking. Everything from the freshness of your eggs, to the temperature of your eggs. Your best bet would be to make sure you know exactly where your eggs are coming from. I buy my eggs from Farmer Angus which is a local farm in Stellenbosch (my home town). I've been to the farm, seen the way the chickens are treated and trust that the eggs I receive are the best out there.
When it comes to temperature, make sure before you start baking that your eggs are room temperature and fresh. This ensures that your egg yolks break up more easily and that your eggs are mixed into the remaining ingredients more evenly.
Why Are My Blueberry Muffins Dry?
Nobody wants a dry muffin. So I made sure to create a muffin recipe from scratch that is nice and moist. To make a muffin moister, it is important to look at both ingredients and technique. A muffin's moistness comes from fats rather than liquids.
The vegetable oil in the recipe coats the flour's absorbent starch granules, which then minimizes the ability to absorb moisture in the muffin. You can also improve a muffins' moisture levels and shelf-life through the ingredients that are used. Adding rich, mildly acidic buttermilk, sour cream, or yogurt improves the muffins' texture.
Sweetening a muffin with molasses, brown sugar, honey, or corn syrup all helps hold moisture within the muffins. Fresh or frozen berries also all pack plentiful moisture, so adding lots of fruit will also greatly improve an otherwise dry muffin.
How Long Do You Keep Muffins In The Oven?
The size and the density of the batter all affect the amount of time needed to cook a muffin. A great way to test if a muffin is cooked through is by inserting a toothpick into the center of it and if it comes out clean then the muffin is cooked through. It is also important to allow muffins to cool in the tray, as they will continue to gently cook from the remaining heat.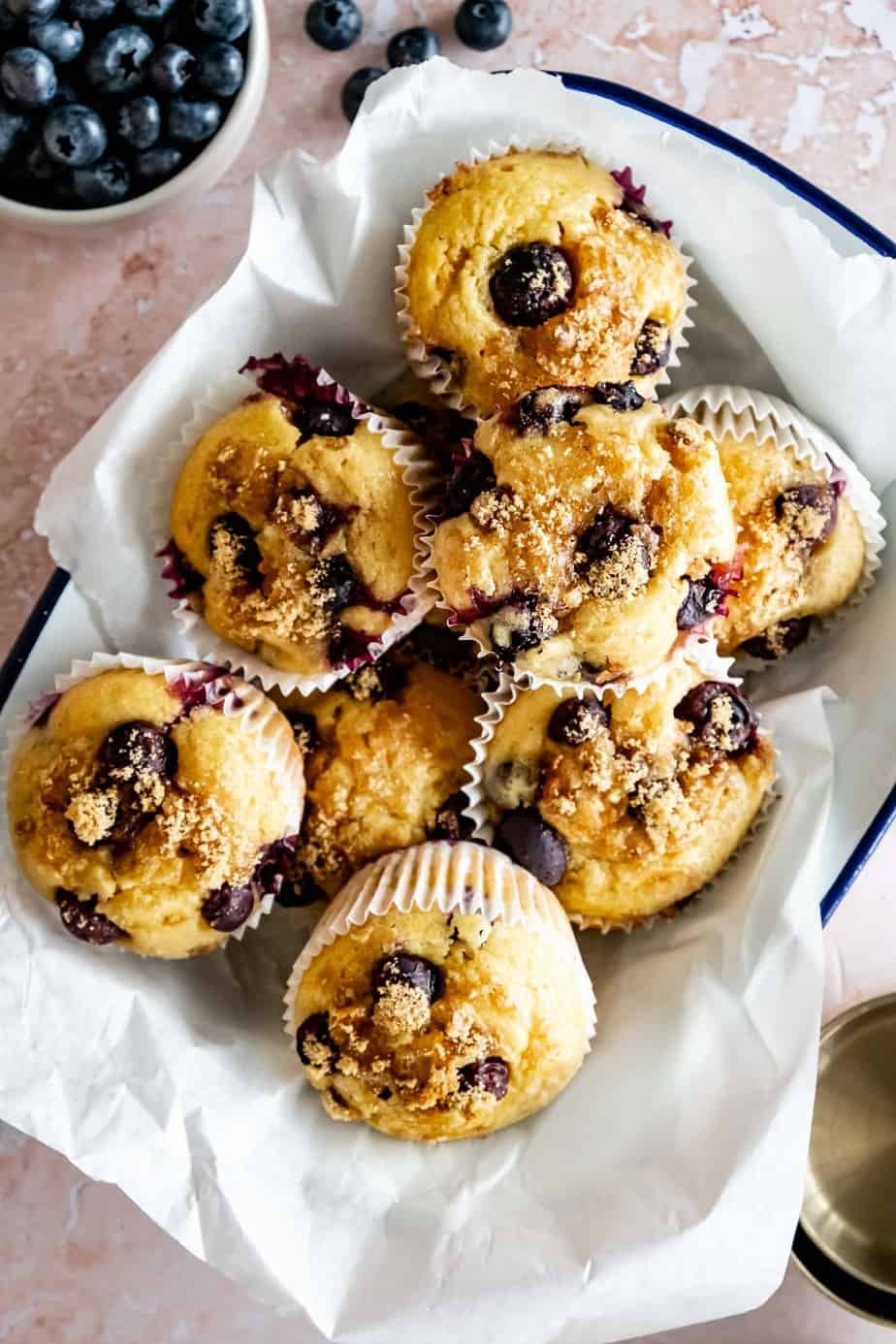 More Blueberry Recipes:
Easy Homemade Blueberry Muffins
These Easy Homemade Blueberry Muffins are perfect for breakfast or a snack. They are made with oil and yogurt so they are super moist and they are packed full of fresh tasty blueberries.
Ingredients
⅔ cup brown sugar (plus extra for topping)
2 eggs
½ cup vegetable oil
¼ cup milk
½ cup plain yogurt
1 tbsp vanilla extract
1 ¼ cup all-purpose flour
1 ½ tsp baking powder
1 cup fresh blueberries
Instructions
Preheat oven to 375F and line a 12-cup muffin pan with paper liners. Spray the liners with nonstick cooking spray.
In a large mixing bowl, whisk together the sugar, eggs, oil, milk, and vanilla extract.
Once well combined, add the flour, baking powder, and yoghurt. Whisk until just combined.
Fold in the blueberries with a sppon. Do not over mix.
Fill the prepared muffin pan with the batter, filling each liner ¾ of the way full. Sprinkle with the extra sugar.
Bake for 20 - 25 minutes, or until a toothpick inserted in the centre comes out clean. Allow muffins to cool in the tray.
More Muffin Recipes You May Like:
I hope you love this recipe as much as I do! And if you want to see more of my food adventures, follow me on Instagram or Facebook.