This easy to make vegan baked oatmeal recipe is filled with blueberry flavor and is the perfect breakfast meal prep recipe. This baked oats recipe is made with almonds, rolled oats and no banana.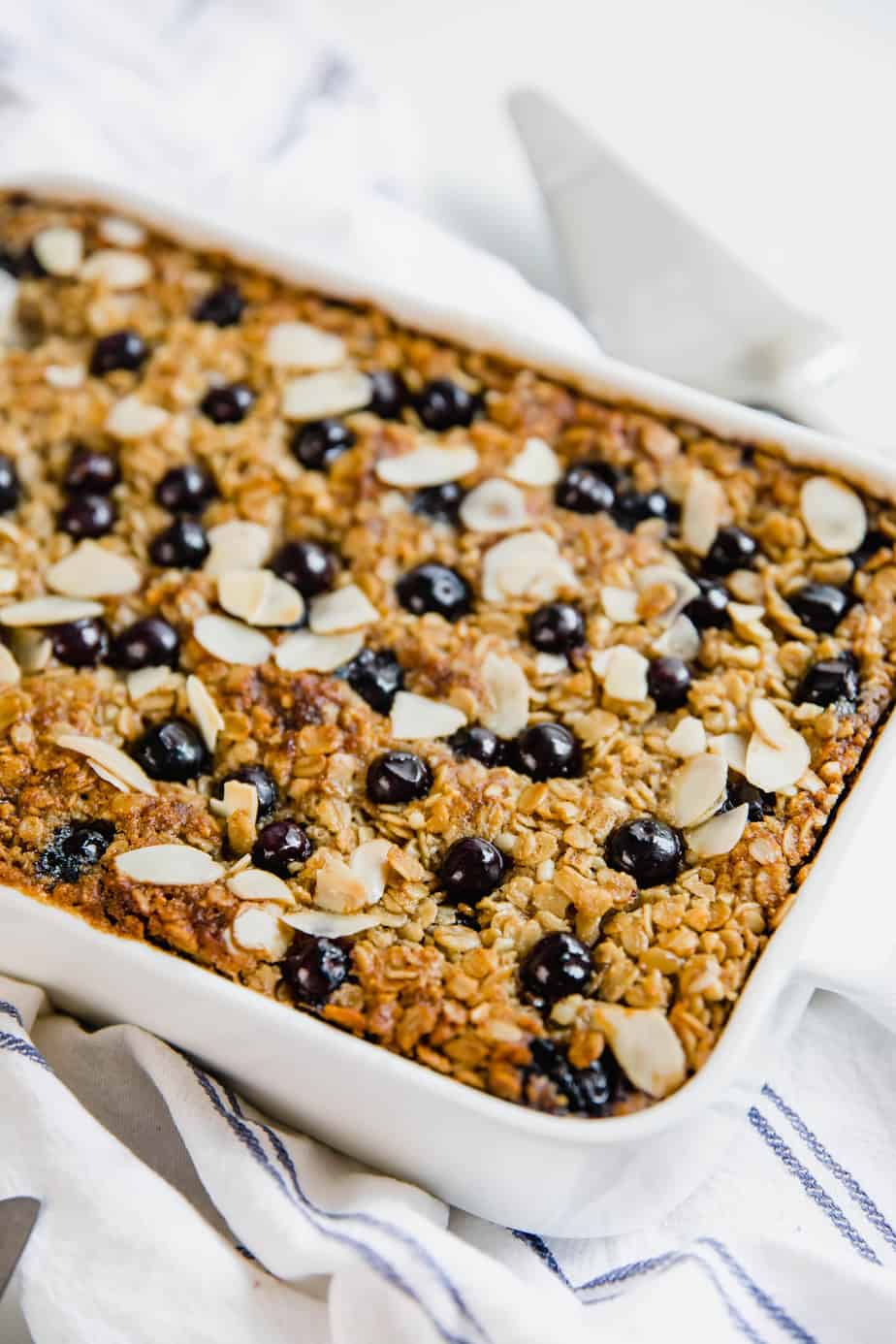 Why You'll Love Baked Oats Without Banana
Easy to make: This vegan baked oatmeal recipe os super easy to make. You can literally mix all the ingredients in a large bowl, pour it into a baking dish and bake.
Great for meal prep: Breakfast meal prep can be a little difficult sometimes. This baked oats recipe with protein powder is a great way to meal prep breakfast for the ENTIRE week.
Healthy: Made with rolled oats, fresh blueberries and protein powder this recipe is nutritious, high in protein and filled with antioxidants.
Ingredients for Lemon Blueberry Baked Oats
Oatmeal - This recipe uses rolled oats, but quick oats can also be used.
Blueberries - Fresh or frozen blueberries can be used. Although fresh blueberries are better, frozen blueberries will still be delicious. Try to defrost and strain them before adding them to avoid excess liquid.
Flax eggs - Mix 1 tablespoon ground flax seed with 2 tablespoon warm water for 1 flax egg.
Almonds - Used chopped or flaked almonds. You can also substitute this with other nuts or any other crunchy seed.
Spices - For the delicious warm flavor, add as much cinnamon as you want.
Almond flour - Substitute for coconut flour or oat flour.
Almond milk - Any other dairy free milk will work. One of my favorites is oat milk (try my Oatmilk Honey Latte)
Coconut oil - This helps bring the recipe together. You can also use a vegan butter or applesauce.
How To Make Vegan Baked Oats
Step One
Combine all the dry ingredients together. Make sure you give it a good whisk to ensure the baking powder is completely mixed in.
Step Two
In a seperate mixing bowl, whisk together the flax eggs, almond milk, coconut oil, maple syrup and vanilla extract.
Step Three
Combine the wet and dry ingredients and mix well.
Step Four
Place blueberries in the bottom of a rectangular baking dish and cover with the oat mixture.
Step Five
Top with extra blueberries and bake for 45 minutes.
Toppings and Serving Suggestions
Flaked almonds
Extra berries
Whipped coconut cream
Yogurt
Maple syrup
Cold oat milk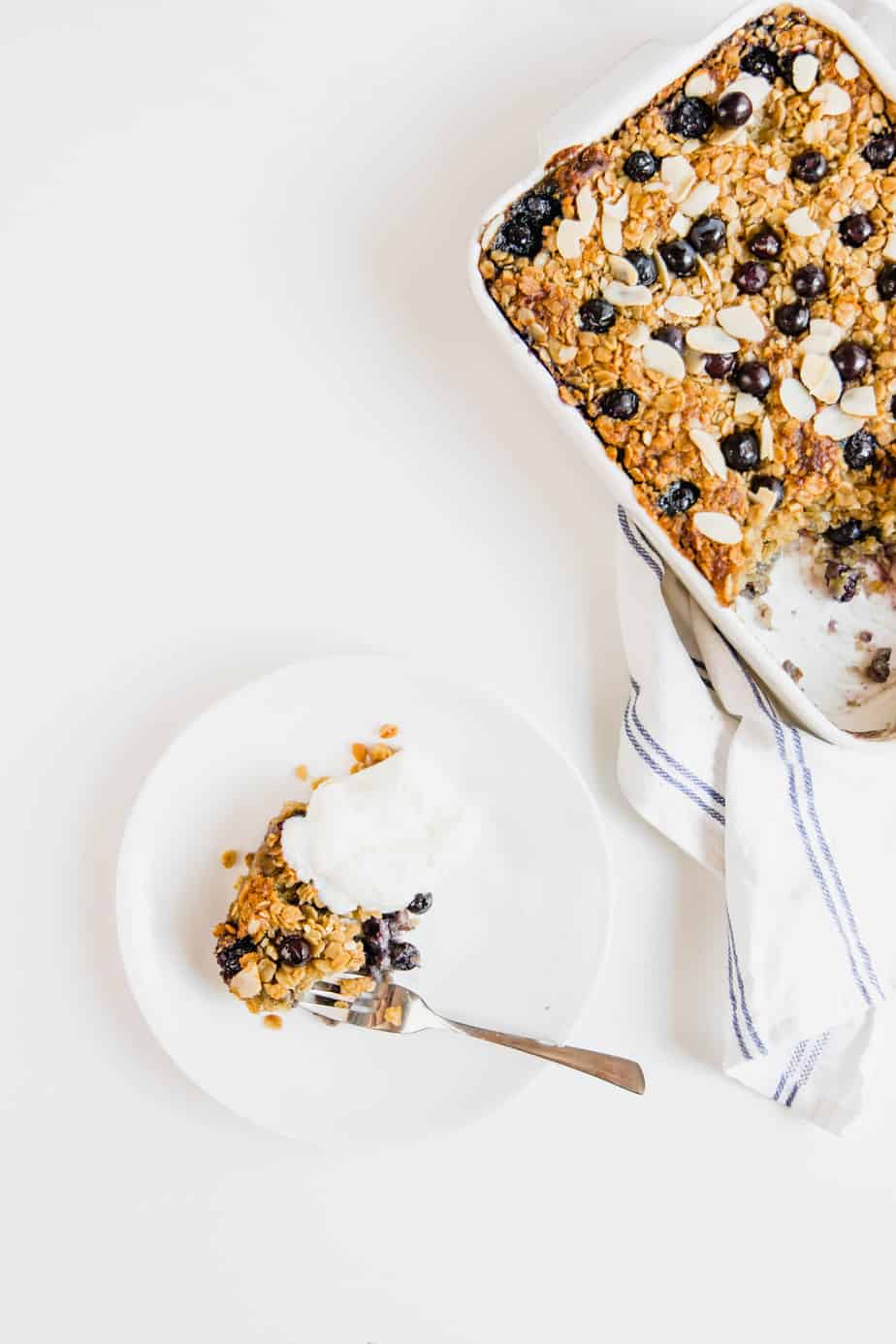 What Protein Powder Is Best For Baked Oats?
Adding a little protein powder to your baked oatmeal is a great way to add extra protein to your breakfast. High protein breakfasts are a great way to feel fuller for longer and to ensure you hit your macros.
Vegan Protein
Vegan protein is generally made from pea protein and is a great way to add protein to a vegan diet. This blueberry baked oats recipe uses vanilla pea protein and this adds up to 20g of protein to this baked oats without banana.
Whey Protein
If you're not following a vegan diet, whey protein works just as well in this protein baked oats recipe. Use your favorite brand and flavor to add extra protein to your baked oatmea.
How To Store Baked Oatmeal
Refrigerate - Baked oatmeal can be stored in an airtight container in the fridge. To reheat, simply dish out a serving and pop it in the microwave for 1-2 minutes.
Freeze - This vegan baked oats recipe can be frozen for up to 3 months. Freeze individual portions in an airtight container. To defrost and reheat, remove the container from the freezer and allow to thaw overnight. Then bake in the oven for 10-15 minutes at 350ºF or microwave for 2-3 minutes.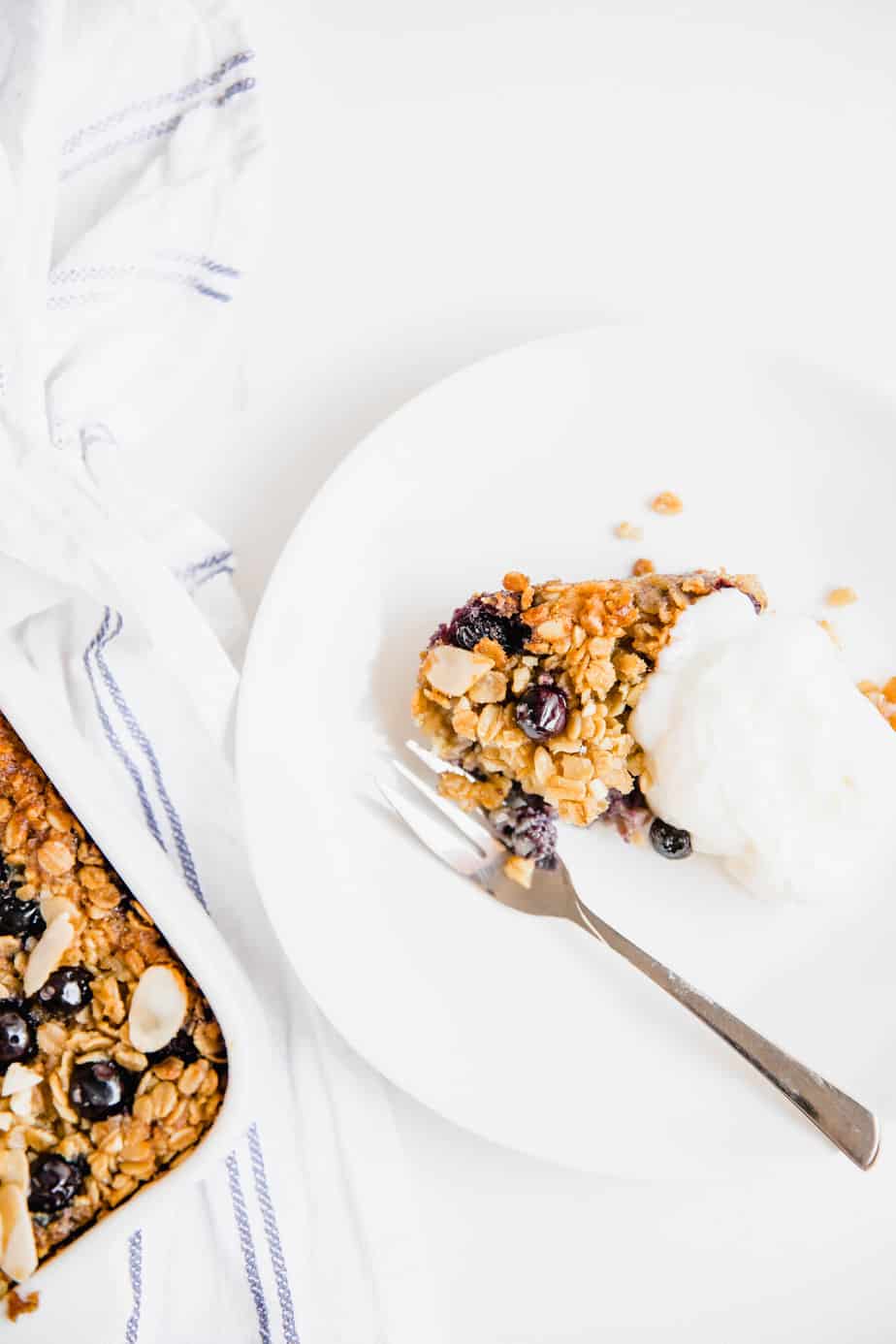 Expert Tips
Use rolled oats: For best results use rolled oats for the best texture. You can also use quick oats or steel cut oats but the texture will vary.
Check if cooked: If you're not sure whether your baked oatmeal is fully cooked, stick a toothpick or fork in the center of the dish. If the toothpick comes out clean, the oatmeal is cooked.
Use different berries: Don't stress if you have no blueberries lying around. Use strawberries or raspberries for a different baked oatmeal idea.
Try These Oatmeal Recipes Next
Lemon Blueberry Baked Oats
This easy vegan lemon blueberry baked oatmeal recipe is the perfect make ahead breakfast.
Ingredients
2 Cups Rolled Oats
¼ Cup Almond Flour
2 Scoops Pea Protein
3 teaspoon Cinnamon
½ teaspoon Nutmeg
1 ½ teaspoon Baking Powder
2 Flax Eggs/Eggs
⅓ Cup Maple Syrup/Honey
2 teaspoon Vanilla Essence
½ Cup Flaked Almonds
2 ½ Cups Almond Milk
3 tablespoon Coconut Oil melted
3 Cups Frozen/Fresh Blueberries
Zest from 1 lemon
Instructions
Preheat the oven to 180ºC or 350ºF

Combine the rolled oats, almond flour, cinnamon, protein powder, nutmeg, baking powder and flaked almonds together in a bowl.

In a mixing bowl, whisk together the flax eggs, coconut oil, lemon zest, almond milk, maple syrup, and vanilla essence. Add to the dry ingredients and mix well.

Place 2 ½ Cups of blueberries in a rectangular baking dish and cover the berries with the oat mixture.

Pour the wet mixture over the dry mixture and top with the remaining berries.

Place the dish in the oven and bake for 45-50 minutes.

Top with extra flaked almonds.