Easy Vegan Pumpkin Pie Overnight Oats are a healthy fall breakfast recipe made with almond milk, gluten-free oats, and coconut sugar. Made in only 3 easy steps, these pumpkin pie oats taste just like a healthy pumpkin pie for breakfast!
Why you'll love pumpkin pie overnight oats
Made in 3 easy steps - Nothing beats a quick and easy breakfast. This pumpkin spice overnight oats is the perfect on-the-go breakfast for any day of the week.
Vegan & Gluten-free - Packed with healthy ingredients this non-dairy overnight oats recipe is perfect for any and everyone and it tastes just like pumpkin pie!
Customizable - Add your own favorite overnight oat toppings like nuts or maple syrup. Add or remove a spice or simply use oat milk instead of almond milk.
Ingredients you'll need
Pumpkin Purée - I love making homemade pumpkin purée but any store-bought brand will be just as delicious.
Almond Milk - Almond milk can easily be swapped out for an alternative dairy-free milk. I often use oat milk instead to give it an extra creamy texture.
Gluten-Free Rolled Oats - Rolled oats are a must when it comes to making overnight oats, especially if you want that thick yummy texture.
Ground Cinnamon - Feel free to add more or less, or even add a dash of nutmeg.
All Spice - This gives the pumpkin overnight oats that real pumpkin pie flavor.
Coconut Sugar - I love the flavor coconut sugar adds, it tastes just like nutty brown sugar, maple syrup or any other sugar alternative would also work well.
I love having pumpkin for breakfast - it's so healthy! Learn 10 REASONS TO EAT MORE PUMPKIN here!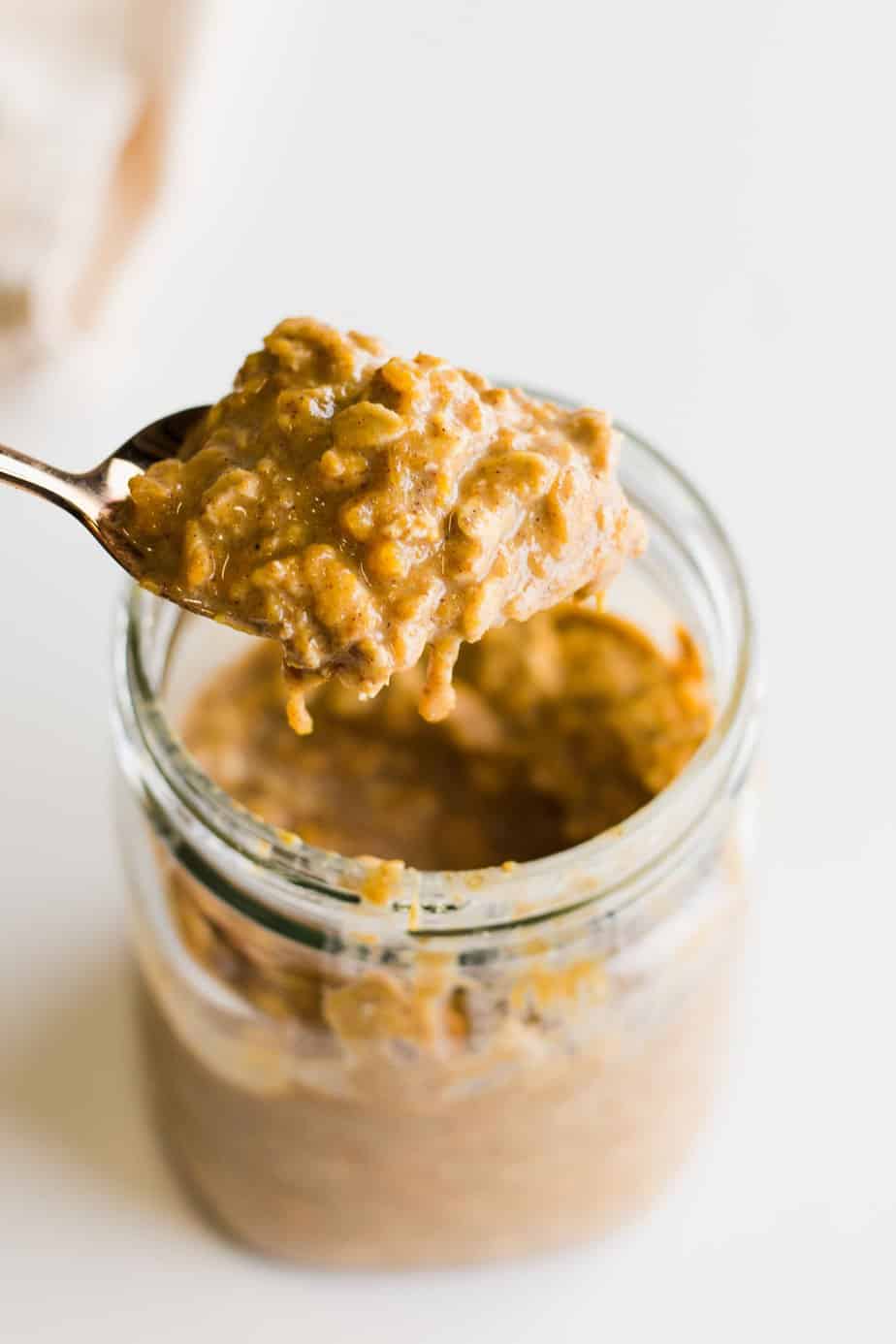 How long do overnight oats have to soak for
Despite their name, overnight oats only have to soak for a minimum of 2 hours. I love making this pumpkin pie overnight oats recipe the night before so that I can quickly grab it in the morning on the go.
How long can you leave overnight oats in the fridge
Overnight oats can last up to five days in the fridge. This means you can easily meal-prep the entire weeks breakfast in one go. If you feel like a different flavor, try my favorite blueberry overnight oats. Prepare all your favorite vegan overnight oats recipes on a Sunday and you'll have the whole week covered.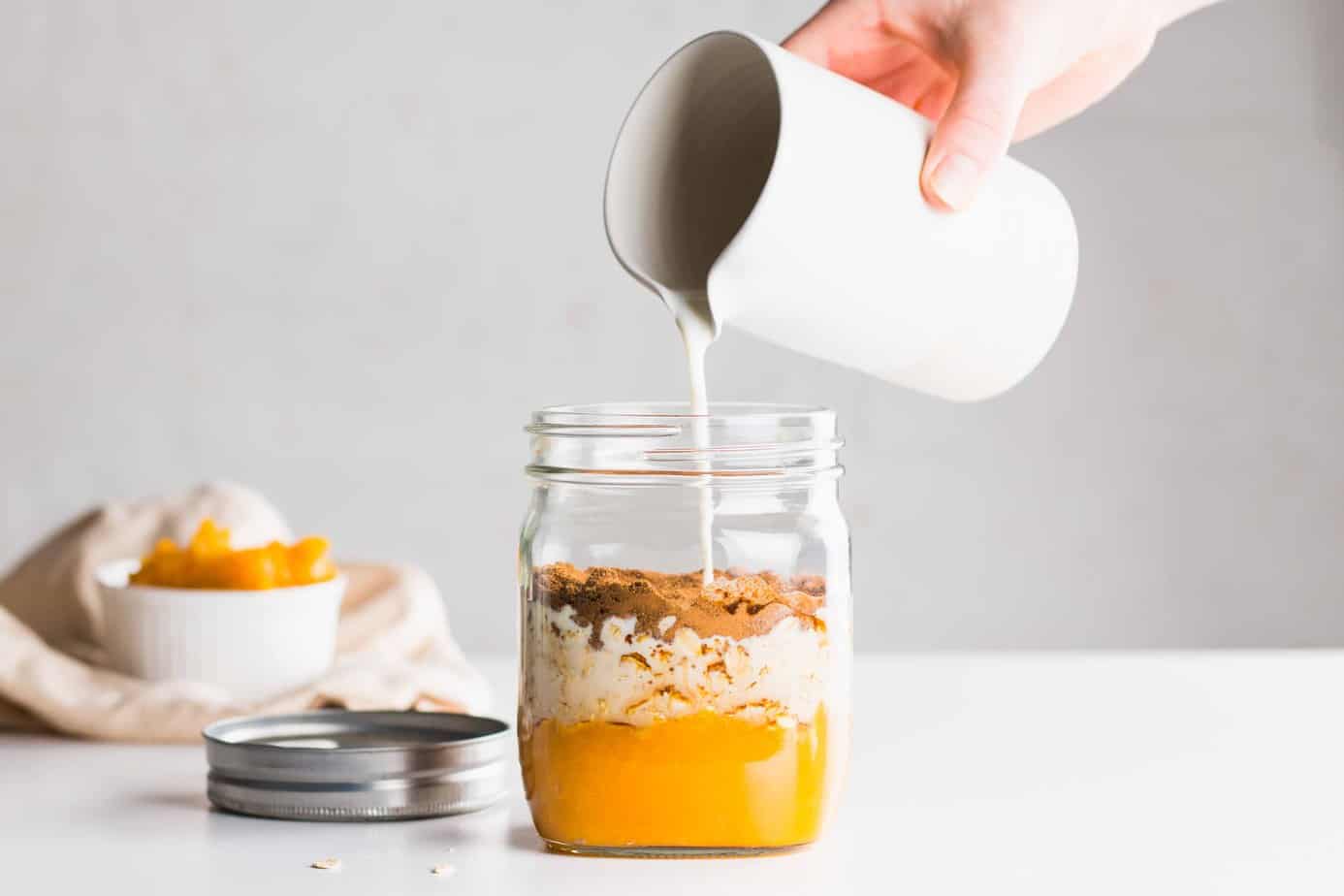 How to make these vegan pumpkin overnight oats
Add all the ingredients to a mason jar. You can also add all the ingredients to a bowl to make it easier to mix and then transfer to a jar for storing.
One all the ingredients for the pumpkin pie oats are in the jar use a small whisk or spoon to mix all the ingredients until well combined.
Place the jar in the fridge for at least 2 hours or overnight.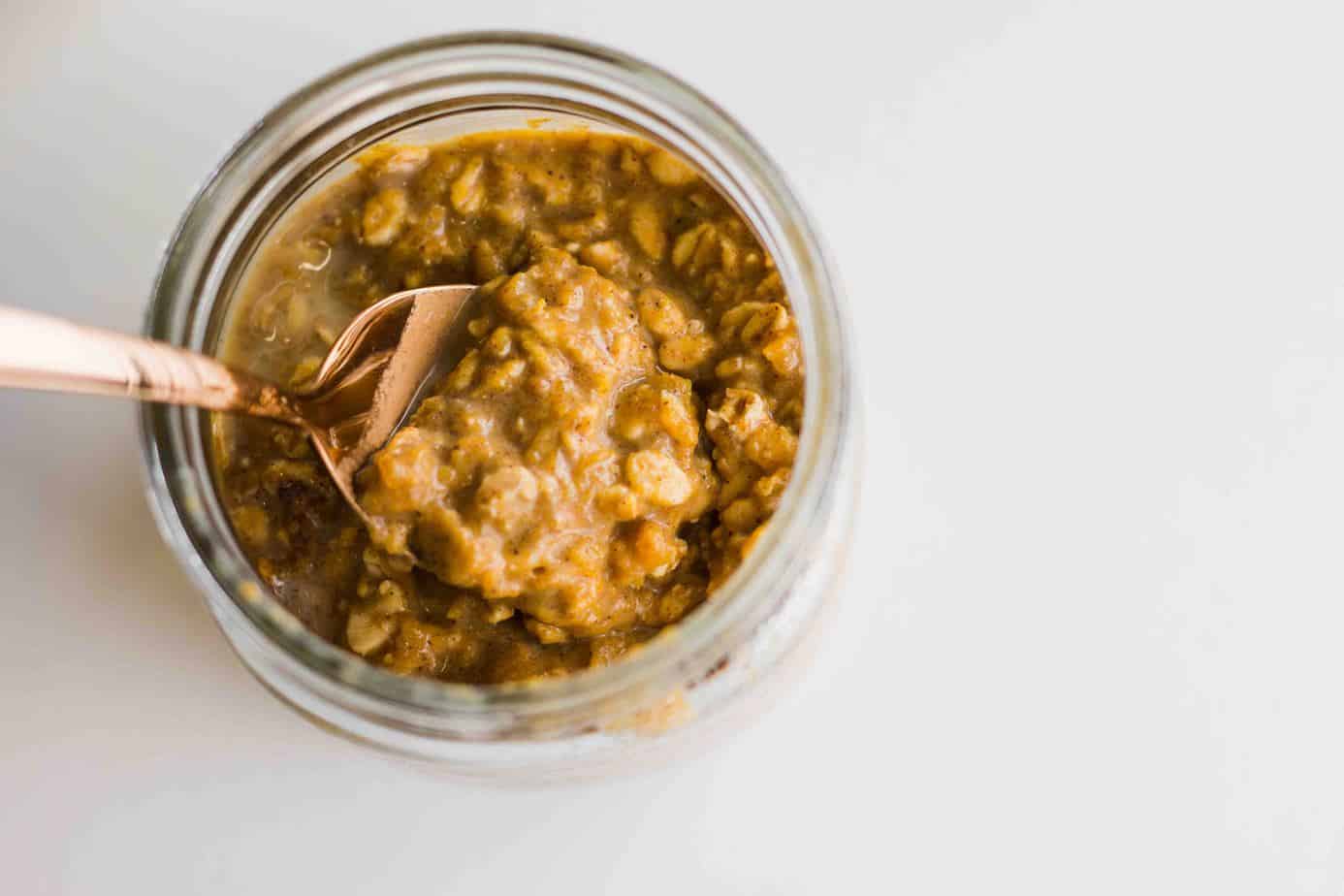 Other delicious pumpkin recipes: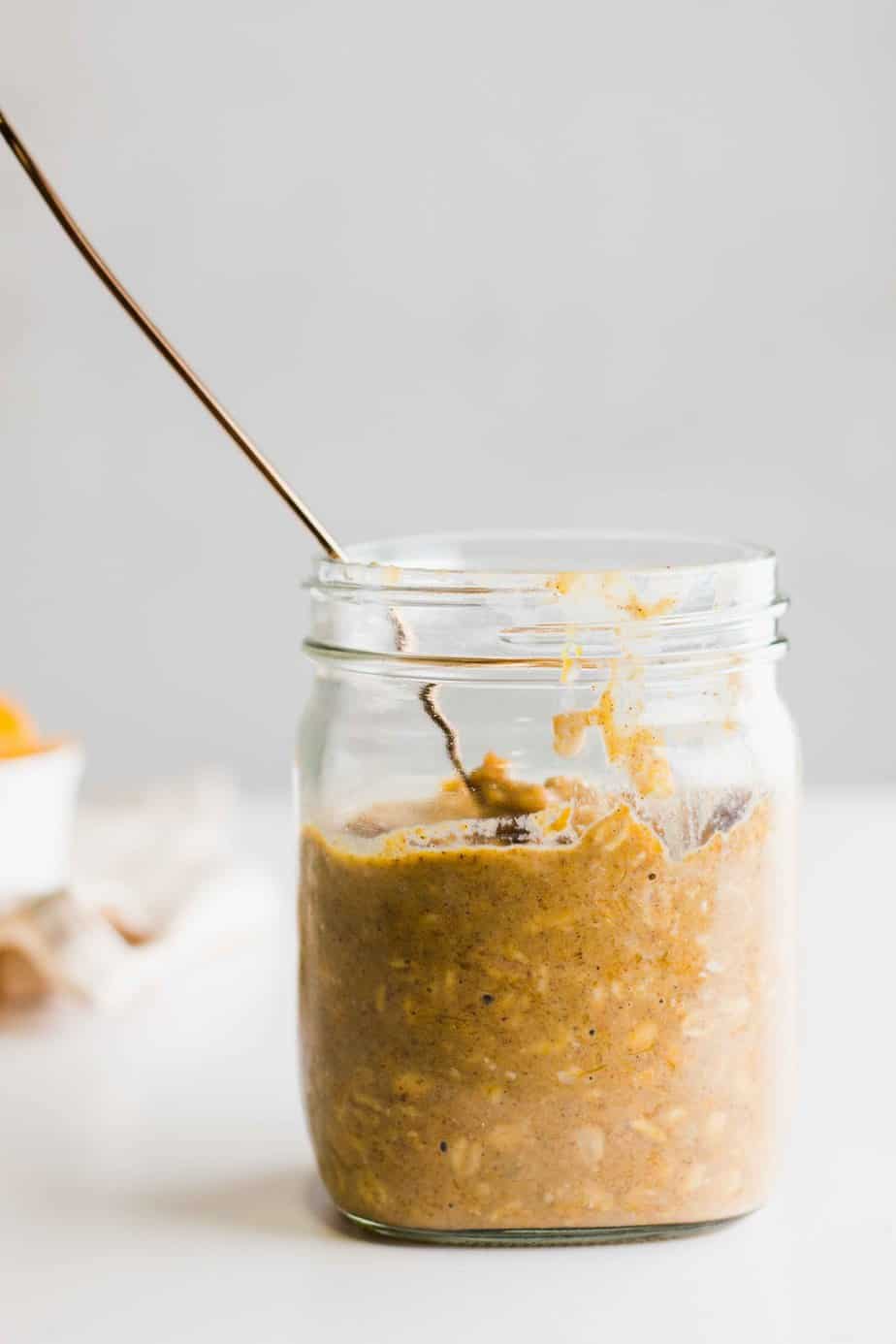 Easy Vegan Pumpkin Pie Overnight Oats
A delicious healthy pumpkin spice breakfast that is perfect for any day of the week.
Ingredients
½ Pumpkin Puree
1 Cup Almond Milk
¾ Cup Gluten-Free Rolled Oats
½ teaspoon Cinnamon
½ teaspoon All Spice
1 tablespoon Coconut Sugar
Instructions
Place all the ingredients in a mason jar.
Whisk ingredients until well combined.
Place jar in the fridge overnight.
Eat and enjoy!