These easy and healthy Fluffy Vegan Pumpkin Pancakes are the perfect holiday breakfast or brunch. They are light in texture and made with lots of warm spices and sweet pumpkin puree. (Vegan and gluten-free option available)
Jump to:
An Easy Vegan Pumpkin Pancakes Recipe
I love whipping up a batch of pancakes for breakfast or brunch on a weekend. I often make Fluffy Buckwheat Pancakes or Power Oat Pancakes, but as the weather gets cooler, I love adding seasonal Fall flavors and spices to my pancakes.
When Fall comes around, the festive mood kicks in. And along with that comes cravings for warm spices, and of course pumpkin! These pumpkin pancakes are the perfect celebration of Fall flavors.
From pumpkin spice lattes and pumpkin waffles to pumpkin donuts. I just can't get enough of these sweet cozy Fall flavors. And having a stack of fluffy pancakes is always a treat.
This easy, plant-based pancake recipe is 100% vegan and gluten-free. Although you will never be able to tell as the pancakes are soft, light, and fluffy! And of course, taste amazing!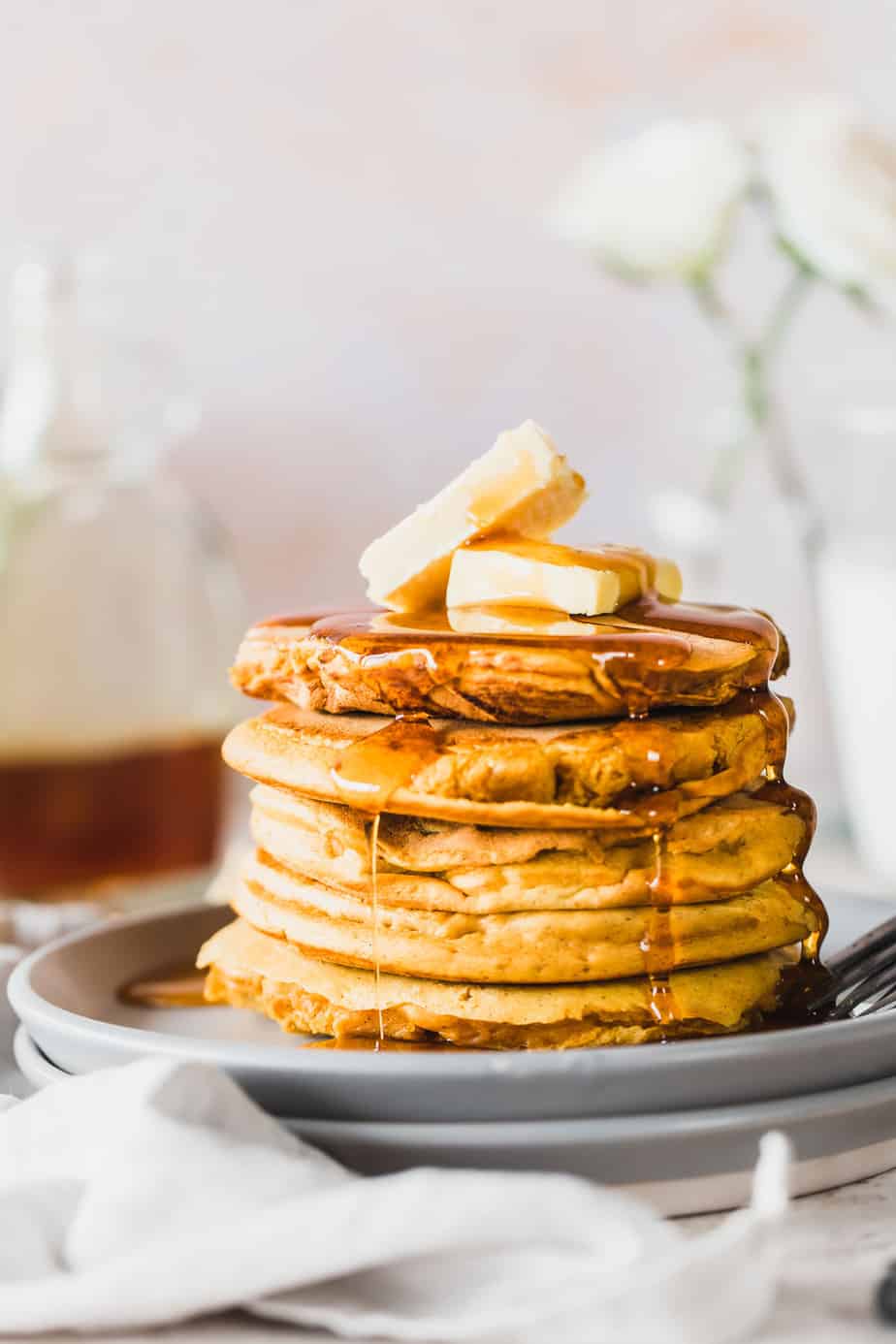 Why you will love these healthy pumpkin pancakes
These Fluffy Pumpkin Pancakes are super soft and light in texture.
They are made with nutritious ingredients to keep them on the healthier side. But that does not mean that they are compromised in flavor or texture.
They are naturally sweet and flavorful due to the pureed pumpkin and warm, sweet ground spices.
They are the perfect holiday breakfast or brunch recipe, and they can be frozen to be enjoyed whenever you desire.
These pancakes can be made gluten-free by simply swapping out the all-purpose flour for a 1:1 gluten-free flour blend.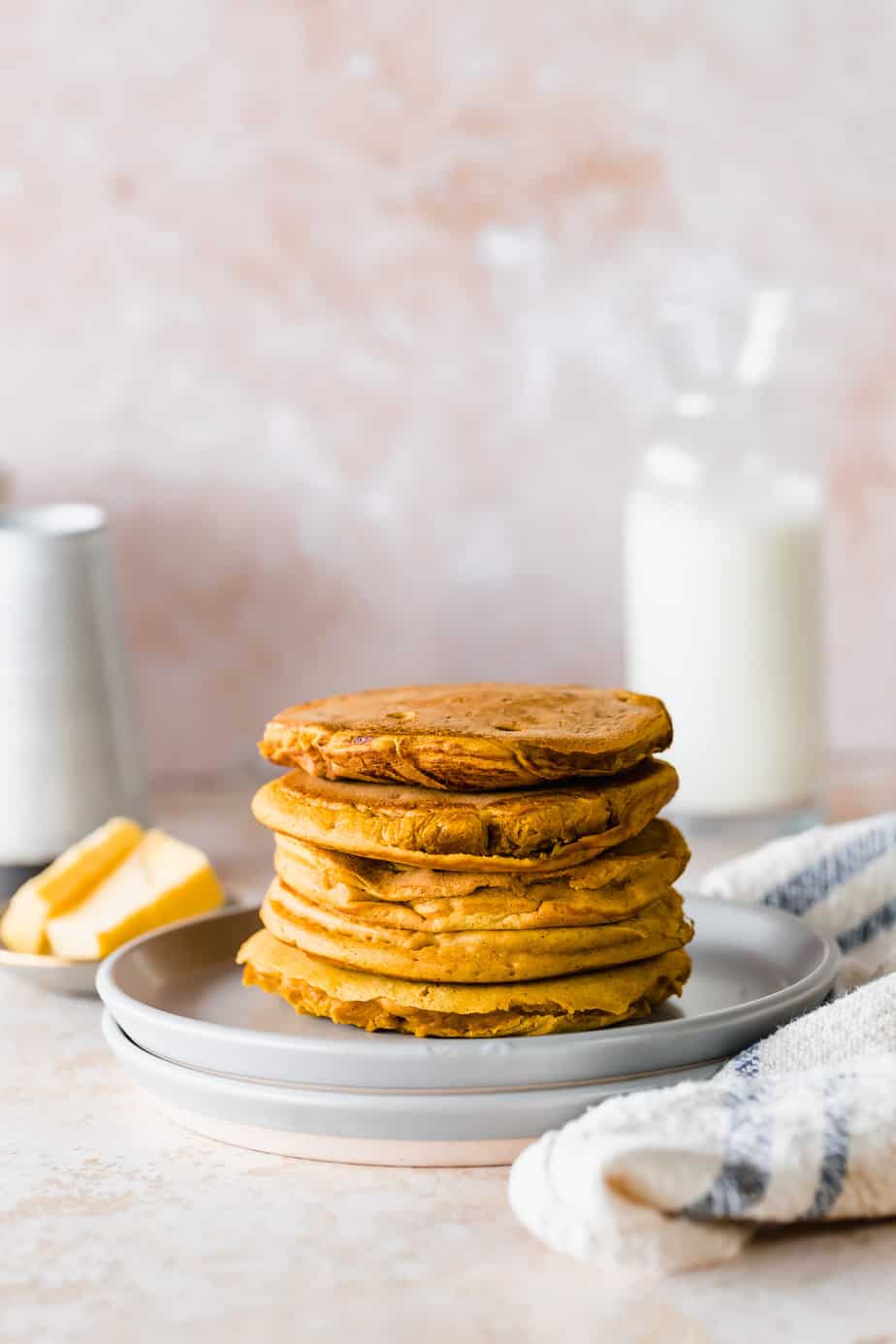 Ingredients & Notes
This pancake recipe is very straightforward and uses simple, pantry staple ingredients. It can also easily be converted into a gluten-free recipe. The ingredients you will need are:
All-purpose flour: brown rice flour or oat flour are great healthy flour alternatives and can transform this recipe into a delicious gluten-free one, or by simply using a 1:1 gluten-free flour blend.
Sugar: I use granulated sugar to add the perfect touch of sweetness to these pancakes. Any other preferred sweetener substitute can be used instead if desired, such as xylitol.
Baking powder, baking soda, and white vinegar: this is where all the fluffy magic happens! These active ingredients combine to create the perfect soft and light texture for the pancakes
Flax egg: This vegan alternative to regular eggs is easy to make by combining together flax powder and water.
Milk: Any plant-based milk alternative can be used, such as almond milk, coconut milk, or oat milk. Use your favorite type!
Coconut Oil: This keeps the pancakes moist and adds a boost of healthy fats to the recipe.
Pumpkin Puree: The puree can be shop-bought or homemade - either option works well.
Spices: Ground cinnamon, ground nutmeg, ground cloves, and ground allspice. Gives the pancakes the delicious pumpkin spice flavor we all love!
Vegan Pancake Toppings Suggestions:
Chopped nuts - any kind you like best
Fresh fruit and berries
Maple syrup or agave syrup
Your favorite vegan yogurt
A dusting of powdered sugar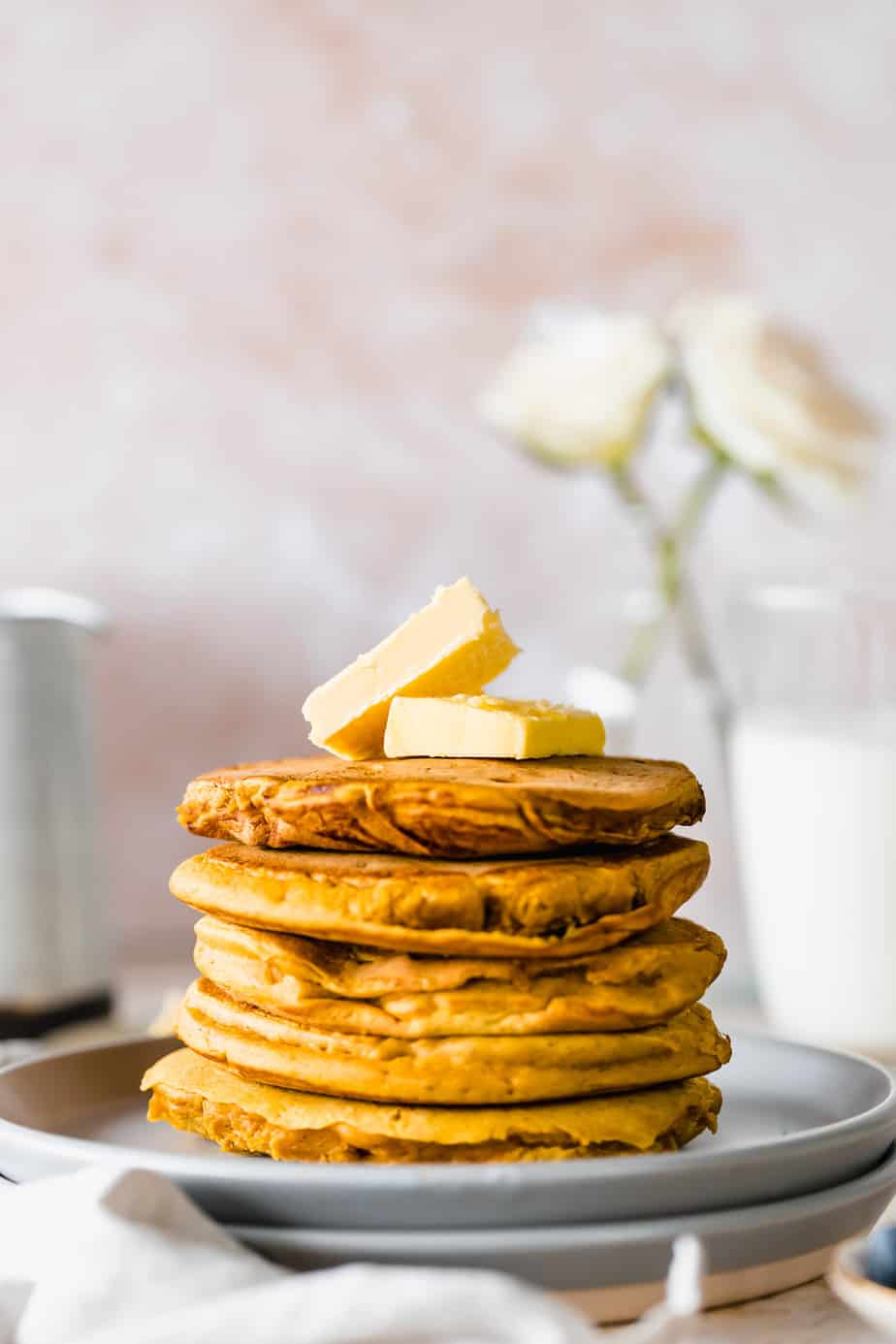 How To Make Healthy Vegan Pumpkin Pancakes
This recipe can be made in very little time and with very little effort. I made my own pumpkin puree to use in this recipe - it is incredibly easy to make and you can check out my recipe for it here. Once you have your pumpkin puree ready you can move on to making the fluffy pancakes.
STEP ONE
Combine all the wet ingredients. Place the pumpkin puree, non-dairy milk, flax egg, white vinegar, and coconut oil in a large mixing bowl and whisk together until well combined.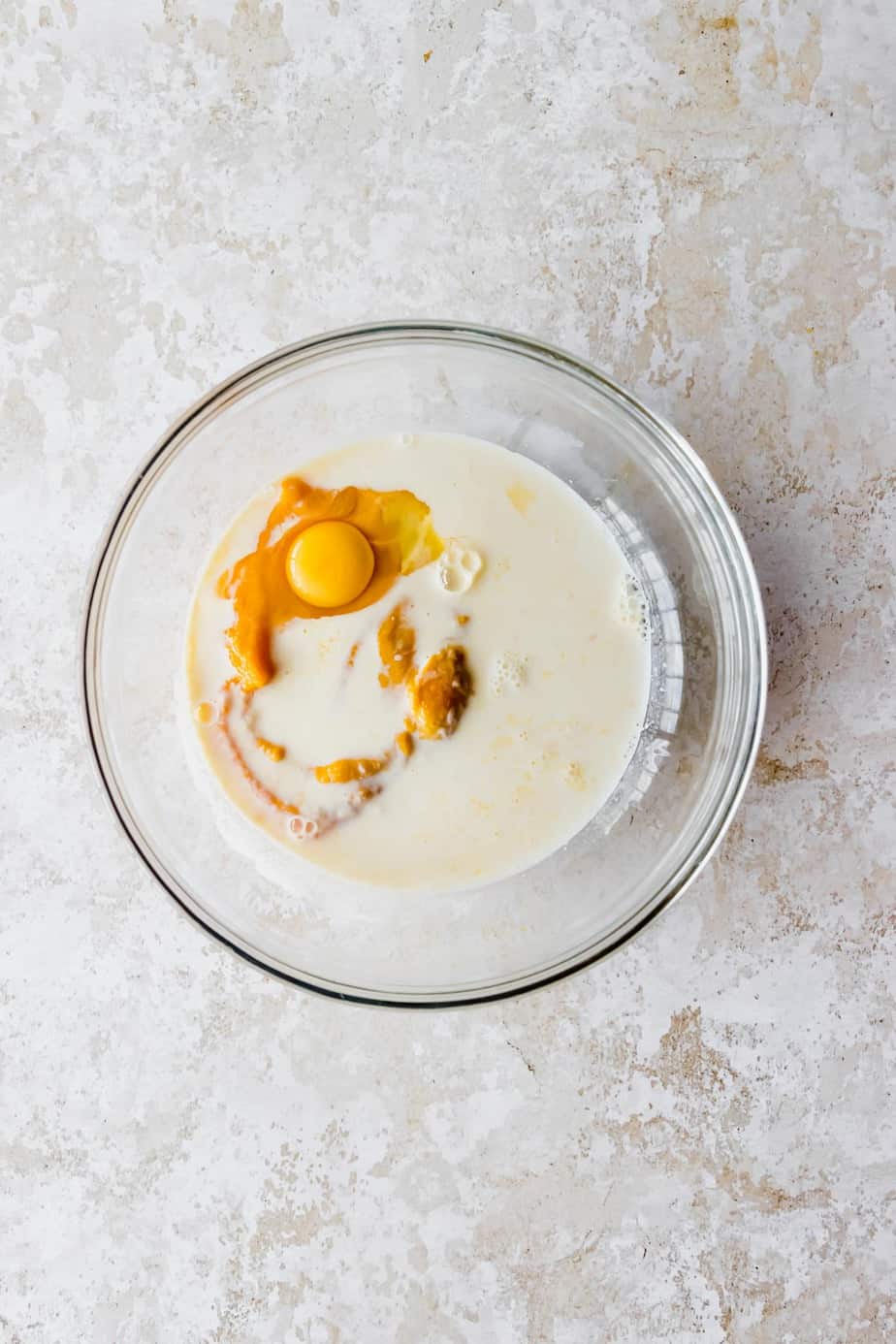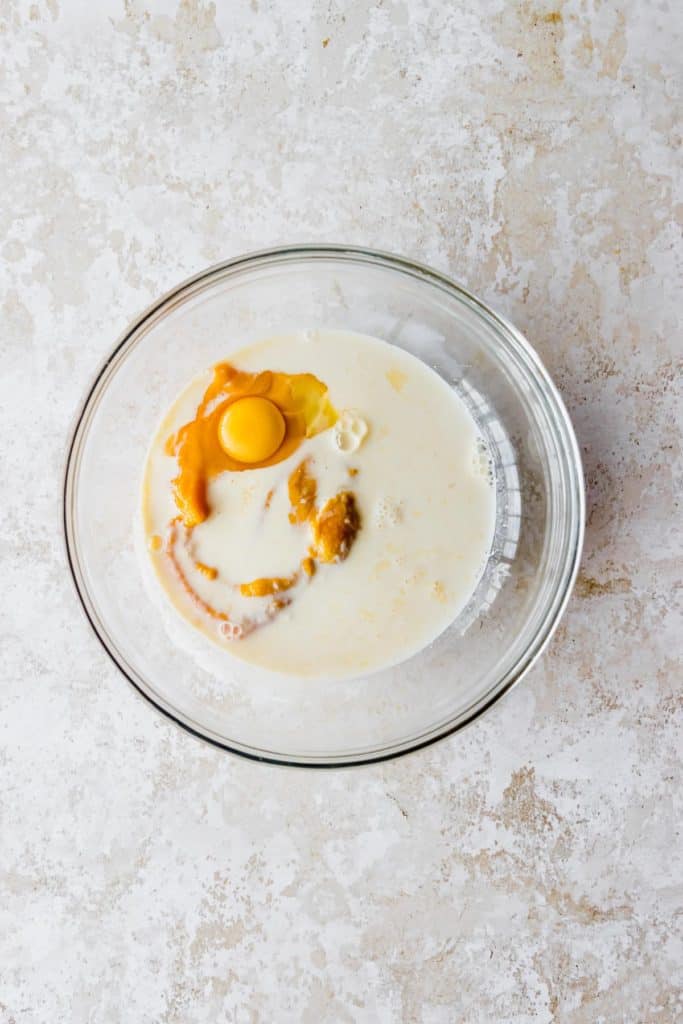 STEP TWO
Mix the dry ingredients together. Sift the flour, baking powder, baking soda, sugar (or sweetener), and spices into a separate mixing bowl and whisk together until well combined.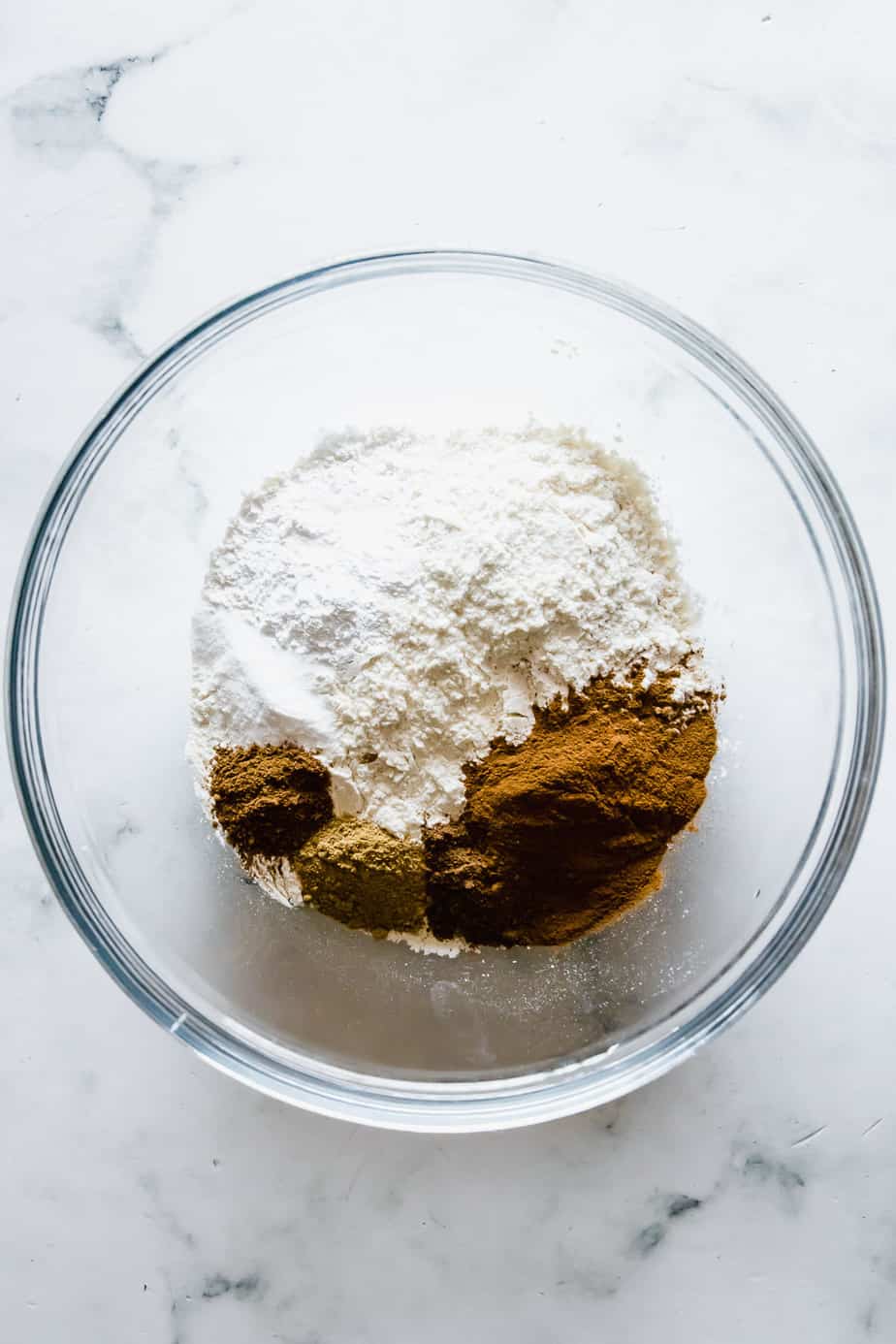 STEP THREE
Combine the wet and dry ingredients. Add the wet ingredients to the dry ingredients and mix until just combined. Be sure to not over mix the batter.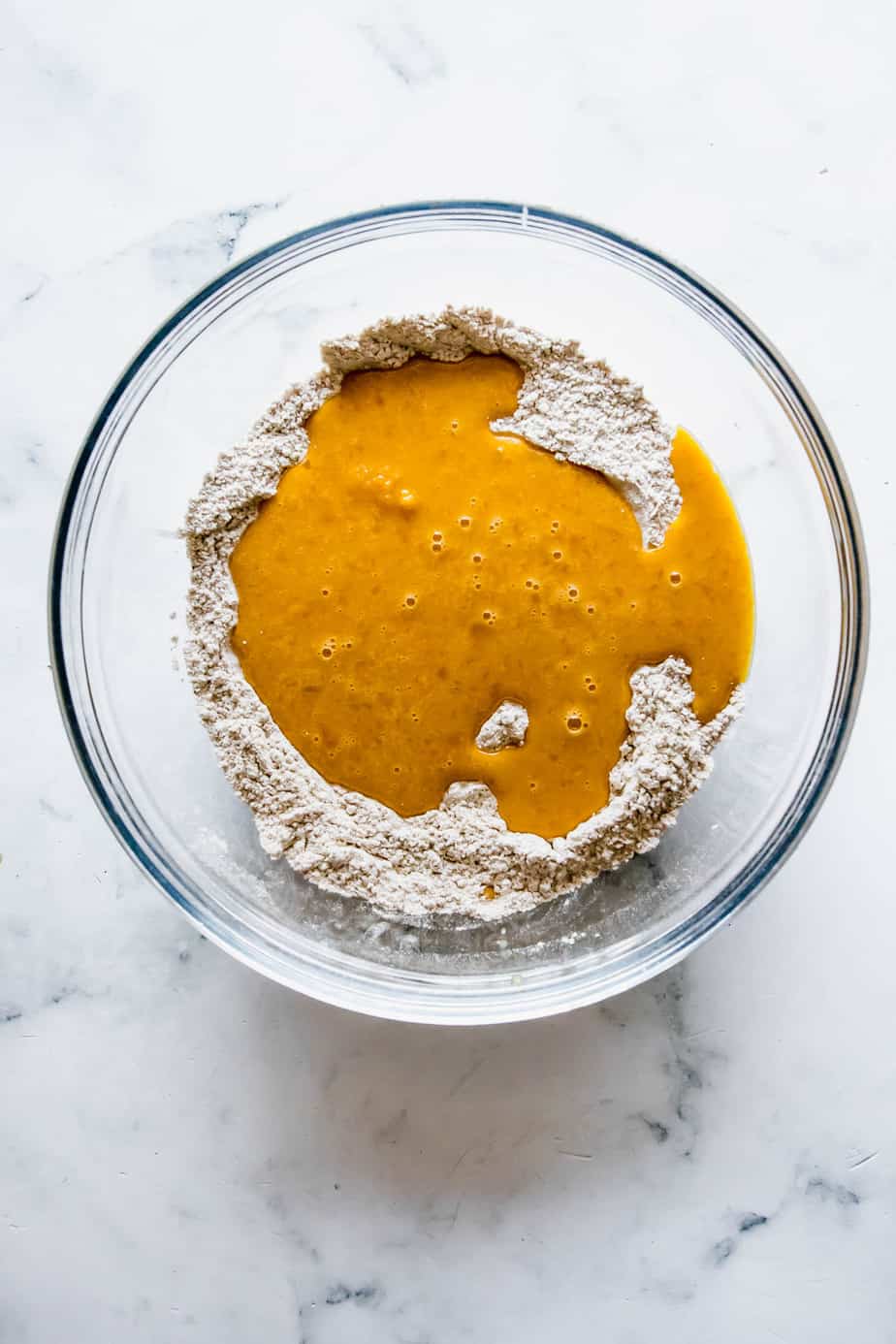 STEP FOUR
Cook the pancakes in a small amount of vegan butter or coconut oil. Add a dollop of pancake batter (about three tablespoons) to a skillet over low heat and cook until golden brown and bubbly (about 4 minutes). Then flip and allow to cook on the other side until golden brown. Repeat this cooking process until you have used up all the batter.
STEP FIVE
Add your toppings. I like to serve these pancakes warm and with lots of toppings. I love the classic vegan butter and maple syrup option for my Fluffy Pumpkin Pancakes. But there are many different topping options that will work well with these pancakes such as fresh fruit, whipped coconut cream, and powdered sugar.
Step-by-step Instructional video: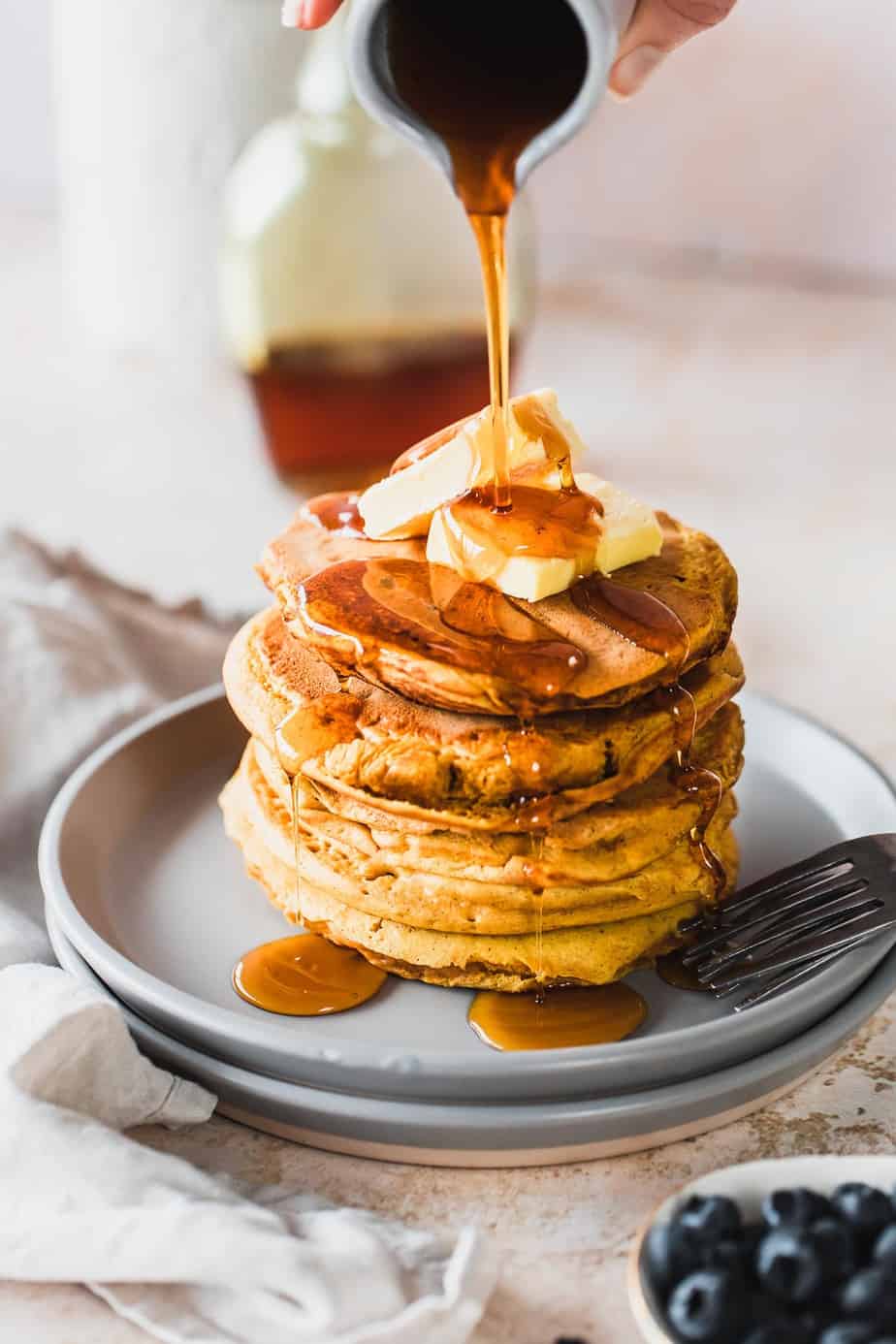 Tips for making this recipe perfectly:
Don't overmix the pancake batter. Overmixing will cause your pancakes to be flat and dense when cooked, rather than light and fluffy. So mix your batter together gently until just combined.
Do preheat your pan before adding the pancake batter! This will help the pancakes to cook evenly and have a nice golden color.
If your pancake batter is spreading too much when placed in the pan, whisk some extra flour into the batter. And if your pancake batter isn't spreading enough and is too thick, add some dairy-free milk until you reach the right consistency.
Wait until some tiny bubbles start to form before flipping. Small bubbles are a good indication that the pancake has cooked well and is ready to flip.
If you want to keep any cooked pancakes warm, place them in the oven at about 200˚F until you are ready to serve and enjoy.
More Pancake Recipes To Try:
Fluffy Buckwheat Pancakes
Power Oat Pancakes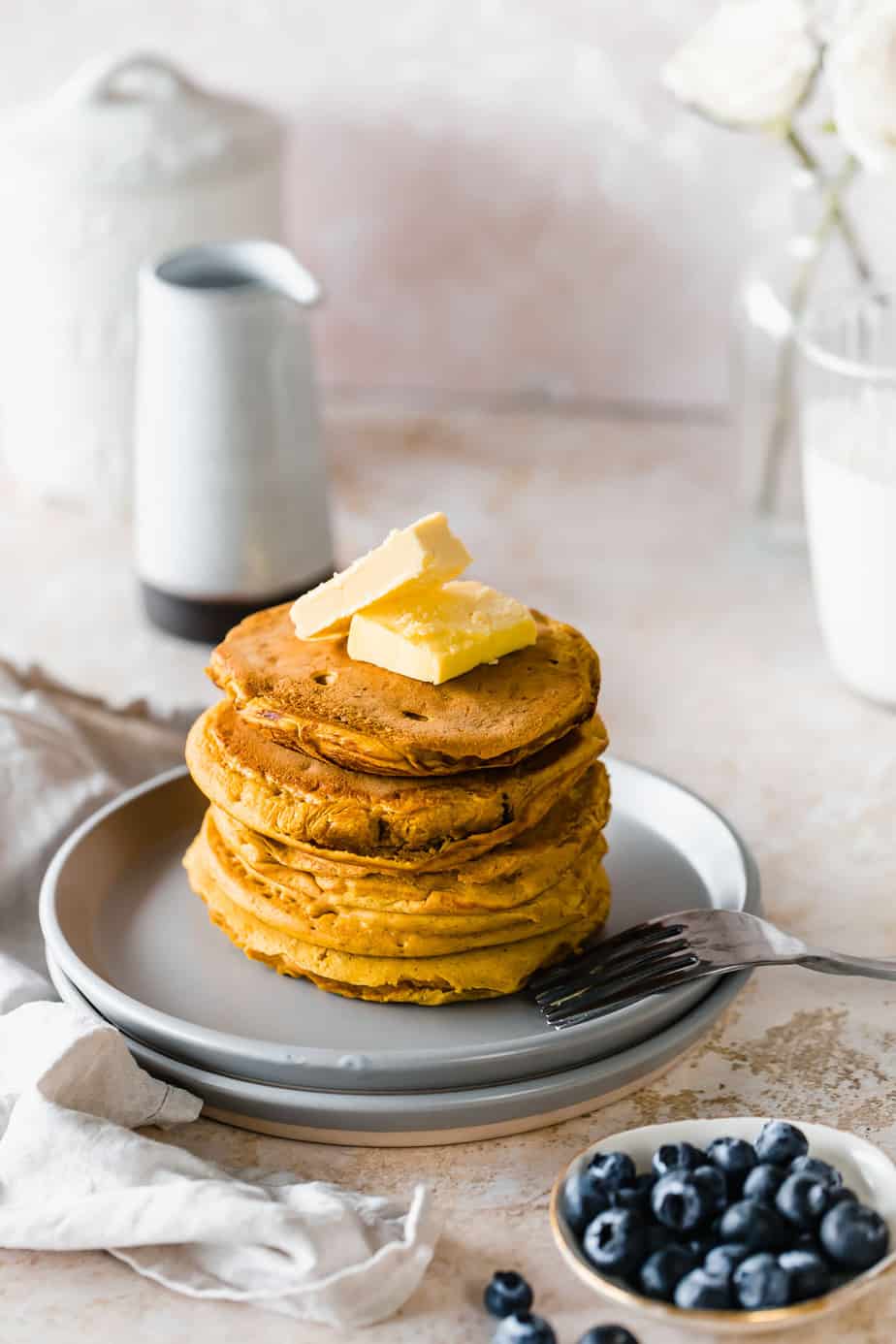 Recipe FAQ's
Will baking soda make my pancakes fluffy?
This pancake recipe uses both baking powder and baking soda. These are chemical leaveners that are traditionally used in pancakes as they help the pancakes to have a light fluffy texture.
Baking powder and baking soda cause small bubbles to form in the batter while cooking which makes the pancakes fluffy.
Baking soda also influences the browning of the batter in the skillet. So not adding enough baking soda will result in a flat pancake that is light in color.
How to double this recipe?
This recipe easily doubles if you need to make a lot of pancakes. If the batter thickens up too much after a while you can thin it out with a little extra milk until it is back to the original consistency.
You can keep the cooked pancakes warm in the oven set to 200F. Place them in the oven on a baking sheet fitted with a wire cooling rack.
Can I freeze pancakes?
Yes, you can freeze pancakes! If there are any leftover pancakes or you want to make them in advance, these pancakes are perfect for freezing.
Cook the pancakes as the recipe instruct and then allow them to cool completely before transferring them to your freezer. Store the pancakes in a freezer-safe airtight bag or container. When you are ready to serve them, take them out of the freezer and defrost them in the toaster or in your oven.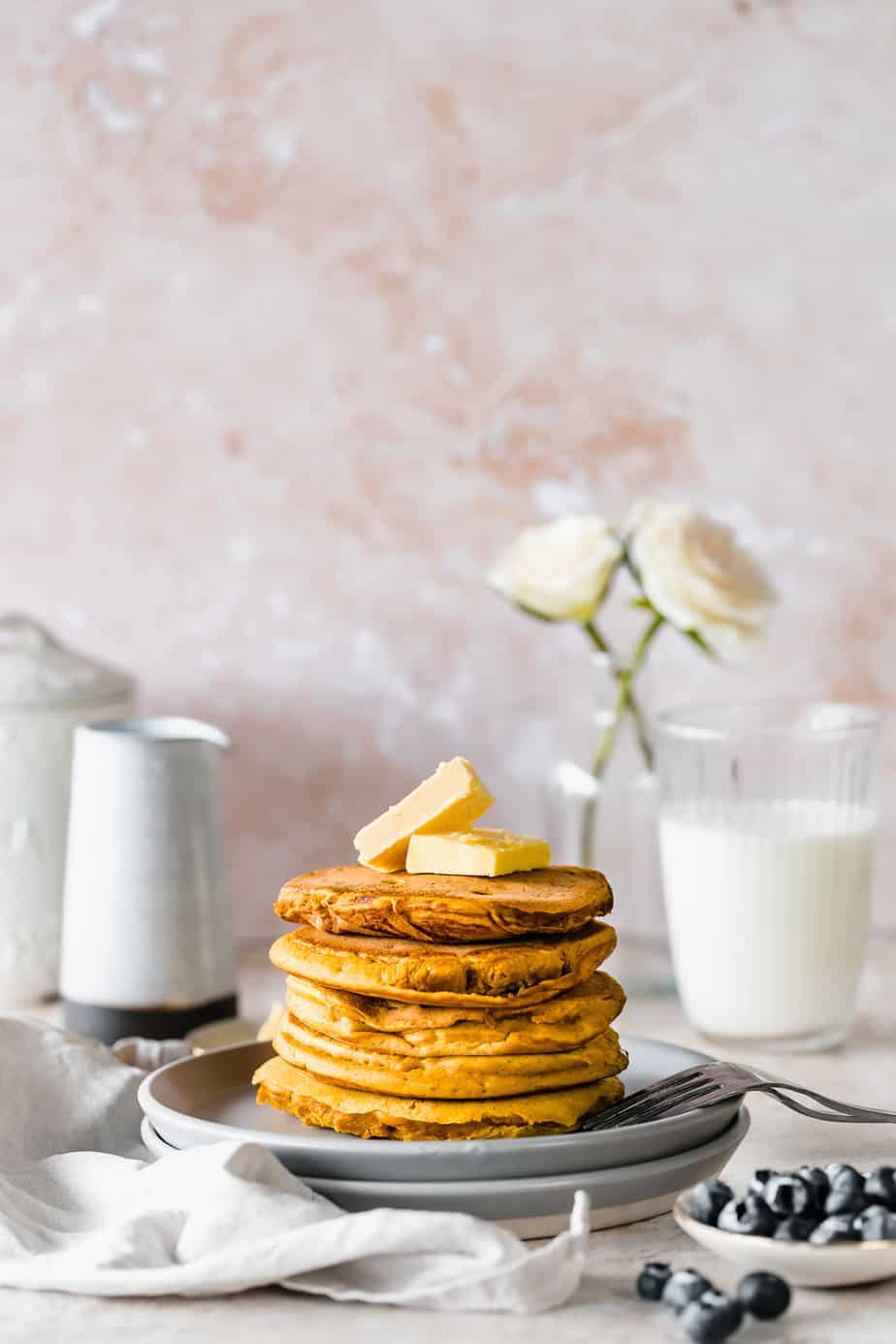 I hope you love this recipe for Fluffy Vegan Pumpkin Pancake as much as I do! Follow me on Instagram or Facebook for even more delicious recipes!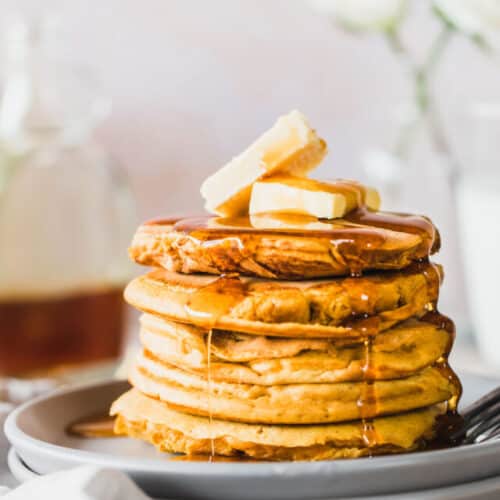 Fluffy Vegan Pumpkin Pancakes
These easy and healthy Fluffy Pumpkin Pancakes are the perfect holiday breakfast or brunch. They are light in texture and made with lots of warm spices and sweet pumpkin puree.
Ingredients
1 cup all-purpose flour, Brown rice flour, oat flour, or a 1:1 gluten-free flour blend
2 tablespoon sugar Or sweetener alternative
1 teaspoon baking powder
1 teaspoon baking soda
1 ½ teaspoon vinegar
1 egg or substitute with a flax egg
1 cup milk or preferred milk substitute
1 tablespoon coconut oil
1 cup Pumpkin Puree
1 teaspoon ground cinnamon
¼ teaspoon ground nutmeg
⅛ teaspoon ground cloves
½ teaspoon all spice optional
Optional Topping Suggestions:
Salted Caramel
Coconut Whipped Cream
Vegan Cream Cheese
Chopped nuts
Fresh fruits and berries
Honey or maple syrup
Instructions
Make the pumpkin puree if using homemade puree.

Then combine the pumpkin puree with all the other wet ingredients in a mixing bowl.

Combine all the dry ingredients in a separate mixing bowl.

Mix the wet and dry ingredients together until just combined.

Fry spoonfuls of the batter in a pan with a little extra coconut oil/butter on low heat (be patient).

Once the pancakes are all made, add any toppings of your choice