If you want to know how to make easy homemade pumpkin puree this is the recipe for you! An unsweetened and fresh pumpkin puree that is perfect for baking, safe for dogs, and easy to make.
Why you should make homemade pumpkin puree
Making your own pumpkin puree from scratch is easy and doesn't take too much time. It is inexpensive to make your own puree and you can make a big batch at a time and freeze it for later use. This is a great way to extend the pumpkin season and have access to delicious ready-to-go pumpkin puree all year round. Making your own pumpkin puree also allows you to use your favorite type of pumpkin for the puree and you can control what is added to it. This recipe has no additives, there's no salt, sugar, or oil added.
Once you've made your own pumpkin puree you will be able to use it in all sorts of dishes. You can freeze homemade pumpkin puree for 3-6 months. There are so many delicious recipes that use pumpkin puree. I love making Pumpkin Waffles with mine on a cozy weekend morning!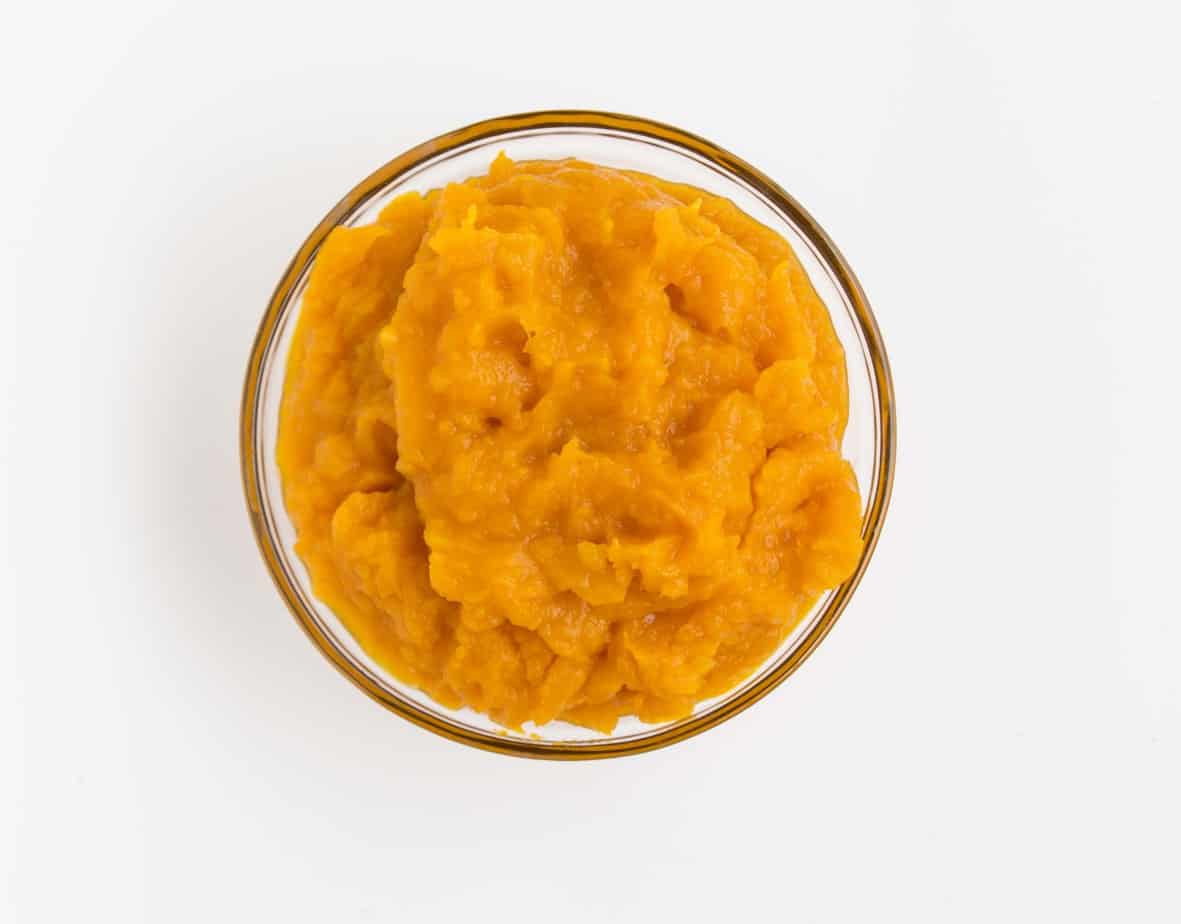 How To Make Pumpkin Puree From Scratch
This recipe is so easy to make. First, you will need to cut your pumpkin into quarters. (Tip: If your pumpkin is really big it may help to cut the ends off it first.)
Once your pumpkin is cut, use a large spoon to scoop out the seeds and stringy bits. (Tip: Save the scooped-out bits to sort through later if you want to roast the seeds. Pumpkin seeds are a great addition to many dishes and they are full of nutrients and wonderful flavor.)
Then place the pumpkin quarters in a roasting dish and bake for 45 minutes at 400°F / 200°C. (Tip: you want the pumpkin skin to be blistered and pulling away from the flesh.)
Allow the pumpkin to cool so that you are able to handle it and peel the skin away from the pumpkin flesh - the skin should come off quite easily. (Tip: Start at the edge of the cut or by pulling on a blistered section, and the pumpkin skin will come off in strips.)
Transfer the pumpkin flesh to a food processor and puree until smooth and creamy. Depending on the size of your pumpkin and your food processor, you may have to do this in batches.
Once the pureed pumpkin is smooth, you can transfer it to airtight freezer bags or glass jars for storing in the freezer or you can use it immediately in your favorite pumpkin recipe. You can freeze homemade pumpkin puree for 3-6 months.
What to make with unsweetened pumpkin puree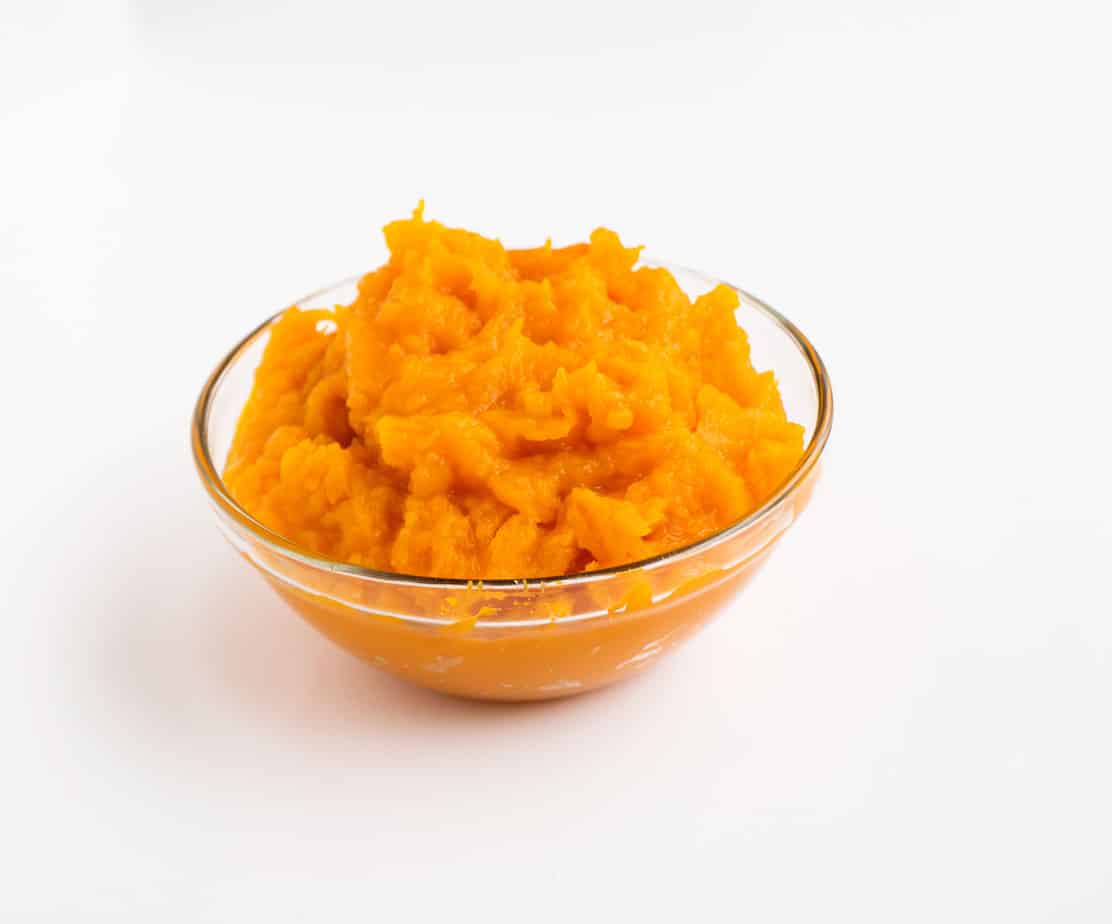 Can I substitute canned pumpkin for pumpkin puree?
Yes! You can definitely substitute canned pumpkin for fresh pureed pumpkin in recipes. Substitute the same volume, so 1 cup fresh puree for 1 cup canned pumpkin.
Can you substitute pumpkin pie filling for pumpkin puree?
Pumpkin pie filling shouldn't be used in place of pumpkin puree as the finished dish will be sweeter than intended. This is because pumpkin pie filling, or pumpkin pie mix, contains pumpkin puree that has already been sweetened and/or flavored with spices. These additions to the pumpkin mix will alter the taste of your dish.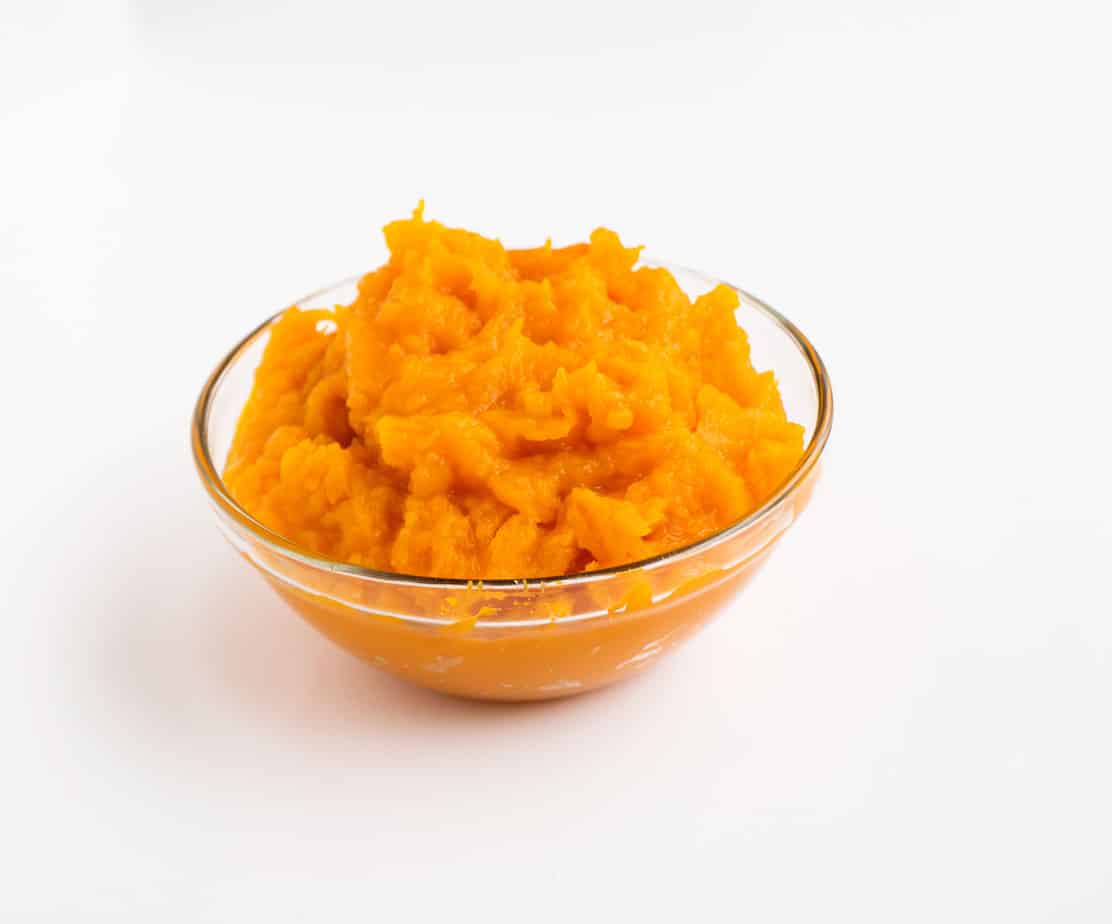 Easy Homemade Pumpkin Puree
unsweetened and fresh pumpkin puree that is perfect for baking, safe for dogs, and is easy to make.
Ingredients
1

medium

pumpkin

Any variety you prefer
Instructions
Preheat oven to 180 ºC.

Chop pumpkin into quarters and scoop out all seeds and strings.

Allow to cool and remove skins.

Chop into smaller pieces and place in blender.

Blend until completely smooth.

Freeze or use immediately.
Tried this recipe?
Let us know how it was in the comments below
Tag us on Instagram!
We love seeing people make our recipes. Mention @baking_ginger
I hope you love this easy Pumpkin Puree recipe! Follow me on Instagram or Facebook for even more deliciousness!