This healthy pumpkin sheet cake is so easy to make it is sure to become your favourite pumpkin cake recipe. With the most delicious vegan cream cheese frosting it will wow anyone. This vegan pumpkin spice sheet cake recipe can also be frozen and served at a later stage.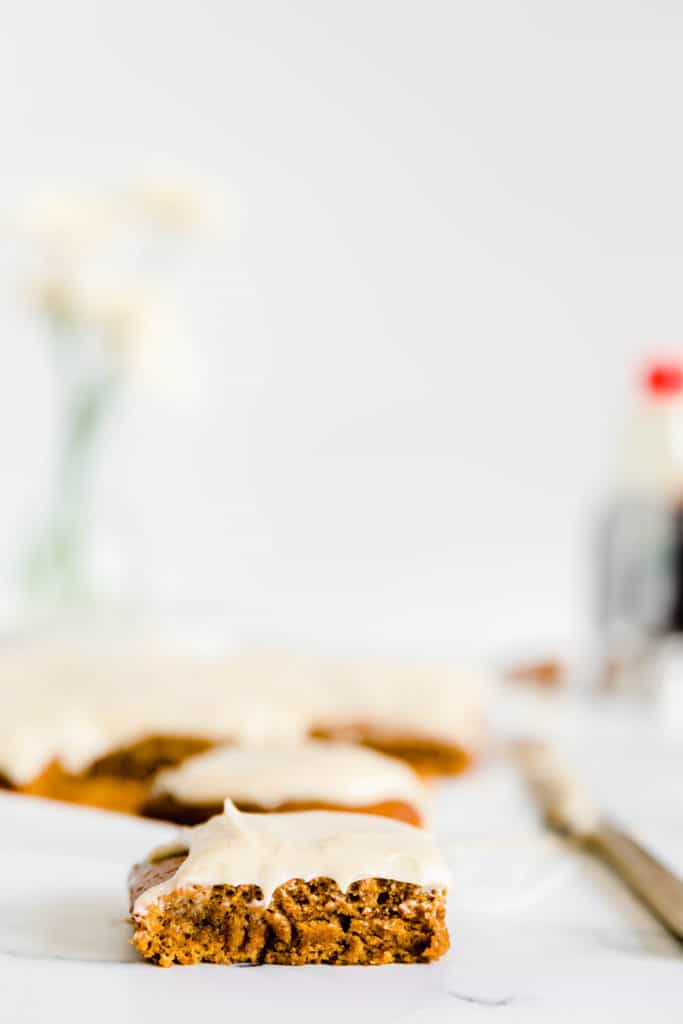 Pumpkin Sheet Cake
Sheet cake is the ultimate treat or snack for anytime of the year but this particular vegan pumpkin sheet cake is a fall must. Inspired by a classic texas sheet cake, this vegan homemade sheet cake is filled with pumpkin spice flavors and topped with a creamy vegan cream cheese.
Why you'll love this recipe
This pumpkin cake is vegan. This recipe is made with nut milk and flax eggs making it the perfect vegan fall dessert
Freezer-Friendly. Make this pumpkin cake ahead of time and freeze it without the frosting for another time.
The perfect fall dessert. Made with all of the pumpkin spices and fresh pumpkin purée making this the ultimate dessert or snack for the holidays.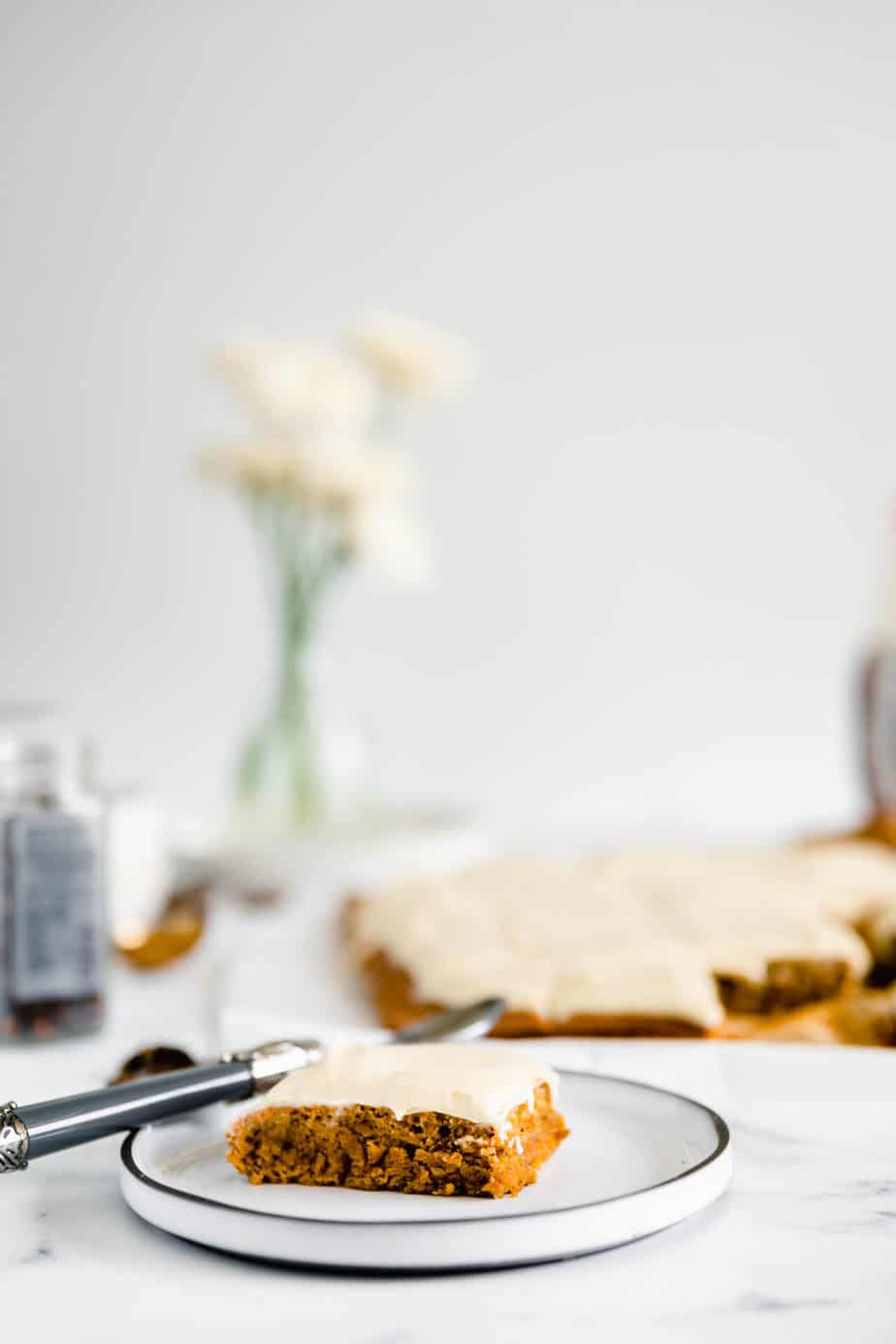 Ingredients used in Vegan Pumpkin Sheet Cake
Flour - Feel free to swop this for a 1:1 Gluten-free flour.
Ground cloves
Ground ginger
Baking soda
Ground cinnamon
Baking powder
Pumpkin purée - I have a super easy homemade pumpkin purée recipe.
Nut milk - I love using almond milk for my vegan recipes.
Flax eggs (3 tbsp ground flax seeds + 9 tbsp water)
Vanilla essence
Sugar
Oil - sub for coconut oil if desired.
What substitutes can be used for this vegan pumpkin sheet cake?
If you're not worried about the vegan aspect, you can substitute the flax eggs for normal eggs.
To make the recipe gluten-free, try using oat flour (make sure it's gluten-free) or brown rice flour. Those are always my top gluten-free flours for baking.
I used homemade pumpkin purée but store bought will do just fine.
For a slightly healthier version, try using coconut sugar instead of normal white sugar. It adds a delicious flavour as well.
How to make a healthy pumpkin cake
Whisk all the dry ingredients together in a bowl.
In a separate bowl, combine all the wet ingredients.
In three additions, add the dry ingredients to the wet ones, stirring between each addition
Pour the batter into a sheet pan
Bake for 17 - 20 min at 180C / 350F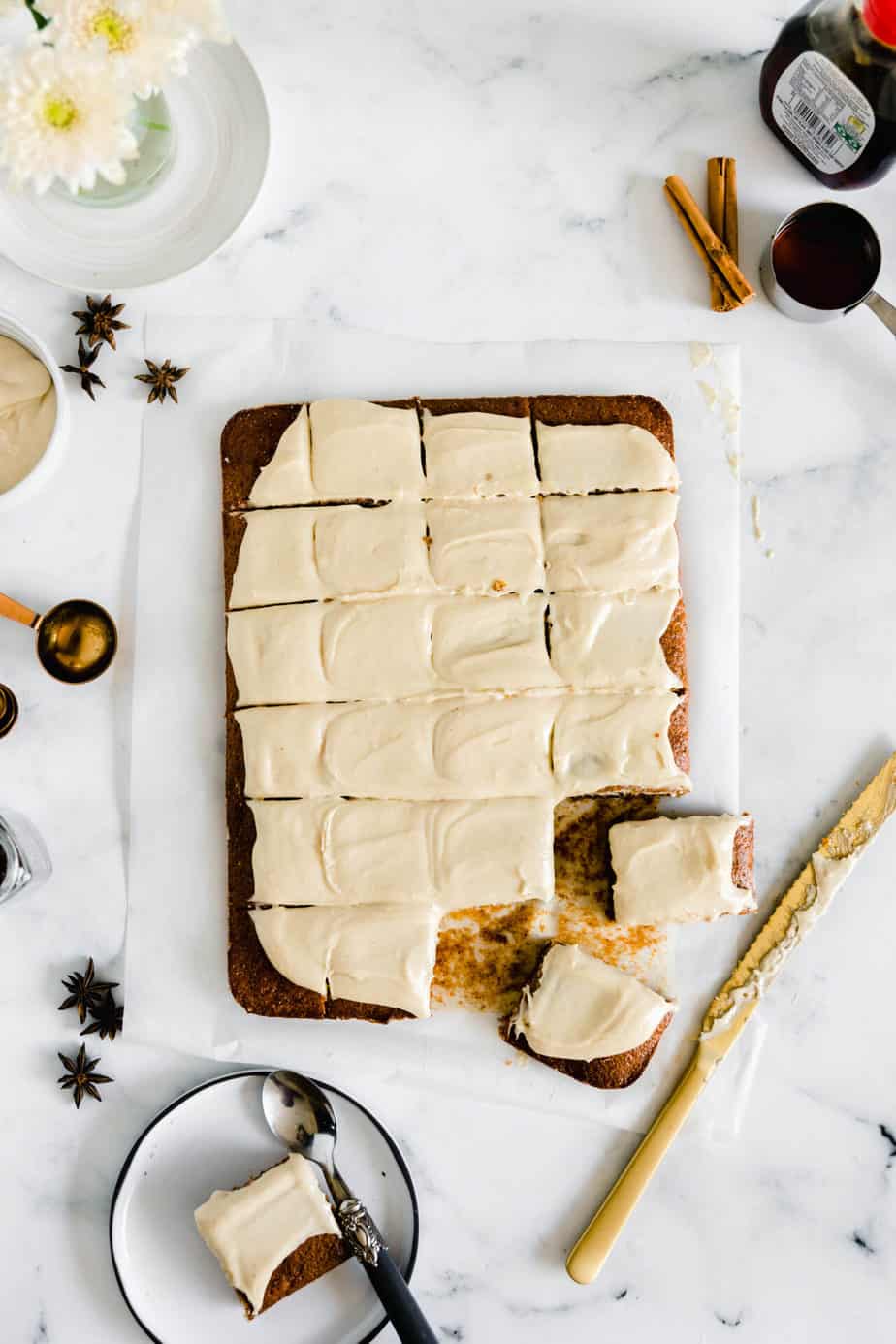 What is vegan cream cheese frosting
If you haven't tried vegan cream cheese frosting you'll have to give it a go because you're in for a very pleasant surprise. This dairy free cream cheese frosting is a must make for anyone. Made with my delicious homemade vegan cream cheese and a combination of warm fall pumpkin spices.
Homemade vegan cream cheese is typically made from soaked cashew nuts so it naturally results in a super creamy delicious cream cheese that is perfect for making vegan cream cheese frosting.
What's the difference between sheet cake and regular cake
The main difference between a sheet cake and a regular cake is the shape and size of the cake. A regular cakes is typically made in round 9" cake tins. Sheet cakes are usually made in rectangular larger pans called a sheet pan. Sheet pans are typically 12x18 inches.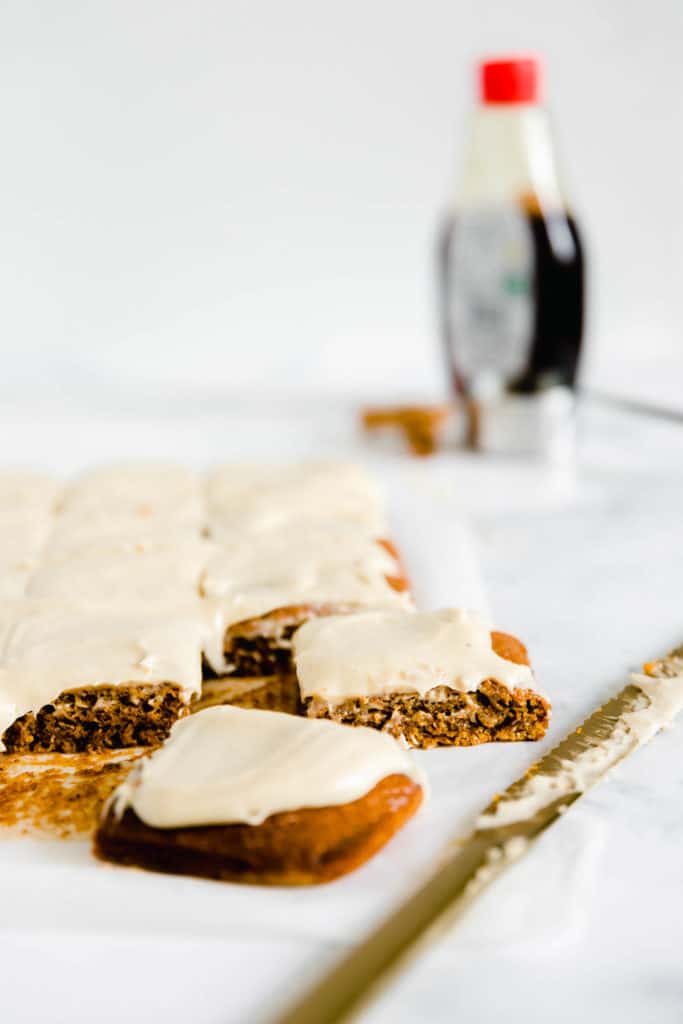 Tips & tricks for the healthy pumpkin sheet cake:
To make the flax egg combine the ground flaxseeds and water and allow it to stand for 5min before adding it to your mixture.
Ensure that you've made the vegan cream cheese ahead of time, the cashews require a little soaking time.
Always allow the cake to cool properly before frosting.
To freeze, cut the cake into 8-12 squares before frosting and freeze individually then simply pop in the microwave for a 30 seconds and top with a little frosting.
Vegan Pumpkin Sheet Cake
Ingredients
PUMPKIN SHEET CAKE
2 ¼ cups flour
½ tsp ground cloves
1 tsp ground ginger
3 tsp ground cinnamon
1 tsp baking soda
2 ½ tsp baking powder
400 grams pumpkin purée
¾ cup nut milk
3 flax eggs (3 tbsp ground flax seeds + 9 tbsp water)
2 tsp vanilla essence
2 cups sugar
½ cup oil
FROSTING
110 grams margarine / vegan butter
220 grams vegan cream cheese See recipe in text above
¼ cup maple syrup
½ tsp cinnamon
¼ tsp cardamon
2 cups icing sugar
crushed walnuts for garnishing
Instructions
Grease a sheet pan and line it with baking paper.
In a mixing bowl, whisk together the flour, cinnamon, cloves, ginger, baking powder, and baking soda.
In a separate bowl, whisk together the oil, sugar, vanilla, flax eggs, milk, and pumpkin purée.
In three additions, add the dry ingredients to the wet ones, stirring between each addition.
Pour batter into the prepared sheet pan.
Bake for 17 - 20 min at 180C / 350F.
FROSTING
In a mixing bowl, whisk the margarine and vegan cream cheese together until smooth and creamy.
Add the maple syrup, cinnamon, cardamon, and icing sugar.
Combine well and spread over the cooled cake.
Sprinkle over crushed walnuts, and enjoy!