A creamy and healthy Blueberry Overnight Oats recipe that takes 5 minutes to make using 5 simple ingredients. A great way to have a nutritious breakfast waiting for you when you wake up. (Vegan, gluten-free, and perfect for meal prep)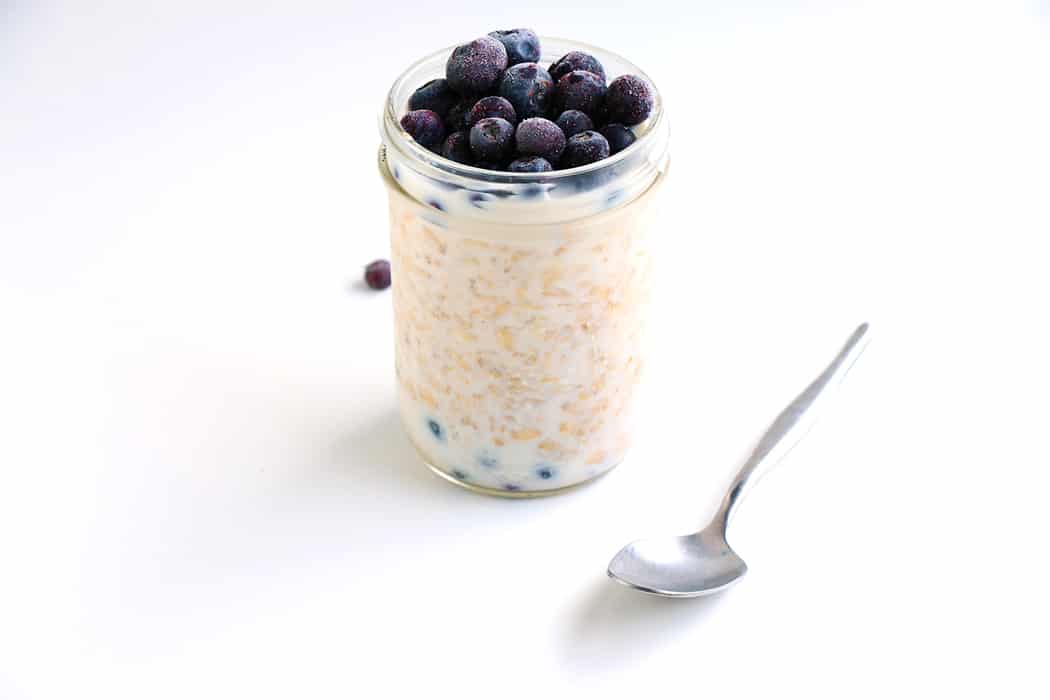 The ultimate quick & easy breakfast recipe
These easy Blueberry Overnight Oats are perfect for busy mornings. All you have to do in the morning is take out your jar of overnight oats, grab a spoon, and enjoy. It couldn't be easier!
This recipe is also a perfect on-the-go breakfast. The oats can be prepared directly in jars so they are easy to grab on your way out to enjoy later in the day.
These overnight oats are also highly adaptable. You can add in all sorts of additions, such as jams, nuts, seeds, and more! I have all sorts of overnight oats recipes on my blog that you could try, like my Fig & Tahini Overnight Oats.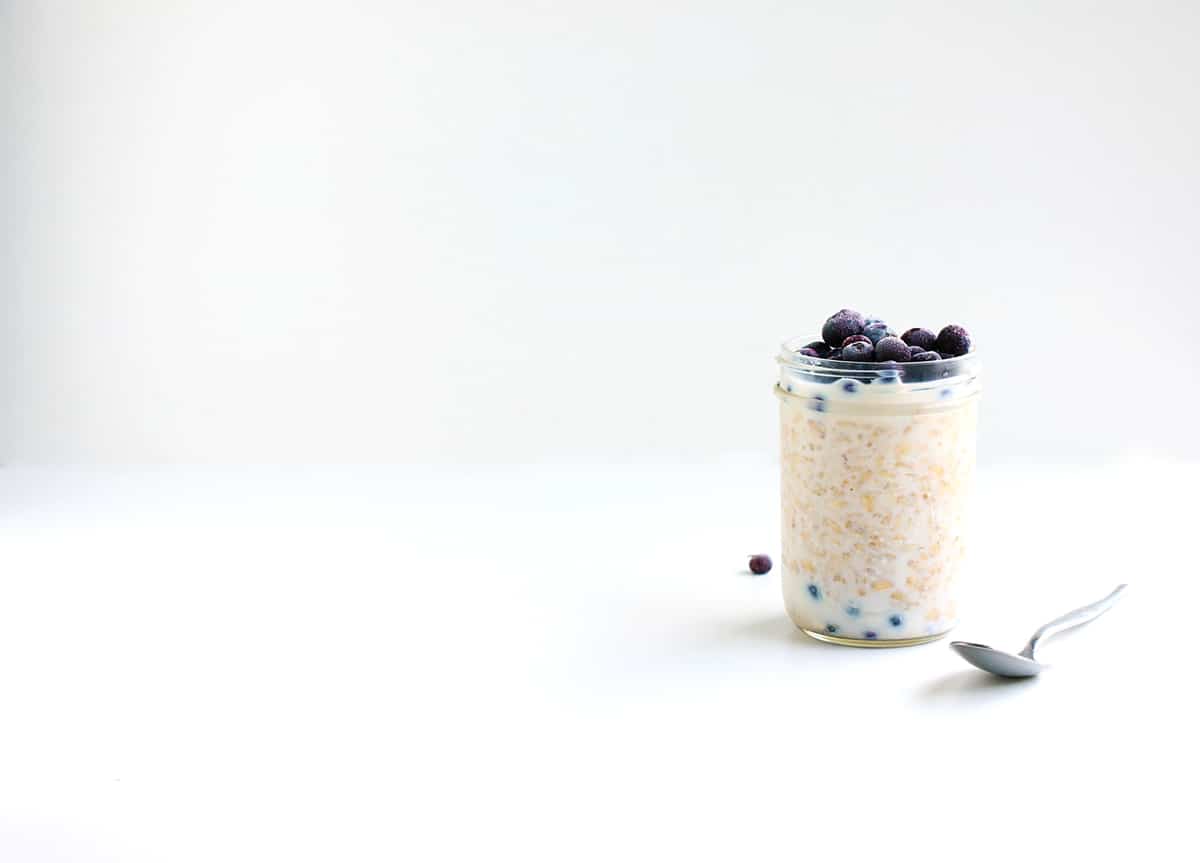 The ingredients you will need for this recipe
There are just five ingredients needed to make this simple and easy recipe.
Rolled Oats: I love the texture that the rolled (or old-fashioned) oats add to this breakfast. It will work perfectly with smaller steel-cut oat flakes too though.
Almond Milk: I like making this recipe with almond milk, but any milk alternative can be used so use whichever you prefer best.
Vanilla Essence: Adds a delicious vanilla flavor so that your breakfast pretty much tastes like dessert. Winning!
Maple Syrup/Honey: Feel free to adjust how much sweetness you add depending on your sweet tooth. Other sweetener alternatives will work too such as xylitol.
Blueberries: The riper the better! The blueberries add a delicious burst of flavor and nutrients to this overnight oats recipe. Frozen berries can also be used.
Looking for more breakfast inspiration? Check out our 10 BEST VEGAN MEAL PREP BREAKFASTS!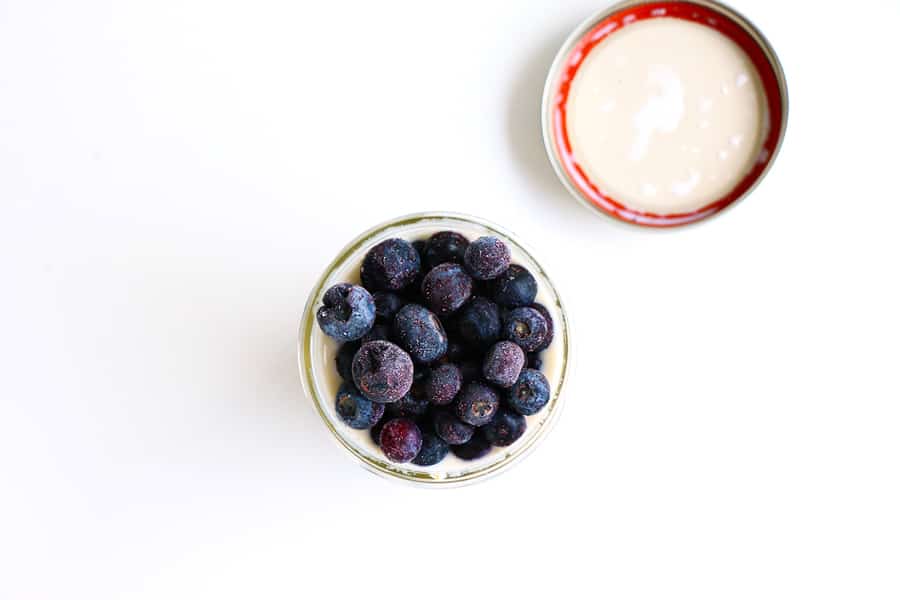 How To Make Creamy Overnight Oats
I love a simple breakfast recipe - and this one couldn't get any easier. Making this recipe only requires 5 minutes of your time.
To make these creamy overnight oats, mix the ingredients together in a bowl or in a jar (if you are going to use small jars, I like to mix everything together in a mixing bowl and then divide the oats between several jars. Or if you prefer you can make this directly in a large jar).
This oat mixture is then placed in the fridge overnight. It is best to keep the oat mixture covered while it is in the fridge.
Once you are ready to eat your overnight oats, take them out of the fridge and top them with extra blueberries and some extra milk if you like.
How to store overnight oats with blueberries:
This recipe is perfect for meal prep. Overnight oats can easily be kept for up to 5 days in a fridge. Just keep the mixture covered in the fridge and add the toppings fresh each time you eat it. Remember that with each day the oats will become softer, and they will also become thicker. I personally like to enjoy my overnight within 2 days of making them.
Are overnight oats healthy?
Yes, they are! Oats are whole-grain and gluten-free which is great for breakfast. They are loaded with fibre so they will keep you feeling full and energized. The addition of blueberries in this recipe also adds some extra nutrients.
More Overnight Oats Recipes To Try:
If you tried these Blueberry Overnight Oats or any other recipes on the blog, let me know what you thought over on Instagram or Facebook, and follow me for even more deliciousness!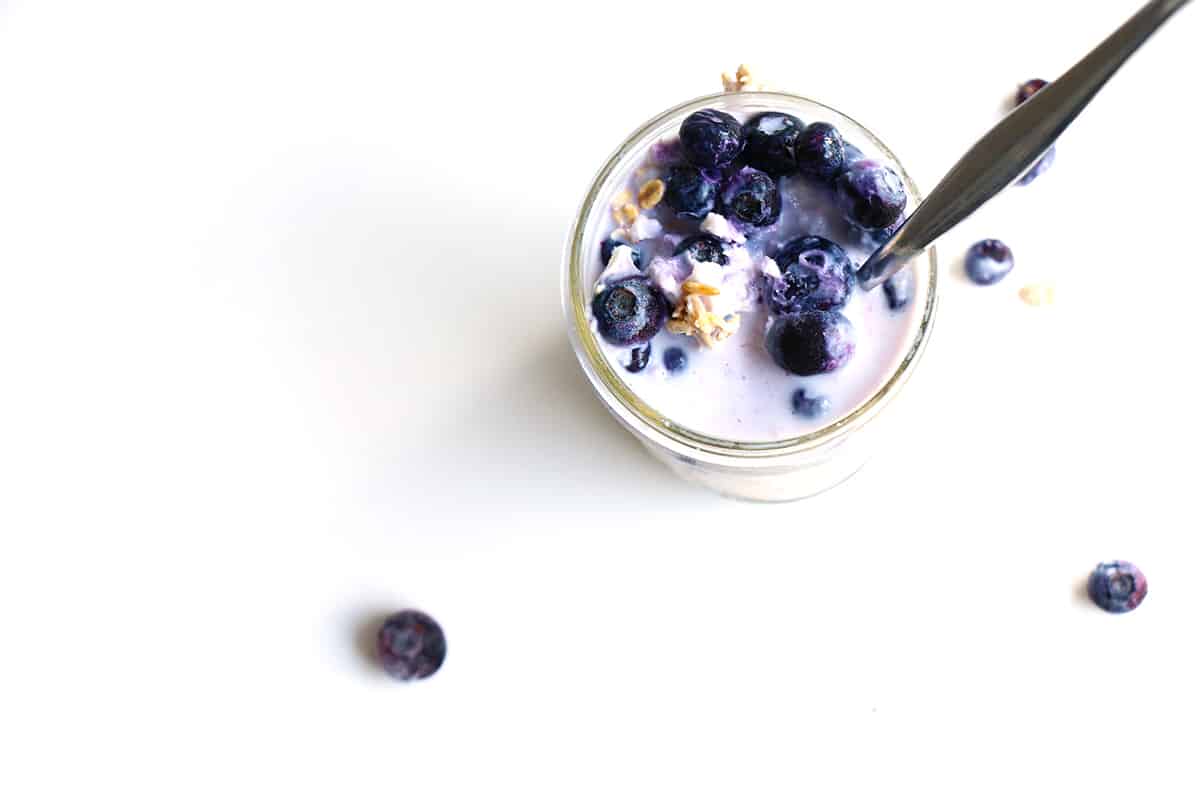 OTHER BREAKFAST RECIPES YOU MAY LIKE: