Take a minute to prep these easy Protein Overnight Oats with Coconut Milk and you'll be waking up to oatmeal heaven! These overnight oats jars are full of simple, yummy, and healthy layers.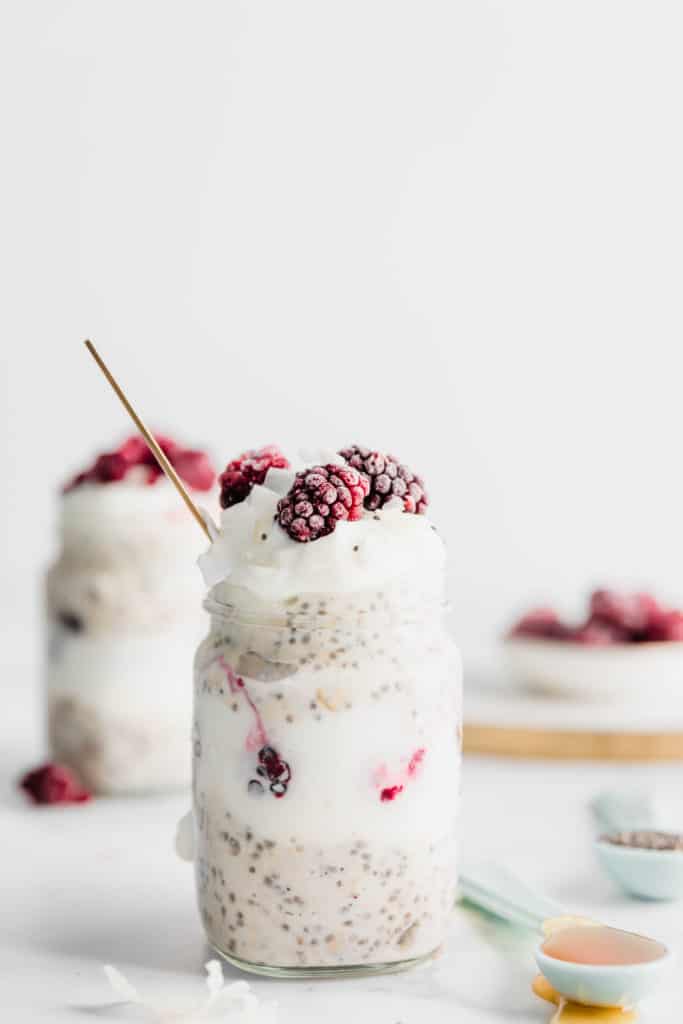 I love a no-cook breakfast. On busy days, the last thing I want is a pile of dirty dishes or to be spending time behind the stove. The perfect solution to mornings like this is these Protein Overnight Oats with Coconut Milk. They couldn't be simpler or quicker to make.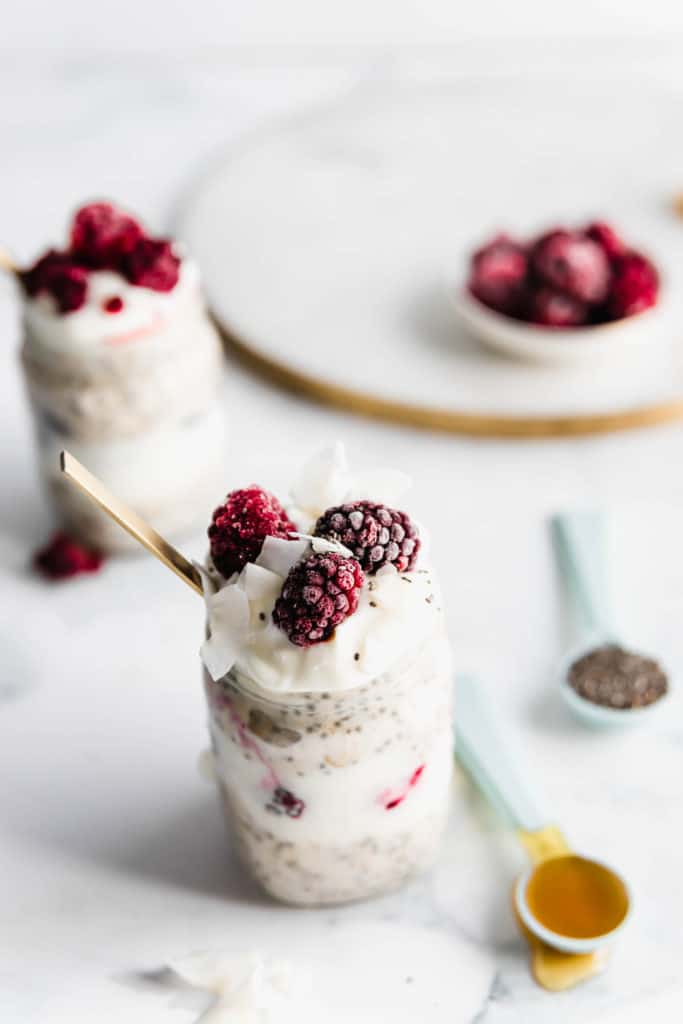 WHAT ARE OVERNIGHT OATS?
Overnight oats are oat flakes that are soaked in a liquid. The oats absorb the liquid, which results in soft, creamy oatmeal after a few hours, preferably overnight. I also love adding chia seeds to my overnight oats to thicken them and add an extra boost of nutrition.
OVERNIGHT OATS RECIPE INGREDIENTS
This overnight oats recipe is full of healthy and yummy ingredients that come together to make the most perfect breakfast ever!
Oats
Chia seeds
Honey (or maple syrup for a vegan alternative)
Milk (any milk substitute will work just as well)
Shredded coconut (desiccated could also work!)
Vanilla essence
Plain yoghurt
Blackberries - the riper the better!
These Blackberry Coconut Overnight Oats Jars are so delish they taste like dessert. Sometimes I even have one as a sweet treat when those afternoon cravings kick in. They are a great healthy and yummy snack option. This recipe is packed with protein so will keep you going for a long time too.
HOW TO MAKE BLACKBERRY OVERNIGHT OATS
Once again, Kitchen Inspire's easy-to-use products came in handy when preparing these Blackberry Coconut Overnight Oats Jars. All it takes is measuring out the ingredients, mixing it up, and then layering it all. This blackberry overnight oats recipe is so simple - it takes just 5 minutes to prep!
Place the oats, chia seeds, milk, vanilla essence, and coconut in a mixing bowl and stir until well combined.
Cover and chill overnight.
Once ready, layer in jars with yoghurt and blackberries.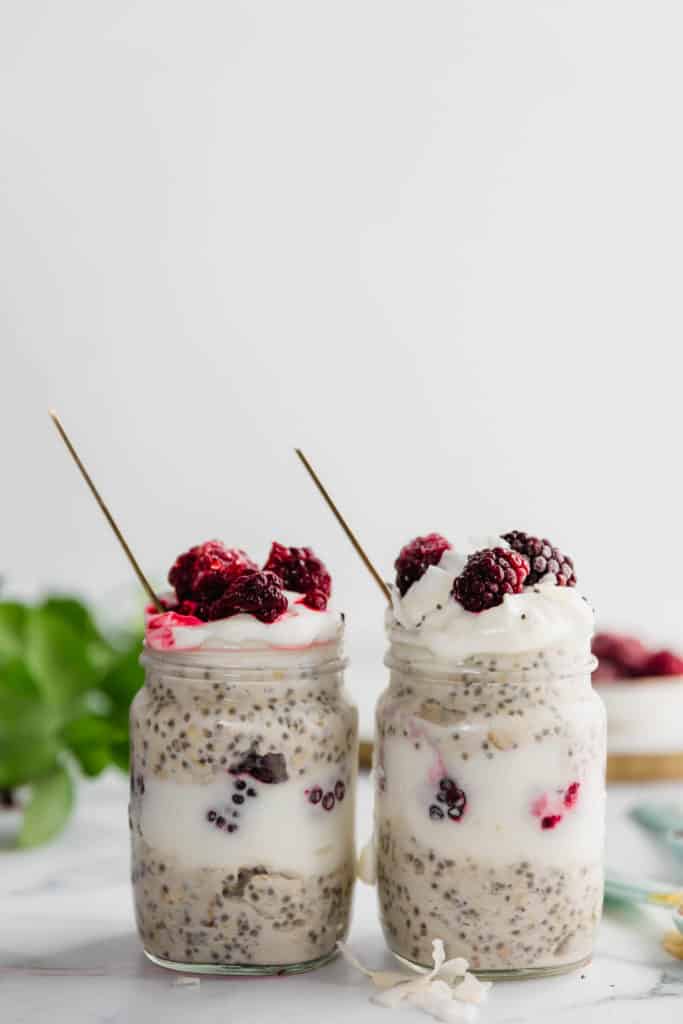 RECIPE TIPS AND SUBSTITUTIONS
This recipe can easily be converted to a vegan recipe. Just substitute the milk and yoghurt for non-dairy vegan options and replace the honey with an alternative sweetener of your choice. Such as maple or agave syrup.
These overnight oats can be stored in an air-tight container in the fridge for up to 5 days - so meal prep away!
Feel free to add nuts and other berries to this recipe - it will work just as well!
More Overnight Oat Recipes To Try:
Check out some other easy, delicious breakfast options I've made here :)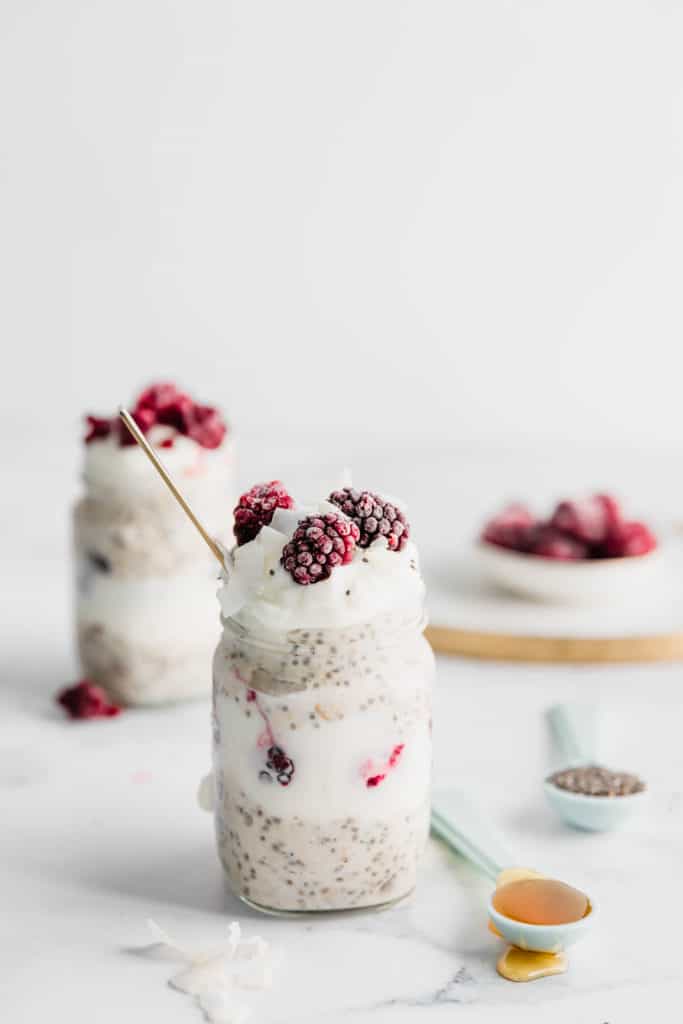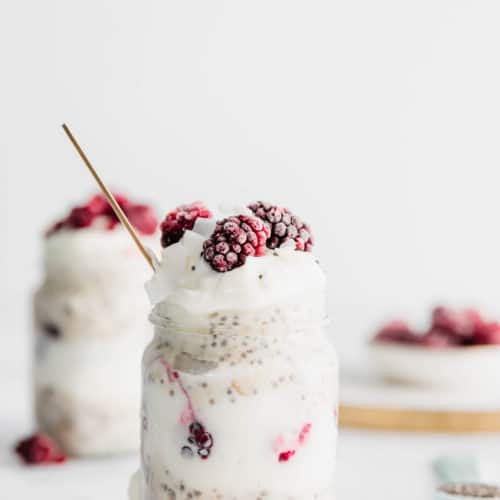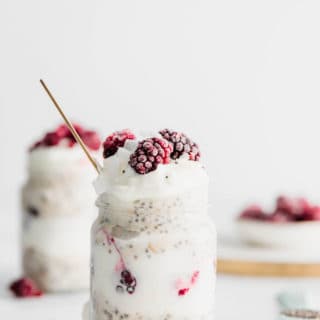 Protein Overnight Oats with Coconut Milk
Ingredients
1

cup

oats

2

scoops

protein powder

4

tablespoon

chia seeds

2

tablespoon

honey

1 ¾

cup

coconut milk

¼

cup

shredded coconut

2

teaspoon

vanilla essence

⅔

cup

yoghurt

½

cup

blackberries
Instructions
Combine the oats, protein powder, chia seeds, honey, milk, vanilla essence, and shredded coconut.

Cover the oat mixture and refrigerate overnight.

To assemble the jars, layer the oat mixture with the yoghurt and blackberries and enjoy!
Tried this recipe?
Let us know how it was in the comments below
Tag us on Instagram!
We love seeing people make our recipes. Mention @baking_ginger