A guide to The Best Starbucks Refreshers on the menu. See which Refreshers are most popular along with each drink's caffeine content and more.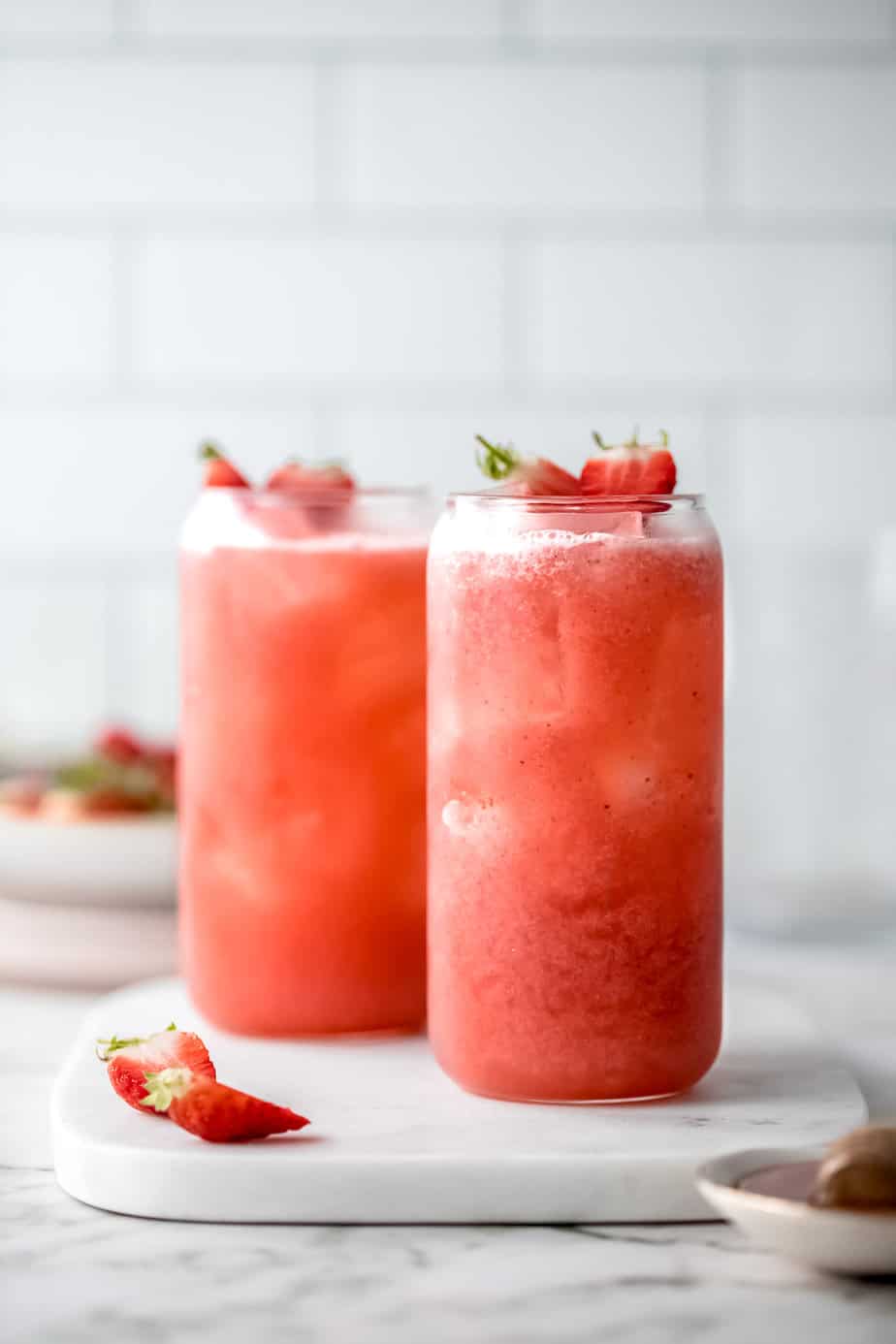 Jump to:
What are Starbucks Refreshers
Starbucks has plenty of drinks on offer, not just their famous coffees. They have so much more than just lattes and cappuccinos. And this includes their delicious Starbucks Refreshers - iced, fruity, and refreshing drinks with a boost of caffeine.
If you're unfamiliar with these hand-shaken drinks, they're made with real fruit juice, pieces of freeze-dried fruit, and a green coffee extract that provides a hint of caffeine (45 mg for a grande). The extract comes from unroasted arabica coffee beans, and these drinks are the perfect pick-me-up on a summer's day.
If you are ordering straight off the menu at Starbucks, you will find a wide range of Refresher options (though availability may vary by location). Each of these flavors is made with a similar "base" of water, sugar, white grape juice concentrate, and natural flavors and colors.
They are all pre-sweetened and caffeinated and have become popular coffee alternatives. Especially during the summertime! So read on to find out how to order a Refresher and which ones are the most popular.
How to Order a Starbucks Refresher
You will find Starbucks Refreshers in the "cold drinks" section of their menu. And there are three different ways to order this drink - plain, with lemonade, or with coconut milk.
Plain: Starbucks Refreshers are delicious all on their own straight from the menu. The fruity base is shaken with triple-filtered water and ice, in addition to a fruit inclusion.
With Lemonade: To add a little more zing, a Refresher can be shaken with lemonade. Starbucks lemonade drinks also include iced tea lemonades and blended drinks, in addition to Refresher Lemonades.
With Coconut Milk: If you want to give your Refresher a creamy and tropical flair, you can order your drink shaken with coconut milk.
Starbucks Refreshers come in 4 sizes:
tall (12 ounces)
grande (16 ounces)
venti (24 ounces)
trenta (30 ounces)
Looking for a refreshing and fruity drink to make at home? Check out our 3-INGREDIENT AGUA DE FRESA recipe!
The 10 Best Starbucks Refreshers
All nutritional information is for the grande size Refreshers.
1. Starbucks Dragon Drink
If you're looking for something sweet and tropical-inspired, then this is your drink of choice. It is made with freeze-dried dragon fruit, mango flavoring, ice, and creamy coconut milk. With both tart and sweet flavors, your tastebuds will be delighted by this flavorful and balanced iced drink!
| | |
| --- | --- |
| Calories: | 130 |
| Sugar: | 23 g |
| Caffeine: | 45 mg |
2. Starbucks Paradise Drink
If tropical fruits are your thing then you need to check out the Starbucks Paradise Drink. It is made with diced pineapple, passion fruit flavoring, and a creamy coconut milk base. This tasty drink tastes similar to a pina colada but without any rum. The pineapple and passion fruit are the standout flavors in this highly popular drink.
| | |
| --- | --- |
| Calories: | 140 |
| Sugar: | 23 g |
| Caffeine: | 45 mg |
3. The Famous Pink Drink
The super popular Starbucks Pink Drink started out as a secret menu item. But it became so popular that Starbucks decided to add it to its regular menu. This sweet, creamy drink mixes the flavors of strawberry and acai, with a hint of passionfruit. It has a coconut milk base to create a taste that is unbeatable!
| | |
| --- | --- |
| Calories: | 140 |
| Sugar: | 25 g |
| Caffeine: | 45 mg |
4. Strawberry Acai Lemonade
This delicious drink combines the flavors of strawberry lemonade with acai and passion fruit. This makes for one tasty tart and fruity drink! The addition of lemonade boosts the caloric and sugar content of this drink, so if that's a concern, then skip the lemonade addition and go for the regular version of the Strawberry Acai Refresher.
| | |
| --- | --- |
| Calories: | 140 |
| Sugar: | 32 g |
| Caffeine: | 45 mg |
5. Mango Dragon Fruit Refresher
This bright magenta-pink refresher is like the lighter version of the Dragon Drink. It has the same ingredients—freeze-dried dragon fruit, mango flavoring, and ice—but it doesn't include coconut milk. This creates a fruitier taste with fewer calories. If you shake this refresher with ice right before enjoying it, it makes a nice layer of foam on top of the drink for the first couple of sips.
| | |
| --- | --- |
| Calories: | 90 |
| Sugar: | 19 g |
| Caffeine: | 45 mg |
6. Rose Gold Refresher (Secret Menu Item)
This delicious secret menu item uses the Mango Dragon Fruit Drink as a base with several customizations added to it. When ordering this drink, you'll want to ask for no inclusions and no water. Add you'll want to add one pump of raspberry syrup and one pump of vanilla syrup with peach juice. The end result is a rose gold-colored drink that looks fantastic and tastes fantastic!
7. Starbucks Violet Drink
The refreshing Violet Drink brings together the flavors of tart hibiscus with sweet blackberries swirled together in creamy coconut milk and ice base. This violet-colored Refresher is as pretty as it is tasty and definitely a great choice on a hot summer's day.
| | |
| --- | --- |
| Calories: | 110 |
| Sugar: | 18 g |
| Caffeine: | 45 mg |
8. Matcha Pink Drink (Secret Menu Item)
This tasty creation is customized from the basic Starbucks Pink Drink. To order this drink, simply request that the barista add a scoop of matcha blended into vanilla sweet cream cold foam. Or alternatively, you can ask for the addition of matcha coconut milk on the bottom of the drink and this will create a pretty ombre hue.
9. Kiwi Starfruit Refresher
Starfruit and kiwi juice and real freeze-dried kiwi fruit pieces are shaken together with ice to create this deliciously refreshing Starbucks order. This is a light refresher with a bright, tropical taste that everybody loves!
| | |
| --- | --- |
| Calories: | 90 |
| Sugar: | 19 g |
| Caffeine: | 45mg |
10. Starbucks Star Drink
Last but definitely not least, is the delicious Star Drink. This creamy and fruity beverage combines Starfruit- and kiwi-flavored juice with coconut milk and ice to create a drink you will want to sip on all day long.
| | |
| --- | --- |
| Calories: | 130 |
| Sugar: | 23 g |
| Caffeine: | 45mg |
I hope you love this list of The Best Starbucks Refreshers as much as I do. And if you want to see more of my food and drink adventures, follow me on Instagram or Facebook.
If you want to explore some decaf Starbucks options, check out my list of THE BEST DECAF STARBUCKS DRINKS.
And if you want some inspiration for kid-friendly Starbucks orders, check out our list of THE BEST STARBUCKS DRINKS FOR KIDS.