A list of The Best Starbucks Drinks For Kids and all the advice on ordering a delicious drink for your little one. There are lots of tasty caffeine-free options your children will love!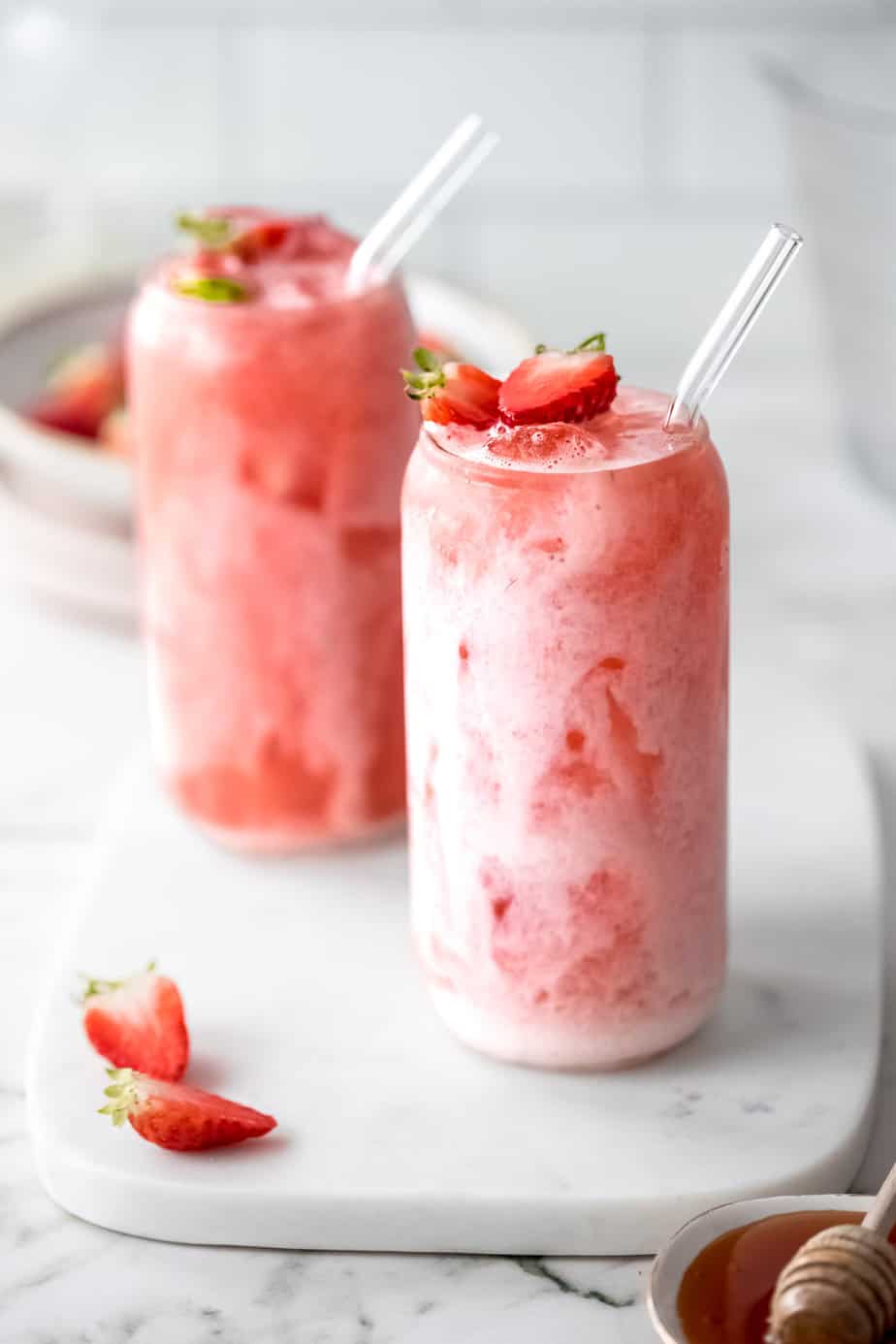 Jump to:
Child-Friendly Starbucks Drinks
Everybody loves a trip to Starbucks! But parents are understandably hesitant to give their children beverages filled with caffeine, sugar, and any other energy-spiking substances.
So you may think Starbucks is a no-go. But Starbucks actually offers lots of different hot and cold drink options for your little ones to enjoy.
Some of these drinks are classic favorites that you can easily modify to be more child-friendly. And there are also "secret" menu items or simple mixes that are child-friendly and child-approved!
Does Starbucks have a kids' menu?
No, there's no specific section of the menu for kids or a seperate kids' menu at Starbucks. But they still offer plenty of kid-friendly drinks.
If you're not sure if a drink contains caffeine or you have allergey concerns, ask your barista.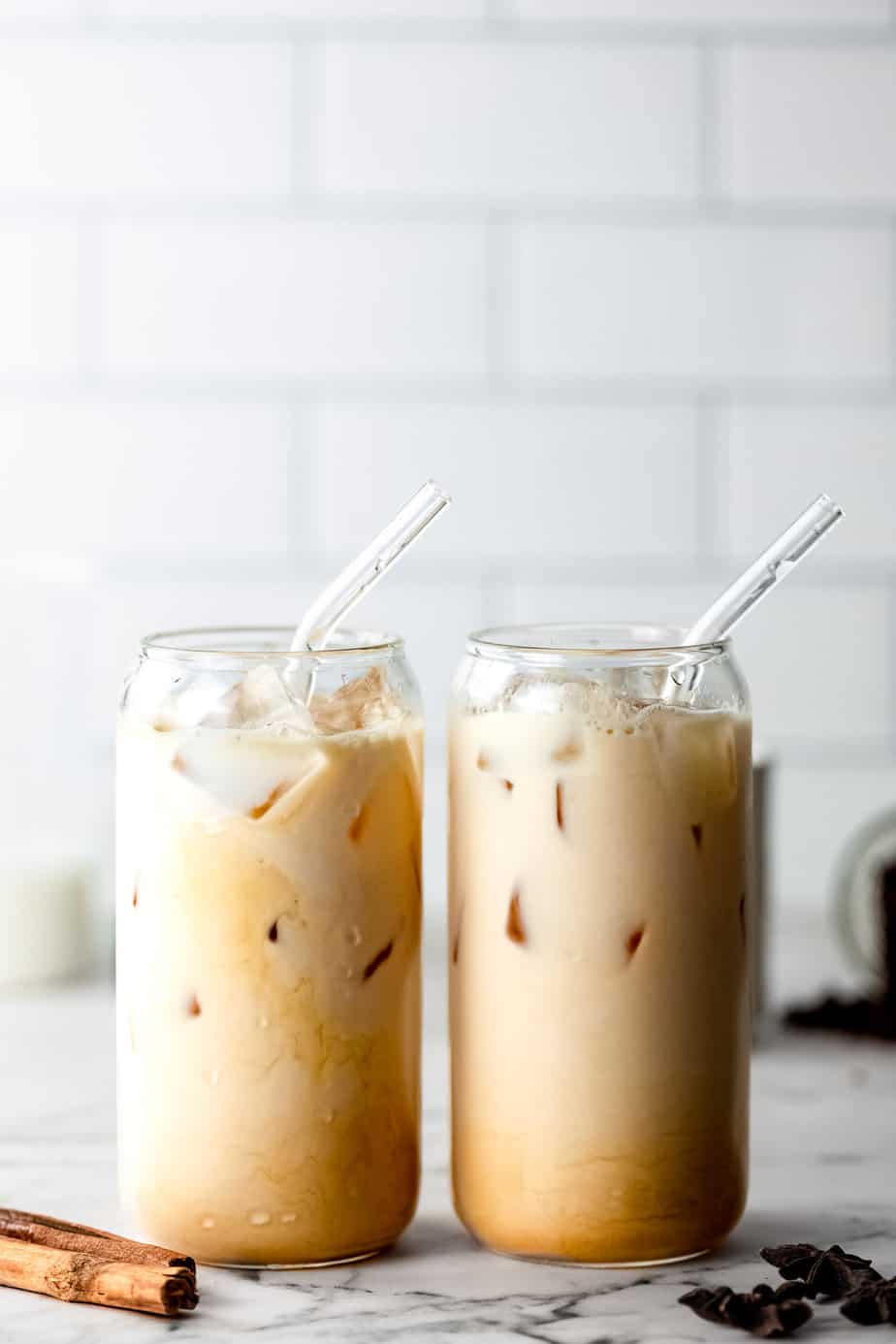 Tips for Ordering at Starbucks for Kids
Kid's drink sizes
When it comes to choosing the right size drink for your kid, we recommend the smallest drink sizes which are short (8 ounces) for hot drinks and tall (12 ounces) for cold drinks. And these are the cup sizes you'll get if you order a kid's drink size and any drink can be ordered in kid size.
Kid's drink temperature
You can request any hot drink to be for a kid and Starbucks will then adjust the temperature of the drink. When you order any hot drinks for kids, ask them to make it "kid's temperature" and they will heat the beverage to 130°F instead of the normal 160°F.
Adjust the sweetness
If you want to lessen the sugar content of a Starbucks drink for your kid, you can ask for fewer pumps of syrup or "half syrup". Many drinks come with more than one pump of flavored syrup and you can easily adjust this when ordering that drink.
Refreshers & chocolate drinks contain some caffeine
Starbucks Refreshers are made with green coffee extract. So each Refresher contains about 35 mg of caffeine in each tall drink. And it is also worth noting that some chocolate-based drinks also contain small amounts of caffeine. For example, a kid's hot chocolate has 15 mg of caffeine in it.
We have a post all about Starbucks Refreshers if you want to learn more about these delicious iced, fruity drinks!
Prepackaged Drinks in Cups
You can get one of the to-go boxed or bottled juices or drinks in a cup. When ordering, simply ask for a cold cup to pour it in so your child gets a Starbucks cup of their own. You can also ask your barista to shake the boxed drink over ice.
Splitting drinks
The staff at Starbucks aren't allowed to split drinks for you but you are able to do it yourself. You can request an empty cup so you can split it yourself.
Allergy Concerns
If your child has any allergy concerns you can ask the barista for an ingredients list for the syrups, milk, or any other additions. You can also inform your barista of the allergy so they can do their best to limit any cross-contamination. Starbucks offers the following milk alternative options: coconut milk, soy milk, oat milk, and almond milk.
10 Best Starbucks Drinks For Kids
In the list below, we look at some of the most popular Starbucks Drinks For Kids! They are all caffeine-free, gluten-free, and low in sugar. Remember you can also tailor these drinks to your exact preferences by swapping out the type of milk, adjusting the amount of sweetness, and excluding/including certain ingredients.
1. Starbucks Steamers
A Vanilla Steamer is a classic warm drink choice for kids at a coffee shop. When you are ordering one at Starbucks, simply ask for steamed milk with one or two pumps of syrup and your little one is sure to love it. Starbucks can make steamers with any of their flavored syrup and you can swap out the 2% milk for coconut milk, oat milk, or almond milk.
2. Frozen Hot Chocolate
Frozen hot chocolate at Starbucks is simply a Mocha Frappuccino without the coffee. So when ordering one, be sure to request that there be no Coffee Frappuccino Syrup in your Mocha Frapp. This cold, sweet, creamy chocolate-flavored beverage is topped with whipped cream and always goes down a treat!
3. Water with Strawberry Inclusions
This is the perfect drink for when your child is thirsty but you don't want to spike their sugar levels. It is tall iced water with strawberry inclusions (which are freeze-dried strawberries) and it is deliciously hydrating and refreshing. And it looks just like a yummy grown-up drink too!
4. Orange Mango Smoothie
A smoothie may not be your first thought when ordering at Starbucks, but their orange mango smoothie is a great drink option for kids. It is cold and sweet and made from a blended banana, two scoops of protein powder, a splash of 2% milk, and orange mango puree. This delicious drink is a healthier order making it a favorite for parents and kids alike.
5. Starbucks White Hot Chocolate
This is a great completely caffeine-free hot chocolate option for your kids! At Starbucks, it is made with white chocolate sauce, steamed milk, and whipped cream. The kids' drink size (8 ounces) has 2 pumps of white chocolate mocha sauce but you can always ask for less.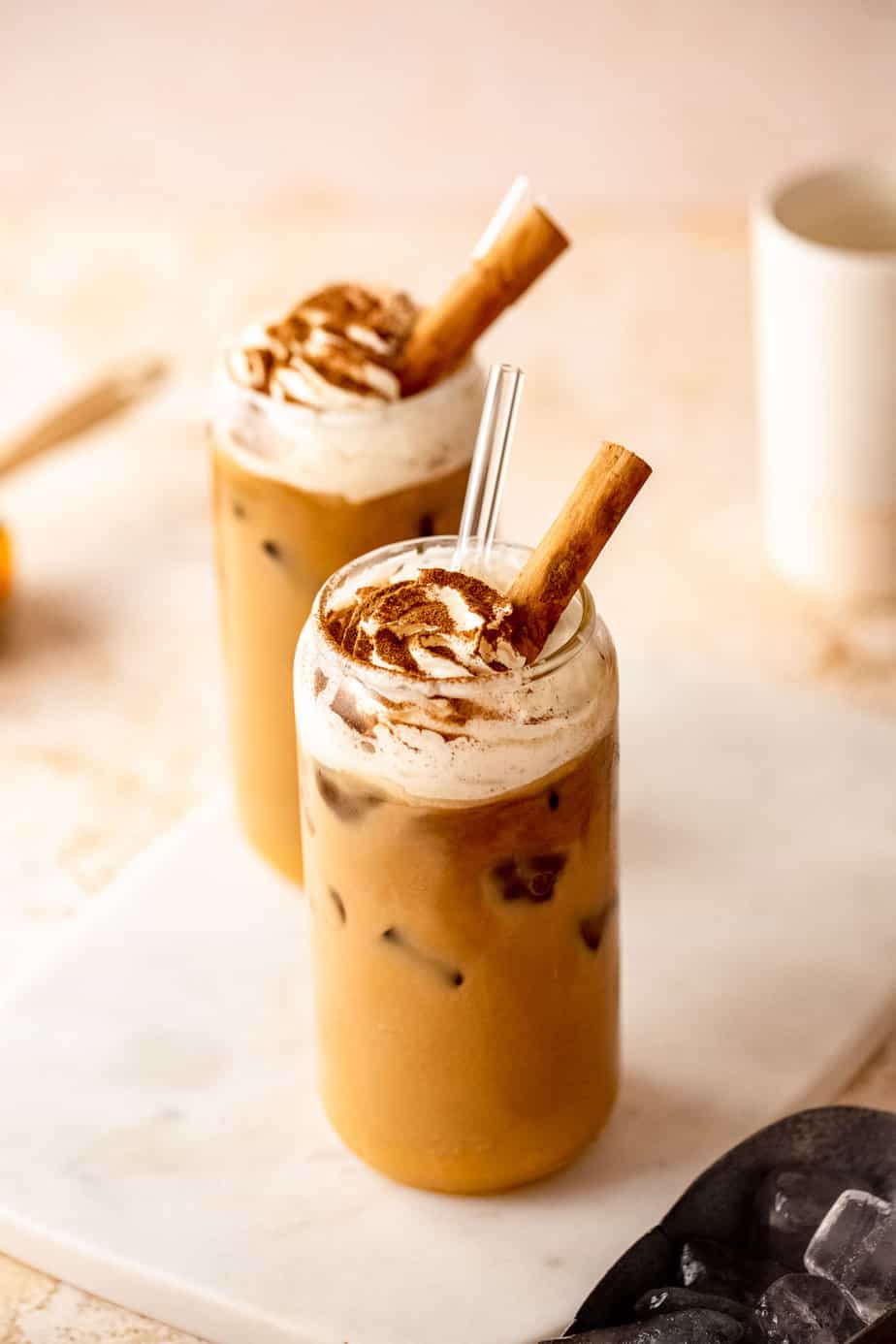 6. Starbucks Pumpkin Spice Créme
Everyone loves a cozy drink during the Fall. And Starbucks has a perfect child-friendly option available - the Pumpkin Spice Creme! It is made of 2% milk, pumpkin sauce, pumpkin spice topping, and whipped cream. It's like a sweet, creamy PSL with no caffeine for your lil one!
We have a delicious ICED PUMPKIN SPICE CHAI LATTE recipe on the blog that is a must-try!
7. Blended Strawberry Lemonade
Starbucks Blended Lemonades are an iced, slushie summertime staple. Their Blended Strawberry Lemonade takes the refreshment factor to the next level with zesty strawberry purée and creme frappuccino syrup. So if you are looking for a tasty cool-down for your kid, this drink is always a winner!
8. The Purple Drink
The purple drink is a favorite amongst children and teenagers. This violet-colored drink contains passion iced tea with milk, blackberries, blueberries, and vanilla syrup. It's super refreshing and flavorful, and contains some healthy ingredients which is always a plus! It is a perfect kid-friendly option on the menu on a hot summer day.
9. Caramel Apple Spice
Another delicious Fall-inspired kid's drink from Starbucks is their Caramel Apple Spice drink. It is a hot blended juice drink with steamed apple juice and Cinnamon Dolce Syrup, topped with whipped cream and a caramel drizzle. Looks like Fall and tastes like Fall and every kid seems to love it!
10. Iced Mint Majesty Tea with Fruit Inclusions
Mint Majesty Tea from Starbucks is a refreshing caffeine-free herbal tea with mint and lemon verbena. Served over ice, this drink makes a tasty and healthy option for kids that is naturally allergy-free. And by adding freeze-dried fruit it give it a fun touch!
Want to learn more about ordering tea from Starbucks? Check out our post all about the TYPES OF TEA AVAILABLE AT STARBUCKS!
I hope you enjoyed this list of The Best Starbucks Drinks For Kids. And if you want to see more of my delicious food adventures, follow me on Instagram or Facebook!
If you are looking for more decaf Starbucks order inspiration, check out our list of THE BEST DECAF STARBUCKS DRINKS!