A list of the best decaf Starbucks drinks for when you want a delicious caffeine-free boost! If you are looking to cut down on your intake or avoid caffeine completely, all these yummy hot and cold beverages don't contain any caffeine.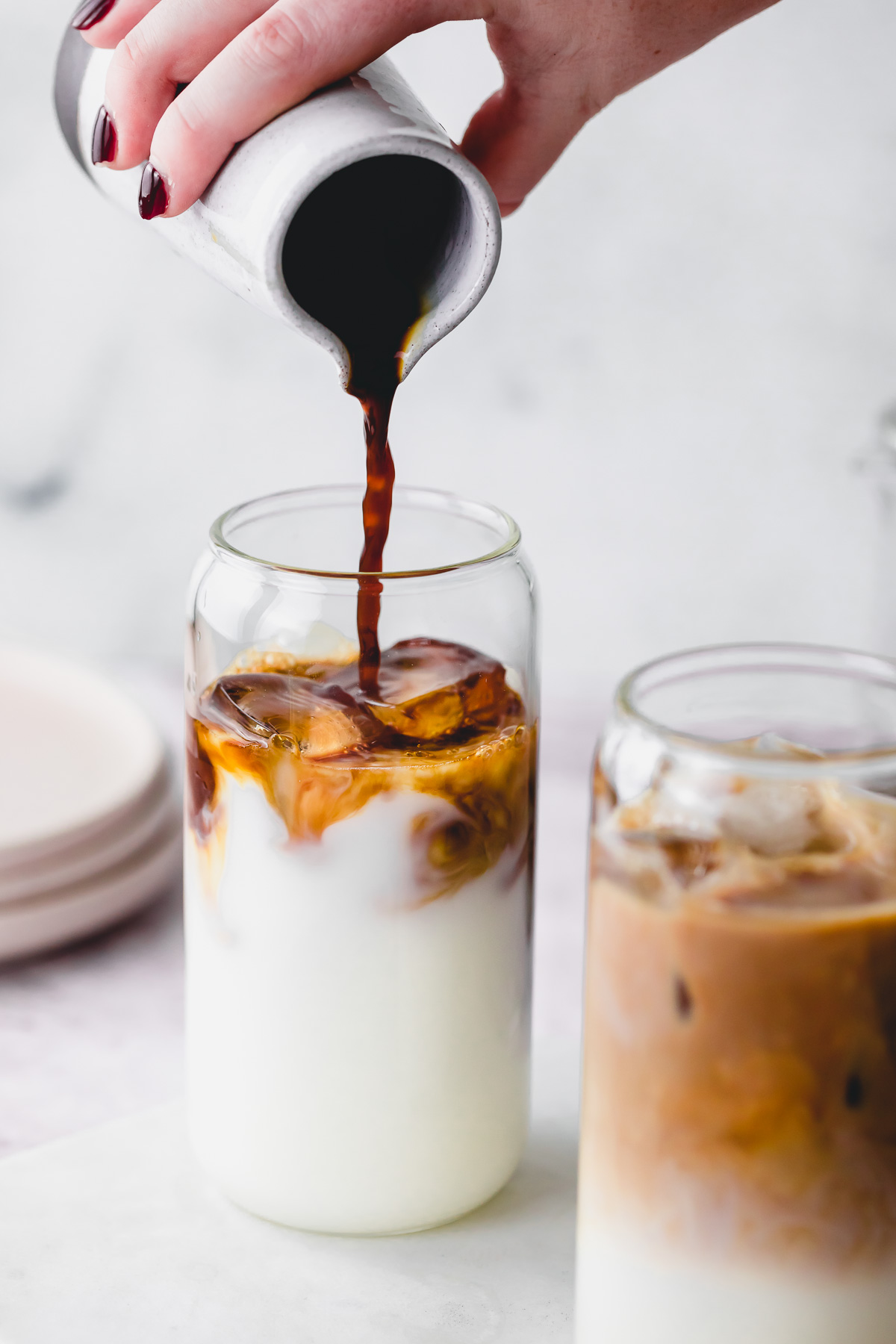 Jump to:
Decaf Options At Starbucks
Starbucks is primarily known as a coffee shop, which means lots and lots of caffeine. But there are actually many delicious decaf drink options available on their menu. And on their secret menu of course!
So if you are avoiding caffeine, which is a powerful stimulant, you can still enjoy a trip to Starbucks and have many drink options to choose from.
These drinks share many of the same ingredients and all the delightful flavors that you know and love from Starbucks but without any caffeine.
There are Decaf Starbucks Drinks available at all times of the day and across their whole menu.
From decaf coffees to caffeine-free teas, hot or cold, creamy or dairy-free, the options are endless!
Looking for a decaf Starbucks recipe to make at home? Check out my Decaf Cold Brew Iced Coffee recipe.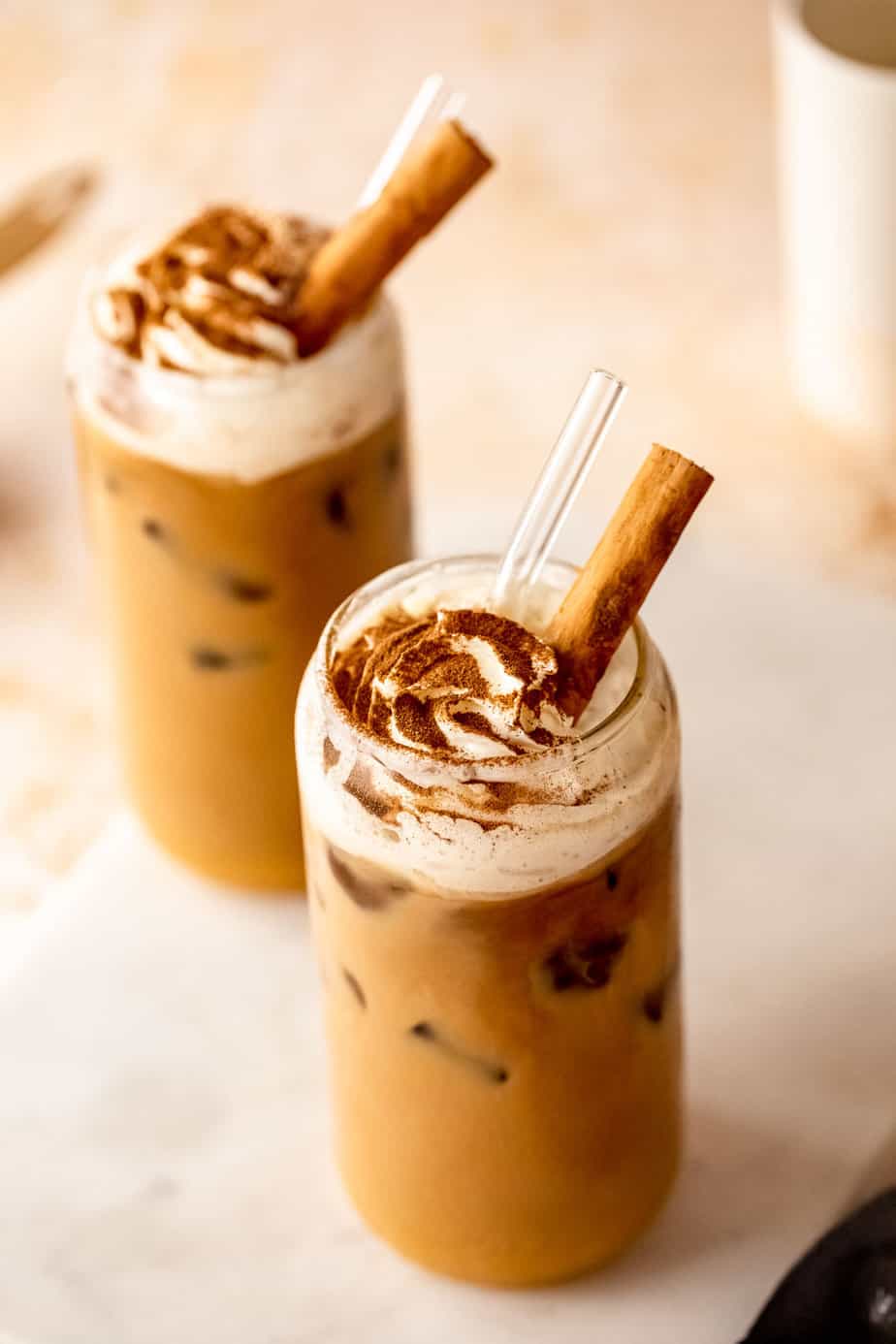 Helpful Tips for Decaf Orders at Starbucks
There are so many delicious beverages available at Starbucks. Looking at their menu can be overwhelming. So here are some helpful tips for navigating your way through all their yummy menu options:
Decaf still has some caffeine content
Although it is very small amounts, it is still worth noting that Starbucks Decaf Espresso and Starbucks Decaf Coffee do contain some caffeine.
There is about 25 mg of caffeine in a grande size decaf coffee and 12 mg in every shot of decaf espresso. So they are technically not 100% free of caffeine. 
Starbucks Refreshers contain caffeine
These popular drinks are made with green coffee extract, which has about 35 mg of caffeine in each tall drink.
\So although they seem like they may be caffeine-free, they are actually off the menu if you are looking for decaf drink options.
Steamers, Herbal Teas, & (most) creme Frappuccinos are caffeine-free
Steamers are like lattes but without any espresso added which makes them decaf. And remember that all the flavor options available for lattes are also available for steamers.
Black tea and green tea contain caffeine, but herbal teas do not. Starbucks has two types of herbal teas you can order: Mint Majesty and Peach Tranquility.
The créme frappuccino options, use a milk base that doesn't have any coffee in it. It is only the chai and matcha Frappuccinos that contain caffeine.
15 Best Decaf Starbucks Drinks on The Menu
1. White Chocolate Creme Frappuccino
Starbucks hot chocolate does contain some caffeine. But white chocolate is completely caffeine free. So try out their White Chocolate Creme Frap for a delicious decaf order. It is a sweet and creamy blend of white chocolate sauce, milk, and whipped cream.
2. Iced Passion Tango
This yummy, refreshing drink is the perfect substitute for ice tea. Iced Passion Tango is a great caffeine-free drink with an energizing herbal blend of hibiscus and lemongrass. It is hand-shaken with ice and lightly sweetened with lemonade.
3. Caramel Brulee Creme Frappuccino
This decadent caffeine-free drink pretty much doubles as a dessert. The indulgent Caramel Brulee Creme Frap from Starbucks is a blend of Caramel Brulee sauce, milk, and ice all topped with whipped cream and crunchy caramel.
4. Blended Strawberry Lemonade
A refreshing lemonade blended with strawberry and ice, this caffeine-free drink is light and sweet and a perfect Summertime pick-me-up.
5. Cinnamon Dolce Crème Steamer
Steamed milk and Cinnamon Dolce syrup are combined to make this sweet and creamy decaf drink. This beverage is topped with whipped cream and Cinnamon Dolce Sprinkles, which are sweet and slightly salty ground cinnamon bits.
6. Comfort Brewed Wellness Tea
A soothing herbal infusion of lemon, ginger, fennel, licorice root, and mint. This is a perfect no-caffeine pick-me-up. You can also ask the barista to top it with frothed milk if desired.
7. Pistachio Crème Frappuccino
This popular, indulgent non-caffeinated drink is made from milk, creme frappuccino syrup, whipped cream, pistachio syrup, and salted brown butter cookie topping. This is then all deliciously blended together with ice.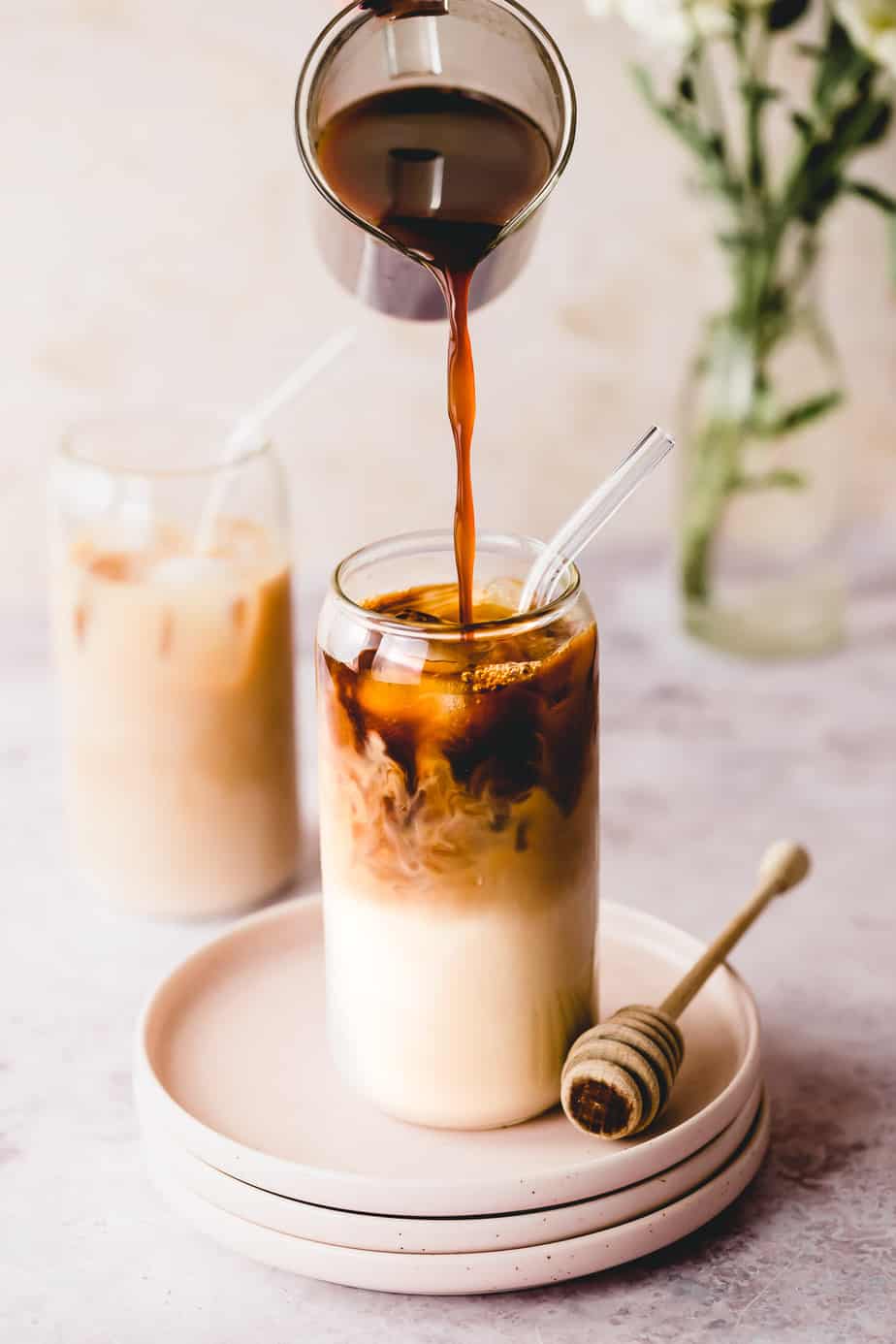 8. Lemonade
Starbucks lemonade is delicious and they have amazing lemonade offerings! Not only can you add a variety of flavors or juices to it, but you can also have it refreshingly frozen for warmer days.
9. Iced Guava Passionfruit Drink
The Iced Guava Passionfruit Drink from Starbucks is a light pink color and is almost too pretty to drink. This yummy non-caffeinated cold beverage is made from guava juice, passion fruit, pineapple, ginger, coconut milk, and ice.
10. Caramel Apple Spice
This yummy Fall-inspired drink is a tasty combination of steamed apple juice, cinnamon syrup, caramel drizzle, and whipped cream. A perfect decaf drink for when the weather starts getting cooler.
11. Decaf Iced Shaken Espresso
The Decaf Iced Shaken Espresso is a great decaf choice if you are looking for a Starbucks decaf drink that is similar to a traditional coffee.  
This tasty drink requires you to shake the decaffeinated espresso with ice to create a smooth and rich coffee. When you shake this drink it adds air to the liquid which gives it more body than a regular espresso.
12. Decaf Espresso Roast
The Decaf Espresso Roast is an excellent Starbucks order for anyone who wants a rich dark coffee without the kick of caffeine.
It is a rich espresso with strong notes of caramel and molasses. Remember to ask your barista for a decaffeinated version so they use decaf beans instead of regular espresso beans.
13. Cinnamon Roll Frappuccino
This delicious menu item has no caffeine and is like having dessert as a drink! Coffee and cinnamon are a perfect match, and the Starbucks Cinnamon Roll Frappuccino celebrates this.
The base of this beverage is a vanilla bean Frappuccino, which is then flavored with cinnamon dolce syrup and white mocha syrup. A sprinkle of cinnamon dolce sprinkles finishes off this perfect decaf drink.
14. Strawberry Crème Frappuccino
This Decaf Starbucks Drink is perfect for when you want something sweet, fruity, creamy, and completely caffeine-free.
It's made with blended milk, ice, and strawberry puree which is then topped with a dollop of whipped cream. If you want a dairy-free version, simply order it with your preferred non-dairy milk and ask for it without the whipped cream.
15. Decaf Flat White
A classic coffee order, but just decaf! Baristas make a decaf flat white by mixing decaf espresso with microform. Microfoam is steamed milk, similar to the milk in a latte or a mocha.
However, the microform has a smaller volume, so the final product is not as airy and has a smoother, rich texture. A flat white emphasizes the coffee rather than the milk and is a great way to enjoy decaf coffee.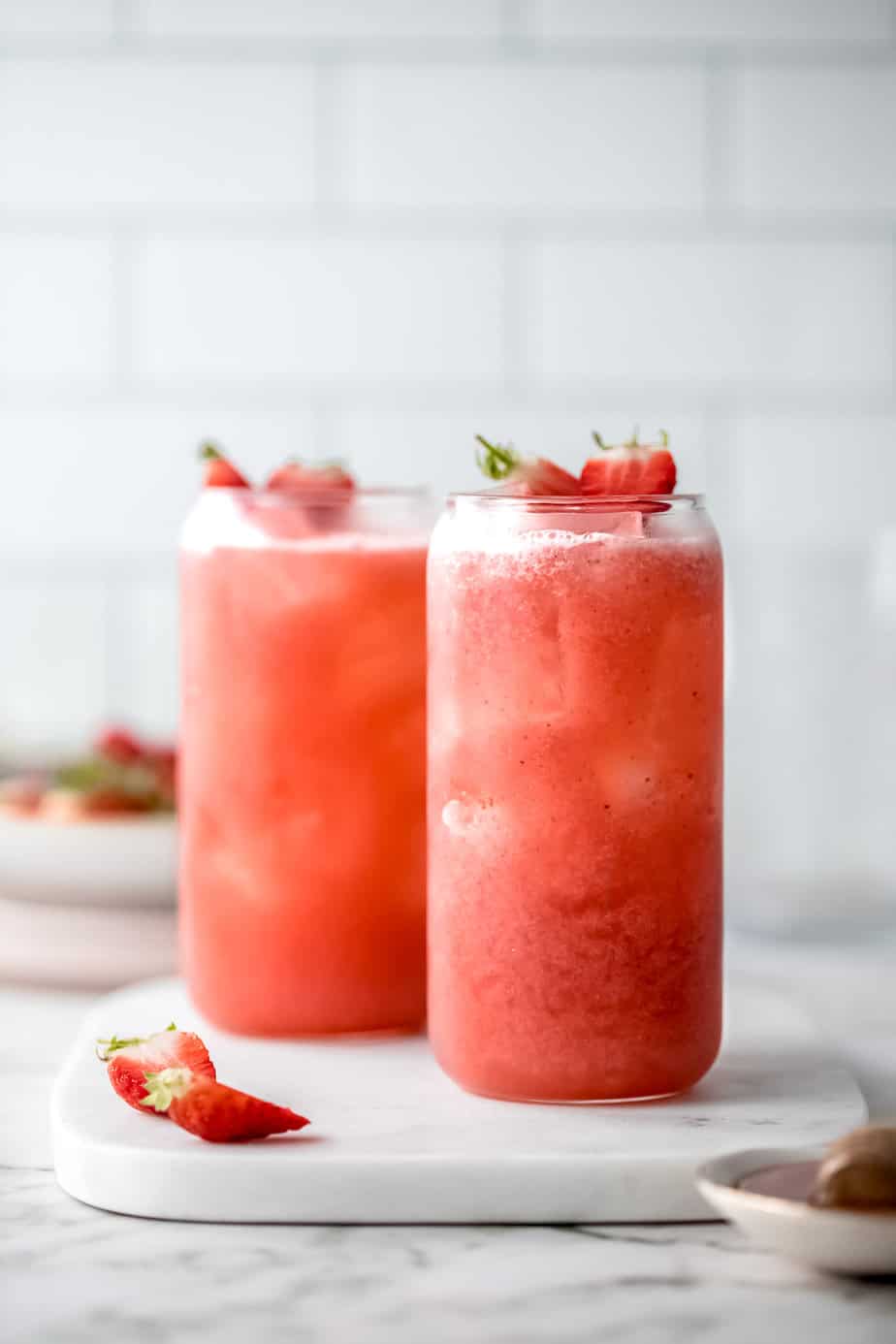 Some Caffeine-Free Secret Menu Orders
Iced Strawberry Milk. Starbucks carries both strawberry puree and milk, so you can order them shaken together with ice to make a customized decaf drink that's not on the regular menu.
Water with Strawberry Inclusions. This is a great option to take your hydration up a level. Simply ask for strawberry inclusions, which are freeze-fried strawberries, to be added to your water for some refreshing strawberry-flavored water.
Iced Apple Juice. Steamed apple juice is on Starbucks menu but not cold apple juice. But you can easily order it with ice.
Flavored milk. You can make any flavored milk using any of the syrups Starbucks has on offer for their other drinks. You can ask for this simple drink hot or iced.
A Homemade Starbucks Decaf Cold Brew Recipe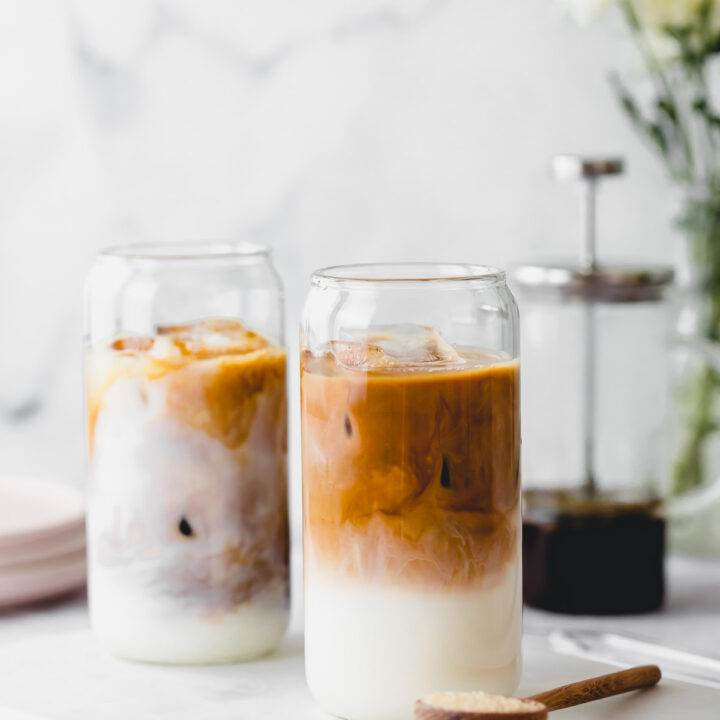 Decaf Cold Brew Iced Coffee
Make a homemade Decaf Cold Brew Iced Coffee that tastes just as good as Starbucks. Easy to make, decaf, & delicious - this will be your new favorite drink to sip on all day!
Ingredients
1 cup decaf cold brew coffee (see notes for recipe)
½ cup milk (dairy or non-dairy)
1 tablespoon sugar/maple syrup/honey/agave syrup (optional)
Ice cubes
Instructions
Fill a serving glass with ice cubes and add the cold brew.
Add any sweetener if desired and then top with milk of choice.
Gently stir and taste and make any desired adjustments.
Enjoy immediately as is or add your favorite coffee topping!
Notes
How to make Decaf Cold Brew Coffee
To make homemade decaf cold brew you will need:
1 cup of finely ground decaf coffee (use your favorite kind, the better the quality the better the end result)
4 cups of filtered water
Then just follow these three easy steps to make your own cold brew:
STEP ONE - Place the coffee grounds in a large jar and gently pour the water over the coffee grounds. Stir the mixture carefully to ensure all the coffee grounds are wet.
STEP TWO - Close the jar and place it on a countertop overnight. Ideally, you want it to sit for about 14-24 hours. The longer you leave it, the stronger the coffee will be so it depends on your own taste.
STEP THREE - Use a fine-meshed bag, paper coffee filter, or nut milk bag to strain the brewed coffee. You can do it more than once to ensure that there aren't any granules left. Pour the mixture back into the jar and store it in the refrigerator for up to a week.
Some More Homemade Decaf Drink Recipes
I hope you enjoyed this list of The Best Decaf Starbucks Drinks. And if you want to see more of my delicious food adventures, follow me on Instagram or Facebook!