Nothing beats a delicious strawberry sheet cake recipe with fresh strawberry buttercream. This strawberry sheet cake recipe is made without jello in 5 easy steps.
How to make an Easy Strawberry Sheet Cake without jello:
Most strawberry sheet cake recipes tend to use jello as the strawberry flavoring but I prefer using real fresh strawberries to get that authentic flavor. In order to do this all you need is a bunch of strawberries and a blender. I make sure to puree the strawberries as much as possible before adding them to the cake. You could either strain the puree to get a smoother texture or simply add it as is. I like the little extra texture it adds to my strawberry sheet cake.
How to make strawberry puree from scratch:
To make strawberry puree from scratch simply place either thawed frozen strawberries or fresh strawberries in a blender and blend until smooth. That's it! For this easy strawberry sheet cake recipe you can also use store bought strawberry puree, but fresh just tastes so much better. Plus, it's so incredibly easy to make strawberry puree from scratch.
How to make fresh strawberry buttercream:
Making fresh strawberry buttercream from scratch is much easier than you think. All you need is a little strawberry puree, butter, powdered sugar, vanilla extract for extra flavor and a pinch of salt. Start by creaming the butter until light and fluffy, if you think it's ready give it a few extra minutes. Trust me it makes a world of difference in terms of texture. Once the butter is good to go, add the remaining ingredients and continue to beat the fresh strawberry buttercream. You can always add more strawberry puree if you would like a thinner consistency and a stronger flavor, it's totally up to you. Once your cake has cooled, top your cake with this delicious fresh buttercream recipe and garnish with extra strawberries.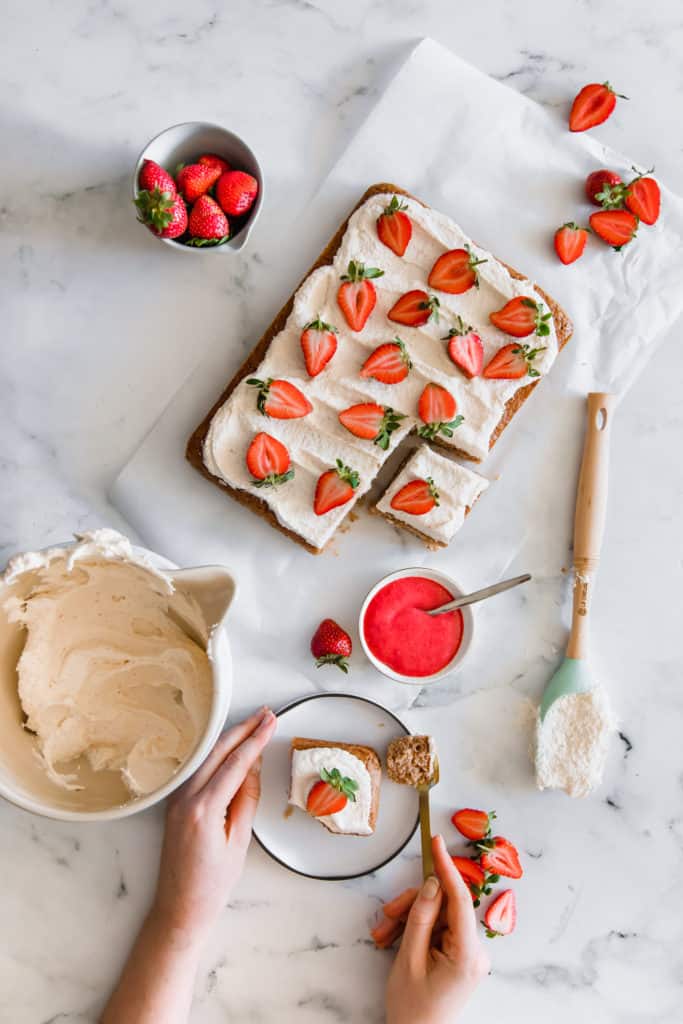 Strawberry sheet cake ingredient substitutions:
Flour - For a gluten-free sheet cake, substitute the cake flour for 1:1 gluten-free flour. It will still be just as delicious and fluffy.
Sugar - For a sugar free sheet cake, substitute the sugar for xylitol or any other sweetener of choice.
Oil - This cake can also be made using coconut oil. Make sure to melt the coconut oil before measuring to ensure the recipe is accurately executed.
How do you get a cake out of a pan without sticking:
To make sure that the cake does not stick to the pan I always line my cake tin or baking sheets with parchment paper and spray it with non-stick spray. This will ensure that there is no way the cake can stick to the pan. Another trick is to ensure that the cake is completely cooled before removing the cake from the pan.
How long should a cake cool before removing from pan:
Generally, I leave my cakes to cool for a minimum of 30 minutes before trying to remove them from the cake pan. A good way to make sure the cake is cooled enough to remove, is to feel the bottom of the pan. It should no longer be hot to the touch. Once you have removed the cake from the pan, give the cake another 20-30 minutes before frosting.
More easy strawberry recipes:
Easy Strawberry Sheet Cake
Ingredients
For the Strawberry Sheet Cake:
2 ¾ cups flour
2 ½ tsp baking powder
½ tsp baking soda
1 pinch salt
¾ cup oil
1 ¾ cup sugar
4 eggs
1 ½ cups fresh strawberry puree
1 tbsp vanilla essence
For the Strawberry Buttercream Frosting:
1 cup butter room temperature
2 cups icing sugar sifted
1 tsp vanilla essence
1 pinch salt
¼ cup fresh strawberry puree
¾ cup halved strawberries for garnish
Strawberry Sheetcake
Ingredients
2 ¾

cups

flour

2 ½

tsp

baking powder

½

tsp

baking soda

1

pinch

salt

¾

cup

oil

1 ¾

cup

sugar

4

eggs

1 ½

cups

fresh strawberry puree

1

tbsp

vanilla essence
Strawberry Buttercream Frosting
1

cup

butter

room temperature

2

cups

icing sugar

sifted

1

tsp

vanilla essence

1

pinch

salt

¼

cup

fresh strawberry puree

¾

cup

halved strawberries

for garnish
Instructions
Preheat oven to 180ºC and grease and line a baking sheet pan.

In a mixing bowl, whisk together the oil, sugar, eggs, vanilla essence, and fresh strawberry puree.

In a separate bowl, mix together the flour, baking powder, baking soda, and salt.

Fold this flour mixture into the egg mixture until just combined.

Pour into the prepared pan and bake for 35 - 45 minutes.
Strawberry Buttercream Frosting
In a mixing bowl, cream the butter until light and fluffy.

Add the icing sugar, vanilla essence, salt, and strawberry puree and mix well.

Spread over the cooled cake.

Top with fresh strawberries and enjoy!