This refreshing cucumber gin mojito is an easy twist on the classic rum mojito. Made with fresh limes and simple syrup, this is the best summer cocktail out there!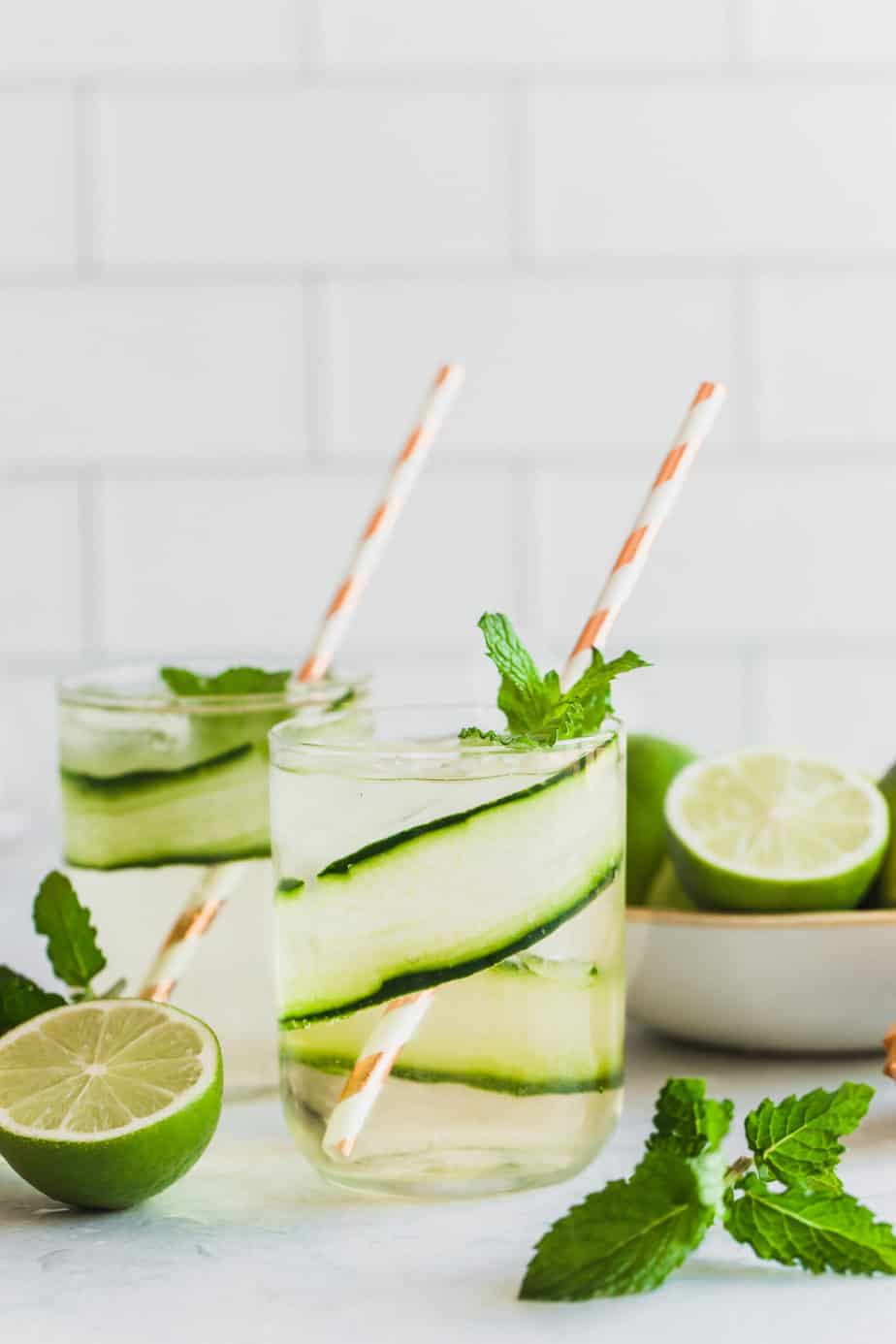 I'm a sucker for a gin cocktail. My Pink Grapefruit Gin Cocktail is still one of my favourite cocktail recipes. My other favorite cocktail is a mojito, I love how refreshing mojitos are. Plus, they are super easy to make. So if you don't have any rum lying around this gin mojito recipe is definitely a winner.
Jump to:
What Is A Gin Mojito?
Gin Mojito's are simply a spin on the classic mojito recipe which is usually made with rum. A standard gin mojito recipe is made with the following ingredients:
Gin - You can use your favorite type of gin. Some of my favorites include Empress Gin and Tanqueray Gin, these are both great options for making cocktails.
Lime Juice - Use freshly squeezed for best results.
Fresh Mint - The essence of any mojito cocktail is the addition of fresh mint. Muddled with sugar or added as a garnish.
Simple Syrup - Made with equal parts sugar and water, simple syrup is the little dash of sweetness that makes a mojito so delicious.
Soda Water - Gin mojitos are topped off with soda water but for extra sweetness use lemonade or Sprite instead.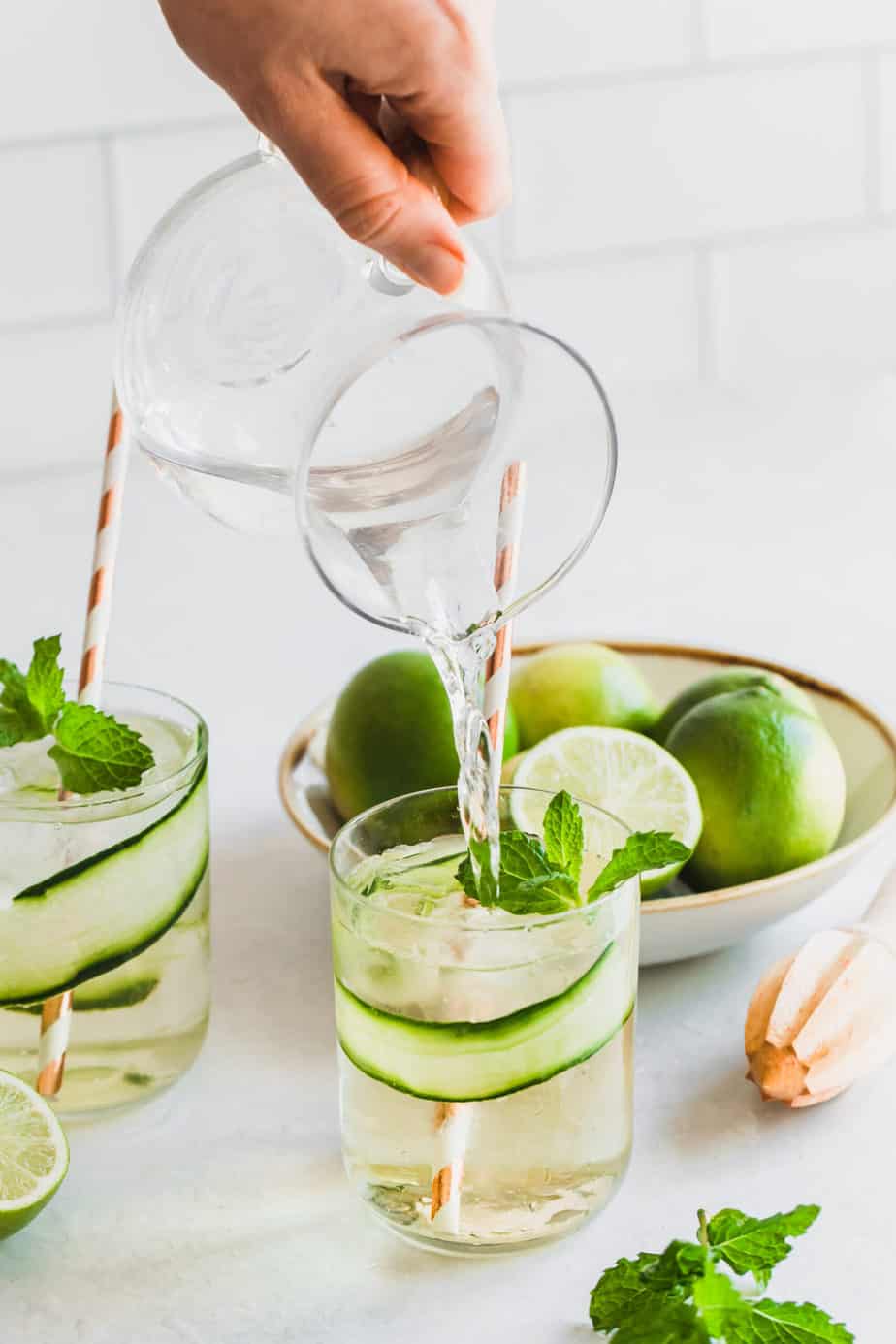 How To Make A Cucumber Gin Mojito
The best thing about this gin cocktail recipe is that it is incredibly easy to make and only uses a few ingredients.
Step One: In a cocktail shaker, muddle the mint leaves and cucumber.
Step Two: Add the lime juice, simple syrup, gin and ice. Give it a good shake.
Step Three: Fill two glasses with ice and strain the drink into the glasses.
Step Four: Top with soda water and garnish with extra cucumber and mint.
How To Muddle Cucumber In A Mojito
The best option is to use a cocktail muddler, but a spoon does the trick too.
To muddle cucumber, dice up the cucumbers and press firmly. Muddle until the cucumbers are macerated and has released some of its juices. If you want to make it a little easier, muddle the cucumber before adding the mint in. Once cucumbers are muddled, add the mint leaves and muddle just a tiny bit more until the mint has released its fragrant flavor.
Variations
Coconut sugar: I love adding coconut sugar to cocktails, it gives it a completely different flavor.
Lemon juice: Skip the lime juice and add freshly squeezed lemon juice instead.
Lemonade: For extra sweetness, leave the soda water and top this cucumber gin mojito with lemonade or 7up instead.
Basil: Basil is a delicious addition to mojitios. Simply add a few leaves to your cocktail when garnishing for a fragrant twist.
Make it non-alcoholic: Leave the gin out or opt for a non-alcoholic gin for a gin mocktail.
FAQS
Which gin goes with cucumber?
Almost any gin works well with cucumber, gordons dry gin and empress gin are great options for making gin cocktails with cucumber.
Is gin the healthiest alcohol?
Gin is considered one of the healthiest alcohols as it is made with juniper berries and contains herbs that aid in digestion.
Is Sprite good with gin?
Sprite is the perfect mixer for gin. The sweetness from the sprite balances out the dryness from the gin. If you prefer a sweeter gin cocktail, use sprite instead of club soda.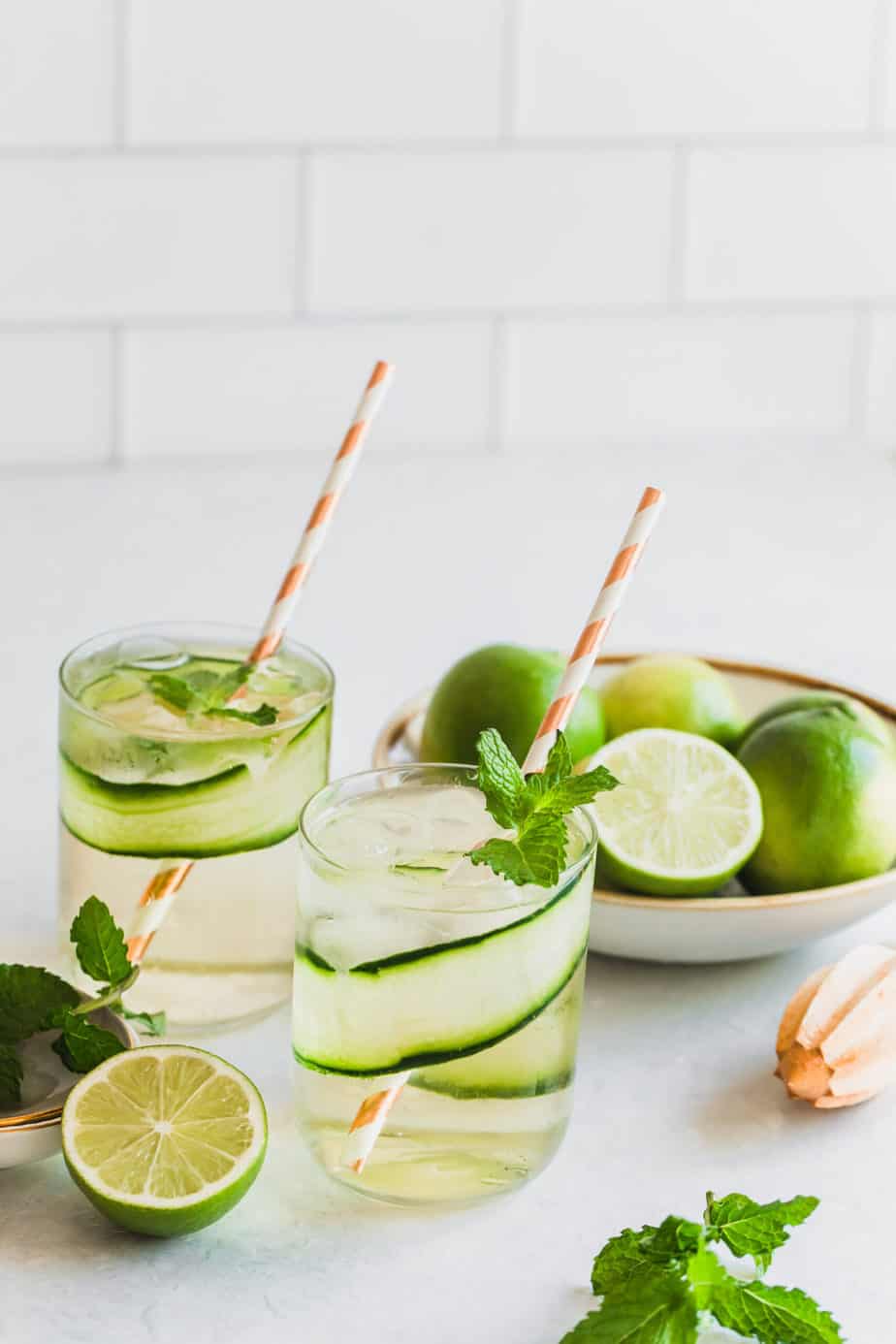 More Gin Cocktails:
Easy Cucumber Gin Mojito
A refreshing twist on a classic mojito recipe. Made with freshly squeezed limes and filled with refreshing mint flavors.
Ingredients
½ cup diced cucumber
Juice from 1 lime
15 mint leaves (more if desired)
50ml simple syrup
4 ounces gin
8 ounces soda water
Extra mint & cucumber (for garnish)
Instructions
Place diced cucumber and mint leaves in a cocktail shaker and muddle.
Add lime juice, simple syrup and gin. Shake well.
Fill two glasses with ice and strain cocktail mixture between the two glasses.
Top with soda water and garnish with fresh mint and thin slices of cucumber.
Notes
*Use a peeler to create thin slices of cucumber for the garnish.
*To make a simple syrup, place equal parts sugar and water in a saucepan and bring to a boil. Allow sugar to dissolve and store in a jar. Allow to cool before using.