If you love a whiskey sour or an Aperol spritz this Aperol Gin Sour cocktail will become your new favorite cocktail! This easy Aperol cocktail can be whipped up in under 5 minutes and is not only beautiful but creamy and delicious.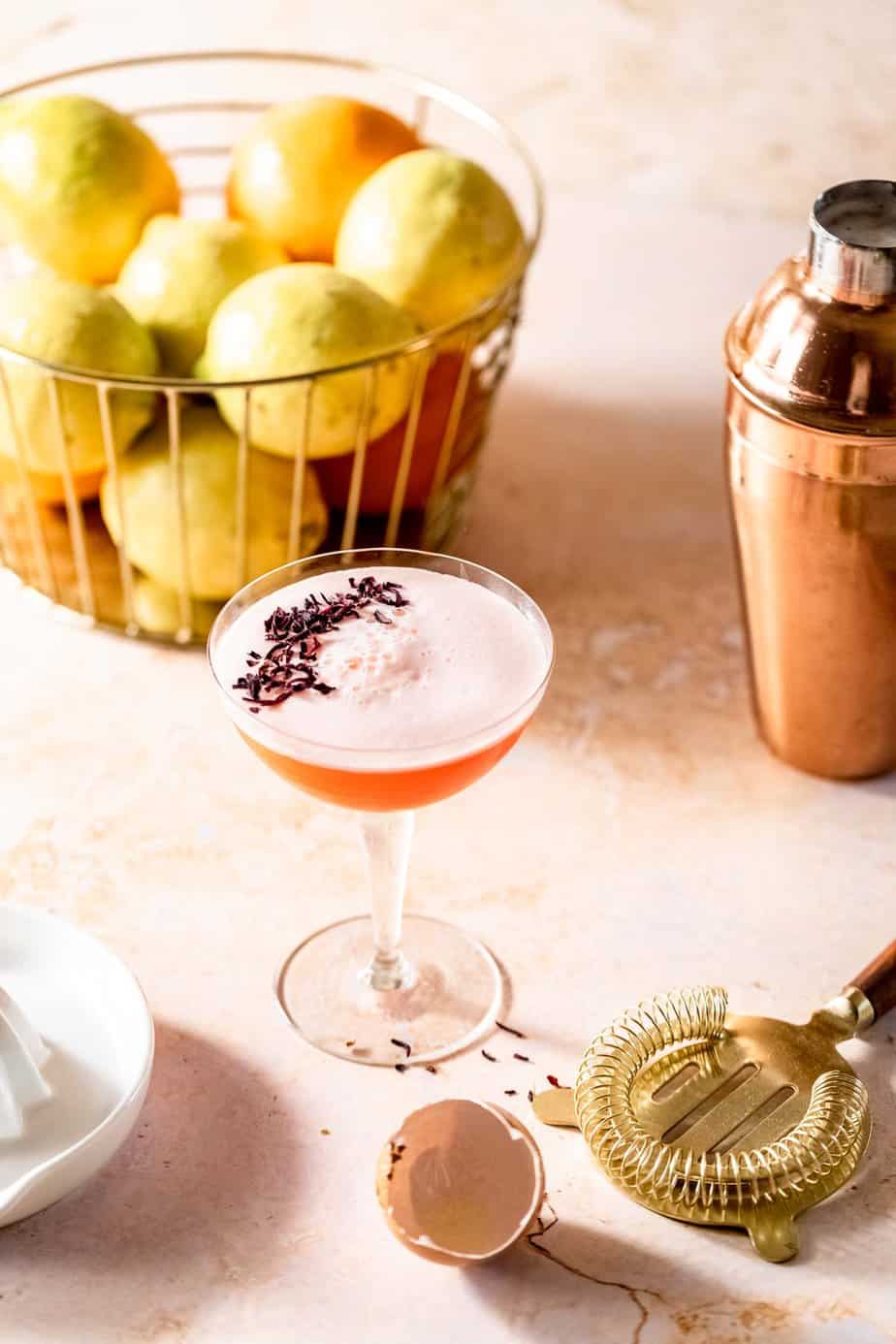 Aperol Gin Sour Cocktail
This dreamy gin cocktail recipe is the perfect cocktail for any time of the year. The combination of sweet and sour flavors and the creamy texture makes this Aperol cocktail the ultimate.
Made with fresh egg white and lemon juice this cocktail is bright and frothy and the ideal cocktail to serve as an aperitif before a meal. Another delicious sour cocktail is our Simple Tequila Sour Cocktail.
I always love trying out new gin cocktail recipes and some of my favorites include my Cucumber Gin Cocktail, Pink Grapefruit Cocktail and of course the all time favorite, Fig and Gin Cocktail.
Aperol sour ingredients
Aperol - This beautiful aperitif is vibrant and delicious and will definitely steal the show.
Gin - Use your favorite gin, anything from Tanquery to Bombay Sapphire.
Lemon Juice - This adds a little zest to the aperol sour cocktail. Use fresh lemon juice for best results.
Egg White - This gives the cocktail its signature frothy and creamy texture. It can be substituted with aquafaba which is the water from chickpeas.
Simple Syrup - Simple syrup is a cocktail staple. Made with sugar and water, it will add a hint of sweetness to any cocktail.
How to make a sour cocktail
Add the egg white to a cocktail shaker and shake until foamy. This normally takes about 30 seconds.
Add the remaining ingredients to the cocktail shaker and fill the cocktail shaker with ice cubes. Shake again until the cocktail is creamy and cold.
Strain into a glass and serve with fresh citrus slices or add dried flowers for extra decoration and flavor.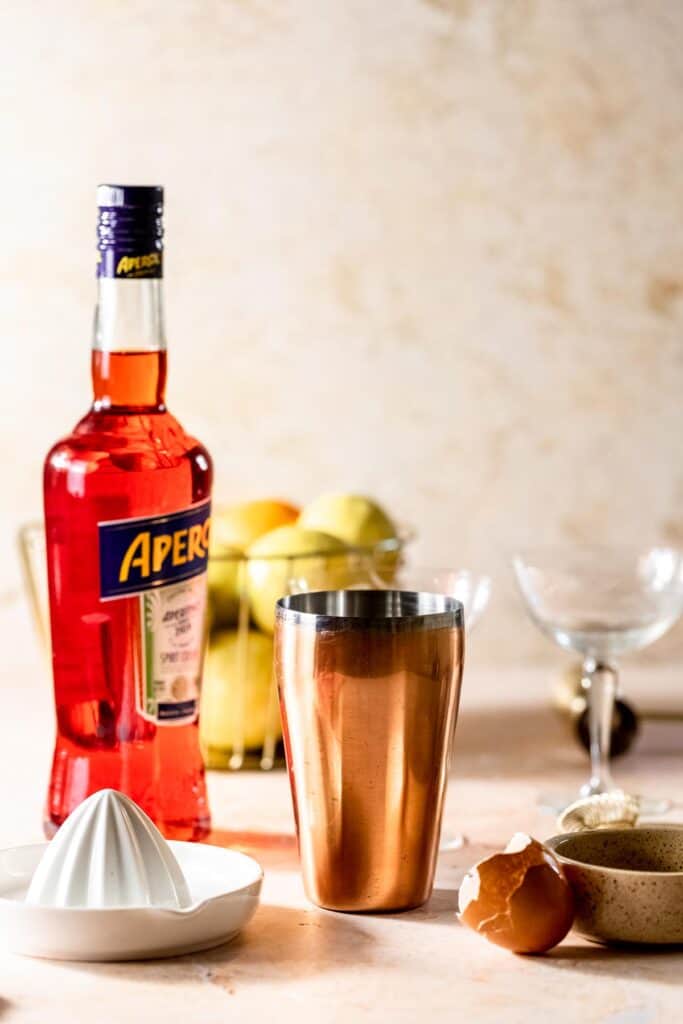 How to dry shake your cocktail
Dry shaking a cocktail refers to shaking your cocktail ingredients without adding the ice first. This creates a smoother texture especially with cocktails made with egg white. Shaking the egg white gives the cocktail a meringue like texture.
What is a sour cocktail?
A sour cocktail refers to any cocktail that is made up of the following three elements.
A liquor base - this could be the gin or the Aperol in this case
A acidic element - Lemon juice or orange juice
Something sweet - Simple syrup, honey, maple syrup etc.
How to make a simple syrup
Simple syrup is one of the key ingredients for most cocktail recipes as it disperses the sweetness evenly no matter what the temperature of the cocktail is.
It is made by cooking equal parts of water and sugar until the mixture is slightly thickened. The recipe for simple syrup is 1:1 for sugar and water.
To Make Simple Syrup For Cocktails:
Add equal parts water and sugar to a small saucepan.
Place the saucepan over medium heat and use a whisk to stir the sugar until dissolved.
Remove from heat and allow too cool. Store in a mason jar.
Expert tips
Chill your cocktail glass
To make the cocktail extra frosty, place your cocktail glasses in the freezer 30 minutes before making the Aperol Gin Sour. This ensures that your cocktail stays super cold and doesn't instantly come to room temperature.
Make the cocktail vegan
Not a fan of the egg white? Turn this Aperol Sour Cocktail into a vegan drink by substituting the egg white for aquafaba.
Aquafaba is the water that is leftover when you strain a can of chickpeas. Use 2 tablespoon of aquafaba instead of one egg white and dry shake just as you would have with the egg white.
Try different garnishes
Mix things up each time you make this gin sour cocktail. Use fresh slices of lemon or oranges or add a sprinkle of dried flowers. Other options that are great included sprigs of thyme or rosemary.
What is Aperol?
This bright orange liqueur has become the new kid on the block. This Italian aperitif has become increasingly popular over the last few years especially in the form of an Aperol Spritz. Although Aperol is sweet, it has a delicious bitter after taste.
Aperol is made from bitter orange, rhubarb, herbs and a few other secret ingredients. It has an alcohol content of 11% and is the perfect summer daytime drink.
What does Aperol taste like?
There is nothing quite like Aperol. It has a sweet taste with bitter notes. The combination of orange and herbs gives this Italian liqueur a complex taste that mixes well with soda water or used as a base for cocktails.
Aperol Gin Sour
An easy refreshing twist on a classic whiskey sour made with an Italian liqueur Aperol.
Ingredients
4 ounces Aperol
2 ounces Gin
2 ounces lemon juice
2 ounces simple syrup
1 egg white
Ice
Dried crushed flowers for garnish
Instructions
In a cocktail shaker, add the egg white and shake for 30 seconds until the egg white is foamy.
Add the ice, lemon juice, Aperol and gin. Shake for another 15 seconds.
Strain into two chilled glasses and garnish with dried crushed flowers or fresh citrus.