This refreshing Tequila Sour recipe, features quality tequila, fresh lime juice, and a touch of sweetness for a perfectly balanced drink. Whether you're a tequila lover or just looking to mix up your cocktail game, this recipe is sure to impress.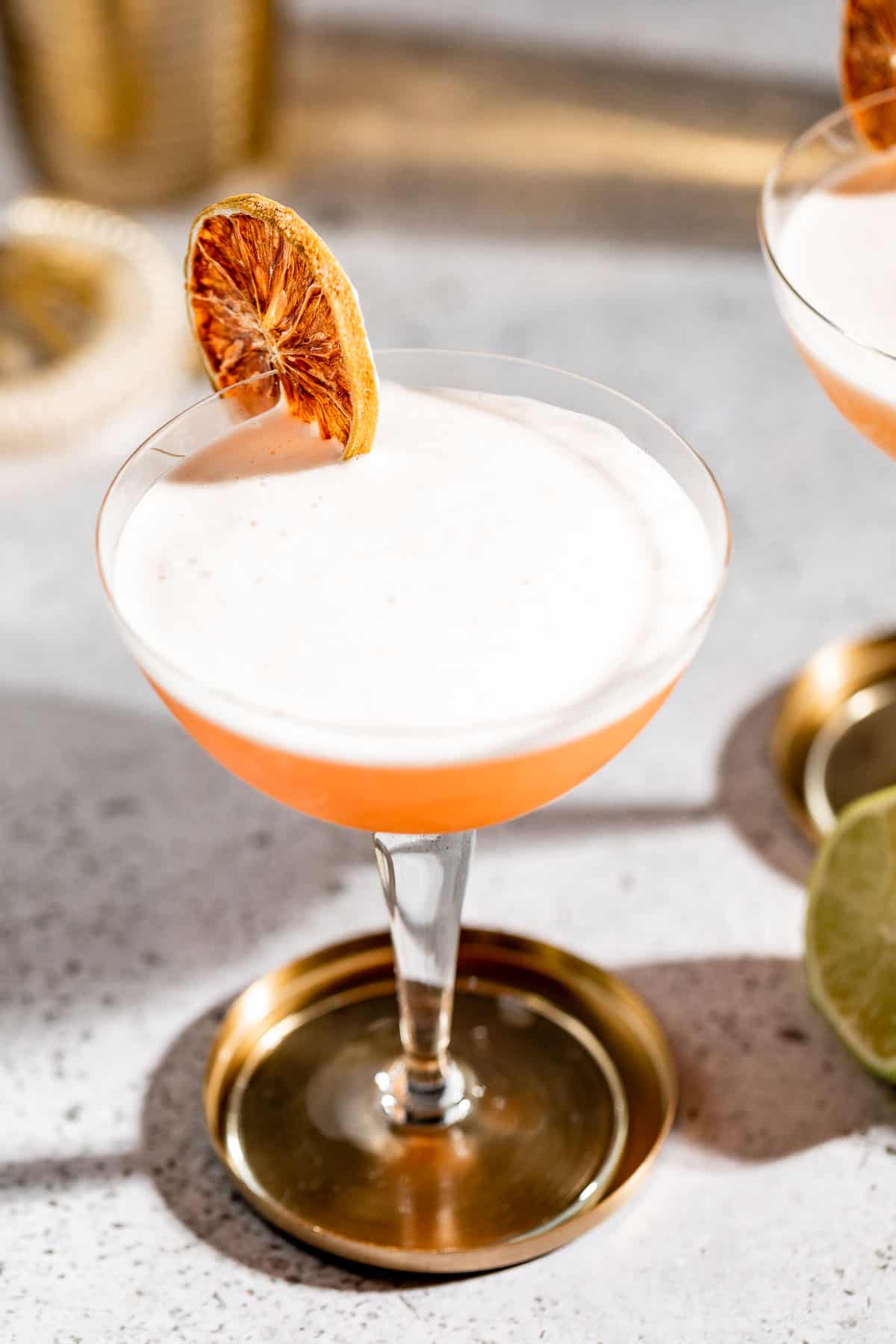 Why You Will Love This Tequila Sour Recipe
If you love a whiskey sour or an Aperol Sour this tequila sour is the next best thing! This classic cocktail has remained a favorite among cocktails lovers. This easy to make sour cocktail only has a few ingredients and is super versatile. It can be made using different types of tequila and can be sweetened to your liking.
The perfect cocktail for a hot summers day. This refreshing tequila sour recipe really celebrates the unique flavour of tequila.
Ingredients
Tequila - Tequila is a distilled spirit made from the blue agave plant, primarily produced in Mexico. It is the main ingredient in the Tequila Sour and provides the cocktail with its distinct flavor and character. Using a high-quality tequila is important for a well-balanced and enjoyable cocktail.
Lime juice - Freshly squeezed lime juice provides the sour component of the Tequila Sour. The acidity of the lime juice helps to balance the sweetness of the simple syrup and the strength of the tequila.
Simple syrup - Simple syrup is a sweetener made by dissolving equal parts sugar and water in a saucepan over low heat. It is used in the Tequila Sour to balance the tartness of the lime juice and the strength of the tequila. It is important to use a high-quality simple syrup to ensure a well-balanced and enjoyable cocktail.
Ice - Ice is an important ingredient in the Tequila Sour, as it helps to chill and dilute the cocktail. Shaking the cocktail with ice also creates a frothy texture that makes the cocktail more enjoyable to drink.
Lime wedge - A lime wedge is often used as a garnish for the Tequila Sour. It can be used to add a pop of color to the cocktail and also to add a bit of extra lime flavor to the drink.
How To Make A Tequila Sour
In a cocktail shaker, combine the tequila, lime juice, and simple syrup.
Fill the shaker with ice and shake vigorously for about 10-15 seconds.
Strain the mixture into a glass filled with ice.
Garnish with a lime wedge if desired.
Enjoy your Tequila Sour!
How To Dry Shake
Dry shaking a cocktail is a technique used to create a frothy, creamy texture in cocktails that contain egg white, cream, or other similar ingredients.
Why Is Dry Shaking Important:
Creates a frothy texture: By shaking the cocktail without ice, the egg white, cream, or other ingredients emulsify and create a frothy, creamy texture in the drink. This is particularly important in cocktails such as a Whiskey Sour, Pisco Sour, or Ramos Gin Fizz, which are known for their light, frothy texture.
Improves flavor: Dry shaking can also improve the flavor of the cocktail by breaking down the ingredients and creating a smoother, more well-rounded flavor profile. The emulsification process can help to combine the flavors of the ingredients more thoroughly, resulting in a more harmonious taste.
Enhances presentation: The frothy texture created by dry shaking can also enhance the presentation of the cocktail. A well-executed dry shake can result in a cocktail with a beautiful foam on top, making the drink more visually appealing and appetizing.
How to dry shake a cocktail:
Add all the ingredients to a cocktail shaker, including the egg white or cream.
Shake the shaker without ice for about 10-15 seconds. This will help to emulsify the ingredients and create a creamy texture in the cocktail.
Open the shaker and add ice. Make sure to fill the shaker about two-thirds full of ice.
Shake the cocktail with the ice for another 10-15 seconds, or until the outside of the shaker becomes frosty.
Strain the cocktail into a chilled glass, using a fine-mesh strainer to remove any bits of ice or foam
Best Tequila To Use
Blanco (Silver) tequila
This is a clear, unaged tequila that has a fresh and crisp taste. It is a popular choice for Tequila Sours because it allows the flavor of the tequila to shine through without any interference from barrel aging.
Reposado (Aged) tequila
This is a tequila that has been aged in oak barrels for a few months to a year. It has a smoother taste and a golden color, with notes of vanilla and caramel.
Using reposado tequila in a Tequila Sour can add depth and complexity to the cocktail. Read our Guide To Tequila Reposado for all the in depth info on our favorite tequila.
Añejo (Extra Aged) tequila
This is a tequila that has been aged for at least one year, but usually up to three years, in oak barrels. It has a darker color and a rich, complex flavor with notes of chocolate, caramel, and spices.
Añejo tequila is a good option for those who prefer a more robust and full-bodied flavor in their Tequila Sour.
When To Serve A Tequila Sour
A Tequila Sour is a versatile cocktail that can be enjoyed in a variety of settings. Here are some occasions and settings where a Tequila Sour might be served:
Happy hour or cocktail hour - A Tequila Sour is a refreshing and satisfying cocktail that can be enjoyed as a pre-dinner drink or during happy hour.
Summer gatherings - With its light and citrusy flavor, a Tequila Sour is a perfect drink to serve at summer gatherings, such as barbecues, picnics, or pool parties.
Mexican or Latin-themed events - Given its Mexican origin and use of tequila, a Tequila Sour is a great choice for events with a Mexican or Latin theme, such as Cinco de Mayo parties or Day of the Dead celebrations.
Brunch - A Tequila Sour can also be a great addition to a brunch menu, as it is light and refreshing and pairs well with many brunch dishes.
Overall, a Tequila Sour is a versatile and delicious cocktail that can be enjoyed in a variety of settings and occasions. It is best served chilled and can be garnished with a lime wedge or a sprinkle of salt to enhance the flavors of the tequila and lime.
Tequila Sour Variations
Mezcal Sour - Swap out the tequila for mezcal, which is a smoky, agave-based spirit. This variation gives the cocktail a distinctive, smoky flavor.
Pineapple Sour - Add pineapple juice to the classic recipe for a tropical twist. The sweetness of the pineapple balances out the tartness of the lime juice.
Spicy Tequila Sour - Add a few dashes of hot sauce, a slice of jalapeño or a sprinkle of chili powder to give the classic Tequila Sour a spicy kick.
Grapefruit Tequila Sour - Substitute grapefruit juice for some or all of the lime juice for a tangy and refreshing variation.
Blood Orange Tequila Sour - Swap out lime juice for blood orange juice and add a splash of cranberry juice for a fruity and colorful variation.
Hibiscus Tequila Sour - Add hibiscus syrup or tea to the classic recipe for a floral and slightly tart variation.
Make A Vegan Sour Cocktail
A Tequila Sour can easily be made vegan by using plant-based ingredients to replace the traditional egg white. Aquafaba is a great substitute for egg whites in cocktails. Simply drain the liquid from a can of chickpeas and use it in place of the egg white. It provides a similar frothy texture and does not affect the flavor of the cocktail.
Best Tools For Making Sour Cocktails
Making sour cocktails, like the Tequila Sour, requires a few key tools to ensure that the ingredients are properly mixed and the flavors are balanced. Here are some of the best tools for making sour cocktails:
Cocktail shaker - A cocktail shaker is an essential tool for making sours. It is used to mix the ingredients together and create a frothy texture, which is crucial to the texture and taste of the cocktail. A three-piece shaker is recommended, as it is easy to use and clean.
Jigger - A jigger is a small measuring cup used to measure the ingredients accurately. Measuring the ingredients precisely is important to ensure that the cocktail has a balanced flavor.
Strainer - A strainer is used to separate the liquid from the ice and other solids in the shaker. This ensures that the cocktail has a smooth texture and is free of any impurities.
Citrus juicer - A citrus juicer is used to extract fresh juice from lemons and limes. Using fresh juice is essential for a sour cocktail, as it provides a bright and tangy flavor.
Fine mesh strainer - A fine mesh strainer is optional, but it can be used to strain the citrus juice to remove any pulp or seeds that might affect the texture of the cocktail.
Expert Tips For Making The Best Sour Cocktails
Use fresh ingredients - Always use fresh ingredients, such as citrus juice, to get the best flavor. Avoid using bottled juice, which can have a flat taste and may contain preservatives.
Balance the flavors - A sour cocktail should have a balanced flavor, with the sourness of the citrus juice balanced by the sweetness of the simple syrup. Be sure to measure your ingredients precisely to achieve this balance.
Dry shake - Dry shaking the cocktail, which means shaking the ingredients without ice, helps to emulsify the ingredients and create a frothy texture. This is especially important when making sours, as it gives the cocktail a light and airy feel.
Use the right ice - Use large, clear ice cubes for sours, which will help keep the cocktail cold without diluting it too quickly. Clear ice also looks great in a cocktail.
Garnish with a citrus twist - A citrus twist is a classic garnish for a sour cocktail. Use a vegetable peeler or a sharp knife to cut a long, thin strip of citrus peel and twist it over the cocktail to release the oils and add a fresh aroma.
Experiment with flavors - Once you have mastered the classic Tequila Sour recipe, don't be afraid to experiment with different flavors and ingredients. Try adding a splash of fruit juice or a few drops of bitters to create your own unique variation.
FAQs
How many calories are in a tequila sour?
The number of calories in a Tequila Sour can vary depending on the specific recipe and ingredients used. A standard Tequila Sour made with tequila, lime juice, simple syrup, and egg white contains around 200-250 calories.
What makes a cocktail sour a sour
A sour cocktail is characterized by its use of citrus juice, which gives it a tart, sour taste. The traditional sour cocktail typically includes a base spirit, such as whiskey or gin, as well as fresh lemon or lime juice and a sweetener, usually simple syrup.
The cocktail is shaken or stirred with ice to chill the ingredients and then strained into a glass, often over fresh ice. The sour flavor is balanced by the sweetness of the simple syrup and the alcohol content of the base spirit, creating a refreshing and well-balanced cocktail.
How much sugar is in a tequila sour?
The amount of sugar in a Tequila Sour can vary depending on the recipe and the amount of simple syrup used. Generally, a standard Tequila Sour recipe calls for about ¾ to 1 ounce of simple syrup, which contains approximately 12 to 16 grams of sugar.
Tequila Sour
A delicious twist on the classic whiskey sour made with resposado tequila and lime juice
Ingredients
2

oz

tequila resposado

1

oz

lime juice

½

oz

lemon juice

2

teaspoon

simple syrup

1

egg white

2

dashes

angostura bitters

Dried lime, for garnish
Instructions
Pour the tequila, lemon juice, lime juice, egg white, simple syrup and bitters into a cocktail shaker. Shake for 20 seconds.

Add the ice and continue to shake for another 30 seconds or until frothy.

Strain the mixture into a coupe glass and garnish with a dried lime slice.
Nutrition
Calories:
204
kcal
Carbohydrates:
15
g
Protein:
3
g
Fat:
0.1
g
Saturated Fat:
0.01
g
Polyunsaturated Fat:
0.01
g
Sodium:
59
mg
Potassium:
107
mg
Fiber:
0.1
g
Sugar:
12
g
Vitamin A:
15
IU
Vitamin C:
14
mg
Calcium:
9
mg
Iron:
1
mg
Tried this recipe?
Let us know how it was in the comments below
Tag us on Instagram!
We love seeing people make our recipes. Mention @baking_ginger