Discover the perfect tequila and Sprite pairing for a refreshing twist! Explore the flavors and find your new favorite cocktail. This two ingredient cocktail is an easy twist on a classic margarita.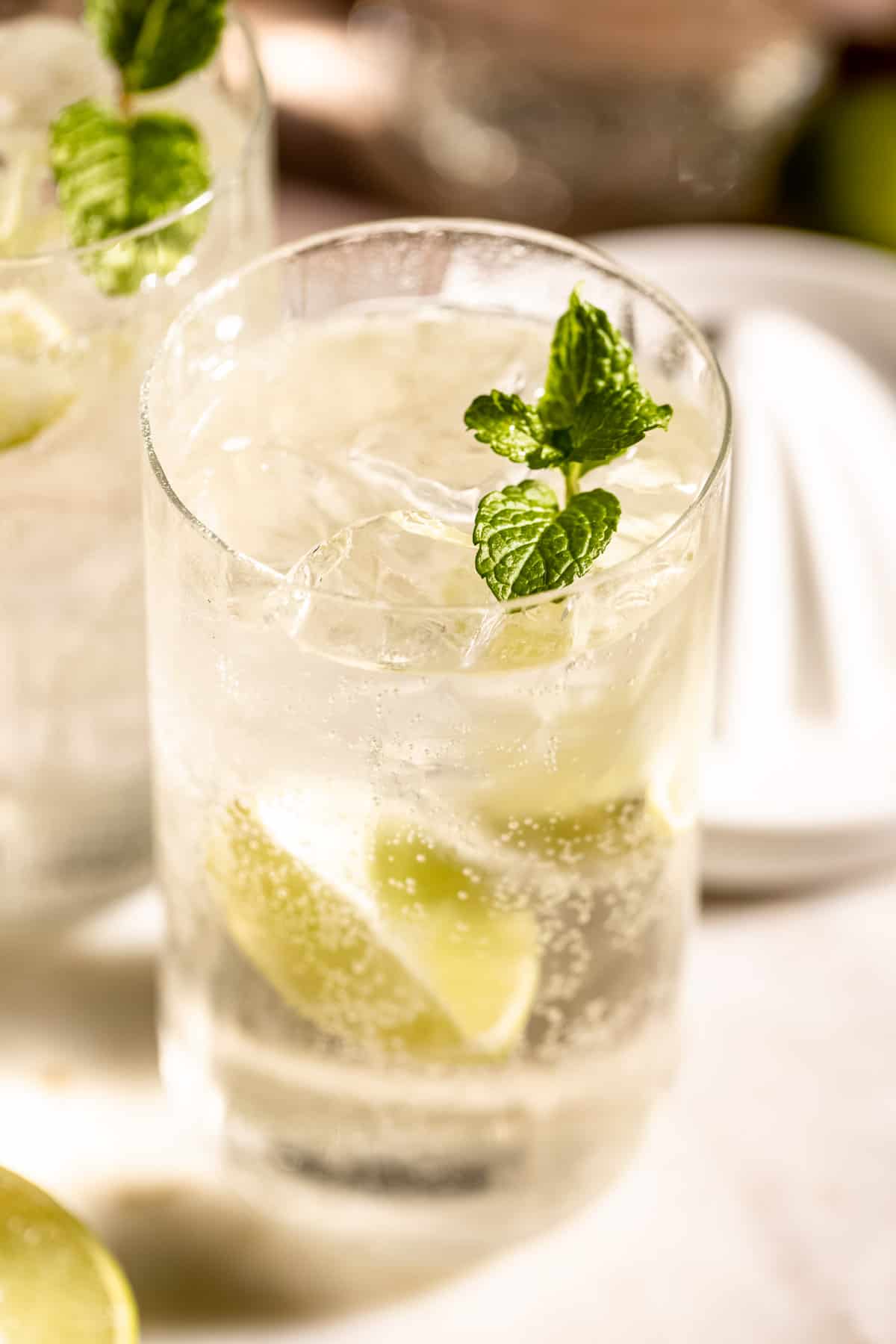 What is tequila and Sprite?
Tequila and Sprite is a popular mixed drink that combines tequila, a distilled spirit made from the blue agave plant, with Sprite, a carbonated lemon-lime soda.
The combination of tequila's unique flavors and the effervescence and sweetness of Sprite creates a refreshing and enjoyable cocktail.
We love this cocktail because it is so perfectly simple and straightforward to make. It's a refreshing and tasty option. Another easy to make two ingredient cocktail is our Vodka and Sprite recipe.
The crisp, citrusy notes of Sprite complement the distinct flavors of tequila, resulting in a refreshing and lively taste experience. The sweetness of Sprite balances out the earthy and sometimes smoky flavors of tequila, making it a delightful combination.
Check out our Vodka and Sprite recipe if you're more of a vodka person.
How to make a tequila and Sprite cocktail
Step One:
Fill a tall glass with ice.
Step Two:
Add a shot, or two, of your favorite tequila and top with sprite.
Step Three:
Garnish with fresh limes and a sprig of mint if desired.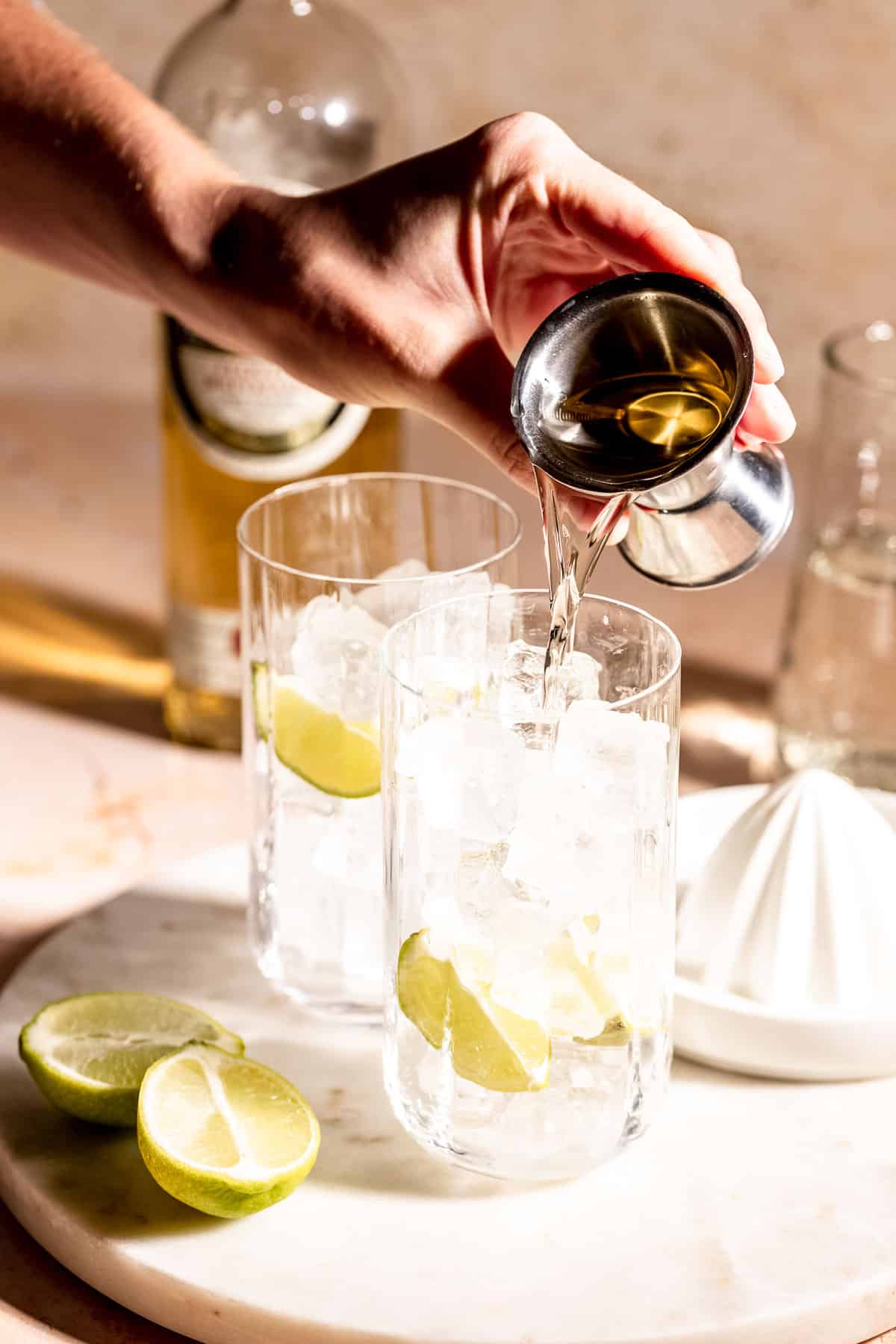 Best tequila to use
There are so many options when it come to tequila. We love using tequila reposado but this all comes down to personal preference.
Blanco/Plata Tequila: Blanco tequila, also known as plata or silver tequila, is unaged or aged for a short period, resulting in a clear and vibrant spirit. Its clean, crisp flavors and agave-forward profile pair wonderfully with the bright and effervescent nature of Sprite, creating a refreshing and balanced cocktail.
Reposado Tequila: Reposado tequila is aged in oak barrels for a minimum of two months but less than a year. This ageing process adds subtle hints of vanilla, caramel, and oak to the tequila while retaining the agave flavors. The mellow and slightly more complex characteristics of reposado tequila can elevate the flavor profile of your Tequila and Sprite cocktail.
Añejo Tequila: Añejo tequila is aged for at least one year, resulting in a rich and smooth spirit with pronounced oak, caramel, and vanilla notes. While añejo tequila is often enjoyed neat or in more complex cocktails, it can bring depth and sophistication to a Tequila and Sprite drink, adding layers of flavor to the mix.
Extra Añejo Tequila: For a truly luxurious and premium twist, you can consider using extra añejo tequila. This tequila type is aged for a minimum of three years, resulting in a velvety and highly complex spirit with deep flavors of oak, spice, and caramel. Extra añejo tequila can add an elevated touch to your Tequila and Sprite cocktail, creating a sophisticated and indulgent drinking experience.
Variations and ideas
The great thing about tequila drinks like a tequila sour or this sprite and tequila combo is the fact that it pairs beautifully with many other flavors. Here are a few of our favorite ideas for elevating this easy two ingredient drink:
Citrus Twist: Squeeze fresh lime or lemon juice into the drink to enhance the citrusy notes. You can add a splash of orange juice for an extra burst of fruitiness.
Berry Burst: Muddle a handful of fresh berries, such as strawberries, raspberries, or blueberries, in the bottom of the glass before adding the tequila and Sprite. This infusion of fruity flavors will take your cocktail to the next level.
Spicy Kick: For a touch of heat, add a few slices of jalapeño or a dash of hot sauce to the drink. The combination of the spicy kick and the sweet Sprite can create a tantalising contrast of flavors.
Herbal Infusion: Mix in some fresh herbs like mint, basil, or cilantro for an herbal twist. Muddle the herbs gently to release their aromatic oils before adding the tequila and Sprite.
Tropical Delight: Replace Sprite with a tropical-flavored soda like pineapple soda or coconut water for a more exotic and vacation-like experience. Garnish with a pineapple slice or a coconut rim for an extra tropical touch.
Bubbly Upgrade: Swap Sprite with a sparkling lemon-lime soda or a flavored sparkling water to add effervescence and subtle fruity flavors to your cocktail. It can create a lighter and more refreshing variation.
Agave Nectar Sweetness: Instead of using Sprite, sweeten the drink with a touch of agave nectar. This natural sweetener will enhance the agave flavors in the tequila and add a hint of caramel-like sweetness.
Frozen Twist: Blend tequila, Sprite, ice cubes, and a squeeze of citrus juice together to create a frozen version of the cocktail. This slushy treat is perfect for hot summer days or tropical-themed parties.
Alternatives to Sprite
Club Soda:
Club soda is a popular choice as a mixer for tequila cocktails. It is carbonated and adds a refreshing fizz to the drink without adding any additional flavors, allowing the tequila to shine.
Tonic Water:
Tonic water has a slightly bitter and citrusy taste due to the presence of quinine. It can add a unique twist to your tequila cocktail, giving it a more complex and intriguing flavor profile.
Ginger Ale:
If you enjoy a hint of ginger spice in your cocktails, ginger ale can be a great substitute for Sprite.
Its sweet and gingery flavors can complement the agave notes of tequila, creating a delicious and slightly spicy drink.
Lemon-Lime Soda:
While Sprite is a popular lemon-lime soda, you can explore other brands of lemon-lime sodas available in your region.
They often have similar flavor profiles and carbonation levels, making them suitable alternatives.
Sparkling Water:
If you prefer a lighter and less sweet option, sparkling water can be a good choice.
It adds a gentle effervescence without overpowering the flavors of tequila, allowing its nuances to shine through.
Citrus Sparkling Beverage:
Consider trying flavored sparkling beverages like lemon, lime, or grapefruit sparkling water.
These can add a burst of citrusy flavors to your tequila cocktail while maintaining the carbonation and refreshing qualities.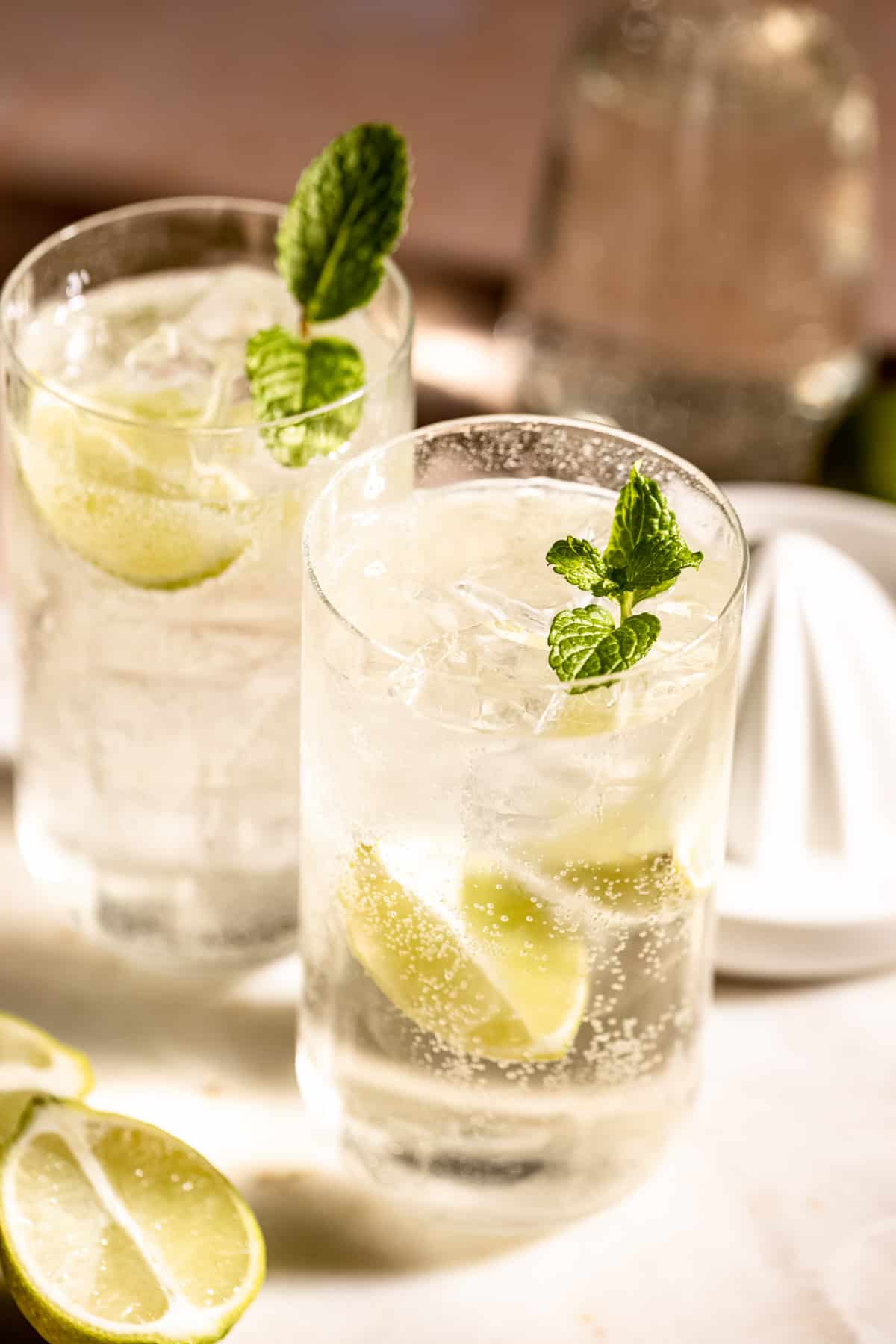 When to serve this cocktail
Casual Gatherings: Tequila and Sprite cocktails are great for casual get-togethers with friends or family. Whether it's a backyard barbecue, game night, or a relaxed evening at home, this drink is a crowd-pleaser that can be enjoyed in a laid-back atmosphere.
Parties and Celebrations: This cocktail brings a festive vibe, making it perfect for parties and celebrations. Whether it's a birthday party, holiday get-together, or any other joyful occasion, Tequila and Sprite cocktails can add a touch of fun and excitement to the festivities.
Summer Events: With its refreshing and thirst-quenching qualities, this drink is perfect for summer events. Serve it at pool parties, picnics, beach outings, or any outdoor gathering during the warm months to keep your guests cool and refreshed.
Happy Hours and Cocktails Nights: Tequila and Sprite cocktails can be a delightful addition to happy hours or cocktail-themed evenings. Its simplicity and versatility make it a great choice for socializing with friends or colleagues over drinks.
Mexican-inspired or Cinco de Mayo Celebrations: Given that tequila is a traditional Mexican spirit, serving Tequila and Sprite cocktails is particularly fitting for Mexican-inspired events or during Cinco de Mayo celebrations. It adds an authentic touch and allows guests to enjoy a taste of Mexico.
Brunches and Daytime Events: The light and refreshing nature of Tequila and Sprite cocktails make them suitable for daytime events such as brunches or daytime parties.
More tequila drinks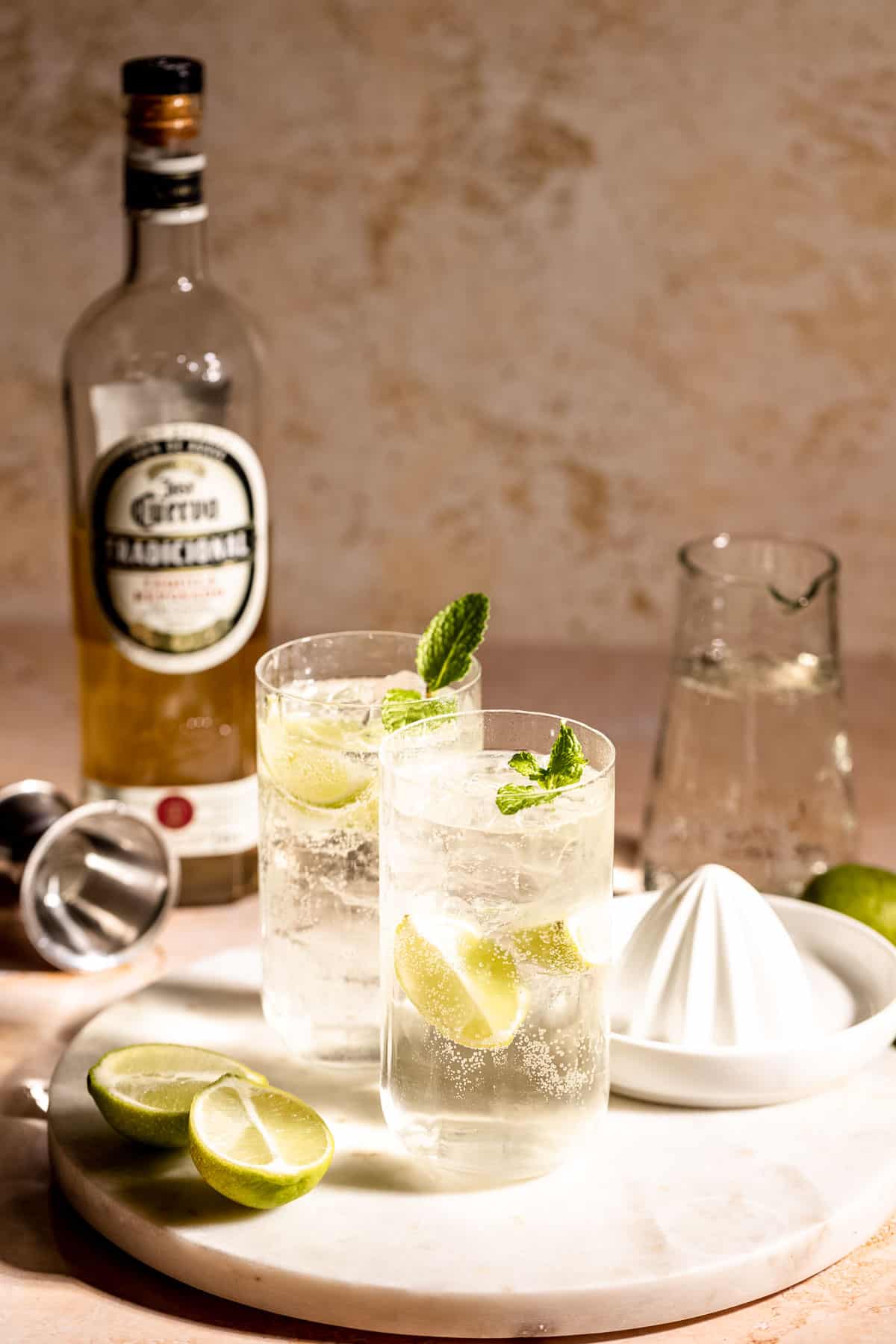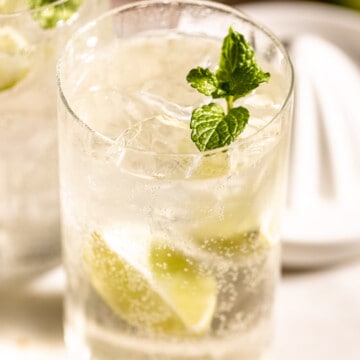 Tequila and Sprite
A refreshing two ingredient cocktail that gives an easy twist to the classic margarita.
Ingredients
2

ounce

tequila

4

ounce

Sprite

Lime wedges

for garnish

Mint sprigs

for garnish

Ice cubes
Instructions
Fill a tall glass with ice and add the tequila.

Fill the glass with Sprite and stir using a bar spoon.

Garnish with lime wedges and mint, if desired
Notes
Use Fresh Citrus: Squeeze the juice of fresh limes or lemons to enhance the citrusy flavors in the drink. Freshly squeezed citrus juice adds a vibrant and zesty taste that elevates the cocktail.
 Adjust Sweetness: Depending on your preference, you can adjust the sweetness of the cocktail by adding more or less Sprite or alternative sweeteners like agave nectar. Taste the cocktail as you mix it and make any necessary adjustments to suit your desired sweetness level.
Rim the Glass: For an extra touch of flavor and presentation, consider rimming the glass with salt or sugar. Dip the rim of the glass in water or citrus juice, then dip it into a plate of salt or sugar to coat the rim. This adds an additional layer of taste and visual appeal.
Chill Ingredients: Ensure the tequila, Sprite, and any other ingredients are chilled before mixing the cocktail. Using chilled ingredients helps maintain the drink's refreshing and cool temperature.
Nutrition
Calories:
177
kcal
Carbohydrates:
12
g
Protein:
0.1
g
Sodium:
12
mg
Potassium:
2
mg
Sugar:
12
g
Calcium:
2
mg
Iron:
0.04
mg
Tried this recipe?
Let us know how it was in the comments below
Tag us on Instagram!
We love seeing people make our recipes. Mention @baking_ginger