A guide to The Best Mixers for Tequila to create delicious 2-ingredient drinks! Tequila is a versatile spirit that can be mixed with a variety of flavors to transform this popular liquor into something extra tasty!
Jump to:
So what exactly is Tequila
Tequila is a type of distilled alcoholic spirit made from the blue agave plant. This plant is native to Mexico and is where tequila originates.
Tequila comes in different forms that range from clear (Blanco) which is bottled immediately after distillation, but can also be aged in oak barrels to produce a golden or amber color. Extra añejo tequila is the darkest and aged for the longest - a minimum of three years and up to several decades.
According to the official Tequila Regulatory Council, there are five different types of tequila. These types are Blanco (silver), Joven (gold), Reposado (aged), Añejo (extra-aged), and Extra Añejo (ultra-aged).
Tequila is a flavorful spirit with a distinct flavor profile of sweet, earthy, and spicy which lends itself well to many different flavors and mixers. Each type of tequila has its own unique flavor that also changes depending on where the agave plant was grown.
Blanco tequila is sweeter with citrus and pepper notes. But aged tequila has a smooth and slightly smoky flavor from the oak barrels. Tequila produced in the lowlands of Mexico will have a dry, earthy flavor. While tequila produced in the highlands will have a more floral and citrusy flavor.
What to mix with tequila
Tequila is a versatile spirit. It can be enjoyed on its own as a shot or aged tequila is good for on-the-rocks sipping. And Tequila is also a popular ingredient in many mixed cocktail recipes too.
And although this Mexican spirit is flavorful and complex, tequila can be combined with many mixers to enhance its taste and create a new drinking experience. There is a wide variety of flavors and tastes that mix well with tequila.
The Best Mixers for Tequila
We all know and love margaritas and tequila shots, but this unique liquor is far more versatile than just that! Sometimes a simple mixer is all that you need to create a new favorite drink. So read on to explore a new range of mixers for enjoying your delicious bottle of tequila...
1. Tequila and Soda Water
This refreshing combination of tequila and soda water creates a light and bubbly highball drink that highlights the taste of tequila beautifully. It is a delicious slow sip for the summertime that is easy to make and enjoy!
Another delicious version of this drink to try out is a refreshing CAMPARI SODA! We highly recommend it!
2. Tequila and Pineapple Juice
Pineapple juice is a great tequila mixer because of its intense sweet-tart flavor that is able to hold up to intense tequila. The sweet fruitiness of tropical pineapple is enhanced by the tequila which adds a spicy bite to the finish of each sip.
For an extra special treat, why not enjoy this flavor combination by making a batch of our delicious FROZEN JALAPENO PINEAPPLE MARGARITAS!
3. Tequila and Lemonade
Lemonade is a classic mixer that is always well-loved. And a tequila and lemonade mix is no exception! It is deliciously fresh and sweet-tart and easy to drink with a tequila zing on the finish. It is like an easy cheat version of a margarita!
Love using lemonade as a mixer? Then you have to try out our BOURBON LEMONADE or LYNCHBURG LEMONADE!
4. Tequila and Orange Juice
Orange juice is one of the most classic mixers for tequila - think Tequila Sunrise or a Classic Screwdriver cocktail! The flavors of each component complement each other perfectly. Orange juice offers a mild, sweet flavor that when combined with tequila becomes a tasty complex citrus combination.
Orange juice is a great mixer with whiskey too! Check out our WHISKEY & ORANGE JUICE to learn more!
5. Tequila and Ginger Beer
Sweet, bubbly ginger beer makes a surprisingly tasty mix with the oaky and vanilla notes of aged tequila. It's a refreshing combination that enhances the interesting notes of the tequila used and offers a deliciously sweet, ginger finish.
If you love gingerbeer drinks, then check out our tasty PINEAPPLE, GIN, & GINGER BEER COCKTAIL!
6. Tequila and Tonic Water
If you love a good G&T then try swapping out the gin for tequila! A tequila tonic is tart and bubbly, with a delicious kick from the tequila. The tonic water adds a unique sweetness and light bitter note to the finish of this complex and flavorful 2-ingredient mixed drink.
Another delicious pairing for tonic water is whiskey! Check out our SIMPLE WHISKEY TONIC recipe to learn more!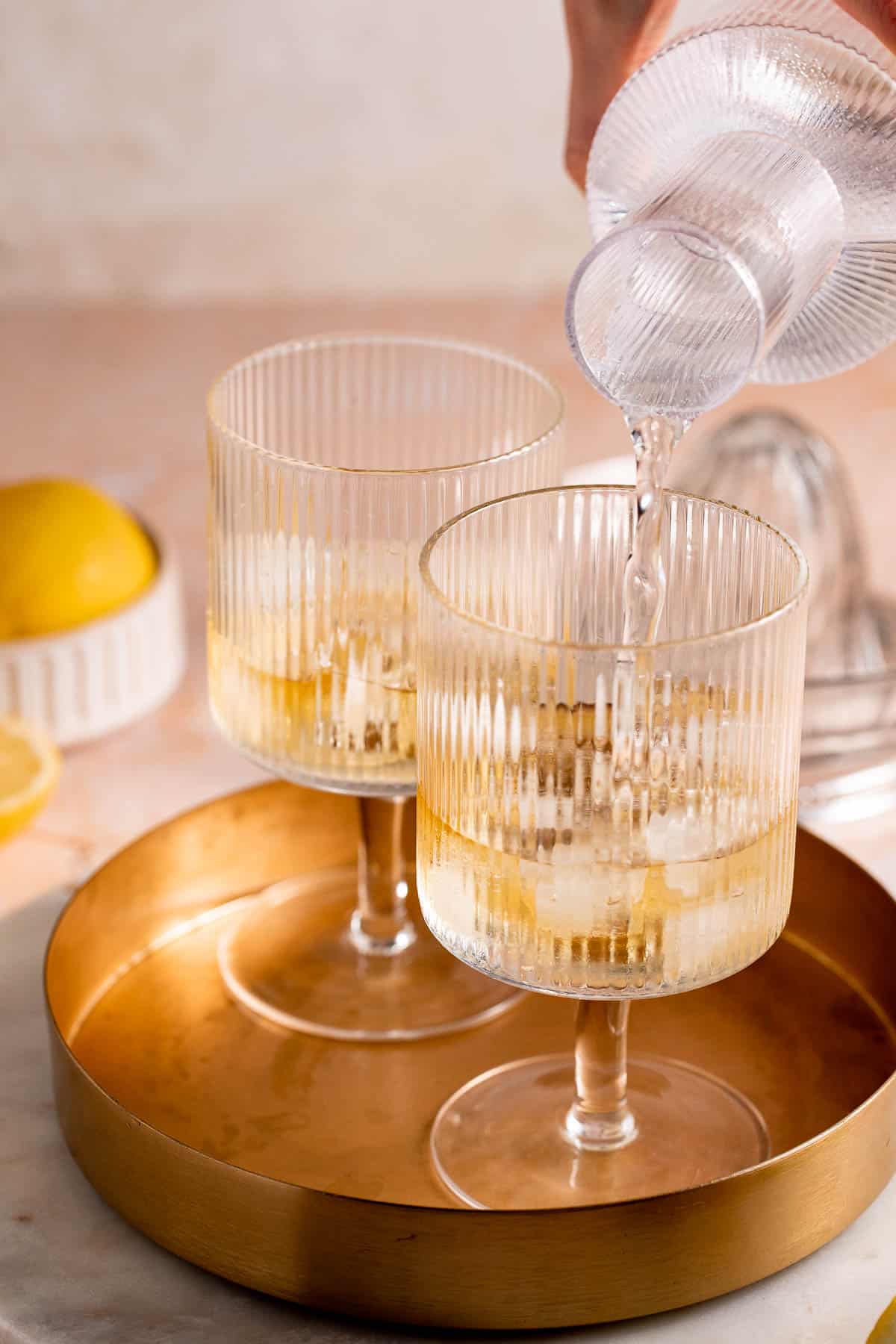 7. Tequila and Grapefruit Juice
Reminiscent of The Paloma Cocktail, tequila and grapefruit juice is delicious pairing that is bright, citrusy, and subtly bitter. The fruity bitter bite of grapefruit compliments the spicy bite of tequila. Depending on your preference, you can use a blanco or a reposado tequila. A blanco tequila keeps the drink light and crisp, while a reposado tequila makes it richer and more decadent.
Love grapefruit flavor in a cocktail? Then you have to try out our GRAPEFRUIT CHAMPAGNE COCKTAIL or GRAPEFRUIT GIN COCKTAIL WITH ROSE WATER!
8. Tequila and Cola
Tequila and coke is a unique combination that works suprisingly well together. The earthy, fruity flavor of tequila combines beautifully with the caramel flavor of cola as a fizzy mixer. If you're not a cola lover, try our Tequila & Sprite recipe.
Cola is a classic pairing for liquor! Check out WHISKEY AND COKE, VODKA AND COKE, and JACK AND COKE recipes for more delicious variations.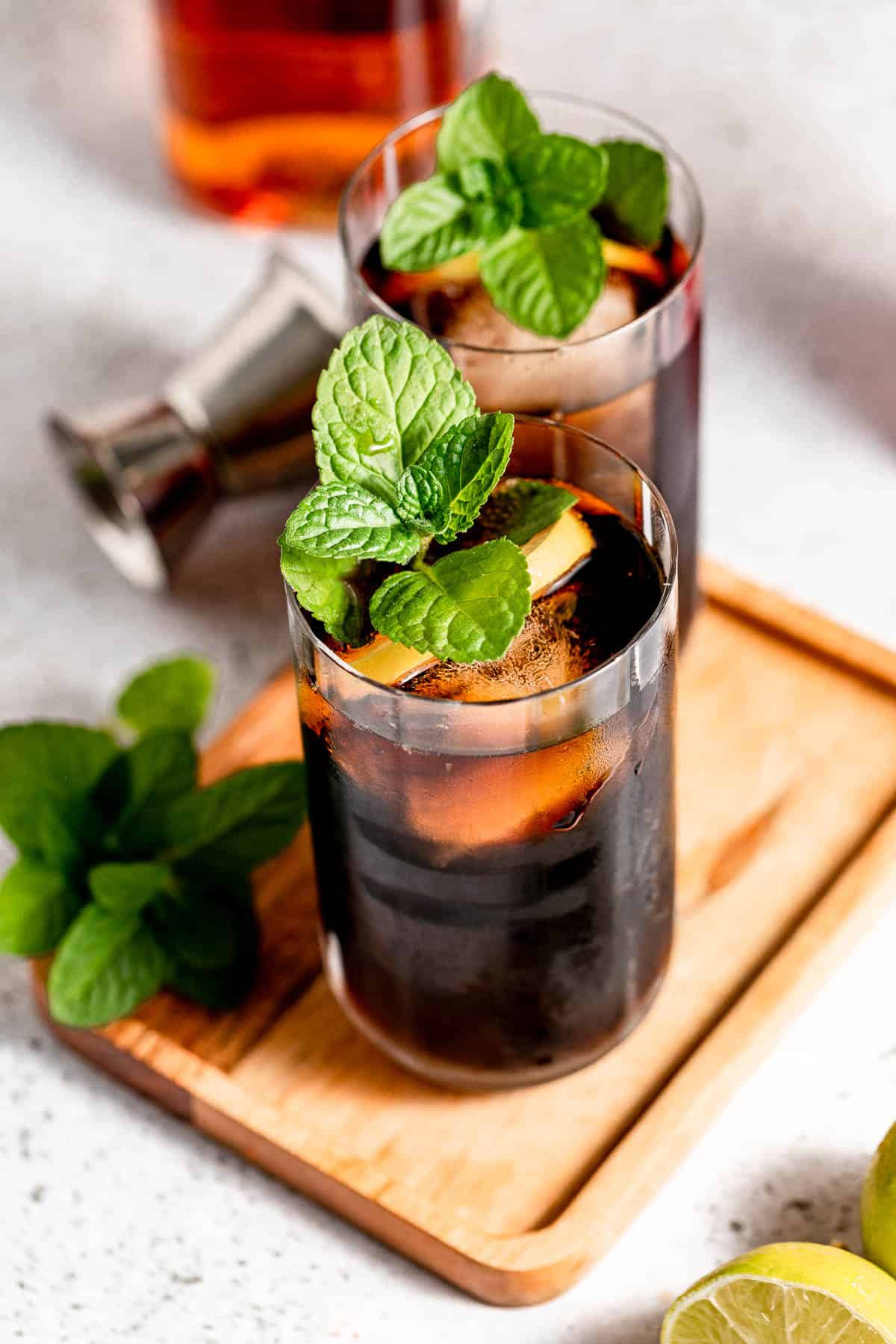 I hope you love this list of The Best Mixers for Tequila as much as I do! And if you want to see more food and drink inspiration, follow me on Instagram or Facebook.