This recipe for Bourbon Lemonade is perfect if you want to have a nice and light beverage. You can make a batch of this sweet and tangy beverage that is ideal for sipping on a hot summer day with just a few basic ingredients. This is one of the easiest summer drinks you can whip up in seconds.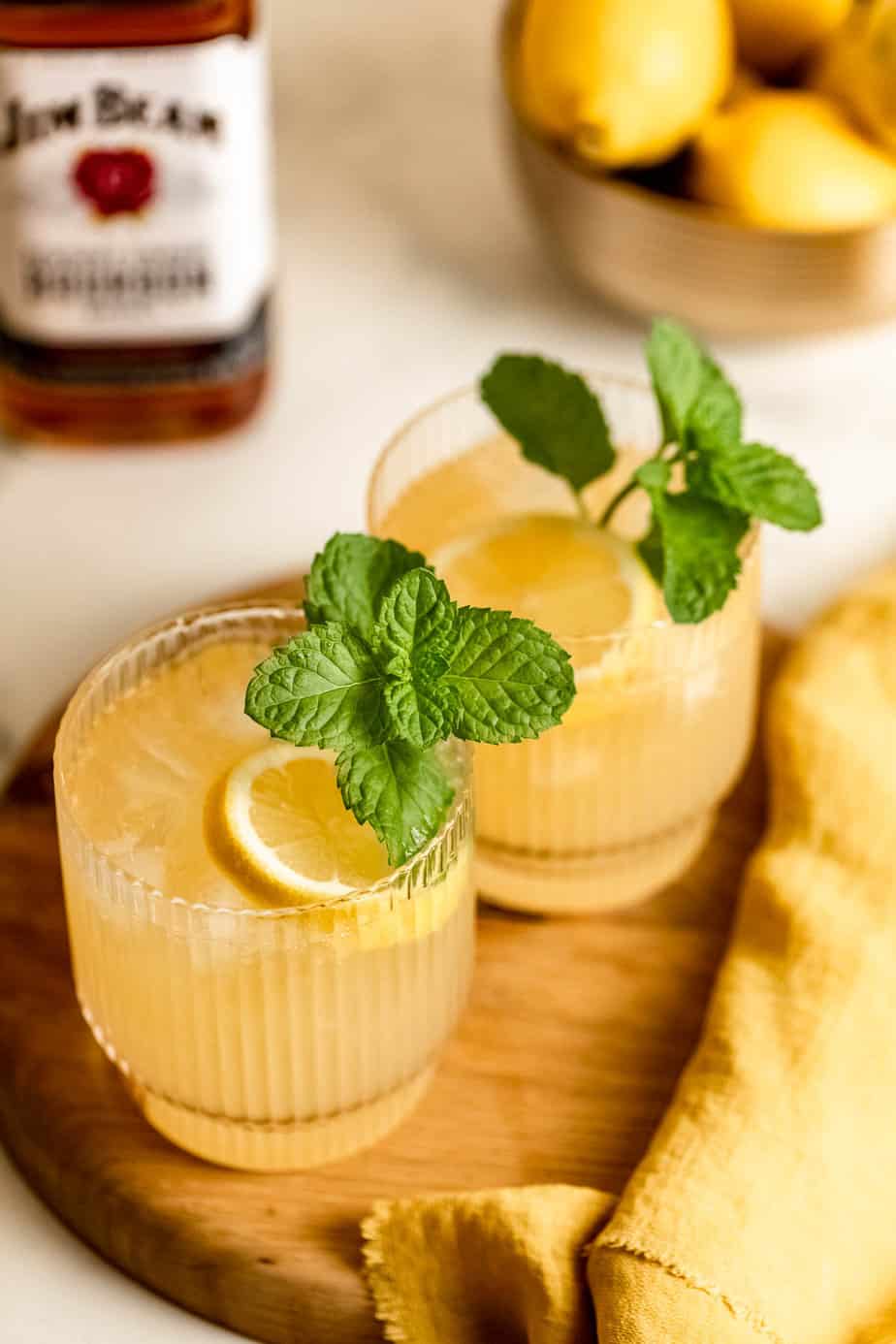 Jump to:
Ingredients
Bourbon - This cocktail's primary ingredient is bourbon, as the name would imply. Typically manufactured from corn and matured in oak barrels, bourbon is a type of whiskey with a unique flavor and aroma.
It is an essential ingredient in this cocktail since it adds a rich, smoky flavor that harmonizes wonderfully with the tart, sweet lemonade.
Lemonade - Use store bought lemonade or homemade freshly squeezed lemonade. The quality of the lemonade you use will definitely affect the taste of the bourbon lemonade cocktail.
How To Make a Bourbon Lemonade
Making a bourbon and lemonade drink couldn't be easier. Simply combine 2 oz Bourbon with at least 4 oz lemonade. Serve it in a glass filled with ice and garnish with mint and lemon wedges.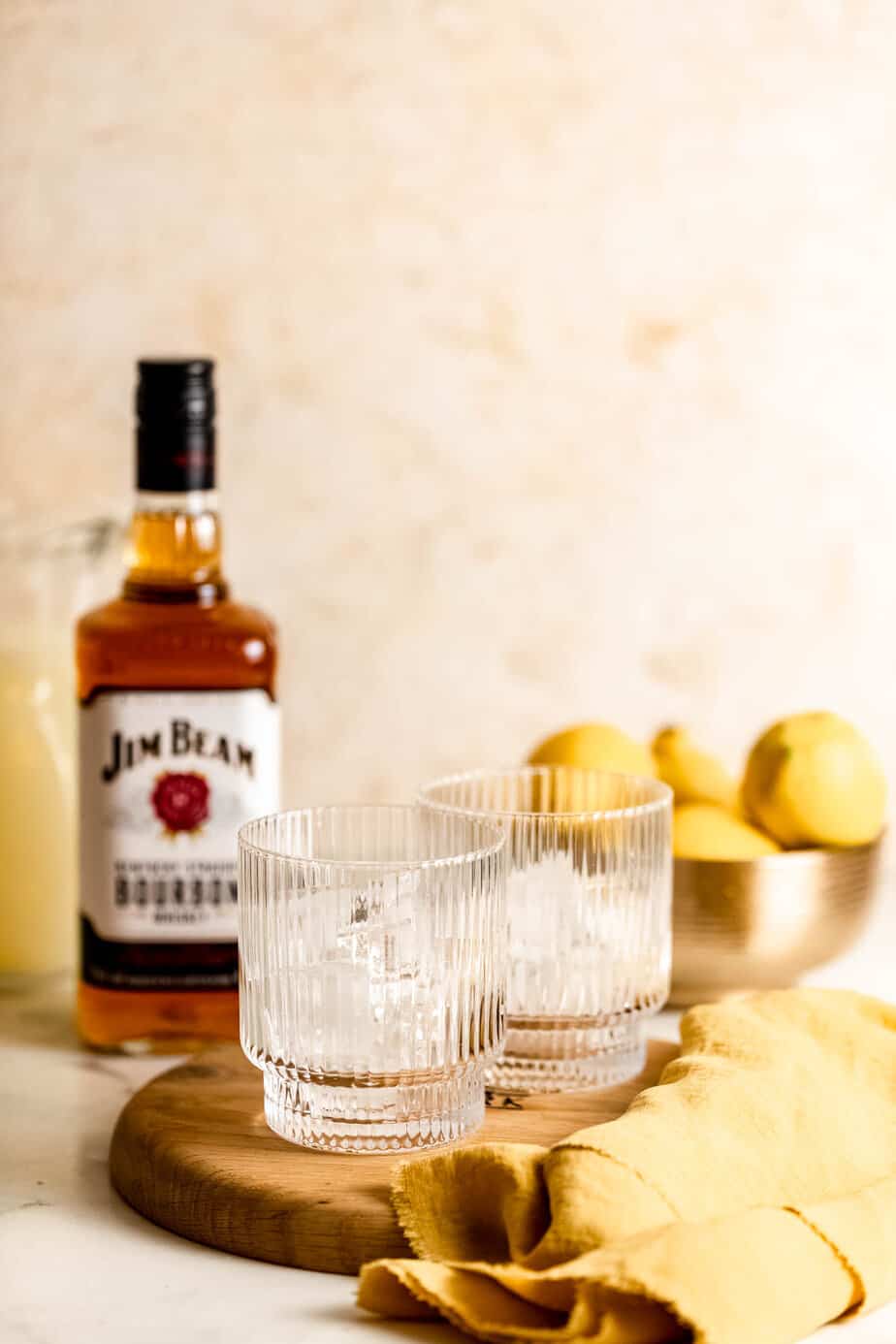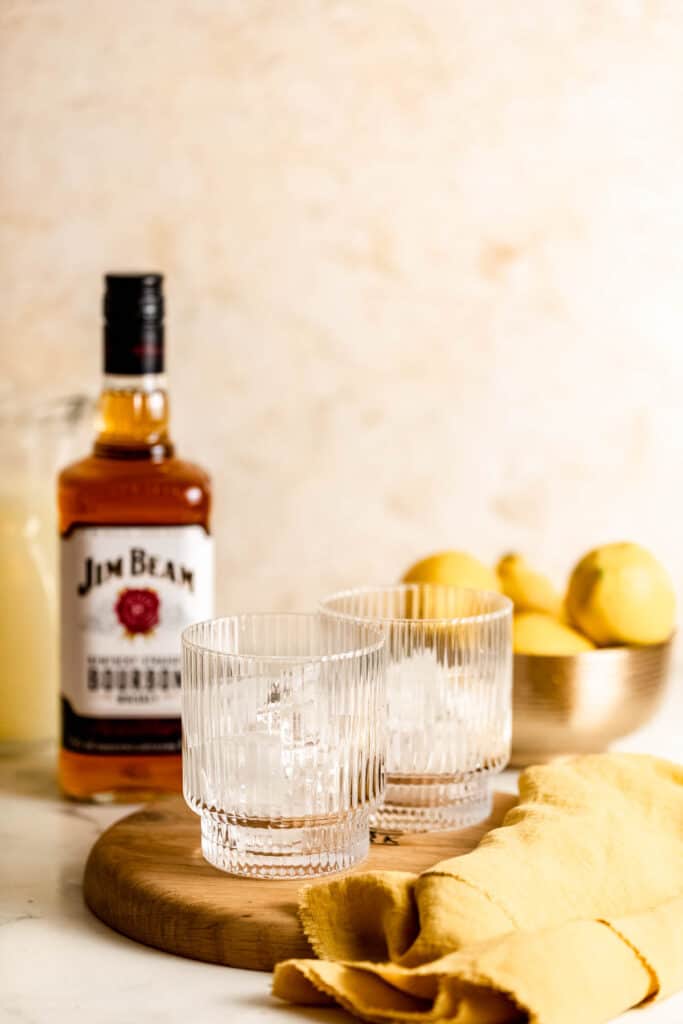 Garnish Ideas:
Lemon slice or wedge: A simple and classic garnish for a Bourbon Lemonade is a fresh lemon slice or wedge. It adds a pop of color and an extra burst of lemon flavor.
Fresh mint: Adding a sprig of fresh mint to your Bourbon Lemonade can give it a refreshing aroma and flavor. You can also muddle the mint with the bourbon and simple syrup before adding the lemon juice and club soda.
Berries: Fresh berries, such as raspberries or blackberries, can be a delicious and colorful addition to a Bourbon Lemonade. They add a touch of sweetness and fruity flavor to the drink.
Candied ginger: If you like a bit of spice, you can garnish your Bourbon Lemonade with a small piece of candied ginger. It adds a unique and zesty flavor to the drink.
Cinnamon stick: A cinnamon stick can add a warm and cozy aroma to your Bourbon Lemonade. It's especially nice for fall and winter occasions.
How To Make Homemade Lemonade
Ingredients:
1 cup freshly squeezed lemon juice (about 6-8 lemons)
1 cup granulated sugar
6 cups cold water
Ice cubes
Directions:
In a large pitcher, mix together 1 cup of freshly squeezed lemon juice and 1 cup of granulated sugar until the sugar is fully dissolved.
Add 6 cups of cold water to the pitcher and stir well to combine.
Taste the lemonade and adjust the sweetness or tartness to your liking by adding more sugar or lemon juice as needed.
Add ice cubes to the pitcher to chill the lemonade.
You can also add fresh herbs, such as mint or basil, to the lemonade for an extra burst of flavor and aroma.
Serve the lemonade in glasses filled with ice cubes and garnish with a lemon wedge or slice.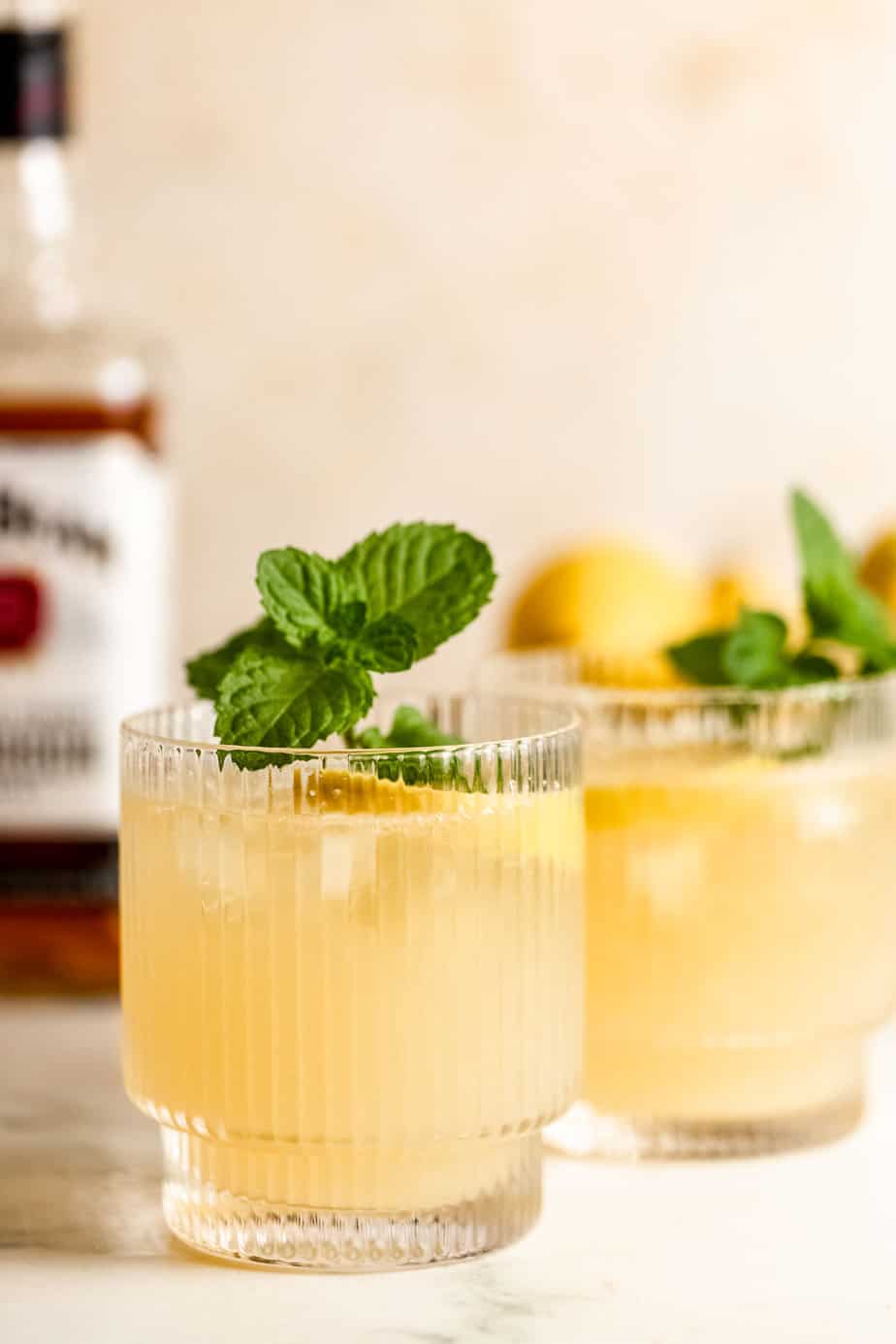 Best Bourbon To Mix with Lemonade
We love talking about everything bourbon, check out our post about the Best Mixers For Bourbon.
Maker's Mark
This well-liked and readily accessible bourbon is renowned for its velvety and sweet flavor. Because of its sweetness, which helps counteract the tartness of the lemonade, it's a wonderful option for a Bourbon Lemonade.
Bulleit Whiskey
This bourbon has a strong, spicy flavor and is made with a high percentage of rye. Bulleit Bourbon can be a wonderful option if you want a Bourbon Lemonade with a little bit of a kick.
Woodford Reserve
Woodford Reserve is a high-end bourbon that has a flavor that is both rich and complex. It features caramel and vanilla undertones that help balance out the lemonade's sweetness.
Jim Beam
Jim Beam is a classic bourbon with a smooth and mellow flavor that makes it a great choice for mixing. It's also affordable and widely available.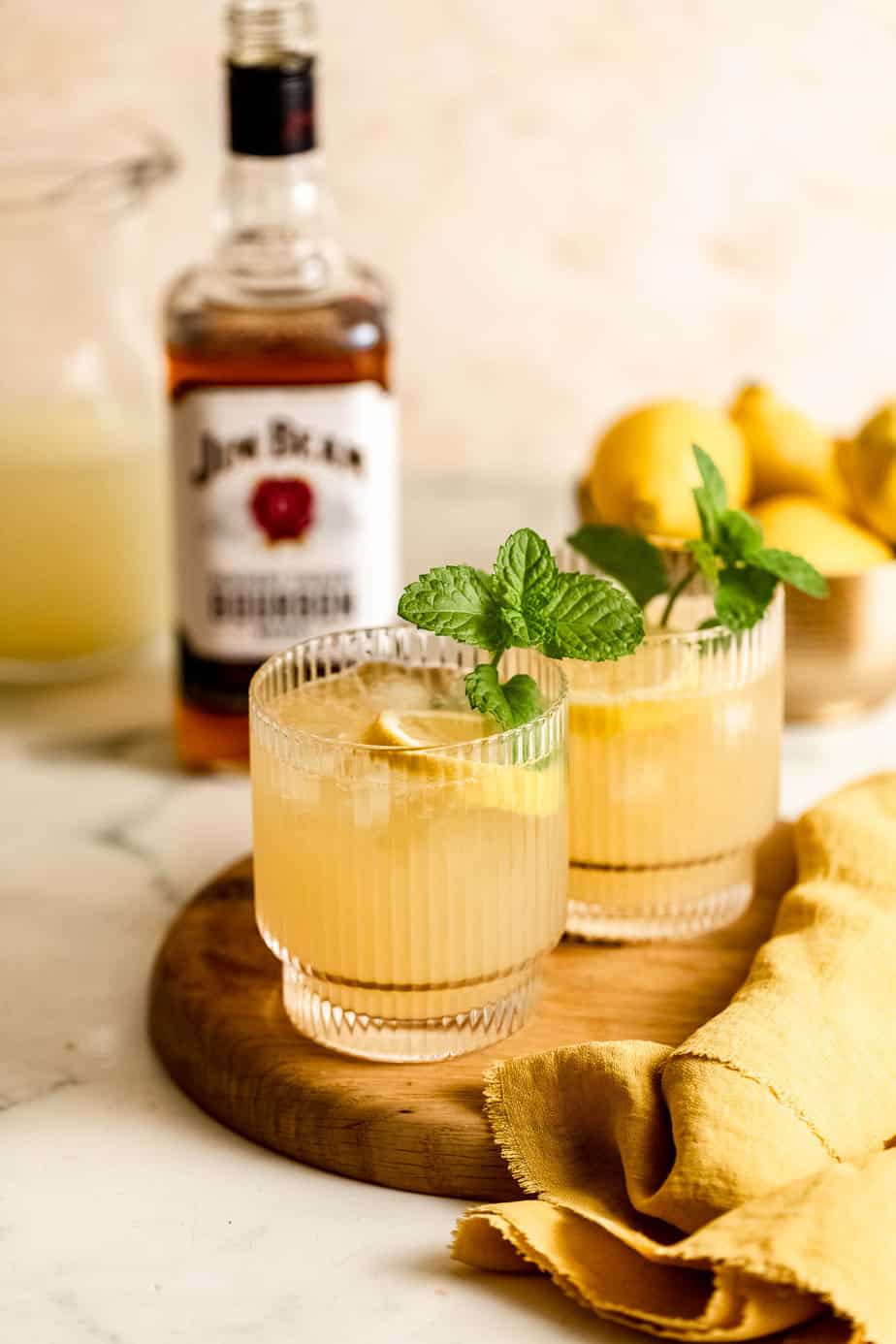 How To Make a Pitcher of Bourbon and Lemonade
Having people over for a summer celebration? Why not whip up a whole batch of bourbon and lemonade to serve to your guests.
To make a pitcher you need:
2 cups Bourbon
5 Cups Lemonade
Ice & Garnish
Fill a large pitcher with ice and add the bourbon and lemonade. Stir to combine and serve with your favorite garnishes.
Make Sparkling Bourbon Lemonade
Take your bourbon lemonade to the next level with a little fizz. Adding sparkling wine or simply club soda will give this bourbon cocktail a refreshing twist. It gives us memories of a refreshing Limoncello Spritz and we're here for that!
Variations
Spiked Arnold Palmer
Mix equal parts bourbon, lemonade, and iced tea to create a boozy version of an Arnold Palmer. What could be better than a boozy iced tea with a lemony twist?
Lavender Bourbon Lemonade
A sprig of fresh lavender goes a long way. Give your bourbon lemonade a floral boost by adding a sprig of lavender to your drink or by infusing it into a simple syrup.
Peach Bourbon Lemonade
Muddle fresh peach slices with the bourbon before adding the lemonade for a fruity and summery version of a Bourbon Lemonade.
Blackberry Bourbon Lemonade
Blackberries are always great in a cocktail. To give this recipe a blackberry twist, add muddled fresh blackberries to your Bourbon Lemonade for a tart and sweet flavor. You can also garnish with fresh blackberries for an extra pop of color.
Rosemary Bourbon Lemonade
One of my favorite things to do is to add rosemary to a cocktail recipe. Not only does it add an amazing aroma but it makes your cocktail go from drab to fab.
Ginger Bourbon Lemonade
Add a small piece of fresh ginger to your Bourbon Lemonade for a spicy and zesty kick. You can also infuse the simple syrup with ginger for extra flavor.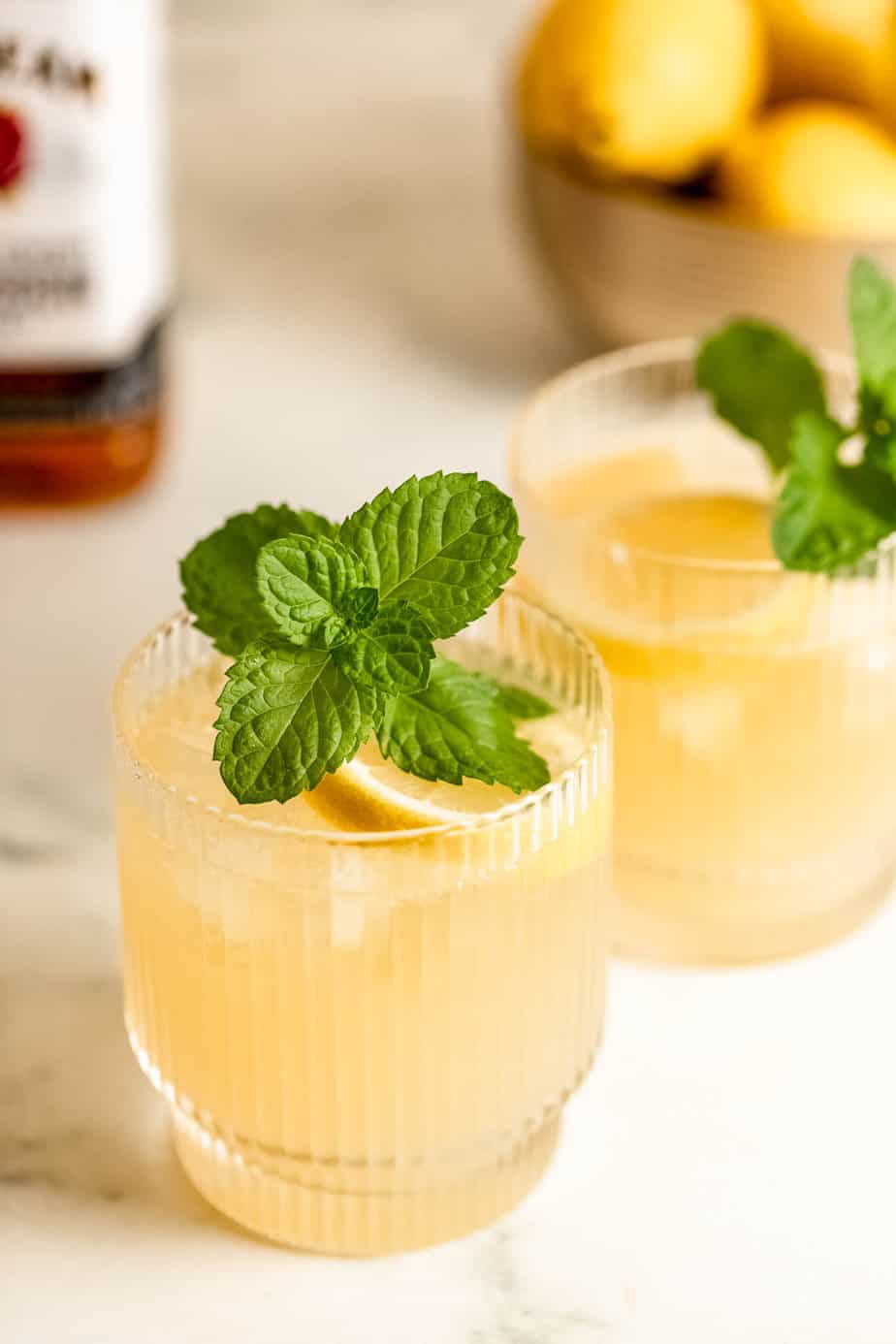 Expert Tips
Use good quality bourbon
The quality of the bourbon is the key to a good bourbon cocktail. Choose a bourbon that you enjoy drinking on its own, and that has a flavor profile that will work well with the other ingredients in the cocktail.
Always use fresh ingredients
Fresh ingredients are essential for a good cocktail. Use fresh homemade lemonade for the best results.
Don't forget to measure accurately
Use a jigger or a measuring cup to measure your ingredients accurately. A precise measurement can make a big difference in the balance and flavor of your cocktail.
Be ice wise
The right amount of ice can make a big difference in the taste and texture of your cocktail. Use a large ice cube or ice ball to prevent your drink from becoming watered down too quickly.
Don't hold back on the garnishes
The right garnish can add an extra pop of flavor and color to your cocktail. Experiment with different fruits, herbs, and spices to find the perfect garnish for your bourbon cocktail.
More Cocktail Recipes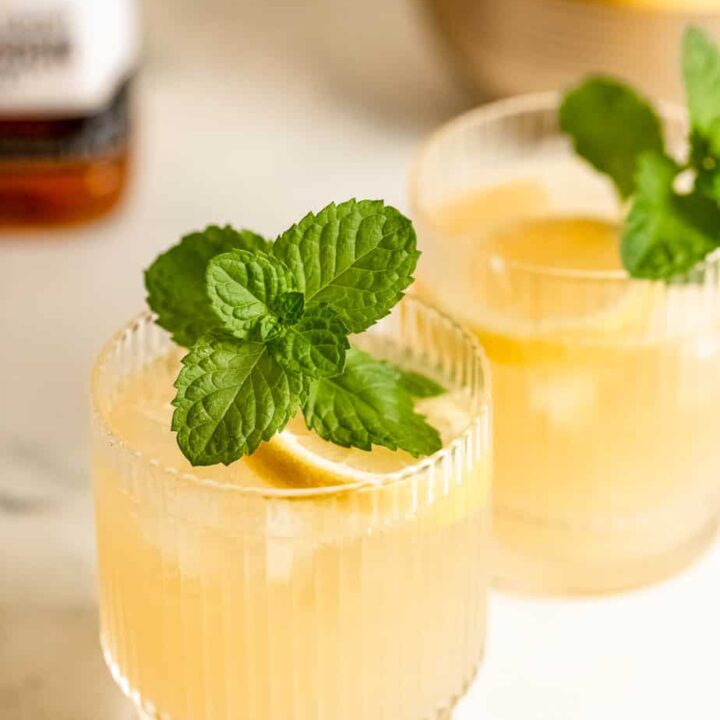 Bourbon Lemonade
A refreshing easy to make cocktail with only two ingredients.
Ingredients
2 oz Bourbon
4 oz Lemonade
Fresh Mint
Lemon Slices
Ice
Instructions
Fill a glass with ice and add the bourbon.
Top with lemonade, adding more if desired.
Garnish with fresh mint and lemon.