This Easy Spicy Frozen Jalapeno Pineapple Margarita is the ultimate cocktail to cool you down on warm days. You can whip up this spicy pineapple margarita in under 5 minutes and only need a handful of simple ingredients.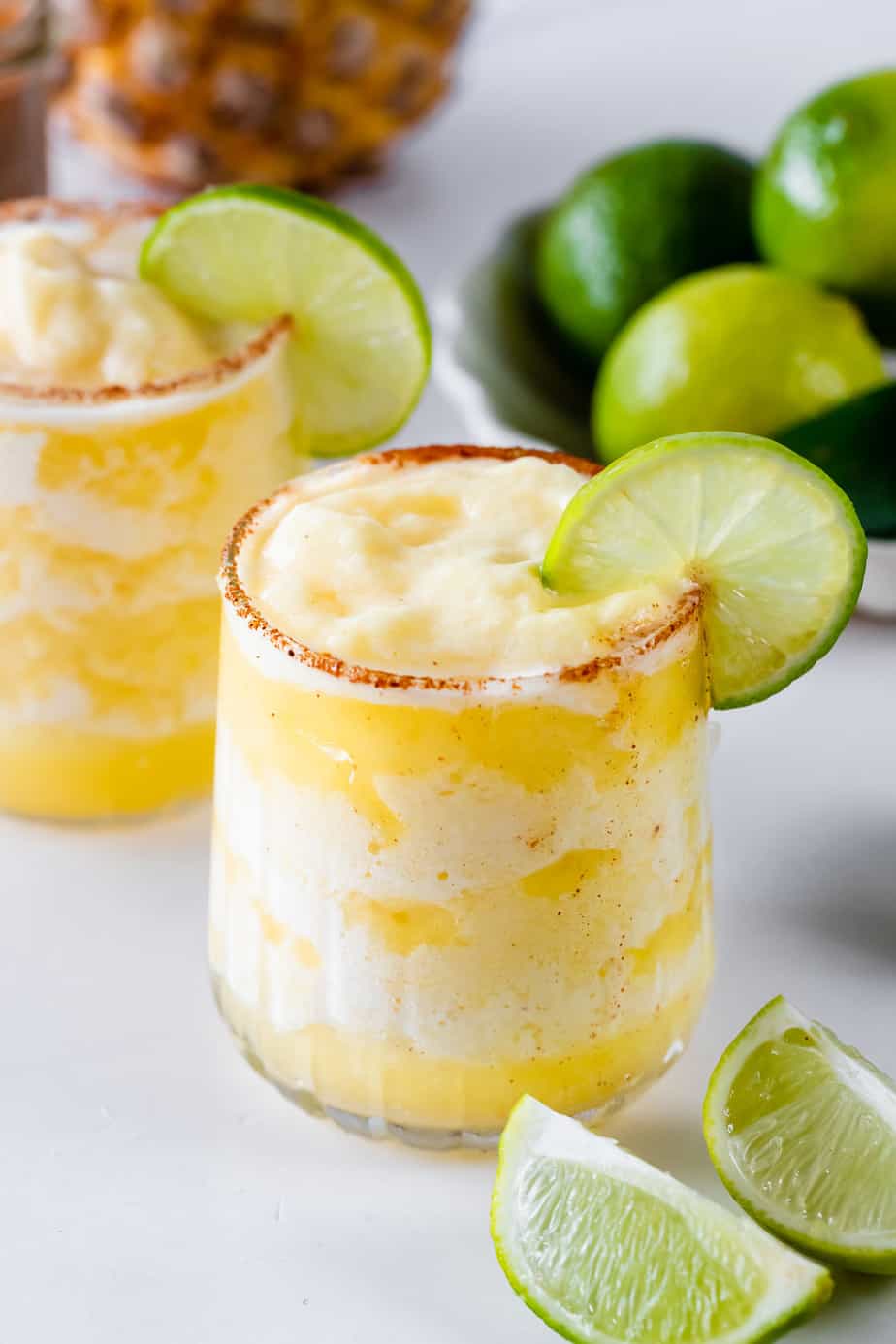 Jump to:
A Delicious Frozen Pineapple Margarita with Jalapeno
Summer days and frozen margaritas are a match made in heaven! And this frozen margarita recipe is always my go-to with its delicious fruity and spicy twist.
A classic traditional margarita is made with tequila, lime juice, triple sec, and agave syrup. But there are hundreds of variations with all kinds of fruit and flavorings available - and this pineapple jalapeno version is always a hit!
The pineapple in this cocktail recipe makes this frozen drink even more refreshing and the spicy kick is the perfect companion. This margarita recipe is truly packed with flavor that will have you making this recipe over and over again.
This recipe is also a dream to make. It is so quick and easy to whip up and it can easily be adjusted to suit your exact preferences.
So with a few simple ingredients and a high-powered blender, you are just moments away from the best frozen pineapple jalapeño margarita ever. I highly recommend this cocktail for your next Cinco de Mayo celebration!
Another delicious pineapple cocktail recipe that you must try out is my refreshing Pineapple Gin & Ginger Beer Cocktail!
Read about Reposado Tequila and why we love it, how it's made and more over HERE
Ingredients & Notes
Frozen pineapple chunks - You can use store-bought frozen pineapple chunks, but I simply cut a fresh pineapple into small chunks and pop them in a container in the freezer overnight.
Fresh jalapeno - You can decide how much of the jalapeno you want to include in your cocktail mix. And remember that if you prefer a milder flavor, you can deseed your pepper to remove some of the heat.
Lime juice - Freshly squeezed is always the best.
Agave nectar - You can leave this out if you want your pineapple cocktail to be less sweet or you can substitute for honey if preferred.
Tequila - Use can use any kind of tequila you prefer best. Tequila Silver is traditionally better than Gold Tequila for margaritas because it has a more pure, stronger flavor.
Triple Sec - This adds a splash of delicious citrus flavor to the cocktail.
What you'll need to rim and garnish your serving glass:
Lime juice
Chili powder or cayenne powder
Salt
Lime slices or wedges
Fresh pineapple chunks and/or sliced jalapenos (optional)
Frozen pineapple margarita without triple sec
There are many options to make any margarita recipe without using triple sec. You could easily substitute triple sec for Cointreau or simply leave it out of the recipe completely. Or simply add an extra dash of tequila in place of the triple sec. But if you still want to include some yummy citrus flavor, simply add a splash of lemon or orange juice to your drink or garnish it with some orange rind.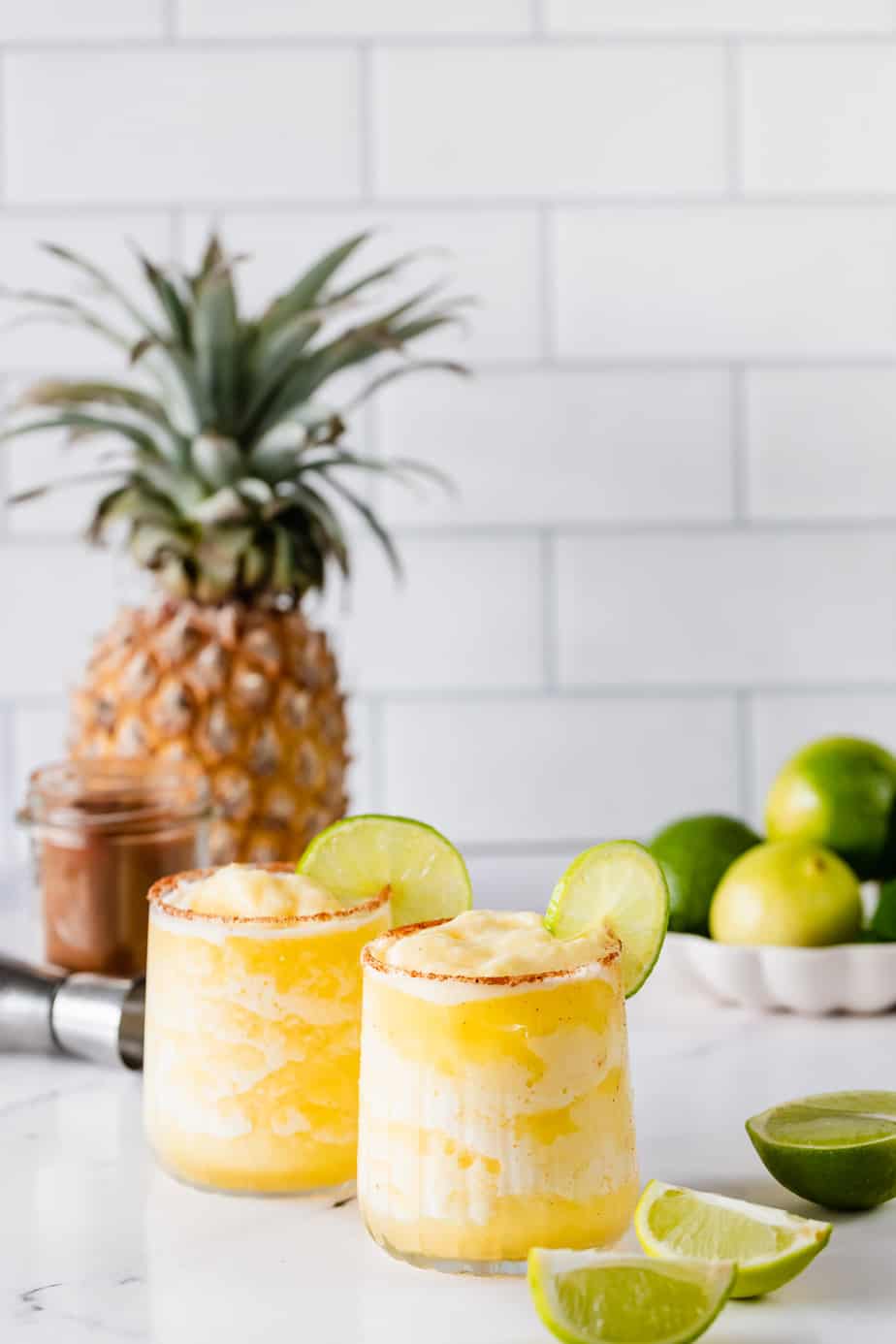 How to make a spicy frozen pineapple margarita with jalapeno
STEP ONE
Place the ice, frozen pineapple chunks, fresh jalapeno, lime juice, agave nectar, tequila and triple sec in a high-speed blender.
STEP TWO
Blend until completely smooth. Give it a stir halfway if the blender gets stuck or add a little extra lime juice, or tequila (we won't judge) if desired.
STEP THREE
To add a little extra spicy flavor, place salt and cayenne pepper on a small plate. Use half a lime to rim the glasses with lime juice and then place the rim of each serving glass in the cayenne pepper mixture to coat it.
STEP FOUR
Garnish with a slice of lime and enjoy!
How to Rim a Margarita Glass
Everybody loves a thick-rimmed margarita - it's an important part of the cocktail experience. The chili powder and salt rim is what makes these margaritas extra special so it's important you get your glasses rimmed perfectly! A great margarita with a spotty rim is a real letdown. So follow the instructions below to get the best spicy rim for your margarita:
How to get a perfectly rimmed margarita glass:
Put your salt, sugar, or mix into a shallow bowl or plate and spread into a thick, even layer.
Run a fresh lime around the rim of your glasses making sure it is well coated with juice.
Dip the rim into the salt mixture and you are ready to serve up some yummy margaritas.
Frozen pineapple margarita with pineapple juice
If you're as pineapple crazy as I am, you might want to add even more pineapple flavor to your frozen pineapple margarita. To do this, simply add ½ cup of pineapple juice and an extra ½ cup of ice to the recipe.
HOW TO MAKE A MOCKTAIL MARGARITA
If you're looking to make a frozen margarita mocktail, substitute the tequila and triple sec in the recipe for some pineapple juice. This will make for a delicious non-alcoholic version of this margarita that is still full of flavor and fun!
Serving Suggestions
I love to serve these delicious drinks in fancy but simple glasses to really enjoy the experience - but really any glass will do.
I like to rim my glasses with chili salt or cayenne salt and then garnish each margarita with a slice of fresh lime. You could also add chunks of fresh pineapple to garnish or even slices of fresh jalapeno to kick up the spice factor.
If you've got a sweet tooth or want to tone down the heat, you can rather rim your glasses with sugar or just plain salt. Simply follow the same rimming method as instructed but use granulated sugar or salt instead.
These margaritas go perfectly with all sorts of Mexican cuisine such as enchiladas, tacos, or tortillas. They are also the perfect cocktail to enjoy with summertime classics such as burgers or BBQ. Check out my list of BBQ sides for some meal inspiration!
More Easy Summer Cocktail Recipes:
I hope you love this Spicy Frozen Jalapeno Pineapple Margarita recipe as much as I do. And if you want to see more of my food adventures, follow me on Instagram or Facebook.
Frozen Pineapple Jalapeno Margarita
A refreshing pineapple twist on a classic frozen margarita with a spicy rim.
Ingredients
1 cup ice
2 cups frozen pineapple chunks
½ - 1 fresh jalapeno
2 tablespoon lime juice
2 teaspoon agave nectar
¼ tequila
3 tablespoon triple sec
For the Garnish:
cayenne pepper
salt
lime slices
Instructions
Place all the ingredients for the margarita into a blender. Blend until smooth.
For the rim, combine salt and cayenne pepper on a small plate. Run a lime wedge along the edge of each glass and dip it into the cayenne salt mixture to coat.
Garnish with fresh slices of lime and enjoy.
Notes
If you're looking to make a frozen margarita mocktail, substitute the tequila and triple sec in the recipe for some pineapple juice. This will make for a delicious non-alcoholic version of this margarita that is still full of flavor and fun!