A guide to The Best Aperol Cocktails out there! Find some new and interesting delicious drink recipes to make with Aperol, the staple of Italian aperitifs.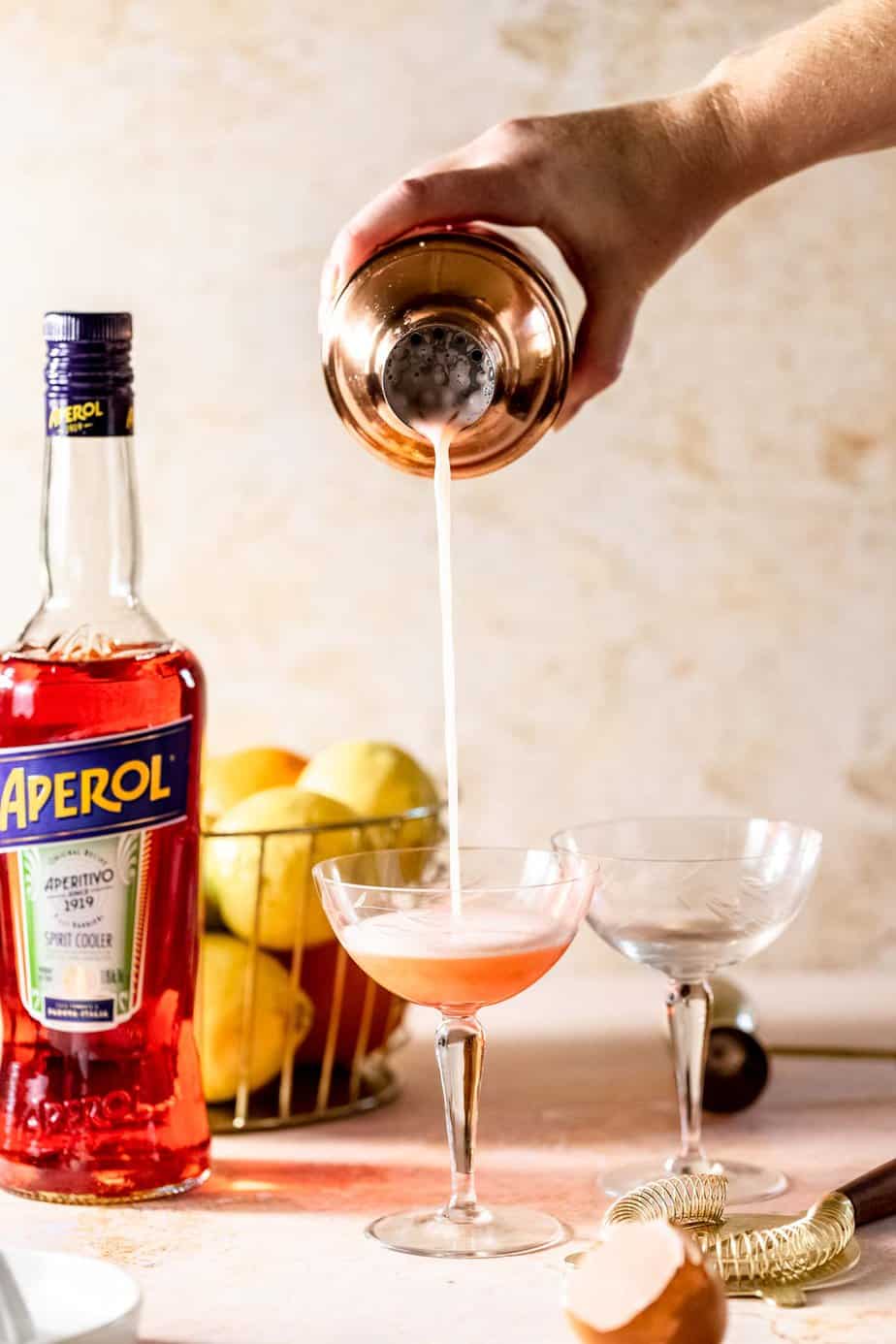 Jump to:
Cocktails with Aperol
Aperol is a delicious addition to a variety of mixed cocktails. With its low alcohol content of 11% ABV, zesty citrus notes, and aromatic flavors of gentian, rhubarb, and cinchona, it is extremely mixable and makes for an excellent cocktail ingredient beyond the classic Aperol Spritz.
Its unique flavor means that Aperol cocktails have a distinct, sometimes hard-to-describe taste that ranges from bitter to sweet, tangy to tart. And of course, it always adds its vibrant iconic orange-red hue to the drink too!
What does Aperol taste like?
There is nothing quite like Aperol. It has a sweet taste with bitter notes. The combination of orange and herbs gives this Italian liqueur a complex taste that mixes well with soda water or can be used as a base for many cocktails.
If you're a fan of the fruity bitter notes in Aperol, you'll probably love Campari too! Campari is very similar to Aperol but this Italian apertif is even more bitter.
The 10 Best Aperol Cocktails
Aperol's bittersweet and zesty notes lend themselves well to a variety of base spirits from gin and mezcal to bourbon and rum, and beyond. In the list below you will find a wide range of cocktails that feature a variety of liquors.
From simple to complex, this list has it all! So crack open a bottle of Aperol and find your new favorite Aperol Cocktail!
If you love a whiskey sour or an Aperol spritz this Aperol Gin Sour will become your new favorite cocktail! This easy Aperol cocktail can be whipped up in under 5 minutes and is not only beautiful but also creamy and delicious.
This drink may not look or taste like a traditional Cosmo - but it is just as tasty and beautiful! It has a vibrant, tangy flavor that features vodka and notes of citrus. It is a strikingly bright orange color from the Italian aperitivo Aperol.
This classic paper plane cocktail is the ultimate four-ingredient cocktail recipe. Made with Aperol, Amaro Nonino, Bourbon, and lemon juice. You definitely can't go wrong with this beautiful Aperol drink.
This Winter Aperol Spritz is perfect for fall or winter with its hint of cranberries, bubbly prosecco, and the deep flavor of Aperol. This cocktail recipe means that spritzes aren't just for the summer anymore, they're perfect for the holidays too!
The Division Bell cocktail is a unique and flavorful drink that is made with Mezcal, Aperol, Maraschino liqueur, and lime juice! Aperol lends its bitter, citrusy flavors alongside the brightness of lime juice and the gentle sweetness of maraschino liqueur to create a tasty cocktail that is always a hit.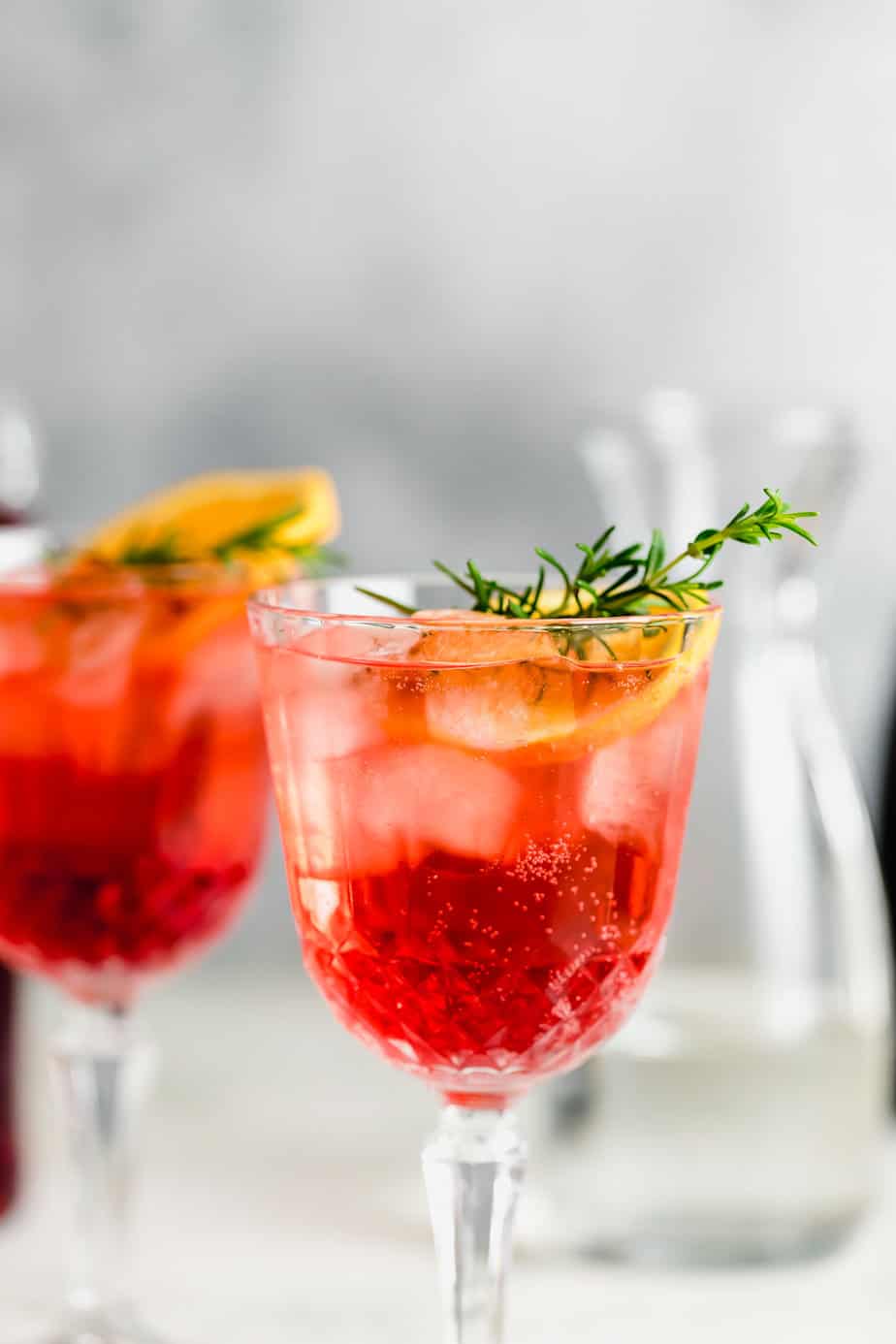 An easy-drinking fizzy aperitif made slightly more potent with the addition of gin. This delicious drink is a great way to celebrate any special occasion. It is made with sparkling wine, gin, honey, fresh lime, and Aperol.
This is a refreshing cocktail that improves the classic Screwdriver with sprigs of fresh thyme, Aperol, lemon juice, and club soda. The thyme adds notes of earthy florals, while the Aperol infuses the drink with fruity bitter orange. Freshly squeezed lemon juice brightens up the cocktail and the club soda adds refreshing bubbles.
Everyone loves a frozen margarita! And this one is extra special with its mix of summer peaches, orange liquor, tequila, and Aperol. This cocktail is blended with ice and a swirl of creamy coconut milk and has a spicy tajin rim that keeps everyone coming back for more.
This Gin Aperol Cocktail recipe is refreshing and delicious, and the pretty color makes for a stunning presentation. Using both Empress gin and rum, along with lemon juice and Aperol to give the drink a tangy but complex flavor. The Aperol brings sweetness, along with some citrusy bitterness that goes perfectly with the gin botanicals.
This lovely reddish-pink cocktail is sweet, fruity, and just a touch bitter. The lime juice adds a bright burst of zestiness to this grapefruit-forward cocktail. It's a refreshing and flavorful drink with a kick from both Aperol and gin.
What can I use if I don't have Aperol?
There is nothing quite like Aperol on the market. But there are some substitutes that you can try to use to achieve a similar result. If you are looking for a substitute for Aperol, you can consider using Campari, Gran Classico Bitter, or Cocchi Americano.
These liqueurs contain similar flavors and aromas to Aperol and therefore can be used as a great substitute for your favorite aperitif cocktail recipes.
I hope you love this list of The Best Aperol Cocktails as much as we do. And follow us on Instagram or Facebook for even more food and drink inspiration!