Learn how to store simple syrup correctly so that you can get the most out of this versatile and staple ingredient! Simple syrup is easy to make and store at home.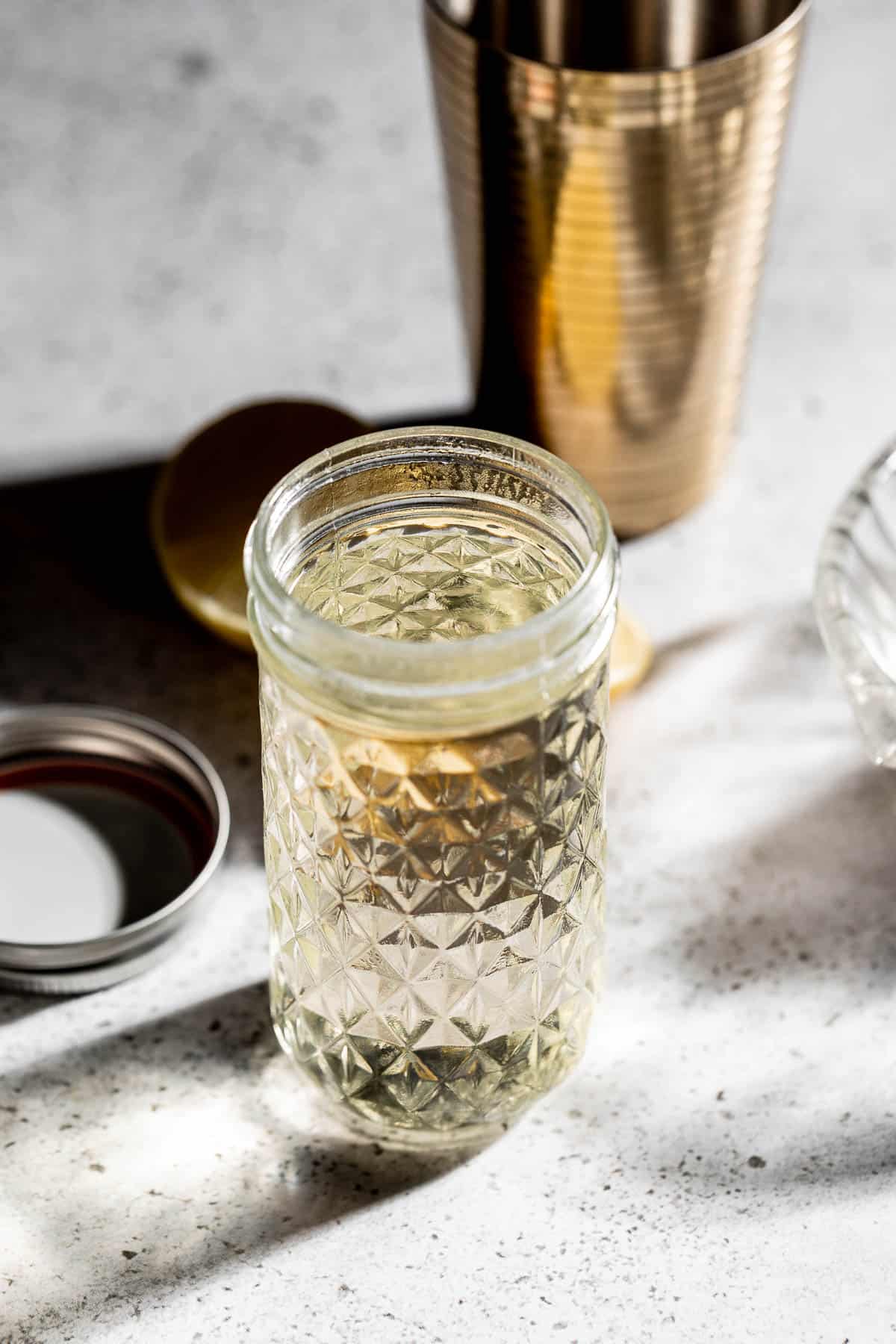 Jump to:
Homemade Simple Syrup
Simple syrup is a liquid sweetener that is easy to make at home. Generally, sugars need to be well-stirred or shaken to dissolve, but a simple sugar syrup is already a liquid and can therefore prevent any graininess in your drinks or food.
The ratio of simple syrup is 1:1, which means it is equal parts sugar to water. You can use all kinds of sugars to make simple syrup at home, such as coconut sugar, cane sugar, and light brown sugar. White sugar (or granulated sugar) is most commonly used as it has a neutral flavor.
As a simple syrup is made from two basic ingredients, it is far cheaper and easier to make at home rather than buying it from the store. You can find an easy recipe below to make your own homemade batch of simple syrup.
The amounts used can be adjusted according to how much syrup you want to make and use within a month.
Homemade Simple Syrup
Homemade simple syrup is easy to make with just two ingredients! The syrup can then be stored and used for up to one month.
Ingredients
1 cup granulated sugar
1 cup water
Instructions
Combine the sugar and water in a medium saucepan over medium heat.
Bring mixture to a boil, stirring continuously until the sugar has dissolved.
Allow it to cool to room temperature.
Pour into a clean jar and seal with a tight-fitting lid; store in the refrigerator for up to one month.
Infusing & Flavoring Simple Syrup
Simple syrup can be infused with a variety of different flavors while making it. This is a great homemade alternative to corn syrup or artificially flavored syrups sold in stores.
If you are making infused flavored simple syrups, stir them into the syrup as it comes off the heat and allow them to steep while the syrup cools. Once the simple syrup is cool, remove the additional ingredients before storing it.
You can make various flavored batches of simple syrup at a time by pouring the hot liquid into jars with different ingredients. Cover the jars with the lids while steeping.
Some flavorings you can add to your simple syrup:
Vanilla beans
Mint leaves
Cinnamon sticks
Citrus rind
Cloves
Lavender
Fresh ginger
Rosemary
Peppercorns or dried chili
I love adding a dash of vanilla-flavored simple syrup to my COLD BREW ICED COFFEE every morning!
How to store Simple Syrup
With just a few simple considerations, you can easily and safely store your simple syrup at home for up to four weeks. The water content in simple syrup makes it susceptible to spoiling, so it must be kept refrigerated.
Step-by-step Storage Instructions
STEP ONE
Choose the right container. You should always store your homemade simple syrup in a glass jar that can be well-sealed. While you can use any type of airtight container, glass is best as it won't leach any other flavors into your syrup.
STEP TWO
Clean the container. No matter what container you use to store your syrup, it is essential that it is clean and well-sterilised. Scrub the container with hot water and soap and fill it with boiling water to ensure it is sterile. Pour out the water and let it air-dry before filling it with your homemade simple syrup.
STEP THREE
Place simple syrup into the refrigerator. The shelf life of your simple syrup will depend upon the cleanliness of the airtight container, if any flavorings are used, and the amount of sugar in your mixture.
The standard one-to-one sugar-to-water ratio will produce a simple syrup that lasts for one month in the fridge. Sugar acts as a preservative, so more sugar equals a longer shelf life.
How to make Simple Syrup last longer
There are a few ways you can extend the shelf life of your simple syrup and make it last longer.
Add vodka. Vodka has a high alcohol content with a neutral taste. So if you add an ounce of vodka to your syrup the alcohol content and the sugar will help delay the growth of any mold or bacteria. This can extend the life of your simple syrup by two to four weeks.
Heat your syrup well. When you are making your simple syrup, you can heat it to a heavy simmer so that it boils lightly. This will help to off any bacteria and spores that might later spoil your simple syrup.
Store in the freezer. Cold temperatures inhibit the growth of bacteria and mold. You can store simple syrup in a freezer to make it last longer. Its sugar content will keep it from freezing solid and the very cold temperature will keep your syrup safe for months. Keep in mind that if you do opt to store your syrup in the freezer, a clean, new plastic container may be a better option than glass. If you want to go with glass, be sure that it's tempered.
Signs that simple syrup has gone bad:
If you store your simple syrup correctly, it is unlikely that it will spoil. But here are some easy and obvious ways to tell if your simple syrup has gone bad. The two main signs are:
Appearance: If your simple syrup looks cloudy, and has spots or mold on it or the cap/lid, then it is time to toss the simple syrup and make a new batch.
Smell: Sour, moldy, or bitter smells from a simple syrup can indicate that it has gone bad and needs to be thrown out. So always give your simple syrup a sniff before using it.
A simple way to keep track of your simple syrup's time span is to store your syrup in airtight containers with a label on them that states the date and contents of the syrup.
Cocktails to make with simple syrup:
Now that you know how to make simple syrup and how to store it, how do you use it? There are so many cocktail recipes that use simple syrup, the choice is yours!
I hope you love this guide on How to Store Simple Syrup. And follow me on Instagram or Facebook for even more food and drink inspiration!