These tasty Limoncello Cocktail Recipes are delicious mixed drinks that you can easily make at home with Limoncello liqueur. If you love bright and zesty cocktails then these are the recipes for you!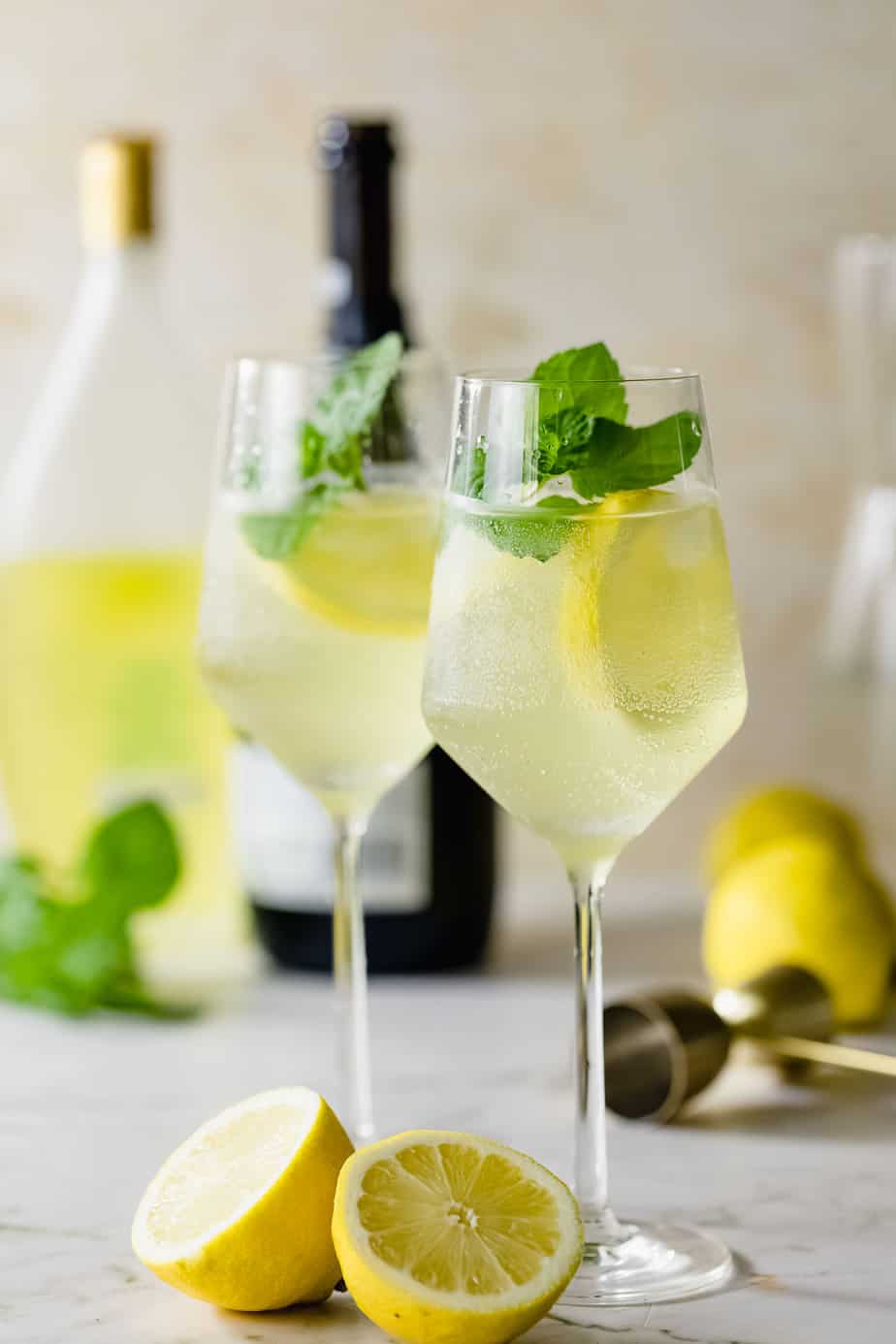 What is a Limoncello Cocktail?
A Limoncello cocktail is an alcoholic drink that includes Italian Limoncello liqueur in the recipe. Limoncello (sometimes called "lemoncello") is a lemon liqueur that is sweet and intense with a strong, bright lemon flavor. Most limoncello is bottled between 28% and 32% alcohol by volume.
The limoncello used in the cocktail can be bought at a store or it can be made at home. You can also use Limoncello as a substitute for simple syrup and other sweeteners in cocktail recipes where the additional lemon flavor will enhance the drink.
Limoncello cocktails can vary in strength with some just containing a splash of Limoncello in them and others having it as a main component. Either way, they are always delicious and refreshing cocktails! The perfect drink for lemon lovers!
What do you drink limoncello with?
Although limoncello has a strong and intense flavor, it actually pairs well with many different ingredients and flavors. You can drink Limoncello with other fruit flavors and sweet mixes.
Limoncello is often found in dessert drinks and pairs best with tequila, vodka, and whiskey. But it can also be used in drinks with rum and even white wine.
What are the best ways to drink limoncello?
Limoncello is a versatile drink that can be enjoyed in many ways. You can drink limoncello straight as a sipper, combined with a simple mixer, or included in a mixed cocktail.
It's traditional to serve limoncello well-chilled as an after-dinner drink. In cocktails, it's used as a sweetener that adds a bright citrus flavor to the recipe.
While limoncello is customarily enjoyed on its own, normally for dessert, it also makes a brilliant cocktail ingredient. It's well-loved sweet, citrusy flavor makes it a perfect addition to many mixed drinks.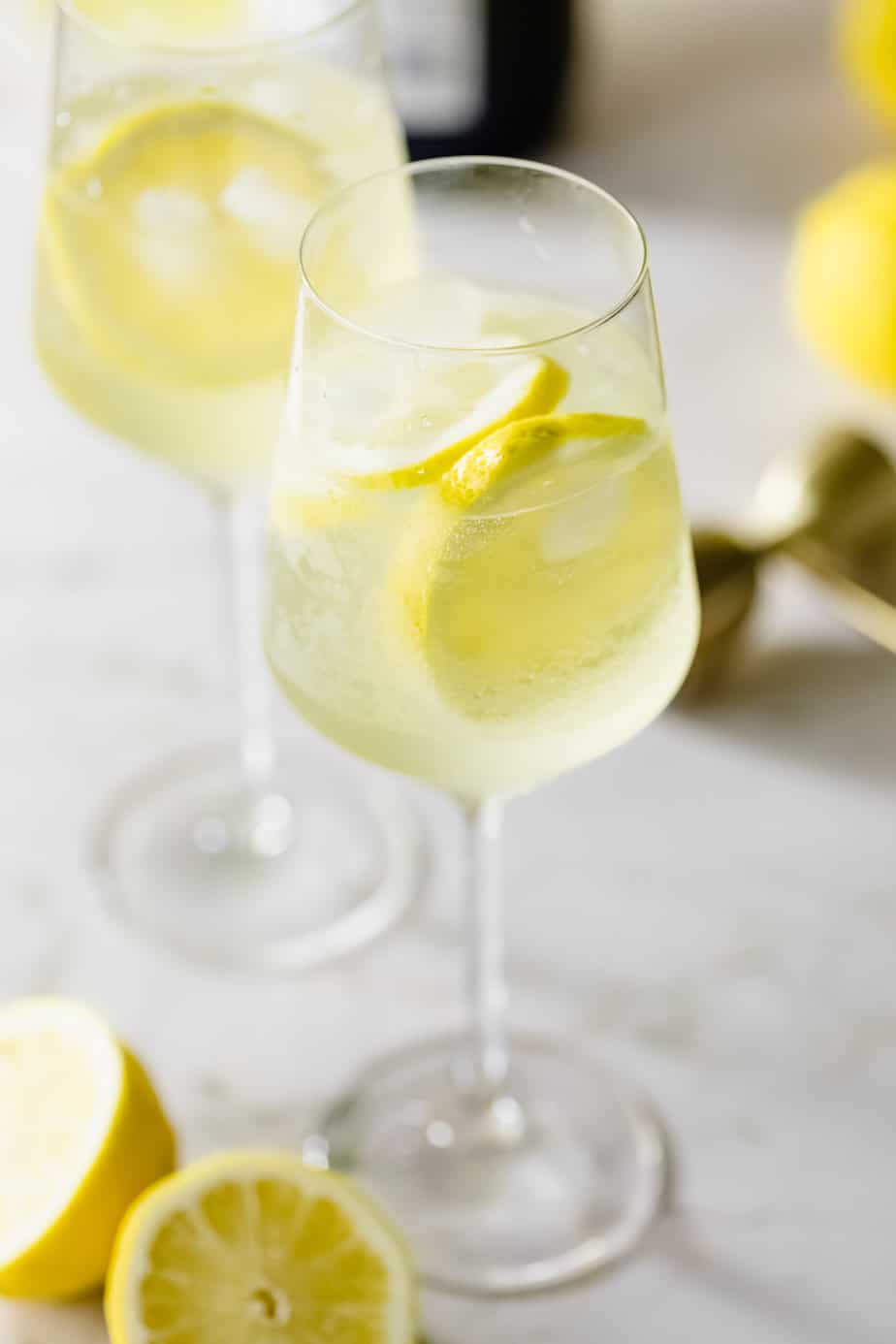 12 Limoncello Cocktail Recipes
A Limoncello spritz is a refreshing summer cocktail made from Italian liqueur Limoncello, Prosecco and soda water. It is an easy 3-ingredient cocktail recipe that is bubbly, easy to make, and perfect for summer afternoons.
The zesty lemon flavor combined with bubbles makes this limoncello spritz the only summer cocktail recipe you need!
A Limoncello Gin Collins is fizzy and refreshing with a prominent lemon flavor. A tasty twist on a classic! The minty simple syrup helps to balance out the tartness of the lemon juice and limoncello to make a well-balanced and refreshing drink.
This drink is exactly what you want on a hot day! All the fruity and floral botanicals of gin meld with lemon liqueur for a bright, refreshing drink.
A classic Mojito with a tasty Italian twist, this delicious drink is made with limoncello, rum, fresh lemons, and plenty of fresh mint. It's a super refreshing drink, delicious and perfect for sipping on when the sun is shining!
A simple yet elegant cocktail, this zesty martini is made with Limoncello and lemon juice for the most refreshing drink ever. We love this twist on a classic martini.
This Raspberry Limoncello Cocktail mixes vodka, limoncello, lemon, and soda for a refreshing, easy drink!
The classic flavor combination of raspberry and lemon is always a winner - especially during the summer months! This raspberry limoncello cocktail is the perfect drink to highlight that sweet, lemony flavor of Limoncello.
Bourbon is a smooth Whiskey that pairs well with citrus and bitters, making it the perfect complement to a tart, citrusy liqueur like limoncello.
The combination of limoncello's tart and sweet notes builds a lovely whiskey sour, and a dash of bitters provides the balance to the lemon liqueur's sweet and tart profile.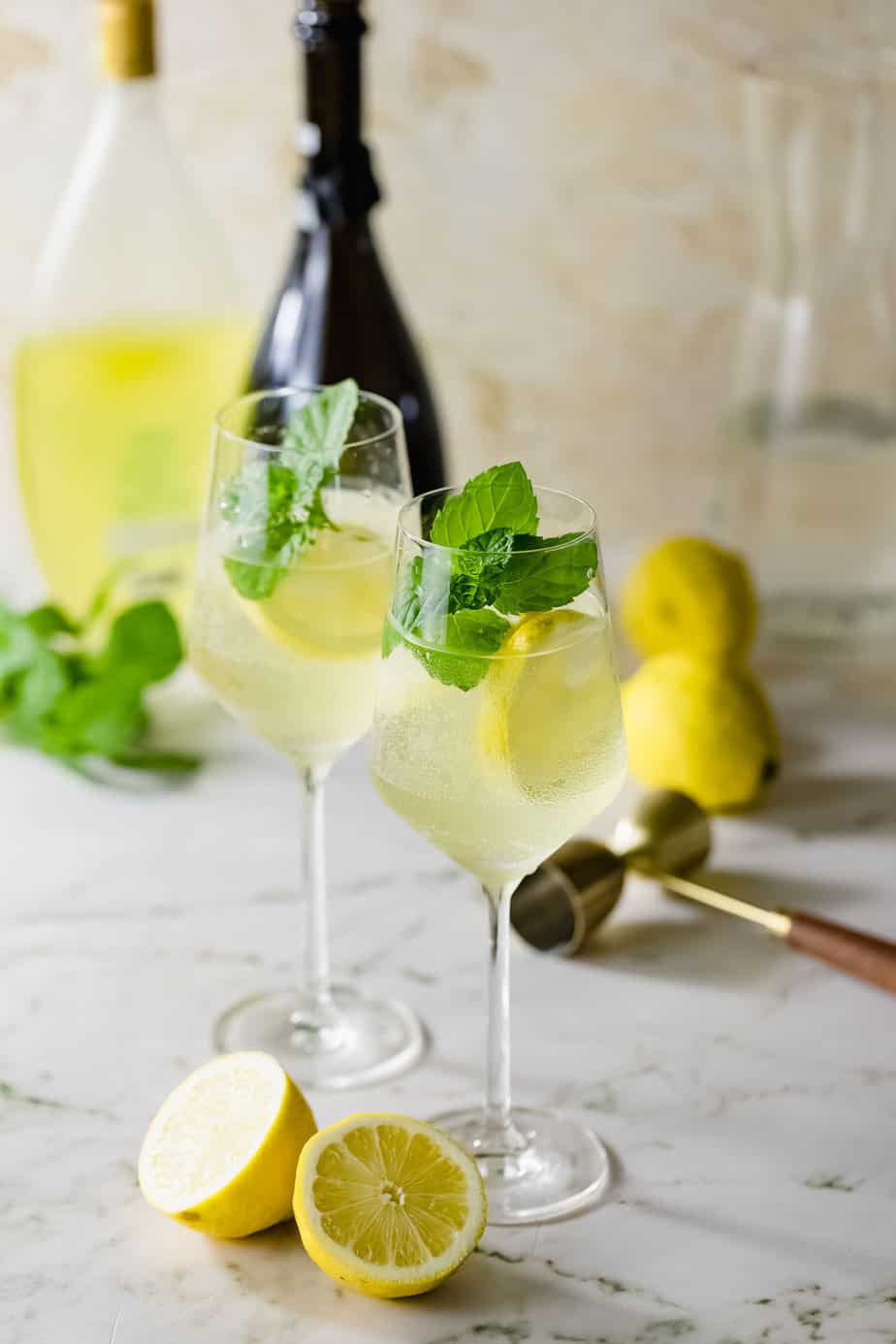 Limoncello Moscow Mules are a fun twist on the classic mule. This tasty beverage swaps out the lime for fresh lemon and a splash of limoncello. Add that to some vodka and ginger beer and you have one delicious beverage.
The Limoncello Prosecco cocktail is bright, crispy, and refreshing and only needs 3 ingredients! Bubbly and zesty with sparkling prosecco, this drink recipe will light up any occasion!
And it's so easy to make so there's no excuse to not whip up a batch whenever the mood strikes. Usually made in a pitcher for large parties, the Limoncello Lady is simple, refreshing, and a perfect balance of sweet and sour.
Turn Limoncello into an amazingly refreshing layered cocktail! With its signature layered sunrise effect, a Limoncello Sunrise is one strikingly beautiful and tasty drink treat.
Sunrise cocktails get their name from their layered sunrise-mimicking color effect. This layered effect may seem difficult to achieve, but it's really not - it's actually quite easy.
Limoncello with blueberry juice gives you the right balance of sweetness and tartness. Give it a touch of fizzy soda and there you go! It's fun, festive, and refreshing, which makes it perfect for parties and for impressing your guests.
The light taste of lemon and ginger with a little bubbly makes this Gingered Limoncello Champagne Cocktail recipe a refreshing and tasty drink!
It is the perfect beverage to serve at a brunch, bridal shower, or any type of festive gathering or celebration. The spicy snap of ginger liqueur and the divine tartness of the lemon liqueur give champagne a tasty whirl of flavor.
This Limoncello Cucumber Cooler combines the freshest tastes of summer with rum and club soda to make a refreshing cocktail perfect for outdoor drinking. A delicious combination of summer flavors like cucumber, lemon, and rum!
I hope you love this list of The Best Limoncello Cocktail Recipes as much as I do. And if you want to see more of my food adventures, follow me on Instagram or Facebook.