Vodka is a versatile spirit that can be mixed with a variety of flavors. Here you will find the best mixers for vodka to transform this popular liquor into something extra tasty!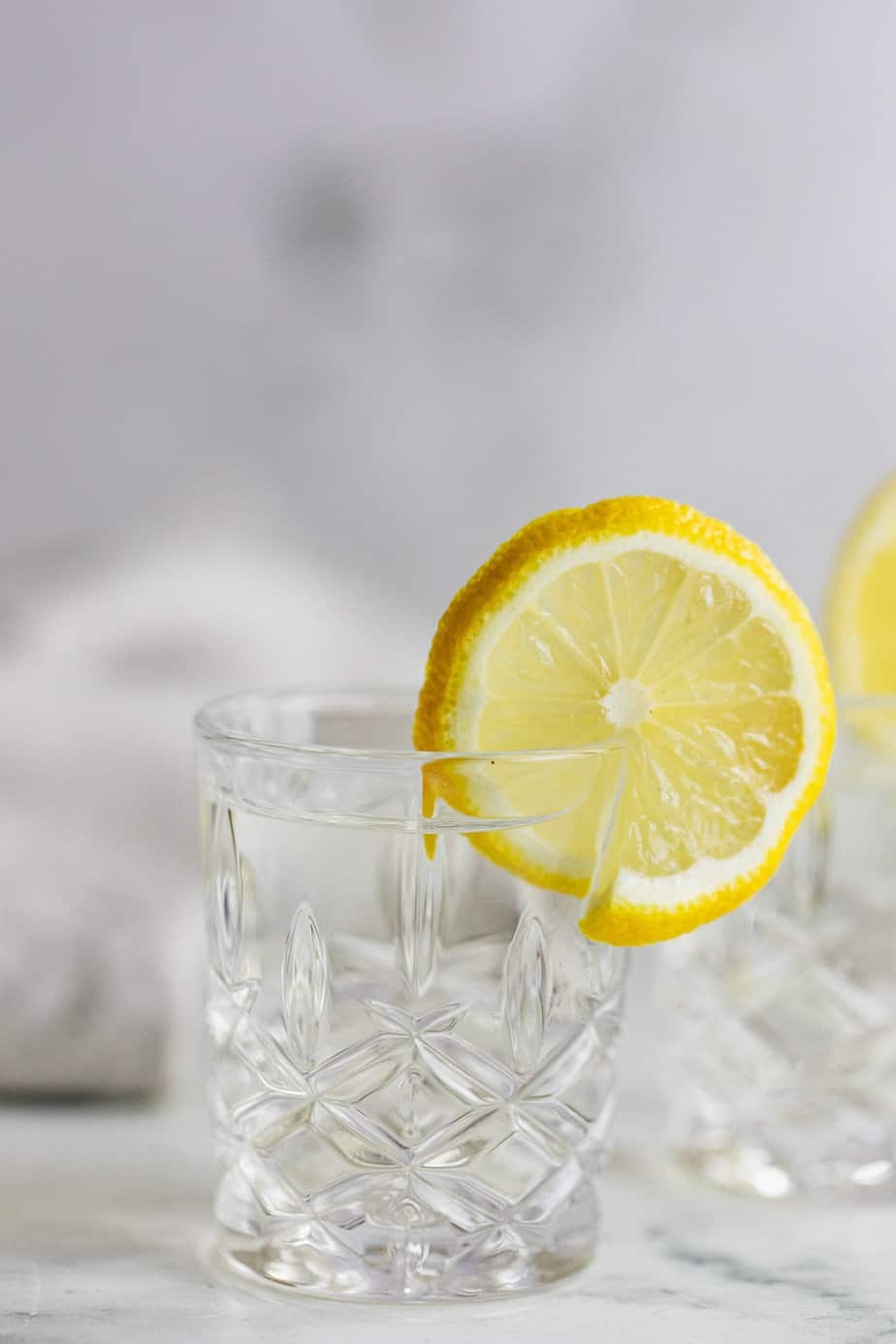 Vodka Mixers and why they are so popular
Vodka is one of the most popular spirits for mixing and making cocktails. The clear liquor pairs well with a wide variety of sodas and juices. This makes it highly versatile that can be enjoyed anywhere and for all occasions. One of the best mixers is sprite, our Vodka & Sprite recipe is a go-to in our house.
The taste of vodka can differ depending on the brand and the distillation process. But it always tends to be a strong and bitter liquor. This is why drinkers prefer to mask vodka's intensity by mixing it.
The flavor and intensity of vodka can be both enhanced and masked with certain mixers. So depending on a person's preferences, it is easy to find a vodka mixer that will suit them best.
So what is Vodka exactly?
Vodka started off as a medicinal elixir in Europe during the 15th century. It then transformed into a popular drinking spirit around the 18th century.
Different distilling traditions developed in Russia, Sweden, Poland, and France. But vodka is always a distillate of water, grains, and potato.
Each brand of vodka has different flavors depending on the grains used in the mash bill, how many times it's been distilled, and what country it comes from.
It is a clear spirit with a subtle flavor. This makes it perfect to sip neat or it can be used to add alcohol content without an alcoholic flavor to cocktails and mixers.
In the mood for a tasty vodka cocktail? Then check out my ZESTY VODKA CHAMPAGNE MOJITO COCKTAIL - you won't be disappointed!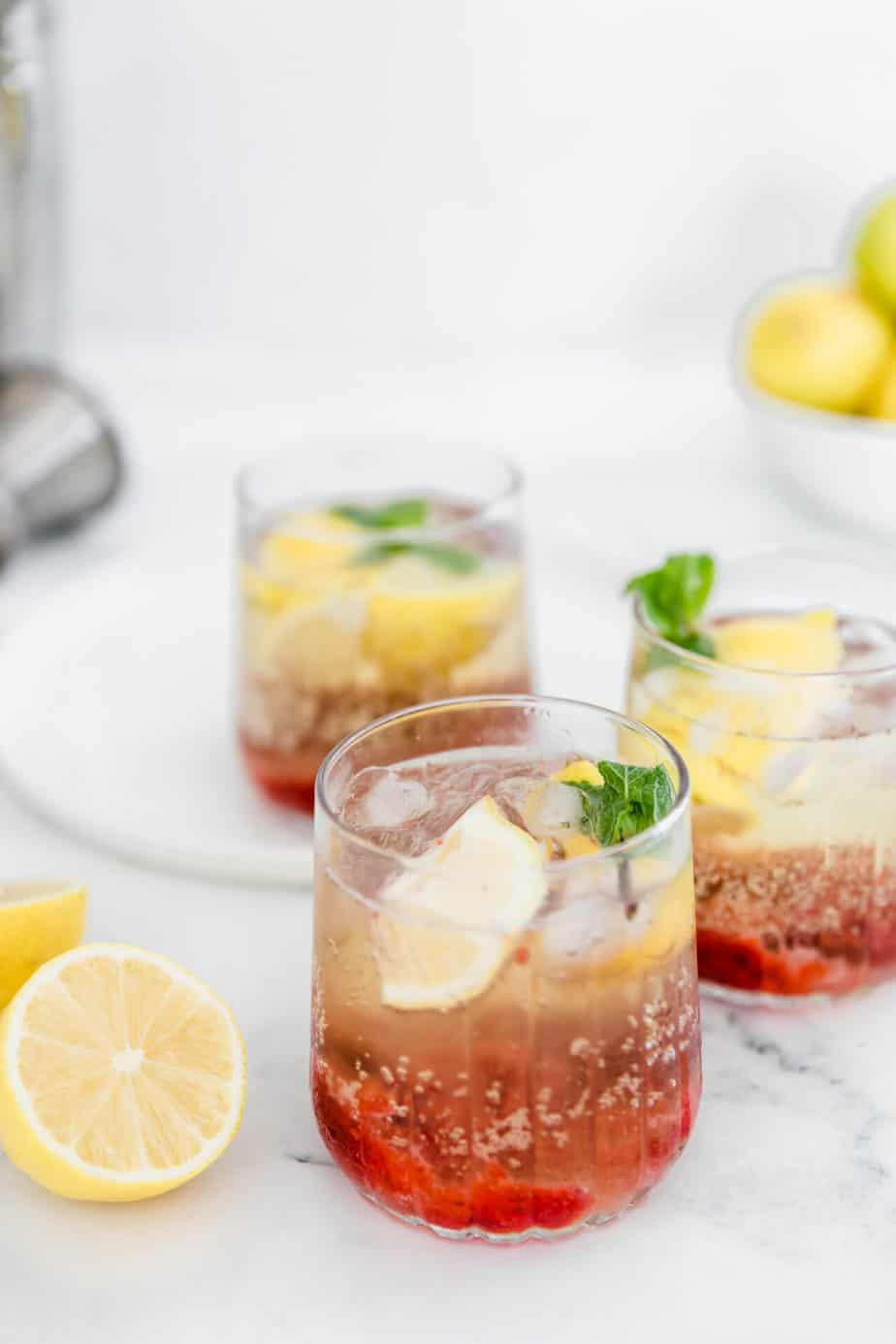 What are the best mixers for vodka?
Vodka offers the perfect base for a number of drinks and mixers. And it is easy to enjoy its versatility and flavor by combining vodka with a simple mixer.
We've assembled a go-to list of complementary mixers for vodka for your next party or slow-sipping night-in. So crack open a bottle of vodka and find the mixer you like best!
Vodka and Sodas
Cola
While cola may be known as a popular mixer for whiskey or rum, it is just as delicious as a mixer for vodka. Cola is both earthy and sweet, and the fizzy carbonation easily masks stronger flavors, like those found in vodka, which is why it s such a popular choice of mixer. And if you're looking to add a little fruity sweetness to your drink, using cherry-flavored Coke is a great way to do that.
Lemon-Lime Soda
Citrus flavors will brighten your vodka up into a super refreshing beverage. And by using Lemon Lime soda, you also benefit from the extra sweetness.
If you don't have any lemon-lime soda on hand, you can use some freshly squeezed lime juice and simple syrup instead. We suggest using the classic cocktail ratio: equal parts simple syrup and lime juice, plus twice as much vodka, served ice-cold.
Soda Water
Those who appreciate the taste of vodka will love a simple mix of soda water and vodka. If you enjoy a very dry drink that is alcohol-forward, then you will love this combination. Soda water doesn't alter the taste of vodka but simply adds a refreshing, carbonated texture to your drink, making it more enjoyable without adding too many calories.
Tonic Water
This popular gin mixer is just as delicious when mixed with vodka. Tonic water is slightly bitter in taste due to the added quinine (a bitter compound found in the bark of the cinchona tree). It also contains herbal and spice flavors which can be a delicious addition to vodka. It also adds a touch of sweetness, but with a much lower sugar content compared to sodas and fruit juices.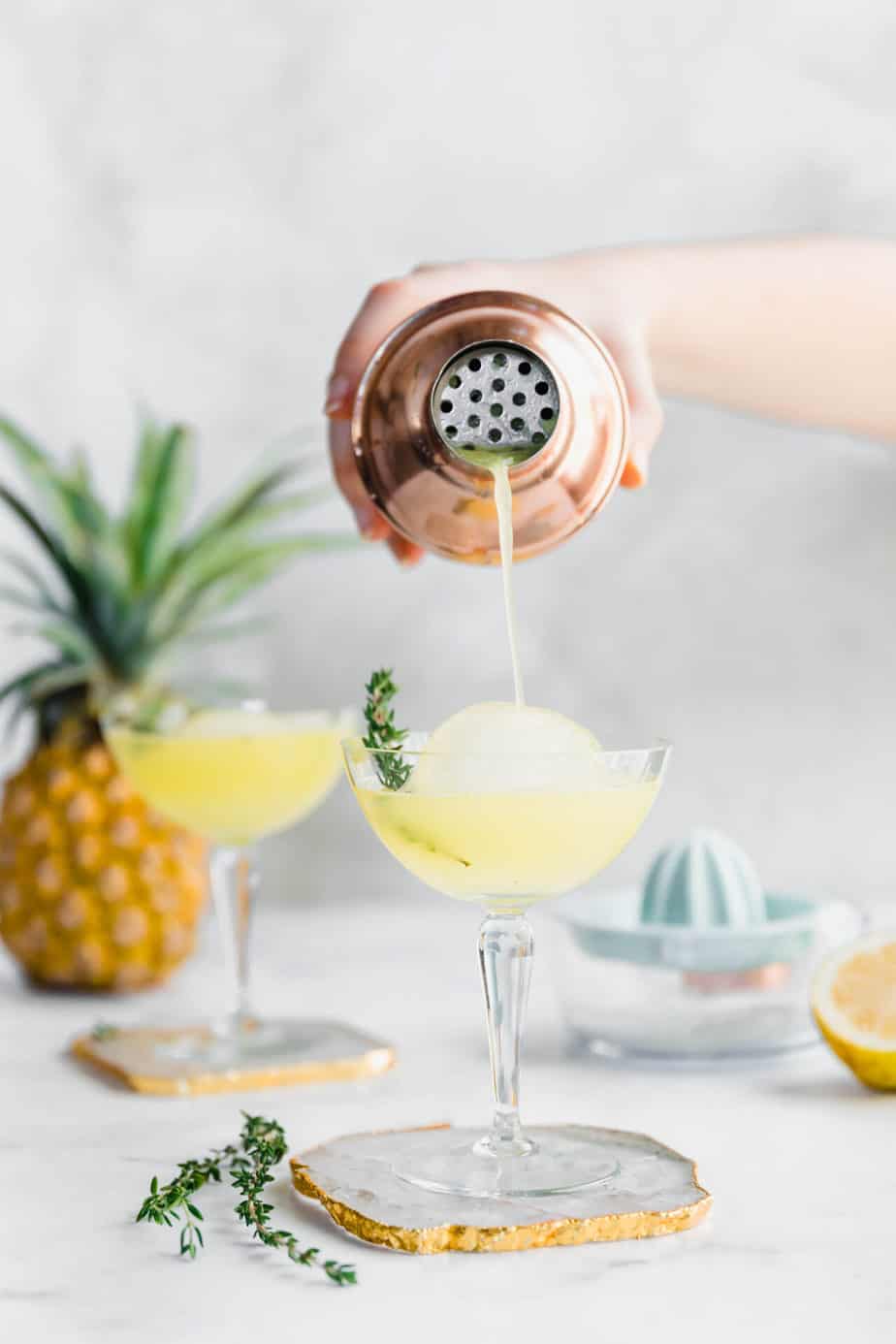 Vodka and Juices
Pineapple Juice
Pineapple juice is a popular and refreshing go-to as a mixer for vodka. It adds a tropical note to your drink thanks to its fruity and sweet nature. This flavorful juice is also pretty clean and pulp-free, ensuring a consistent texture for mixing.
If you love the combination of pineapple and vodka, then check out our list of THE BEST VODKA DRINKS WITH PINEAPPLE!
Cranberry Juice
An absolute classic mixer for vodka! Cranberry juice balances out the bitterness of vodka without being too sweet thanks to its tartness. This makes it a great choice of mixer for a well-balanced, fruity vodka drink.
If you want to up your cranberry vodka drink a level, add in a splash of soda water for some carbonation and a celebratory bubbly feel.
Orange Juice
Orange juice is a popular mixer for all types of alcohol, including vodka! The bright and citrus-forward flavors of orange juice pair perfectly with vodka to make a fruity, well-balanced drink.
The classic combination of orange juice and vodka is known as a Screwdriver. If you are making your own screwdrivers at home, it is best to use fresh orange juice rather than store-bought for an even sweeter and more healthy drink. You can also adjust the amount of vodka you add according to personal preference.
Tomato Juice
Between the acidic taste and thicker texture, rich tomato juice does a great job of diluting and balancing vodka, making it easy to drink and enjoy.
Tomato juice is also a great source of vitamin C and is packed full of antioxidants, making this tasty mixer a healthy and delicious choice. And as a bonus, it's a naturally zero-calorie beverage.
Tomato juice and vodka create one of the most beloved brunch cocktails in existence - The Bloody Mary. This savory drink has a dynamic flavor profile thanks to the variety of spices and sauces added to it such as soy sauce, Worcestershire, and Tabasco.
Grapefruit Juice
Similar to orange juice but with a bit more of a zingy, tart kick, grapefruit juice is a great bittersweet vodka mixer option.
The vodka-grapefruit combination is perfect for those who like drinks that balance sour and sweet flavors. It is a light and refreshing mixed drink that is popular to drink during the day, particularly at brunch.
Mixing grapefruit juice with vodka creates a drink known as The Greyhound. A deliciously intense drink order that is slightly bitter and sour, but still bright and uplifting.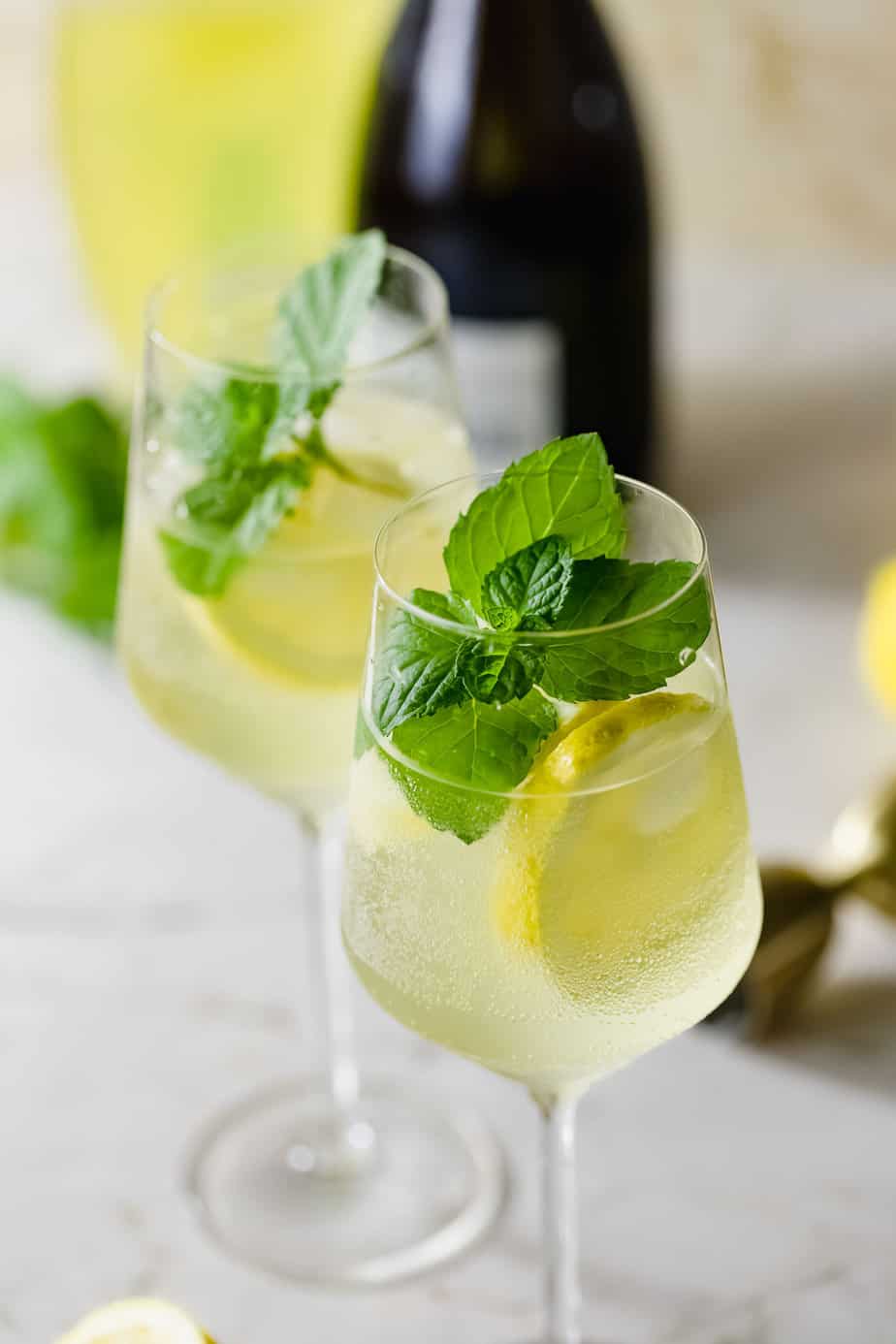 Other Vodka Mixers
Gingerbeer
Ginger beer is another flavorful and fizzy mixer with a spicy, aromatic, and rich finish that pairs well with vodka. It is made from ginger which gives it an intense sweet zing and it is carbonated so ginger beer does a great job of neutralizing vodka and adding an extra layer of texture and taste to the drink.
Ginger beer and vodka are the base ingredients in the popular cocktail known as a Moscow Mule. This simple yet flavorful cocktail is always a winner when served with fresh mint and a squeeze of lime juice.
Iced Tea
Iced tea comes in many, many varieties and flavors. From sweet black tea to herbal white tea, they are all great bases for mixing with vodka. Whether it's sweetened or not, iced tea has a dry finish due to the tannins in the tea which gives a vodka drink an even crisper, cleaner finish.
Red Bull
Red Bull and vodka is a classic energy-boosting drink that is full of flavor (and caffeine to keep you going on long nights). This popular energy drink is great at masking the flavor of the vodka and takes center stage when mixed with vodka since it is so strong. This makes this popular mixed drink a great option for those who don't want to taste any alcohol in their drink.
Lemonade
Lemonade is a sweet-and-sour mixer that can perfectly mask the taste of vodka with ease. It is refreshing and fruity, and a delicious summertime drink that is perfect for parties or outdoor gatherings.
While you can easily buy some lemonade at the store, making a fresh version at home is easy and so worth it. Freshly made lemonade will enhance the flavors in the drink and result in a more dynamic and tasty beverage.
We've got a delicious Vodka Sour recipe that is sure to make you love any vodka drink, plus it's super easy to make!
I hope you love this list of The Best Mixers for Vodka as much as I do! And if you want to see more food and drink inspiration, follow me on Instagram or Facebook.