This zesty classic vodka sour cocktail combines the smoothness of vodka with tart citrus flavors and a hint of sweetness. An easy to make cocktail that is ready to make in 5 minutes and looks beautiful with its frothy egg white top.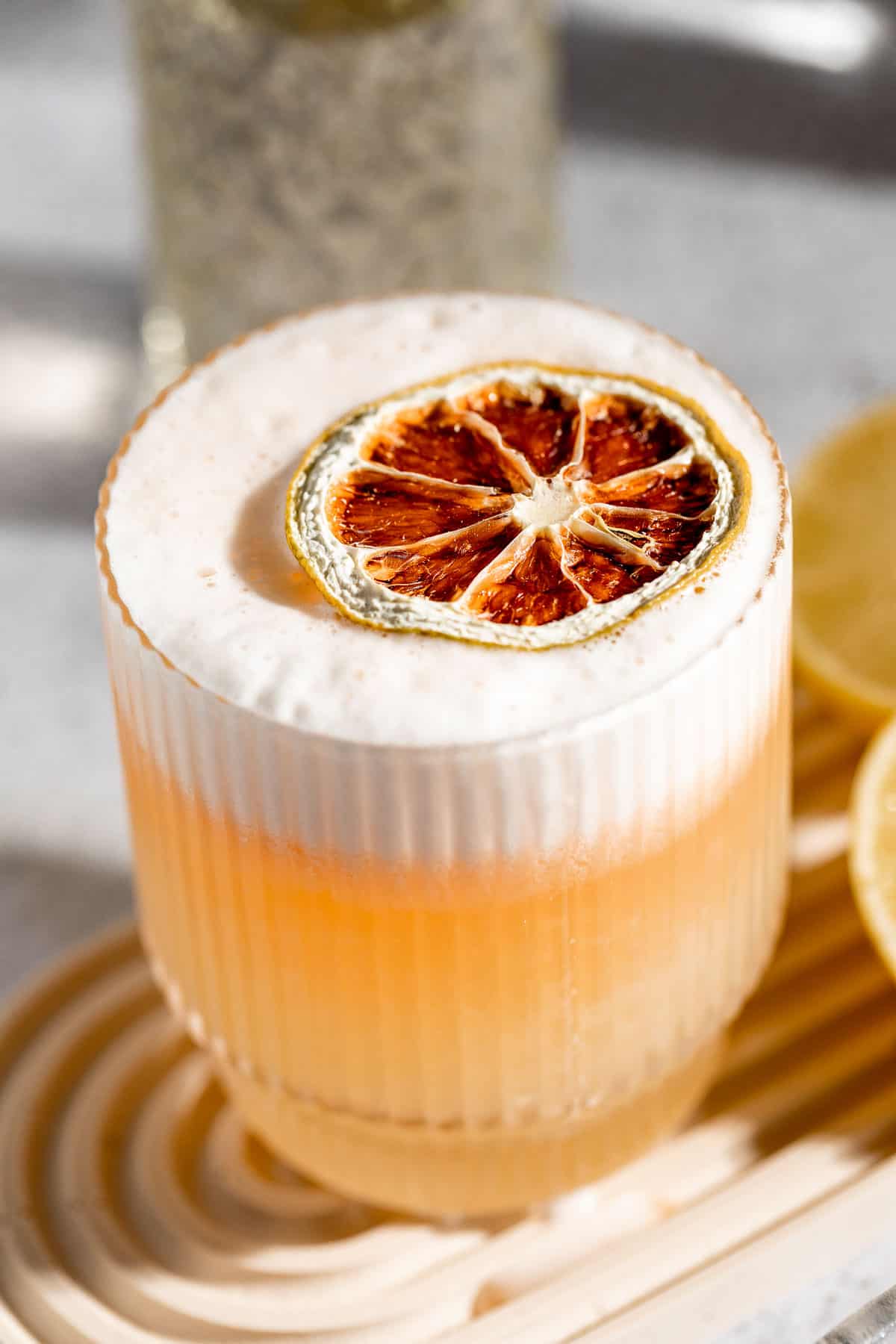 Ingredients for a Vodka Sour
A vodka sour is quickly becoming one of our favorites to make. Who doesn't love a whiskey sour or an Aperol Sour right?
This vodka sour recipe is just as good, maybe even better. Any sour cocktail consists of three main parts namely; liquor, citrus and sweetener. To make this vodka sour, you will need the following ingredients:
Vodka - Vodka forms the base of this cocktail so try to choose a high quality, smooth vodka that will complement the zesty and sweet flavors from the other ingredients.
Simple Syrup - Use store bought or make your own Homemade Simple Syrup. This syrup is so incredibly versatile and can be used in a multitude of cocktails. It provides just the perfect amount of sweetness and helps to balance out the sourness from the lemon juice.
Lemon Juice - Fresh is always best! Freshly squeezed lemon juice will make this cocktail so much more tangy and delicious. Store bought will also work, but in my opinion it just isn't quite the same.
Egg White - To give a sour cocktail that silky finish, we add egg white to the cocktail shaker and give it a good shake to create that beautiful frothy finish. Substitute for aquafaba for a vegan alternative.
How To Make A Vodka Sour
Making a vodka sour must be one of the easiest cocktail recipes to make. It requires only a few steps and can be made in under 5 minutes.
Step One: Place the vodka, egg white, lemon juice and simple syrup in a cocktail shaker and shake for at-least 20 seconds.
Step Two: Add the ice and shake for another 30 seconds.
Step Three: Strain the cocktail into a glass and garnish.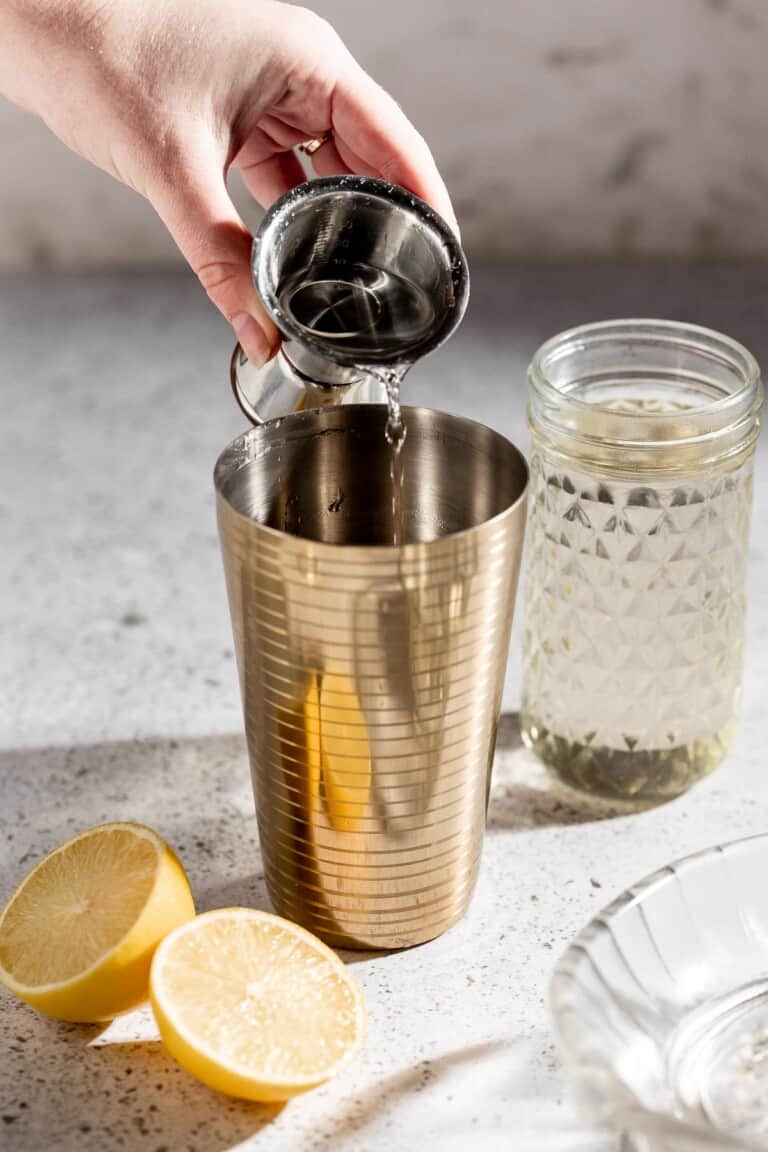 Dry Shaking for The Best Sour Cocktail
Dry shaking a cocktail refers to adding all the ingredients to a cocktail shaker and shaking it without the ice at first. Then adding in the ice and shaking it for another 15-30 seconds. The reasons why dry shaking is best includes:
Emulsification - To ensure the egg white gets thoroughly mixed with the other ingredients, dry shaking is the best option. It ensures that the egg white gets evenly distributed.
Texture - For the ultimate texture, dry shaking helps to create that beautiful silky finish that we love so much about sour cocktails.
Balanced Dilution - By shaking the cocktail without ice, you control the dilution separately from the chilling process. This allows you to control the dilution to your desired level before adding the ice.
Vodka Options
Choosing the right vodka for any vodka cocktail will ultimately affect the taste of the finished cocktail. Some of our go-to vodka brands include the following:
Absolut - Our personal favorite and the one we've used for this cocktail as well as in our famous vodka and coke recipe. Absolut is a Swedish made vodka and uses continuous distillation that results in a beautifully crisp and clean taste. We also love mixing vodka with sprite for an easy to make cocktail.
Grey Goose - This premium vodka is French made form wheat and has a velvety smooth texture. It also boasts a hint of sweetness which is ideal if you prefer a slightly sweeter cocktail.
Belvedere - One of the most popular luxury brands, this Polish vodka is made from 100% rye and has a subtle vanilla undertone. It can add another layer of flavor as well as texture to your vodka sour cocktail.
Substitutions and Variations
Mix up the citrus:
Instead of adding lemon juice, try using lime juice or even grapefruit juice for a slightly sharper, more vibrant taste.
Use different sweeteners:
The type of sweetener used can massively impact the taste and flavor. For a more unique taste, use Agave nectar or maple syrup instead of simple syrup.
Flavored Vodkas:
Using a flavored vodka such as a Deep Eddys lemon vodka will add a delicious fruity twist to this classic vodka sour cocktail. Another great options is to try using a vanilla vodka for a hint of sweetness.
Best Glass for Vodka Sour
The type of glass you choose to serve your cocktail in can not only enhance the overall taste and experience, but will also have a massive impact of the presentation.
Old Fashioned Glass - The class sour cocktail glass is a short and sturdy one with a heavy base. It is ideal for the vodka sour as it leaves enough room for both the cocktail as well as the ice. It is also great if you want to include multiple garnishes.
Coupe Glass - A beautiful, elegant glass. The coupe glass will enhance any cocktail to give it a more luxurious look. One of the best parts about the coupe glass is that it allows the egg white foam to be more visible.
Collins Glass - For something a little taller, the collins glass gives a different, refreshing presentation. It gives tons of space for extra ice leaving you sipping on your vodka sour a little longer.
Expert Tips
It's all about the strain - Make sure to strain your cocktail well using a fine-mesh strainer or a Hawthorne strainer. This will ensure that your cocktail is the best texture and will make sure there are no unwanted bits.
Double shake it - For the ultimate sour cocktail. Start with a dry shake that excludes the ice, then add the ice and shake it again. This will give your sour cocktail the best texture without getting diluted.
Garnish, garnish, garnish - We love experimenting with different garnish options. From lemon peels too rosemary sprigs. Using a different garnish will give your drink the complexity it deserves and will wow any guest.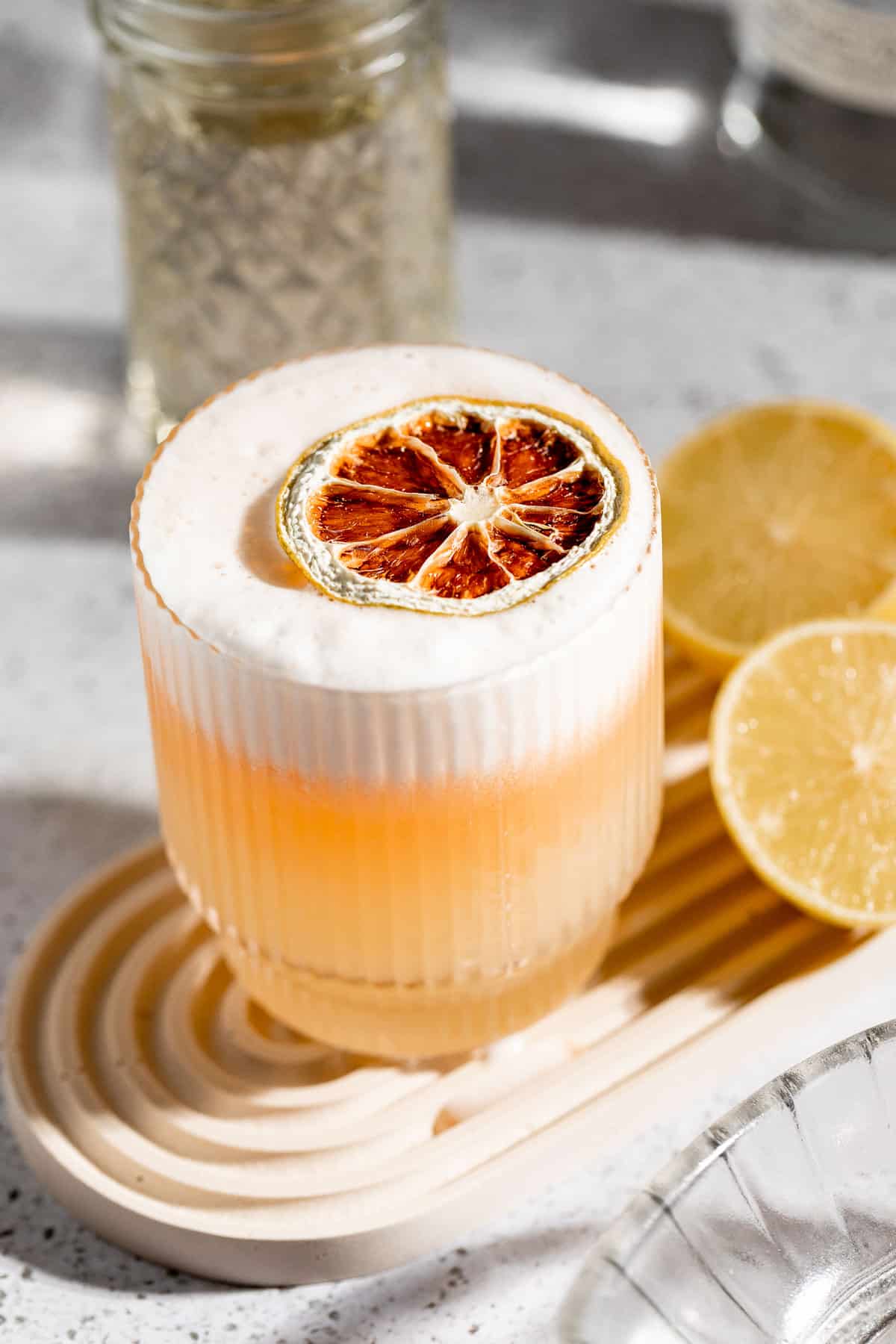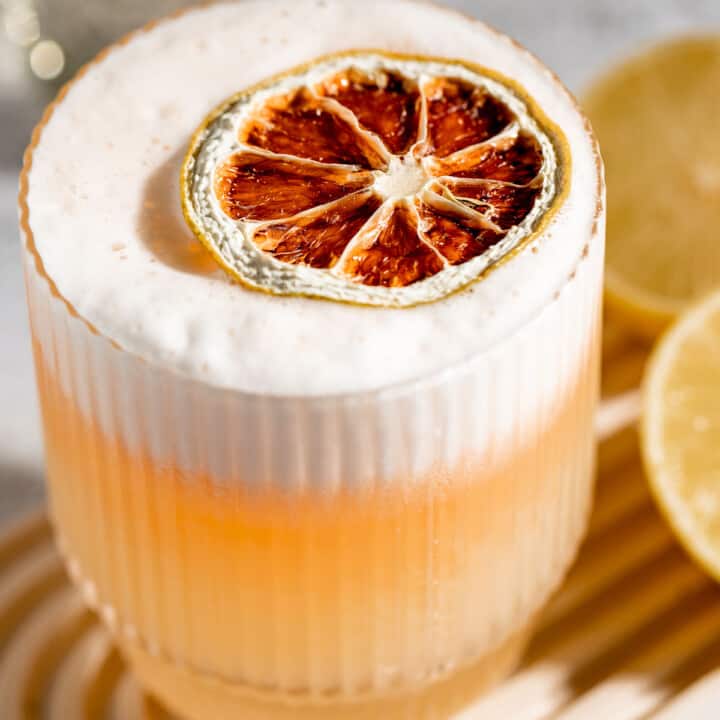 Vodka Sour
A zesty classic cocktail with tart and sweet flavors. Finished with a beautiful frothy egg white foam.
Ingredients
2

ounce

vodka

1

ounce

lemon juice

1

ounce

lime juice

1

ounce

simple syrup

2

dashes

Angostura bitters

1

egg white

dried lemon slice, for garnish
Instructions
Add the lemon juice, lime juice, vodka, simple syrup, bitters and egg white to a cocktail shaker and shake for 20 seconds.

Add ice to the cocktail shaker and shake for another 30 seconds.

Strain the drink into a glass over ice and garnish with a dried lemon slice.
Nutrition
Calories:
246
kcal
Carbohydrates:
26
g
Protein:
3
g
Fat:
0.1
g
Saturated Fat:
0.01
g
Polyunsaturated Fat:
0.02
g
Sodium:
68
mg
Potassium:
130
mg
Fiber:
0.2
g
Sugar:
22
g
Vitamin A:
16
IU
Vitamin C:
19
mg
Calcium:
11
mg
Iron:
1
mg
Tried this recipe?
Let us know how it was in the comments below
Tag us on Instagram!
We love seeing people make our recipes. Mention @baking_ginger