Bursting with vibrant citrus flavors, this refreshing concoction effortlessly combines the crispness of Deep Eddy Lemon Vodka with the effervescence of soda and sweetness of passionfruit.
Whether you're looking for a vibrant drink to quench your thirst on a summer afternoon or a dazzling option to impress your guests, this Deep Eddy Lemon Vodka Passionfruit Soda recipe is sure to become your go-to favorite.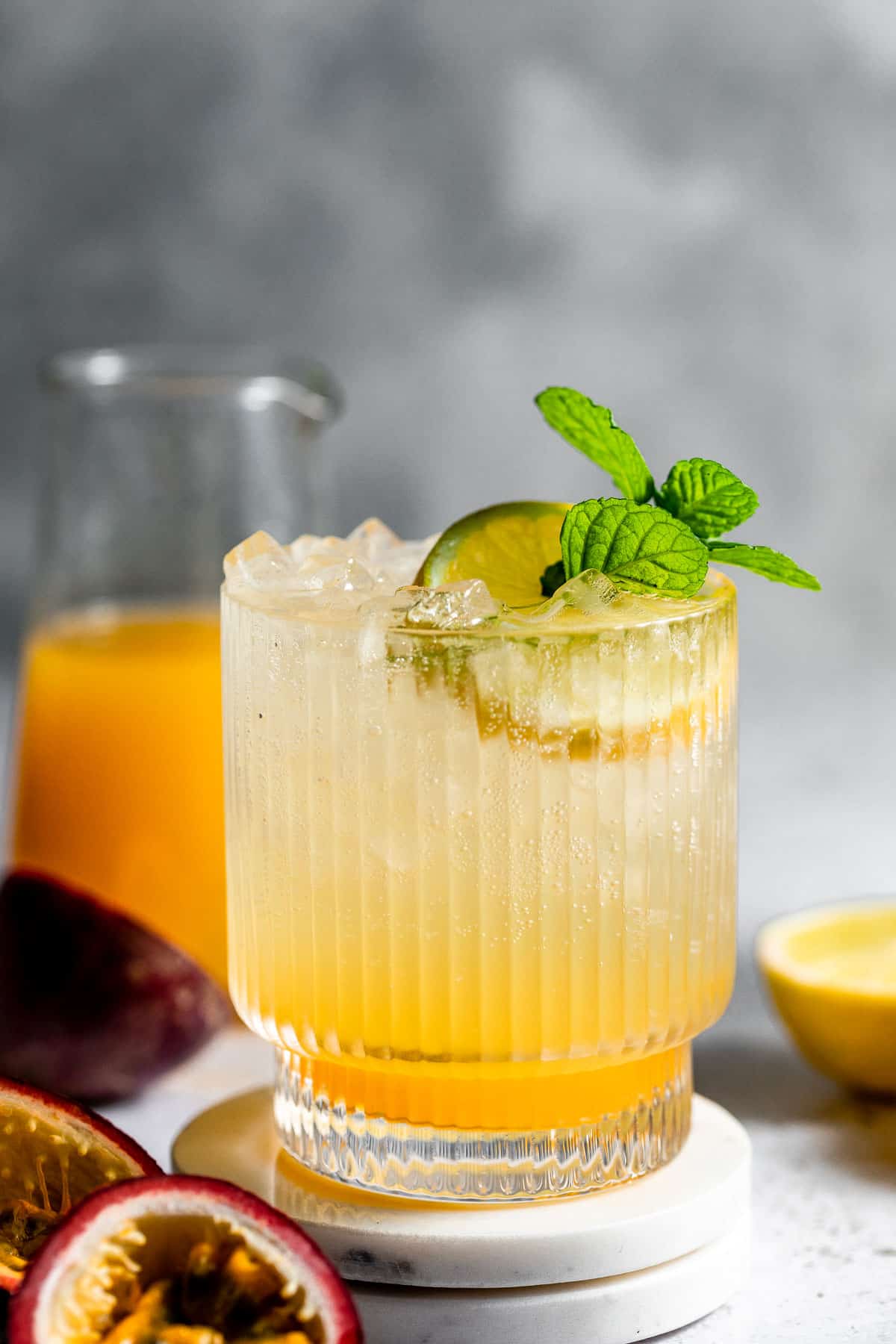 Ingredients
Deep Eddy Lemon Vodka - We love adding a splash of this zesty lemon vodka to any cocktail, but pair it with passionfruit and you're sure to have a winner. If you don't have it on hand, use regular vodka and add a splash of lemon juice.
Passionfruit Pulp - Strain one or two fresh passion-fruits using a sieve to get the freshest passionfruit pulp. This adds a delicate flavor and texture.
Soda Water or Sprite - If you're more of a bitter cocktail kinda gal, use soda water to top up your cocktail. For a sweeter version use Sprite. My personal favorite is adding half soda water and half Sprite. Sprite is one of our favorite things to mix with vodka. Check out our Vodka & Sprite drink recipe.
How To Make A Vodka Soda
Strain the passionfruit in a mesh sieve then pour it into a glass filled with ice.
Add the lemon vodka and top with soda water or sprite.
Garnish with fresh lemon slices and mint.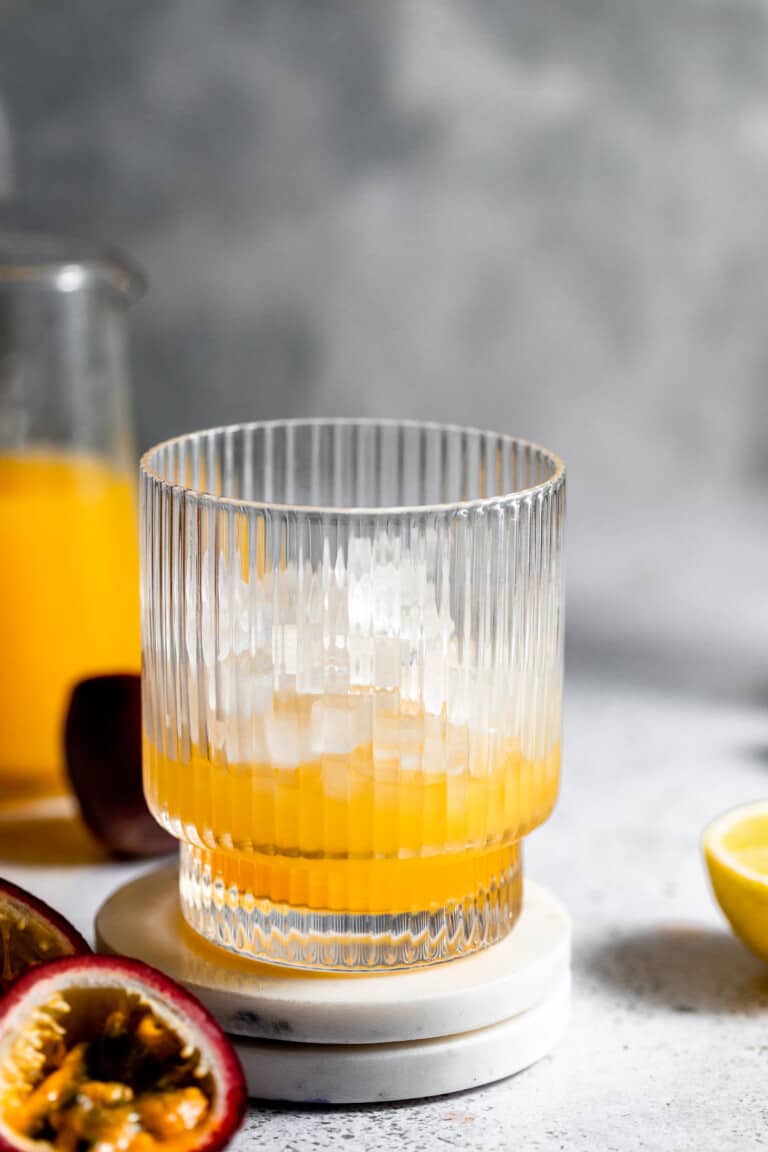 Variations
Make It Berry Filled: Add a burst of fruity goodness to your Deep Eddy Lemon Vodka Soda by muddling a handful of fresh berries like raspberries, strawberries, or blueberries before mixing in the vodka and soda. This variation will infuse your drink with a delightful blend of sweet and tangy flavors, creating a colorful and refreshing twist.
Add a little Tropical flavor: Transport yourself to a sunny beach with a tropical twist on the classic cocktail. Enhance the flavors of Deep Eddy Lemon Vodka Soda by adding a splash of pineapple juice and a squeeze of lime. You can even garnish your glass with a pineapple wedge or a sprig of fresh mint for an extra touch of island paradise.
Herbal Infusion: Elevate your Deep Eddy Lemon Vodka Soda by incorporating aromatic herbs into the mix. Muddle a few sprigs of basil, mint, or rosemary in the glass before adding the vodka and soda. The herbal infusion will impart a fragrant and invigorating essence, making each sip a refreshing and rejuvenating experience.
Citrus Burst: For those who crave an extra citrus kick, experiment with adding different citrus fruits to your drink. Squeeze in some fresh lemon or lime juice alongside the Deep Eddy Lemon Vodka and soda. You can also garnish the rim of your glass with a twist of lemon or orange peel for an added touch of elegance.
Spicy Surprise: If you're a fan of bold flavors, consider adding a hint of spice to your Deep Eddy Lemon Vodka Soda. A dash of cayenne pepper, a slice of jalapeño, or a few drops of hot sauce can add a fiery kick to the drink. Adjust the spiciness level to your liking, and don't forget to balance it out with some cooling cucumber slices or a sprig of cilantro.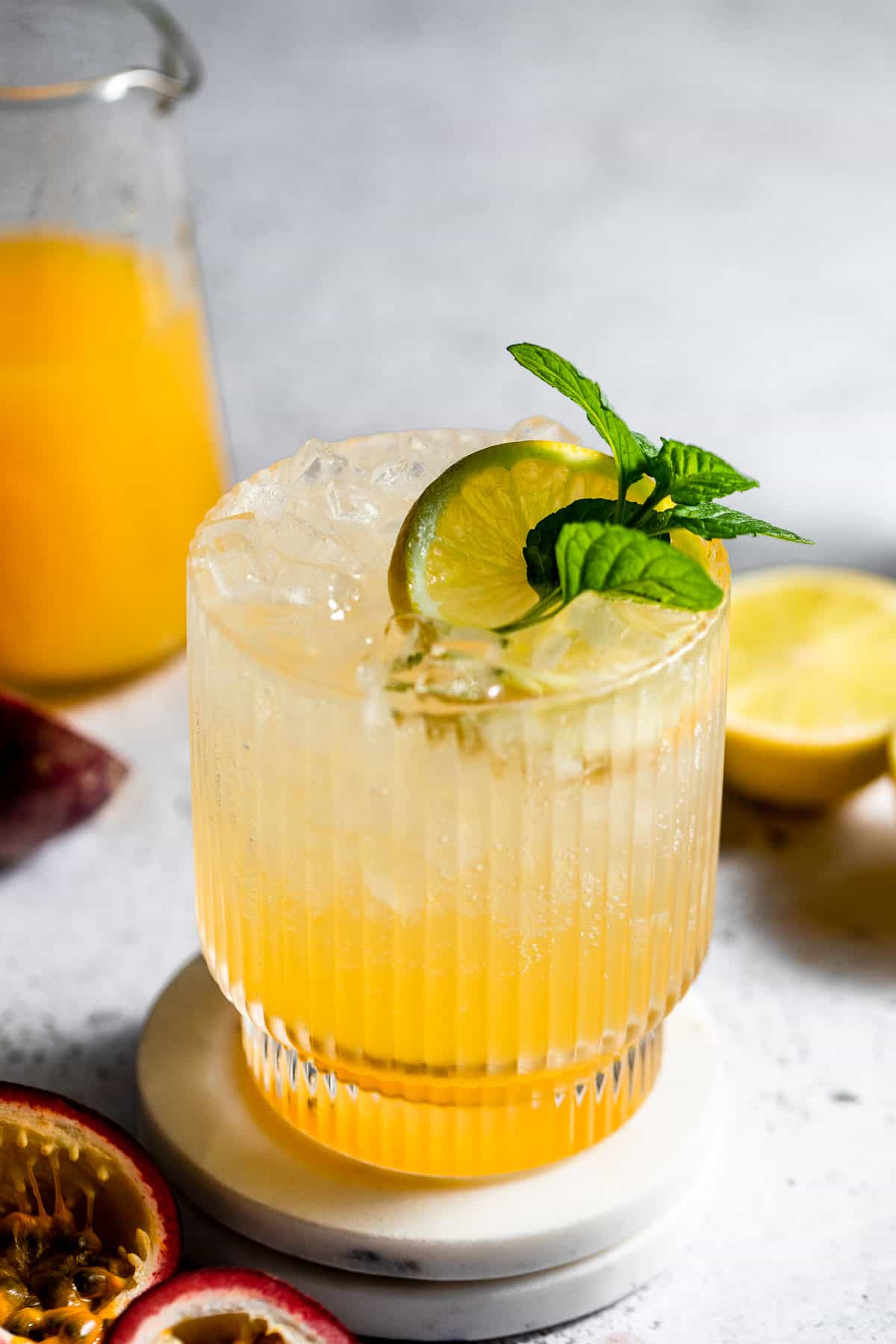 Recipe FAQs
Can I use a different brand?
While we love the flavor Deep Eddy Lemon Vodka brings, you can most certainly use any other vodka of your choice.
Can I make a mocktail version?
Yes! Simply leave out the vodka and replace it with a splash of freshly squeezed lemon juice and a little extra soda water.
Can I add sweeteners?
If you prefer your vodka soda a little sweeter, try adding a splash of simple syrup or even a dash of honey.
Can I make a pitcher of this drink?
Yes. To make a large batch simply multiply the quantities by the amount of servings you need and add it all to an ice filled pitcher.
More Cocktail Recipes You'll Love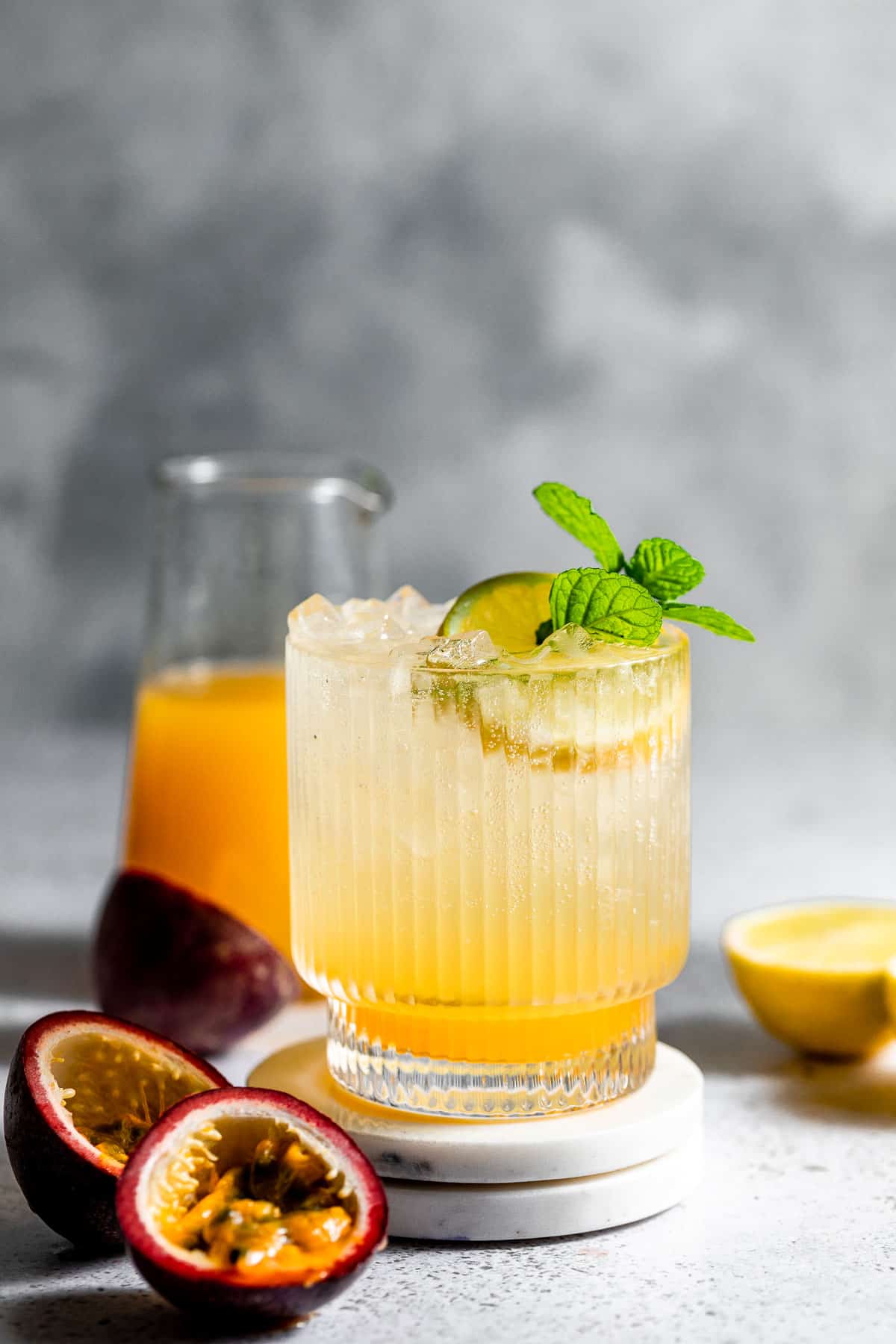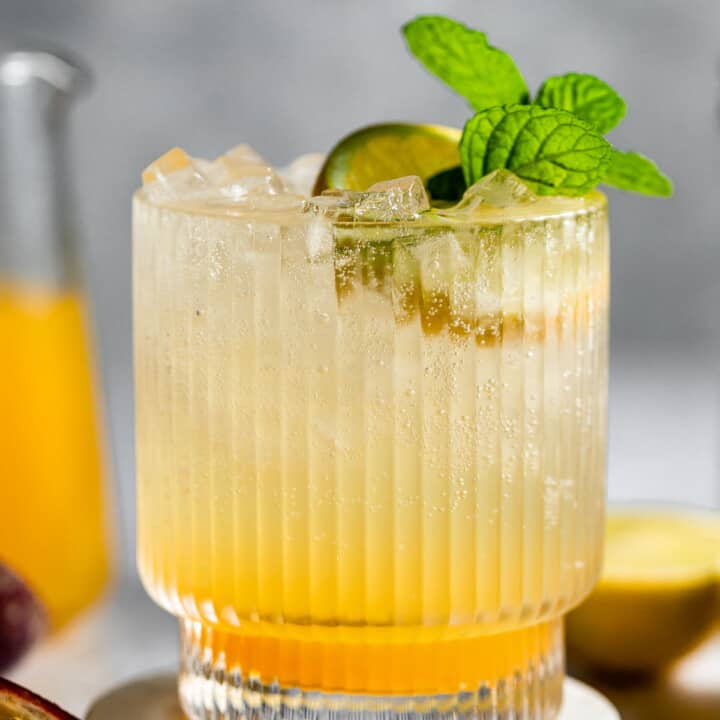 Deep Eddy Lemon Vodka Passionfruit Soda
A crisp and refreshing summer drink made with only 3 ingredients.
Ingredients
1

ounce

Deep Eddy Lemon Vodka

2

Passionfruits

Soda Water or Sprite

Lime, sliced

for garnish

Fresh Mint

for garnish
Instructions
Cut the passionfruits in half and scoop out the pulp. Place the pulp in a mesh sieve and use the back of a spoon to strain the pulp.

Transfer the strained pulp to an ice filled glass and add the vodka.

Top with soda water or Sprite and garnish with a slice of lime and fresh mint.
Nutrition
Calories:
230
kcal
Carbohydrates:
40
g
Protein:
4
g
Fat:
1
g
Saturated Fat:
0.1
g
Polyunsaturated Fat:
1
g
Monounsaturated Fat:
0.1
g
Sodium:
48
mg
Potassium:
592
mg
Fiber:
18
g
Sugar:
19
g
Vitamin A:
2162
IU
Vitamin C:
51
mg
Calcium:
20
mg
Iron:
3
mg
Tried this recipe?
Let us know how it was in the comments below
Tag us on Instagram!
We love seeing people make our recipes. Mention @baking_ginger