Indulge in a healthy Blueberry Pineapple Smoothie that can be made in minutes! This delicious smoothie is full of health benefits and flavor and it is oh-so-easy to make.
Why you'll love this pineapple & blueberry smoothie recipe
This smoothie recipe has everything you could want in a smoothie. It is creamy, full of flavor, and super healthy - and as an extra bonus, it is also really pretty! I love making this blueberry smoothie as a nutritious breakfast or snack. It is a great way to enjoy something yummy that is full of health benefits and will keep me feeling full for a long period of time.
Packed with protein. This smoothie has lots of natural protein in it to give you lots of sustained, healthy energy.
Easy to make. This smoothie takes just minutes to make and prepare.
No added sugar. All the sweetness in this smoothie comes from fruit. This is a great smoothie option for kids - they love all the flavor and the sweetness which is all-natural!
Customisable. This recipe is highly customisable which makes it easy to make to your exact preference.
If you like the sound of this smoothie, I think you will also love my Blueberry Banana Smoothie Bowl recipe!
Blueberry Pineapple Smoothie Benefits
This smoothie is packed full of healthy ingredients that will nourish your body. There are many health benefits to this blueberry smoothie, along with giving you a delicious boost of hydration.
Full of antioxidants. Blueberries are packed with antioxidants which helps reduce the risk of many diseases.
Immune boosting. The combination of antioxidants and vitamin C from the pineapples will help strengthen your immune system.
Hormone balancing. The smoothie is high in healthy fats and hormone balancing qualities.
Rich in protein. This smoothie uses ingredients that will add extra protein to your day which is highly beneficial for your body.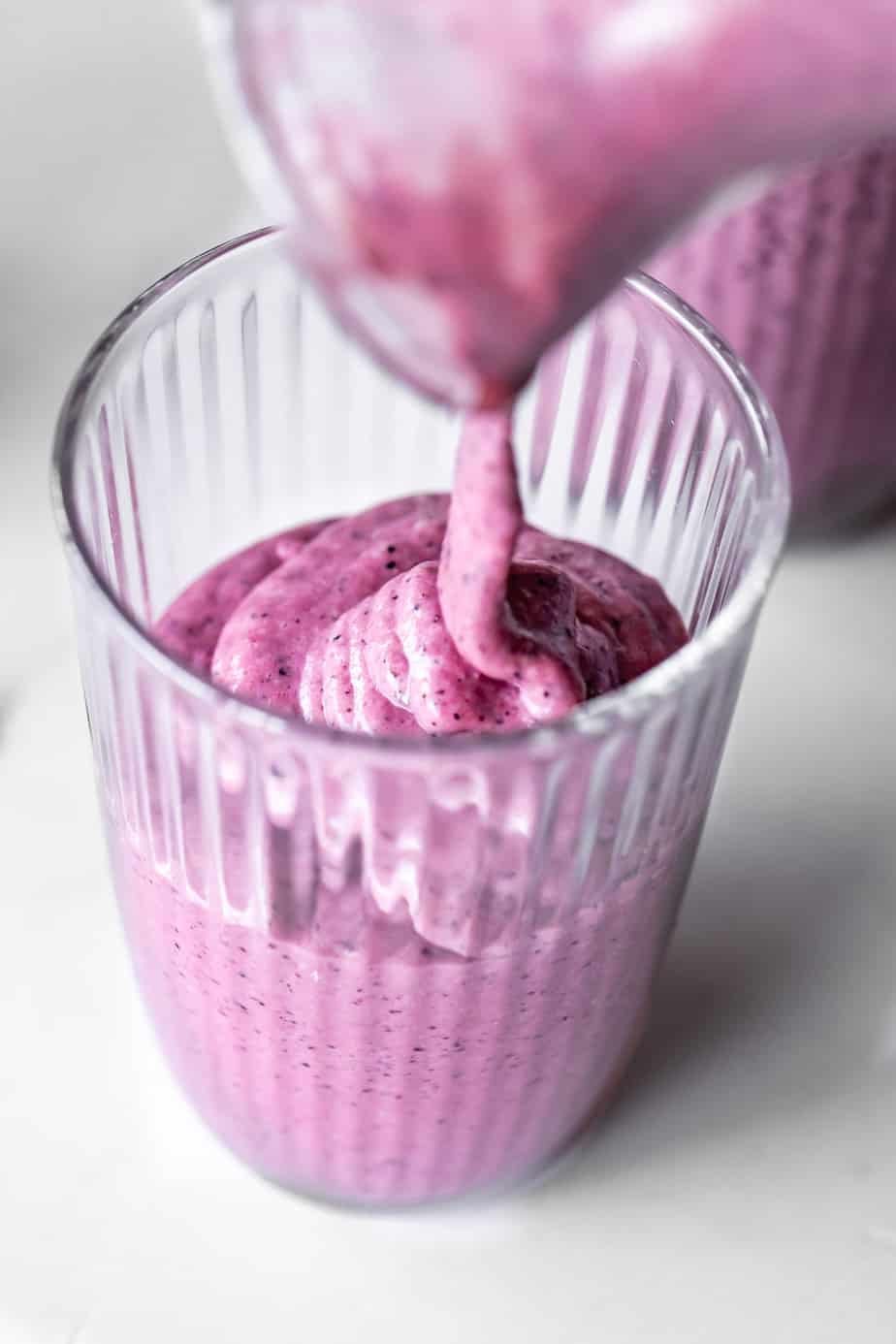 Ingredients & Substitutions
Blueberries. You can use fresh or frozen blueberries.
Pineapple. It is best to use frozen pineapple for this recipe as it gives the smoothie a delicious texture and keeps it chilled. You can cut a fresh pineapple into small chunks and pop them in an airtight container or bag in the freezer overnight.
Frozen banana. To make this blueberry smoothie without banana simply substitute the banana for coconut cream, chia seeds, or even avocado (my personal favourite).
Nut butter. Use your favorite nut butter of choice. I'm an almond butter addict so that's definitely my go-to.
Ground flax seeds. This is a personal favorite ingredient. It adds hormone balancing qualities and extra protein. You can substitute with chia seeds if preferred.
Coconut milk. I love combining coconut milk with pineapple as it gives a delicious tropical flavor - but you can easily substitute it with any other preferred milk variety.
Optional Add-Ins
A small bunch of baby spinach or kale
A scoop of vanilla protein powder
¼ cup coconut flakes
A scoop of collagen powder
A tablespoon of hemp seeds
¼ cup of almonds
Try our delicious Oat Milk Chia Pudding with Berries for another healthy breakfast option!
How To Make A Blueberry and Pineapple Smoothie without Yogurt
STEP ONE
Place all the ingredients for the smoothie into your blender and blend until smooth. Add a little extra coconut milk if a thinner consistency is desired.
STEP TWO
Pour the smoothie into serving glasses and optionally top with fresh blueberries and coconut flakes. Enjoy chilled.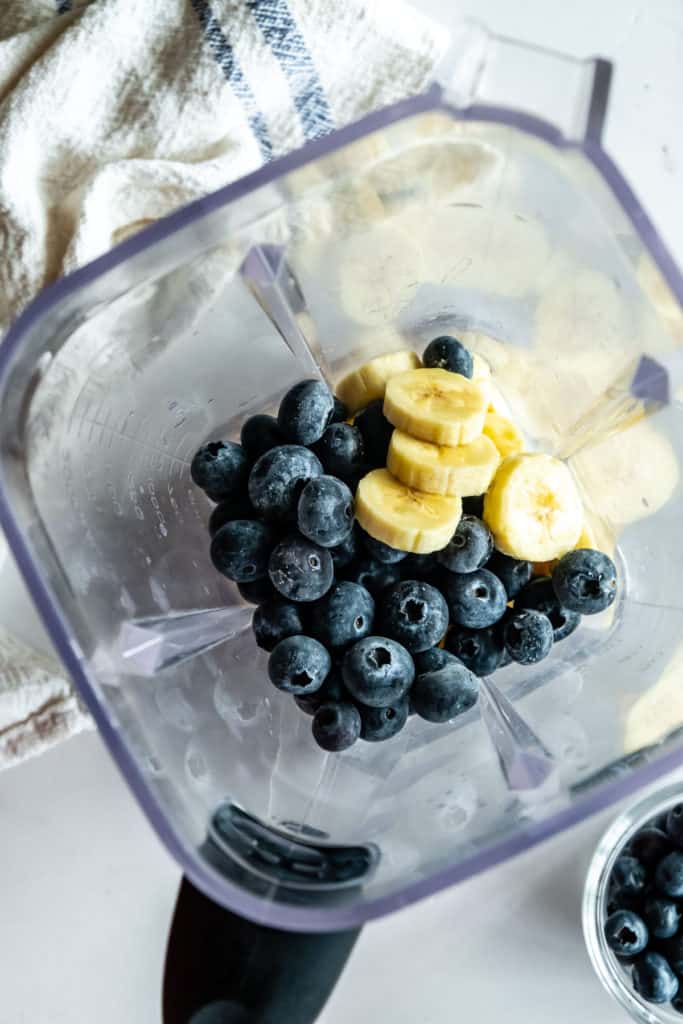 Recipe Notes
Use frozen fruit: This is key to giving your smoothie that delicious creamy, thick texture that you want. Using frozen bananas will instantly up your smoothie game.
Use good quality fruit: This smoothie is all about delicious fruit so be sure to use the best quality fruit you can for the best flavor.
Add extra milk if needed: If your blender gets stuck or your smoothie seems too thick, simply add an extra splash of any preferred milk to get the perfect smoothie consistency.
Try a Thermomix: Thermomix smoothies are becoming increasingly popular so why not try make this blueberry smoothie in your Thermomix next time - it will work perfectly.
ARE BLUEBERRY SMOOTHIES GOOD FOR YOU?
Blueberries are often labelled superfoods because they are highly nutritious and low in calories. 1 cup of blueberries (this smoothie has 2 cups!) has 4 grams of fibre, 24% of Vitamin C's RDI, and 36% of Vitamin K's RDI. Blueberries are also incredibly high in antioxidant levels. This makes blueberry smoothies incredibly good for you - and this smoothie has even more health benefits due to all the other healthy ingredients in it. This smoothie has a good balance of protein, healthy fats, and carbs!
More Smoothie Recipes To Try
Blueberry Pineapple Smoothie
A delicious snack or breakfast packed with healthy ingredients and a little protein.
Ingredients
1 cup fresh or frozen blueberries
1 cup frozen banana
1 cup frozen pineapple chunks
1 Tbsp nut butter
2 tsp ground flax seed
1 ¼ cups coconut milk
Optional toppings:
Fresh blueberries
Coconut flakes
Fresh mint
Instructions
Combine all the ingredients in a high powered blender and blend until smooth.
Divide into glasses and top with fresh blueberries and coconut flakes.
I hope you love this Blueberry Pineapple Smoothie recipe as much as I do! And if you want to see more of my delicious food adventures, follow me on Instagram or Facebook.