A list of 10 Healthy Smoothies That Taste Like Dessert that are quick and easy to make. These delicious dessert smoothie recipes are great for breakfast or as a snack as they are all made from healthy ingredients, but taste like well-loved desserts. (Vegan & gluten-free options available)
The Ultimate Smoothie Starter Kit
Healthy Dessert Smoothie Recipes
I love a decadent dessert. Some of my favorites include my Creamy Chocolate Mousse, Vanilla Raspberry Pannacotta, Champagne Ombre Cake, and more. This love of desserts inspired this list of Healthy Smoothies That Taste Like Desserts.
These creamy, easy smoothie recipes are a great way to enjoy the delicious taste of a dessert while still being nourishing and beneficial for our health.
I have compiled this list of my favourite smoothies that taste like classic, well-loved desserts. But these smoothies are also packed with nutrients and health benefits.
The Best Ingredients To Make Smoothies Thick & Creamy
Frozen bananas
Adding frozen bananas to your smoothie recipe is the easiest way to not only make your smoothie thick and creamy but to also add a little natural sweetness. The texture of the frozen banana will easily give your smoothie a dessert like texture and taste.
Frozen Cauliflower
If you're looking for a lower carb/keto friendly smoothie base, cooked and frozen cauliflower is what you need. Simply steam or boil the cauliflower, allow it to cool and store in the freezer in a ziploc bag. Use as a base for any smoothie. I often add it to my Blackberry Strawberry Smoothie recipe.
Xantham Gum
This is a little trick that I LOVE using to make any smoothie taste just like dessert. Simply add a tiny bit of xantham gum (½ teaspoon is more than enough) to your blender when making your smoothie.
Xantham gum is a great way to make your smoothie extra thick and fluffy. It is my favorite thing to add to chocolate smoothies.
Storing & Freezing Smoothies
Storing smoothies: Smoothies can be stored in a mason jar or a glass covered with plastic wrap in the refrigerator for up to 3 days.
Freezing smoothies: Pour the smoothies into an ice cube tray or freeze in an airtight container for up to 6 months. Allow to thaw slightly and blend before serving.
Dessert Smoothie Toppings
Fresh berries
Chia seeds
Cocoa nibs
Chocolate chips
Chocolate syrup
Fresh mint
This delicious smoothie tastes like a blueberry muffin in a glass. It is absolutely delicious, while also packed with antioxidants. This smoothie is vegan, easy to make, and will keep you feeling full for a long time.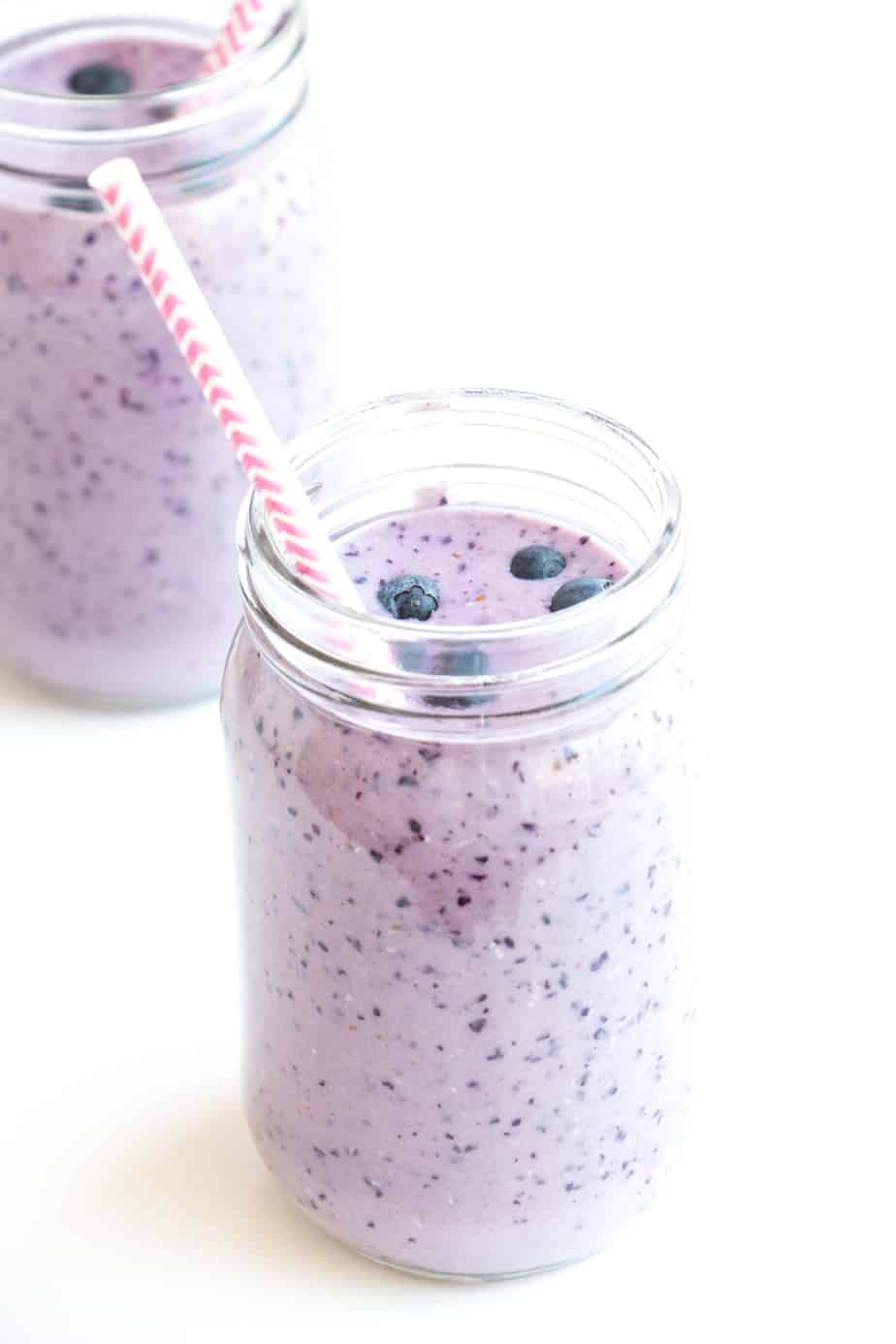 Carrot cake is always a favorite so having it in a smoothie version is amazing. This healthy smoothie can be made in minutes and contains lots of nutritious ingredients - all while still tasting like sweet, creamy, and spicy carrot cake.
This delicious thick and creamy blackberry smoothie not only healthy and easy to make but is made without yogurt and it is the perfect healthy treat!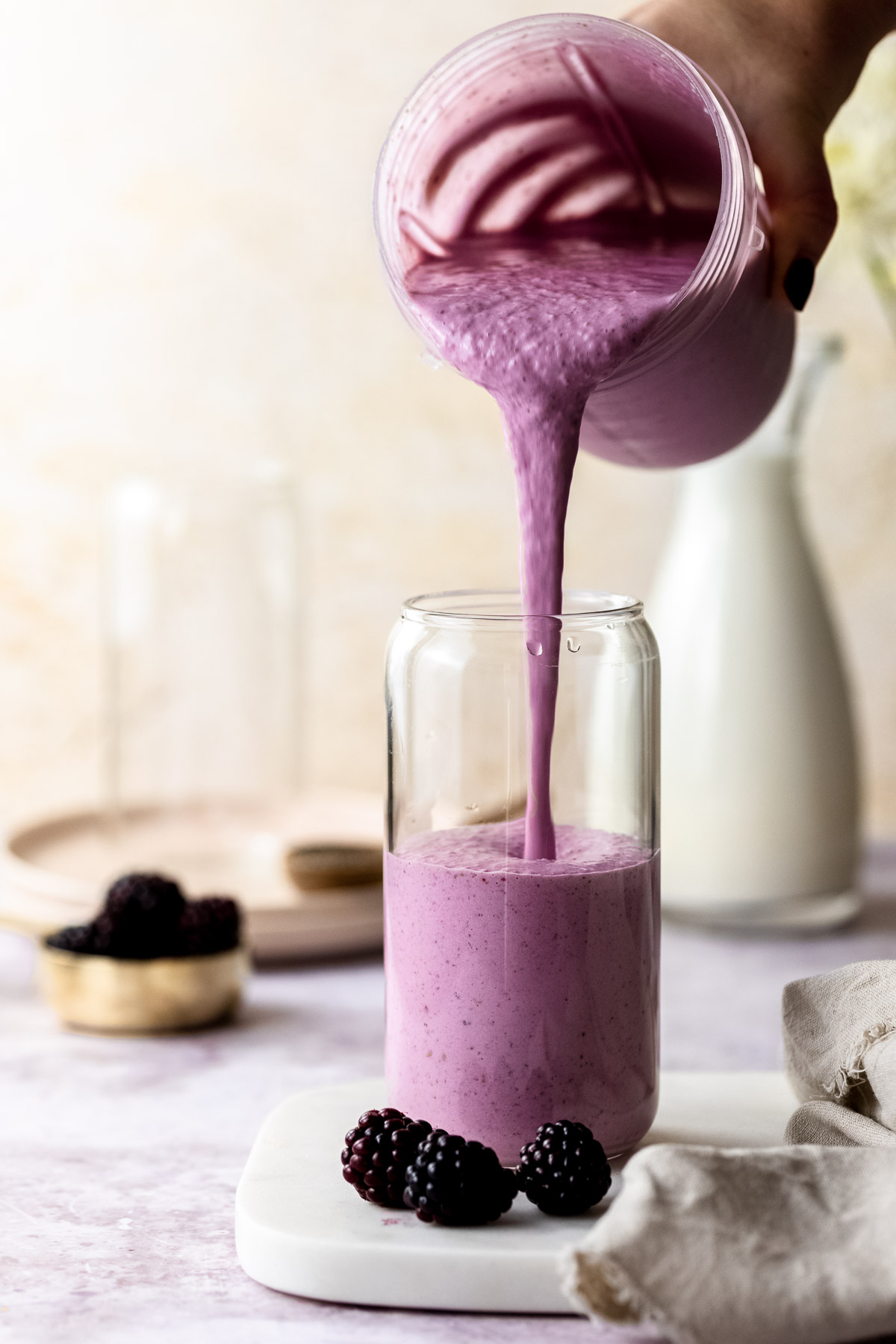 Made with cocoa powder, bananas, and almond butter, this easy smoothie is thick, creamy, and protein-packed. This chocolate-y smoothie is the ultimate dessert smoothie recipe.
Chai Lattes are delicious, but they can often so packed with lots of sugar. This creamy smoothie has all the delicious flavours of chai but without all the refined sugar.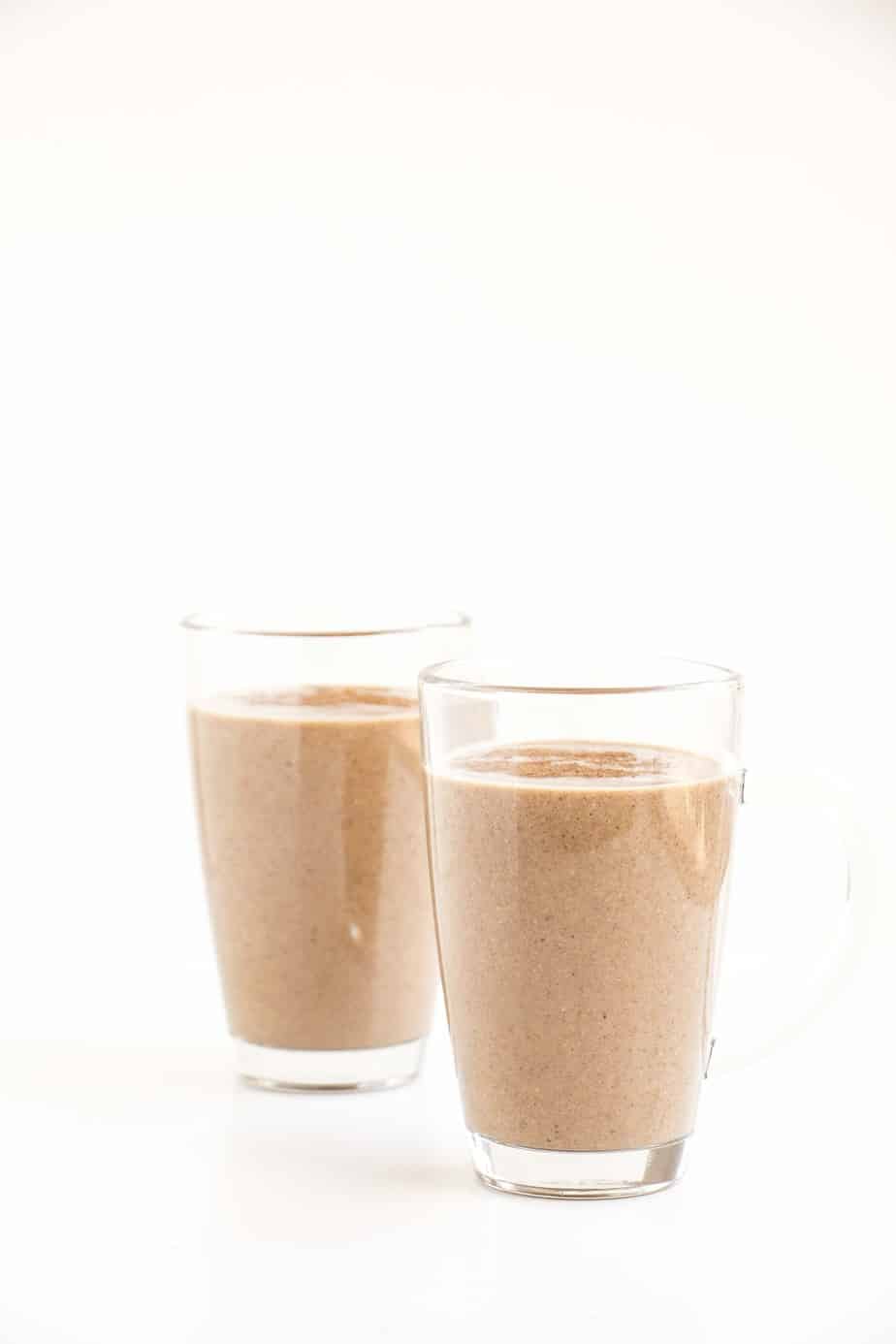 This simple smoothie recipe from Gimme Some Oven is pure healthy decadence. Filled with delicious chocolate and peanut butter flavor that is sweet and decadent, but still filled with nourishing ingredients to give your body a boost of health.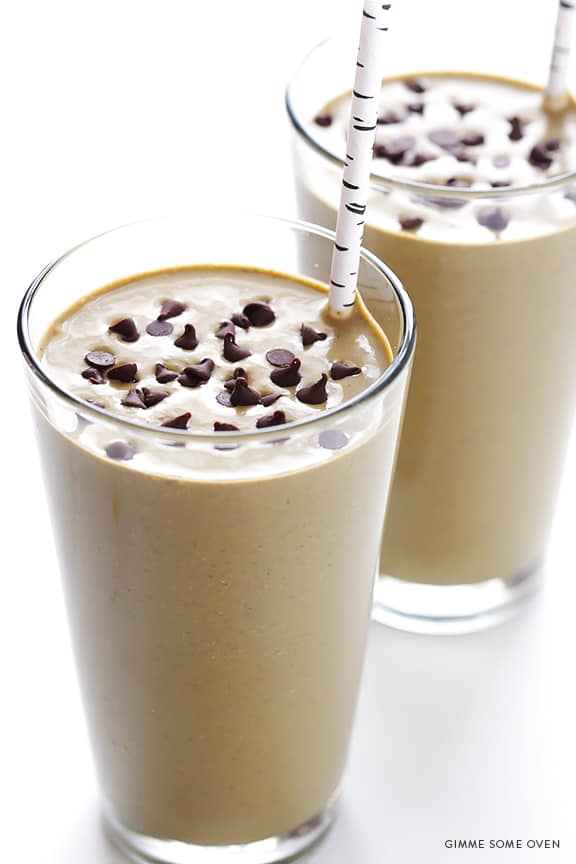 This delicious blueberry pie tasting smoothie is full of health benefits and flavor and it is oh-so-easy to make.
This pumpkin pie smoothie from Shugary Sweets is pure bliss. It is the perfect smoothie recipe for the start of Fall and tastes just like the real deal.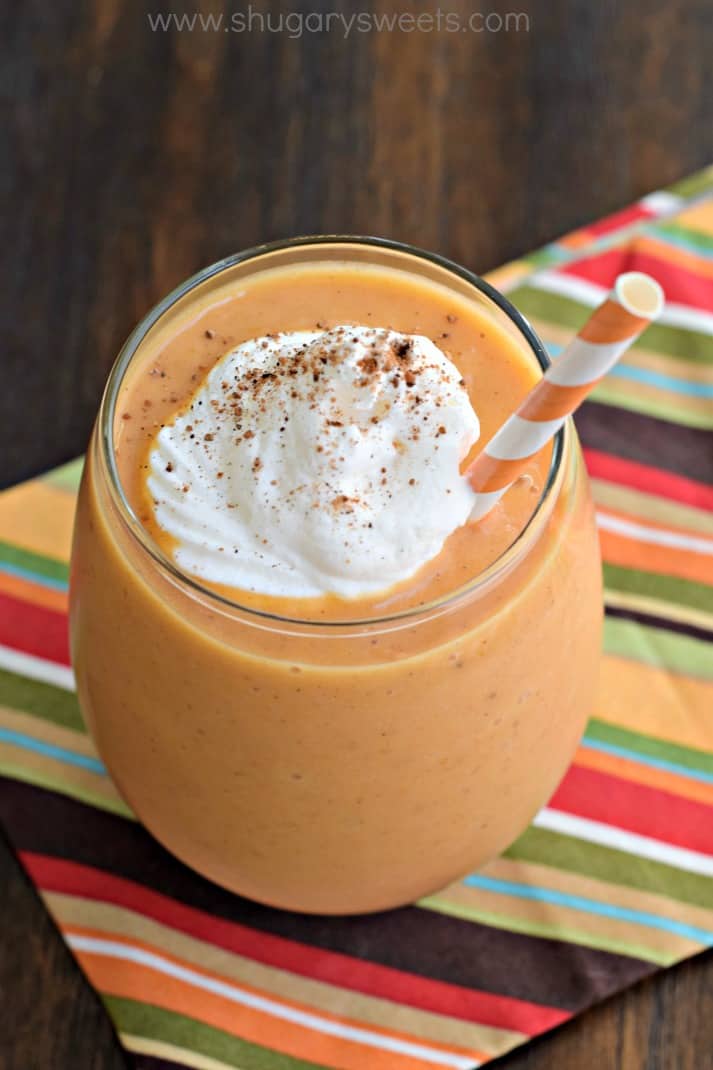 Cinnamon is a warm comforting flavor that is always delicious in desserts. Turn your love for cinnamon rolls into a healthy smoothie with this recipe. This smoothie is creamy and delicious with the perfect touch of sweet cinnamon.
This delicious smoothie recipe from The Girl Who Ate Everything is the perfect celebration of a PB & J. This healthy smoothie takes all the flavors of a peanut butter and jelly sandwich and turns it into a healthy smoothie recipe that is easy to make.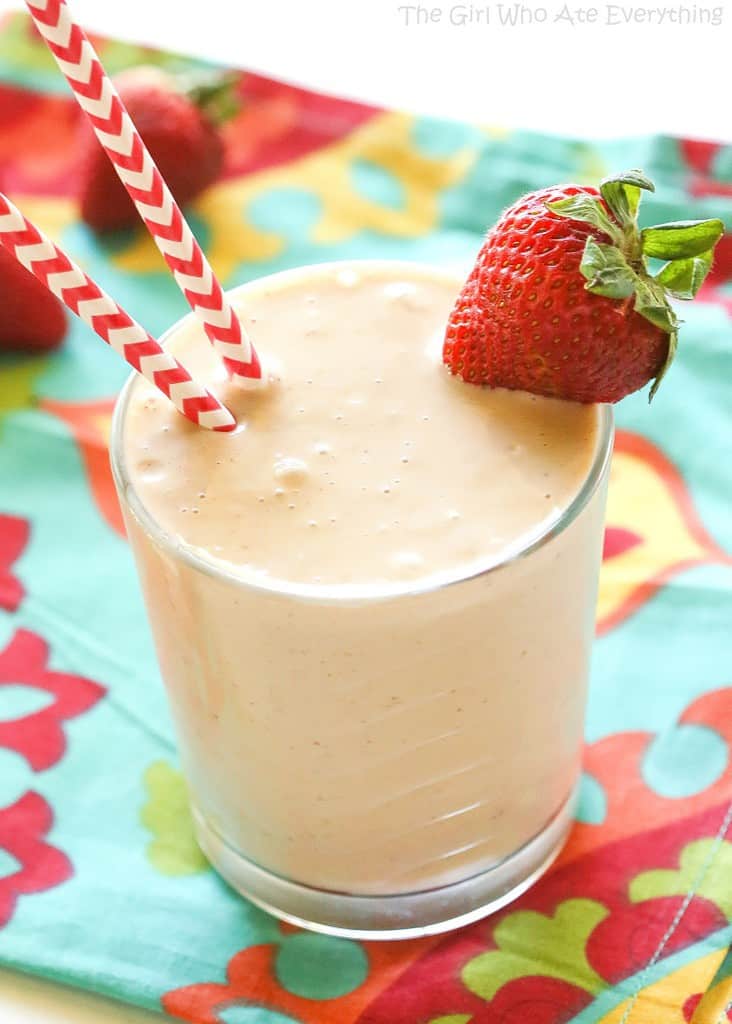 I hope you love this list of Healthy Smoothies That Taste Like Dessert as much as I do! And if you want to see more of my delicious food adventures, follow me on Instagram or Facebook.
More Healthy Smoothie Recipes: