A list of 10 Healthy Smoothies That Taste Like Dessert that are quick and easy to make. These delicious dessert smoothie recipes are great for breakfast or as a snack as they are all made from healthy ingredients, but taste like well-loved desserts. (Vegan & gluten-free options available)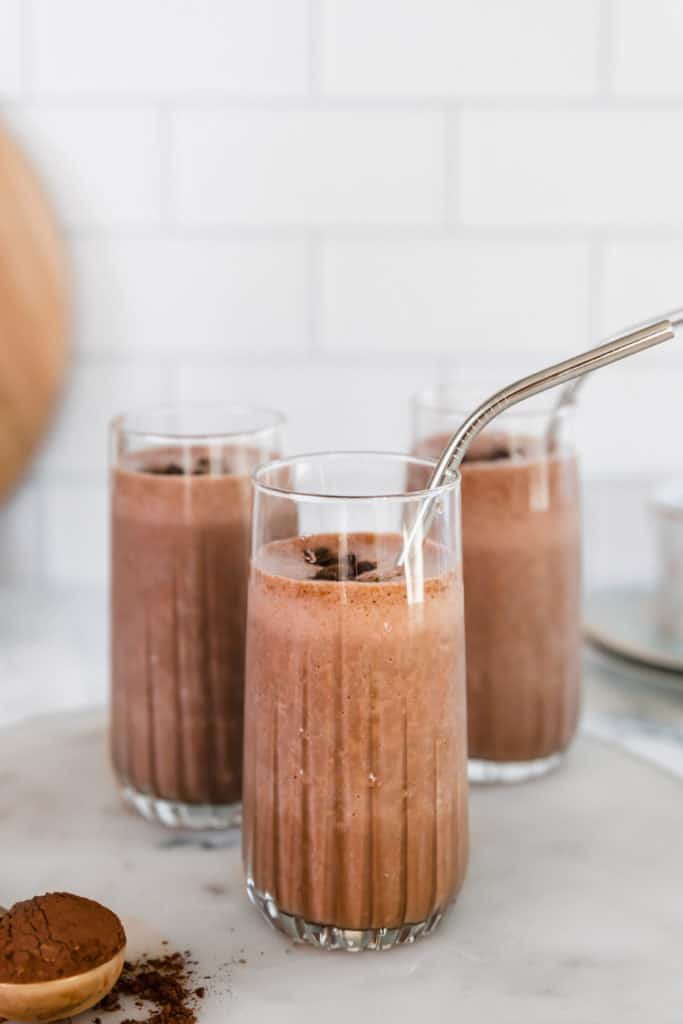 The Ultimate Smoothie Starter Kit
Healthy Dessert Smoothie Recipes
I love a decadent dessert. Some of my favorites include my Creamy Chocolate Mousse, Vanilla Raspberry Pannacotta, Champagne Ombre Cake, and more. This love of desserts inspired this list of Healthy Smoothies That Taste Like Desserts. These creamy, easy smoothie recipes are a great way to enjoy the delicious taste of a dessert while still being nourishing and beneficial for our health.
I have compiled this list of my favourite smoothies that taste like classic, well-loved desserts. But these smoothies are also packed with nutrients and health benefits.
This delicious smoothie tastes like a blueberry muffin in a glass. It is absolutely delicious, while also packed with antioxidants. This smoothie is vegan, easy to make, and will keep you feeling full for a long time.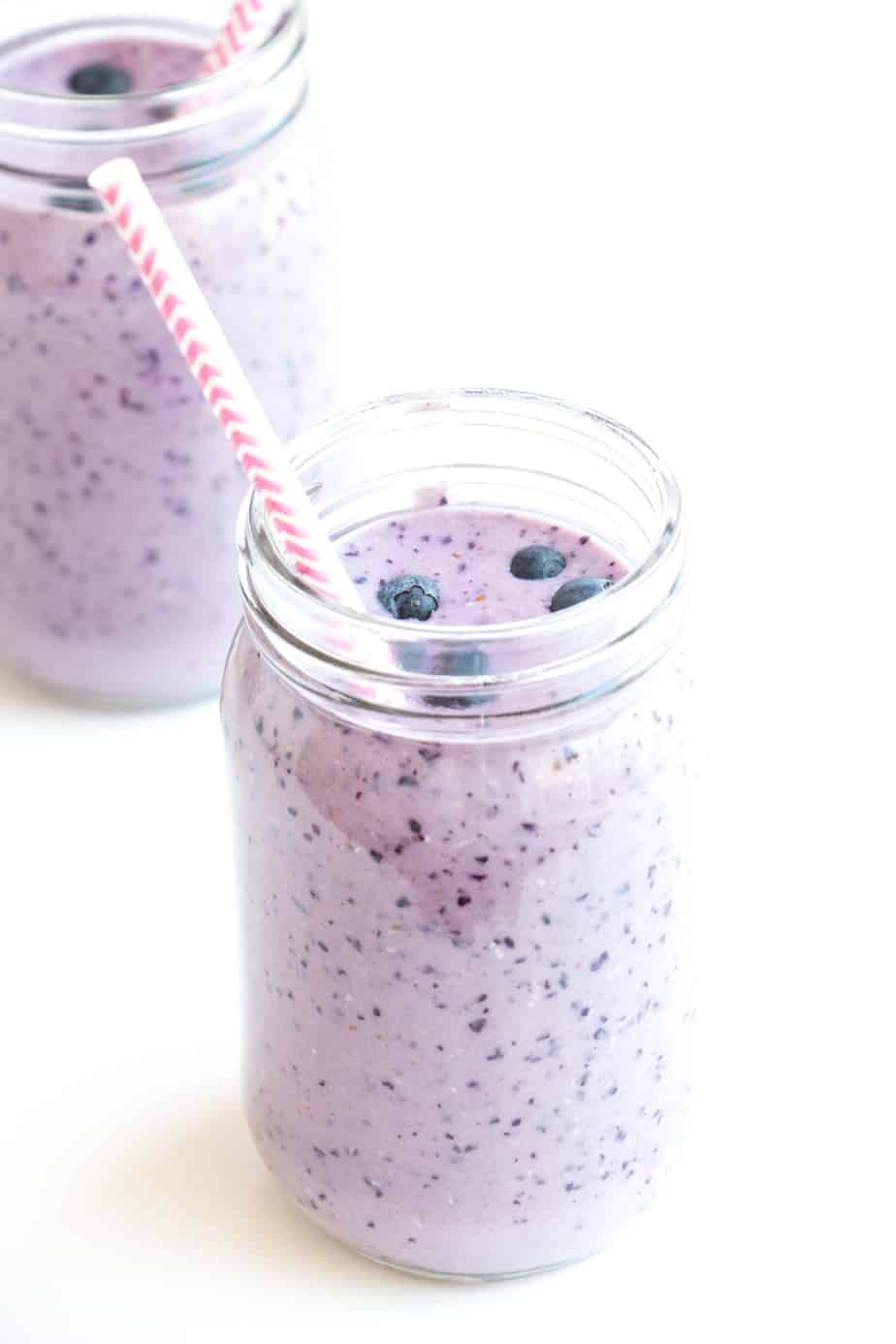 Carrot cake is always a favorite so having it in a smoothie version is amazing. This healthy smoothie can be made in minutes and contains lots of nutritious ingredients - all while still tasting like sweet, creamy, and spicy carrot cake.
Black forest cake is a delicious decadent indulgence. This simple smoothie from Running with Spoons perfectly captures it, while still being healthy and satisfying.
This beauty from Creme de la Crumb is the perfect healthy smoothie that tastes just like cake batter. A creamy and decadent smoothie that will satisfy any craving for vanilla cake.
Chai Lattes are delicious, but they can often so packed with lots of sugar. This creamy smoothie has all the delicious flavours of chai but without all the refined sugar.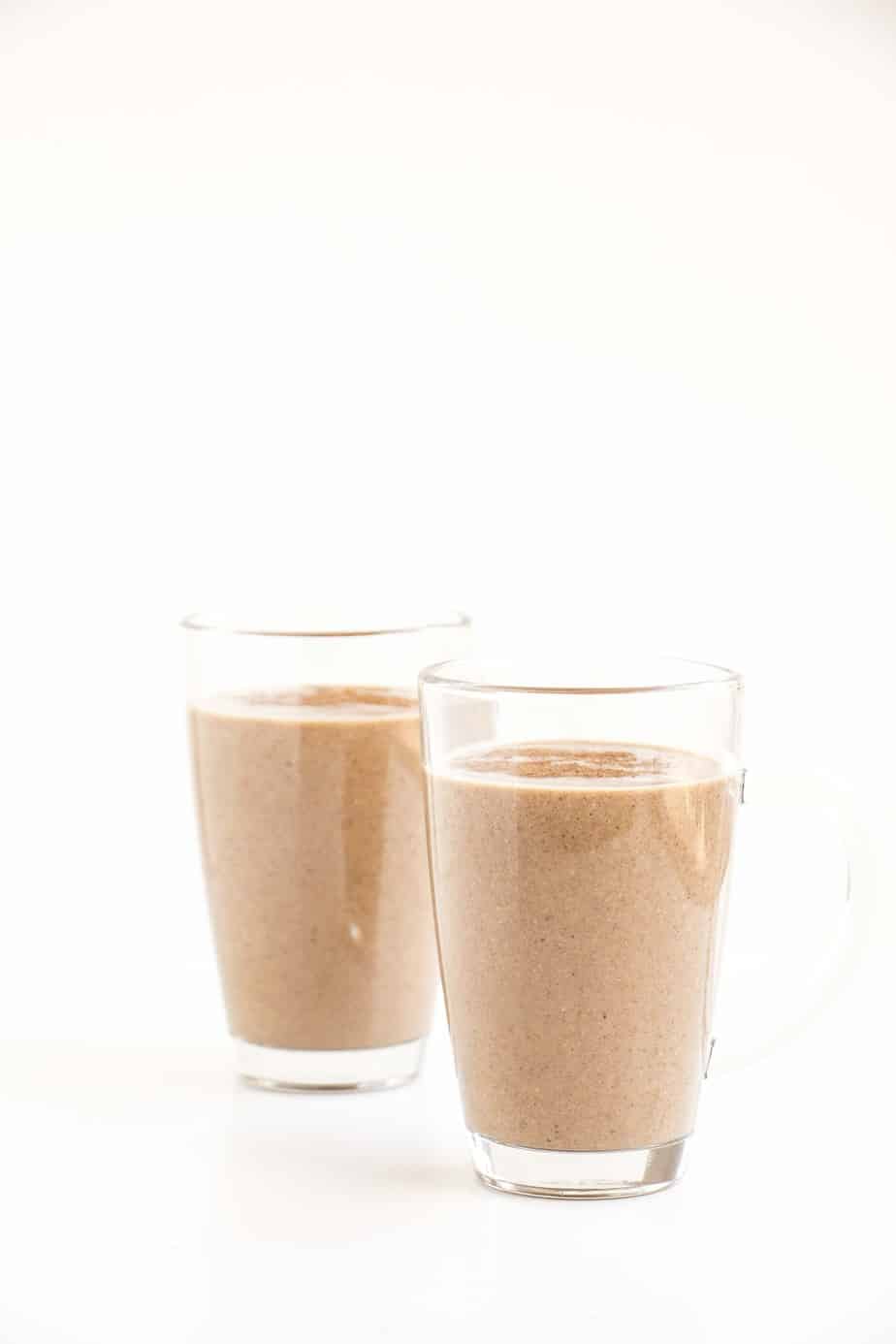 This simple smoothie recipe from Gimme Some Oven is pure healthy decadence. Filled with delicious chocolate and peanut butter flavor that is sweet and decadent, but still filled with nourishing ingredients to give your body a boost of health.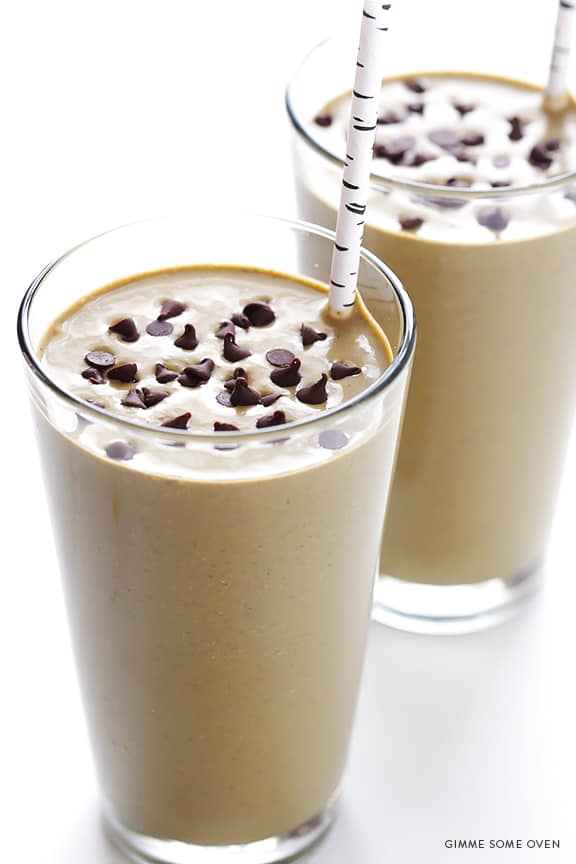 This easy smoothie recipe from Averie Cooks is the perfect combination of creamy and refreshing. It is a great summertime dessert smoothie recipe filled with creamy strawberry flavor.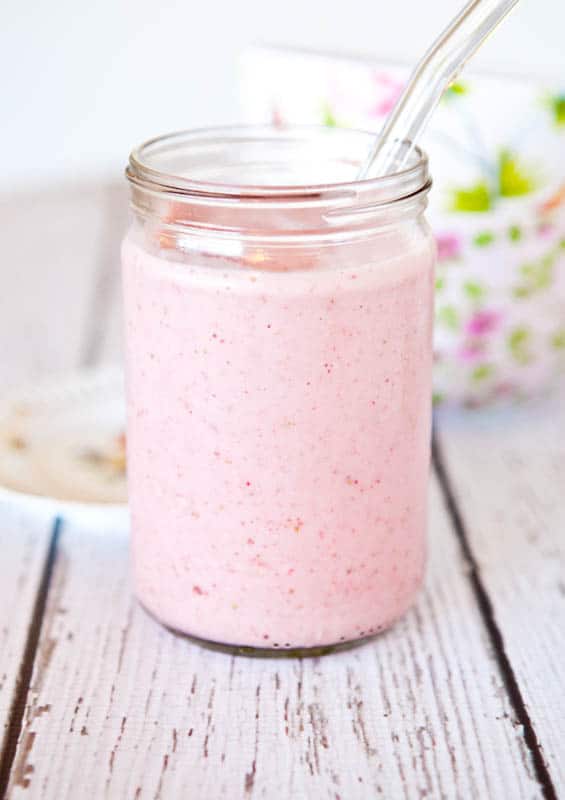 This pumpkin pie smoothie from Shugary Sweets is pure bliss. It is the perfect smoothie recipe for the start of Fall and tastes just like the real deal.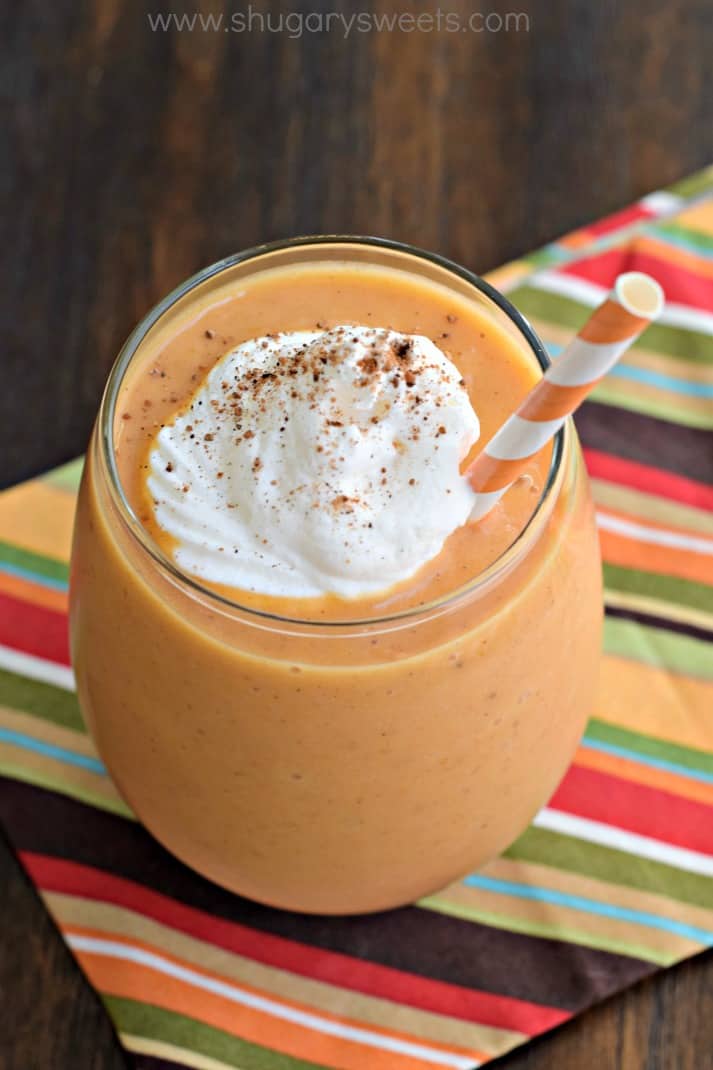 Cinnamon is a warm comforting flavor that is always delicious in desserts. Turn your love for cinnamon rolls into a healthy smoothie with this recipe. This smoothie is creamy and delicious with the perfect touch of sweet cinnamon.
This delicious smoothie recipe from The Girl Who Ate Everything is the perfect celebration of a PB & J. This healthy smoothie takes all the flavors of a peanut butter and jelly sandwich and turns it into a healthy smoothie recipe that is easy to make.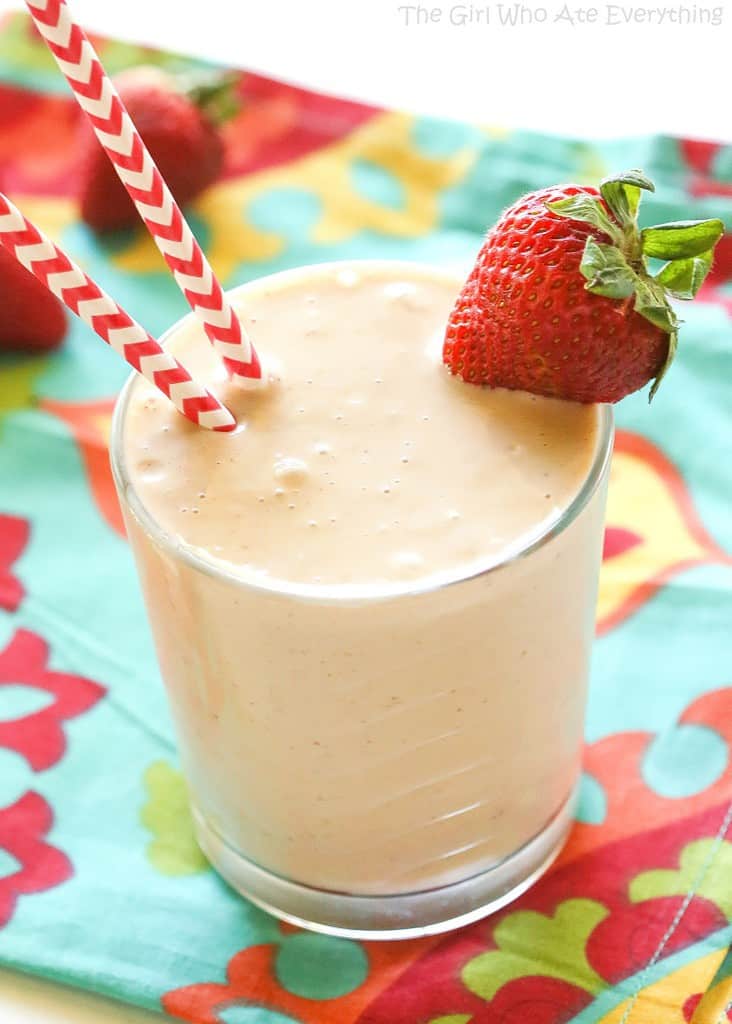 I hope you love this list of Healthy Smoothies That Taste Like Dessert as much as I do! And if you want to see more of my delicious food adventures, follow me on Instagram or Facebook.
More Healthy Smoothie Recipes: