Champagne Ombre Cake & Soft Italian Meringue Buttercream -  A deliciously delicate cake that has beautiful soft flavours and is perfect for valentines day or any birthday party.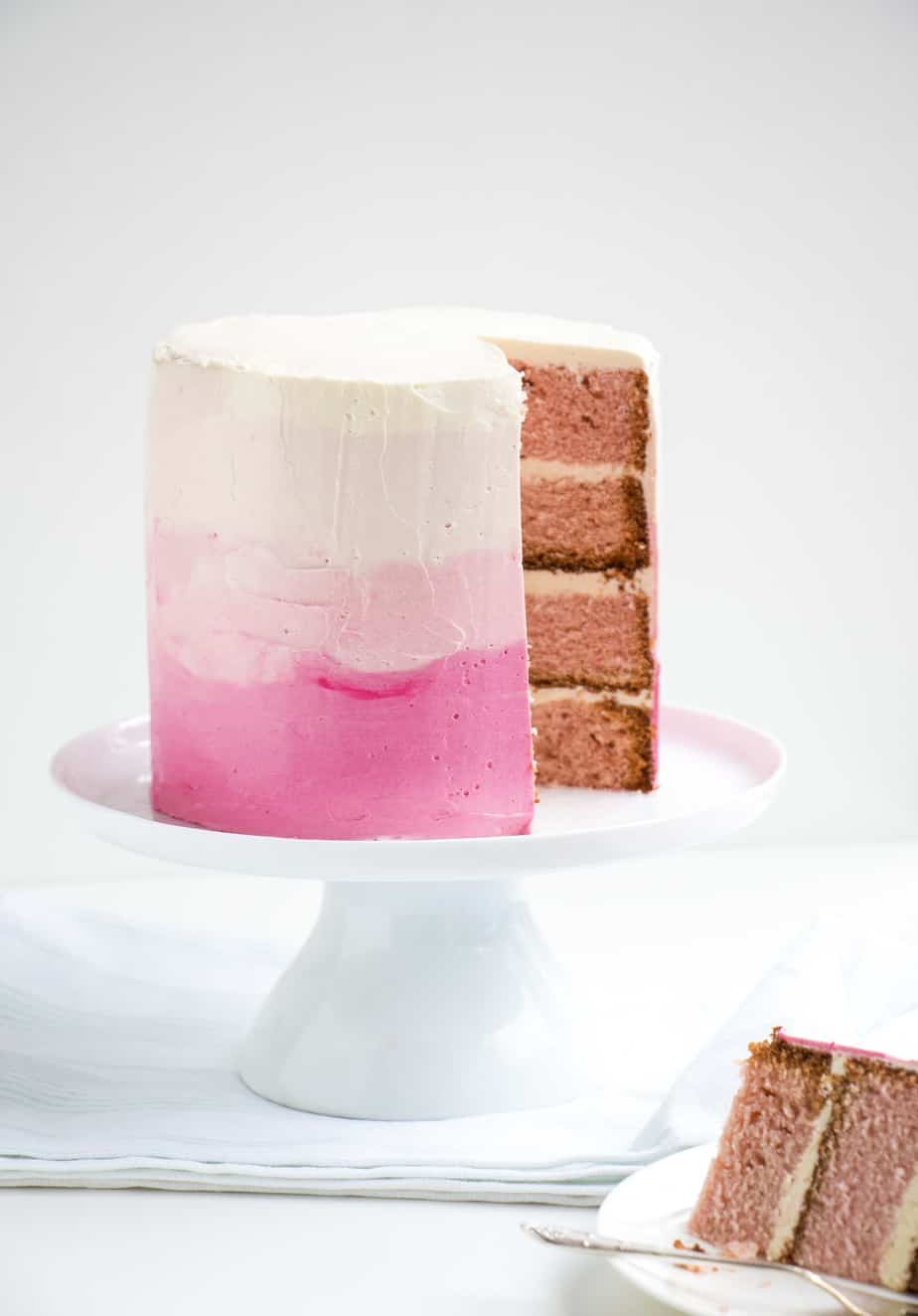 A Frosted Champagne Cake
I've been in such a cake mood lately (that's a thing right?), I don't know what it is but I have just been so inspired and itching to make cakes all day. It is rather strange. After making that delicious Gingerbread Cake with Sparkling Cranberries for Christmas it got me all excited again to bake cakes.
Back in the day, I used to always make these elaborately decorated cakes, that were covered in fondant and gum paste roses etc. And while those were beautiful and I will always continue to make them, I've been in a slightly more natural cake kind of mood.
And I know this Champagne Ombre Cake & Soft Italian Meringue Buttercream doesn't exactly count as natural, but trust me, from what I normally make, it's a whole lot of natural.
Why you'll love this ombre champagne cake
Let's start by talking about the actual cake itself. Oh my goodness, this cake is so beautifully soft and gentle. The cake just melts in your mouth. It is absolute perfection and then it leaves this beautiful champagne aftertaste.
I love the idea of champagne in the cake, but at the same time I really didn't want it to overpower the cake, so I only added a little sweet champagne, and it worked so perfectly because you could barely taste it, but it did leave a beautiful aftertaste in your mouth.
Italian Meringue Buttercream
Moving on...to that beautiful Italian Meringue Buttercream. This is my absolute favourite type of icing. It is really easy to work with when you are decorating a cake, but most of all I love it for its texture.
It is so incredibly beautiful and creamy and dreamy...it is just the most amazing stuff. For this Champagne Ombre Cake & Soft Italian Meringue Buttercream, I made it using a little champagne as well which just added a little oomph to it as well.
This Italian Meringue Buttercream isn't like a normal buttercream, it is a whole lot smoother and creamier and somehow it just doesn't taste as sweet which I love about it, it just adds a tiny bit of sweetness to the cake without making you feel as if you're eating a ton of sugar.
Easy Ombre Frosting
Lastly, let's talk Ombre. I know it has been a trend for quite some time now and I'm a little late to the party, but guys I was scared...very scared.
I've never "ombred" before, so I was really afraid of messing up this delicious little cake. But if I may say so myself, it came out looking pretty darn pretty!
And it wasn't that difficult at all. It is literally just a matter of smearing one colour on top of the other, in steps, then giving it a good smoothening and there you have it.
So beautiful and easy! You can ombre with any colours you like. I love using gel food colouring because of the beautiful colours it creates. So just add a little food colouring of any colour that suits your theme and bam! You have a beautifully "ombred" cake.
Guess what? You can actually buy the same champagne that I used on amazon (JC le Roux)! WHAAAT? It's a South African brand so I seriously didn't think it was possible. At the risk of sounding like an alcoholic, I pretty much live on this stuff. So good.
SIGN UP to receive delicious recipes straight into your inbox.
Champagne Ombre Cake with Soft Italian Meringue Buttercream
Ingredients
For the Champagne Cake:
3

Eggs

6

Egg Whites

300

ml

Champagne

I used a sweet pink champagne/Milk

4 ½

Cups

Flour

2 ¼

Cups

Sugar

360

g

Soft Butter

2

teaspoon

Vanilla

Pinch

of salt

Pink Food Colouring

optional
For the Meringue Buttercream
400

g

Sugar

250

ml

Champagne

or water

270

g

Egg White

75

ml

Water

700

g

Cold Butter

chopped into blocks

3

Different shades of pink food colouring

or any other colours.
Instructions
For the Champagne Cake:
Preheat oven to 180ºC/350ºF and line cake pans with baking paper.

Whisk together the eggs, egg whites, champagne and vanilla.

Using a paddle attachment, combine all the dry ingredients, butter and half of the champagne mixture.

Continue to mix, then add the remaining champagne mixture after scraping down the sides of the bowl.

Mix until smooth.

Pour batter into lined pans (I used 4 6" pans, or 2 pans at a time).

Bake for 40min or until fork inserted comes out clean.

Remove cakes from the oven and allow to cool, then remove them from the cake pans and allow to cool further on a wire rack.
For the Meringue Buttercream:
In a saucepan, bring the 350g of sugar, the champagne and the water to a simmer.

Allow to simmer until it reaches the soft ball stage (about 110ºC).

Meanwhile beat the egg whites with the remaining sugar until stiff peaks.

Once the sugar reaches the soft ball stage, pour the sugar mixture into the egg white mixture while beating on high speed. Make sure you pour the syrup in, in a slow steady stream.

Continue to whip the mixture on high speed until the bowl has cooled down to body temperature (you should be able to hold your hand against the bowl).

Then add the butter blocks to the mixture, one block at a time.

Continue to mix until you have a delicious creamy buttercream.
Assembly:
Cut the heads off of the cakes so that they are all the same size flat on top.

Then place icing on the bottom layer and add another layer and continue to do that until you have four layers perfectly stacked on top of each other.

Place the cake in the fridge for about 15min to allow the buttercream to harden slightly.

Then apply a thin layer of icing around the whole cake (crumb coat), and place the cake back in the fridge for at least another 20min.

To create the ombre effect, divide the remaining buttercream into 4 different bowls.

Mix in 3 different types of food colouring into each one, leaving the last bowl with the original white buttercream.

Remove the cake from the fridge, then starting at the bottom, place the darkest shade of pink roughly around the bottom of the cake (using a piping bag or spatula).

Then add the second shade, then the third and lastly place the remaining white buttercream on the top of the cake.

Then using either a smooth cake scraper or a large offset spatula, gently smooth the cake around, taking off all the excess icing. The colours will start to blend into each other slightly.

Continue to do so until the cake has a smooth appearance.

Place cake in fridge or serve immediately.