This Soft Gingerbread Cake with Sparkling Cranberries is the perfect Christmas table centrepiece. Delicious and so beautiful and majestic.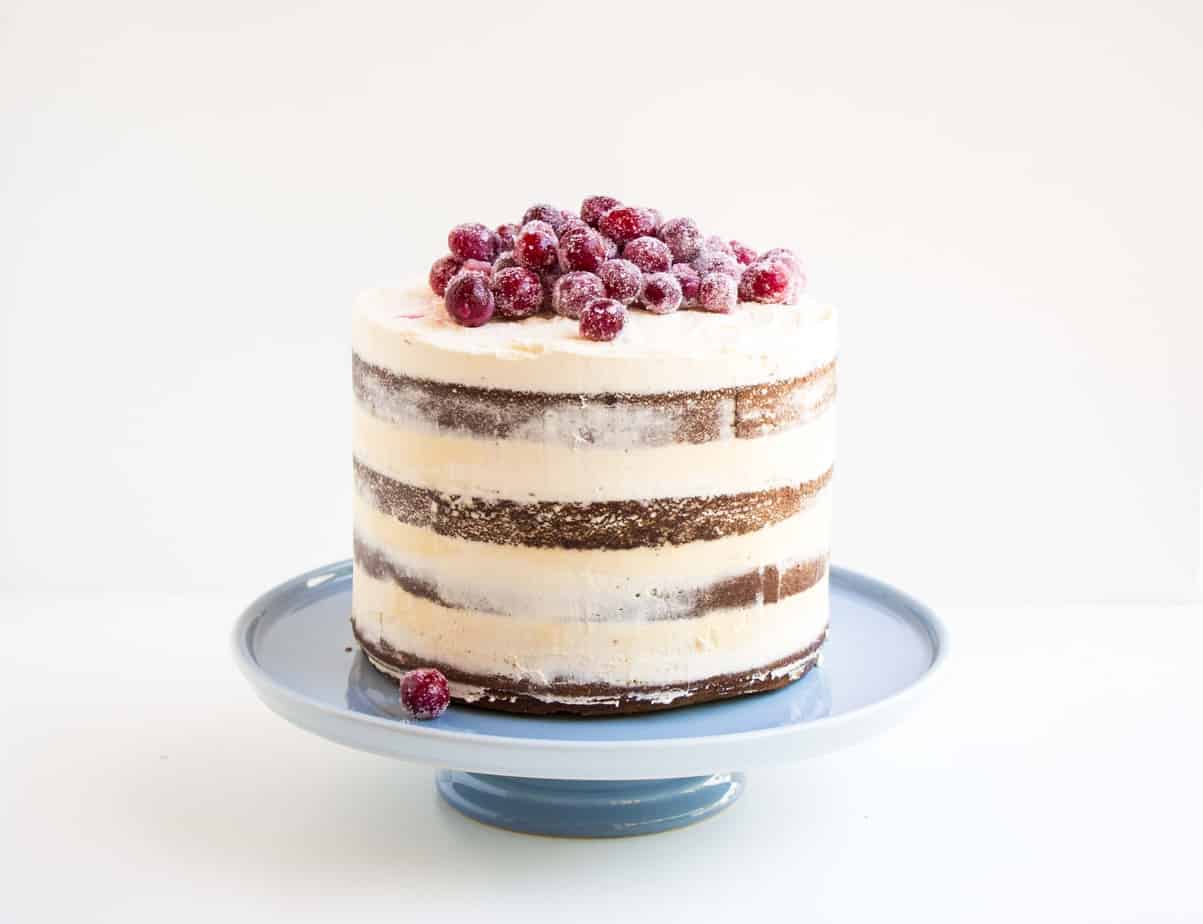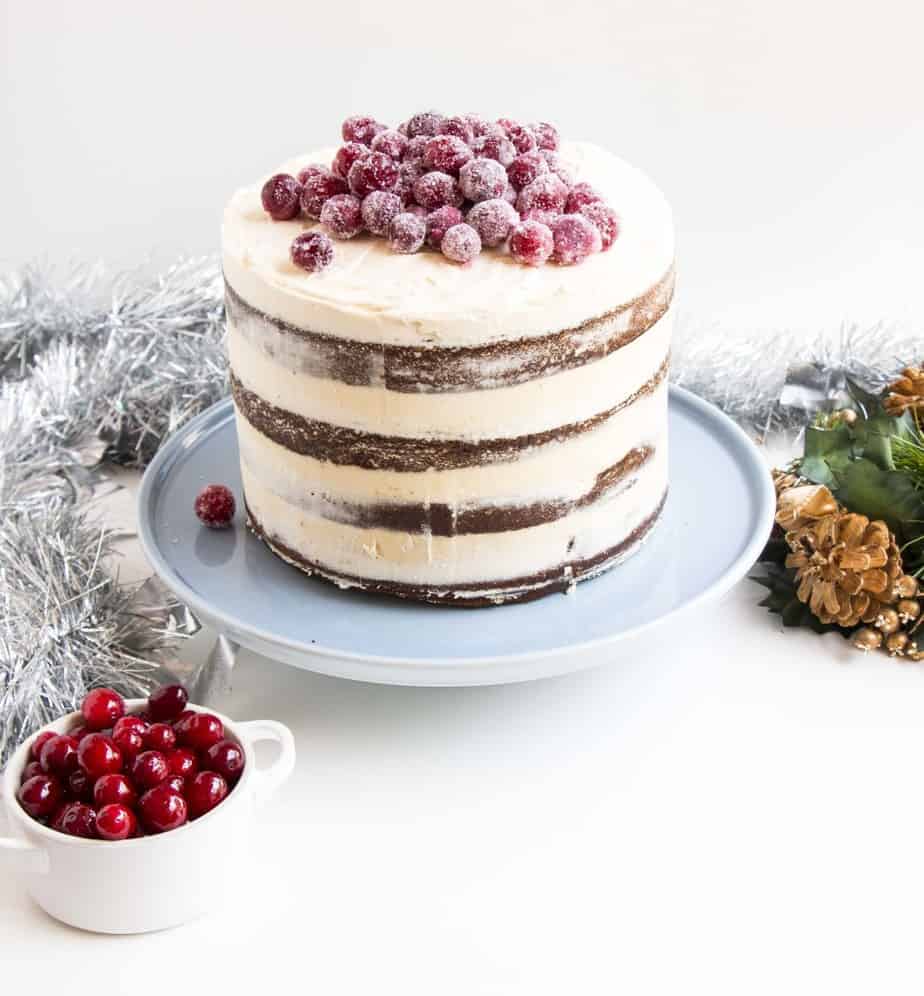 Festive Ginger Cake with Cranberries
There's nothing like the smell of those spicy ginger and cinnamon aromas filling your home around this time of year. To me, it signals that Christmas is officially here!
Every year I make a gingerbread house, and all the kids in the family are absolutely mesmerised by it every year. But this year, we are having an all grown-ups Christmas, so I decided to go for a more classy, adult version of the classic gingerbread house.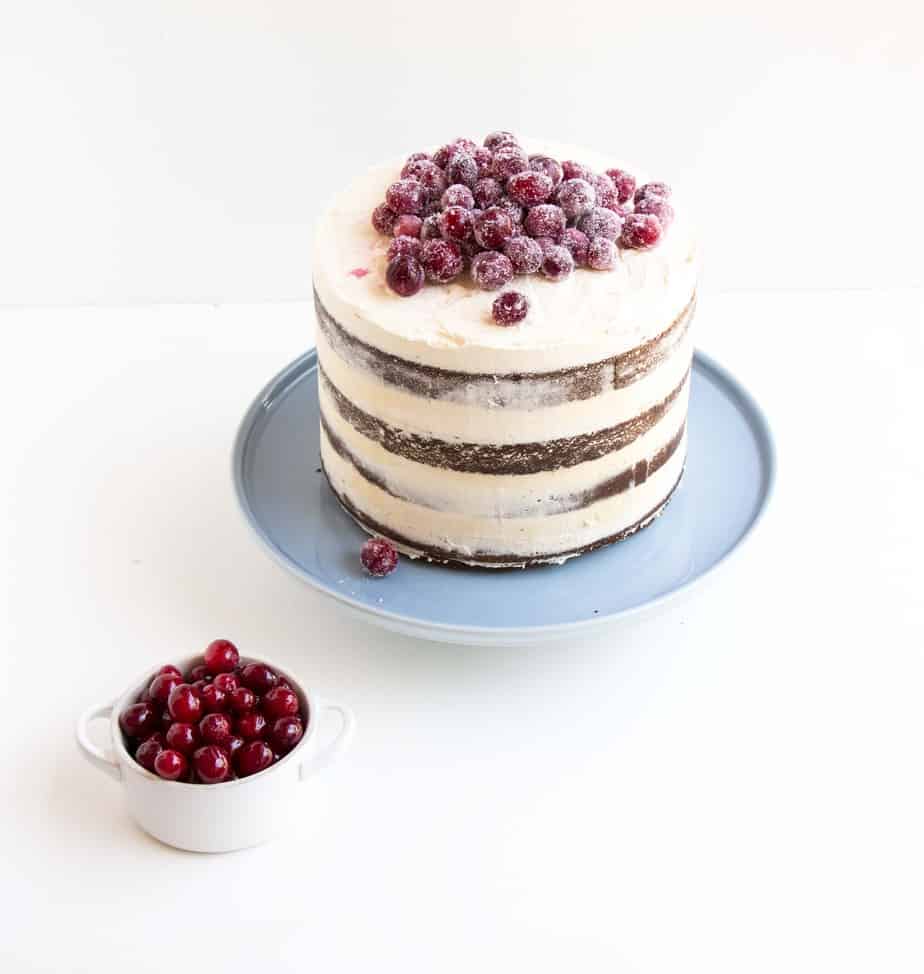 This Soft Gingerbread Cake with Sparkling Cranberries is so majestic. I am planning on leaving it out the whole Christmas eve and Christmas day, because it is such an absolutely beautiful centrepiece for the Christmas table. It stands tall and proud and really gives you that Christmassy (is that even a word?) feeling.
Sparkling Cranberries
The sparkling cranberries are delicious and beautiful and they brighten up any Christmas lunch or dinner. So you could even simply make the Sparkling Cranberries by themselves and leave them on the table or add them to any other dessert.
But making the whole Soft Gingerbread Cake with Sparkling Cranberries will amaze your whole family and will truly make your Christmas so incredibly special. To be honest, I was even amazed by this Soft Gingerbread Cake with Sparkling Cranberries when I was done making it.
It just looked so impressive and it was pretty easy to make. There is something about it that simply cannot be explained. I originally made it for Le Creuset and it looked so gorgeous on their beautiful Coastal Blue Cake Stand that I just had to make it again for my Christmas table.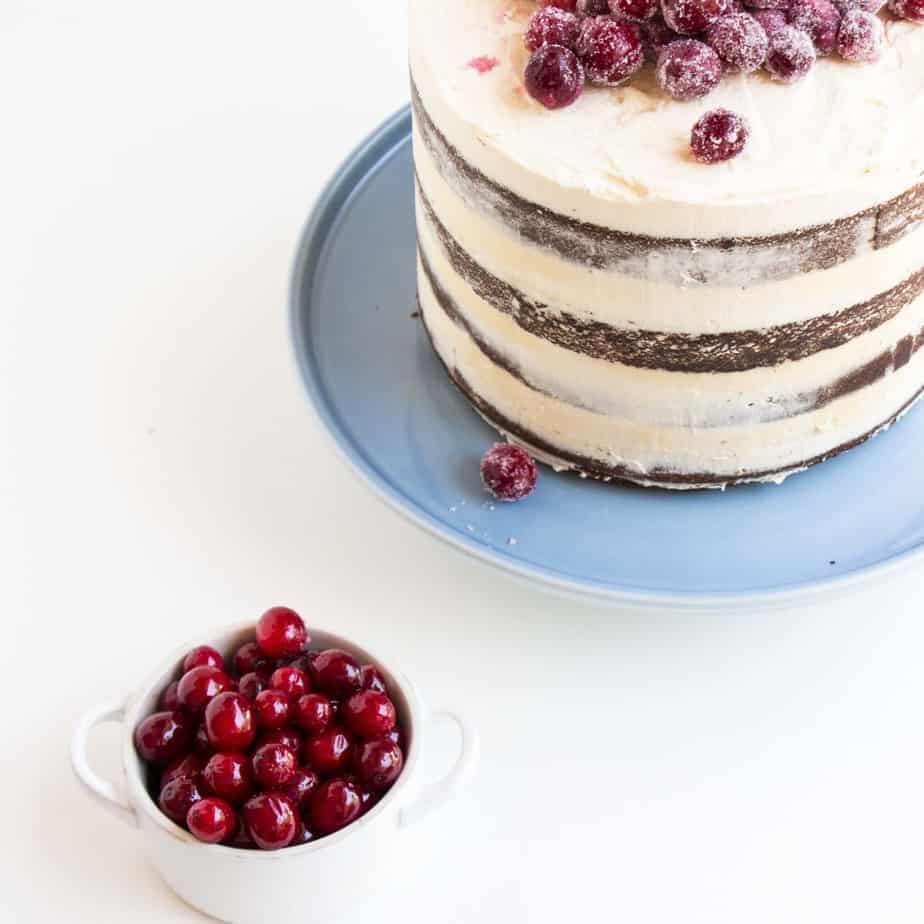 To make the Sparkling Cranberries you create a simple syrup that you pour over the cranberries, then allow the cranberries to dry out on a wire rack, then roll them in some castor sugar and they're done. Easy right? But yet so beautiful!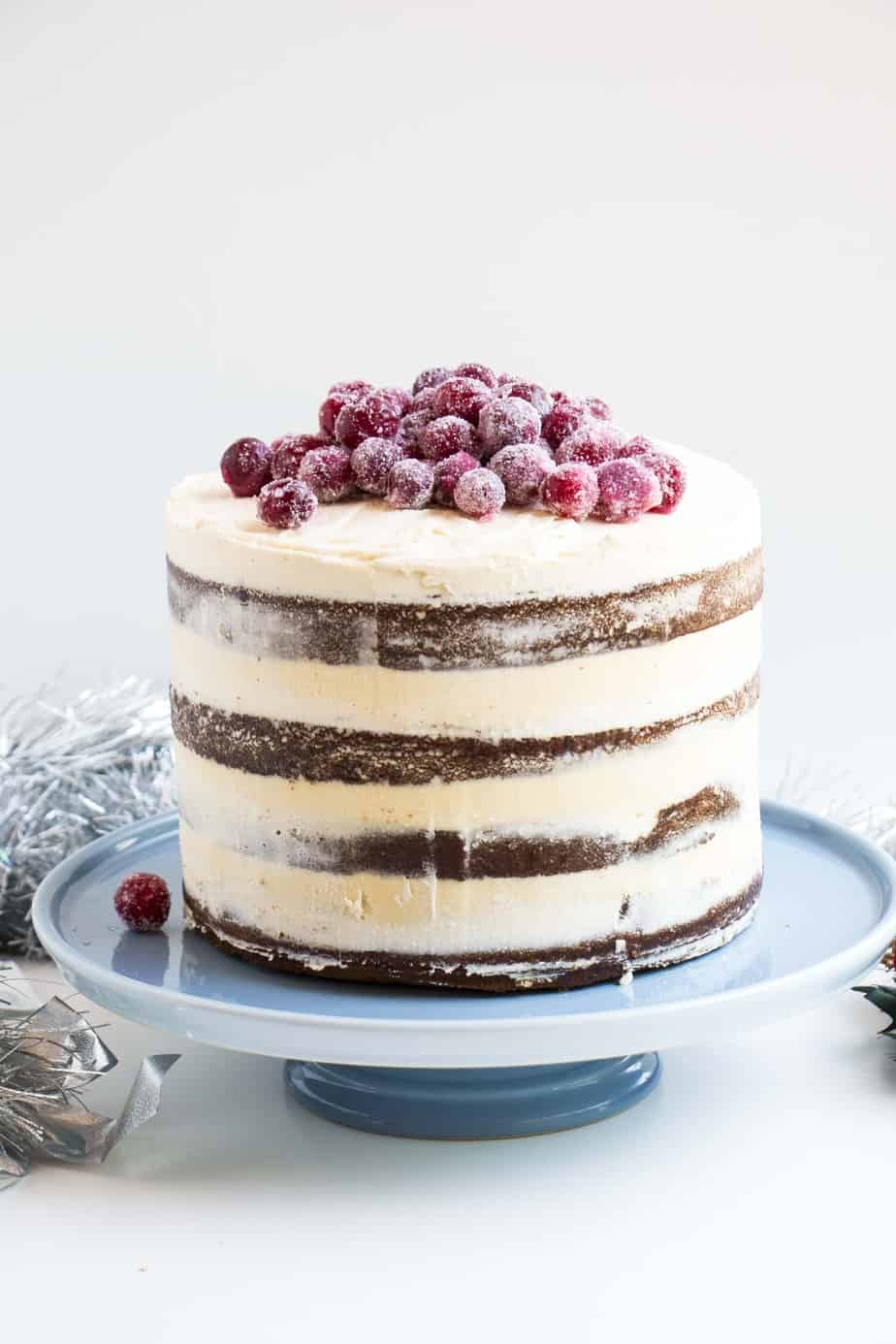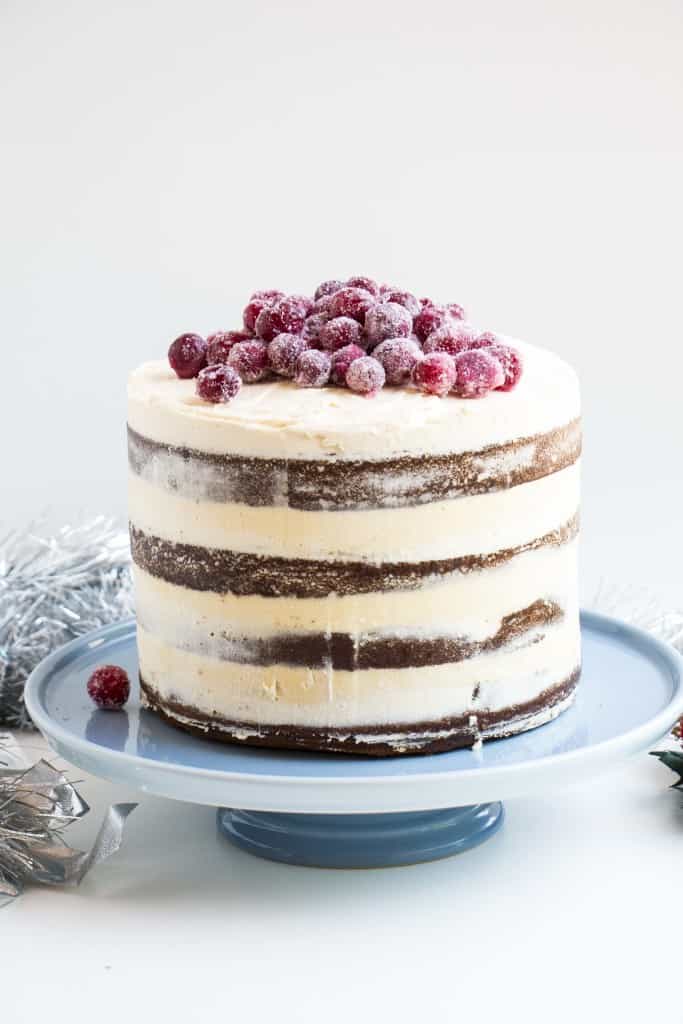 How to make a Gingerbread Sponge Cake
Making the Gingerbread Cake isn't really any more difficult. All you do is mix the flour, baking powder, salt and spices together. Cream the sugar, eggs and vanilla, then add the syrup.
Meanwhile, melt the butter in a saucepan and add the milk and cream. Mix all the mixtures together until well incorporated. Pour into your pans and bake for 30min. That's not so hard! Lastly, all that needs to be done is to make the cream cheese frosting and put it all together. YUM!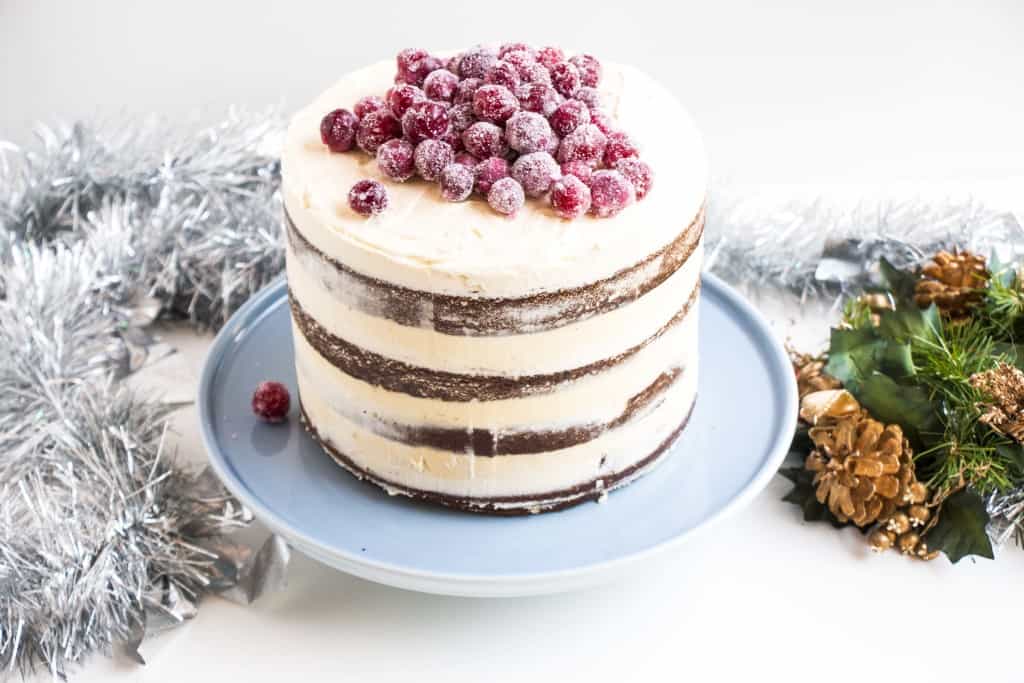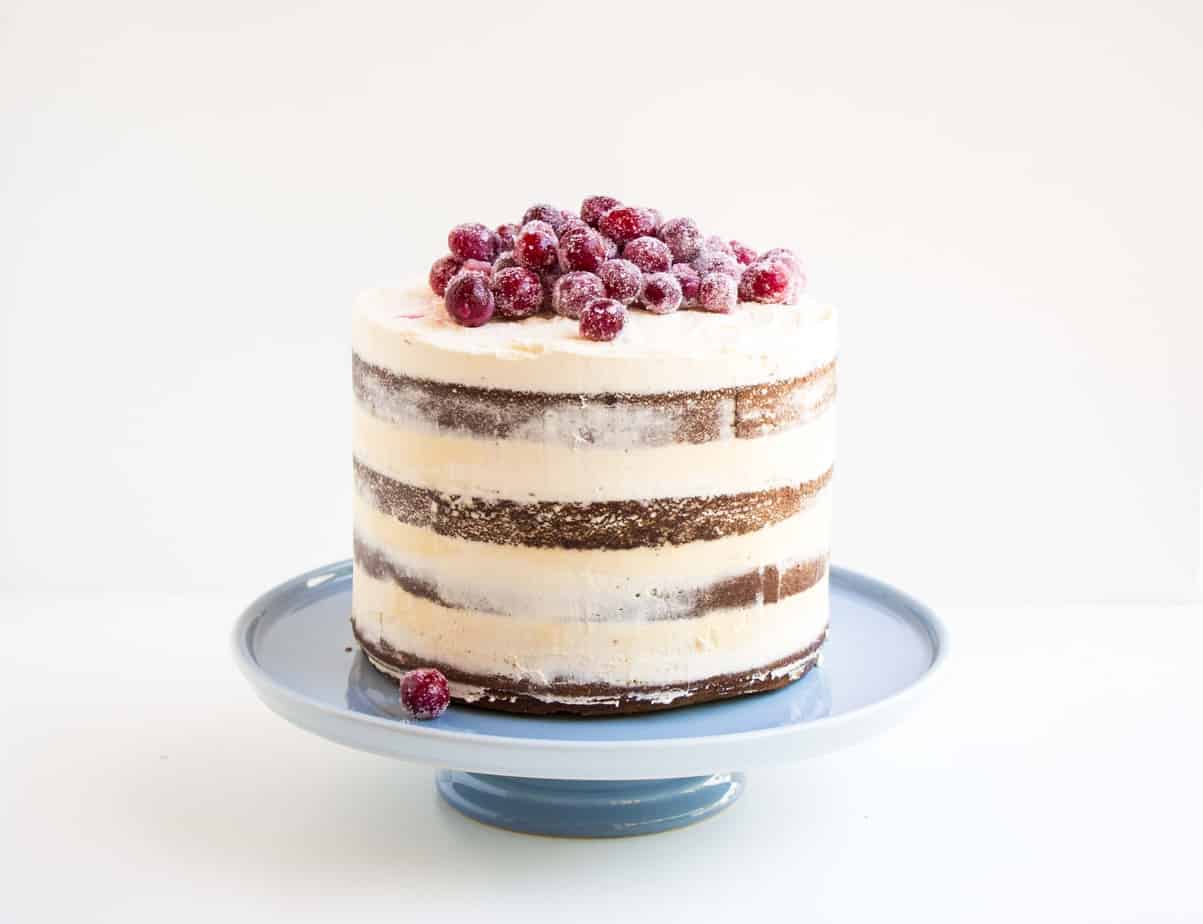 I am completely and utterly in love with this Soft Gingerbread Cake with Sparkling Cranberries! It is so delicious and so beautiful! And follow me on Instagram or Facebook for even more food and drink inspiration!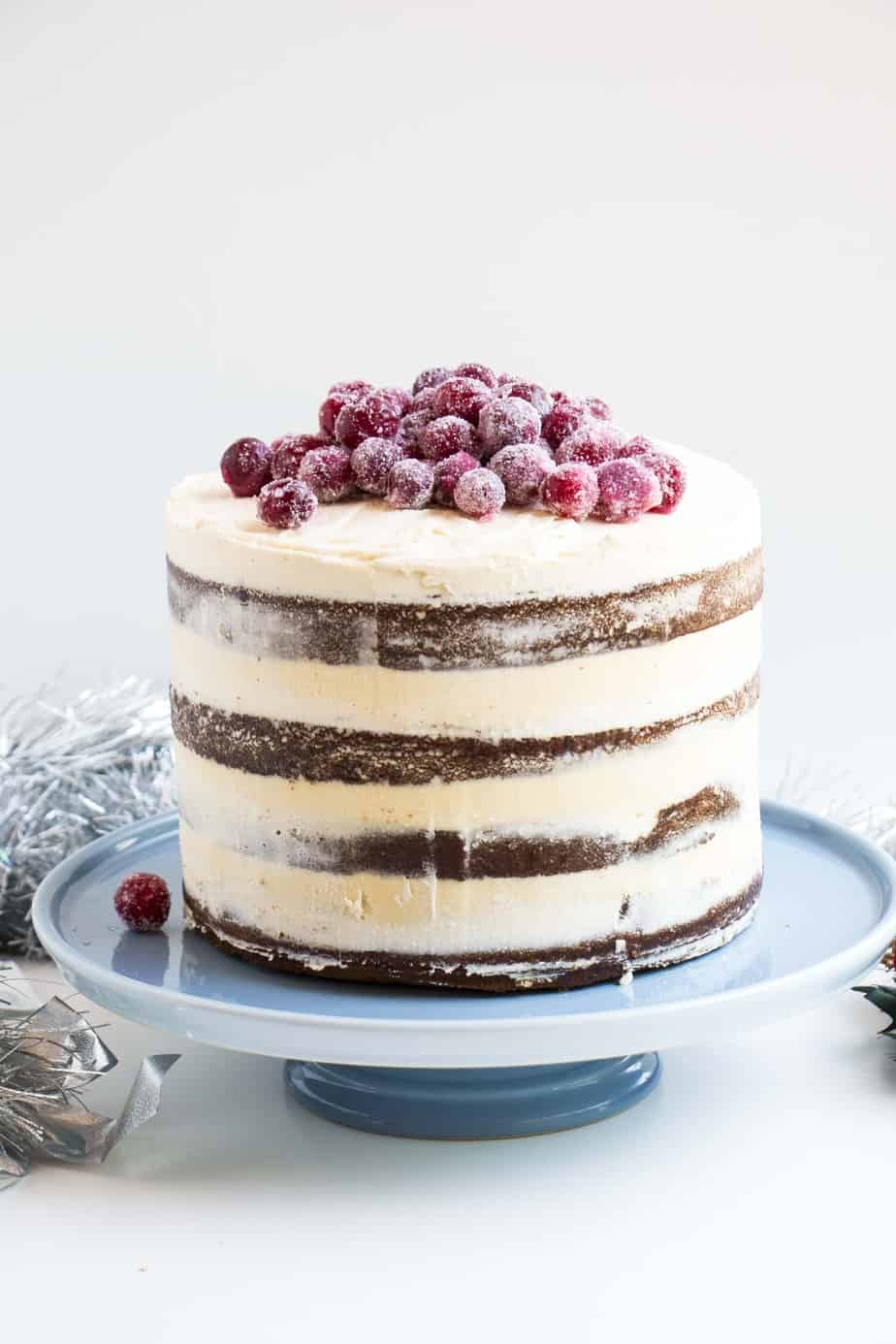 Soft Gingerbread Cake with Sparkling Cranberries
Ingredients
For The Soft Gingerbread Cake:
540

g

Flour

2 ½

teaspoon

Baking Powder

pinch

of salt

4

eggs

200

g

Brown Sugar

200

ml

Golden Syrup

250

g

Butter

200

ml

Cream

300

ml

Milk

4

teaspoon

Ground Ginger

3

teaspoon

Cinnamon

2

teaspoon

All Spice

2

teaspoon

Vanilla
For the Sparkling Cranberries:
1

cup

sugar

½

cup

water

1

cup

castor sugar

300

g

cranberries

frozen or fresh
For the Cream Cheese Frosting:
250

g

butter

room temperature

250

g

cream cheese

500

g

icing sugar
Instructions
To make the Cake:
Preheat oven to 180º C and cake tins ( I used 2 springform cake tins and then cut each cake in half when cooled) with baking paper and spray the tins with spray and cook.

Combine flour, salt, ginger, cinnamon, all spice and baking powder.

Cream together the sugar, eggs and vanilla until light and fluffy and then add the syrup and continue to mix.

Melt butter in a saucepan and add milk and cream.

Add dry ingredients and butter mixture to the egg mixture, alternating between the two and scraping down the sides of the bowl every now and then.

Pour the batter into the cake tins and bake for 30min or until a fork inserted comes out clean.

Allow cake to cool, remove from tins.

When cool, cut each cake in half so that you have 4 layers, or simply leave it as two layers.
For the Frosting:
Whip together the all the ingredients until icing is light and fluffy.

Place a little icing between each layer and refrigerate cake until icing becomes hard.

Then using a palette knife, spread the remaining icing around the whole cake and on top of the cake.
For the Sparkling Cranberries:
Place the normal sugar and water in a small pot and allow to simmer for about 5 minutes.

Remove from heat and allow to cool for a few minutes.

Then add the cranberries to the pot and mix thoroughly and gently until all the cranberries are coated in the syrup.

Pour the cranberries out onto a wire rack and spread them so that they don't stick to each other.

Allow cranberries to dry for 40 minutes.

Then roll the cranberries in the castor sugar.

Add the Sparkling Cranberries to the top of the cake.
Tried this recipe?
Let us know how it was in the comments below
Tag us on Instagram!
We love seeing people make our recipes. Mention @baking_ginger